Dinner or lunch is surely sorted with this duck breast salad kale stir fry. The thought that came to mind and the results that never failed. It came about one Sunday afternoon, to be honest after a hectic week's work. As you can imagine my fridge was pretty empty apart from a duck breast, small pak choi and a few leaves of kale. The latter I usually juice with some apple, basil, and mint for a morning kickstart. It's awesome, you should try it.
Not to get distracted let's move along. After all. This recipe is really a quick chop-chop and not a long chit-chat. So not getting into a unicorn's tale about this and that, let's look at the method. That way you can eat more and read less too.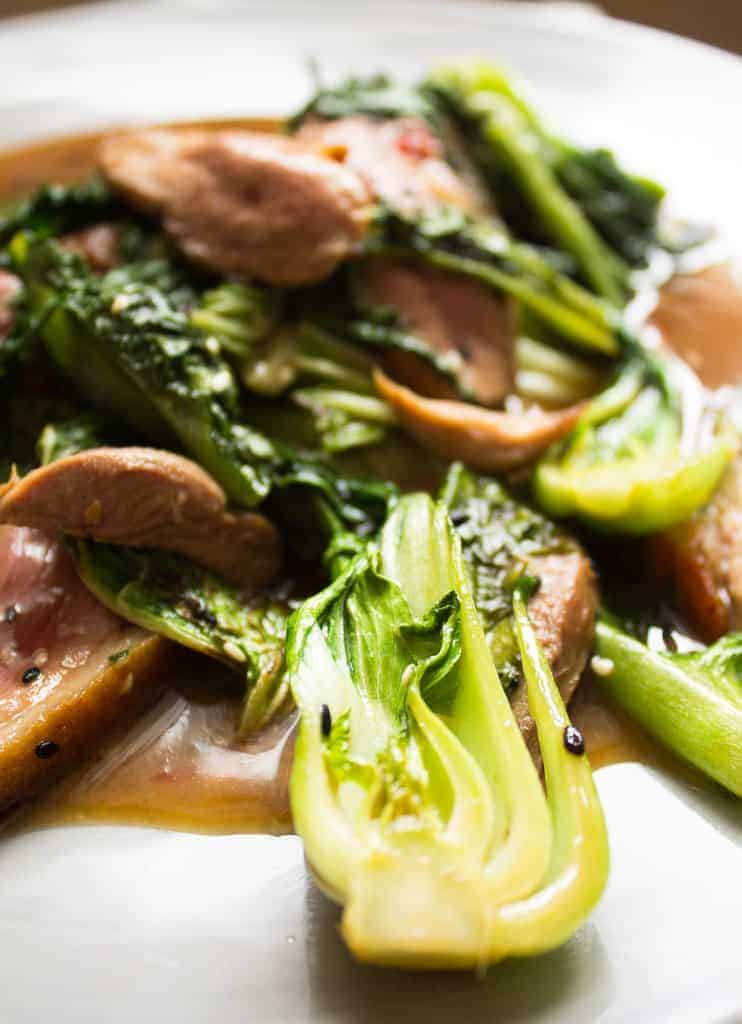 "Dinner or lunch is surely sorted with this duck breast salad stir fry"
Even though my ingredients were few I still used good produce so go buy yourself a nice organic duck breast and some crisp fresh kale and pak choi. to be honest you could do it with just the pak choi or just the kale too.
I like cooking this duck breast for this stir fry whole and with crispy skin and then slicing it after the greens are cooked and the sauce made. That way you keep a nice crispy skin and soft perfectly cooked meat.
To cook the perfect crispy duck breast, heat a pan and sprinkle some salt onto the pan. Score the skin of the duck breast very lightly with a sharp knife taking care not to cut too deep. Place the duck breast skin down into the dry-salted and now medium heat pan. Let the breast cook like this for about 5 minutes only on the skin side. This renders down the fat and results in crispiness. After the skin is nicely golden brown and crispy flip over and cook on the flesh side for only two minutes in order to give the meat more flavour. If you have a thermometer the center should read 47C when you remove the duck breast from the pan. Remove from the pan and rest for 5 minutes before slicing.
Either way this duck breast salad and kale stir fry takes just a few minutes to make and it's bang on target with filling the spot.
Recipe
Duck and Kale Stir Fry
Quick light lunch or dinner. Tasty yet healthy and a favourite of mine for a long time. Chop and change the duck for something else like baked chicken breast or add some veggies like roasted pumpkin.
Ingredients
1

(

1

)

duck breast

1

(

1

)

pak choi

50

g

(

1

cup

)

kale

50

g

(

3.3

tablespoon

)

water

30

g

(

2.0

tablespoon

) soy sauce

30

g

(

2.0

tablespoon

) honey

1

clove

(

1

clove

)

garlic

-

chopped

1

(

1

)

small chilli

-

deseeded and chopped

1

tablespoon

(

1.0

tablespoon

) sesame seeds -

optional for adding later
Instructions
Criss-cross the skin of the duck with a sharp knife and rub with a bit of sea salt.

In a dry pan on medium high heat fry the duck skin side down until deep golden brown.

Flip her over and cook for another 3 minutes.

Take the duck out of the pan and let it rest.

In the same pan add the water, soy sauce, honey, chopped chilli and garlic.

Let the sauce boil for about a minute and remove from the pan keeping it for adding later.

Clean the pan a heat up some sesame oil(normal oil is fine).

When the oil starts smoking quickly add the greens and cover with a lid.

Shake it around a bit for a minute or two so it cooks even.

Add the sauce you previously made and remove the pan from the heat.

Slice the rested duck breast thinly and shake it around with the greens and sauce

Plate up and dig in!
Notes
Feel free to substitute duck for chicken, pork, beef or baked pumpkin. If you don't like it hot then leave out the chilli. Try it with broccoli or Chinese cabbage. 
Nutrition
Serving:
1
g
Calories:
355.57
kcal
Carbohydrates:
34.84
g
Protein:
38.65
g
Fat:
7.88
g
Saturated Fat:
2.28
g
Cholesterol:
127.82
mg
Sodium:
1777.37
mg
Fiber:
2.81
g
Sugar:
27.87
g
Vitamin A:
36
IU
Vitamin C:
140.2
mg
Calcium:
11.8
mg
Iron:
51.63
mg
Keywords:
duck salad, quick salad, stir fry salad, summer