Grilled angelfish. Following in the footsteps of the awesome roasted pork belly. As promised I will be covering a few things braai. That would be a barbecue for the rest of the world. Sad. I know. Wouldn't it be cool if the rest of you fine people with funky languages owned that word? We(South Africans) snatched that beauty a long time ago. Thankfully so. It's one of the things We take great pride in.
Grilling all sorts of things on the braai has been a national sport so to speak for a very long time. Your average Joe or Johan as we would call him would have his own little book of crazy things braai. He can't cook anything else. So what? He can braai and that's all that matters.
An awesome braai starts with one thing. The fire. Get that right and you are almost on Johan's level. In short, you make it big with lots of natural wood(charcoal is lame). Almost as much wood as beverages in the cooler. Just a joke. You need much less wood.
Buying the best fresh produce carries equal importance to making the biggest fire or having the best-stocked beverage cooler. You see where this is going right. It's a competitive business this braai thing. Lot's of guys take it more serious than their jobs, finances and families sometimes. Quite literally. Good for the ones eating though right. I agree.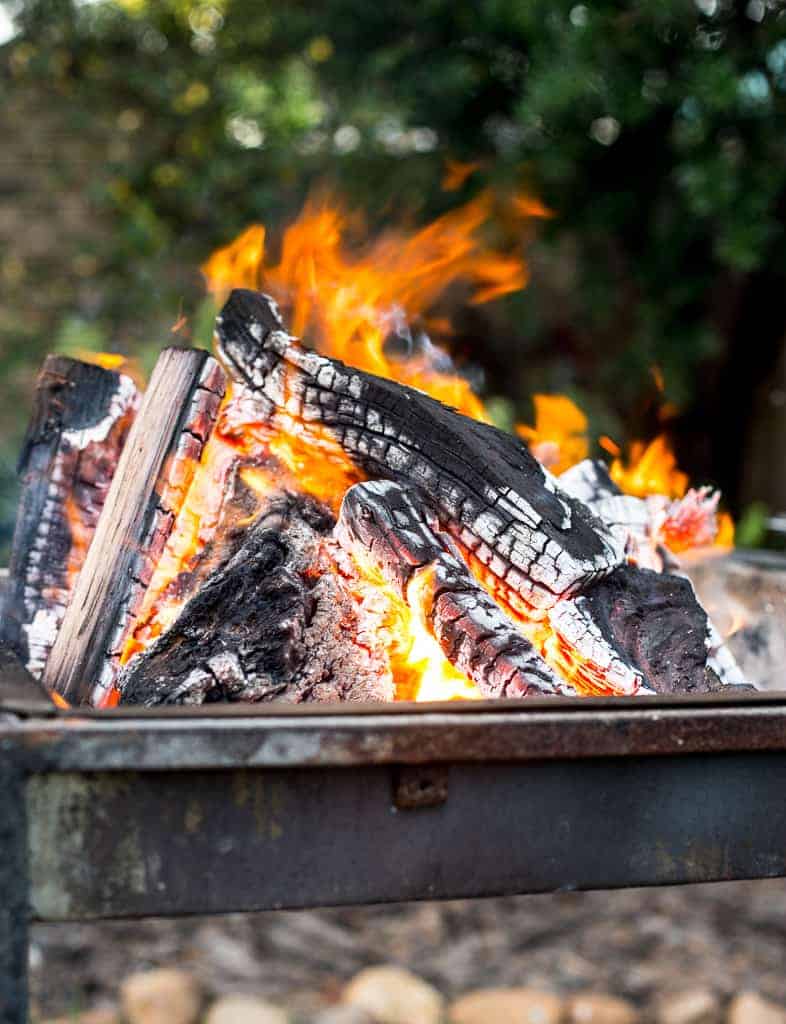 "An awesome braai starts with one thing. The fire."
So let's get back to our grilled angelfish. Finding awesomely fresh fish around Cape Town is a walk on the beach. Very literally. Fish around the Cape waters have very firm flesh and naturally taste like the ocean. That's a funny old sentence but any good chef would tell you that is exactly what you want in top quality fresh fish. Below is a picture that shows just how fierce the ocean roars around these parts. I'm no expert but I think the conditions contribute majorly to the amazing quality of fish available.

I bought this stunning looking angelfish from a local fisherman for less than a R100. All cleaned and cut to spec. Wow. Bargain!! Can't wait for my next trip.
There are many ways of doing grilled angelfish or any similar fish for that matter. However, I chose some nice light fragrant goodies for this recipe. Always a good bet when cooking fish. I picked up some fennel, lemongrass, onion, ginger, garlic and few fresh herbs on the way home too ready to make that big fire.
Thanks to our humble fisherman we don't need to mess around with gutting, cutting and getting lost in the world of fish prep. I suggest you do the same. All we need to do is stuff the fish with the sliced goodies mentioned above, drizzle a bit of olive oil and place it on the fire between two grills covered in tin foil. Salt and lemon juice goes on when it's cooked because the lemon juice cures the fish and the salt dries it out if you smash it all on from the start. Just a bit of pepper if you like.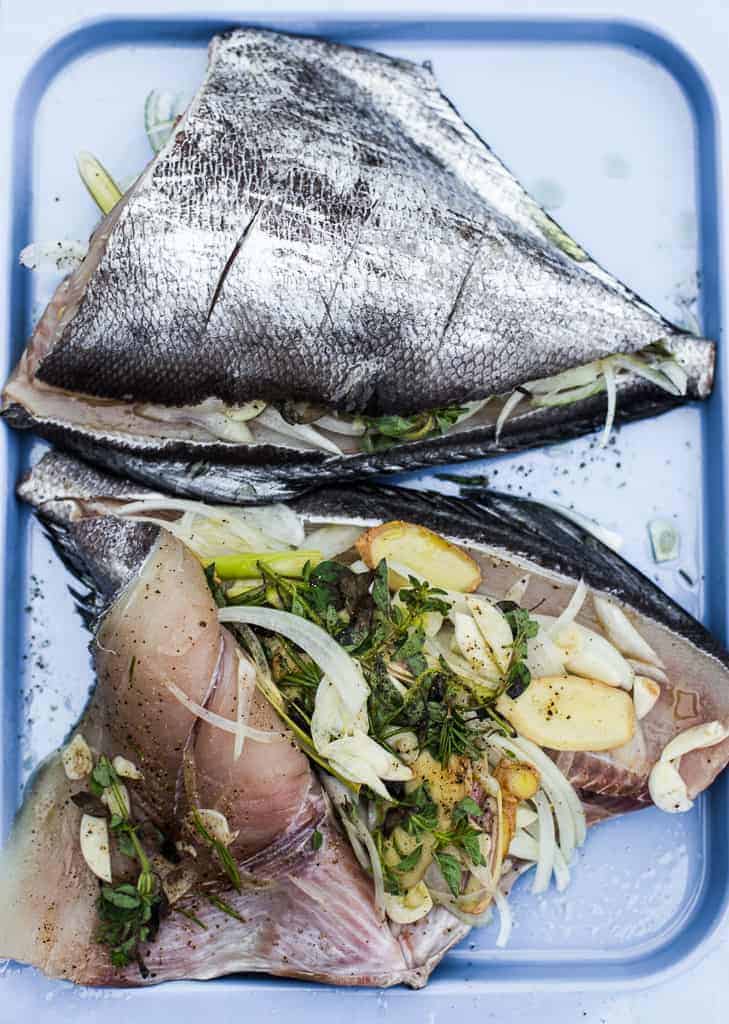 "I chose some nice light fragrant goodies for this recipe"
Something this simple need little fuss when it comes to salads and vegetables. We cooked some vintage potatoes in foil with butter, thyme and salt. Simple yet effective. I also did a nice little salad of beaten cucumbers with avocado. Perfect for our grilled angel fish.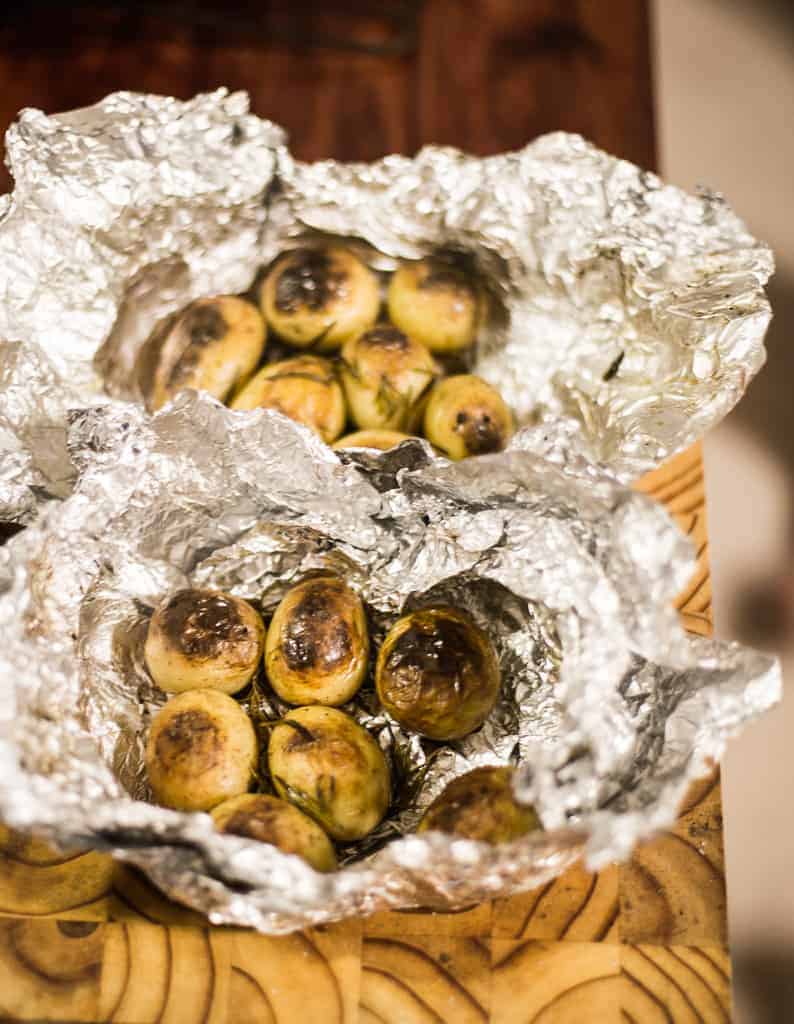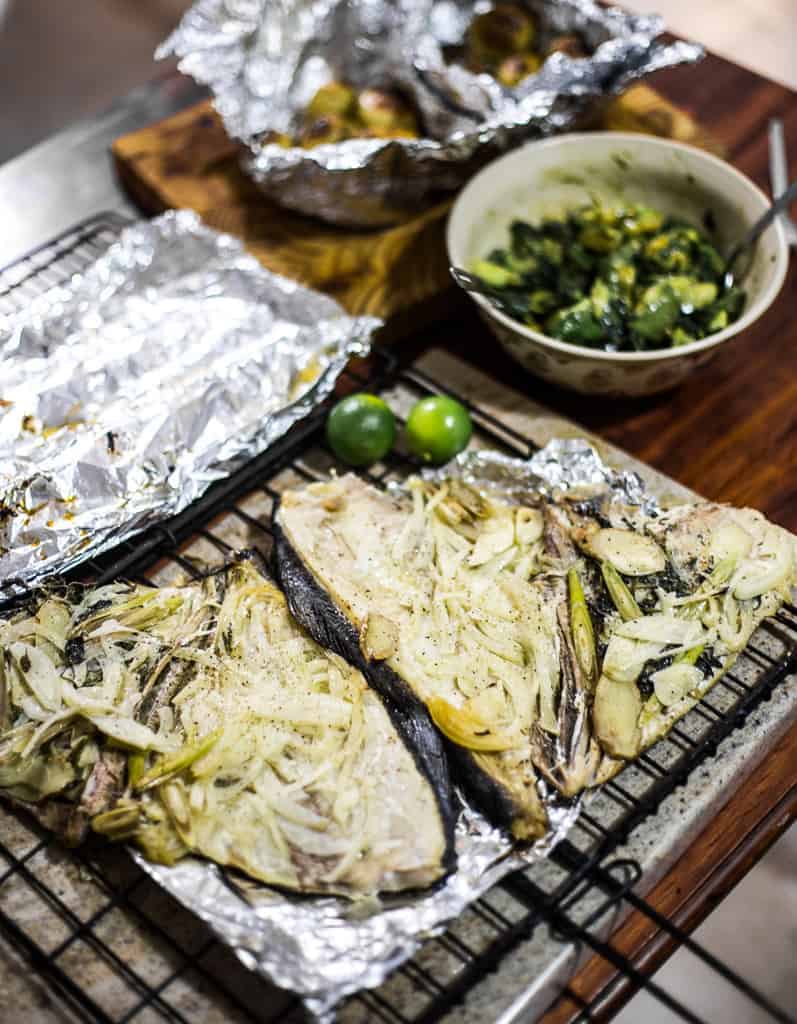 Recipe
Grilled Angelfish Over The Coals
This is a great way to prepare any freshly caught fish and really lifts the flavour while keeping the fish as the star of the show.
Ingredients
2

whole

Angelfish

-

gutted and butterflied

2

sticks

lemongrass -

sliced thinly

4

cloves

garlic

-

smashed

½

bulb

fennel

-

sliced thinly

½

cup

ginger

-

sliced thinly

3

sprigs

fresh oregano

2

sprigs

rosemary

2

sprigs

thyme

20

g

(

1.5

tablespoon

) olive oil -

extra virgin or cooking

1

pinch

freshly ground black pepper

1

pinch

sea salt

1

lemon -

for squeezing after
Instructions
Stuff the fish with everything apart from the salt and lemon

Place between two layers of tin foil on a foldable grill

Grill over medium-hot coals 8 minutes each side or until cooked un the centre.

When done sprinkle with salt and a squeeze of fresh lemon juice
Notes
As cooking over coals is an ancient way and you really need the feel for it by practicing. If you don't cook over coals a lot or have little experience just check the fish for doneness every now and then by inserting the tip of a knife into the thickest part of the flesh and very carefully and quickly testing the temperature on your bottom lip) It should be the temperature of a lukewarm cup of tea at least. If you have a temperature probe then 55C is what you looking for. Careful not to overcook the fish as it will become dry. Undercooking is easily fixed while overcooking not so much.
Nutrition
Serving:
1
g
Calories:
163.91
kcal
Carbohydrates:
18.29
g
Protein:
2.14
g
Fat:
10.7
g
Saturated Fat:
1.6
g
Sodium:
78.05
mg
Fiber:
3.22
g
Sugar:
2.19
g
Vitamin A:
2.09
IU
Vitamin C:
27.6
mg
Calcium:
7.73
mg
Iron:
17.27
mg
Keywords:
barbecued fish, how to cook angelfish