Jump to recipe
This healthy slow-fermented flax & whole wheat sourdough bread recipe is perfect for beginner bakers and handles extremely easily. NO sticky mitts business.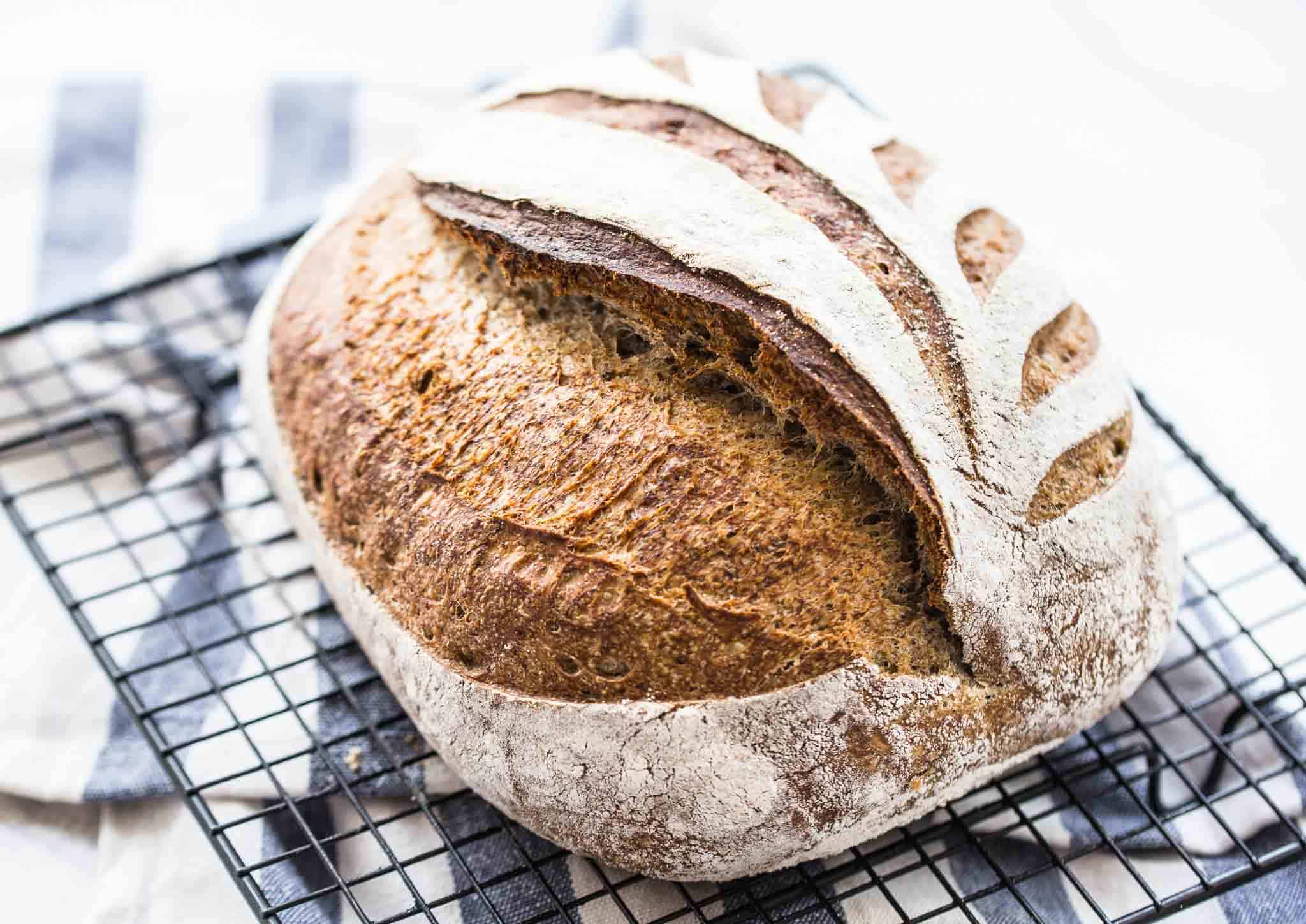 Jump to:
This sourdough bread recipe uses a combination of flours to give it it's own unique texture and flavour.
Flax meal has a great water retention quality and it also helps stabilise the lattice structuring the bread otherwise just held together by the gluten.
Of all the sourdough recipes I've made this whole wheat sourdough recipe is one of my all-time favourites.
The dough handles extremely easy and when you get to shaping it holds nice and firm. The rise is even and it has a lovely bloom in the oven.
The smell is beautifully earthy, the crumb light as a cloud and crust ever so slightly chewy while also being crunchy. All the good qualities one could expect from a great sourdough bread.
Ingredients
White bread flour - Use a good unbleached brand with a protein content of 10% and higher.
Flax meal - Easily bought from most supermarkets or health food shops. You could also grind up some whole flaxseeds.
Whole wheat Flour - Most brands will do. Just make sure it's not too coarsely ground.
Sourdough starter - Rye starter works great and is what I use in this recipe. My rye starter recipe. You could also use any other starter.
Water - Just clean drinkable tap water.
Salt - Fine natural sea salt. Don't use iodised salt when it comes to fermenting dough or anything as it interferes and slows down fermentation.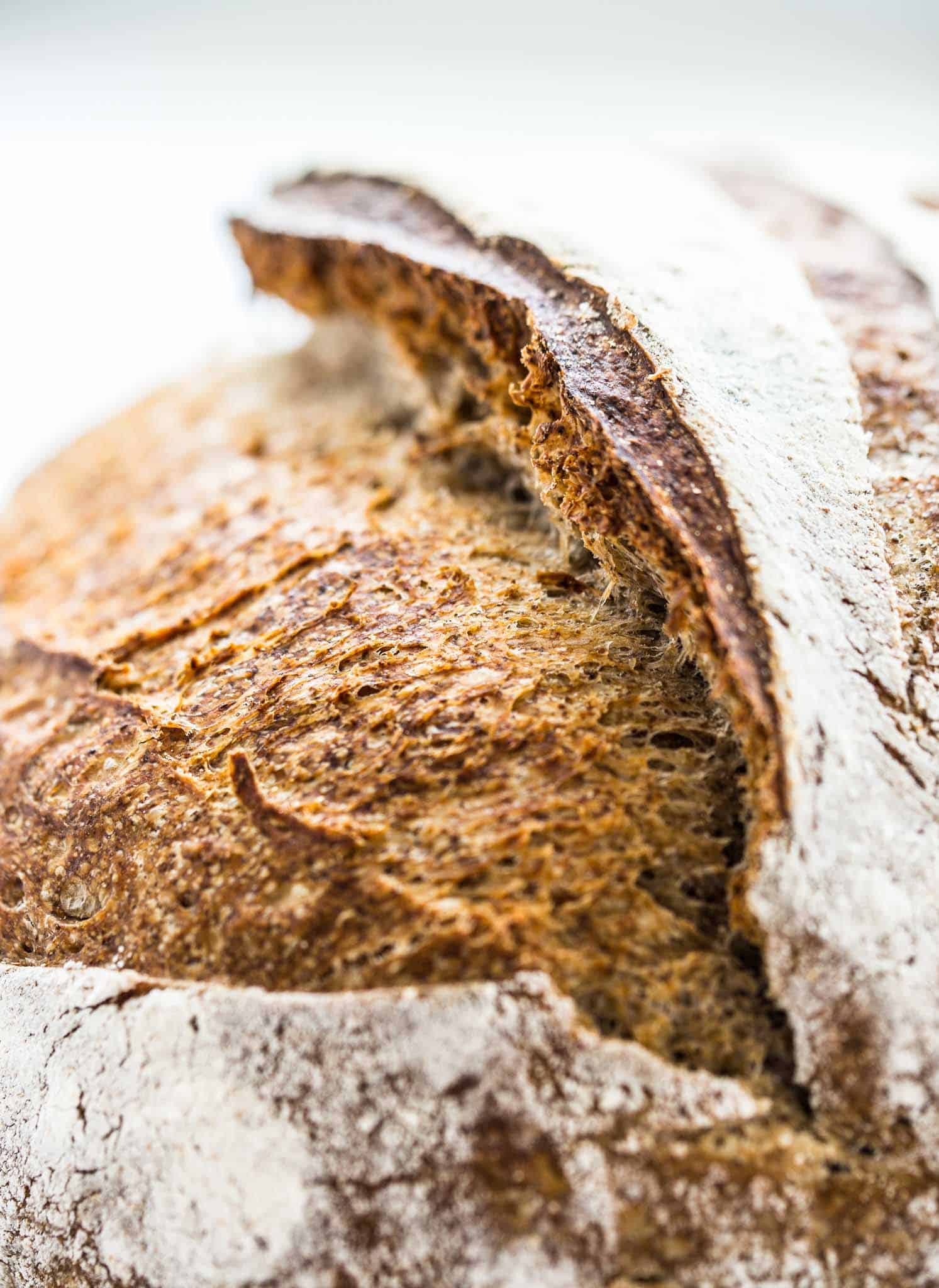 How to make it
If you're new to sourdough baking I suggest you read my sourdough starter and beginner sourdough recipe posts first before starting on this on.
Making the dough:
Mix together 280g of water with the starter and dissolve.
Mix the white bread flour, wholemeal flour and flax meal together
Add the two mixes together and mix until all the water is absorbed
Cover and let autolyse for an hour(this is to ensure the flours get hydrated properly).
In the meantime, mix 25g of boiling water with 8g of salt. Let this cool down as we will add it in the next step.
Once the hour is up, add the salted cooled down water and mix through the dough well.
Give the dough it's the first stretch and fold. (If you do not know how this works then go and read my sourdough tutorial on this site.
Repeat this process 4 times resting covered 30 minutes between each one.
When the last 30 minute resting time is up, it's time for shaping and overnight slow proof in the fridge.
Shape the loaf as described in my sourdough bread post linked above.
Flour a banneton or proving vessel with towel generously. Pop the bread in, cover with a shower cap or plastic bag and let it proof overnight or up to 12 hours.
The next day or when the time is up, remove the bread from the fridge and let it sit at room temperature for 45 min.
As soon as you remove the bread from the fridge, Turn your oven to 250C with an oven-safe bowl filled with water in it. This will get everything ready for the all-important baking step.
Also, make sure to put your baking tray or skillet in the oven so that everything is piping hot. We are trying to imitate a baker's oven so make sure you do this step correctly.
Baking the bread:
With the tray(skillet) and oven hot, sprinkle some semolina onto the tray or skillet.
Flip your bread carefully onto the hot surface and slash it with a lame or sharp knife dipped into the water. If you are a beginner keep the cutting simple.
Once the loaf is slashed put it into the oven and turn the temperature down to 220C. Make sure you still have water in the oven to keep it nice and steamy in the oven.
Bake for 30 minutes then flip the bread upside down and bake 5 minutes more.
Remove the bread from the oven and cool down on a wire rack.
When completely cooled down cut and slap some butter on it or dip in olive oil. Enjoy!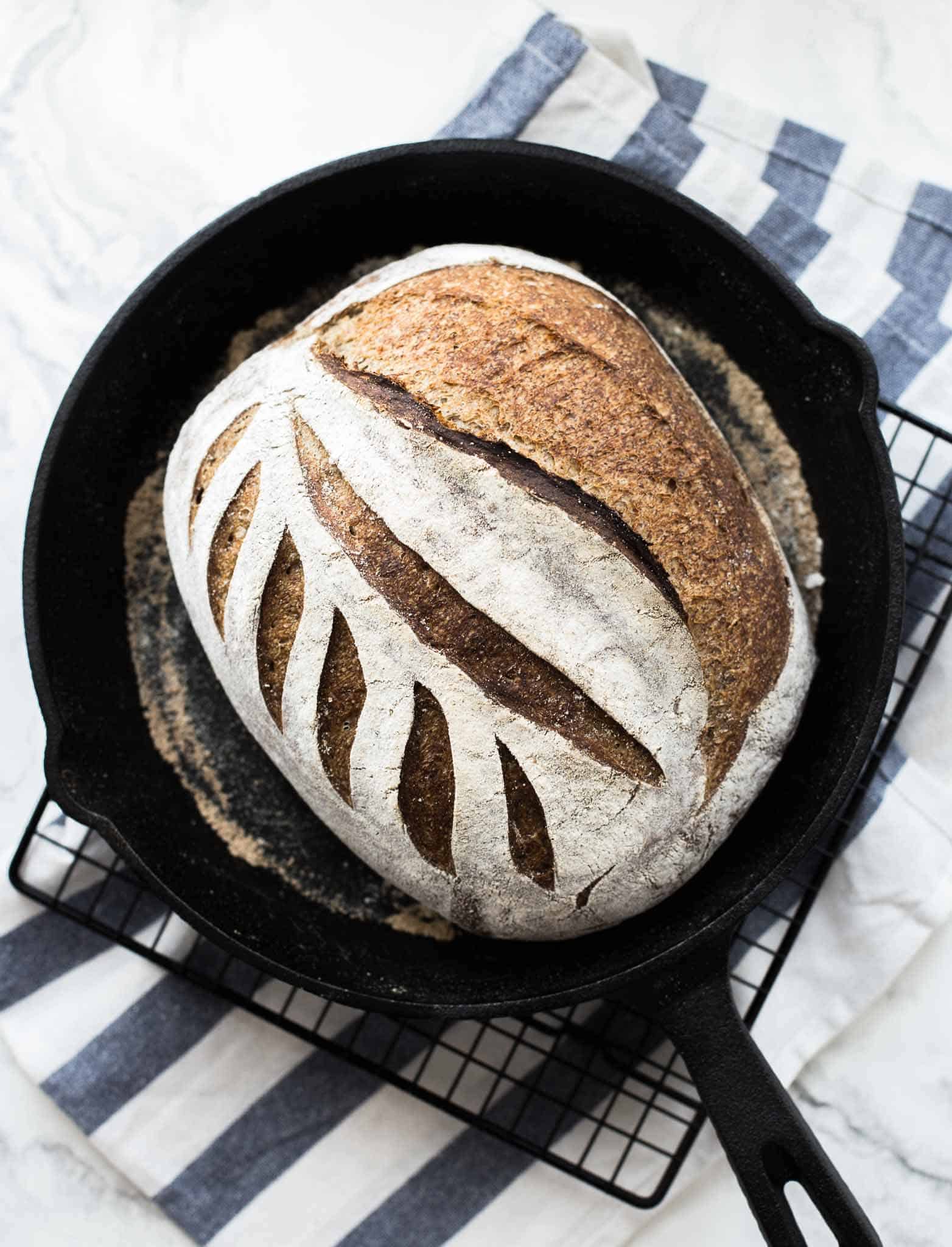 Serving suggestions
My absolute favourite is fresh still slightly warm with butter, sea salt and a bit of freshly cracked black pepper. Below are a few other bright ideas:
Variations
You could easily use another seed meal instead of flax. Try sunflower, pumpkin or even nut meals.
Easily change the wholemeal flour for rye or ancient grain.
Add a touch of turmeric or 100% cocoa powder to this recipe to give your bread even more character and flavour.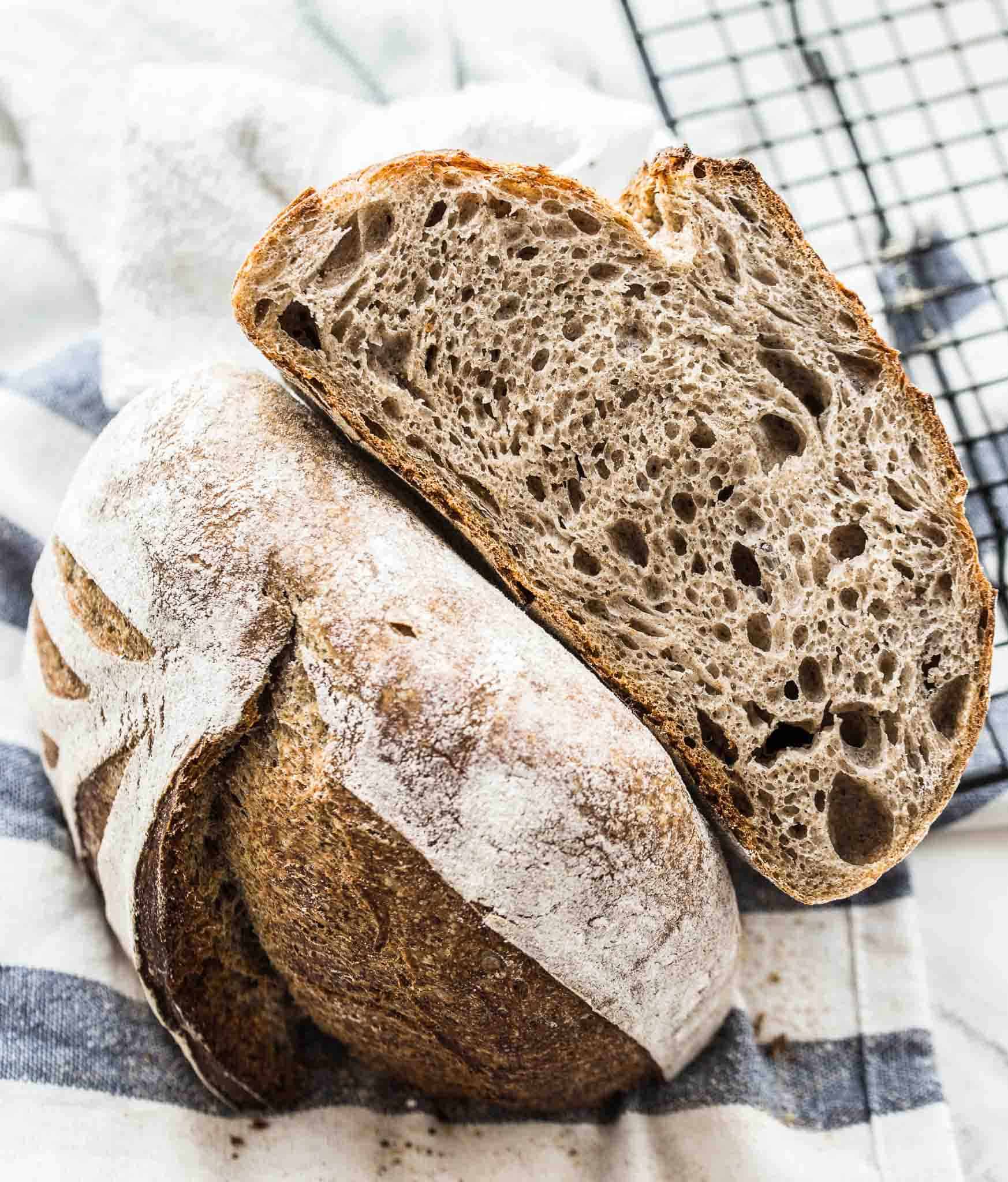 Frequently asked questions
Can this bread be frozen?
Once cooled this bread can be sliced and frozen in individual portions for easy future use. Otherwise, freeze whole. Just make sure either way it's wrapped airtight.
Can I use regular white flour for this recipe?
Any flour with a protein content of 10-15% can be used including regular all-purpose flour.
Is this recipe gluten-free?
This recipe is not gluten-free and does not yield the same results if you just use gluten-free flour.
Useful equipment for this recipe
CAST IRON SKILLET - AFTER YOUR DOG - YOUR NEXT BEST FRIEND Buy Now
THIS PAGE CONTAINS AFFILIATE LINKS - I MIGHT EARN A TINY % OF THE SALE THROUGH THESE LINKS NO EXTRA COST TO YOU. PROBABLY NOT EVEN ENOUGH TO BUY A BEER).
IF YOU FOUND THIS ARTICLE HELPFUL OR HAVE LEARNED SOMETHING, COMMENT, SUBSCRIBE AND FOLLOW ME ON SOCIAL PLATFORMS FOR MORE TASTY RECIPES