Russian honey cake or medovik(медовик), as it's called in Russia, is the king of layered cakes. If not the king of all cakes. It's pillowy-soft yet rich and comforting. The honey biscuit gives this cake a warming flavour no other cakes can match.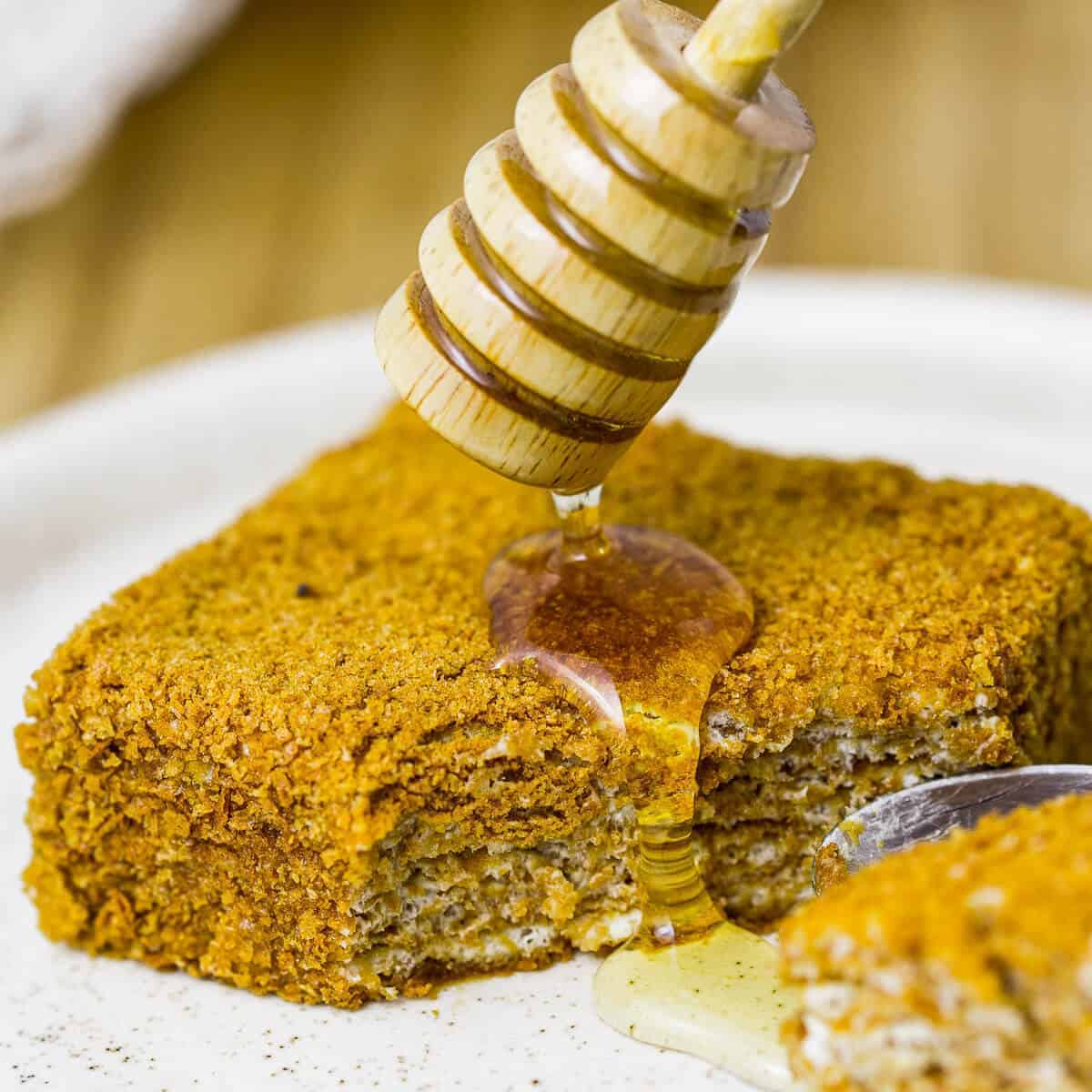 Jump to:
Not so long ago a junior chef asked me if honey can be used for baking cake?
Long before sugar was available, cakes were sweetened using honey.
Honey does not only sweeten the cake but it gives it an amazing rich flavour.
I tried this cake for the first time when I moved to Russia and was completely won over by its lightness and at the same time richness and depth of flavour.
Medovik became my new favourite cake and I don't think anything will ever come close to beating it.
The great thing is that you won't need to go to a Russian bakery to eat the best cake in the world.
I developed this recipe for Russian honey cake that all the locals love and adore.
So, you can make from scratch in the comfort of your own crib.
Medovik history
One story refers to the start of the 19th century involving a young unaware chef cooking a honey cake for the then empress Elizabeth, wife of Alexander 1st.
She hated honey but, this guy cooked a honey cake with sour cream and the woman loved it. And that was the end of that... Long live the Russian honey cake.
This medovik recipe is very special and very different from the ones floating about on the internet.
Firstly, this honey cake recipe uses REAL honey as the sweetener and flavouring.
Seems obvious but you would be surprised at how many recipes use mainly condensed milk and maybe a drop of honey here and there.
The honey cake should taste like honey right.
So let's get it right and make this medovik.
What does Medovik taste like?
The best medovik tastes undoubtably like amazing quality caramelised honey.
It's a layer cake that peaks for flavour and texture a day after you've made it. The layers are made from wafer thin sheets of honey biscuit.
In between those layers is a whipped sour cream filling that binds the layers together. After a day the crispy interior normalises and becomes light and pillowy soft.
The result is a perfectly balanced cake that is light to eat and intensely flavoured of honey.
Useful equipment for this recipe
Ingredients needed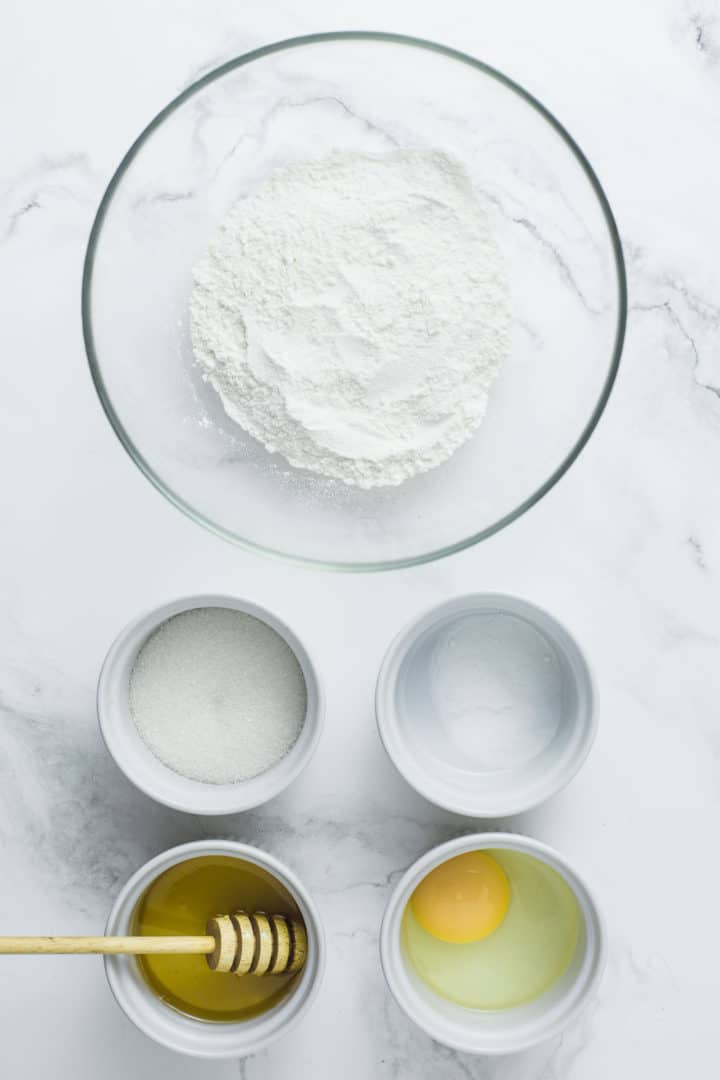 Five ingredients for the "cake" or "biscuit" part
Flour - Plain all-purpose flour works best.
Egg - Large eggs weighing 50 grams each.
Honey - Use natural runny honey with a strong flavour.
Three ingredients for the filling
Cream - Heavy whipping cream. 33% fat.
Sour cream - Natural with high-fat content. 25 - 30% fat.
Powdered sugar - Otherwise know as confectioners sugar in America or icing sugar in the UK.
How to make it
I will show you how to make this Russian honey cake from scratch in just a few simple steps. It's easy, foolproof and fairly quick even for a novice baker. Simply the following steps.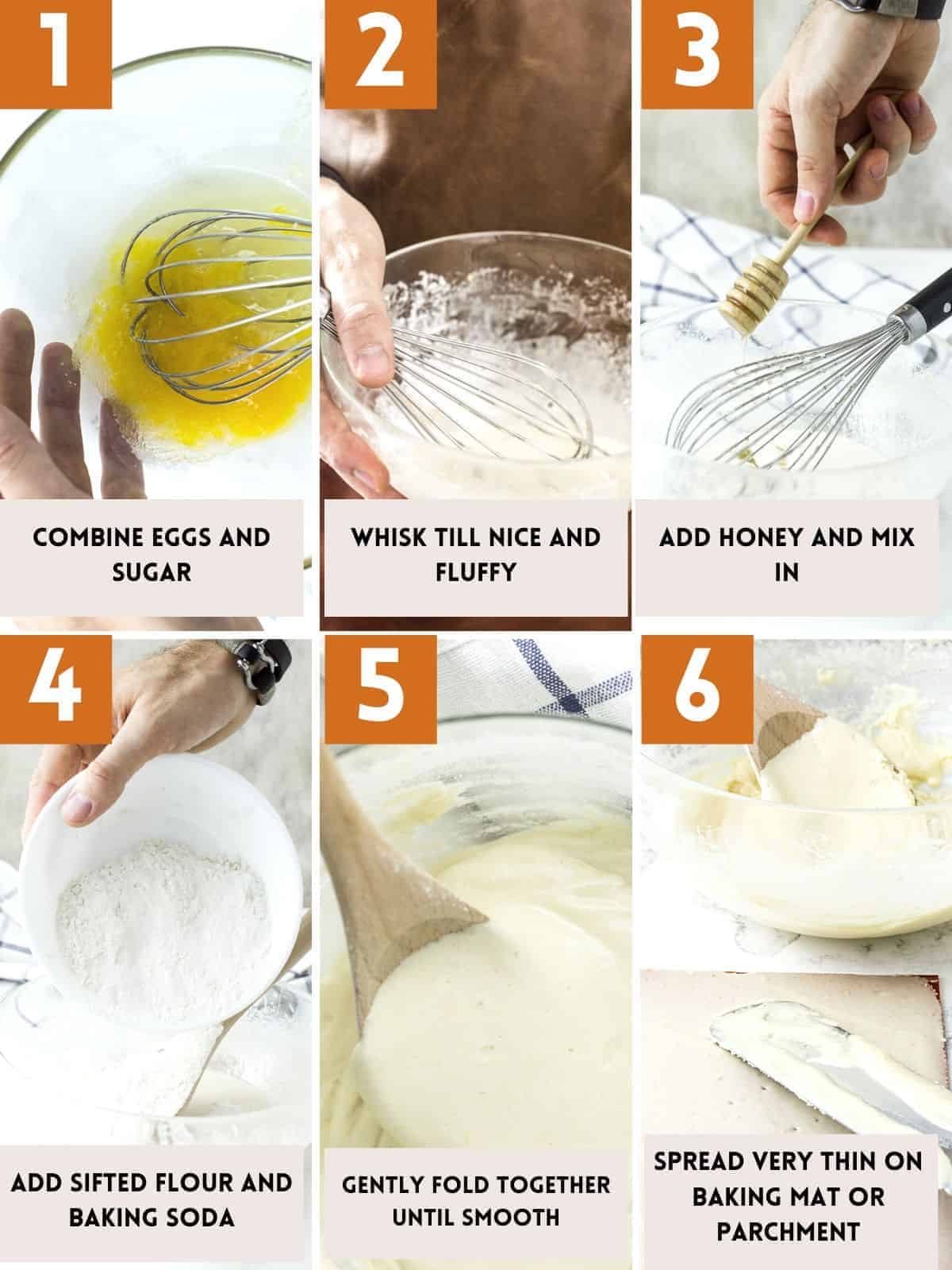 Whisk the egg and sugar until nice and fluffy.
Add some warm(not hot) honey and then fold in the sifted flour.
Fold that together nicely until you have a smooth batter.
Interesting fact
Honey is slightly acidic so the alkaline baking soda reacts with it and aerates the batter.
The next step will be to spread the batter as thin as a credit card onto a piece of baking parchment or silicone baking mat.
The mix can be a bit stiff if too cold so just let it sit in a warm place for a bit. You can still use it when cold, the batter just spreads out with more effort as it's sticky.
Turn your oven to 160 degrees Celsius or 320 degrees Fahrenheit. We are going to bake these sheets of batter into thin airy and extremely crispy wafers.
Bake for 6 - 8 minutes or until the honey cake sheets are deep golden brown. It might need more or less time depending on your oven. Home ovens vary widely with the way they cook so keep an eye on it while cooking.
When done it should look like this:
Golden brown and smelling like caramelised honey.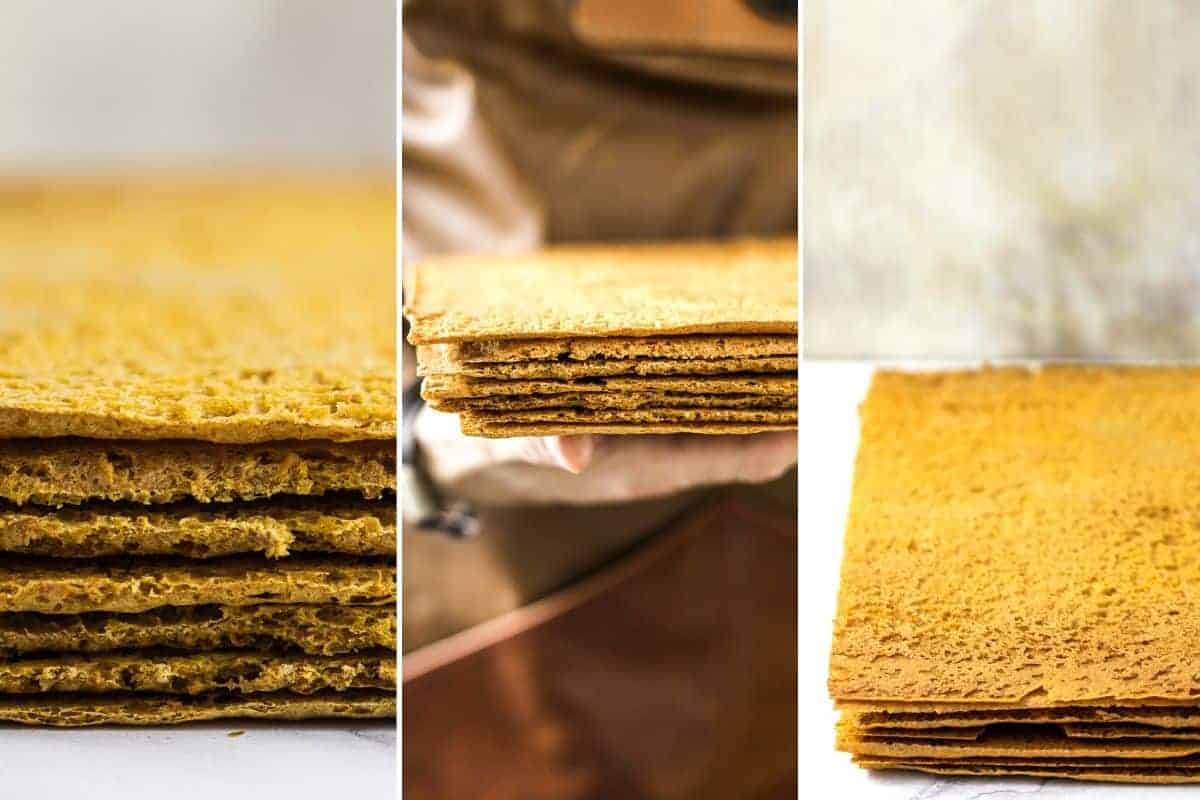 When they come out of the oven you have to cool them down to about room temperature and carefully remove them from the parchment.
Do a few batches until you've used up all the mix.
You should have about 9 sheets. 7 sheets we use for the layers and 2 we crush up to sprinkle all over our honey cake.
The next step is to make the sour cream filling which we will use to sandwich together all the layers.
How to make the filling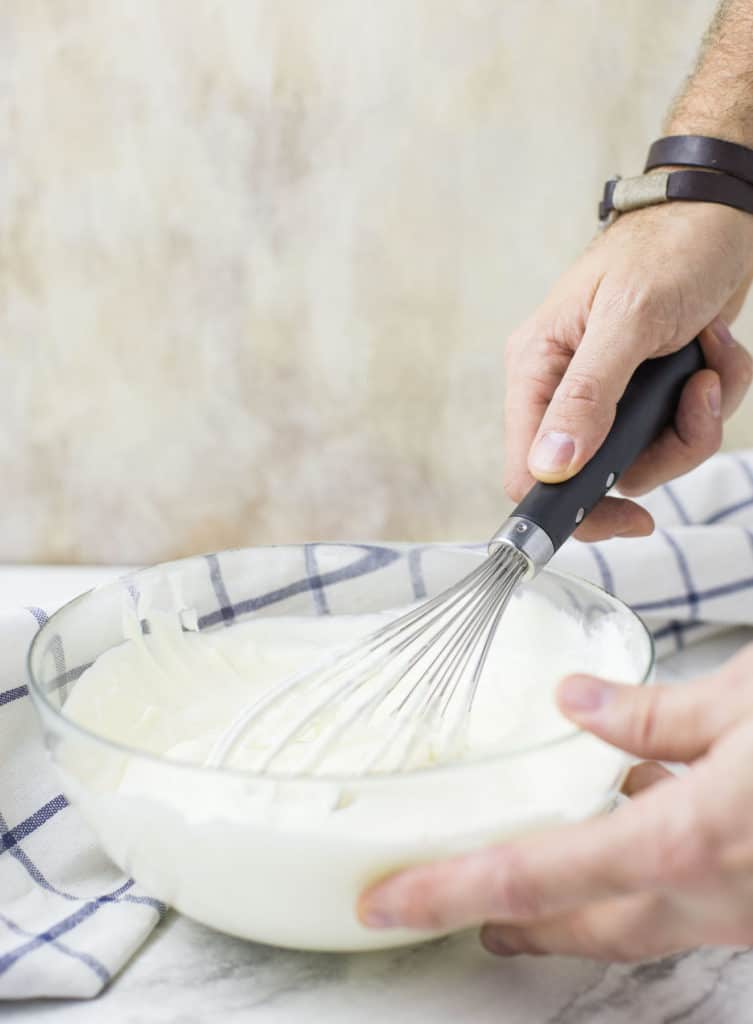 Whip 175 grams double cream, 350 grams sour cream and 150 grams powdered sugar together until nice and fluffy.
Make sure you use high-fat cream and sour cream and not some runny versions. The mix won't whip up with low-fat cream and sour cream.
Russian Honey cake is as generous as Russians themselves so don't skimp on the products. Buy the best tasting honey, the fattest cream, and sour cream. The medovik will thank you for it.
Before layering the cake there is one thing we have to remember.
We need to crush up some biscuits to cover the cake.
This is important for that lovely crunchy contrast you get between the creamy fluffy interior and the crunchy exterior.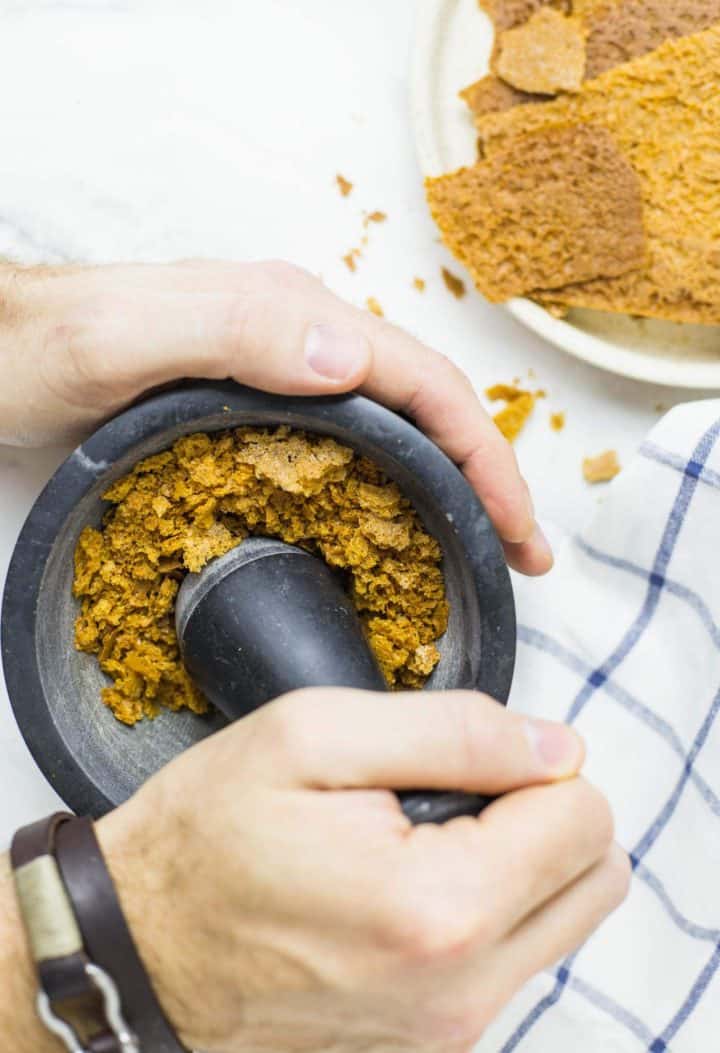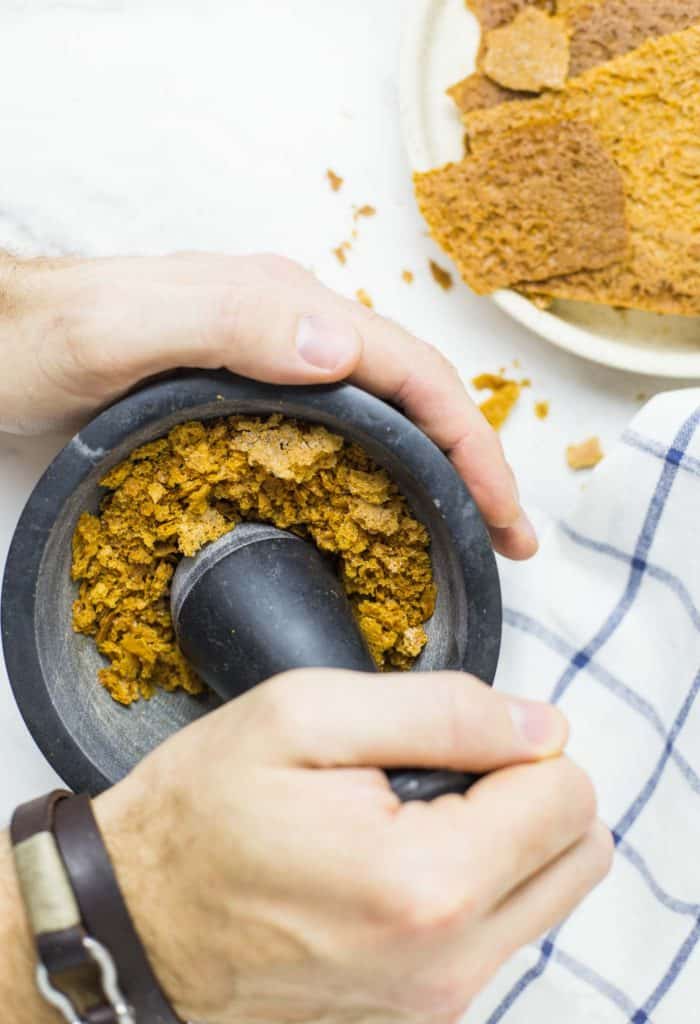 Layering the cake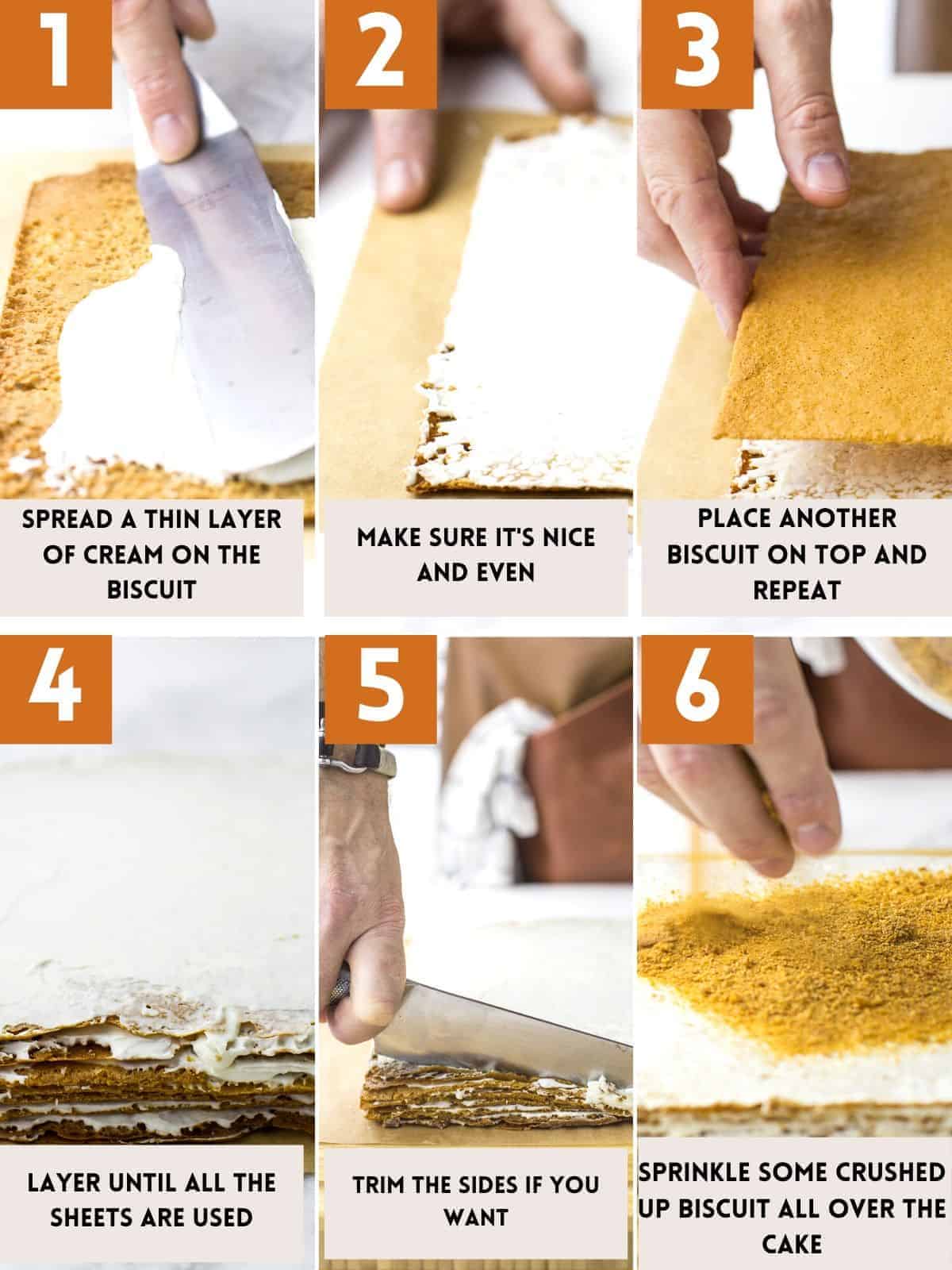 Spread the whipped sour cream mix onto a layer of crisp biscuit and repeat until the layers of the biscuit is used up and finish with a layer of cream on top and around the sides.
If you want a tall cake, double or triple the recipe and just keep layering. Just keep in mind that I do this flatter version for a good reason.
It's easy to cut and share into smaller portions and it's lighter and fluffier.
So take my advice and stick with a 7 to 12 layer honey cake if comfort and lightness are what you're after.
If not, then build a skyscraper and go all out. It will be the best honey cake you ever made.
Once the cake is covered from all sides you could leave it as is or do what I love doing.
Cut it up into smaller squares and individually cover them with crispy biscuit crumbs.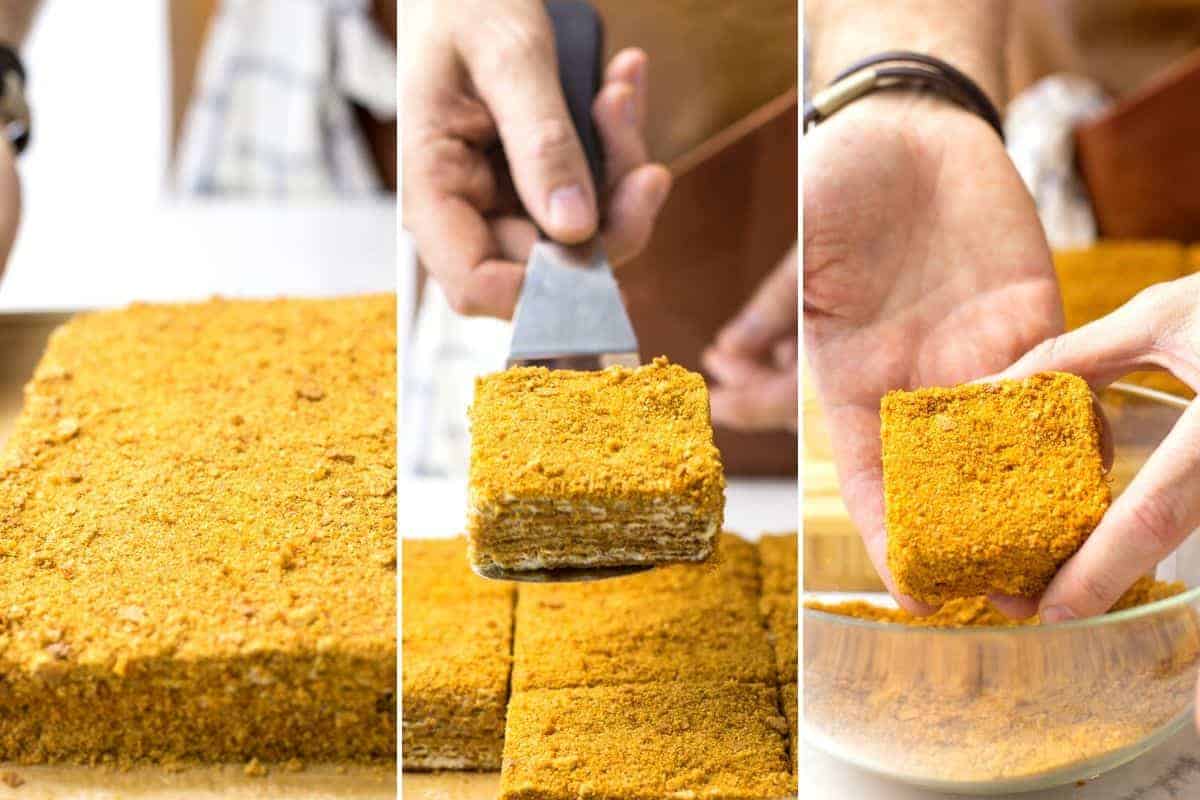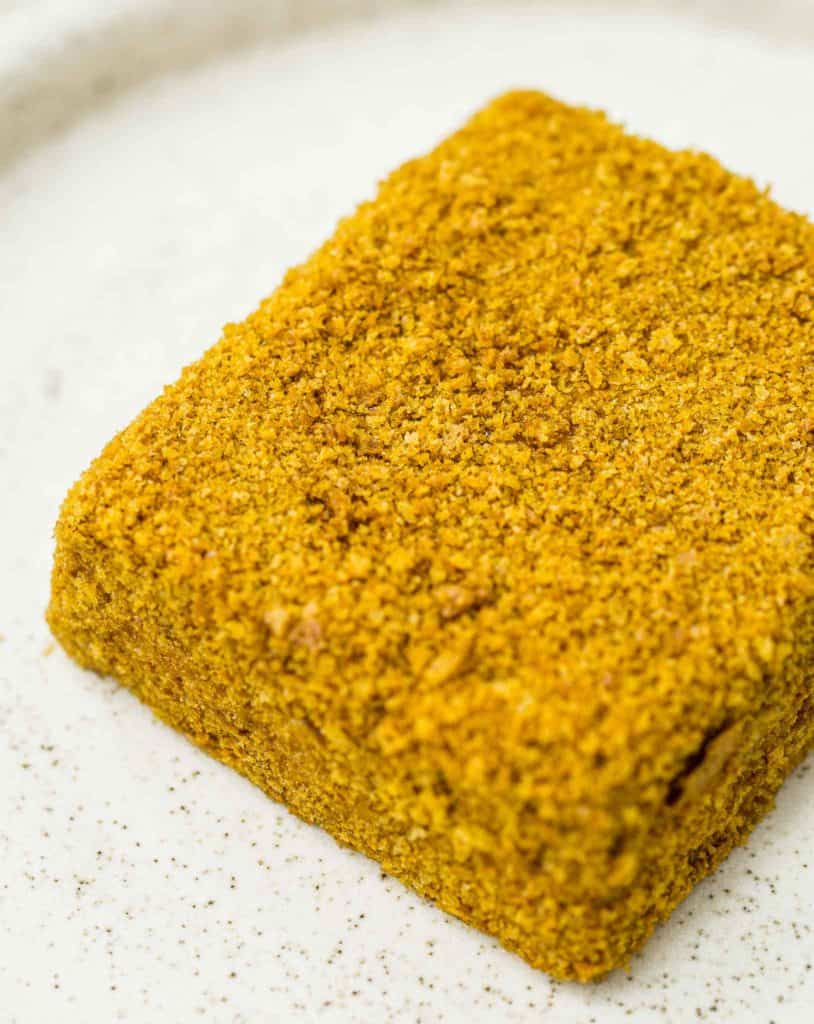 Now all that's left is to dig in.
You could have it as is or drizzle some more fresh honey on top.
Great with a cup of rooibos tea. Enjoy.
Frequently asked questions
How long does it keep
When closed airtight it will last for a week in the fridge. Don't store at room temperature because the dairy filling will spoil.
Can it be frozen
Absolutely yes. You can store a honey cake or most other cakes in the freezer for up to 3 months without it losing any quality. Make sure to store it airtight.
How to make it gluten free
Replace the regular flour with a gluten free flour mix.
How to reduce the sweetness
Leave out half the confectioner's sugar in the filling. If you want to go even further leave it all out. There is plenty of sweetness in the honey biscuit. I personally do not like desserts very sweet so I leave out the sugar from the filling and also reduce the sugar from the biscuit.
Other recipes you might like
If you like baking cakes or bread then you will find the following recipes useful.
This site contains affiliate links. I may earn a tiny commission on qualifying purchases at no extra cost to you. By bookmarking these links you help support the upkeep of this site.
If you found this post helpful or have learned something, comment, subscribe, and follow me on social platforms for more tasty recipes.
Recipe
Russian Honey Cake (Medovik | Медовик)
The best honey cake recipe you'll ever find anywhere. We can not make enough of these and every Russian and non-Russian are going crazy for them. Light and fluffy, pure honey taste and nicely balanced with a sour cream filling.
Instructions
For the biscuit layers:
Cream the eggs and sugar until fluffy.

Add the honey to the creamed eggs and mix until homogenous.

Fold this mixture into the sifted flour and baking soda.

Cover and let it rest for an hour at room temperature.

Heat the oven to 160°C or 320°F.

Spread credit card thin layers of biscuit mix onto a silicone baking sheet or greaseproof baking paper.

Bake 6-8 minutes or until rich golden brown.

Remove from the oven and let cool before carefully removing the silicone or baking paper from the biscuits.

Repeat until all the batter has been used.

Set aside 3 biscuit layers to crumble into a fine breadcrumb consistency and keep the rest for the layers.
For the cream:
Whip up the cream and confectioner's sugar to stiff peaks.

Fold the whipped cream mixture into the sour cream.
To assemble:
Spread a layer of cream onto each biscuit layer and continue until you have used up all the biscuits apart from the ones set aside for the crumb.

Finish with a layer of cream. Cover the sides as well.

Lastly, sprinkle the cake all over with the crispy crumble. If you want to make smaller cakes cut them into smaller shapes and cover in more crumb individually.
Video
Notes
I prefer Medovik to be flatter, but you can do a taller cake and use as many layers as you want.
Watch the video for a surprising secret ingredient I add to the crumb.
This cake won't last at room temperature because of the dairy filling. Store in covered in the fridge for 5 days or freeze for up to 3 months for longer storage.
If you want your cake to be less sweet, simply omit the confectioner's sugar in the filling.
Nutrition
Serving:
130
g
Calories:
376
kcal
Carbohydrates:
71
g
Protein:
5
g
Fat:
16
g
Saturated Fat:
9
g
Polyunsaturated Fat:
1
g
Monounsaturated Fat:
4
g
Trans Fat:
1
g
Cholesterol:
83
mg
Sodium:
236
mg
Potassium:
124
mg
Fiber:
1
g
Sugar:
33
g
Vitamin A:
581
IU
Vitamin C:
1
mg
Calcium:
67
mg
Iron:
2
mg
Keywords:
medovik, russian honey cake