The best Caesar salad recipes are those that stay true to the original version. This is one of those. In Fact, this is the BEST Caesar you will ever make.
Crunchy romaine salad leaves, real aged Parmesan cheese, creamy fresh Caesar dressing and homemade sourdough croutons. The perfect lunch, the perfect dinner or simply a delicious side dish for ribeye steak, bavette steak or roasted chicken breast.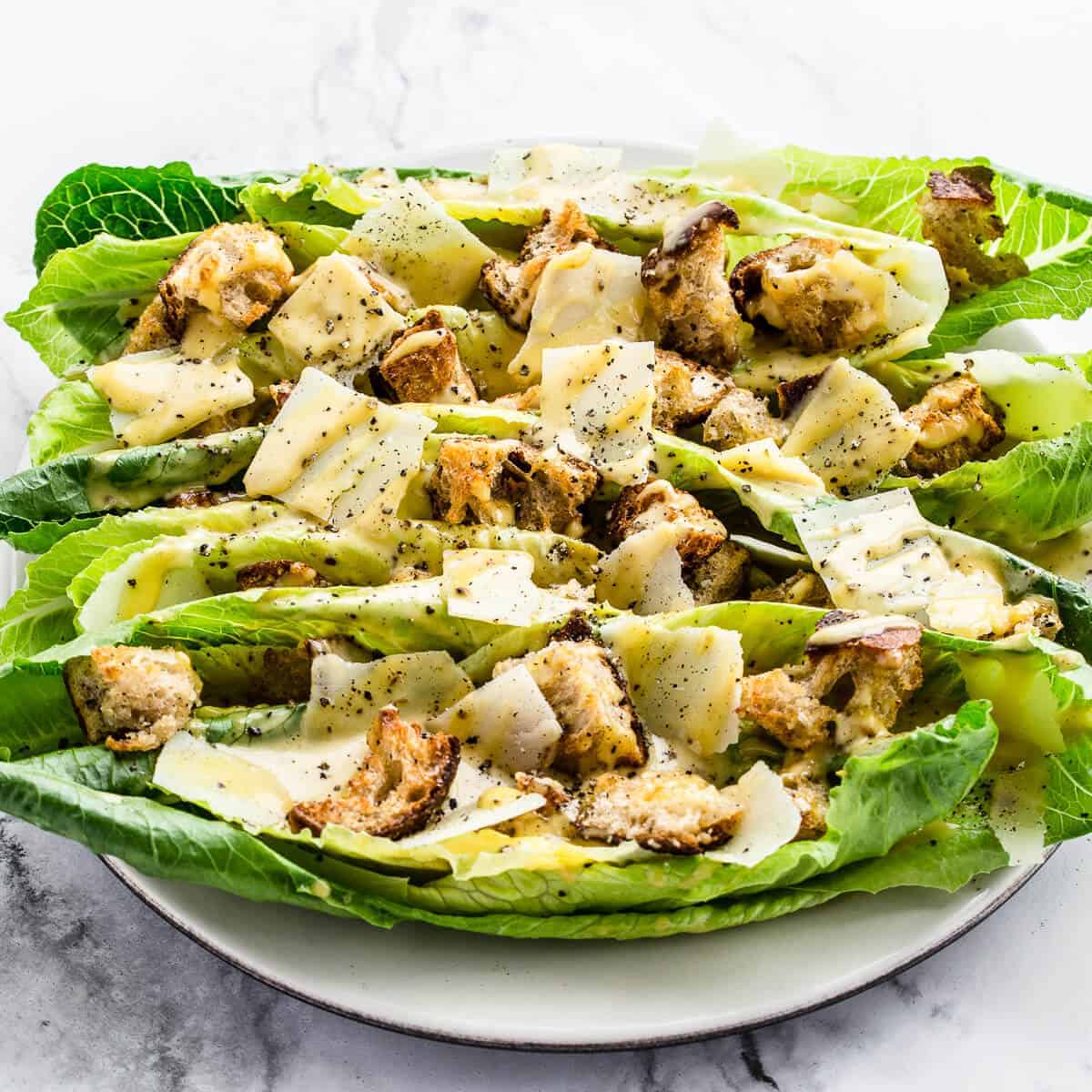 Jump to:
If you follow me, you would know that we did a classic Caesar dressing recipe just before this salad recipe.
Caesar dressing deserves its own recipe. It's such a versatile sauce to use and the way we make it is traditional but truly magical.
Caesar salad varies wildly nowadays with chefs adding ingredients the original never had. Grilled chicken, shrimp, eggs and tomatoes all get added and the list goes on.
The original recipe, however, stays the best. Like all classics do.
What makes it Classic?
Traditionally, Caesar salad consists of whole crispy cos or Romaine lettuce leaves, homemade croutons, Parmesan cheese, Ceasar dressing and finished with some freshly cracked black pepper. The way Caesar Cardini intended when he invented this salad.
That's it. Nothing more, nothing less.
The only difference. We level up the dressing and croutons in a way that stays true to the original.
Useful equipment for this recipe
Ingredients needed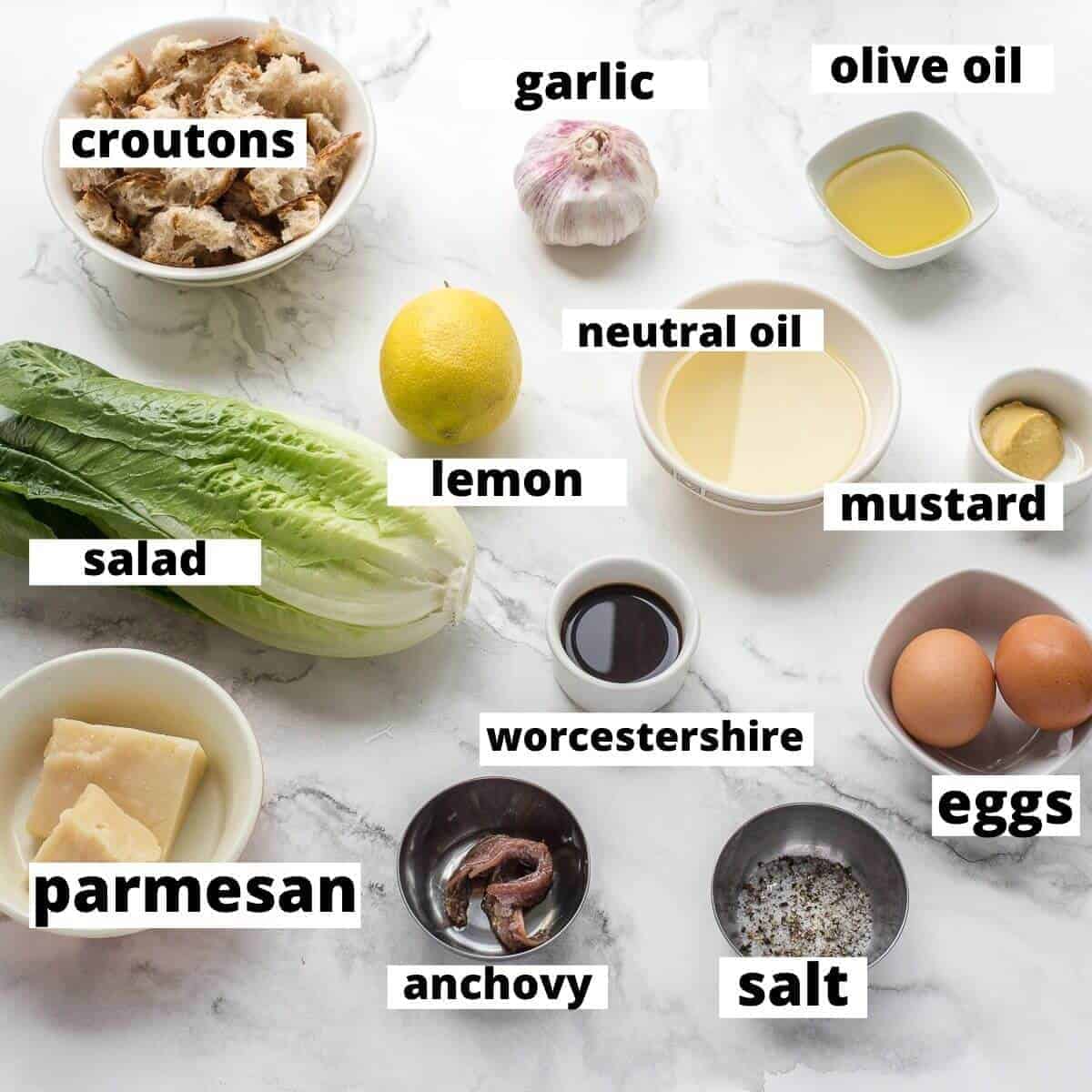 Lettuce - You want to use nice crispy lettuce like Cos, Romaine or little gem. Don't go making this with iceberg lettuce. That stuff is for feeding rabbits and that's it. Originally the salad was made with whole leaves. The idea is that you eat this salad by hand as use the leaves as a sort of boat that holds together the other ingredients. It's genius and that is definitely the way you should eat this. Just in case I even included a little how-to-eat-Caesar-salad Guide below)
Parmesan - You could also use Grano Padano. Just make sure it's a hard well-matured cheese. It's packed with umami and it carries the other flavours in the salad. If you use a plastic crappy cheese. Tears will follow. Worse, you will blame me for a shit salad.
Croutons - Unless you can buy really good artisan croutons which are basically as good as homemade then make your own. I use homemade sourdough croutons in this recipe but I also have sandwich bread crouton recipe you could use too. I suggest though you go with the sourdough croutons. Mine are made with some leftovers from this amazing sourdough bread recipe.
Dressing - Just like the croutons. Homemade is best.
Seasoning - Good old natural sea salt and freshly ground black pepper.
How to make homemade croutons
Quick and easy as you like. Our little trick? We add grated parmesan and make supercharged Parmesan sourdough croutons. They're simple but super delicious and you could eat them by the fist full on their own or with a cold beer.

Tear the sourdough bread into random bite-sized chunks. Do not cut it with a knife. Tearing is way better and makes better croutons.
Mix with grated parmesan, olive oil and a touch of salt.
Bake at 170°C or 338°F until the croutons are crispy and golden brown.
Let it Cool down completely before using.
How to make Caesar dressing
Quickly jump over to the Caesar dressing post for a more in-depth recipe. Alternatively here is a quick run-through.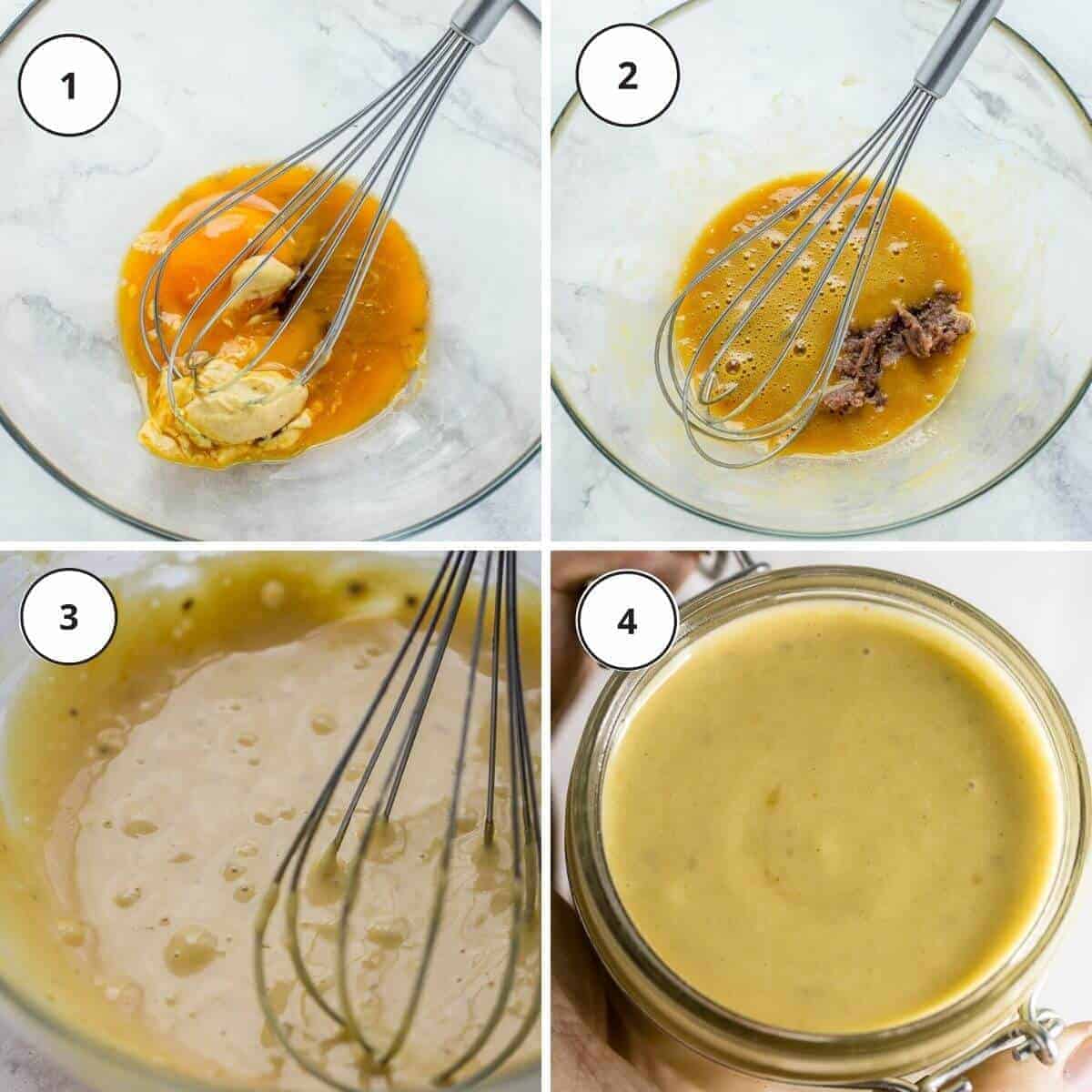 First, you want to roast the garlic and let it cool down. Easily do this at the same time as making the croutons.
Wrap it whole in tin foil and bake until soft at 170°C or 338°F. Simple as that.
When cool add with all ingredients apart from the oils.
Slowly add in the oils while whisking vigorously to ensure you have a smooth stable sauce.
Note
Use a high-speed blender to make this part easier. Also useful for blending endless other foods and making curry pastes like adjika or massaman.
The full Caesar dressing post also has alternatives like using mayonnaise or what to do if you are cautious of eating a raw egg and explains what to do if you end up splitting the dressing.
Making the salad
Don't listen to the fools that tell you to chop up your salad or tear it or anything that involves ruining the leaves.
Remove the leaves and trim the bottoms. Wash and dry thoroughly and lay on a plate. If your salad leaves are wet the dressing will run off and the croutons will get wet too.
The Parmesan should be thinly shaved ideally using a mandolin or a very sharp vegetable peeler.
Liberally drizzle the Caesar dressing all over the leaves. Followed by some croutons and Parmesan shavings and again a drizzle of sauce.
Finally, finish with a generous grinding of fresh black pepper.
How to properly eat a Caesar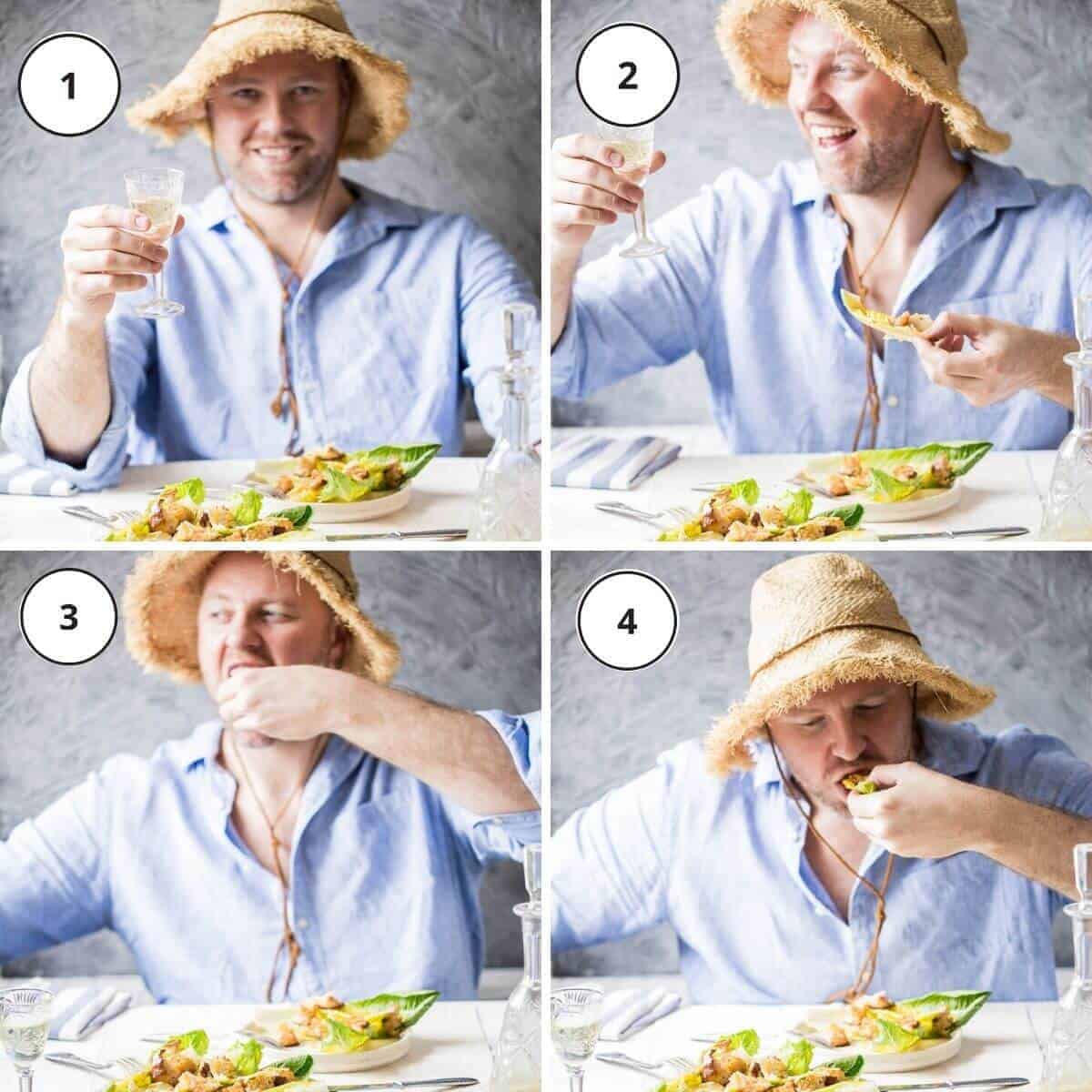 Variations
Do's
Add Protein - You can add proteins like bacon, grilled salmon, chicken, shrimps or soft boiled eggs.
Change the cheese - Any Parmesan style cheese aged cheese would work well.
Modify the dressing - You could make it without the anchovies if you don't like them. But, They are essential to the authentic taste of Caesar. Classically given by Worcestershire sauce which contains anchovies anyway.
Other additions - Cured tomatoes, cucumber or avocado.
Dont's
Add pasta - Adding it is ludicrous. Please don't).
Use flimsy leaves - Caesar salad is meant to be made with sturdy crispy leaves so that you can pick them up. Can't pick up a baby spinach leaf when loaded with sauce, croutons and cheese). If you like spinach then rather have it steamed, creamed or with another salad like this cured salmon salad.
Use cheap cheese - Only use aged matured hard cheese.
Grill the salad - I've seen this at a few places and as much as I like grilled salad, it is not a Caesar once the leaves are wilted and soft. If you would like to know how to grill salad properly though check out this post about side dishes done on the BBQ.
If you do decide to improvise and be a bit creative, follow this little guide above and make sure to keep the additions and flavours to a minimum.
Caesar is simple but, the flavour is big so try and keep it that way. Only add one or two extra things and don't overload the salad.
Serving suggestions
By itself, Caesar Salad can be a full meal. Alternatively, serve as a side salad with some of the following or as part of a feast.
Frequently asked questions
Can it be made ahead of time?
It doesn't sit well once the dressing is on the salad. The croutons will get soggy over time and the leaves will wilt.
How long does it keep?
Once you have put together the salad you have to serve it straight away for the best results.
What about using raw eggs?
You can use pasteurised egg yolks to make the dressing instead of fresh eggs if you are worried about consuming or serving raw egg.
More salad recipes
THIS PAGE CONTAINS AFFILIATE LINKS - I MIGHT EARN A TINY % OF THE SALE THROUGH THESE LINKS NO EXTRA COST TO YOU. PROBABLY NOT EVEN ENOUGH TO BUY A BEER).
If you found this post helpful or have learned something, comment, subscribe and follow me on social platforms for more tasty recipes.
Recipe
Caesar Salad
The best Caesar salad recipes are those that stay true to the original Caesar salad. This is one of those. In Fact, this is the BEST Caesar salad you will ever make.
Ingredients
For the Salad
2

heads Romaine salad

-

We only use the hearts

100

g

(

1

cups

)

Parmesan cheese

-

shaved

1

g

(

½

teaspoon

)

freshly ground black pepper
Instructions
Make the Dressing
Combine all the ingredients apart from the oils in a mixing bowl or blender.

Blend or whisk until combined.

Slowly whisk or blend in the oils until fully emulsified.

Adjust the seasoning if you want.

Store in the fridge or use straight away.
Make the Croutons
Tear the sourdough bread into random bite-sized chunks. Do not cut it with a knife. Tearing is way better and makes better croutons.

Mix with grated parmesan, olive oil and a touch of salt.

Bake at 170°C or 338°F until the croutons are crispy and golden brown.

Let it Cool down completely before using.
Make the Salad
Arrange the washed lettuce leaves onto a plate. Drizzle with dressing followed by croutons and shaved cheese. Add more sauce and finish with some freshly ground black pepper.
Notes
Garlic - It's best to use the roasted garlic. It's magical and takes this caesar to the next level above other versions. Alternatively, replace with 10g of fresh garlic.
Anchovies - It's optional but the recipe needs it. I explained why but it's basically because Worcestershire sauce nowadays doesn't have the anchovy flavour it used to have back in the day. So we compensate. The original recipe never used anchovy.
Dressing - If you are pressed for time then replace the oil and eggs by weight with ready-made good quality mayonnaise. Adjust the consistency with a touch of water if you need to.
Croutons - If you can find good quality store-bought croutons use those if you need to whip it up quickly. Homemade croutons with Parmesan stays the best though.
Nutrition
Serving:
250
g
Calories:
437
kcal
Carbohydrates:
34
g
Protein:
15
g
Fat:
27
g
Saturated Fat:
6
g
Polyunsaturated Fat:
3
g
Monounsaturated Fat:
16
g
Trans Fat:
1
g
Cholesterol:
228
mg
Sodium:
762
mg
Potassium:
199
mg
Fiber:
2
g
Sugar:
2
g
Vitamin A:
394
IU
Vitamin C:
5
mg
Calcium:
193
mg
Iron:
3
mg
Keywords:
classic caesar salad