Jump to recipe
The best way how to cook salmon fillet seems to be a hotly debated topic. In this article, we will look at how to cook salmon fillet skin-on in a pan as well as answer a few common questions and bust a few myths along the way. As always, it's best to start with the most basic question.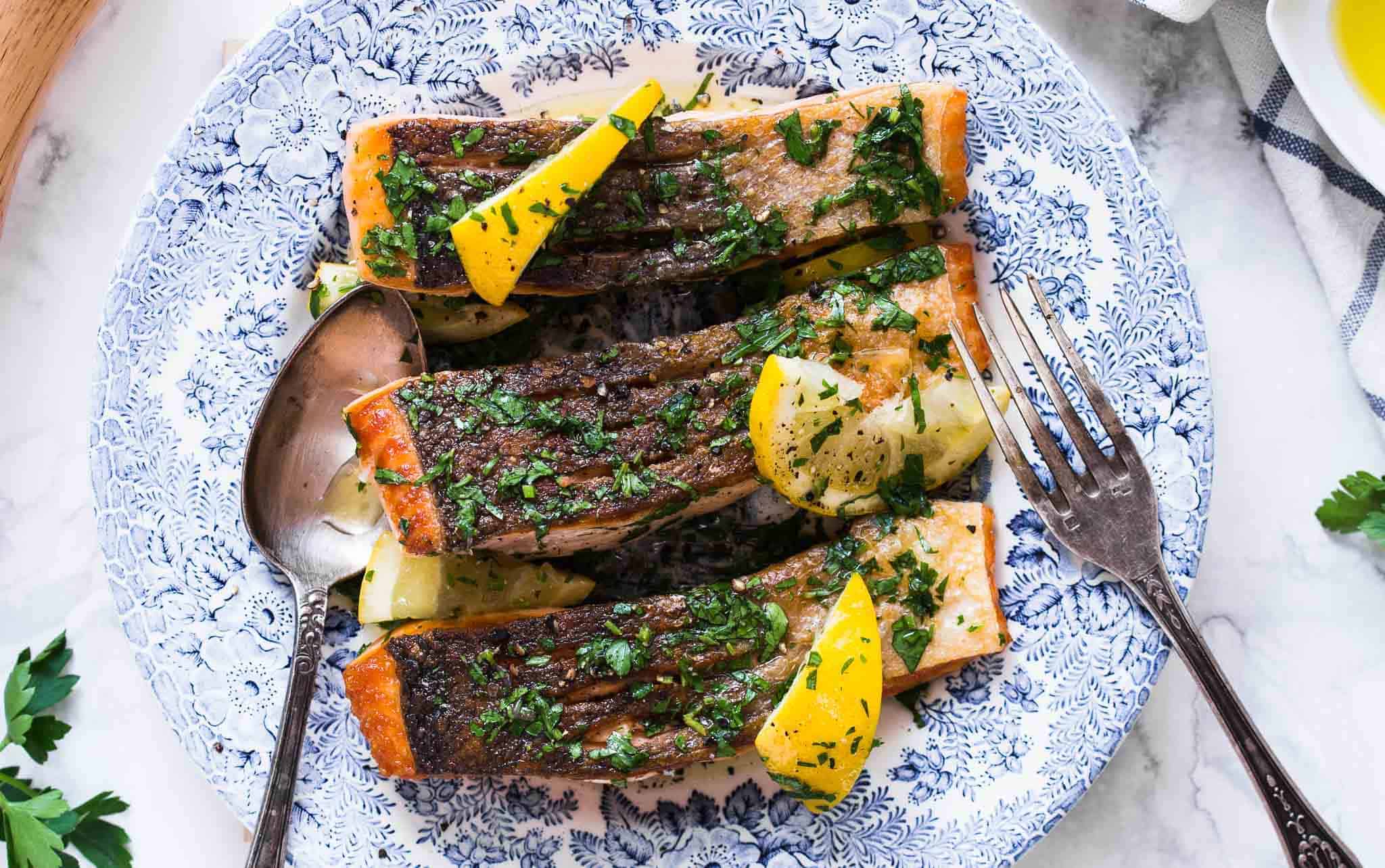 What is a salmon fillet?
It's important to realise that a salmon fillet and a salmon steak are two different cuts. Salmon steak is a cross-section cut with two pieces of fillet still attached to the spine. It requires a touch more skill to cook and we will look at those another day, but the principles are very much the same as for cooking salmon fillets. Salmon fillet, on the other hand, is a boneless cut with the flesh removed from the spine in a lengthways cut.
A quick bit of geeky fish knowledge
Fish is a protein-rich food source just like meat. However, the proteins in fish are much shorter and the collagen holding together the muscle fibres are not as tough as with beef or chicken. This means that fish requires less cooking time. Fish will be cooked at a lower temperature compared to meat. Fish proteins start coagulating at 42C. By the time it reaches 60C the fish will start to dry out and essentially be overcooked. The trick is to get the internal temperature of the fish just right at around 50C and I will show you how.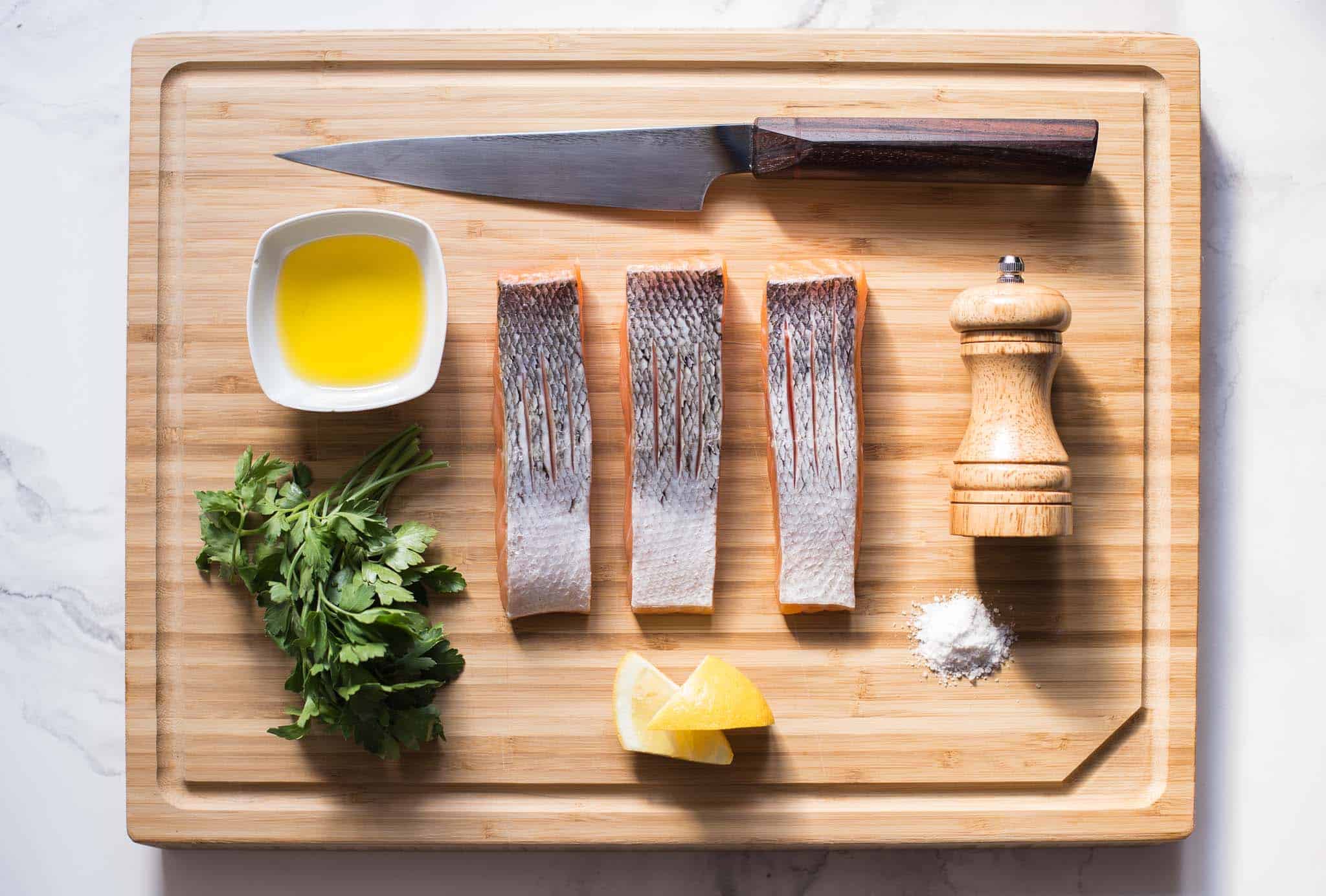 Why is this the best way to cook salmon fillets?
Salmon with crispy skin and succulent tender flesh is the only way you should want to eat it. This recipe does exactly that and we even went a few steps beyond and cooked our salmon fillets with garlic, lemon and parsley butter. The result is phenomenal. Simple, quick and perfectly cooked. You could have this on its own or serve it with this amazing mashed potatoes, one of these sides or these awesome Chinese beaten cucumbers.
How to cook salmon fillet with garlic, lemon and parsley butter?
Frequently asked questions related to cooking salmon fillets
How many calories in salmon fillet?
Every 100g of skin on salmon fillet contains 104 calories.
How to cook salmon fillet on the stove?
The process is described in this article above and in my opinion the best way to cook salmon fillets.
What is the healthiest way to cook salmon?
The healthiest way to cook salmon would be steaming or sous vide. Salmon is great source of omega fatty acids and the skin carry a great amount so try not to remove it. To steam or sous vide salmon follow the same internal temperature guideline mentioned above.
How to cook salmon fillet in foil?
To cook salmon in foil you first need to add a layer of baking paper between the fish and foil. Make sure it's well sealed and bake in the oven at 200C for about 10 minutes or until the internal temperature reads 42C. Rest for 5 minutes to finish cooking via residual heat and serve.
How long to cook salmon fillet?
It all depends on the size and temperature but the most important part is to make sure the salmon reaches an internal temperature of around 50C by the time it's consumed.
What temperature should salmon be cooked at?
Various techniques require different approaches and temperatures. Sous vide at 52C. Oven-baked at 200C. Pan-fried on medium-high. Barbecued over hot coals.
How to cook salmon fillet in the oven?
Turn oven to 200C. Season with salt and olive oil. Place on a baking tray lined with parchment. Bake skin side up until the internal temperature reaches 42C. Allow the residual heat to cook the salmon further until the temperature reaches 50C.
How do you not overcook salmon?
By following the internal temperature when you cook salmon it is impossible to over cook if correctly done. Do not exceed an internal temperature of 55C.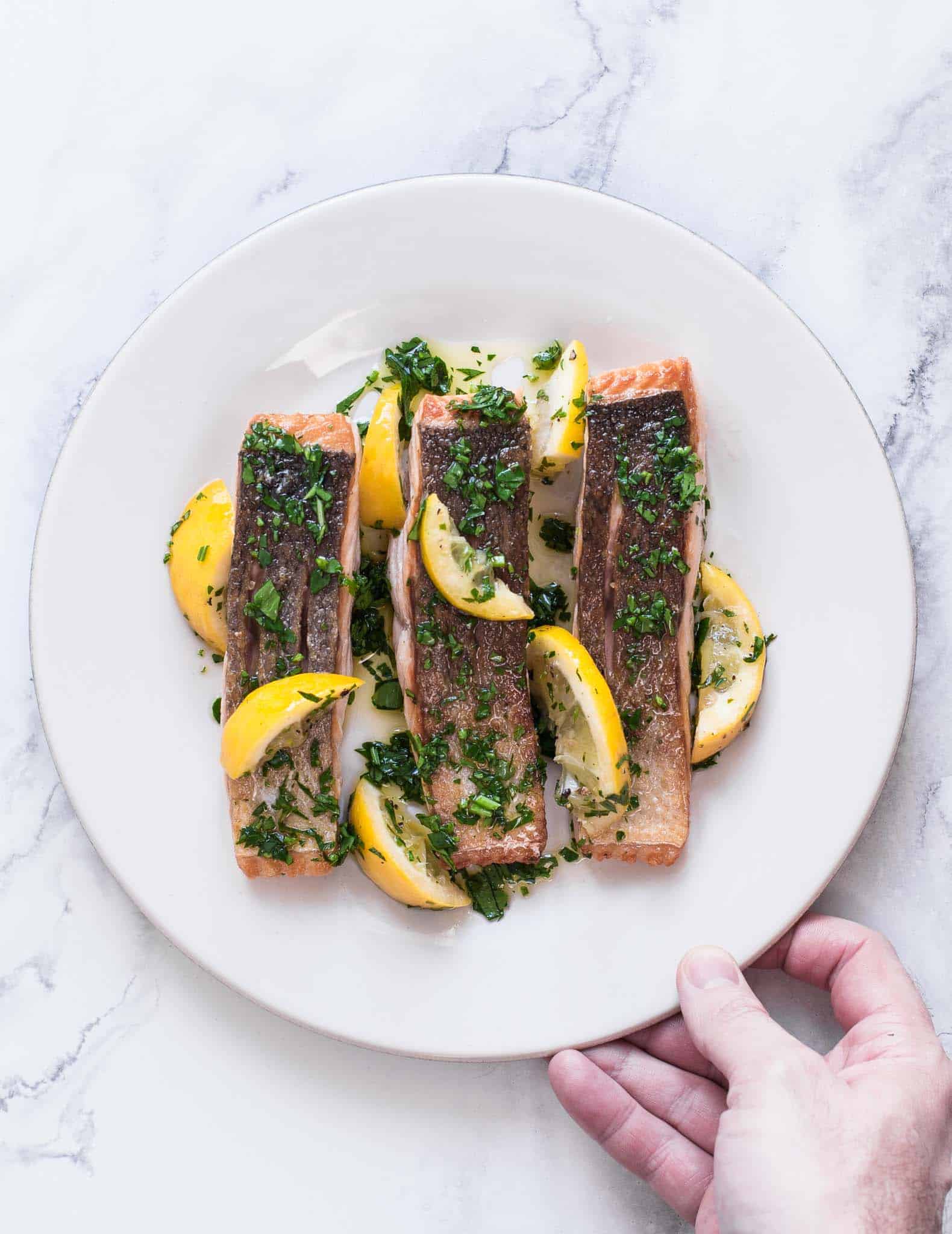 What to serve with salmon?
Millions of recipes exist. Try these mashed potatoes or a simple green salad. Roasted asparagus, creamed spinach and Chinese cucumbers are but a few great things to serve with a salmon fillet.
My favourite is just a bit of roasted broccoli or bok choi. For an ultra-healthy version have it with some steamed young spinach drizzled with a bit of the lemon sauce.
Finally, if you like a spicy kick add a bit of this awesome homemade sriracha or for a sweet tomato burst, a few of these oven-dried cherry tomatoes.
How do you tell when salmon is done cooking?
By reaching an internal temperature of 50C.
What sauce goes with salmon?
In this recipe, we did a garlic, lemon and parsley butter. Try and keep sauces light and fresh as salmon is a fatty fish and needs something zingy for balance. Try gremolata, salsa verde or tapenade. Even a light white wine cream works great.
How to cook salmon fillets from frozen?
Don't. You will overcook the outside while the inside will still be frozen or raw. The safest way is to thaw fish in the fridge over-night and cook when fully defrosted.
How to cure salmon fillet?
I have written a whole article covering the topic of curing salmon. If you like healthy recipes check out this easy cured salmon salad.
USEFUL EQUIPMENT FOR THIS RECIPE
CAST IRON SKILLET - AFTER YOUR DOG - YOUR NEXT BEST FRIEND
THIS PAGE CONTAINS AFFILIATE LINKS - I MIGHT EARN A TINY % OF THE SALE THROUGH THESE LINKS NO EXTRA COST TO YOU. PROBABLY NOT EVEN ENOUGH TO BUY A BEER).
IF YOU FOUND THIS ARTICLE HELPFUL OR HAVE LEARNED SOMETHING, COMMENT, SUBSCRIBE AND FOLLOW ME ON SOCIAL PLATFORMS FOR MORE TUTORIALS AND TASTY RECIPES