Jump to recipe
Massaman curry is a walk-in-the-park to prepare. This Super easy delicious 1-Pot dish is done in less than 30 minutes.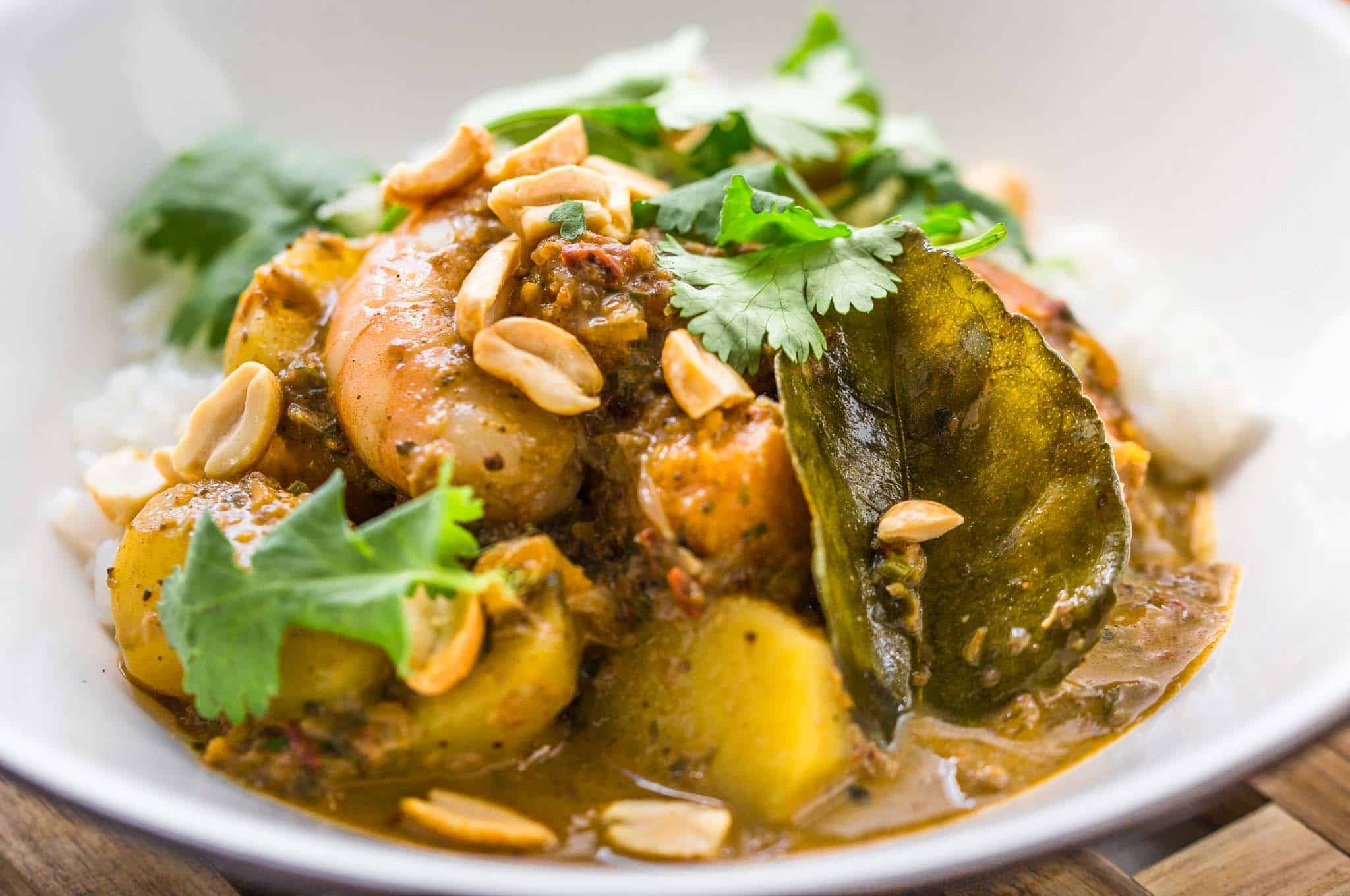 Jump to:
Trust me. You will never need to google - Thai curry near me – again in order to eat one of your favourite restaurant dishes.
In this recipe for Massaman curry, we will use Shrimps or Prawns. Same-Same but different).
Traditionally, beef is used but, we want this recipe to be QUICK, TASTY, EASY, and low risk.
Beef takes ages to cook and can sometimes disappoint when the quality is not there.
The other great news is you can skip the whole make your own curry paste step and just buy a good store brand. Mae ploy brand being the most popular.
For best results make a big batch of Massaman curry paste when you feeling inspired and freeze it in small batches for when you need it.
I included the recipe and steps for my authentic Massaman curry paste recipe below. You deserve to know how to make the real deal. The taste will blow your mind!
I am fortunate enough to have worked with chefs from top Thai restaurants and lucky enough to have gained their knowledge and secrets about making great Thai food.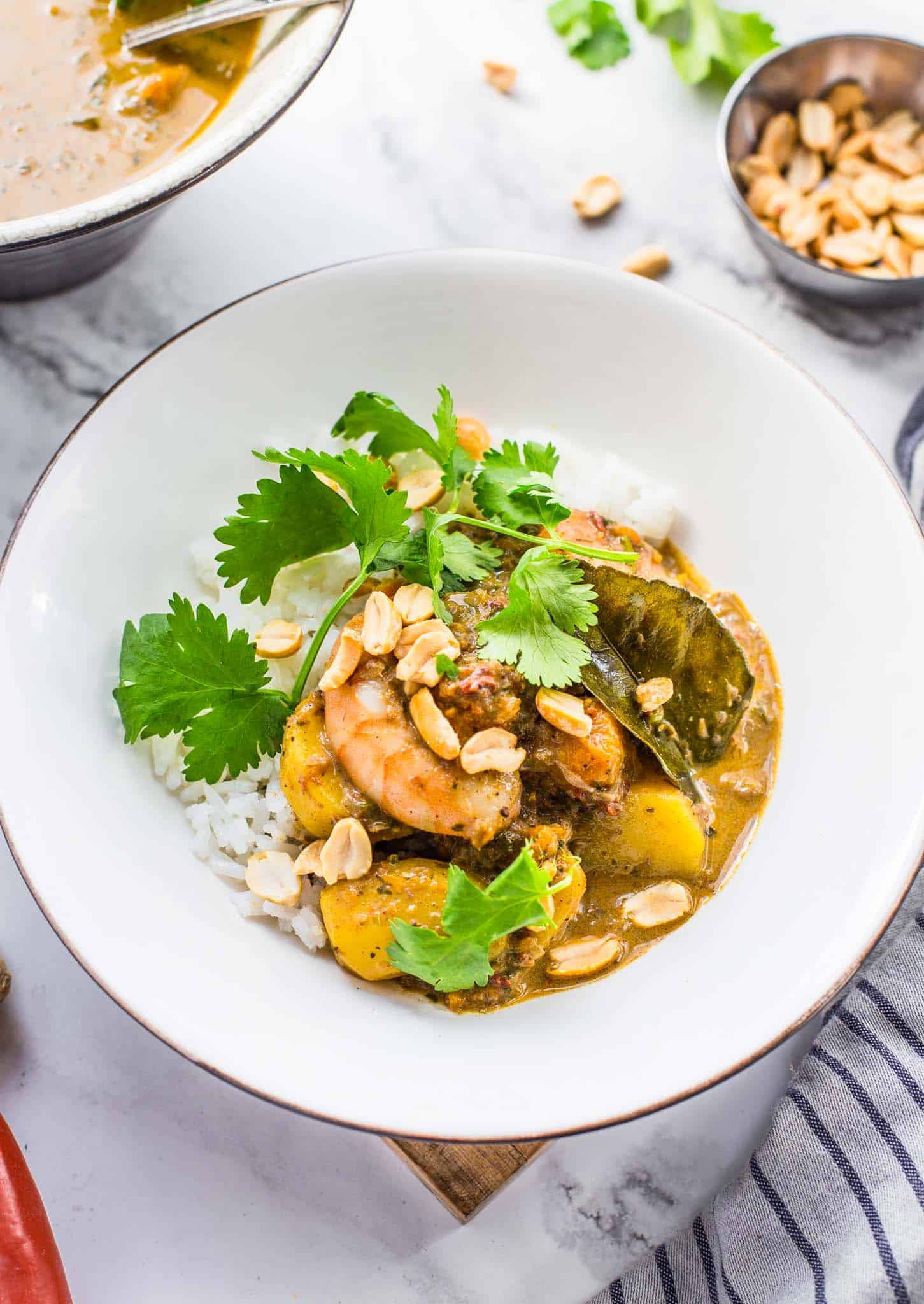 What is it
It's a rich mild Thai coconut curry made with a variety of spices traditionally found in Indian cuisine.
Of all the Thai curries. Massaman curry is the most disputed when it comes to its origin. Some claim it to be of 17th-century Persian descent, while others claim it to be a hybrid Southern Thai dish influenced by Indian and Malay cuisines.
What they all agree on though, is that this curry is incredibly delicious.
Massaman curry consists of marrying distinct Thai ingredients like lemongrass, galangal, ginger, coconut milk and lime leaf with spices not normally found in Thai cuisine.
Spices might include coriander, cumin, aniseed, cloves, turmeric, cinnamon, nutmeg and cardamom. Like with all curry spice blends, there are variations of on the combination and quantities used.
Ingredients required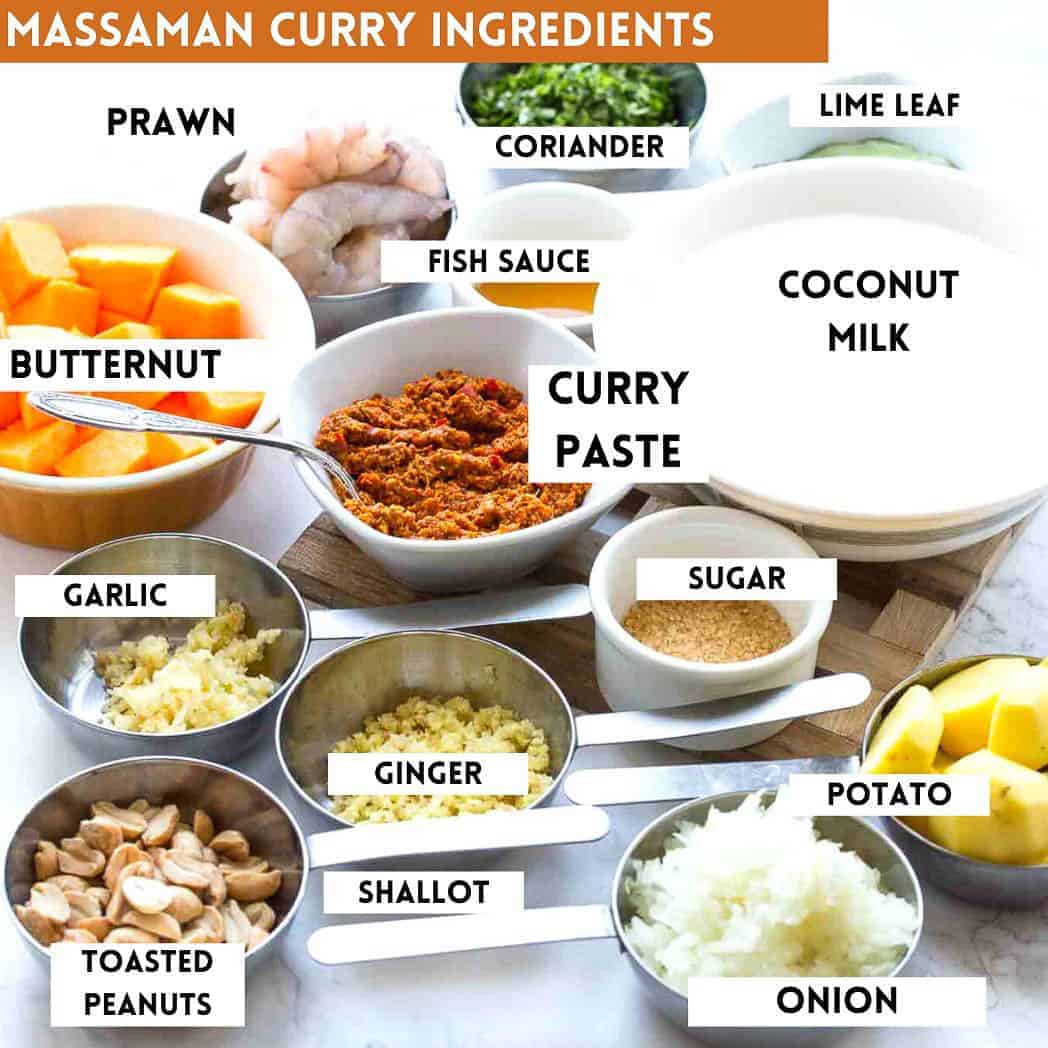 Protein– Use whichever you like. In this recipe we use Prawns. They cook quickly, are easily available and light and healthy especially if you have this in the evening. If you prefer vegan or vegetarian I have included the steps for that down in the article.
Vegetables – All curries start with chopped onion or shallot. We also use potatoes and butternut squash in this recipe. They are available year-round, cheap and flavourful and the butternut gives good colour while the potatoes ads texture to most curries respectively.
Coconut milk – Use the best quality you can afford. Something creamy with good fat content. I used Arroy-D for this recipe which is a medium level brand but it is stable and does the job nicely while not breaking the bank.
Curry paste – Making your own is always best which is why I lovingly included the recipe for you. If you in a rush or feeling a bit lazy the best store-bought alternative is Mae ploy brand.
Fish sauce/ Soy sauce – Any good Thai or Vietnamese fish sauce brand will do. I make my own and if you are interested in fermentation then contact me on Instagram and I'll be happy to explain the process of easily making homemade fish sauce or soy/shoyu. Use soy instead of fish sauce in case of wanting it vegan/vegetarian.
Sugar – Palm sugar is obviously what is used traditionally but regular or brown sugar will work just fine. If you are following a low sugar diet then use your usual alternative by adding to taste.
Herbs – Fresh coriander is the only thing you need here. If you forage then wild ginger is also pretty nice added last minute.
Nuts – Peanuts are the go-to here but you could also use cashews. Exclude if you have a nut allergy. Please.
Acid – Fresh lime although if you really can't get hold of limes, go for lemon.
Aromatics – The usual Thai suspects. Galangal, ginger, garlic, lemongrass, lime leaf. Most of these are readily available and sometimes are even sold in a nice and convenient pack together with chillies and coriander.
Pro tip
Thai food is all about balancing sweet, sour, spicy and bitter.
When you understand how to balance these your cooking skills will dramatically increase. Even with more mainstream cuisines like with this Italian burst tomato pasta.
How to make the curry paste
Spices and aromatics used for the paste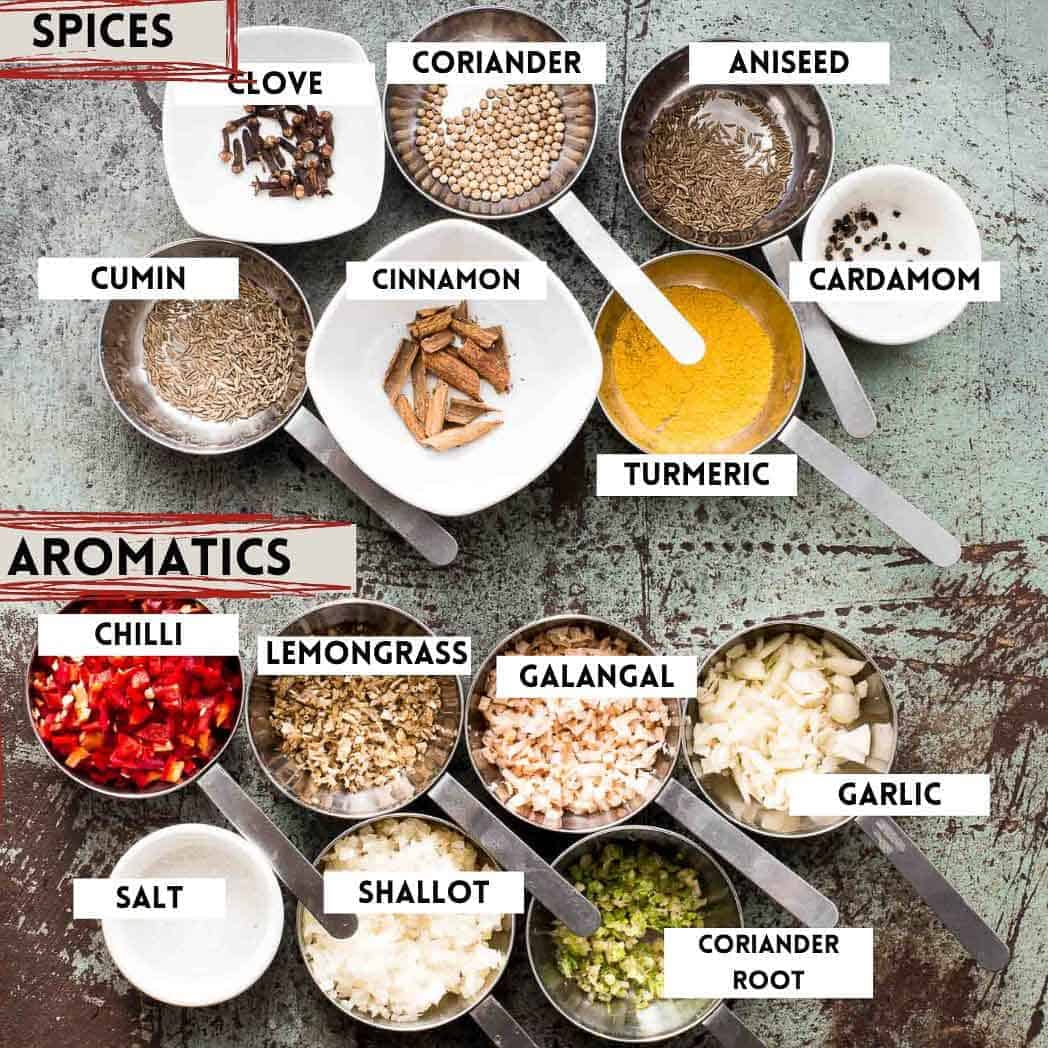 I use a mortar and pestle for this paste but a Nutri-Bullet blender works perfectly and much faster too.
Always buy the best quality spices and raw ingredients you can find and afford when making your own curry pastes. It shows in the results.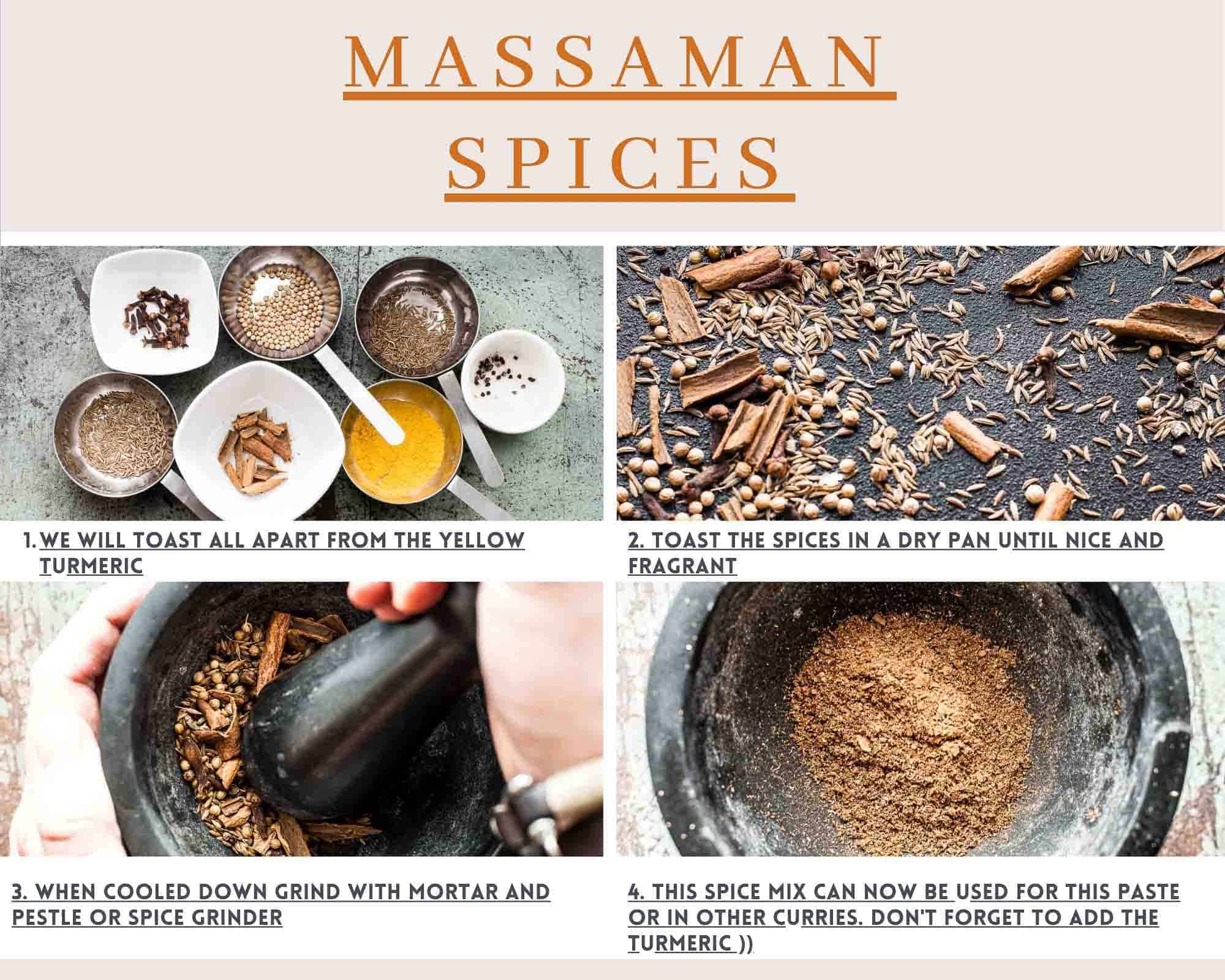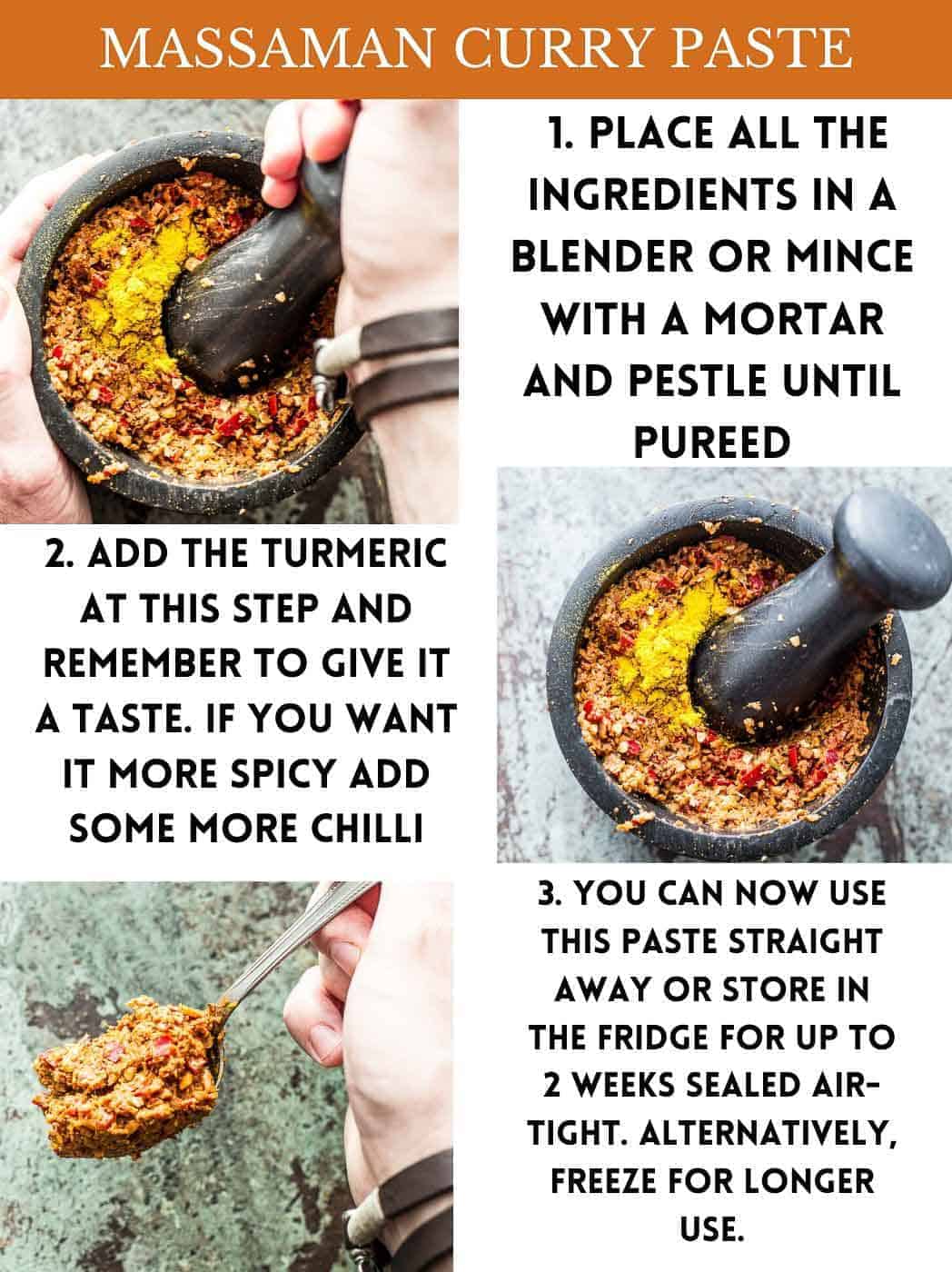 How to make the curry
All the ingredients needed to make Massaman curry are pretty straight forward even though it all looks a lot it's very simple to prepare.
Cooking this curry mainly relies on your ability to taste and make sure everything is cooked and nicely balanced. A very simple task indeed.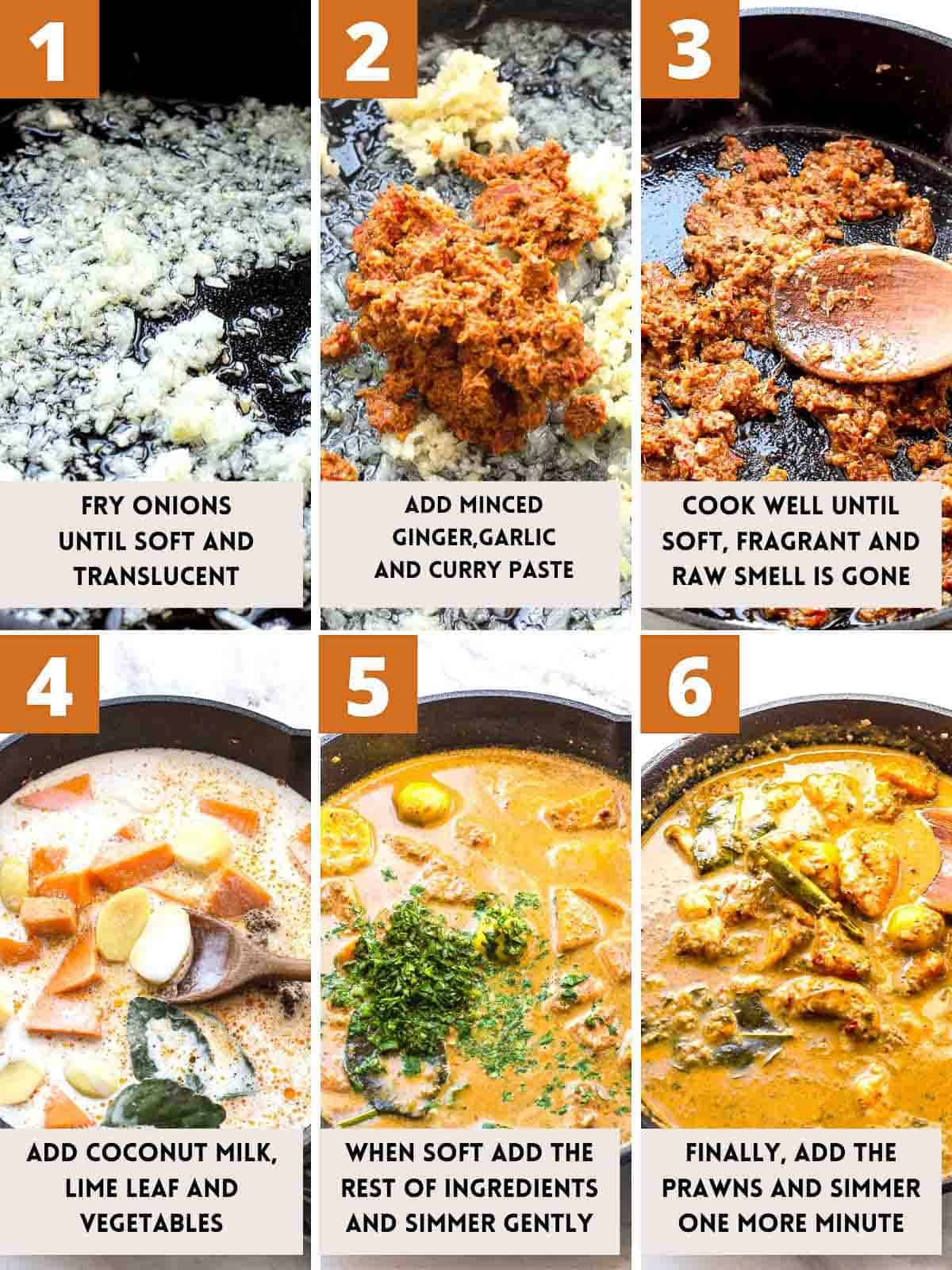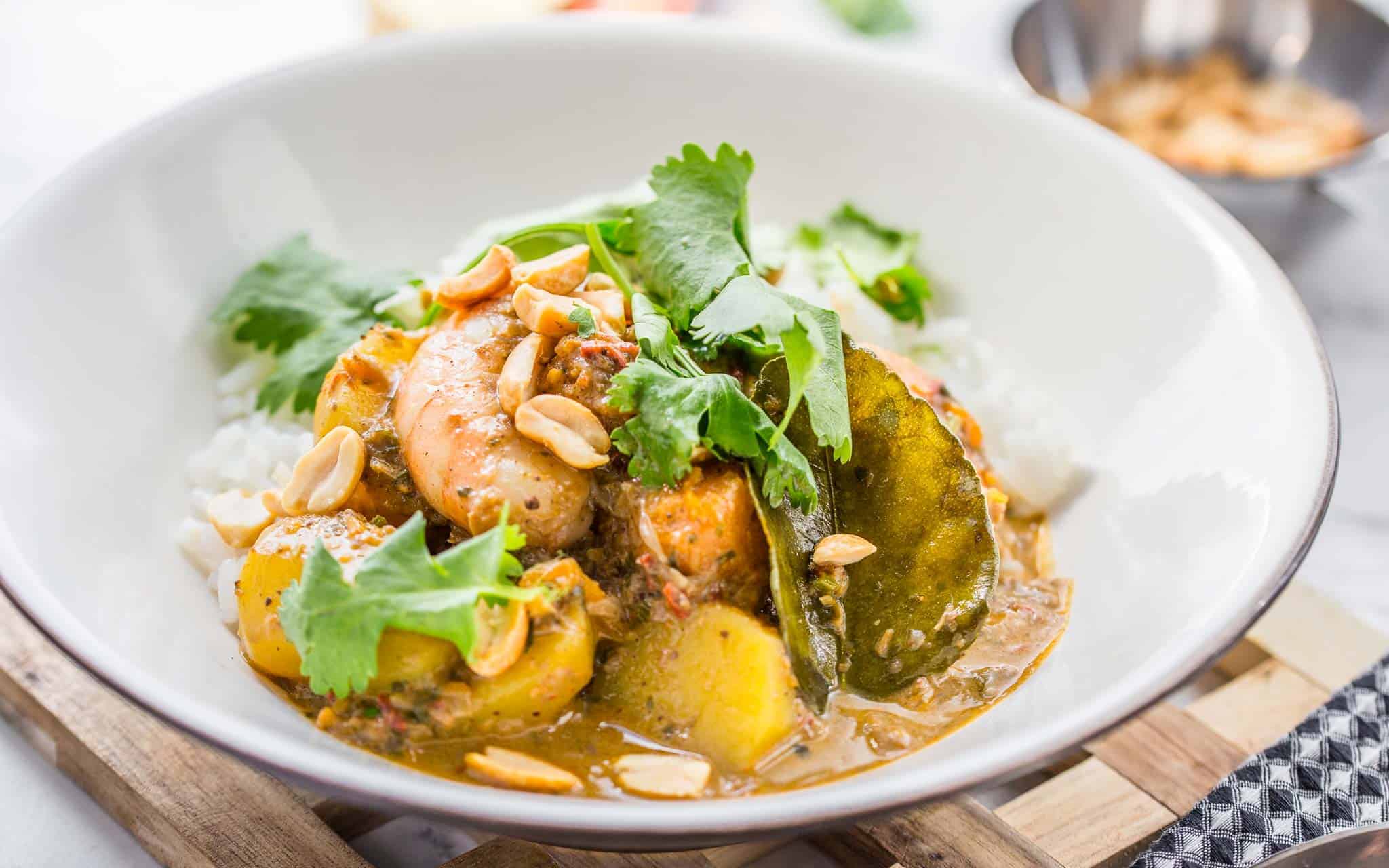 Make this recipe vegan
The process of making Massaman vegan is very straight forward and most of you would probably manage without my help. If you wondered how to do it then follow the following two easy steps.
Replace the fish sauce with soy sauce.
The rest stay exactly the same. It's that easy!
Variations
This curry is extremely versatile and you can substitute any part of the protein/carbs and replace it with some other food items you love. For example:
Chicken - Replace the prawns with chicken thigh or fillet and cook a touch longer.
Beef - The classic variant. Stew the beef beforehand until very tender. Add to the curry sauce the same as you would add the shrimps to this recipe.
Vegetables - We touched upon it before but, you could add any vegetable here. Think aubergine, carrot, cauliflower, cabbage, and peppers.
Quicker version - For an even quicker version add a good quality pre-cooked frozen mix. There is nothing wrong with that when you are in a hurry or just got home after 18 hours slaving.
Tofu - Prepare your tofu by frying in a pan or roasting in the oven. Add last-minute when your sauce is ready.
Serving suggestions
Massaman curry is best served with some steamed rice. You could also serve it with some extra greens like broccoli, bok choy or spinach.
Other Asian dishes you might like
Frequently asked questions
How many calories does it have?
This will vary depending on the protein or vegetables you use. This recipe has 360 calories per portion.
Can it be frozen?
Portion and store airtight in the freezer for up to 6 months. hopefully, you will eat it before then.
How long does it keep in the fridge?
This curry will last for up to four days in the fridge.
Useful equipment for this recipe
THIS PAGE CONTAINS AFFILIATE LINKS - I MIGHT EARN A TINY % OF THE SALE THROUGH THESE LINKS AT NO EXTRA COST TO YOU. PROBABLY NOT EVEN ENOUGH TO BUY A BEER).
If you found this recipe helpful or have learned something, comment, subscribe and follow me on social platforms for more delicious recipes.
Prawn Massaman Curry
Massaman curry is a mild rich and creamy Thai curry with warming spices and aromatics. This recipe for Massaman curry takes less than 30 minutes to cook.

Ingredients
For the Massaman curry paste
90g fresh red chillies(or 20g dried)
2g coriander seeds
2g aniseed or star anise
2g cloves
2g cumin seeds
1g cardamom(seeds from 6 pods)
2g turmeric powder
50g chopped shallot or onion
20g garlic (chopped)
20g galangal (chopped)
1 lemongrass stick(peeled and chopped)
10g coriander root (washed and chopped)
4g salt
For the Massaman curry
142g cleaned prawns or shrimp
75g finely chopped onion
15g minced ginger
10g minced garlic
60g Massaman curry paste(this homemade version or store-bought
400g coconut milk
50g water to rinse out the tin making sure you get all the coconut flavour
25g fish sauce or soy sauce
8g brown sugar
3 large lime leaves
100g peeled baby potatoes
120g peeled butternut squash
16g chopped fresh coriander
16g roasted unsalted peanuts
6g lime juice
salt to taste
To Finish
more roasted peanuts
more fresh coriander
a few fresh lime wedges
Instructions
For the Massaman curry paste
Roast all the spices together in a dry pan until fragrant apart from the turmeric powder.
when cooled down blitz in a spice grinder or grind in a pestle and mortar till fine powder.
Next, blend all the rest of the ingredients together in a mixer or pestle and mortar until a paste has formed.
Store in an air-tight container or use immediately.
For the Massaman curry
Heat a pan with a generous amount of frying or coconut oil.
Fry the chopped onions until translucent and soft.
Add the curry paste, minced ginger, and minced garlic and fry until cooked and fragrant. About 5 minutes.
Next add the coconut milk, water, fish sauce, sugar, lime leaves, roasted peanuts and potatoes.
Simmer gently for 5 minutes and add the butternut. Cook a further 10 minutes or until the potatoes and butternut are both cooked.
Add the chopped coriander
Finally, add the prawns and simmer till just cooked. About a minute. Add lime juice and adjust the seasoning if necessary.
Serve with steamed rice and finish with more fresh coriander, peanuts and a few lime wedges.
Notes
** Massaman curry can be made with any other protein or vegetable.
** Curry is best served with steamed rice
** For some extra green vegetables serve with Bok Choi on the side or add to the curry last minute.

Nutrition Facts
Prawn Massaman Curry
Serves: 4 portions
Amount Per Serving:

250g

Calories

366.9 kcal

% Daily Value*
Total Fat

28.86 g

44.4%
Saturated Fat

23.13 g

115.7%
Trans Fat

0.01 g

Cholesterol

46.11 mg

15.4%
Sodium

790.74 mg

32.9%
Total Carbohydrate

22.29 g

7.4%
Dietary Fiber

3.98 g

15.9%
Sugars

5.15 g

Protein

10.77 g
Vitamin A

22.97 %

Vitamin C

20.98 %

Calcium

9.51 %

Iron

30.07 %
* Percent Daily Values are based on a 2,000 calorie diet. Your daily values may be higher or lower depending on your calorie needs.