Ever wondered how to make sriracha at home? This homemade Sriracha recipe will teach you just that. Fact is. Making sriracha is super easy and anyone can prepare sriracha with minimum effort and equipment.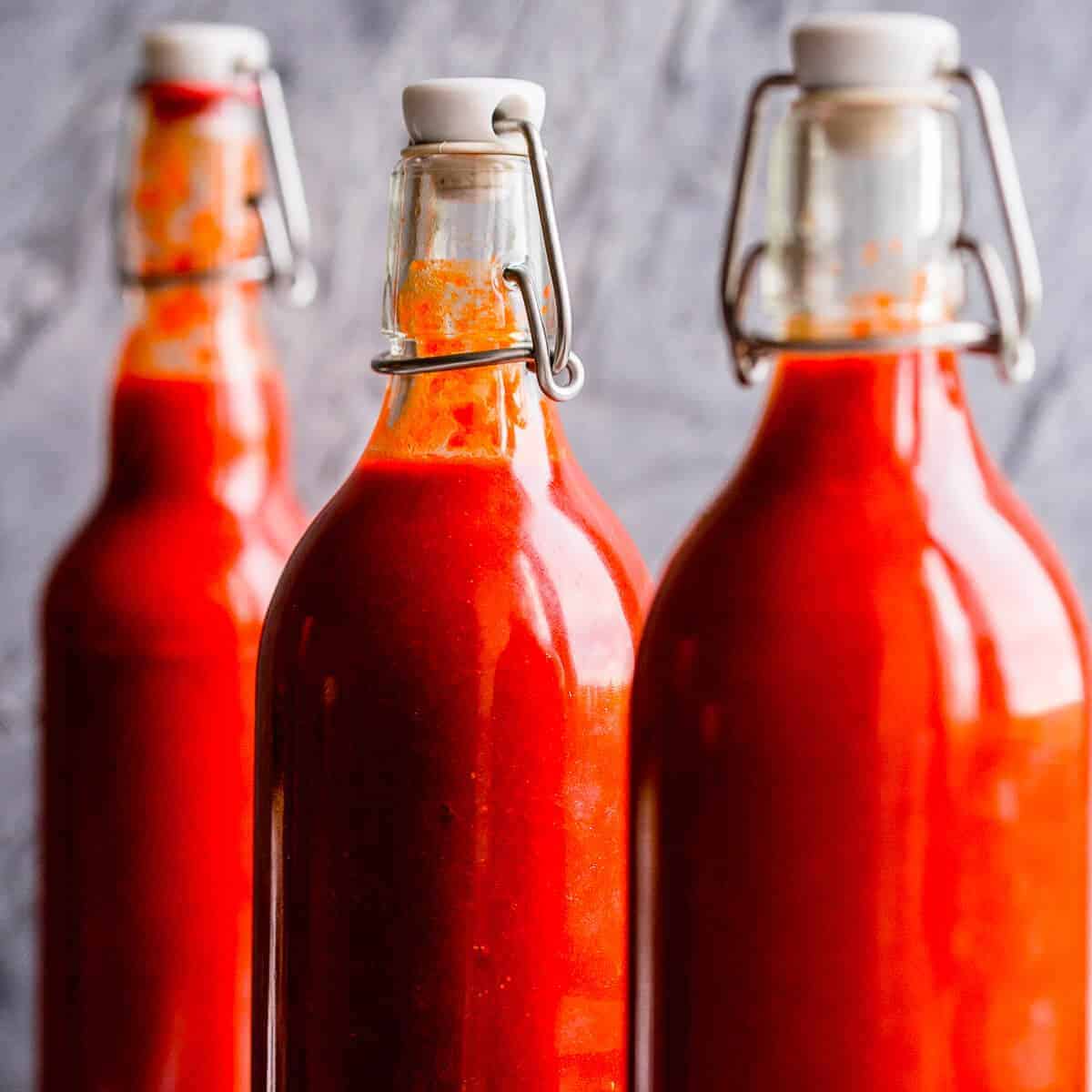 What is it?
Sriracha is a Lacto-fermented spicy condiment.
Think ketchup. Asian ketchup.
Spicy and made with chillies instead of tomatoes.
I pour it over most things Asian and sometimes even European.
Go ahead. Pour it over whatever tickles your fancy.
Is it easy to make
Ferment some chillies and garlic and you're done. The end. That's how simple this sriracha recipe is.
Fermentation explained
Fermentation is a process where food is turned from one form into another by means of microbes in order to make it more desirable.
That is the shortest least scientific way to describe fermentation.
We have gazillions of different microbes each doing their own thing. Some dangerous and some not. Some desirable and some not.
Similar to humans in actual fact. Wouldn't you agree?
The microbe we are interested in is Lactobacillus. Lactic acid-producing bacteria.
In order to harness its beneficial effect, we need to provide it with a comfy safe home to live in where no dangerous bacteria will bother it.
What does lactobacillus like?
Salt
Acid
Lack of oxygen (anaraobic)
That is a pretty easy environment to provide. We will look at how to do that in the steps to follow.
Ingredients needed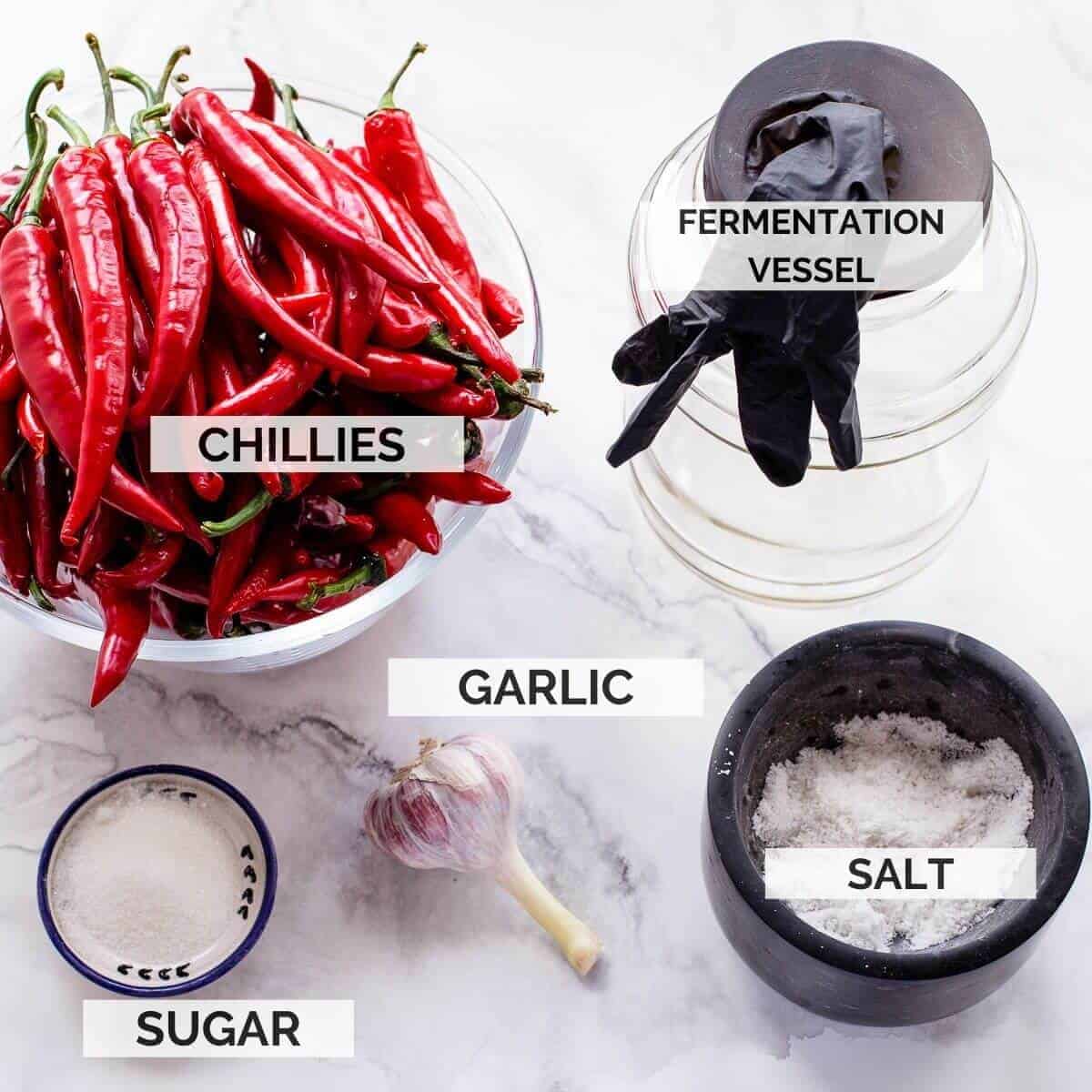 Chillies - Red spicy as you like. No blemished or rotten chillies.
Garlic - Only nice fresh REAL garlic. None of that Chinese easy-peel stuff, please. It looks like garlic but it tastes like none. Don't do it.
Salt - Non iodised natural sea salt is what I use. By that I mean I actually went and took the salt from a salt-pan in South Africa on the West Coast. I don't suggest you go through all that trouble. Just use nice clean natural salt.
Sugar - Just regular granulated sugar is good.
Vinegar - I use rice vinegar but you could go for apple cider vinegar or white wine vinegar too.
Water - Clean drinkable water.
Instructions
We start by deciding how hot we want our sriracha sauce to be. In this recipe I used Jalapeños. The original uses Serrano chillies, which can be a lot hotter than the average jalapeños.
Use whichever you like depending on how hot you like it and how easy it is for you to do handstands in the shower.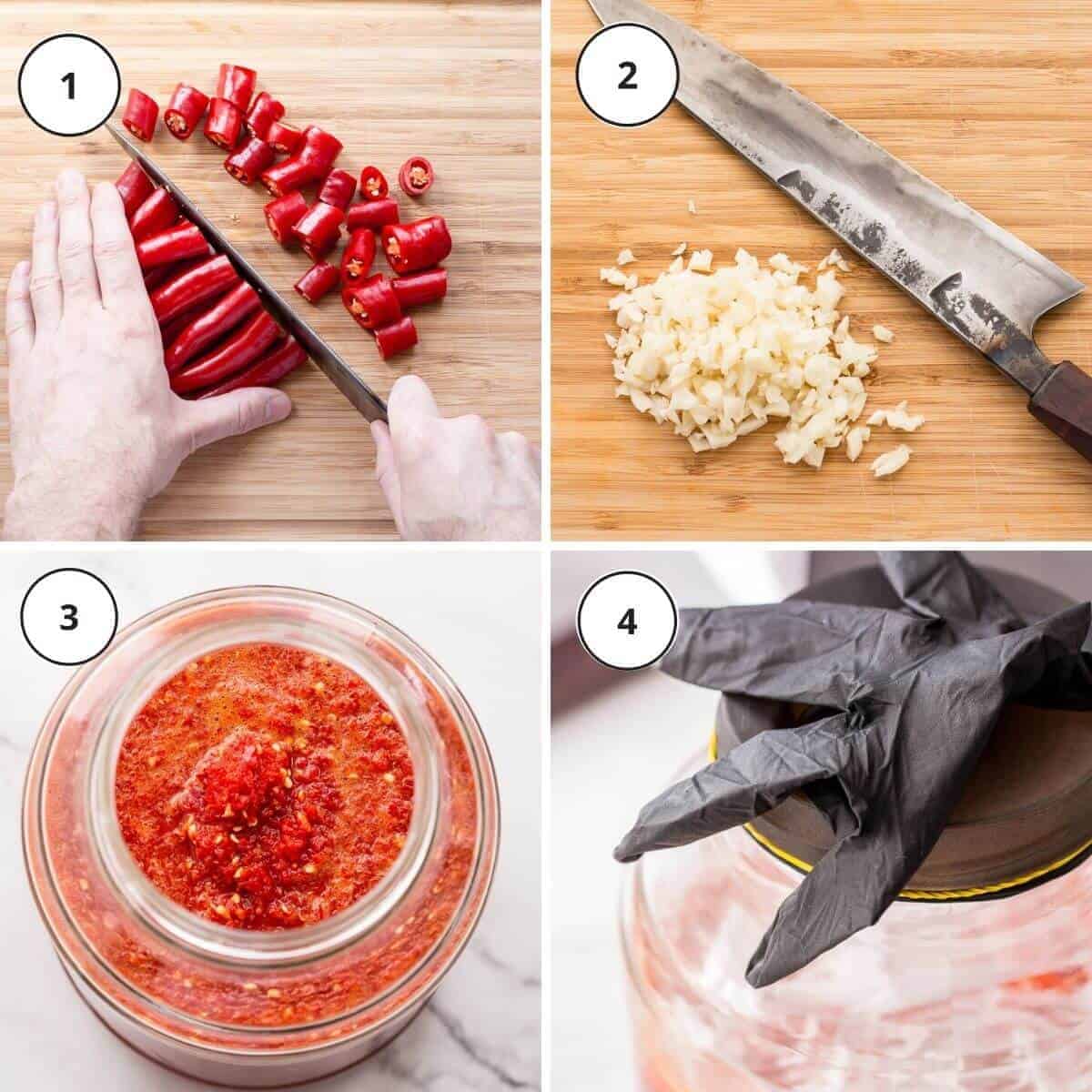 Make sure you have a clean glass jar with or without a lid. Next, you will wash your chillies and garlic under cold running water. Measure out all the ingredients you need.
Remove the stalks from the chillies. Chop them up into smaller pieces. Seeds-and-all. Clean and chop the garlic finely.
Place all the ingredients into a jug blender or container. Blend as smooth as you could get it.
Pour the liquid into the glass jar where it will be fermenting. Next, we need to make sure the sauce is sealed off from the outside air.
Place a piece of plastic wrap or steamed cabbage leaf directly onto the mix.
Place a small weight on top of that to make sure it all stays submerged and the dry particles don't float to the top. Close the container with an airlock, lid or rubber glove with a small hole pricked in one of the fingers. This is to make sure no air comes in while gas can slowly escape.
If you close it with a lid you will have to let out the air manually every few days or so. Also known as burping the ferment.
If you have a vacuum machine at home. Vac Pac the mix in a double sealed bag. That's the way I do it in my professional kitchen. It's clean, easy and reliably keeps the air out. You also know how the ferment is progressing by looking at the bag inflating.
Fermentation gives off gas, which brings us to the final step. Waiting and babysitting.
Try and ferment at room temperature. About 21°C or 70°F . Colder and the ferment will take longer. Hotter and the ferment will take quicker. Too cold(below 10°C or 50°F and it will ferment forever(almost). Too hot, above 28°C or 82°F , fermentation will be too quick and produce unwanted flavours.
Check your sriracha after 3 days. Taste it with a clean spoon. It should begin to sour. Let it ferment until you are happy with the sourness.
Remember to burp(let out air) the container every few days if you are using a lid. We don't want chilli bombs.
Food safety
Make sure your hands, environment and utensils are thoroughly cleaned before you start doing this.
We don't want nasty bacteria getting into the sauce and spoiling the ferment.
Frequently asked questions
Is sriracha vegan?
Yes. No animal products are used and it's suitable for vegans and vegetarians alike.
Is it gluten-free?
Yes. No gluten is added or present when making it.
Can I use it instead of Tabasco in a recipe?
Although it won't have the barrel-aged complexity of tabasco it will still be a suitable substitute in most cases.
Storage instructions
When done fermenting pour into glass bottles.
Close tightly and store in the fridge.
Do not leave out at room temperature as it is an unpasteurised ferment and it will continue fermenting and cause bottles to explode if left to do so.
Serving suggestions
Related recipes
This site contains affiliate links. I may earn a tiny commission on qualifying purchases at no extra cost to you. By bookmarking these links you help support the upkeep of this site.
If you found this post helpful or have learned something, comment, subscribe, and follow me on social platforms for more tasty recipes.
Recipe
Homemade Sriracha Sauce
Easy homemade Sriracha sauce anyone can make at home. Pour this over your favourite dishes for a spicy kick or make an out of this world bloody mary by replacing the Tabasco with Sriracha.
Ingredients
1400

g

(

9 ⅓

cups

)

red chillies

600

g

(

2 ½

cups

)

filtered water

250

g

(

1 ¼

cups

) granulated sugar

100

g

(

¾

cups

)

garlic

-

chopped

65

g

(

3 ⅗

tablespoon

)

sea salt

-

kosher

50

g

(

3 ⅛

tablespoon

)

rice vinegar
Instructions
Blend everything until smooth.

Ferment for about 10 days at room temperature or until you are happy with the sourness.

Blend once more and if you want to naturally stabilise the sriracha sauce like the original. Add a teaspoon or 2 grams of xanthan gum and blend once more.

Taste the sauce and if you want it to be more sweet, salty or sour make the adjustments accordingly by adding sugar, salt or vinegar. Everyone's ferments always turn out a bit different due to the natural process of wild fermentation.
Notes
Play with chilli varieties as each one gives different results in heat and flavour.
You could also grill or smoke some of the chillies to give the sauce a smokey edge.

Store in the fridge for months, burping the bottles every now and then to let out gas that might build up while the sauce slowly continues to ferment. Can be frozen in plastic containers for longer and this also halts the fermentation completely.

If your home blender is weak like mine. The seeds won't blend. When done fermenting blend again and strain through a sieve reserving the pulp. Dry this pulp out and grind into a fine powder adding back into the sauce.
Nutrition
Serving:
100
g
Calories:
67
kcal
Carbohydrates:
16
g
Protein:
1
g
Fat:
1
g
Saturated Fat:
1
g
Polyunsaturated Fat:
1
g
Monounsaturated Fat:
1
g
Sodium:
1015
mg
Potassium:
197
mg
Fiber:
1
g
Sugar:
13
g
Vitamin A:
533
IU
Vitamin C:
82
mg
Calcium:
17
mg
Iron:
1
mg
Keywords:
fermented pepper sauce, hot sauce, sriracha how to make