Mashed potatoes are a classic comfort food that can be enjoyed year-round.
There is nothing quite like a steaming bowl of fluffy, silky smooth mashed potatoes.
Perfect on a cold winter night or as a side for roasted leg of lamb or simple juicy rib-eye steak.
This recipe for mashed potatoes will show you the best way to prepare them, so you can have the perfect mashed potatoes every time.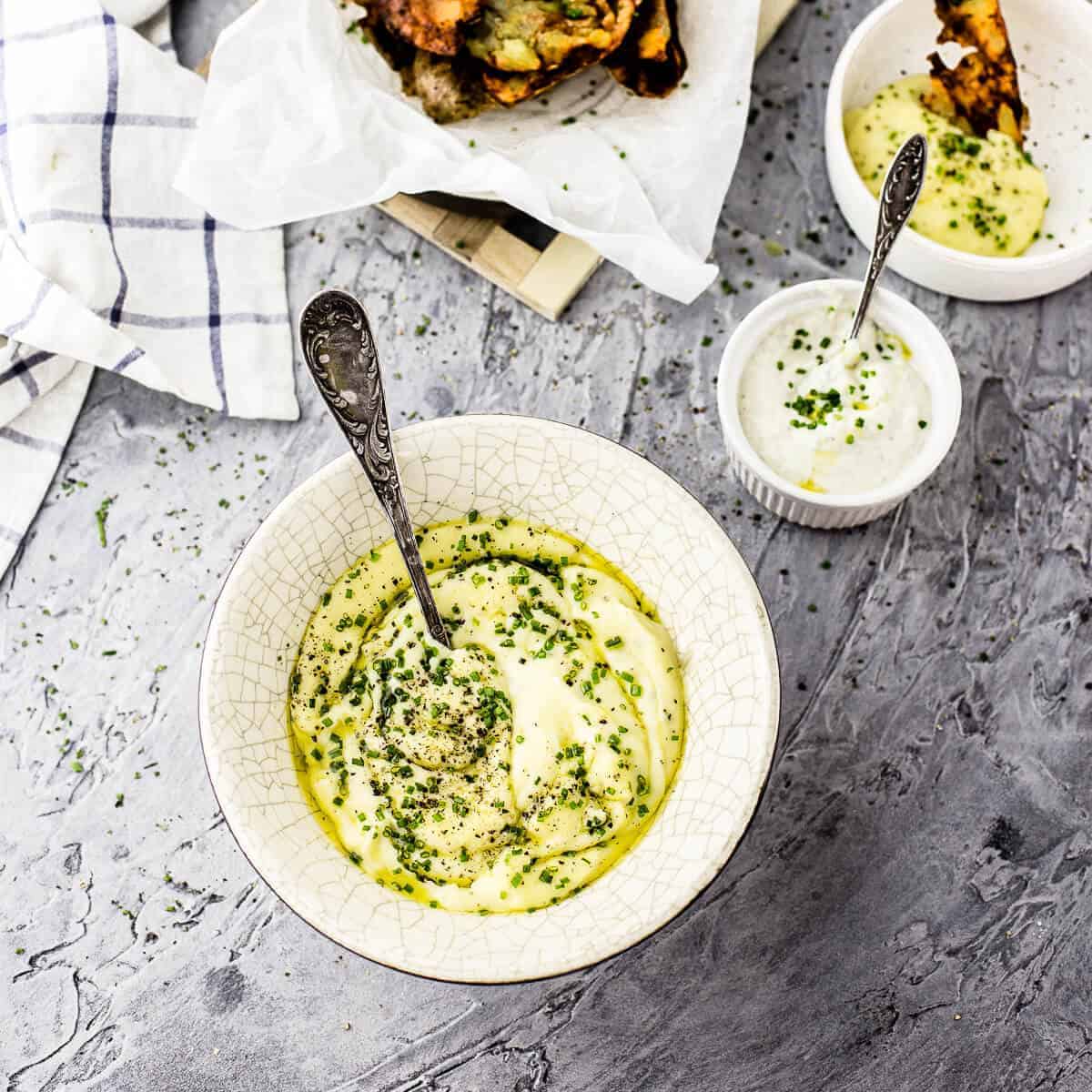 Jump to:
Best potatoes to use
Many sources suggest using russet potatoes. Also known as Idaho potatoes in the United States.
Russet potatoes are starchy potatoes. They have a dry powdery characteristic to them. Making them great for french fries or roasted potatoes.
However, they can still be used and will make delicious mashed potatoes. Just make sure to use a touch more milk than usual.
My preferred variety is Désirée potatoes.
Red skinned slightly yellow flesh, great all-rounder, and for those that care. Very low maintenance, low water consumption, and natural resistance to most potato diseases which means no pesticide.
The texture is also waxier and for that reason, some might ask the following. 
Avoid it getting gummy
Mashed potatoes can turn out gummy if they are mashed too much or cooked for too long.
Overworking the potatoes can cause the starch granules to become overworked, making the potatoes sticky. If the potatoes are cooked for too long, they can also become mushy and stick together.
To avoid gummy mashed potatoes, be careful not to overwork the potatoes when mashing and remove them from the heat once they are cooked.
Instructions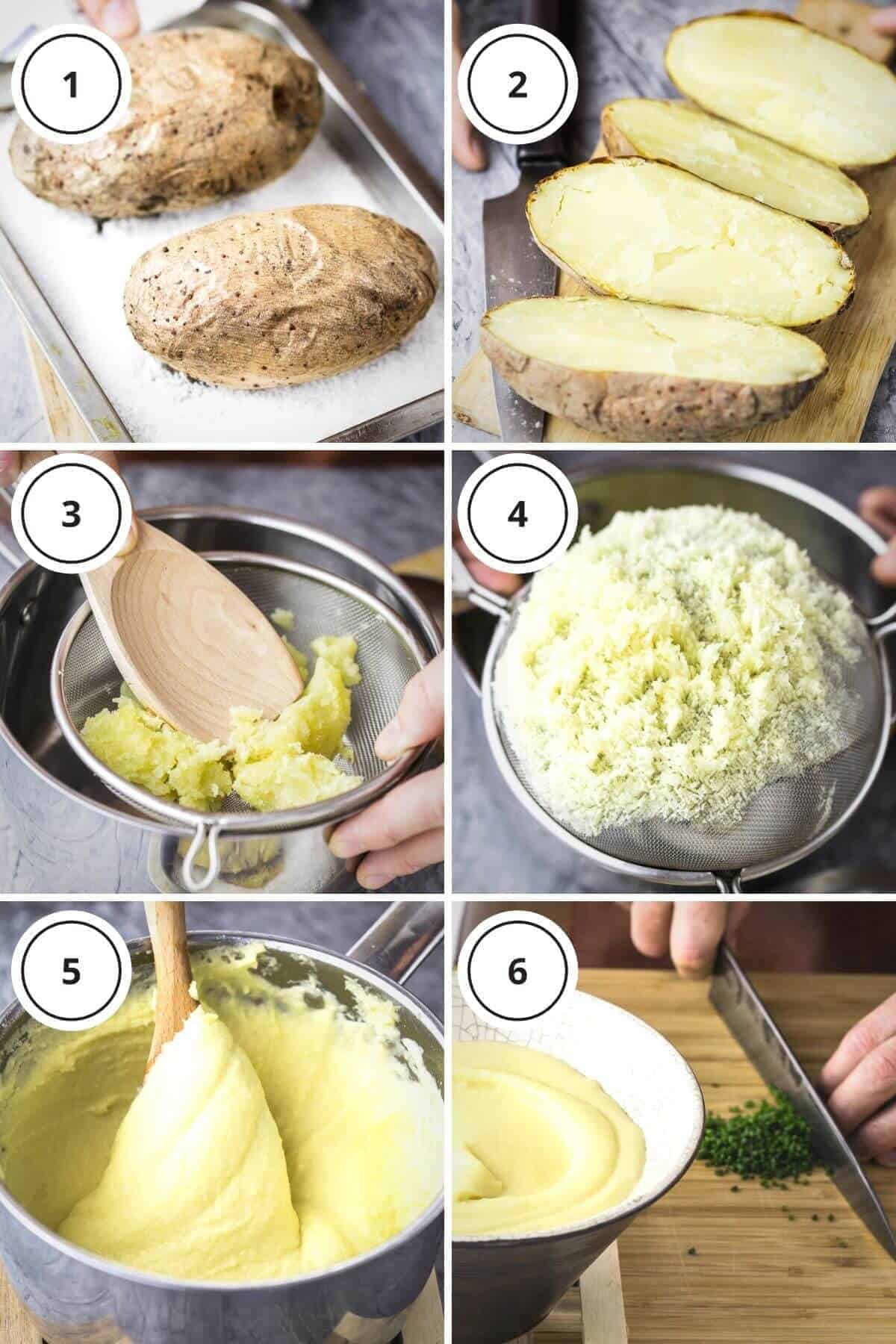 Heat your oven to 180 °C or 350 °F. Prepare a tray with a small mound of salt for every potato you want to bake. Just enough so the potato can sit comfortably. Bake the potatoes for about 50 minutes, or until soft to the touch. Different sizes will cook at different times. Make sure the potatoes are soft, otherwise, they won't mash.
Melt the butter in a pan and keep it warm.
When the potatoes are done, prepare a sieve and bowl or small pot that fits the sieve. We are going to cut the potatoes in half while still hot and then press it through the sieve. This ensures that the potatoes get the least amount of agitation and friction and the starches won't have an opportunity to become gummy. At this point, you will have some potato skin left. Do not throw it away! We are going to make some awesome crispy potato skins with them. Use them to dip into your silky mashed potatoes, or have it with a sour cream dipping sauce.
Make sure everything is warmed up and ready, and do not try and make mashed potatoes with cold potatoes or potatoes that have cooled down too much.
Add the mashed potatoes to the butter.
At this point, your mash will look like potatoes drowned in butter. This is normal. Finally, we will add the warmed milk and give the potatoes a nice mix through with a wooden spoon or spatula.
Season to taste and finish with a bit of olive oil, chopped chives, and freshly cracked black pepper
Video
Tips for success
Pick the correct type of potato for mash.
Bake your potatoes until completely soft, but do not bake it too long.
Make sure all your ingredients are ready and warm when you mash them.
If you let the potatoes cool down they will not be smooth so, press them into warm butter while hot out of the oven.
When adding milk, make sure the milk is warm.
Never whisk it or blend it, just gently mix it with a spatula or wooden spoon.
Don't forget to season it.
How to make crispy potato skins(Bonus)
Heat up a pot with frying oil and heat to 180 °C or 350 °F.
Fry the potato skins until crispy, about 1 ½ minutes, and dry on a kitchen towel. Sprinkle with a pinch of salt and smoked paprika. If you're feeling fancy, sprinkle with some grated Parmesan, chopped parsley, truffle oil, or even a few gratings of fresh truffle, and voilà! 
Serve with a sour cream dip. Recipe in the recipe card below.
Serving suggestions
Alternatives
Frequently asked questions
What can I use instead of butter in mashed potatoes?
Use any other natural fat or extra virgin cold-pressed oil. Do not use margarine or processed oils.

They are nasty for your healthy and terrible for mashed potatoes. Try some good olive oil instead of butter.

It lightens the dish a bit and adds lots of healthy fats butter lacks. Just take note that it will not be as luxurious and creamy. 
Can you freeze mashed potatoes?
Only if you do not add butter and milk. Plain mash can be frozen for many months stored airtight.
Useful equipment for this recipe
Related recipes
This site contains affiliate links. I may earn a tiny commission on qualifying purchases at no extra cost to you. By bookmarking these links you help support the upkeep of this site.
If you found this post helpful or have learned something, comment, subscribe, and follow me on social platforms for more tasty recipes.
Recipe
Best Homemade Mashed Potatoes
This recipe for mashed potatoes are Silky smooth luxurious and buttery. The best homemade mashed potatoes you will ever eat. Easy to make and always makes a perfect side dish.
Ingredients
For the mashed potatoes
Instructions
For the mash
Heat the oven to 180 degrees Celsius or 350 degrees Fahrenheit

Place a small mound of salt under each potato and bake in the oven for 50 minutes or until soft to the touch

Cut potatoes in half and press through a sieve

Add warm butter and mix through

Add warm milk and mix again

Season with salt and pepper

Finish by adding chopped chives and a drizzle of extra virgin olive oil
For the crispy skins
Heat a pot of oil to 180 degrees Celsius or 350 degrees Fahrenheit.

Fry the skins until crispy and golden.

Drain on a paper towel.
For the dipping sauce
Mix it all together and you're done.
Video
Notes
To take this to another level. Grate some fresh nutmeg into the potatoes when seasoning and a little bit on top. 
Can be stored in the fridge for up to 4 days
This recipe is not freezer friendly
If you want to freeze mash do so without adding any butter or milk
If your mash is not smooth enough pass it through the sieve one more time. Not all sieves have small enough holes.
Nutrition
Serving:
200
g
Calories:
374
kcal
Carbohydrates:
39
g
Protein:
8
g
Fat:
22
g
Saturated Fat:
9
g
Cholesterol:
35
mg
Sodium:
891
mg
Potassium:
998
mg
Fiber:
5
g
Sugar:
7
g
Vitamin A:
555
IU
Vitamin C:
39
mg
Calcium:
189
mg
Iron:
2
mg
Keywords:
mashed potatoes, potato puree