Jump to recipe
The best homemade mashed potatoes you will ever have. Cooked from scratch and done the right way. Not boiled but baked. Silky smooth and luxuriously buttery. Goes a treat with steak, chicken, fish, pork, or lamb.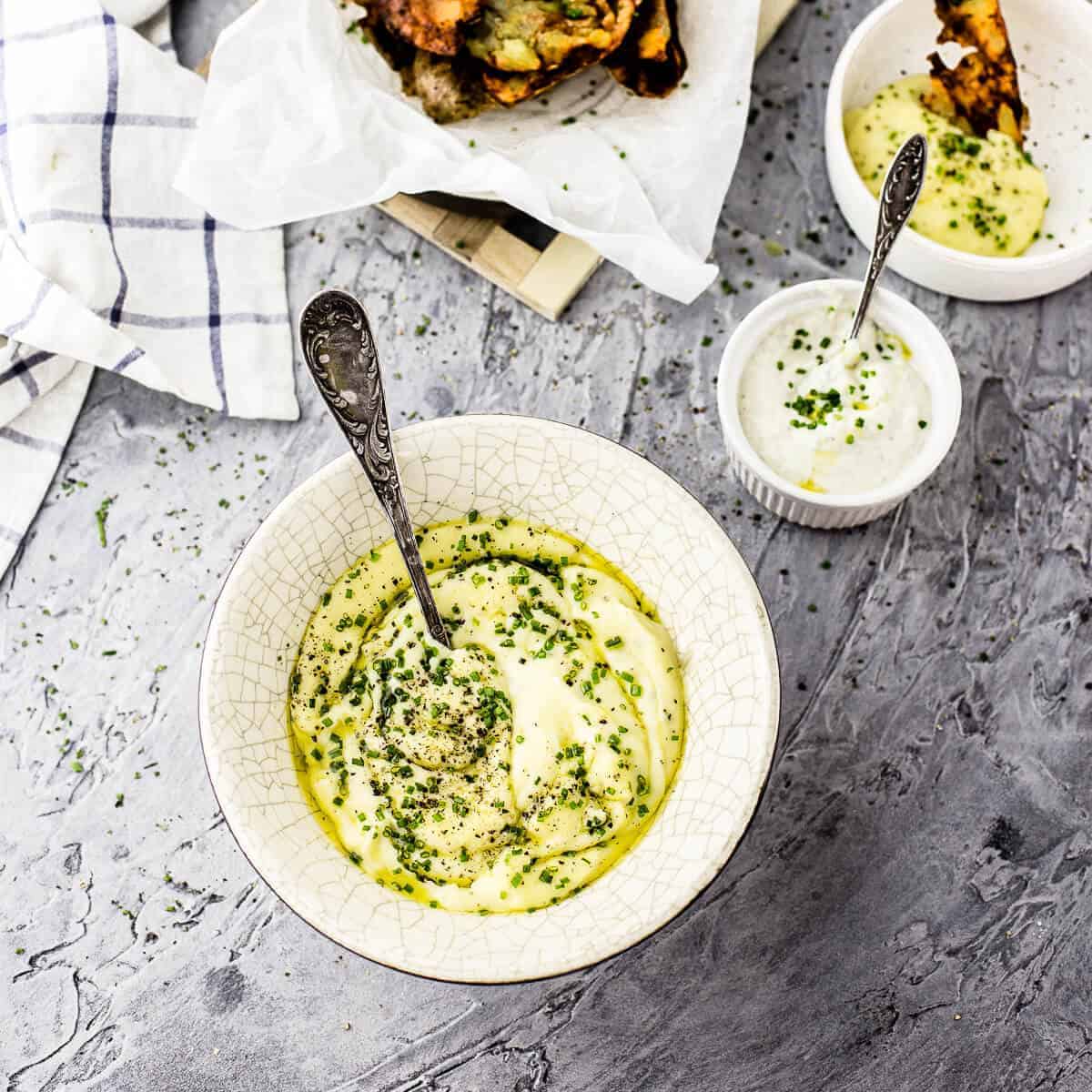 Jump to:
Best potatoes to use
Let's look at what varieties of potatoes are best for mashed potatoes and why that's the case.
Many sources suggest using russet potatoes. Also known as Idaho potatoes in the United States.
After many tests, I disagree.
Russet potatoes are starchy potatoes. They have a dry powdery characteristic to them. Making them better suited for french fries and roasted potatoes.
Making mashed potatoes from these results in a dryer less silky mashed potato.
However, they can still be used and will make delicious mashed potatoes. Just make sure to use a touch more milk than usual.
My preferred variety is the Désirée potatoes.
Red skinned slightly yellow flesh, great all-rounder, and for those that care. Very low maintenance, low water consumption, and natural resistance to most potato diseases which means no pesticide.
The texture is waxier and for that reason, some might ask the following.
Why do mashed potatoes get gluey?
Potatoes are full of starch.
They are some of the most starch-dense vegetables on this planet in fact. Containing roughly 20% carbohydrates.
When you vigorously mix or blend cooked potatoes they will become gluey or gummy because the starch gets released and you then keep on working that starch into a stringy mess.
Add water to the equation and this process happens even quicker. Remember the sourdough article I wrote? No? Go read it.
I explained that water activity is something to be mindful of in cooking. The more water. The easier chemical processes happen.
Boil your potatoes, and hello stringy sticky, not nicey mashed potatoes.
How to avoid it from being gummy?
Although it is not possible to remove all the water from the potatoes to make these silky smooth mashed potatoes it is possible to avoid the starch in the potatoes to suck up even more water.
We will bake our potatoes on salt to avoid that and remove even more water already present in the potato.
After that, we will not use a masher or a blender, or any other tool apart from a sieve in order to mash our baked potatoes.
Useful equipment for this recipe
Instructions
Heat your oven to 180C. Prepare a tray with a small mound of salt for every potato you want to bake. Just enough so the potato can sit comfortably. Bake the potatoes for about 50 minutes or until soft to the touch. Different sizes will cook at different times. Make sure the potatoes are soft, otherwise, they won't mash.
Melt the butter in a pan and keep it warm.
When the potatoes are done. Prepare a sieve and bowl or small pot that fits the sieve. We are going to cut the potatoes in half while still hot and then press it through the sieve. This ensures that the potatoes get the least amount of agitation and friction and the starches won't have an opportunity to become gluey. At this point, you will have some potato skin left. Do not throw it away! We are going to make some awesome crispy potato skins with them. Use them to shamelessly dip into your silky mashed potatoes or have it with a sourcream dipping sauce.
Make sure everything is warmed up and ready and do not try and make mashed potatoes with cold potatoes or potatoes that have cooled down too much.
Add the mashed potatoes to the butter.
At this point, your mash will look like potatoes drowned in oil. It should. Finally, we will add the warmed milk and give the potatoes a nice mix through with a wooden spoon or spatula.
Season to taste and finish with a glug of olive oil, chopped chives, and freshly cracked black pepper
Top tips
Make sure all your ingredients are ready and warm.
If you let the potatoes cool down they will not be smooth so, press them into warm butter while hot out of the oven.
When adding milk, make sure you use warmed-up milk.
Never whisk it or blend it, just gently mix it with a spatula or wooden spoon.
Don't forget to season your mash.
How to make crispy potato skins(Bonus)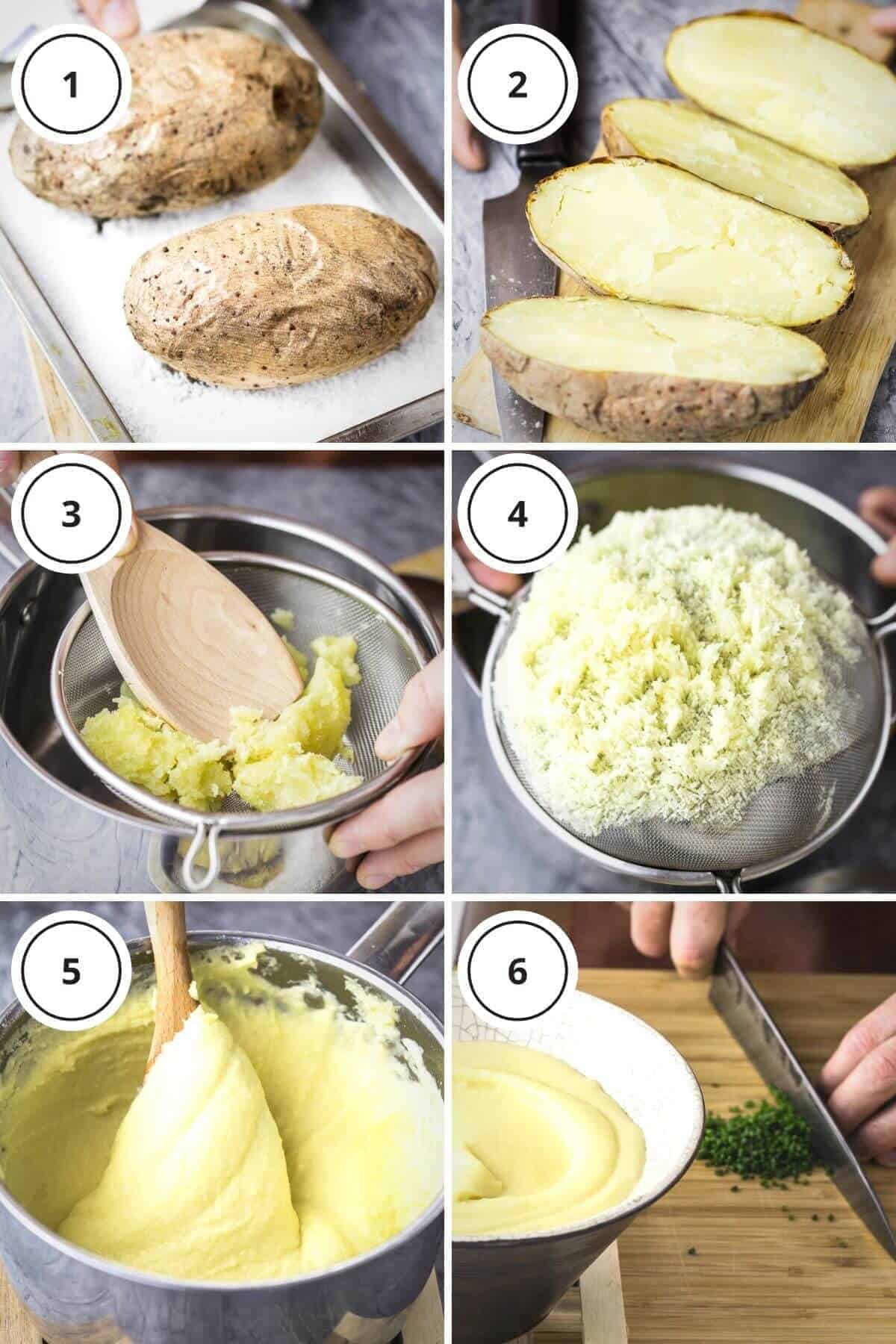 Heat up a pot with frying oil and heat to 180C.
Fry the potato skins until crispy about 1 ½ minutes and dry on a kitchen towel. Sprinkle with a pinch of salt and smoked paprika. If you feeling fancy. Sprinkle some grated parmesan, chopped parsley, truffle oil, or even a few gratings of fresh truffle, and voila!
Serve with a sour cream dip. Recipe in the recipe card below.
Serving suggestions
Alternatives
Add other oils - Truffle oil or good quality extra virgin oils.
Add roasted garlic - Roasted garlic adds a wonderfully rich flavour and aroma.
Other herbs - Chopped parsley, cilantro, dill, or chervil are all delicious.
Smokiness - Either smoke the butter, potatoes, or use natural liquid smoke. A little goes a long way.
Vanilla - Add fresh vanilla from the pod. Potatoes and vanilla are a naturally well-matched flavour pairing.
Frequently asked questions
What can I use instead of butter in mashed potatoes?
Use any other natural fat or extra virgin cold-pressed oil. Do not use margarine or processed oils.

They are nasty for your healthy and terrible for mashed potatoes. Try some good olive oil instead of butter.

It lightens the dish a bit and adds lots of healthy fats butter lacks. Just take note that it will not be as luxurious and creamy. 
Can you freeze mashed potatoes?
Yes. Given that you store in an airtight container, you could store mashed potatoes in the freezer for up to six months.

Just remember that with a recipe like this with lots of butter, it's always better to eat straight away and keep in the fridge for up to 3 days.
Video instructions
THIS PAGE CONTAINS AFFILIATE LINKS - I MIGHT EARN A TINY % OF THE SALE THROUGH THESE LINKS AT NO EXTRA COST TO YOU. PROBABLY NOT EVEN ENOUGH TO BUY A BEER).
If you found this recipe helpful or have learned something, comment, subscribe and follow me on social platforms for more delicious recipes.
Best Homemade Mashed Potatoes
The best homemade mashed potatoes you will ever eat. Cooked from scratch and done the right way. Not boiled but baked. Silky smooth luxurious and buttery.

Ingredients
For the mashed potatoes
750g potatoes(Desiree red skin)
180g melted butter
150g warm milk
4g salt
1g freshly ground black pepper
10g extra virgin olive oil
4g chopped chives
For the dipping sauce for crispy skins
200g sour cream
25g olive oil
2g ground cumin
2g dried oregano
4g salt
1g freshly cracked black pepper
20g water
4 g chopped chives
Instructions
For the mash
Heat the oven to 180C
Place a small mound of salt under each potato and bake in the oven for 50 minutes or until soft to the touch
Cut potatoes in half and press through a sieve
Add warm butter and mix through
Add warm milk and mix again
Season with salt and pepper
Finish by adding chopped chives and a drizzle of extra virgin olive oil
For the crispy skins
Heat a pot of oil to 180 degrees Celsius or 350 degrees Fahrenheit.
Fry the skins until crispy and golden.
Drain on a paper towel.
For the dipping sauce
Mix it all together and you're done.
Notes
To take this to another level. Grate some fresh nutmeg into the potatoes when seasoning and a little bit on top. Your guests will instantly be hooked when this fresh bowl of silky smooth mashed potatoes arrives and the scent of freshly grated nutmeg hits their nostrils. Mmmmm! Damn, too tasty!


Nutrition Facts
Best Homemade Mashed Potatoes
Serves: 4 portions
Amount Per Serving:

200g

Calories

455.18 kcal

% Daily Value*
Total Fat

40.33 g

62%
Saturated Fat

24.19 g

121%
Trans Fat

1.48 g

Cholesterol

100.5 mg

33.5%
Sodium

415.53 mg

17.3%
Total Carbohydrate

21.68 g

7.2%
Dietary Fiber

2.56 g

10.2%
Sugars

2.82 g

Protein

3.89 g
Vitamin A

36.37 %

Vitamin C

25.27 %

Calcium

6.9 %

Iron

5.31 %
* Percent Daily Values are based on a 2,000 calorie diet. Your daily values may be higher or lower depending on your calorie needs.
DID YOU MAKE THIS RECIPE?
Tag @PANTSDWONAPRONSON on Instagram and hashtag it #PANTSDOWNAPRONSON