Jump to recipe
Learn how to make the best quick and easy authentic chimichurri sauce.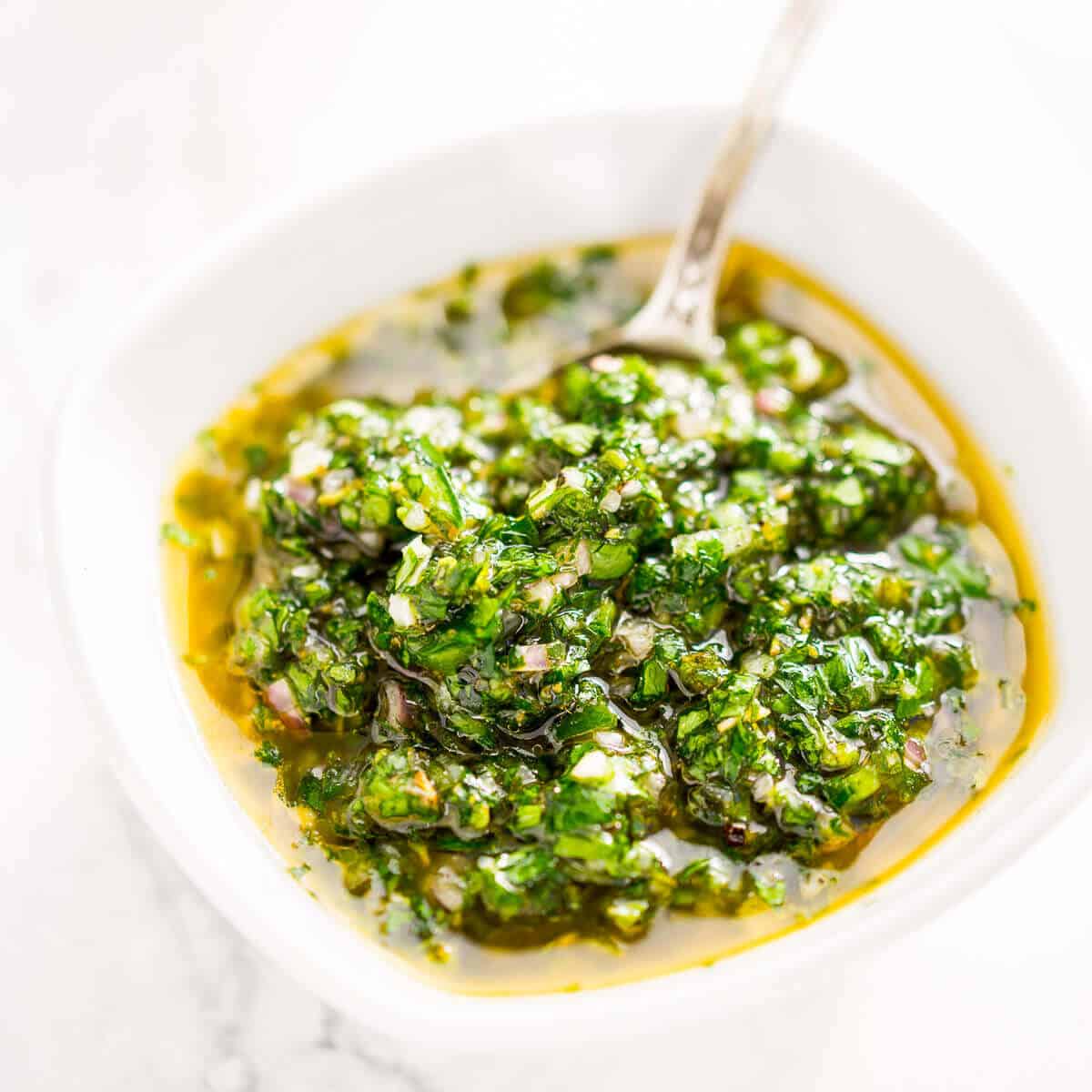 Jump to:
This chimichurri recipe has been improved to give it the professional edge over other chimichurri sauce recipes out there. You might find a surprising ingredient in this recipe.
Trust me it makes a world of difference without being identifiable in the final sauce.
Chimichurri sauce is magic little green salsa that can be used on a wide variety of dishes. Its taste is sharp, rich and intense. Perfect to balance a fatty frilled steak yet gentle and fragrant enough to compliment fresh vegetables or a seared salmon fillet.
If you are a complete purist then leave out that secret little ingredient and your chimichurri will be completely authentic, and like the real original Argentinian steak sauce.
Fact remains that chimichurri is easy and quick to make. A condiment that goes well with a wide variety of dishes.
Ingredients
Chimichurri sauce ingredients differ ever so slightly depending on which dish you use it for.
Most of the time consisting of parsley, oregano and/or cilantro(coriander) with the addition of acid, oil and other aromatics and seasonings.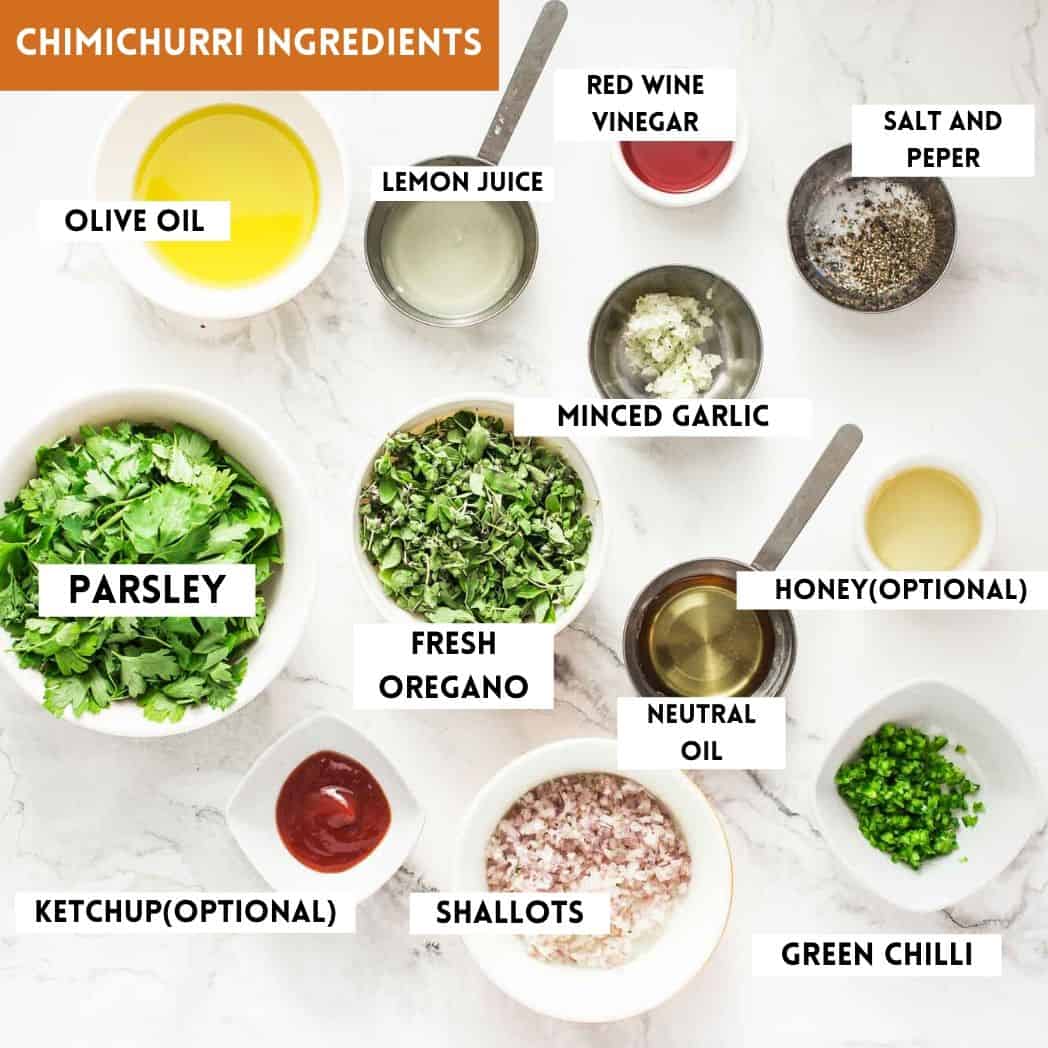 Parsley - Use unblemished fresh flay leaf parsley
Oregano - Fresh oregano is best but if you can't find it use a small amount of dried and increasing the amount of parsley.
Garlic - Young fresh garlic is the best. Stay away from old acrid or Chinese easy-peel garlic.
Olive oil - Try a nice fresh grassy olive oil. Something not too bitter.
Neutral oil - I use groundnut oil or sunflower. This is totally optional. The reason I use this is to balance the bitterness from the olive oil and fresh oregano.
Shallots - You could also use young sweet red onion. Just make sure shallot or onion is sweet and not old and harsh tasting.
Lemon juice - Fresh lemon juice does wonders for many dishes by lifting their flavour and providing balance.
Vinegar - Use a soft red wine, white wine or apple cider vinegar. Again, nothing too harsh.
Chilli - depending on how hot you want your chimichurri. I always go for a low-heat like a jalapeno. This gives a small touch of heat and flavour while not messing with the other flavours of the sauce or dish you are having it with.
Ketchup(optional) - Our controversial ingredient and optional. Ketchup adds balance and umami. You won't notice the ketchup flavour in the final sauce. I recommend you use it for maximum flavour.
Honey(optional) - Also optional. I like to balance my dishes. When you balance the tastes in a dish the flavour magnifies and you end up with superior tasting food.
Seasoning - Good old sea salt and freshly cracked black pepper.
How to make it
This is the best method of how to make chimichurri sauce. Handmade and taken care of. The only way to properly make this.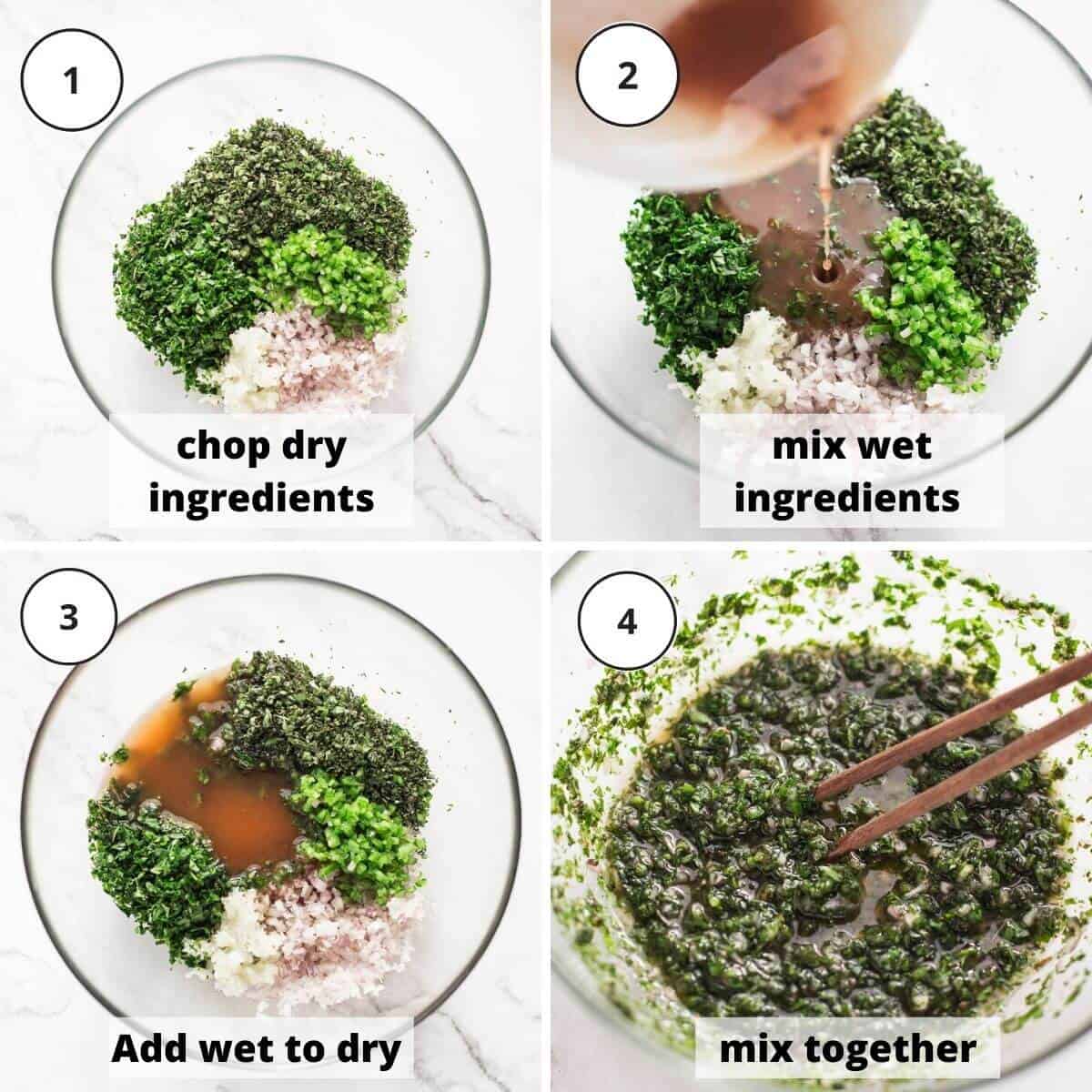 Wash all your herbs thoroughly making sure there is no dirt. Shake or spin dry. Next, remove the leaves from the stalks. It's ok to use the tender stems close to the leaves.
Chop up the parsley and oregano fairly finely. Here is the correct way to chop parsley. Try and avoid blending herbs in a mixer for sauces or salsas as simple as this. The mixer's blade bruises the leaves instead of chopping it and that negatively impacts the flavour.
Next, finely dice the shallots. Here is how to properly chop shallots. For the same reason as for the herbs, avoid blending in a blender. When you make a curry paste, like for this massaman curry, it's ok to use a blender as the bitter and dull flavours you get by blending in a blender will be cooked out later.
Continue by chopping the garlic and chilli.
Place all the chopped ingredients in a bowl.
Whisk together the oils, vinegar, lemon juice, ketchup, honey and seasoning.
Pour it over the chopped ingredients and mix. Taste and make sure you are happy with the balance. If it needs a bit more acid, add some vinegar or lemon juice. More sweetness or salt? Honey and salt.
Store in a glass jar and seal airtight until ready to use.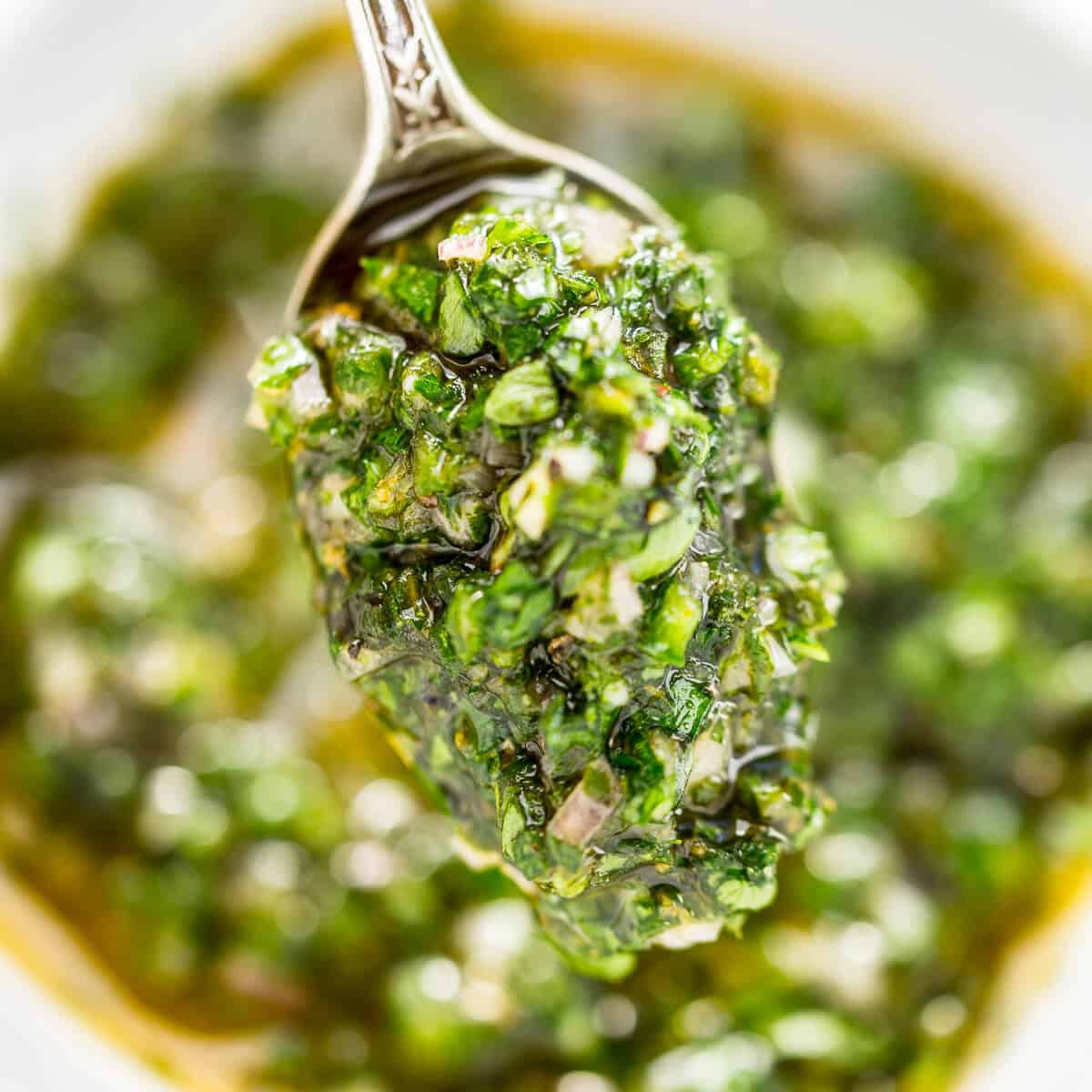 Variations
You could adjust this chimichurri easily to your personal liking or create a completely different delicious salsa/sauce to use for grilled meats, fish, seafood, roasted or fresh vegetables.
Herbs - Chimichurri sauce with cilantro is a popular choice. Basically just substitute the parsley with Cilantro(coriander). Fresh oregano is sometimes a problem to find so instead use a tablespoon(about2g) and increase the fresh herbs to make up the weight.
Oil - Most extra virgin oils can be used in place of the olive oil. Just be mindful of the intensity and flavour so that it does not overpower it. Use smoked oil for the ultimate steak with chimichurri sauce.
Acid - With acidity, you could go wild. Try lime juice especially when having with corn on the cob or ceviche. You could even use malt vinegar and have this chimichurri with fish & chips to liven it up and give it freshness to cut through the oiliness.
Heat - If you like it spicy you could turn up the heat by using hotter chillies or ground up chilli flakes.
Sweetness - This is basically just for balance and I like using honey because it adds a gentle floral flavour and nuance to the sauce that other sweeteners don't.
Umami - Again, this is optional but, umami is a very important little taste that makes food very delicious. Try a touch of soy sauce or miso and watch the chimichurri go Asian.
Serving suggestions
Chimichurri sauce goes perfectly well with almost everything stopping short of dessert.
Frequently asked questions
Where to buy?
Wholefoods chimichurri sauce is not a bad one but I strongly urge you to make it yourself. It's quick, easy and much better than store-bought versions.
Can you freeze chimichurri?
Yes, it's fine freezing just remember you will lose some texture this way. the flavour will remain good. Seal air-tight and store for up to 6 months in the freezer.
How long does chimichurri sauce last?
For best results eat straight away. However, you can easily keep it stored in the fridge airtight for up to 2 weeks. The herbs will lose their colour but the sauce as essentially preserved because of the vinegar.
Useful equipment for this recipe
THIS PAGE CONTAINS AFFILIATE LINKS - I MIGHT EARN A TINY % OF THE SALE THROUGH THESE LINKS NO EXTRA COST TO YOU. PROBABLY NOT EVEN ENOUGH TO BUY A BEER).
If you found this post helpful or have learned something, comment, subscribe and follow me on social platforms for more tasty recipes.