This is by a mile the best barbecue sauce recipe in the world. That's because you're going to want to put this on everything from bacon-wrapped pork tenderloin to bavette steak and chicken wings.
It seems like a strange thing to put chocolate in BBQ sauce, but the correct chocolate in the correct amount does something truly amazing.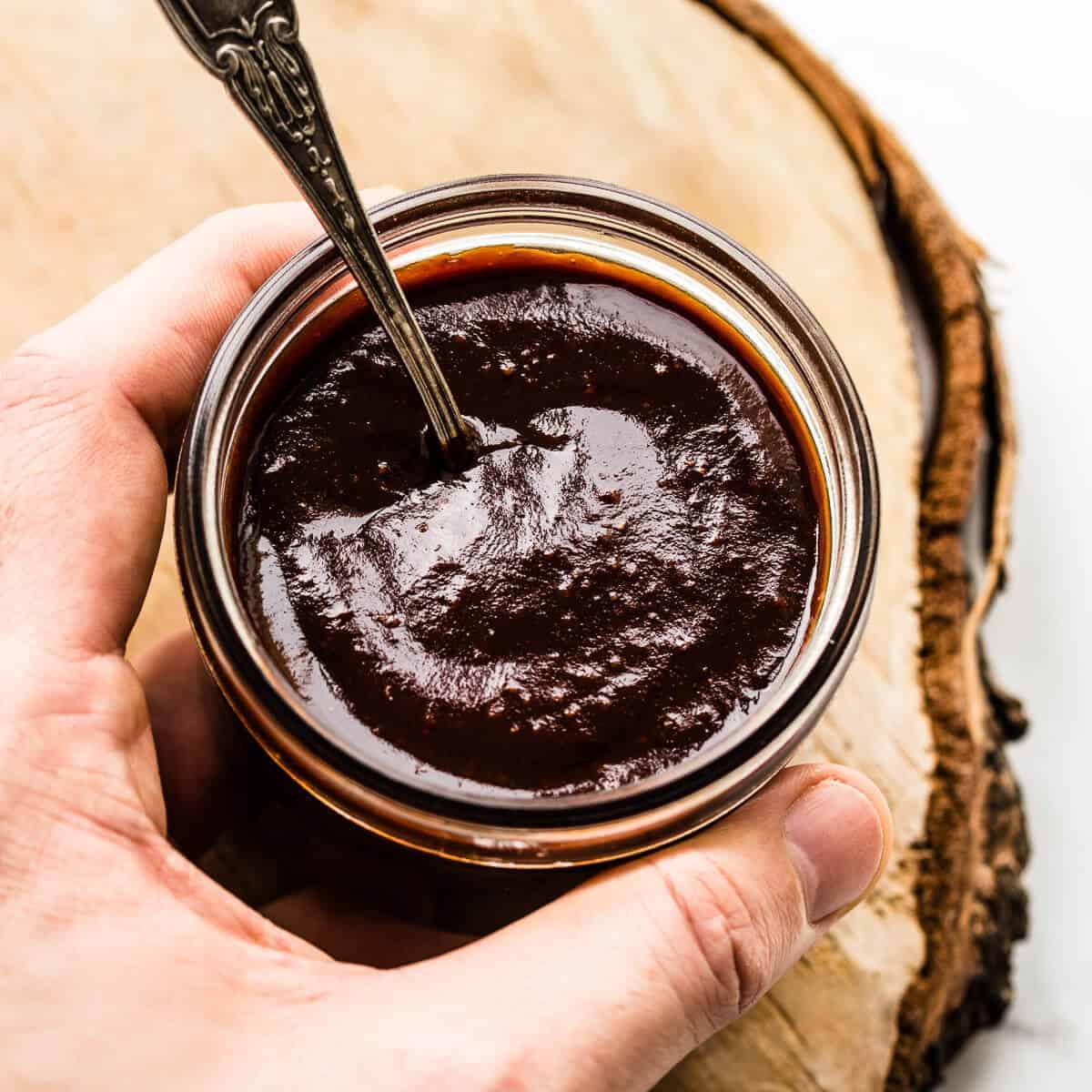 Jump to:
At the time of writing, I was literally busy spooning it over some pork chops I fried in a skillet. Then whacked it under the grill for a few minutes to caramelise a bit, and BAM! Delicious pork chops are done.
My BBQ sauce recipe has a bit of history behind it and looking back it's quite funny to watch and realise this was all done in a jiffy on the fly. Here is how it all happened way back in 2013.
The recipe changed slightly to make it more homemade instead of pro kitchen, but, the results are still the same.
You're probably wondering what it tastes like by now.
It's simple.
In my opinion, it has to be smokey, umami-rich and sweet. All at the same time and all balanced in order to make it an incredible barbecue sauce instead of just another Bob's version.
You want it to be versatile and addictive so that you can use it on pork ribs, steaks, vegetables, fish, shrimp, and whatever else that fancies a bit of roasting, glazing and sweet-sweet BBQ love.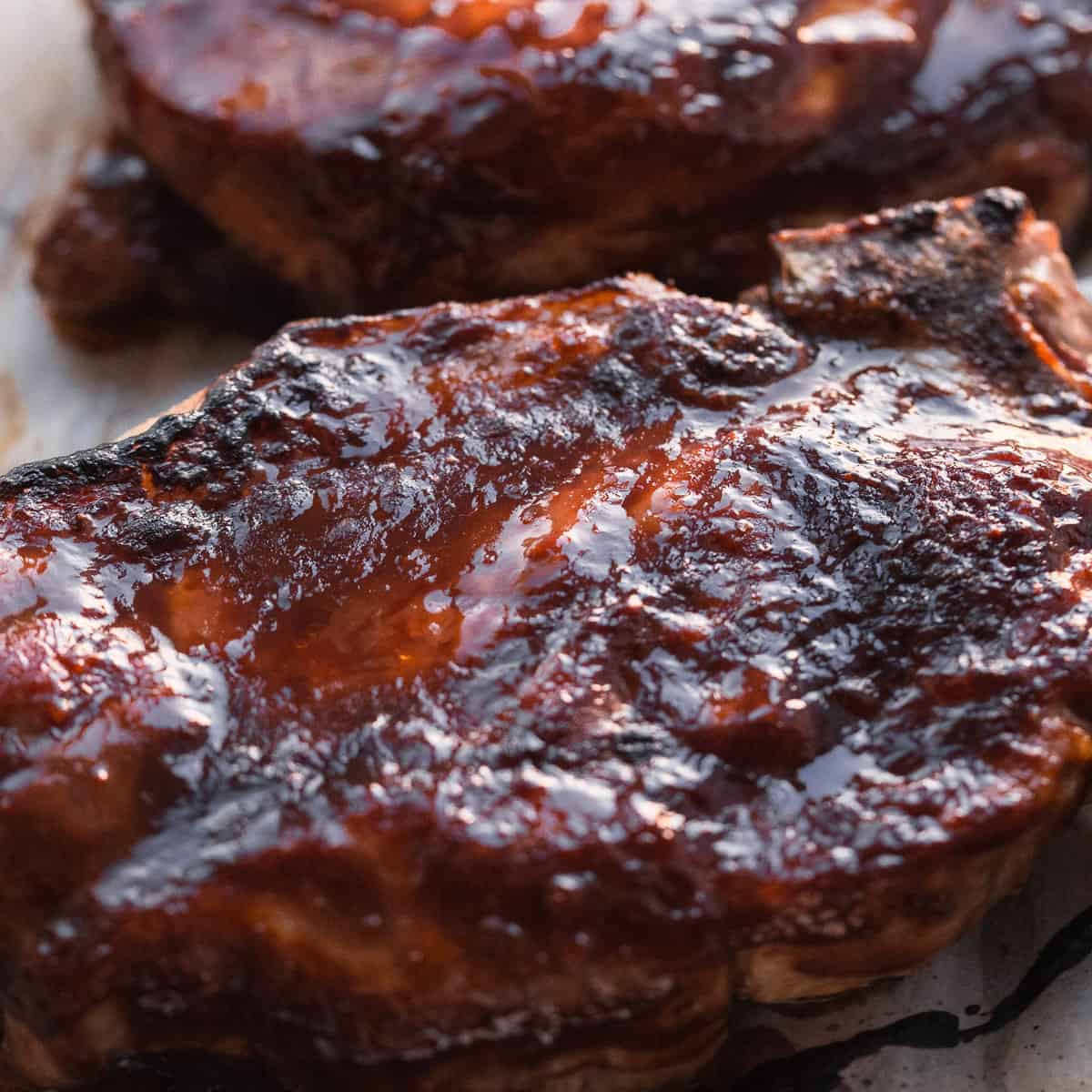 Why this recipe?
There are millions of BBQ sauce recipes bouncing around on, and although some of them come close to the ingredients I use. They still fall short. I mean, we have Kansas BBQ this, Carolina BBQ that, Alabama, Texas, my lord ...blah blah...
What's worse is that almost all the recipes out there are the same. I invite you to try something new, delicious and special today.
BBQ sauce is a complex sauce and the layering of flavours need to be carefully considered if you want the best barbecue sauce for your meat.
I actually did a lot of research before I stumbled into the kitchen to throw this one together. It might look off the cuff but, I can assure you that a lot of hard work went into producing it.
My recipe is based on three basic tastes. Umami, salt, and sweet. You might say, "Yeah, but all BBQ sauce recipes have those tastes". Wrong. It takes a bit more than throwing together liquid smoke, ketchup and Worcestershire sauce.
They only form part of the success. We need to reinforce those deep, rich flavours so that it truly does smack you in the face once you take a bite.
Ingredients
You can find all of these in your local store, including kecap manis. Which, is sweet Indonesian soy sauce. The rest is pretty standard, but, let's look at a few details: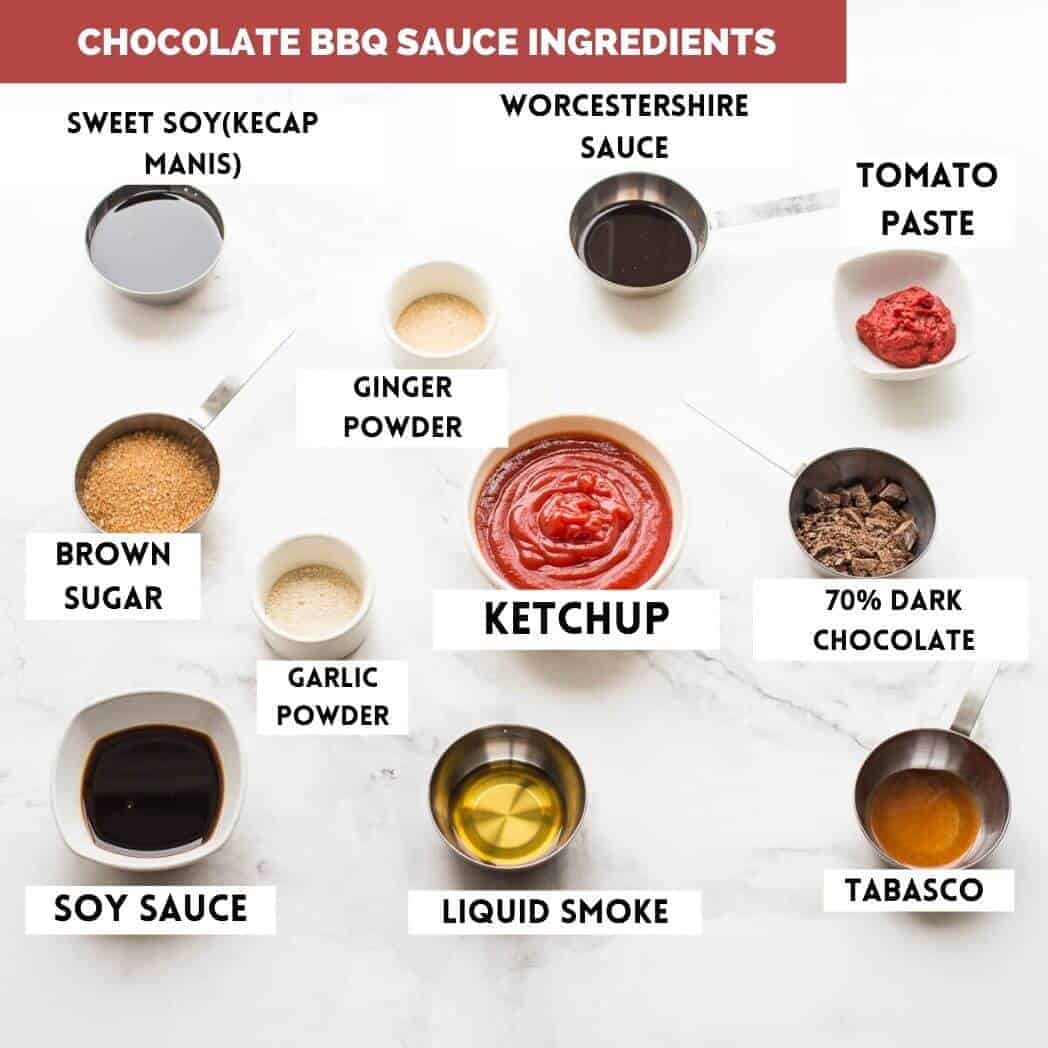 Ketchup - Heinz. They don't pay me. Should though.
Soy sauce - Dark. Kikkoman type of soy is fine.
Liquid smoke - Make sure it's natural liquid smoke and not a flavouring.
Kecap manis - The Indonesian condiment. It's made by boiling down soy sauce and palm sugar and has a molasses taste to it. If you can't find it, then just use a bit of molasses and a bit more soy sauce. Or make your own kecap manis.
Worcestershire sauce - Get the original or if you want it to be vegan then get a vegan version.
Sugar - I use brown sugar in this recipe, but the original had white sugar and honey (as shown in the video). Use whichever you want, or substitute it for agave or maple.
Chocolate - 70% or higher dark chocolate. Don't use milk or white. It won't work.
Now, if you still haven't freaked out about the chocolate, then that's good. If you're a bit puzzled. Relax. It's all good. All you need to know is it makes a huge difference to the result, and it's there for a good reason.
Instructions
Everyone's favourite method. Easy as you like. Throw it all in a pot. Boil, and you're done.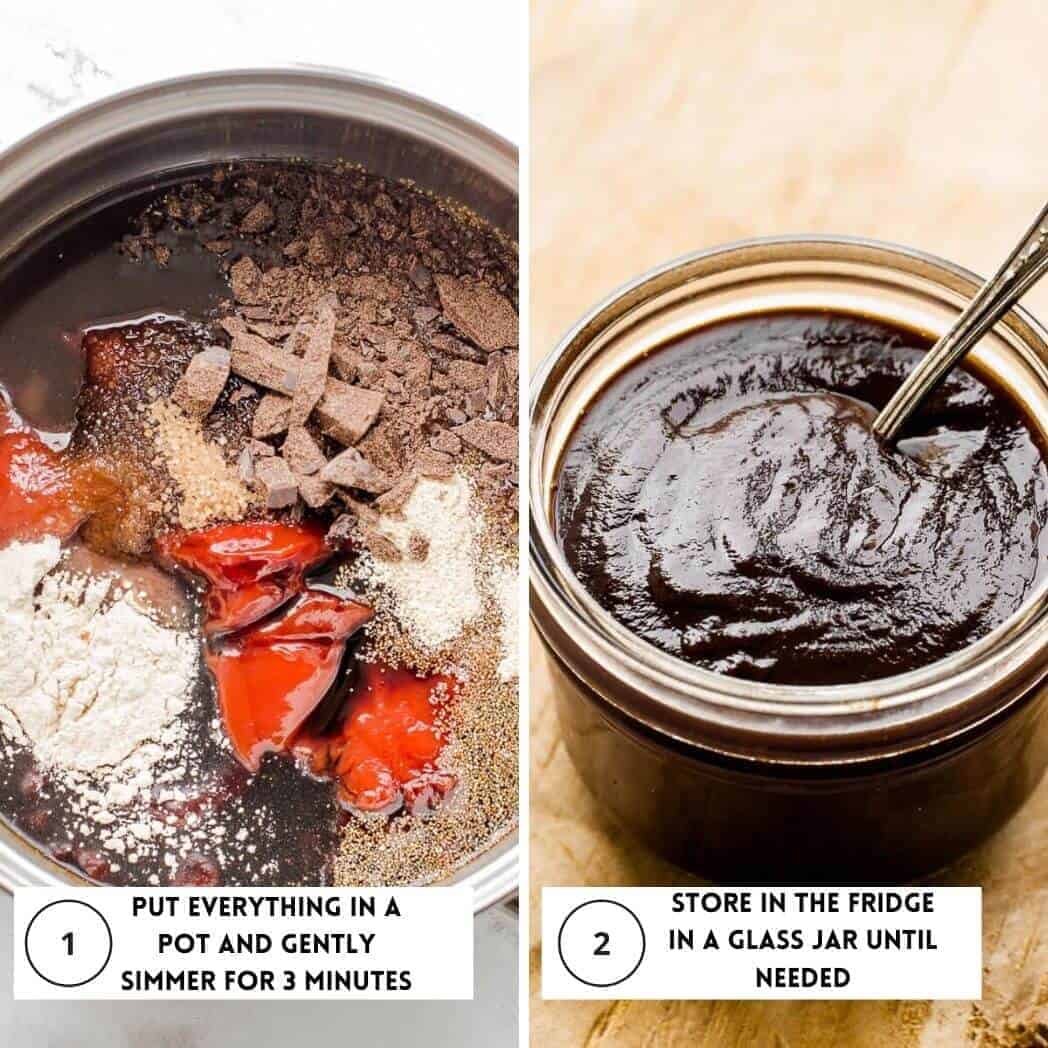 No jokes, everything in together.
Simmer gently for a few 3 minutes while whisky or stirring.
Remove from the heat and store in Kilner jars or whatever you have until needed.
You can keep this sauce in the fridge for months, stored airtight. Just don't lick the spoon and double-dip into the sauce every time you use it. You will spoil it very quickly that way.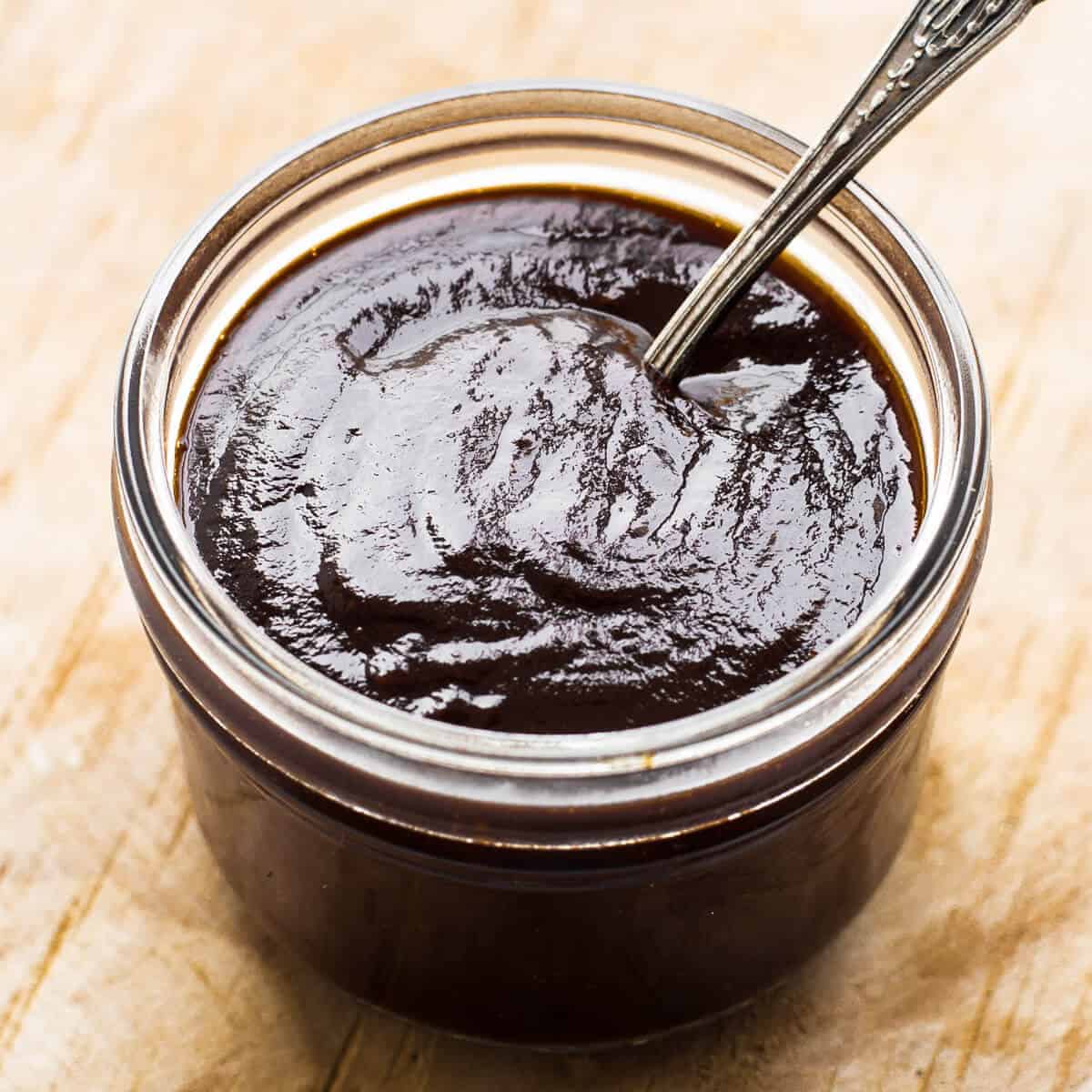 Variations
There are no deviations from this recipe apart from a few small changes.
Ginger and garlic - You can use freshly minced like in the video, but dried is just so much easier and the flavour does not noticeably change.
Sugars - Use whatever you want. You can use honey, as I did in the original recipe in the video. Honey burns quicker than sugar, though, so be careful. Also, take note that I carefully balanced it all in this recipe. Ready for you to use. So, if you change the sweetener, then taste it until you are happy with it. Also, don't use something like stevia. It will burn when you grill something with it and be nasty.
Heat - You can make it spicier if you like by adding more Tabasco or finely chopped fresh chilli.
Acid - One thing you will notice is that I don't add vinegar to my recipe. That's because I don't feel it needs it. A good Worcestershire sauce will provide all the acid it needs. If you want to add a bit more, go ahead, but use something mild like apple cider vinegar.
Serving suggestions
I think it's obvious that we are using BBQ sauce on the barbecue. I also list a few other ideas below:
BBQ - Glaze pork belly just before you remove it from the fire. Chicken breast or spatchcock chicken also love a bit of BBQ glazing. Think burgers and kebabs. For the burgers just as a sauce and when doing kebabs in skewers just glaze it last minute.
Steaks - This is one of the few sauces I actually use with steak. It's that special. Pan-fry or grill your steak as normal. Just before it's done, wack a spoon full into the pan or baste the meat on the grill. Let it glaze up a bit, remove from the heat, rest, and eat. This is how to cook the perfect steak by the way.
Vegetables - When roasting broccoli, bok choy or aubergines. Add a touch last minute and toss around in the pan, or brush on last-minute if grilling.
Pulled pork or beef - When you make sliders, tacos or quesadillas that require slow-cooked or pulled apart meat. Mix it with the shredded meat and voilà! You have a winner.
Related recipes
If you love making your own sauces or having a good barbecue then you will love the following recipes
This site contains affiliate links. I may earn a tiny commission on qualifying purchases at no extra cost to you. By bookmarking these links you help support the upkeep of this site.
If you found this post helpful or have learned something, comment, subscribe, and follow me on social platforms for more tasty recipes.
Recipe
Easy Homemade Chocolate BBQ Sauce
The most unique BBQ sauce recipe you will ever make.
Instructions
Put it all in a sauce pan.

Simmer very slowly for three minutes while whisking or mixing.

Let it cool down and you're done. Store in fridge until needed.
Notes
Store this in the fridge in Kilner jars or any other sealable container for many months or freeze for longer.
Nutrition
Serving:
30
g
Calories:
35.61
kcal
Carbohydrates:
7.27
g
Protein:
0.91
g
Fat:
0.6
g
Saturated Fat:
0.32
g
Cholesterol:
0.04
mg
Sodium:
513.36
mg
Fiber:
0.34
g
Sugar:
5.47
g
Vitamin A:
0.48
IU
Vitamin C:
1.07
mg
Calcium:
0.93
mg
Iron:
2.62
mg
Keywords:
bbq sauce recipe, chocolate bbq sauce recipe