Jump to recipe
Bok choy is a super healthy and very delicious green leafy vegetable popular in Asian cuisines. It's simple to cook and takes very little time from start to finish. It can be served as a simple vegan snack or as a side dish to accompany other dishes like pork tenderloin or pan-fried salmon.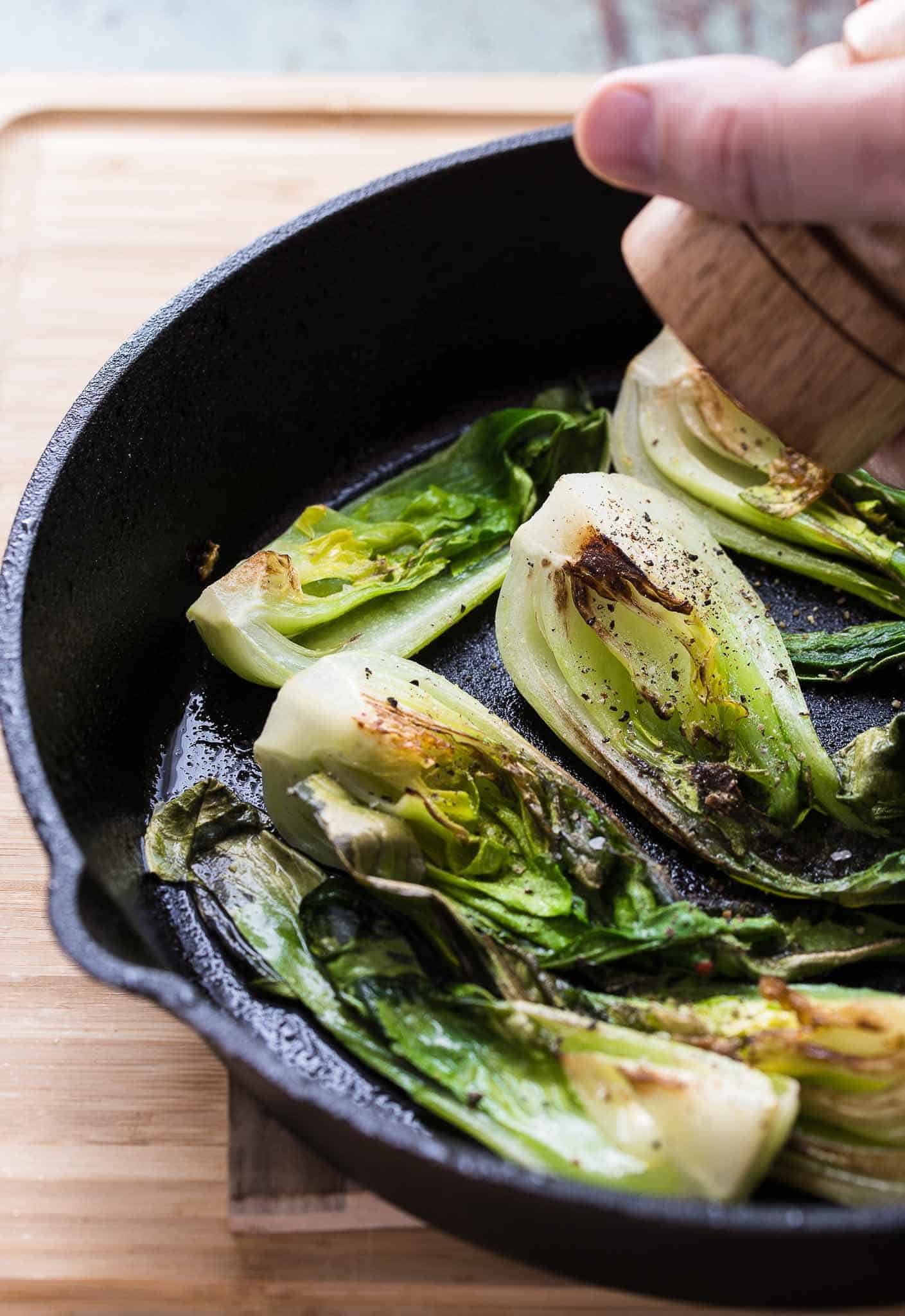 Jump to:
What is it
Bok Choy vs Pak Choy vs Pak choi
I say tomato you say tomato. Same-Same no different my friends. 
Bok choy, pak choi or pok choi is just Chinese cabbage. I will refer to all of these spellings in the text to follow.
It's part of the mustard family Brassicaceae. More specifically. Brassica rapa, subspecies chinensis.
Unlike other vegetables in the brassica family they do not form heads like broccoli but rather have green leaf blades.
The bok choy we will cook and the one most familiar to us all is called the Shanghai bok choy.
It's used in Asian dishes in abundance and can be added to salads, soups, stews and stir fry.
What does it taste like
Bok choy taste like mustard greens or most of the other vegetables in this family of brassicas.
It has a slight mustardy pungent taste but nothing near the extremeness of something like horseradish.
Interesting fact
The Glucosinolates(a natural compound found in mustardy plants) give these vegetables their pungent taste.
Mustard oils are produced when these plants get chewed or damaged and add to their natural defences against pests and diseases.
It's also used in the production of natural pesticides for organic farming.
Vitamins and minerals
If you are looking to eat a healthy diet or lose weight, bok choi is one of those things you could eat by the bucket load. Just not literally please))
Bok choi provides the following nutrients in abundance:
100g contain -Vitamin A, C, K, B6, B9, calcium, manganese, iron and a lot of others.
It's made up of 95% water, 2% carbohydrates of which half is fibre, 1% protein and less than 1% fat.
For all that goodness, bok choy contains only 13 calories per 100g!!!You would spend more on cooking, chewing and digesting it))
Is it good for you
Like most plants in the mustard family, bok choi contains glucosinolates. A small amount is good for you but, excessive binging could lead to some toxic effects you do not want to deal with.
This organic compound interferes with iodine uptake in the thyroid gland. Now, I'm no doctor but, like the saying goes – "too much of a good thing is never good".
So no matter how much you like it, Consume responsibly. Never thought you would see a health notice next to something healthy did you.
That said. In normal healthy amounts bok choy is a healthy little leafy green vegetable. In fact. Bok choy is ranked number two out of 47 superfoods for nutrient density.
Beating Kale, Spinach, Broccoli, Carrot, Tomatoes and a whole list of others. Only watercress trumps it. See what I said. Glucosinolates in mustard greens is a good thing, Just don't over-do it.
You would be surprised to know that things like blueberry, garlic and cranberry didn't live up to their hype. Here is a link to the source study.
It's a fascinating little read for anyone interested in nutrition.
Health benefits
Like lots of other healthy vegetables, they are well studied for their anti-cancer, anti-inflammatory properties as well as brain health with things like dementia.
Being high in readily available calcium it's great for bone health and the vitamin profile aids a healthy heart.
As much as I love talking facts and nutrition. The show must go on and we need to get to the most important part. Cooking bok choy.
Summary
Boy choy is a great addition to a healthy diet and lifestyle. If well prepared it's a delicious almost guilt free superfood you can enjoy in adequate amounts.
How to cook it
Wash and clean like you would and should all other fresh vegetables. Remove any damaged or blemished leaves.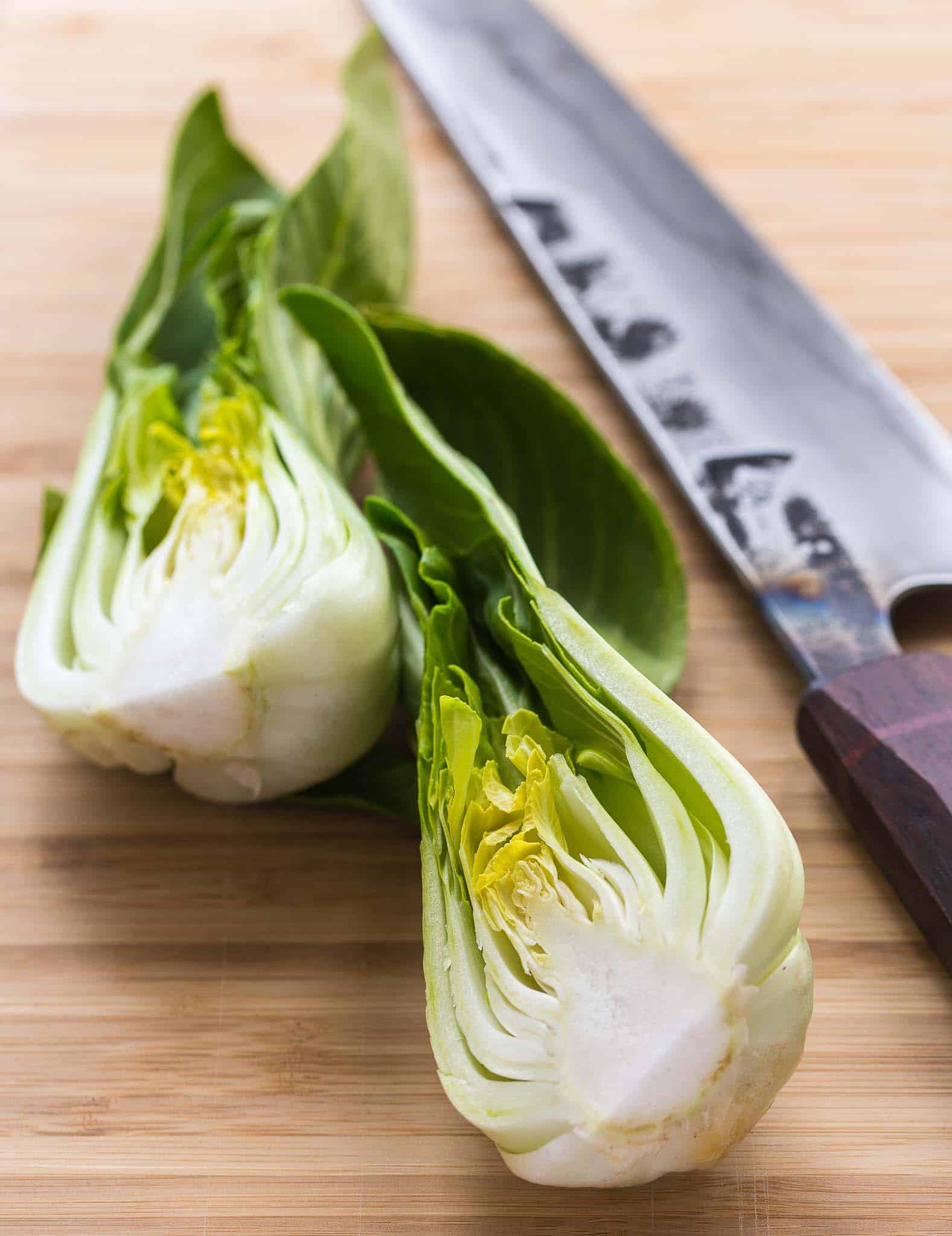 Half or quarter the bok choy lengthways or remove the leaves individually depending on how you want to cook it.
Bok choi "flesh" is very tender and cooks quickly either way.
How to steam bok choy
Prepare a pot with a touch of water to produce steam when boiled. Place cut bok choi into the steamer basket and close the lid. Steam for 2 minutes and remove.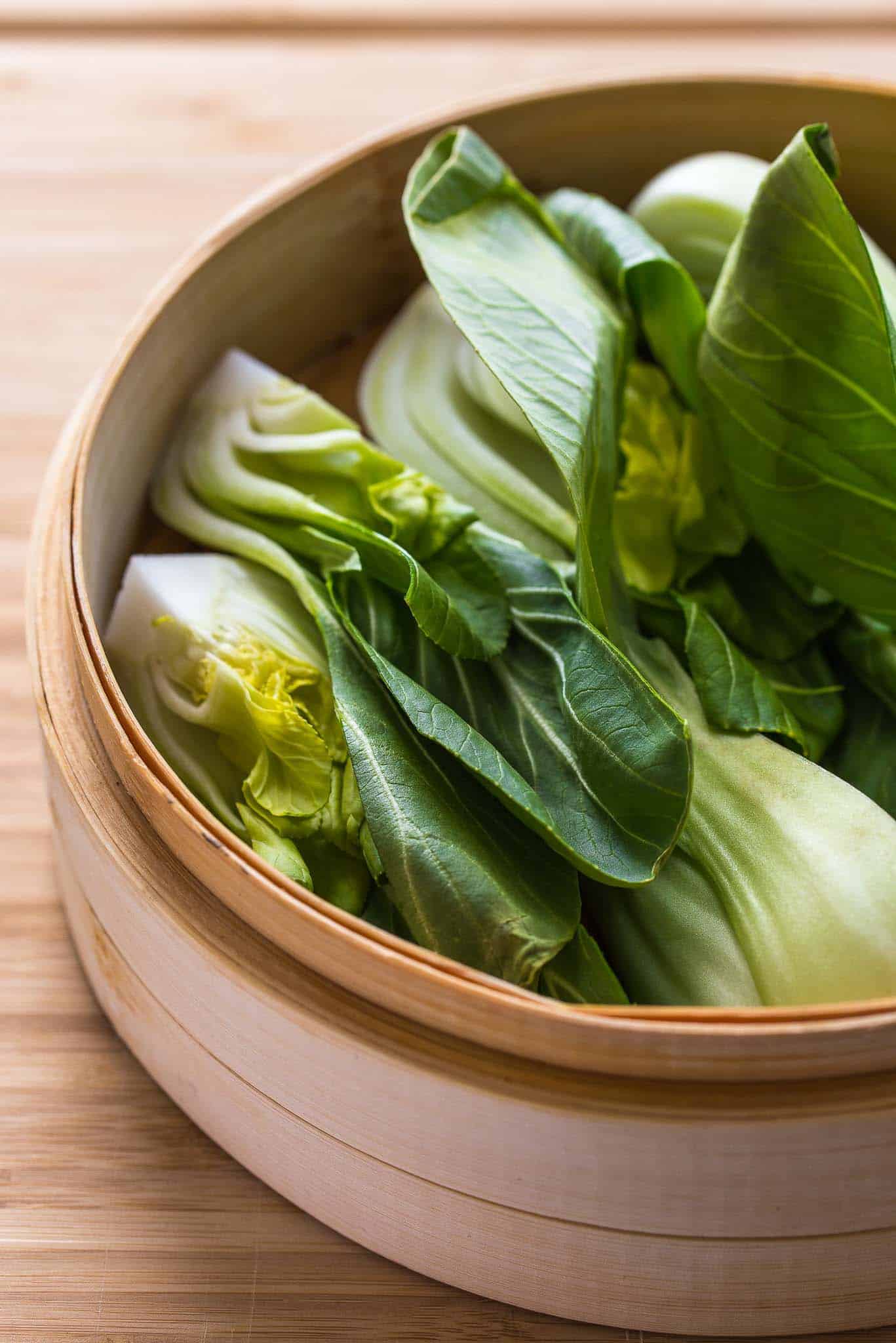 At this stage, it can be eaten as is. With a bit of soy sauce and garlic or quickly caramelised in a very hot pan before serving with pan-fried salmon or perfectly cooked rice.
How to stir fry bok choy
Heat a wok or frying pan with a touch of cooking oil. Put the bok choi into the hot pan. Fry while turning until some caramelisation is achieved.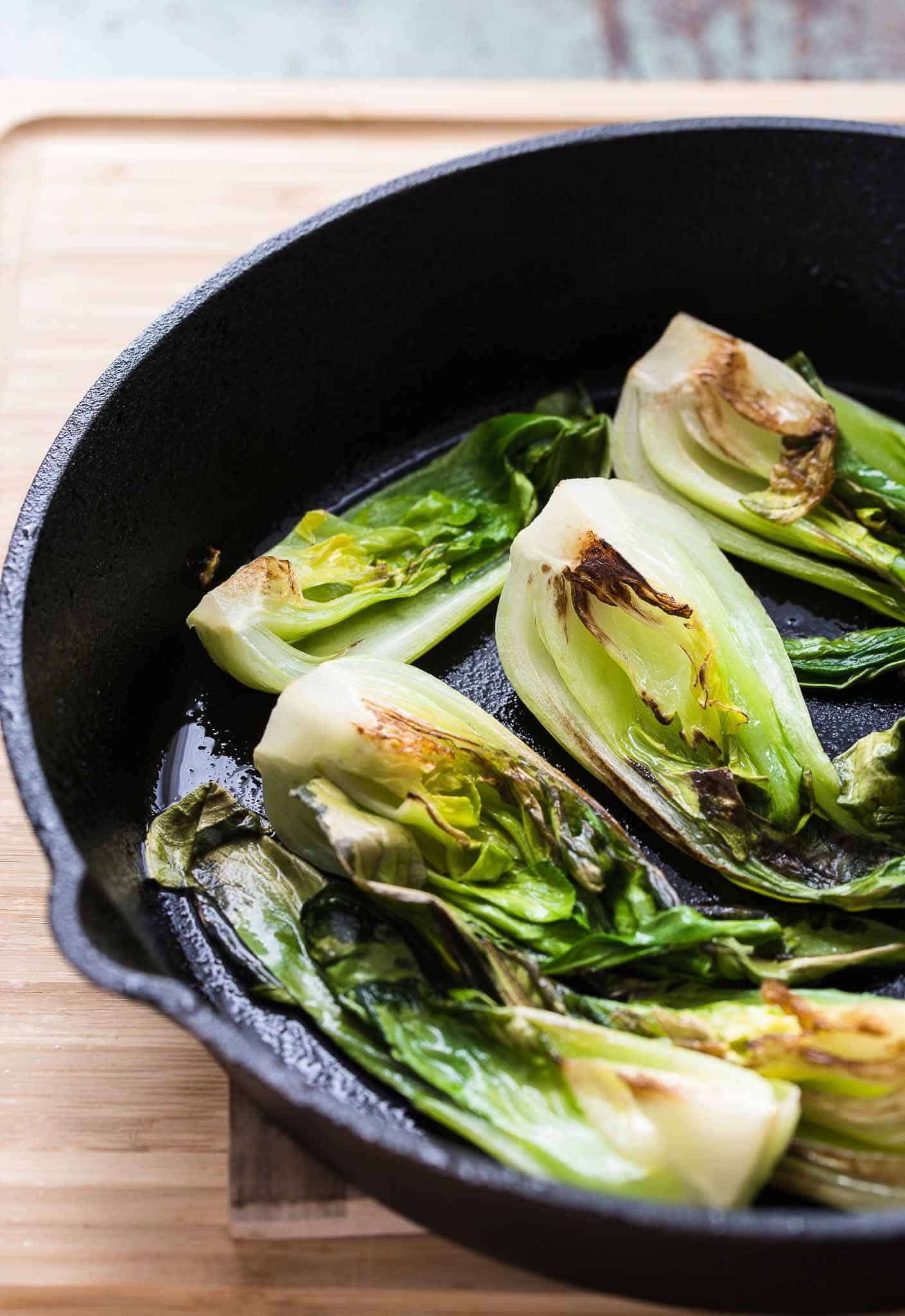 Add a touch of water and quickly cover with a lid to finish cooking by steaming. About 1 minute.
Pro tip
When stir-frying bok choy and adding aromatics like garlic and ginger – Add them 10 seconds before adding the water to prevent them from burning or becoming bitter and to get the best taste from them.
Variations
Garlic & Ginger Bok Choy – Finely chop some garlic and ginger. Add 10 seconds before adding the water in the stir fry method. Finish with a touch of soy sauce. 
Boy Choy Soup – Add to any Asian style broth or ramen soup. Just make sure to cut into bitesize pieces to avoid performing the Heimlich manoeuvre.
Duck & Bok Choy Stir Fry – One of my favourite quick meal recipes that actually taste good
Raw Bok Choy Salad – Sliced thinly it's a great addition to glass noodle salads and you could easily add it to coleslaw for an Asia twist on the classic fast-food salad.
Bok Choy with Garlic and Oyster Sauce – This one is a very popular little dish in Chinese cuisine as well as other Asian cuisines. Steamed or stir-fried finished by tossing in some fresh garlic and oyster sauce with a touch of honey is a treat to behold. Perfect as a side dish for crispy pork belly on the braai or Grilled Angelfish.
Chinese Chilli Oil Bok Choy – A simple and delicious way to serve bok choy. Chinese chilli oil can be bought or you could make it yourself. Alternatively, try out this homemade sriracha.
How to make chilli oil at home
Simply heat 300g vegetable oil with 4 star-anise, ½ cinnamon stick, 2 bay leaves and 8g Sichuan peppercorns to 110C. Keep at that temperature for 20 minutes.
When done strain the oil, add 80g chilli flakes and stir. Let it cool and store until needed.
Serving suggestions
Bok choi is a very versatile vegetable. It can be served as a side dish with nearly anything.
Other recipes you might like
If you like simply cooked food or are looking for how to do the basics well then you will find the following useful.
Useful equipment for this recipes
THIS PAGE CONTAINS AFFILIATE LINKS - I MIGHT EARN A TINY % OF THE SALE THROUGH THESE LINKS. PROBABLY NOT EVEN ENOUGH TO BUY A BEER).
If you found this recipe helpful or have learned something, comment, subscribe and follow me on social platforms for more delicious recipes.
How to Cook Bok Choy
Bok choy is a healthy green vegetable that only takes a few minutes to prepare and it can be served with a wide range of dishes.

Ingredients
For simple stir fry
4 heads of bok choy
2 finely chopped garlic cloves
4g chopped ginger
8g vegetable oil
16g oyster sauce
4g sugar
8g toasted sesame oil to finish
Instructions
Heat a wok or frying pan with a touch of cooking oil. Put the bok choi into the hot pan.
Fry while turning until some caramelisation is achieved.
Add the ginger and garlic 10 seconds before adding the water to prevent them from burning or becoming bitter and to get the best taste from them.
Add a touch of water, oyster sauce, sugar and quickly cover with a lid to finish cooking by steaming. About 1 minute.
Remove and add the sesame oil.
Notes
** For a vegan version replace the oyster sauce with soy sauce.

Nutrition Facts
How to Cook Bok Choy
Serves: 2 portions
Amount Per Serving:

2 portions

Calories

161.57 kcal

% Daily Value*
Total Fat

8.96 g

13.8%
Saturated Fat

1.03 g

5.2%
Trans Fat

0.03 g

Cholesterol

0.0 mg

0
Sodium

260.47 mg

10.9%
Total Carbohydrate

18.95 g

6.3%
Dietary Fiber

5.6 g

22.4%
Sugars

8.49 g

Protein

5.81 g
Vitamin A

8.11 %

Vitamin C

137.96 %

Calcium

35.95 %

Iron

8.29 %
* Percent Daily Values are based on a 2,000 calorie diet. Your daily values may be higher or lower depending on your calorie needs.