Cured salmon gravlax or lox, is a delicacy used abundantly in Restaurants.
This recipe for homemade cured salmon is super easy to follow, cheaper to make than store-bought, and the flavour is far superior.
Knowing how to make your own cured salmon gravlax will enable you to have this luxurious food ready whenever you need it.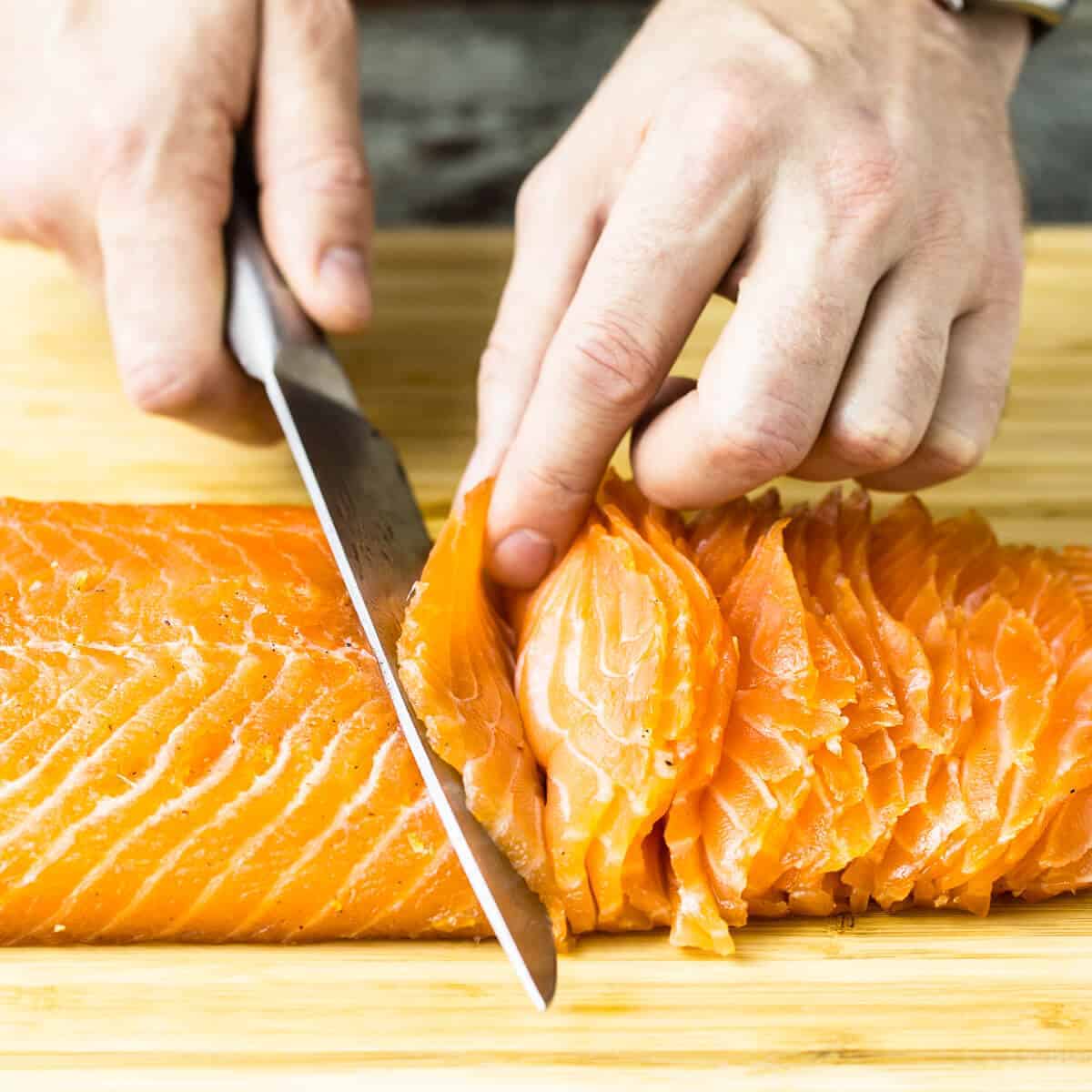 Jump to:
What is it
Gravlax is fresh salmon that has been cured with equal parts of sugar and salt.
Variations include adding aromatics like coriander and juniper, root vegetables like beetroot and horseradish and even a touch of vodka, whisky or gin.
The tastiest version is one where the taste of the salmon shines and is not overpowered by other flavours.
This recipe only uses salt, sugar, fresh black pepper and citrus zest.
Good quality fresh salmon needs little more than a few simple ingredients to transform it into something truly amazing.
Why cure Salmon
Fresh fish contain plenty of water. Think of this for a second.
You never see dried food spoiling do you?
Because dried foods contain very little to no water, chemical processes come to a halt.
Chemical processes involved in food spoilage and preservation happen really quickly when enough water is present and pretty much don't exist without the presence of water.
What does that have to do with curing salmon?
Fish, specifically salmon, has a large amount of water. 70% To be exact. About the same amount as you and me.
For us to preserve the salmon to keep it safe for consumption, we need to remove part of the water to slow down unwanted chemical processes involved in breaking down organic matter.
One of the ways of doing this is to draw the water out by applying salt and sugar. This has a double beneficial effect.
First, the salt and the sugar draws out moisture from the fish. This slows down the chemical processes involved in breaking down the flesh.
Second, the resulting brine that forms penetrates the flesh of the salmon.
Resulting in a higher concentration of salt within the fish which in turn prevents unwanted bacteria. It also seasons the salmon throughout, making it wonderful to eat and use for a large range of dishes.
Fish prepared this way could last for up to a week in the fridge and many months in the freezer.
You can cure any type of fish this way.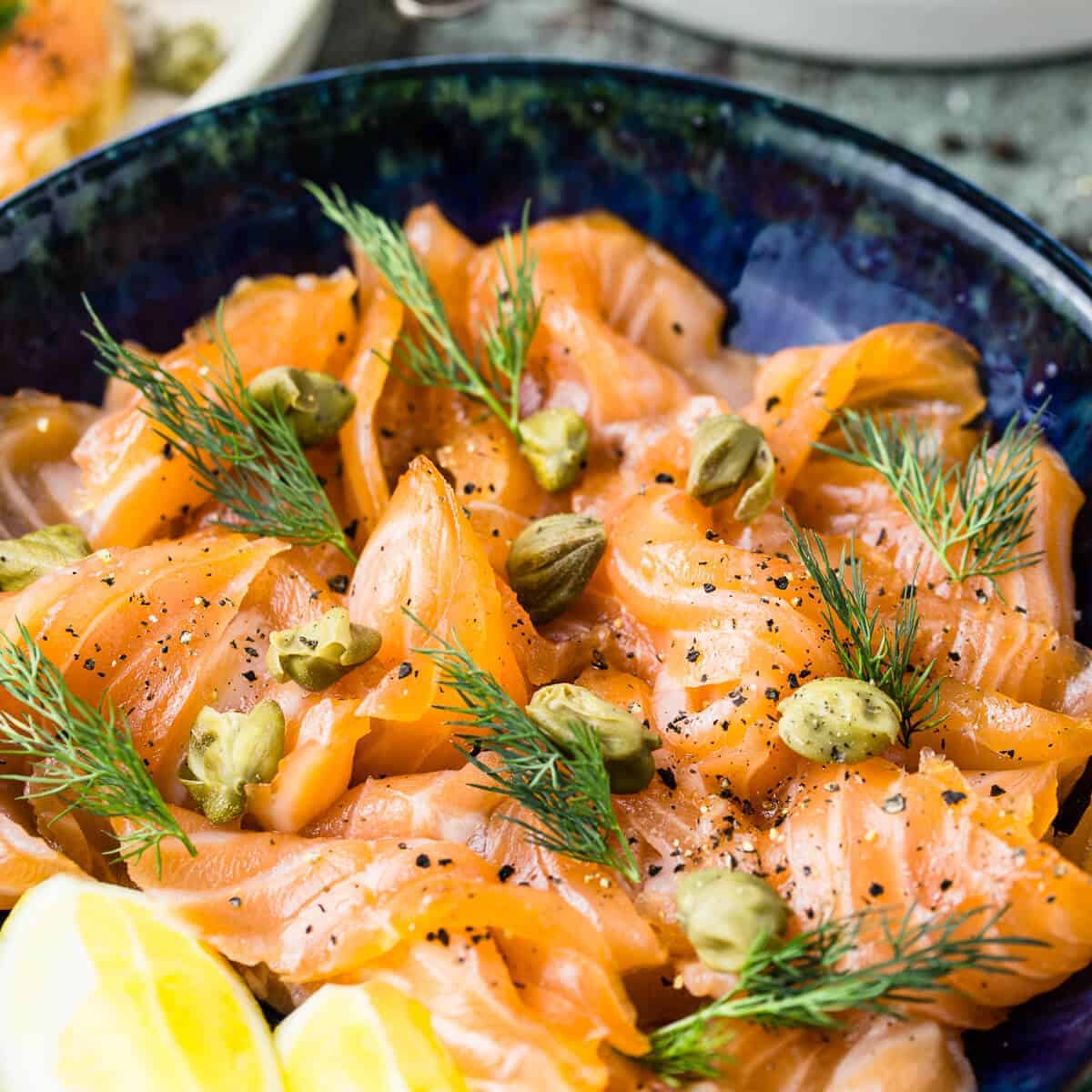 Perfect cure ratio
Equal parts sugar to equal parts salt + Aromatics(citrus rind, spices).
The cure mixture should be 20% of the weight of the salmon you cure.
Using more cure is just wasted and can result in over salty salmon.
The minimum curing time is 12 hours and the maximum 48 hours. 24 hours is the golden middle.
Not too salty and not bland.
Gravlax vs smoked salmon
The only difference is that gravlax is not smoked.
Smoked salmon gets cured first and then cold smoked.
The texture of smoked salmon is a little firmer and slightly chewier while gravlax has a smoother more sashimi-like texture.
This is because it loses a bit more moisture when cold smoked.
Whenever a recipe calls for one or the other you can use either or.
Professional tips
Remove the scales but keep the skin on - The scales will prevent the salt from penetrating the skin part of the fish if left on. Keeping the skin on makes it easy to slice and prevents the flesh from over-salting.
Use quality fish - Use the best salmon you can afford. Bad ingredients won't result in a tasty result.
Let it rest - Once the salmon is salted, let it rest in the fridge for one day. The saltiness will normalise so the fish is salted equally throughout and the skin is not leathery.
Useful equipment for this recipe
Ingredients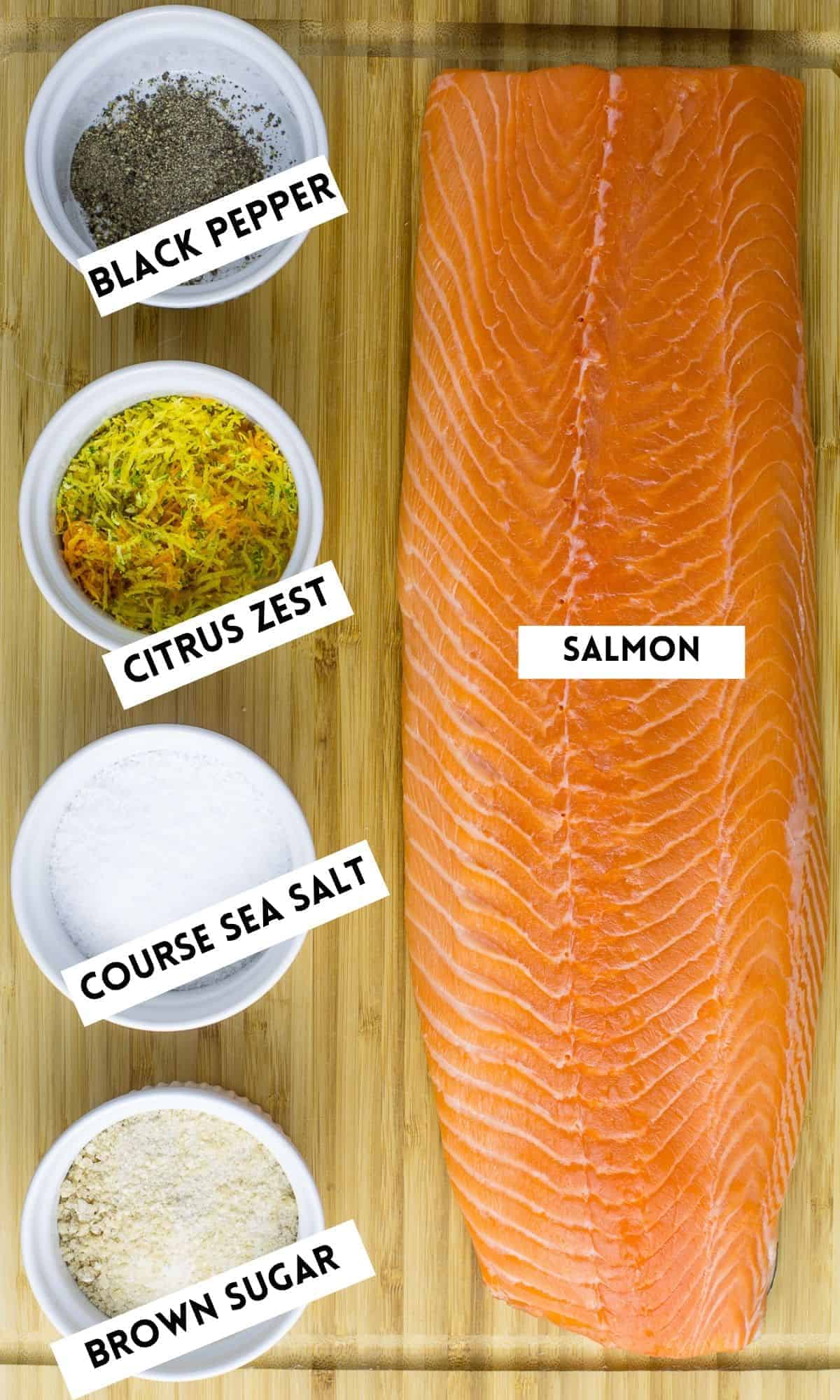 Salmon - Getting high-quality salmon fillet is key to the best results possible. With that said, you could also use good quality frozen salmon. I normally buy a whole fresh fillet with the skin on and the bones still in tacked. You could ask the fishmonger to scale the fish and remove the bones for you.
Citrus - I use three kinds. Lime, orange and lemon. You can use any combination you like. Omit one or two or even do it without any zest.
Sugar - I find brown sugar works best by adding a slight molasses flavour but you can easily use regular white sugar too.
Salt - Natural course ground sea salt works best. Don't use iodized salts when curing any foods. It has a chemical aftertaste and comes across more salty.
Instructions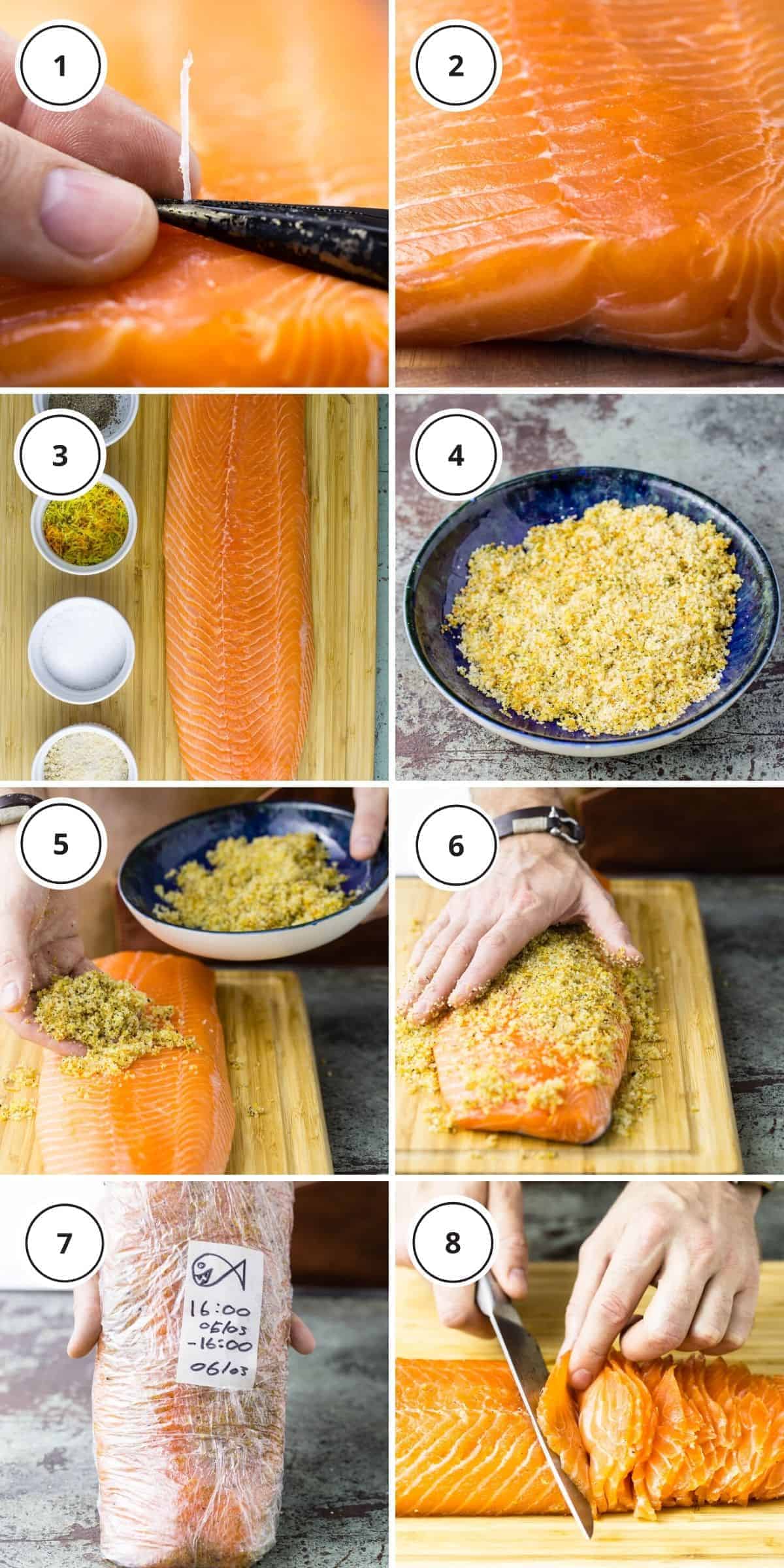 Make the cure by mixing the salt, sugar, pepper and citrus zest.
When this is done. Lay out double layers of plastic wrap on a counter.
With your plastic wrap ready, cure ready and fish fillet prepped, sprinkle half the cure mix onto the plastic wrap.
Place the salmon skin-side down onto the cure mix.
Finally, sprinkle the rest of it over the salmon making sure the fish is completely covered with the salt mix.
Wrap up the salmon tightly, label it with the time, and place it into the fridge for at least 12 hours and up to 48. 24 hours is perfect.
The following day, remove the salmon from the plastic wrap over the sink(there will be lots of brine in the plastic). Keep the brine to brush over grilled fish or vegetables.
Wash the fish with cold running tap water and pat it dry with a kitchen towel or a clean cloth.
Wrap airtight and store in the fridge. It will last for 5 days or you could freeze it for longer storage.
Variations
If you want you can easily modify this gravlax by adding the following.
Add alcohol - Add 50 grams of vodka, gin, whisky, or bourbon to the salt mix. Cure as instructed. My favourite is using a smokey Scottish whiskey for a subtle smokey flavour
Add veg - Grated some beetroot into the cure mix to turn the gravlax bright red on the outside while still orangy pink on the inside. Add grated purple cabbage for a bright, purple and orange contrast. Adding a touch of grated horseradish adds a nice sharp and fresh kick to the flavour. You can also add dill to the salt cure.
Miso - I make my own miso using koji. You can use store-bought if you want. Simply add a tablespoon full of miso to the salt mix and cure as instructed.
Spices - Add some toasted and coarsely ground clove, allspice, star anise, coriander or cumin seeds. Simply add to the salt mix. Be careful using too much as spices can easily overpower the delicate fish taste.
Serving suggestions
Lox or Gravlax is a popular food to serve at any time of the day and classic dishes containing cured salmon are plenty. Here are a few ideas.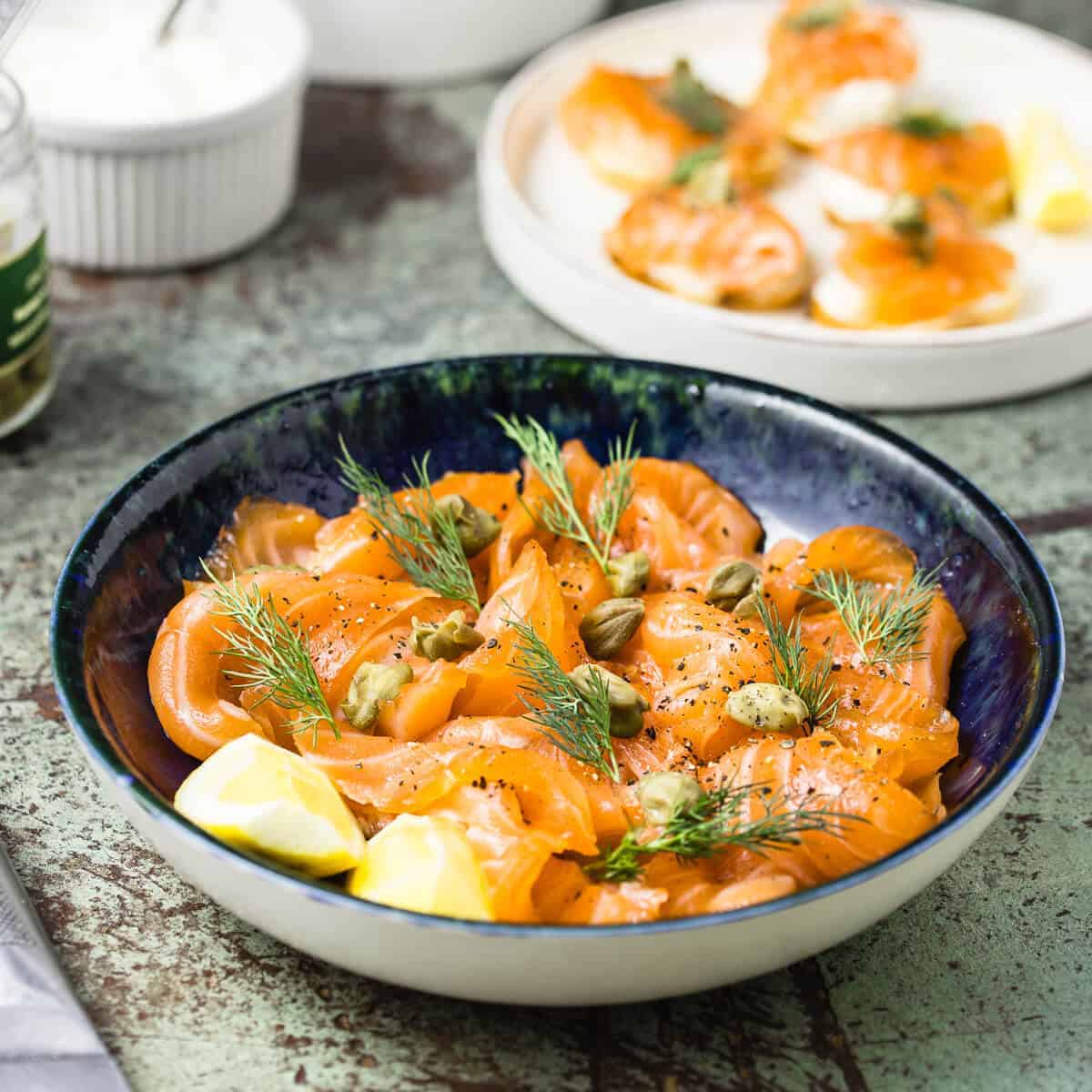 Frequently asked question
How to store it?
Once the salmon is cured you should always keep it wrapped airtight in the fridge or freezer.
How long does it last?
It will stay fresh for 5 days kept in the fridge and can be frozen for up to 6 months.
Is it safe to eat lox?
Apart from being completely safe to eat cured salmon is very healthy too. It's rich in Omega-3 Fatty Acids and a good source of protein. Being fish it's also much easier to digest than meat and a great option for breakfast, lunch or dinner.
Can you make gravlax from frozen salmon?
Yes, as long as you use good quality frozen salmon or you froze it yourself.
Related recipes
If you would like to know how to prepare basic foods simply and properly then you will find the following recipes helpful.
If you found this post helpful or have learned something, comment, subscribe, and follow me on social platforms for more tasty recipes.
This site contains affiliate links. I may earn a tiny commission on qualifying purchases at no extra cost to you. By bookmarking these links you help support the upkeep of this site.
Recipe
Cured Salmon Gravlax
Cured salmon gravlax is a luxurious food that's easy to make and much superior to store-bought versions at a fraction of the price.
Ingredients
For the cure:
150

g

(

½

cups

) coarse sea salt

150

g

(

½

cups

) brown sugar

4

g

(

1

tablespoon

)

orange zest

4

g

(

1

tablespoon

)

lemon zest

2

g

(

½

tablespoon

)

lime zest

4

g

(

1

teaspoon

)

crushed black pepper
For the salmon:
1500

g

(

3 ⅓

lb

)

Salmon fillet

-

skin on, scales off, bones out
Instructions
Place a double layer of plastic wrap on a clean countertop.

Sprinkle half the cure onto the wrap.

Lay the fish skin down onto the cure.

Add the rest of the cure onto the flesh side of the salmon.

Wrap tightly with plastic wrap.

Place into the fridge for 24 hours.

When done wash off any excess salt and pat dry with a kitchen towel.

Store in an airtight container or tightly wrapped in plastic for up to a week in the fridge or many months in the freezer.
Video
Notes
For Swedish style salmon gravlax, rub a very thin layer of mustard all over the salmon once cured and cover with chopped dill before storing.
Only use course natural sea salt(kosher salt). Fine salt does not do a good job and it results in over salty fish with a very unpleasant rubbery crust.
Don't substitute brown sugar for a finer type of sugar. It does the same as the fine salt and will make the salmon sweeter.
Make sure to keep the skin on your salmon and remove the scales. The fat and meat under the skin is very delicious and removing the skin results in an inferior result. It's also easy to cut when it's left on the skin.
You can use this method to cure any type of edible fish.
Smaller fish will cure in much less time.
Store in the fridge for up to 5 days.
Can be frozen for longer storage.
See post for more details on how curing works and what to serve with it. 
I love it on Borodinsky rye bread or toasted Sourdough.
Nutrition
Serving:
180
g
Calories:
272
kcal
Carbohydrates:
15
g
Protein:
30
g
Fat:
10
g
Saturated Fat:
1
g
Cholesterol:
83
mg
Sodium:
5884
mg
Potassium:
763
mg
Fiber:
1
g
Sugar:
15
g
Vitamin A:
64
IU
Vitamin C:
1
mg
Calcium:
37
mg
Iron:
1
mg
Keywords:
how to cure salmon, lox, Salmon gravlax