Jump to recipe
This homemade croutons recipe can be made with only 3 ingredients. Bonus 3 optional ingredients included in the recipe. These homemade croutons will transform the way you cook by giving you that extra secret ingredient you can add to salads, soups and stews.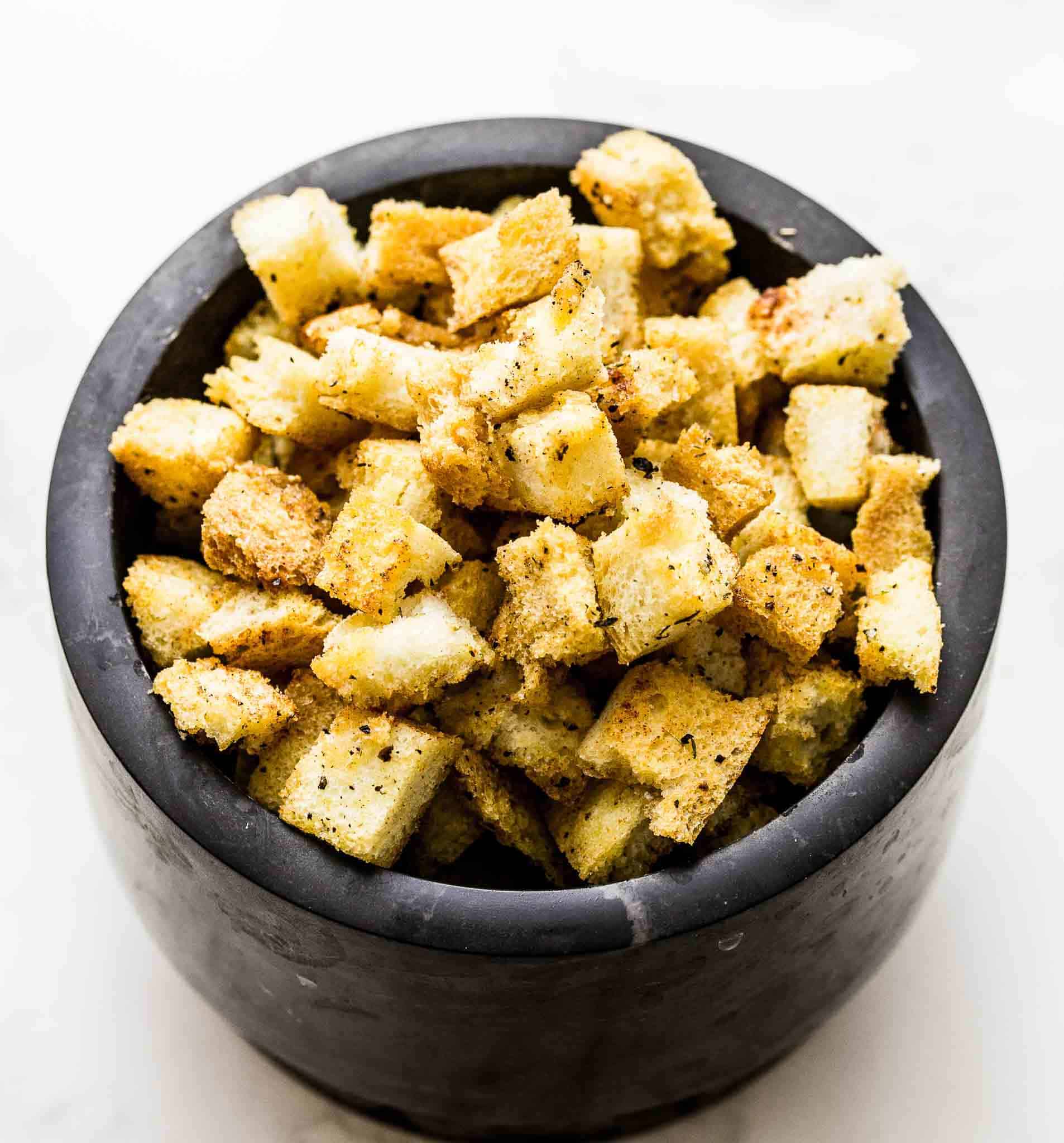 WHY MAKE HOMEMADE CROUTONS 
In this recipe for homemade croutons, you will learn which bread is best for croutons, which alternatives can be used and how to serve and store homemade croutons.
Of all the crispy foods out there bread croutons are probably the oldest and most popular one still being used by many home cooks and chefs around the world. For me, croutons definitely have the magic ingredient factor. 
You might say "Yeah but what's so magical about croutons?". Let me explain first that, most of the so-called magic or secret ingredients are actually very basic. 
Take salt and lemon juice for example. I have worked in Michelin kitchens where the only seasoning used are lemon and salt. The rest is up to the quality of the produce and quality of cooking.
Everything! 
The principle of using something simple and preparing it properly rings true with homemade croutons too. We take a humble ingredient and we repurpose it for beneficial use in other preparations.
Think of all the lovely salads, soups and stews that would be less lovely without a crunchy crouton or two. Can you imagine your favourite Caesar salad without some crispy croutons? No Mam. It just wouldn't be right.
Gazpacho without croutons? Not a gazpacho)) Italian Panzanella salad. Based around croutons. Crostini, basically just a flat crouton with toppings added. You see where this is going.
Finally, by making homemade croutons we are also being resourceful. Using up bread that would otherwise only be good for making breadcrumbs or even worse, go to the bin.
HOMEMADE CROUTONS INGREDIENTS
Feeling fancy? Add a bit of grated parmesan and truffle paste for the ultimate homemade croutons.
ALTERNATIVE BREAD TO USE FOR HOMEMADE CROUTONS
Follow the this recipe substituting only the type of bread:
Sourdough croutons – If you've made this sourdough bread and struggled to eat it all this is a great way to use up old bread. Interested in baking sourdough bread? Begin by making this sourdough starter today.
Dark rye bread croutons – Use any but this Borodinsky bread makes amazing croutons I use in this warm uncured bacon and potato salad.
Gluten-free bread croutons – Of course, we won't leave you behind. Use your favourite gluten-free bread and simply follow the recipe as usual.
Brioche croutons -  Brioche bread makes wonderfully light, delicate and super crispy croutons.
Baguette croutons – With baguette, you could make great little croutons perfect for crostini like with this home-cured salmon gravlax.
Wholemeal bread croutons – Add a touch of healthy fibre and earthiness by using wholemeal or wholegrain bread for your croutons. 
HOW TO MAKE HOMEMADE CROUTONS
1. Heat the oven – Turn up the oven to 180C or 356F at least 10 minutes before you start preparing the croutons. Always make sure you pre-heat your oven for any recipe to avoid running into trouble.
2. Break, dice or slice the bread- I prefer Cutting the crusts off and breaking the bread into bitesize roughly 1,5cm pieces.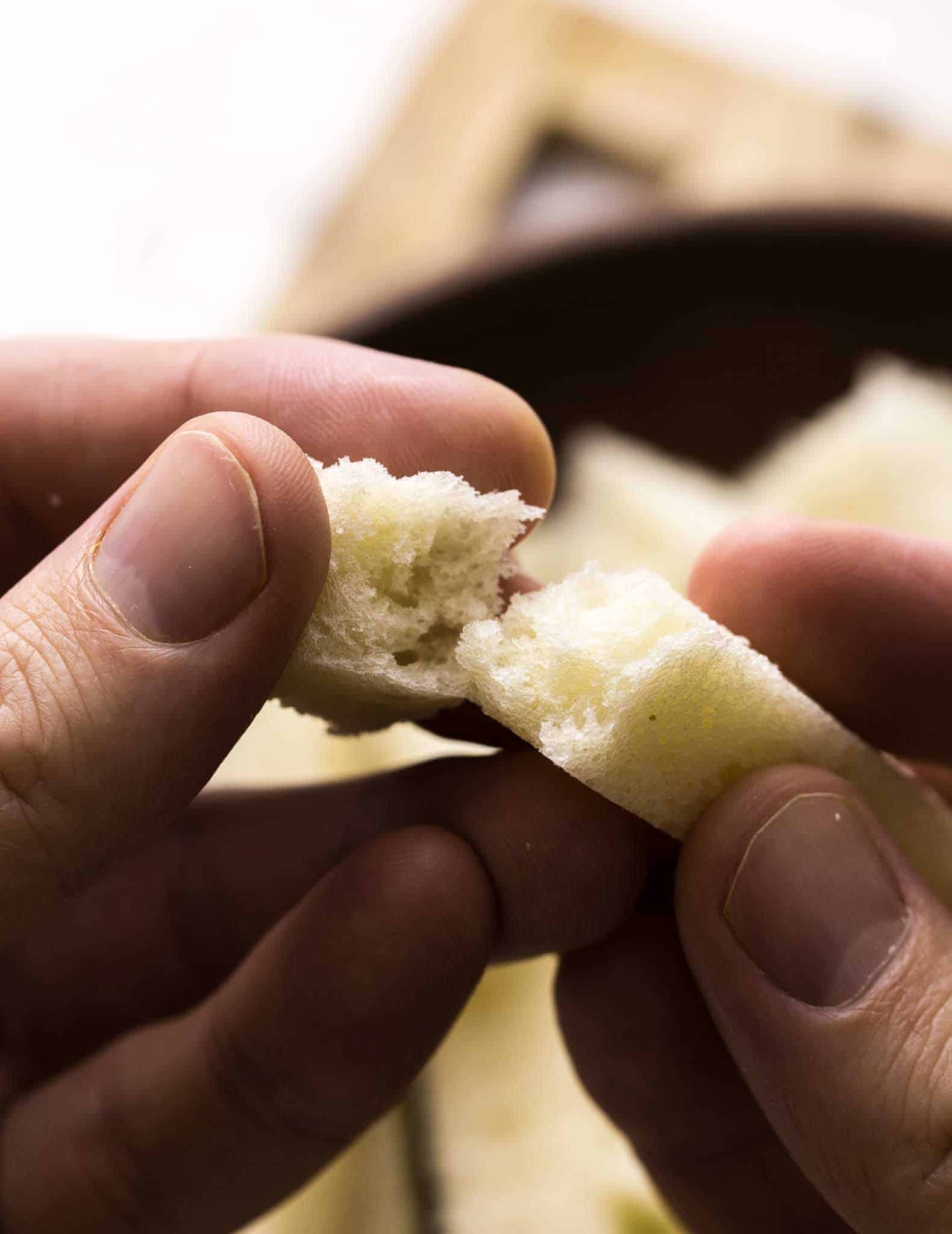 3. Mix up with oil and seasoning- Here you could go nuts but, try and stick to four ingredients. Neutral oil, salt, spices like paprika and pepper(optional), dried herbs like oregano(optional). Gently mix up the ingredients in a bowl making sure not to break up the bread. The reason for breaking the bread up instead of cutting is that it provides more surface area which means more crispiness!
4. Spread onto a baking sheet a bake – Cover a baking sheet or tray with parchment paper. Layout the croutons onto the paper and space them out roughly evenly in a single layer. Bake for about 10 to 12 minutes "mixing and turning" them every few minutes until nicely browned. Keep an eye on them and your oven might cook them differently so if you need less or more time then simply adjust.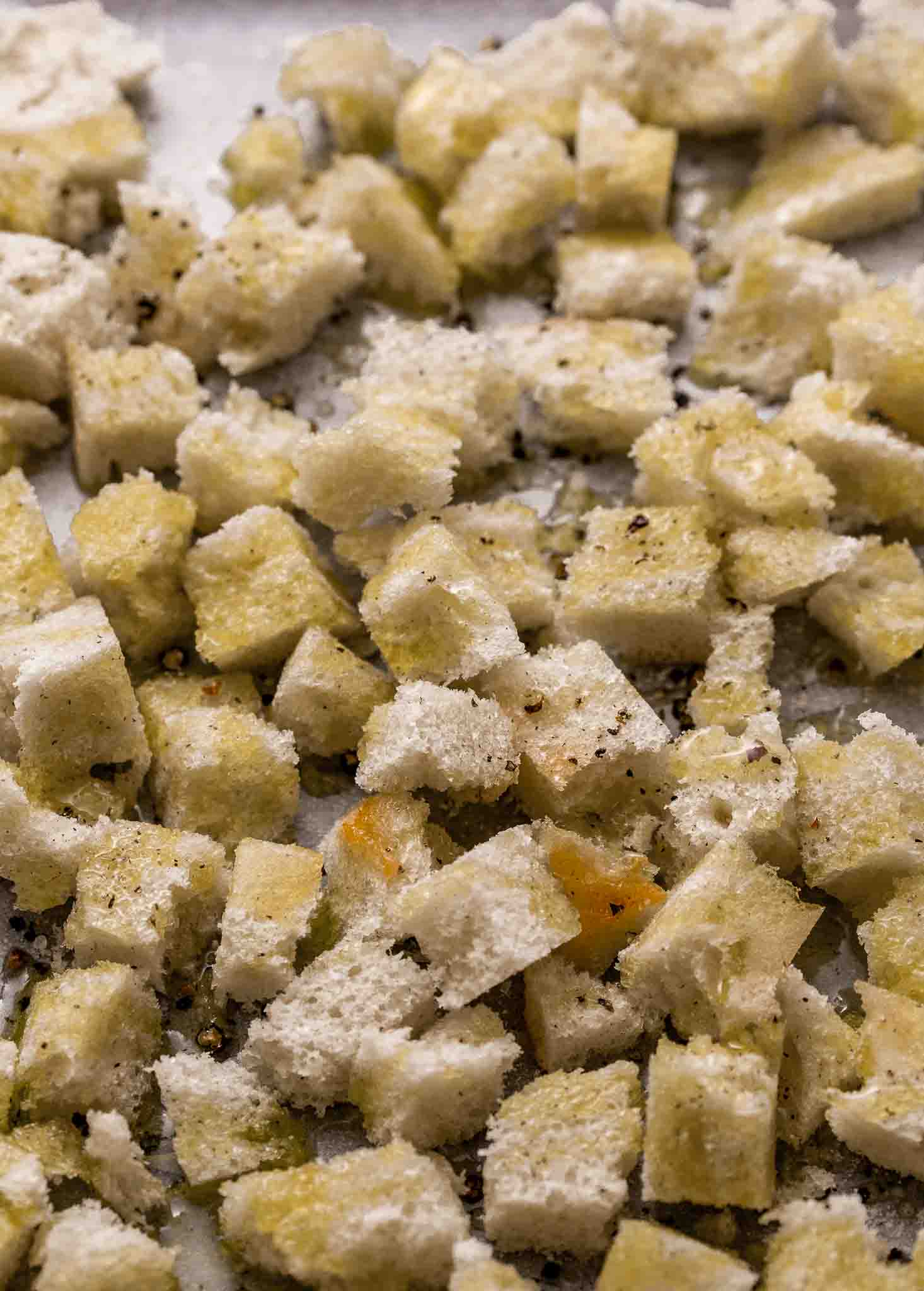 5. Let cool, Serve or store – One thing you do not want to do is serve these while warm. Without getting into the geeky details about crystallisation and crispiness just trust me and let them cool down for about 15 minutes. Your inner crispy craving monster will thank you for it. When completely cooled, you can store them in an airtight container for about 2 weeks in a dry non-humid environment.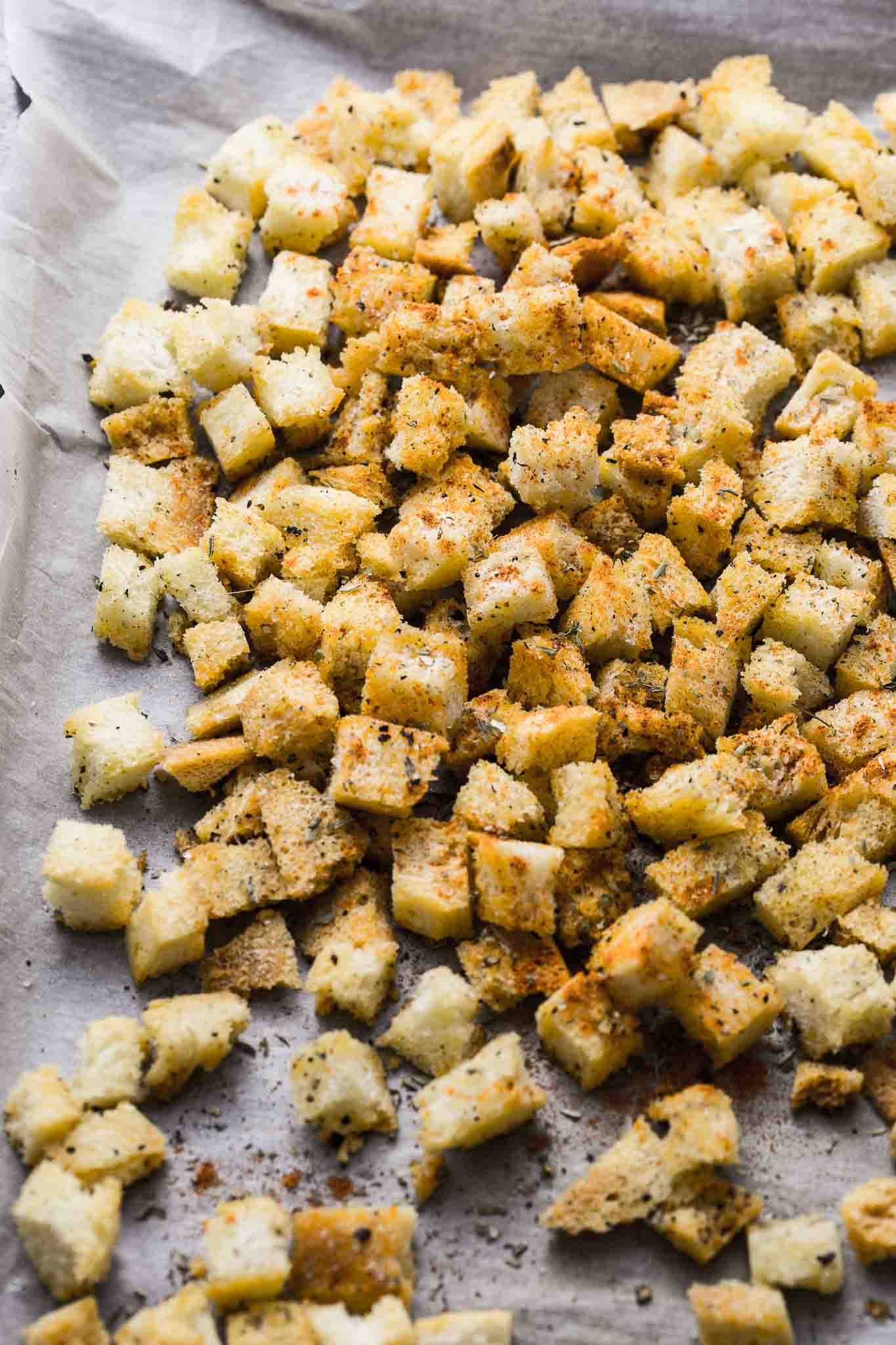 7 POPULAR WAYS TO USE HOMEMADE CROUTONS
The best ways to used homemade croutons include:
BONUS RECIPE
Quick gazpacho recipe:
100g cucumber
100g red bell pepper
2g garlic
15g red onion
40g celery
250g ripe sweet tomatoes
2g sugar(optional)
30g white bread
½ tsp cumin powder
10g lemon juice
Blend all the ingredients together until smooth and season with salt freshly ground black pepper and a generous squeeze of lemon juice.
Top with your homemade breadcrumbs and some freshly chopped chervil or parsley.
HOW TO STORE HOMEMADE CROUTONS
Like with all crispy preparations. Store airtight for about 2 weeks in a dry non-humid environment.
You can also buy some food-safe silica gel packets from the store and add a closed packet to the container.
The silica gel will absorb any moisture that may sneak. This will help keep your croutons fresher for longer.
USEFUL EQUIPMENT FOR THIS RECIPE
Reader Interactions