Going back a long time we use to cook these crockpot stews all the time. Vikings used whatever they had at their disposal. This recipe includes many variations as well as what to serve with it.
Crockpot recipes have become insanely popular and for good reason. They are easy to cook and you can put almost anything in them.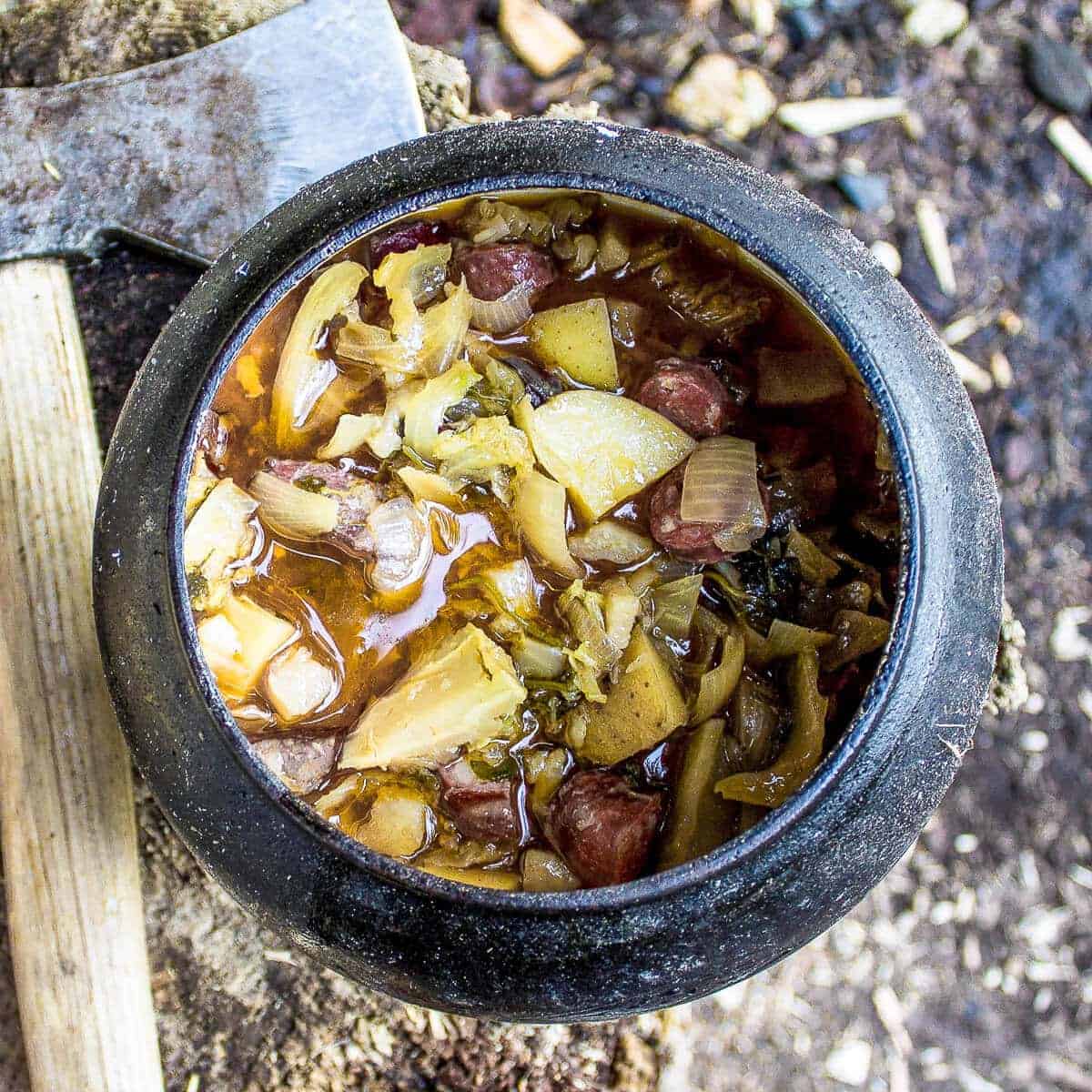 Jump to:
What makes this unique
So why write just another crockpot recipe? Simple. This one is different from the rest and it tastes completely unique. We start off by embracing our heritage of cooking with fire. Yes, fire.
Not gas or fan assisted ovens or induction but good a good old fire. You know - those things that used to keep us warm in the cold snowy nights and served as our entertainment before YouTube and Facebook came along.
You do not have to use fire, but it will really make it special as the food slowly takes up a smoky flavour from the burning wood.
Alternatively you would use a crockpot and add a smokey element in the stew. Like GREAT QUALITY smoked sausage or smoked lamb, venison or beef rib.
If you can't find any then add a touch of NATURAL smoke liquid. Natural smoke liquid is just condensed smoke. No strange flavourings or chemicals.
Useful equipment
Ingredients needed
Meat - Game, Beef, Poultry, Lamb or any meat your heart desires. First time I made this I used only smoked hand-chopped sausage. Because that's what I had. Remember Vikings used whatever they had instead of going down the this-or-that-is-authentic route.
Vegetables - Onion, garlic, carrot, cabbage, celeriac or any root vegetable works great. It will cook a long time so it will become completely soft and fall-apart. Which is what we want. Fresh vegetables would have been a delicasy for Vikings so if you want a completely authentic Viking stew then leave them out. What you'll have is a very rich meat stew you could serve with a simple side like mashed potatoes.
Liquid - Vikings would have used mead, boulion from other boiled meats or water. I used a strong beer, as that is what I had. Kinda the same as mead.
Herbs(optional) - Think of strong herbs like thyme, rosemary and marjoram. Vikings would have used pine or wild foraged herbs. I like adding some fresh marjoram, parsley, and dill right at the end of cooking.
Alternatives
Add Berries - Wild berries played a big part in Viking life and formed a large part of their diet. Even today, you can see that in Scandanavian and northern cuisine.
Use fish - Meat might not always have been available and vikings spent a large part of their life at sea and close to the coast. Use fish bones to flavour the stew but only add the fish 10 minutes before you want to serve it. Fish cooks very quickly and a long stew is not recommended for fish. Unless you use tough mollusc muscles like periwinkle.
Make it Vegan - Although this version might not have featured in viking times. It does make a delicious healthy stew. Use your favourite veggies and even add some barley, buckwheat or spelt.
Add cream - Vikings had dairy and they loved it. Add some just before serving to give your soup a delicious round creamy flavour.
Serving suggestions
Depending on which way you went with this stew. It could be a stand-alone hearty winter dish or you could serve it with a few sides.
This site contains affiliate links. I may earn a tiny commission on qualifying purchases at no extra cost to you. By bookmarking these links you help support the upkeep of this site.
If you found this post helpful or have learned something, comment, subscribe, and follow me on social platforms for more tasty recipes.
Recipe
Medieval Crock Pot Viking Stew
This is Viking stew crockpot recipe fit for the fire on a cold winters night
Ingredients
2

large onions

-

roughly diced

4

cloves

garlic

-

crushed

2

large potatoes

-

chopped into chunks

450

g

(

1

lb

)

Meat of choice

-

Beef shin, Venison, Smoked sausage

225

g

(

0.5

lb

)

bacon

-

optional but necessary and chopped roughly

½

cabbage

-

or other vegetables like carrot or celeriac roughly chopped or grated

500

ml

(

2.11

cups

)

beer

-

Dark beer works best

500

ml

(

2.11

cups

)

water/meat or vegetable stock
Instructions
Place all the ingredients together into the pot and mix it well.

Cook it at low medium temperature for about 5 hours monitoring it every now and again adding water or stock if needed.

Season with salt and pepper when done.

You can also chop up some herbs(parsley, marjoram, dill)and add it in when done.
Notes
This is a super easy recipe and method but play around with timings and heat as no fire is the same.
Don't forget to keep the fire burning by adding some wood every now and again.
See the post for serving suggestions and alternatives.
If you can't make a fire and you want to get a close to authentic smokey flavour but using a crock pot or instant pot, then add a touch of natural smoke liquid or very high quality smoked natural meat.
Nutrition
Serving:
400
g
Calories:
1083.36
kcal
Carbohydrates:
57.16
g
Protein:
40.2
g
Fat:
71.66
g
Saturated Fat:
24.82
g
Trans Fat:
0.61
g
Cholesterol:
174
mg
Sodium:
2453.28
mg
Fiber:
6.9
g
Sugar:
8.34
g
Vitamin A:
2.47
IU
Vitamin C:
58.43
mg
Calcium:
9.91
mg
Iron:
20.81
mg
Keywords:
low and slow cooking, medieval crockpot, viking stew