Jump to recipe
Borscht(Борщ), as you might already know, is a hearty, beefy, meaty, beety, beauty of a beetroot soup-slash-stew originally from Ukraine. What makes this borscht different and ultimately very special is the way you slowly stew it in a heavy cast iron pot over the fire for 5 hours. If you use chicken or do a meatless version the cooking time will be around 1-hour. However, Oxtail and beef shoulder are tough cuts of meat and need to cook a long time to tenderise and get melt-in-the-mouth soft.
This Borscht recipe is a little more time consuming than the average throw-it-all-together-and-boil-it-to-death beetroot soup, but the result is very rewarding and worlds apart from the usual lazy version.
When a recipe has more than the usual 4 to 5 ingredients and requires you to follow a few important steps, it always works nicely when you weigh out everything before so that there is no running around looking for stuff when you are actually cooking the borscht. That's how stuff burns and people start to hate cooking. So with that said let's cook our borscht.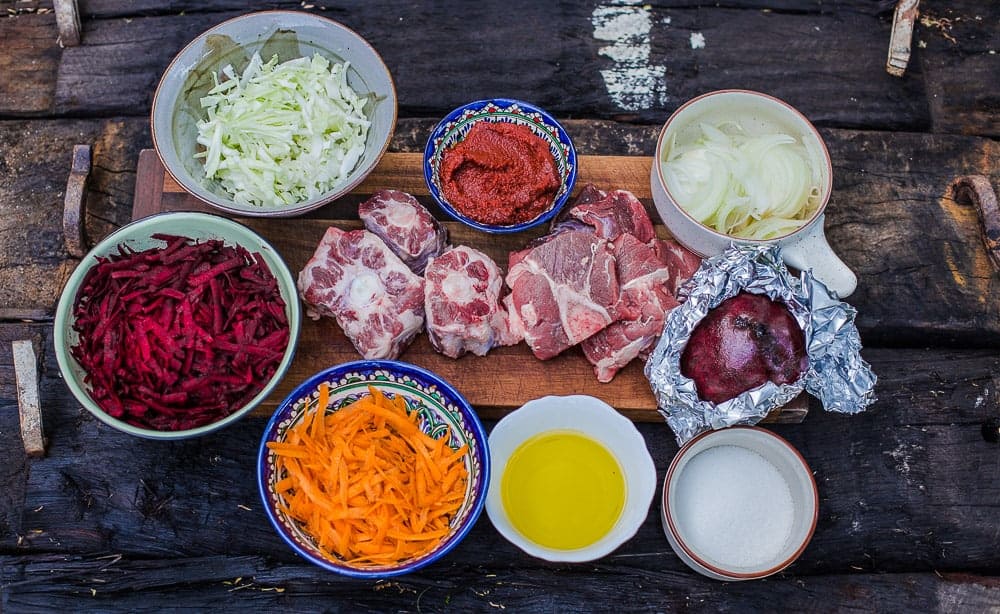 -The base ingredients for borsht -
The above ingredients anti-clockwise from the top left are as follows. Grated cabbage, grated beetroot, grated carrot, apple cider vinegar, sugar, beetroot wrapped in foil(we will bake this in the embers), sliced onions, tomato paste and finally two cuts of meat. Oxtail and beef shoulder.
First, you want to brown the meat nicely and I did this by grilling it over the fire as you would normally, over hot coals. While this is going on put the beetroot wrapped in foil straight over some embers and give it a turn every 10 minutes until cooked all the way through. This takes about 45 minutes depending on the size of your beetroot.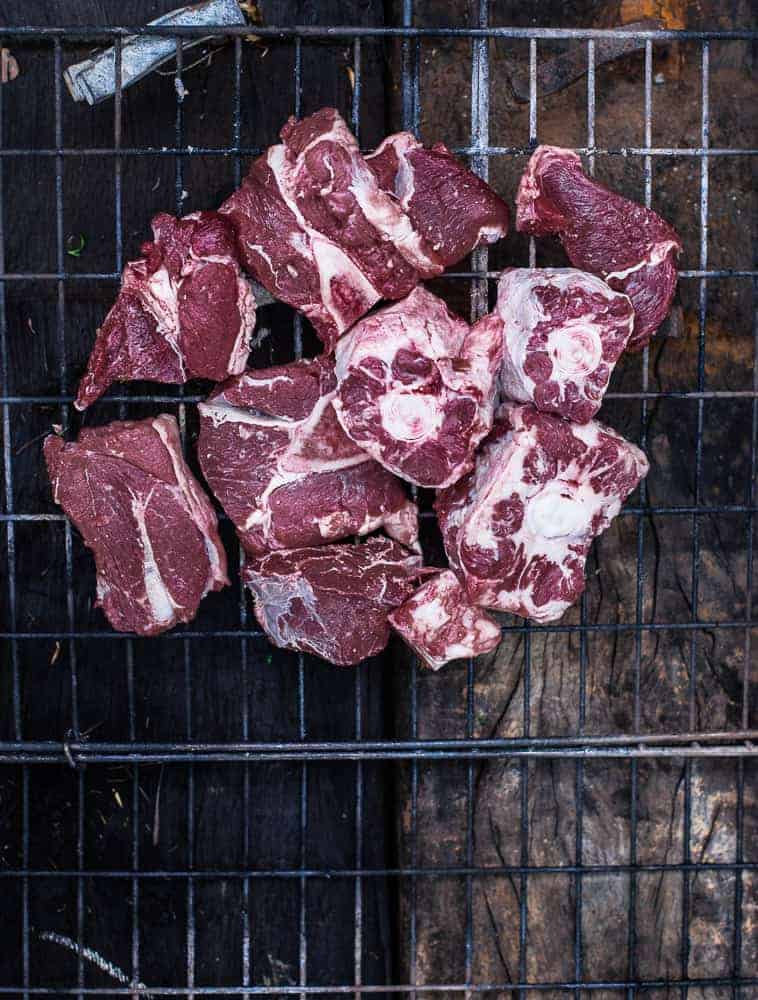 - Oxtail and beef shoulder ready for the fire -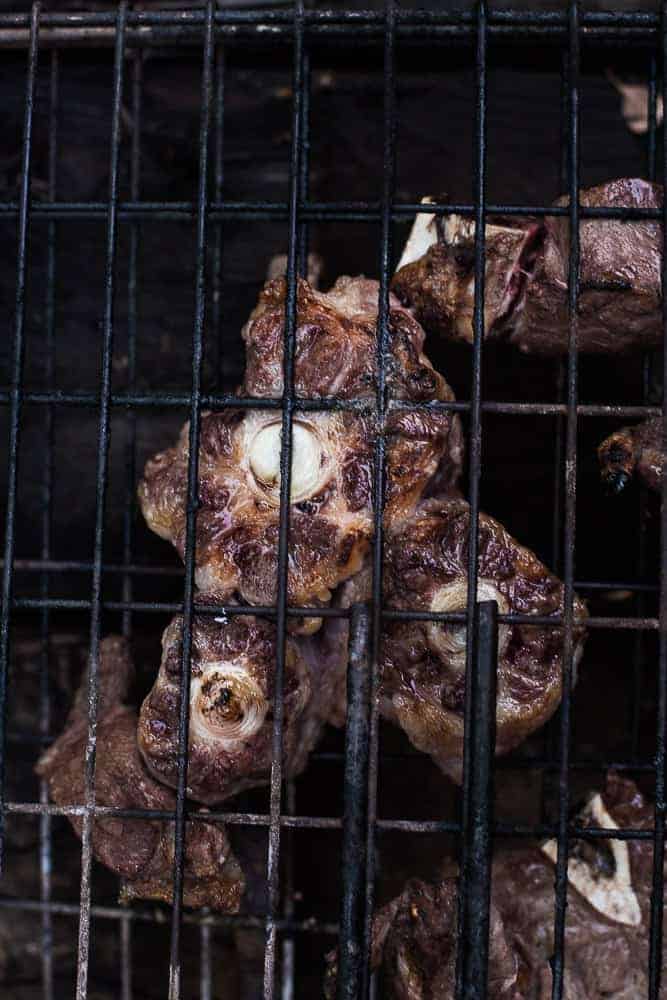 - Cooked and ready for the pot -
Next, we will set our pot over the fire on medium-high heat and start adding a splash of sunflower oil, grated vegetables and a pinch of salt. Fry this for a bit until the vegetables have softened slightly but still raw. Next, we want to add the tomato paste, apple cider vinegar, sugar, meat, and enough water to just cover the ingredients. Give it a mix, put a lid on and simmer slowly for about 4 hours or until the oxtail is soft.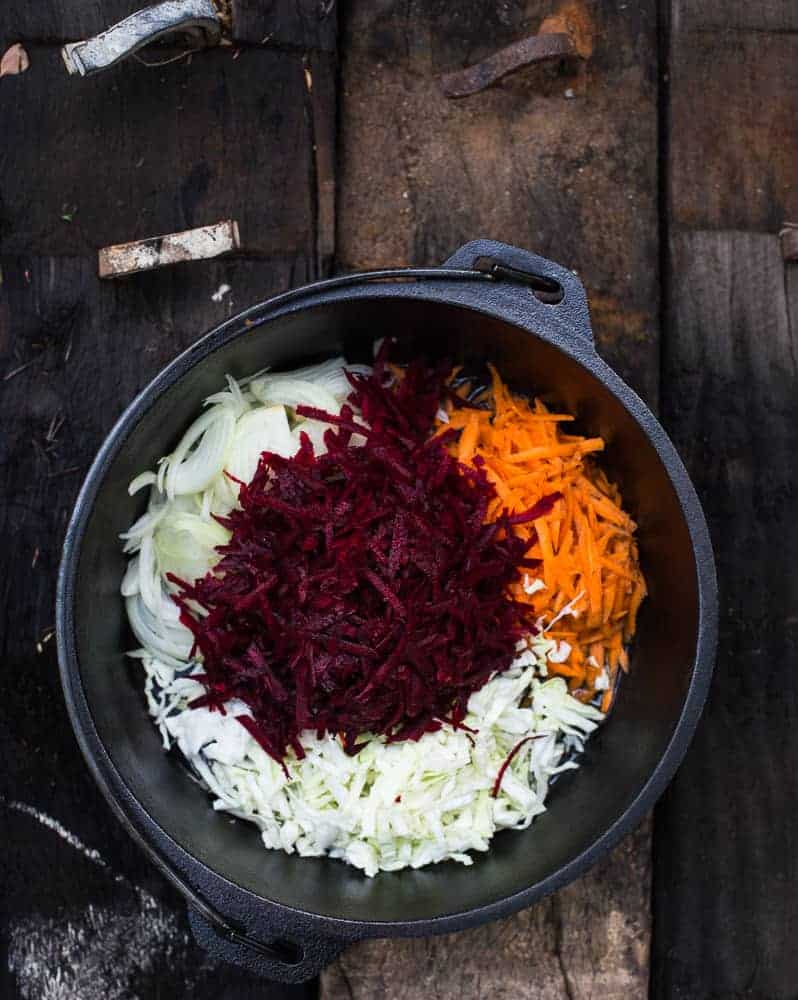 - Vegetables ready for cooking -
So while that is cooking you have ages to get together the final touches for our borscht and the ones that really set this borscht apart from the rest. Usually, Ukrainian borscht is served with a bit of sour cream on the side which you then stir in before digging in. We will honour that tradition but, we need to elevate the flavours and make sure this borscht is real special. So we make a garlic oil(just crushed garlic and sunflower oil) and prepare a fresh mix of chopped herbs, crunchy fresh spring onion, and freshly ground black pepper.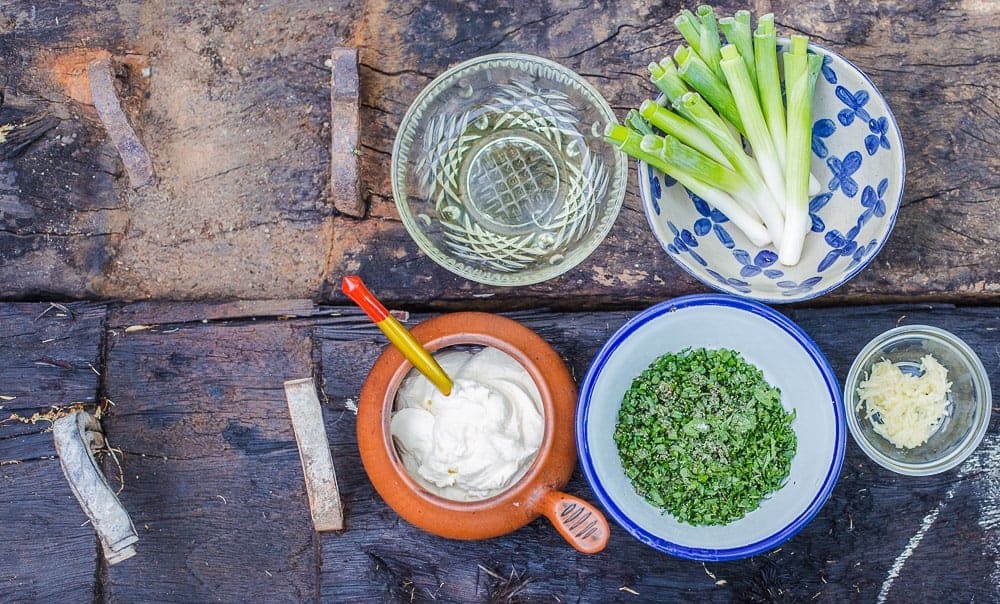 - The final uplifting touches -
When the meat is soft and melts in the mouth, it is time to add the baked beetroot and a bit of raw grated beetroot. The baked beetroot adds a beautiful layer of earthy sweetness to the very rich meaty stew/soup that's been simmered for hours while gently taking on a very subtle smokiness from the wood fire. The raw grated beetroot also elevates the colour to a deep rich reddish-purple.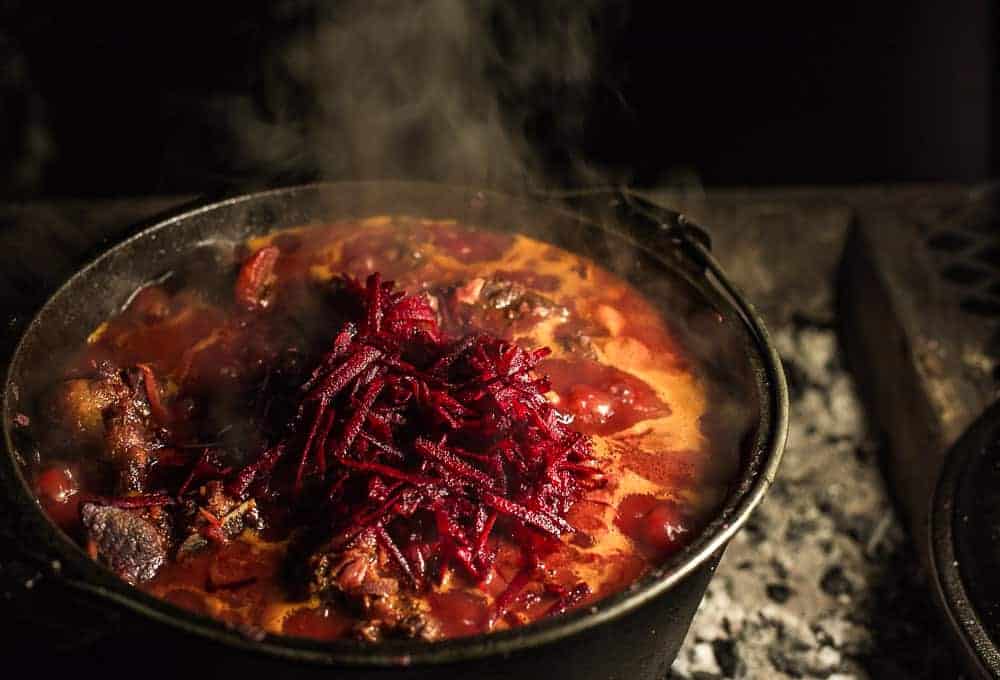 - Baked and freshly grated beetroot added to the borscht -
Finally, you need to adjust the seasoning of the borscht. What you want is a nice balance between sweet, sharp and salty. Taste the borscht and adjust to your palate. when you are happy with it, dish up. Add a generous dollop of sour cream, a bit of garlic oil and a sprinkling of freshly chopped herbs, spring onion, and ground black pepper.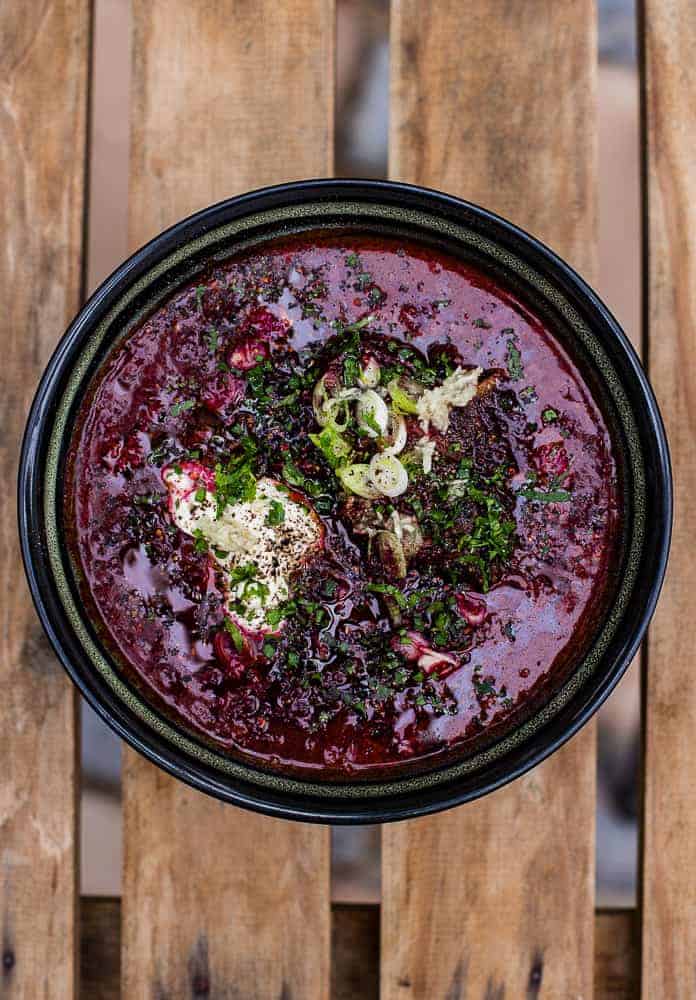 Borscht(Борщ) - Ukranian Beetroot Soup
The number one restaurant seller. Many Locals claim this recipe to be the best Borcht they have ever had.

Total Time
5 hours, 20 minutes
Ingredients
For the vegetables cooked in the pot:
150g grated beetroot
100g grated carrots
100g grated white cabbage
100g sliced white onion
100g tomato paste
50g apple cider vinegar
20g sugar
60g sunflower oil
50g salt
2,5L water
For the meat:
350g oxtail
350g beef shoulder
For the baked and raw grated beetroot:
For the final touches:
250g sour cream
10g chopped parsley
10g chopped dill
40g chopped spring onion
4g freshly cracked black pepper
Salt, vinegar, sugar to taste
Instructions
Fry the vegetables over medium heat until softened but still raw. Add the rest of the ingredients and add meat before adding the water. Simmer until the meat is tender keeping an eye on the liquid level. If it evaporates just add a bit more back in.
Bake the beetroot in foil while the meat and vegetables simmer. This will take about 45 minutes. When soft just put it to the side to cool until you can grate it.
Make the garlic oil by crushing fresh garlic and adding to sunflower oil. Chop the herbs and crack the fresh black pepper.
When the meat is soft, add the grated cooked and raw beetroot. Adjust the seasoning and add a bit more water if needed.
Serve with a nice dollop of sour cream, garlic oil, freshly chopped herbs, chopped spring onion and freshly cracked black pepper.
Notes
** You could make this recipe with any type of meat or even poultry.
** For a Vegan or vegetarian version simply remove the animal products and double up on vegetables.

Nutrition Facts
Borscht(Борщ) - Ukranian Beetroot Soup
Serves: 8 portions
Amount Per Serving:

1 portion

Calories

448.85 kcal

% Daily Value*
Total Fat

38.61 g

59.4%
Saturated Fat

15.62 g

78.1%
Trans Fat

0.03 g

Cholesterol

125.06 mg

41.7%
Sodium

89.28 mg

3.7%
Total Carbohydrate

8.74 g

2.9%
Dietary Fiber

1.55 g

6.2%
Sugars

6.49 g

Protein

17.02 g
Vitamin A

26.56 %

Vitamin C

10.06 %

Calcium

5.15 %

Iron

9.05 %
* Percent Daily Values are based on a 2,000 calorie diet. Your daily values may be higher or lower depending on your calorie needs.