Borscht(Борщ), as you might already know, is a hearty, meaty, beautiful red beet soup originally from Ukraine and also popular in Russia.
It's the perfect warming cosy winter soup and delicious served with steamy freshly baked crusty sourdough baguette or Russian Borodinky bread.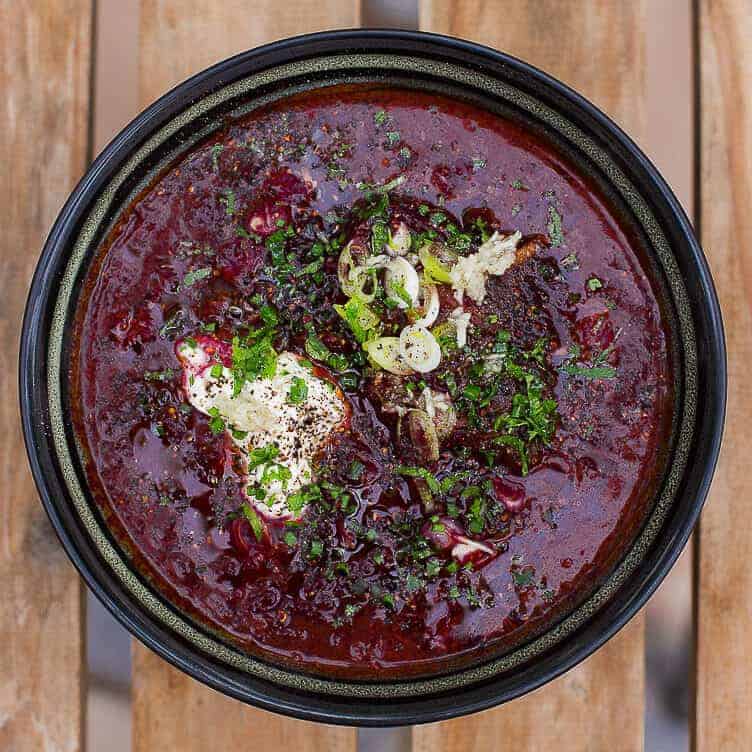 Jump to:
Why this recipe?
What makes this borscht different and ultimately very special is the way you slowly stew it in a heavy cast iron pot over the fire for 5 hours. If you use chicken or do a meatless version the cooking time will be around one hour.
However, Oxtail and beef shoulder are tough cuts of meat and need to cook a long time to tenderise and get melt-in-the-mouth soft.
This recipe is a little more time consuming than the average one-pot beet soup, but the result is very rewarding and worlds apart from the quick version.
With that said you could easily do this in your instant pot or slow cooker with similar results.
Useful equipment
Ingredients
For the soup...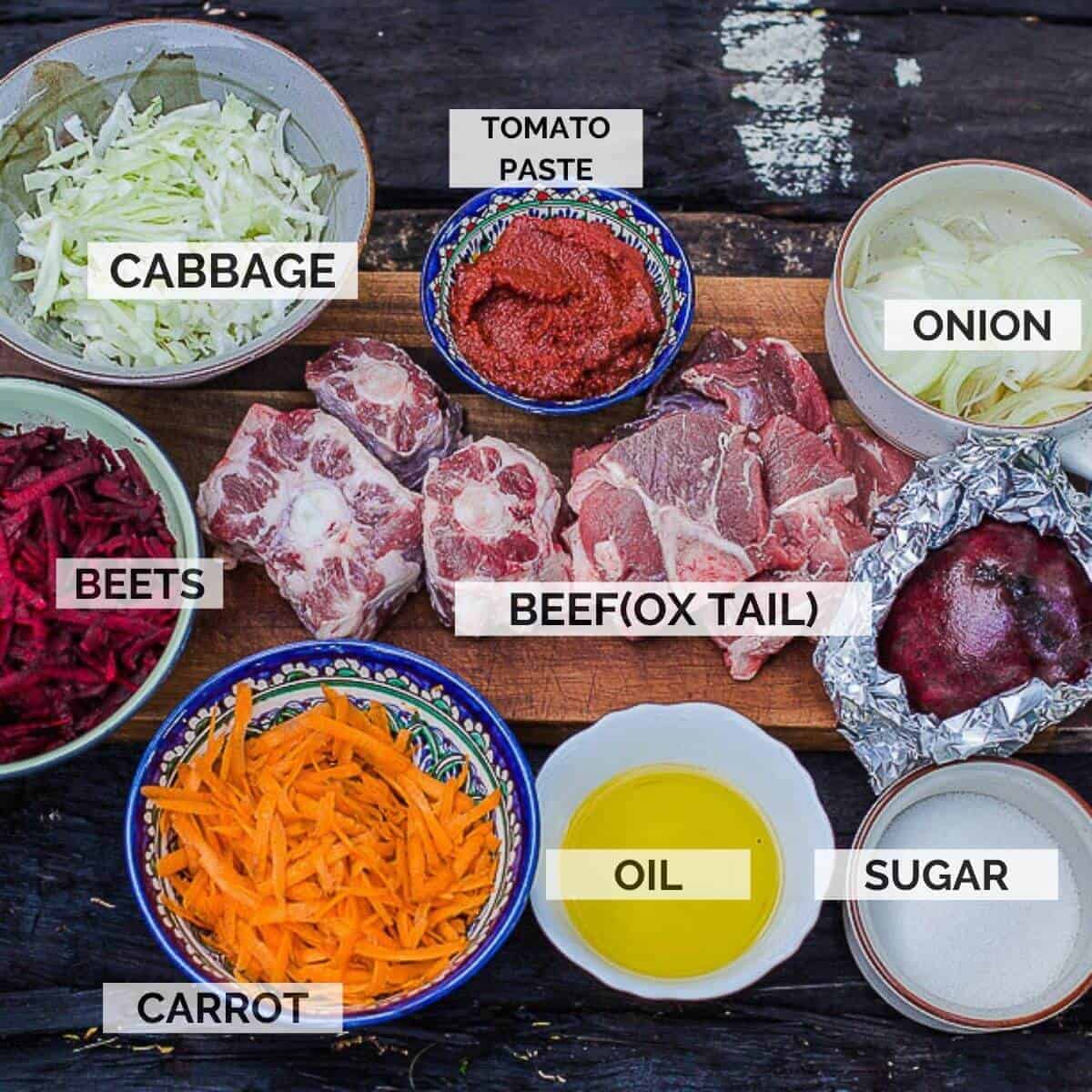 Meat - I use ox tail but you could use any type of beef stewing meat. Otherwise use chicken or go vegan and omit the meat altogether by using more veggies.
Vegetables - Beetroot, cabbage, onion and carrot.
Seasonings - Apple cider vinegar, sugar and salt balances this soup beautifully.
Extras - Tomato paste and optionally a bay leaf or two.
To finish...
Sour cream - A must in most Ukrainian and Russian soups. Also called smetana or creme fraiche.
Herbs - Use whatever soft herbs you like. I prefer dill and parsley.
Garlic oil - Simply fresh garlic grated into neutral oil.
Instructions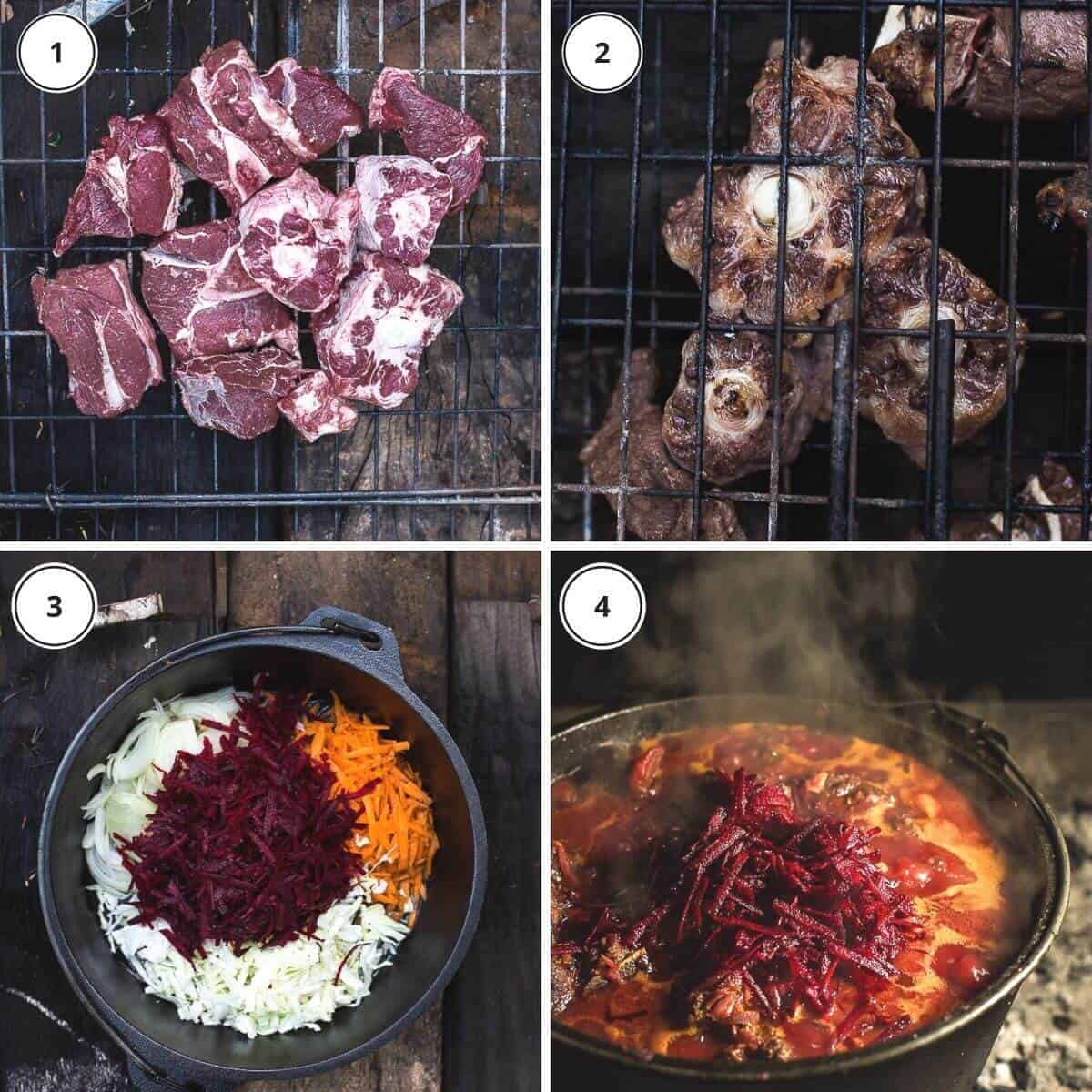 First, you want to brown the meat nicely and I did this by grilling it over the fire as you would normally, over hot coals.
While this is going on put the beetroot wrapped in foil straight over some embers and give it a turn every 10 minutes until cooked all the way through. This takes about 45 minutes depending on the size of your beetroot.
Next, we will set our pot over the fire on medium-high heat and start adding a splash of sunflower oil, grated vegetables and a pinch of salt.
Fry the vegetables until they have softened slightly but still raw.
Add the tomato paste, apple cider vinegar, sugar, meat, and enough water or beef stock to just cover the ingredients. Give it a mix, put a lid on and simmer slowly for about 4 hours or until the oxtail is soft.
While that is slowly cooking, get together the final touches . Usually, Ukrainian borscht is served with a bit of sour cream on the side which you then stir in before eating. We will honour that tradition but, we need to elevate the flavours and make sure this borscht is real special. So we make a garlic oil(just crushed garlic and sunflower oil) and prepare a fresh mix of chopped herbs, crunchy fresh spring onion, and freshly ground black pepper.
When the meat is soft and melts in the mouth, it is time to add the baked beetroot and a bit of raw grated beetroot. The baked beetroot adds a beautiful layer of earthy sweetness to the very rich meaty soup that's been simmered for hours while gently taking on a very subtle smokiness from the wood fire. The raw grated beetroot also elevates the colour to a deep rich reddish-purple.
Finally, you need to adjust the seasoning of the borscht. What you want is a nice balance between sweet, sharp and salty. Taste the borscht and adjust to your palate. when you are happy with it, dish up.
Serve with a generous dollop of sour cream, a bit of garlic oil and a sprinkling of freshly chopped herbs, spring onion, and ground black pepper.
Tips for success
Use beef stock instead of water for a richer flavour.
Use good quality stewing beef with enough fat. This will result in a beefier tasting soup.
Make sure to prepare all your ingredients before you start cooking the soup. Grate, chop, slice and weigh it all out and then start cooking.
Always balance the flavour with sugar, salt and vinegar before serving.
Soups, stews and curries always taste better the following day once the flavours had time to settle in. Perfect for a make ahead dish.
Serving suggestions
Bread - Toasted freshly baked borodisnky bread or sourdough rubbed with a garlic clove.
Salted pork fat - Take it one step above delicious and add a few thin slices of salted pork fat or lardo onto the toasted bread. It's the traditional way of serving borscht.
Storing instructions
Once made, cool it down and store airtight in the fridge for up to 5 days.
Alternatively, you can portion and freeze it for up to 6 months.
To reheat, simply defrost in the fridge overnight or in the microwave. Bringing to a boil before serving.
Related recipes
This site contains affiliate links. I may earn a tiny commission on qualifying purchases at no extra cost to you. By bookmarking these links you help support the upkeep of this site.
If you found this post helpful or have learned something, comment, subscribe, and follow me on social platforms for more tasty recipes.
Recipe
Borscht - Ukrainian Beet Soup
How to make famous Ukrainian Beetroot soup in a cast iron pot on the fire.
Ingredients
For the vegetables cooked in the pot:
150

g

(

1.5

cups

)

beetroot

-

grated

100

g

(

1

cups

)

carrots

-

grated

100

g

(

1

cups

)

white cabbage

-

grated

100

g

(

1

cups

)

white onion

-

sliced

100

g

(

0.4

cups

) tomato paste

50

g

(

3.5

tablespoon

)

apple cider vinegar

20

g

(

1.5

tablespoon

) sugar

60

g

(

0.3

cups

)

sunflower oil

35

g

(

2

tablespoon

) salt

2,5

L

(

10.57

cups

)

water

-

or beef stock
For the meat:
350

g

(

0.77

lb

)

oxtail

350

g

(

0.77

lb

)

beef shoulder
For the baked and raw grated beetroot:
For the final touches:
250

g

(

1.0

cups

)

sour cream

10

g

(

1

tablespoon

)

parsley

-

chopped

10

g

(

1

tablespoon

)

dill

-

chopped

40

g

(

3

tablespoon

)

spring onion

-

chopped

4

g

(

1

teaspoon

)

freshly cracked black pepper

salt, vinegar and sugar to taste
Instructions
Fry the vegetables over medium heat until softened but still raw. Add the rest of the ingredients and add meat before adding the water. Simmer until the meat is tender keeping an eye on the liquid level. If it evaporates just add a bit more back in.

Bake the beetroot in foil while the meat and vegetables simmer. This will take about 45 minutes. When soft just put it to the side to cool until you can grate it.

Make the garlic oil by crushing fresh garlic and adding to sunflower oil. Chop the herbs and crack the fresh black pepper.

When the meat is soft, add the grated cooked and raw beetroot. Adjust the seasoning and add a bit more water if needed.

Serve with a nice dollop of sour cream, garlic oil, freshly chopped herbs, chopped spring onion and freshly cracked black pepper.
Notes
You could make this recipe with any type of meat or even poultry.
For a vegan or vegetarian version simply remove the animal products and double up on vegetables.
Will keep in the fridge for up to 4 days or 6 months in the freezer.
You can make this recipe on the stove top or a slow cooker.
Nutrition
Serving:
1
g
Calories:
448.85
kcal
Carbohydrates:
8.74
g
Protein:
17.02
g
Fat:
38.61
g
Saturated Fat:
15.62
g
Trans Fat:
0.03
g
Cholesterol:
125.06
mg
Sodium:
89.28
mg
Fiber:
1.55
g
Sugar:
6.49
g
Vitamin A:
26.56
IU
Vitamin C:
10.06
mg
Calcium:
5.15
mg
Iron:
9.05
mg
Keywords:
beetroot soup, borscht