Jump to recipe
Chanterelle mushroom soup is the perfect way to celebrate the seasonal produce we have growing wild in nature.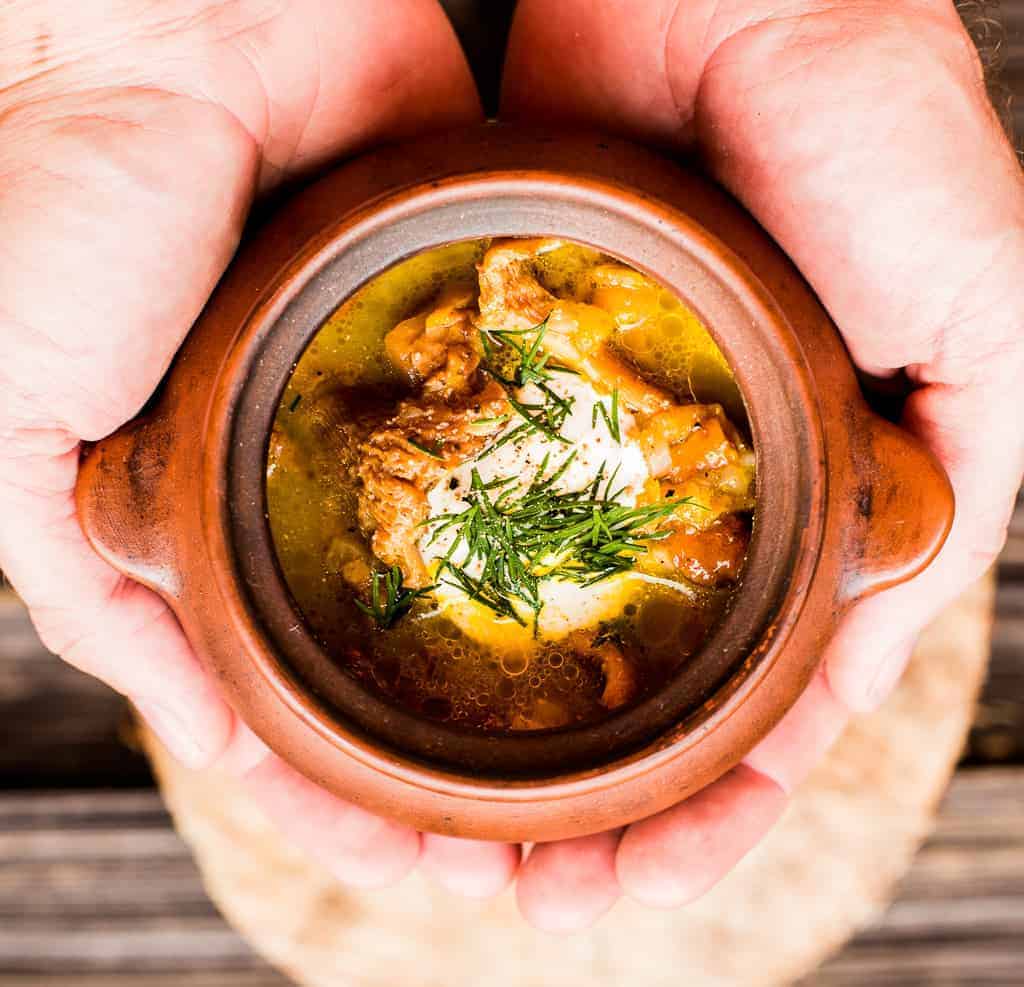 Jump to:
What are chanterelles and how do they taste
Chanterelles grow in abundance mainly in mossy forests with birch and pine trees. They are easy to spot as they are bright yellow and really stand out on the forest floor.
Their flavour and smell are wonderfully nutty and earthy and absolutely unique to them.
A real seasonal treat!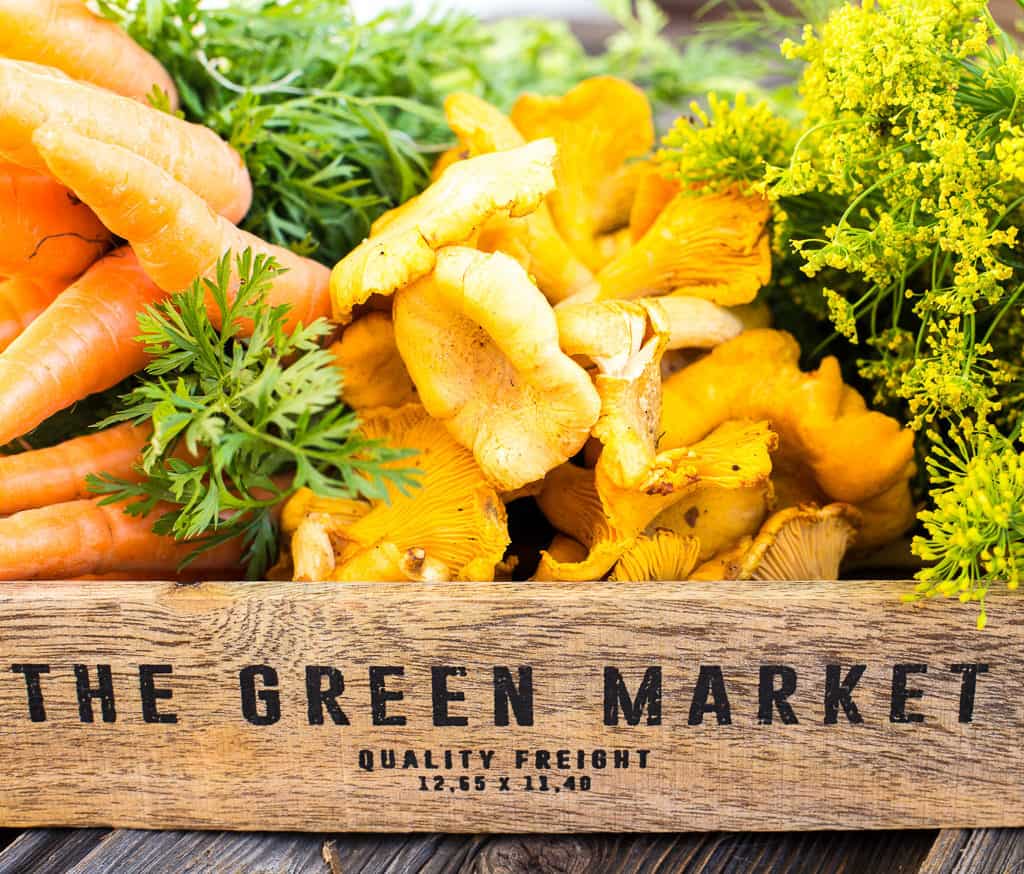 Importance of soup
Thinking back I was never fond of soups at all. I discovered the importance of soups in Russia.
Lunch always includes a hearty soup and definitely caught my attention when I arrived.
The thing that I love about soup in Russia, is that it is more of a chunky stew with identifiable ingredients.
Not just a puréed mix of stuff we so often find.
Although a velvety smooth puree soup can be a thing of beauty but takes skill to fully master.
I personally prefer this old school-in-a-cauldron style soup for these chanterelle mushrooms and many other mushrooms also do better-left whole in a soup.
Speaking of stews and cauldrons have a look at this amazing medieval stew.
It's hearty, warming and perfect for a cold night.
Where to find and how to prepare chanterelles
Here in Russia a lot of street vendors sell chanterelle mushrooms on the side of the road and in markets. For a nice bargain too considering the hours it takes to gather them in the forest.
When you buy them, have a good look at the quality. Make sure they are not full of holes, dried out or broken up. Also, I would stay away from the ones being sold next to busy highways.
When cleaning them I prefer to just use a brush to gently wipe away any dirt. Avoid getting them wet underwater. Water would not get rid of anything a brush can't.
When you fry them in the pan it's better to have the chanterelles dry in order to allow them to caramelise a bit in the pan. This adds wonderful roasty meaty flavours or, umami if you want.
Cooking instructions
Firstly we will chop up a bit of garlic, carrot, and onion( a great base for most savoury soup recipes).
Fry them in butter/oil/fat with a bit of thyme or rosemary until fragrant and translucent. I sometimes do mine with a bit of salted pork fat as it adds a lovely rich meaty aroma and velvety texture to the broth. We will keep this chanterelle mushroom soup recipe vegetarian though. Seeing that it only contains 198 calories and not everyone eats salted pork fat. If you follow a KETO diet please go ahead with the fat and replace the potatoes with mushrooms or onion if you really have to but the amount in here is pretty low.
At this point, you want to add the mushrooms and crank up the heat so that they brown a bit and release some awesome roasty-meaty-nutty flavour.
Add some diced potato and cover generously with a stock of your choice or water.
We will simmer the soup for 15 minutes and I mean simmer and not boil. Boiling causes the aromas to escape quicker. We want to keep as much flavour and aroma inside the soup as possible.
To finish our chanterelle mushroom soup we add a dollop of sour cream, chopped dill a fresh grinding of black pepper. a Drop or two of olive oil is optional.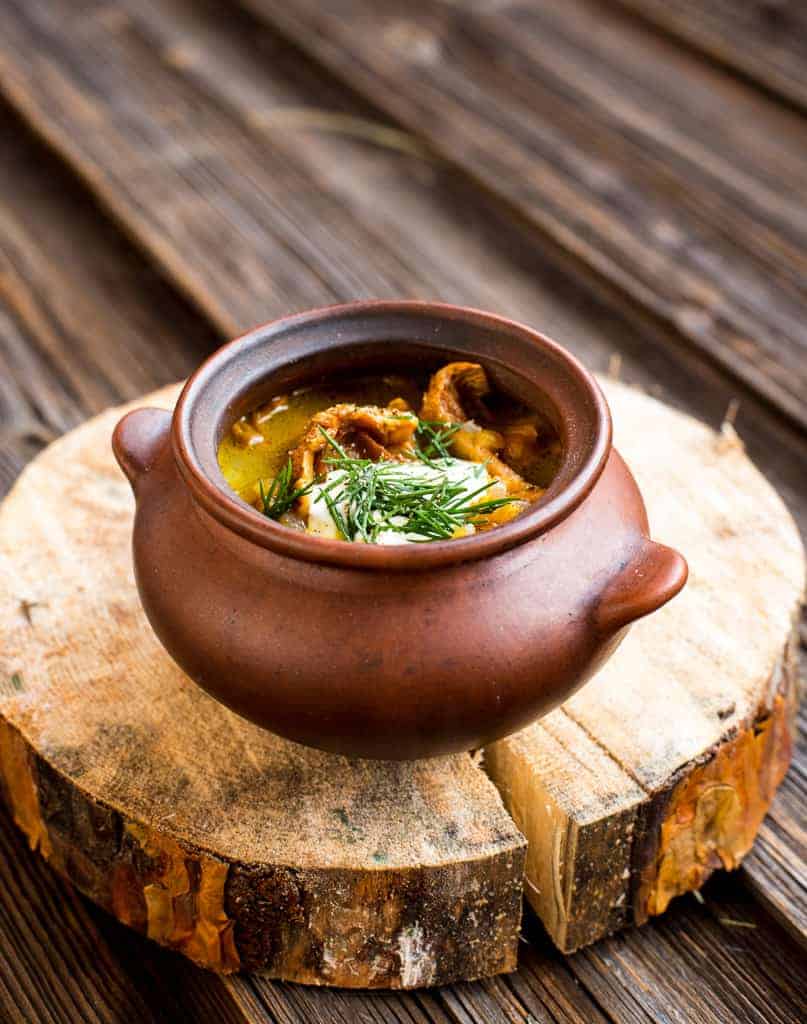 Professional tip
Being a chef, I highly recommend using salted pork fat and intense chicken stock for absolute maximum flavour. I know most of you will only have access to water.
That's fine but keep in mind that water is neutral.
The final product will not taste as good as with a lovely vegetable or chicken stock.
You could even just use the peelings from the onion, garlic, and carrot to boil up a quick vegetable stock. This would be much better than just plain water.
Useful equipment for this recipe
Chanterelle Mushroom Soup
Perfectly in season and perfectly amazing for a light lunch, dinner or snack.

Ingredients
2 cups fox mushrooms cleaned
1 large potato diced (remove for KETO version and replace with more mushrooms or onions)
1 large onion diced
½ carrot grated/chopped
2 cloves garlic crushed
2 sprigs of thyme/rosemary
30g butter/olive oil/pork fat
3 cups chicken/mushroom or vegetable stock. (water if you can't be bothered but it is worth it using a tasty stock)
1 tablespoon sour cream
1 teaspoon chopped dill
salt and pepper to taste
Instructions
Gently fry the onion, garlic and thyme together in some butter/oil/fat.
Add mushrooms and crack up the heat a bit so that the mushrooms get a nice roasted nutty flavour.
Add potatoes and stock.
Simmer slowly for 15 minutes.
Season to taste, place in a bowl with a dollop of sour cream and a bit of chopped dill.
Notes
This soup is also great with pieces of shredded chicken added.
Store for up to 4 days in the fridge or freeze for up to 6 months for future use.
Nutrition Facts
Chanterelle Mushroom Soup
Serves: 2 portions
Amount Per Serving:

300g

Calories

319.82 kcal

% Daily Value*
Total Fat

12.06 g

18.6%
Saturated Fat

4.3 g

21.5%
Trans Fat

0.09 g

Cholesterol

13.92 mg

4.6%
Sodium

1666.17 mg

69.4%
Total Carbohydrate

47.07 g

15.7%
Dietary Fiber

7.92 g

31.7%
Sugars

7.13 g

Protein

9.05 g
Vitamin A

17.98 %

Vitamin C

52.63 %

Calcium

10.04 %

Iron

15.16 %
* Percent Daily Values are based on a 2,000 calorie diet. Your daily values may be higher or lower depending on your calorie needs.