Jump to recipe
Many of you want to make the juiciest ribeye steak at home but, struggle with getting the proper results. Today I'm showing you how to cook ribeye steak so delicious you would trade your mother in law for it.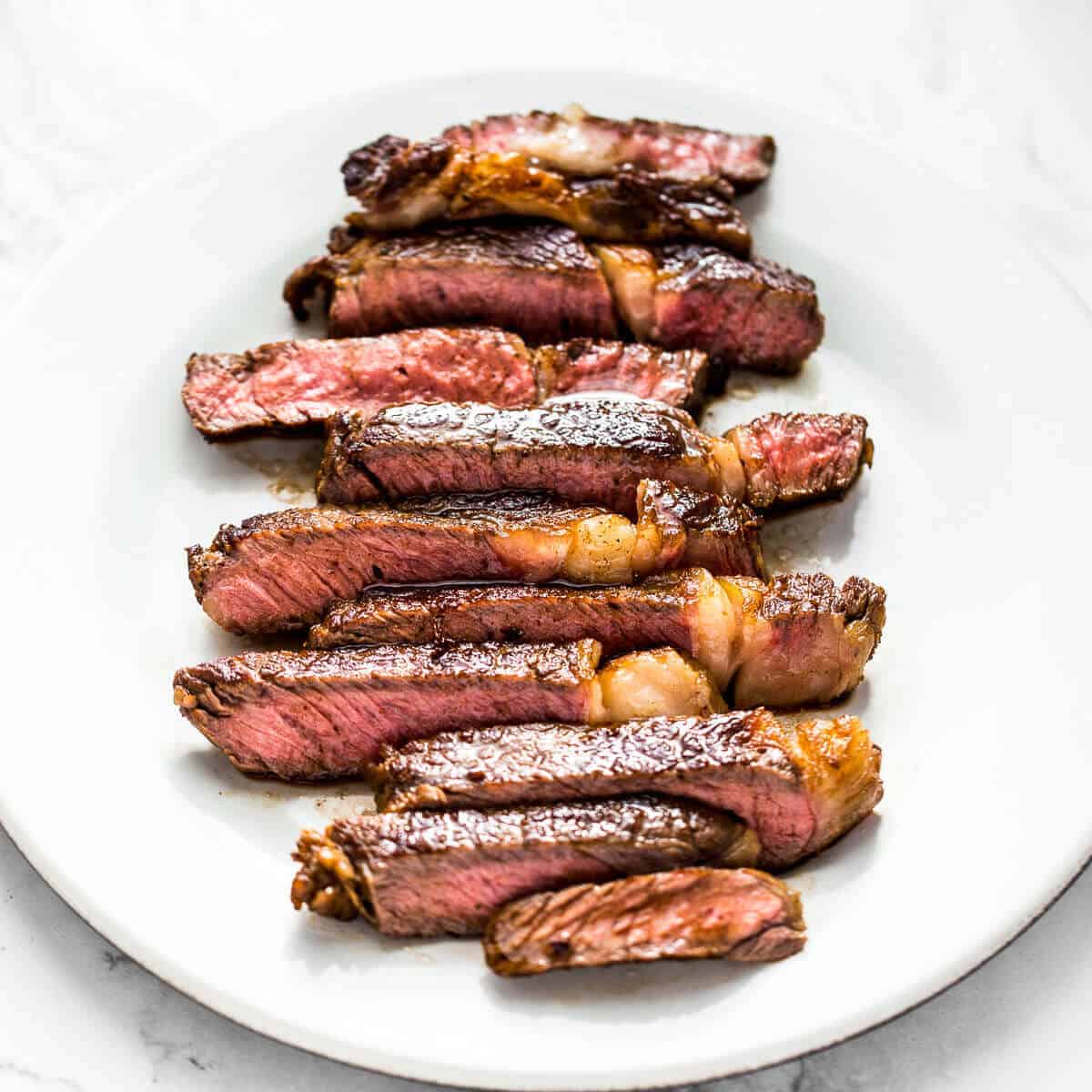 Jump to:
Once you master the actually-very-simple skill of cooking the best ribeye steak at home, you will have a hard time paying money in a restaurant for steak you now cook better yourself.
Great ribeye steak has the perfect amount of marbling and is seared to perfection with a dark brown crust and finished with a bit of browning butter.
When you cut into it the juices shouldn't flow out of it but rather be inside the meat. Surprised? I know. That's why you should follow pro chefs instead of people that don't know what their doing;)
The texture should be melt-in-the-mouth soft. Not chewy or stringy.
The flavour should be wonderfully buttery, salty, deep umami, and meaty.
Now that I got you going, let's do this, shall we?
Ingredients needed
90% of the success lies in the quality of the ribeye. You want to buy a well-marbled steak which means that it would be grain-fed beef. You could buy on the bone or off the bone. It does not matter.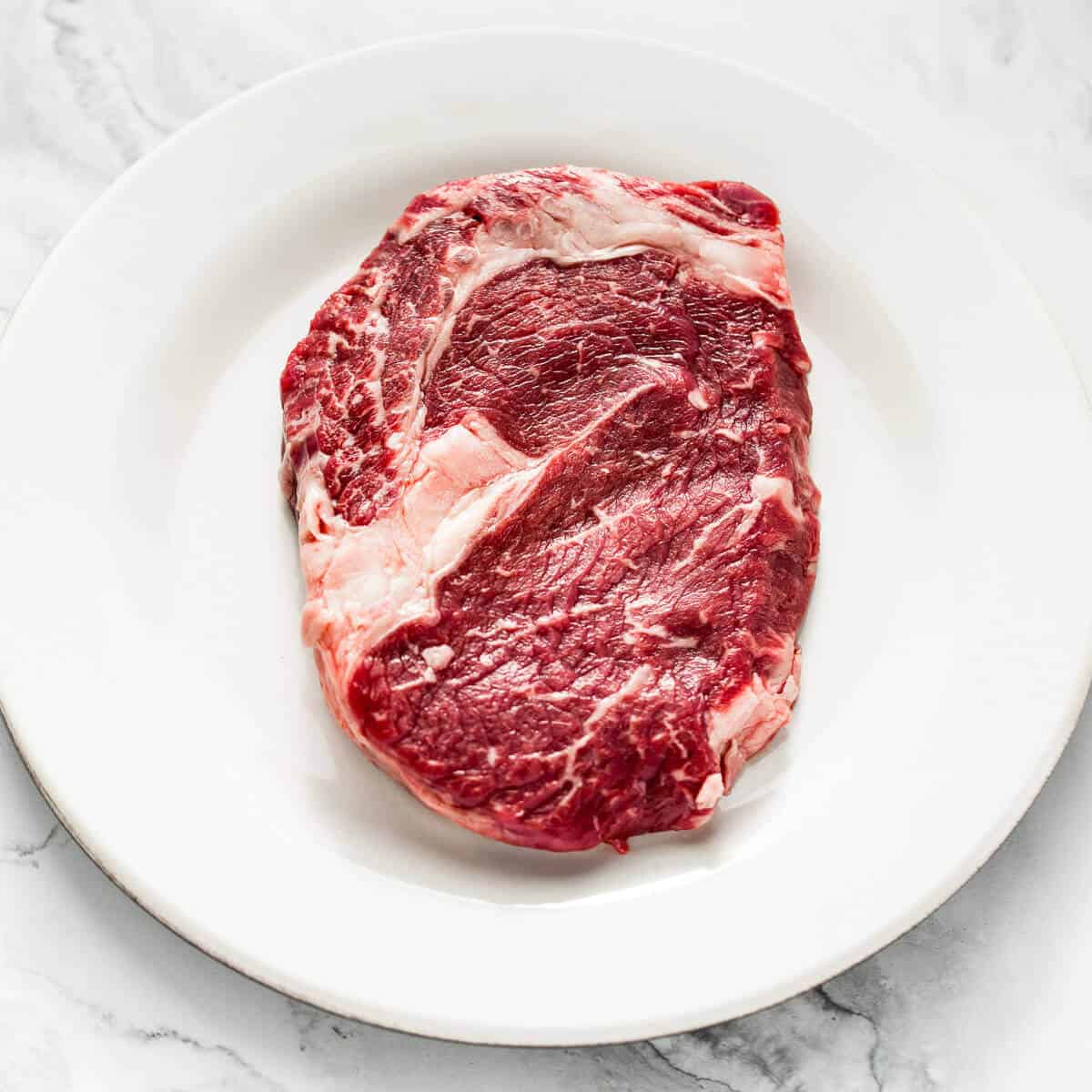 Meat - You want to buy a well-marbled steak which means that it would be grain-fed beef. You could buy on the bone or off the bone. It does not matter. Make sure it weighs about 400g minimum of the bone or 600g on the bone.
Oil - Normal canola or sunflower oil for frying.
Butter - Good quality 82% fat real natural butter. No margarine.
Seasoning - Natural sea salt and freshly cracked black pepper.
How to cook it
Follow the steps below and you will know how to cook a ribeye steak to rediculous perfection. We will cook it in a cast-iron skillet and use a temperature probe to make sure it's perfect.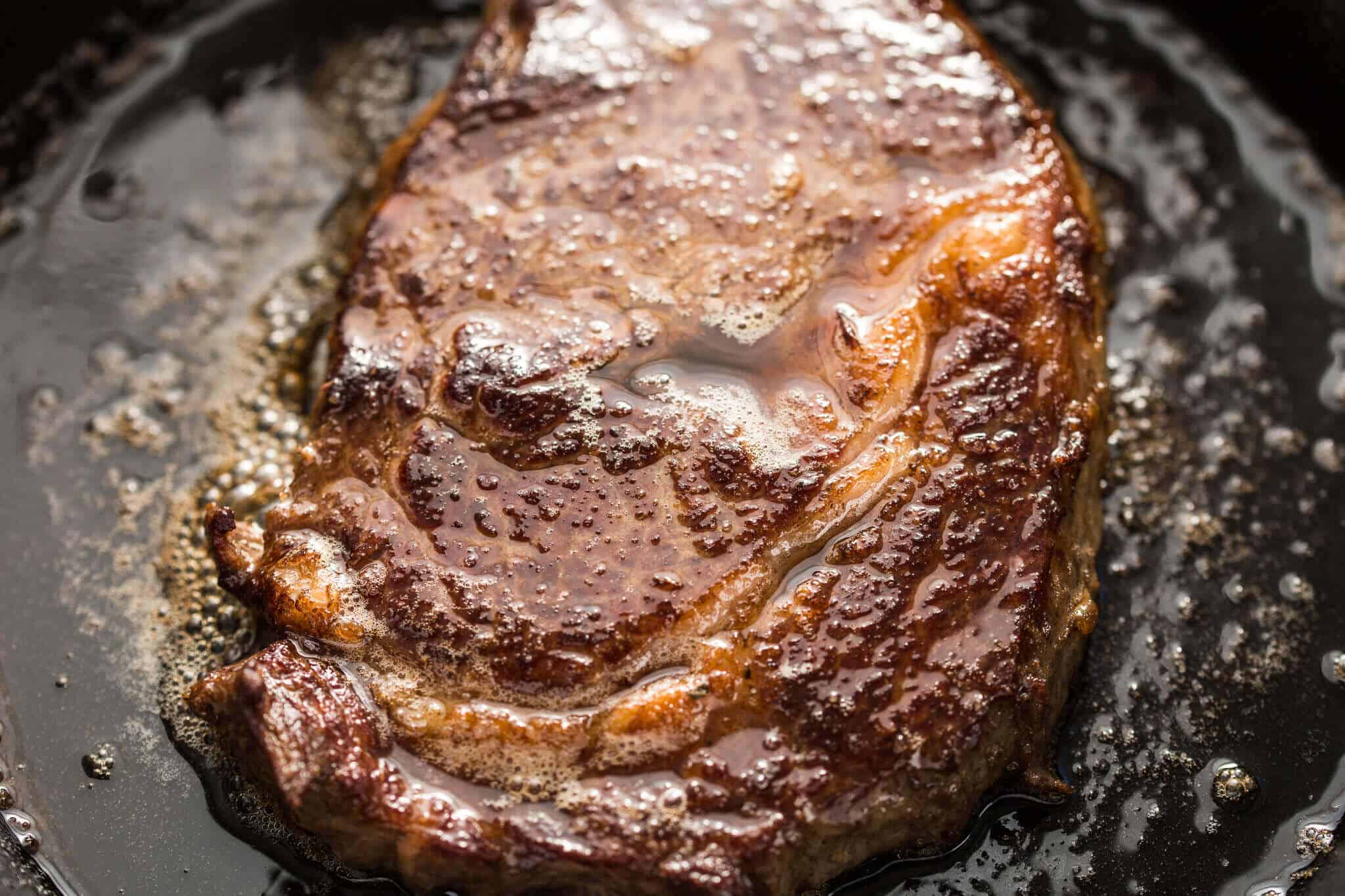 Heat a large skillet with some canola or sunflower oil.
Meanwhile, pat the steak dry using some paper towel. (Wet steak boils and won't colour well).
When the pan is hot and smoky. Only then season your steak on the side that goes into the pan first. Not on both sides like a load of fools recommend. If you season both sides the side on top will get wet because the salt will draw the moisture out of the meat.
Cook on medium-high heat for 1 minute then season the unseasoned raw side and flip. After one minute you will flip it back and continue this flipping every other 30 seconds for another 3-4 minutes. This is so that the steak cooks evenly and has time rest as it cooks.
When the steak has amazing colour and a nice crust on both sides check the temperature with a temperature probe by sticking into the thickest part as shown below. As soon as the internal temperature hits 45C add a knob of butter and let it brown while coating the steak with it. When the steak hits an internal temperature of 48C remove from the pan and reserve the pan juices too.
Let the steak rest for about 10 minutes. The internal temperature will rise by about 7C to 55C. This is the perfect internal temperature when rested.
Slice the steak and pour over the pan juices. Season with some more salt and freshly cracked black pepper.
These timings are only a guide and you need to also use your common sense when cooking this steak. The main aim is to give it good colour while turning often until the internal temperature hits 48C.
Rest it and have it when the temperature stabalises at about 55C.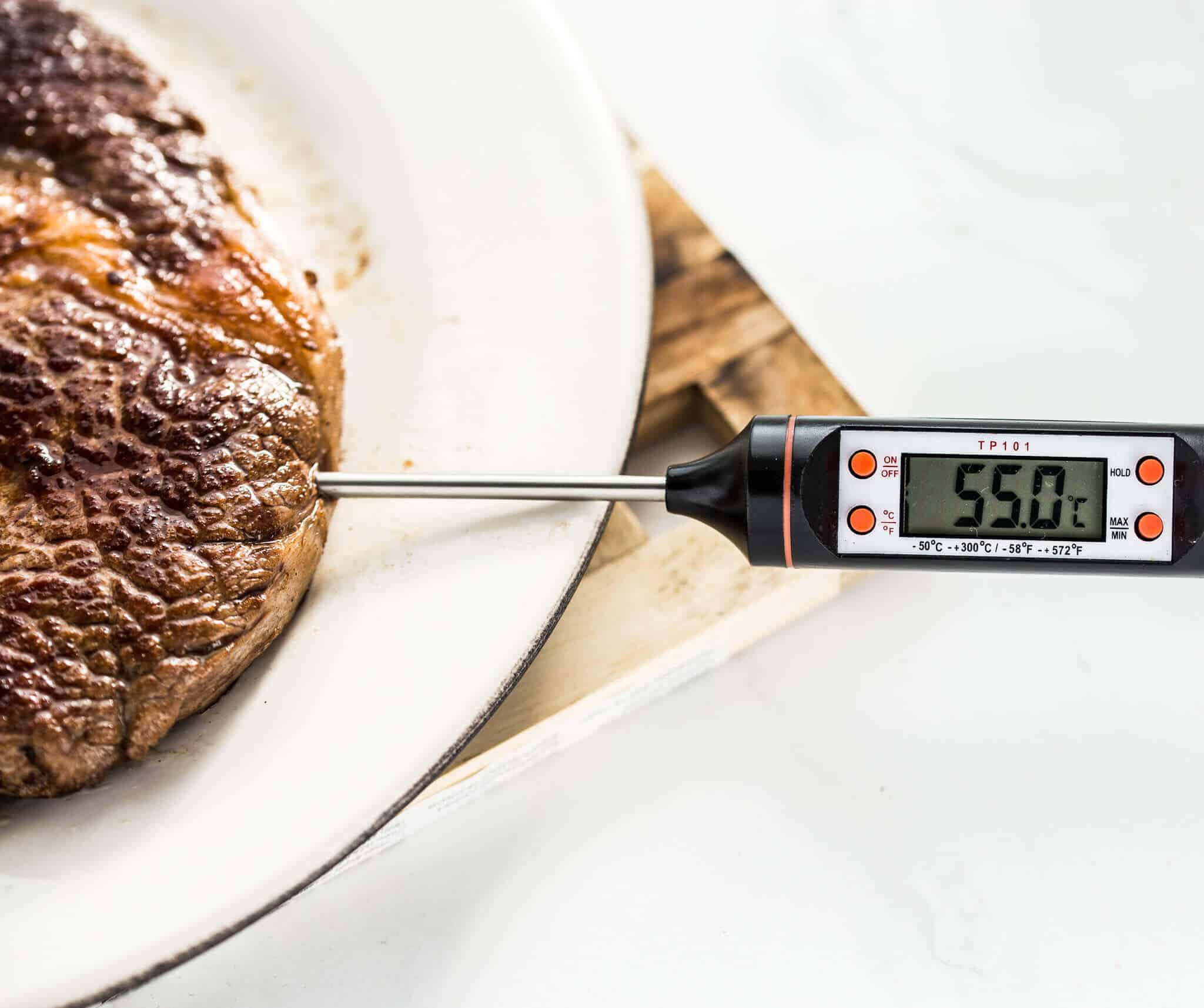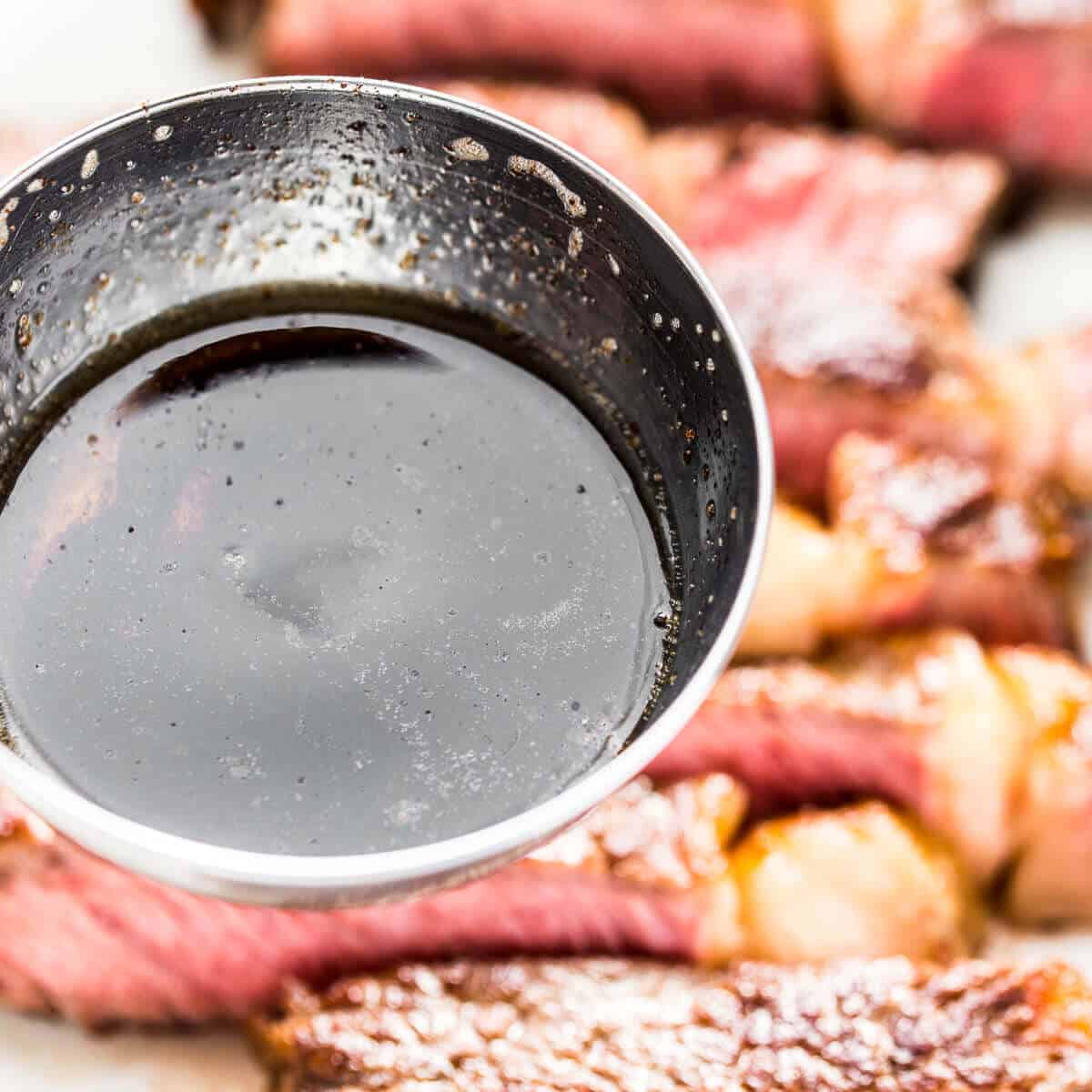 Serving suggestions
Simplicity is key when you know how to cook a ribeye steak properly. Or any good steak for that matter. a Simple side or salad is all you need. And a bottle of good red wine of course.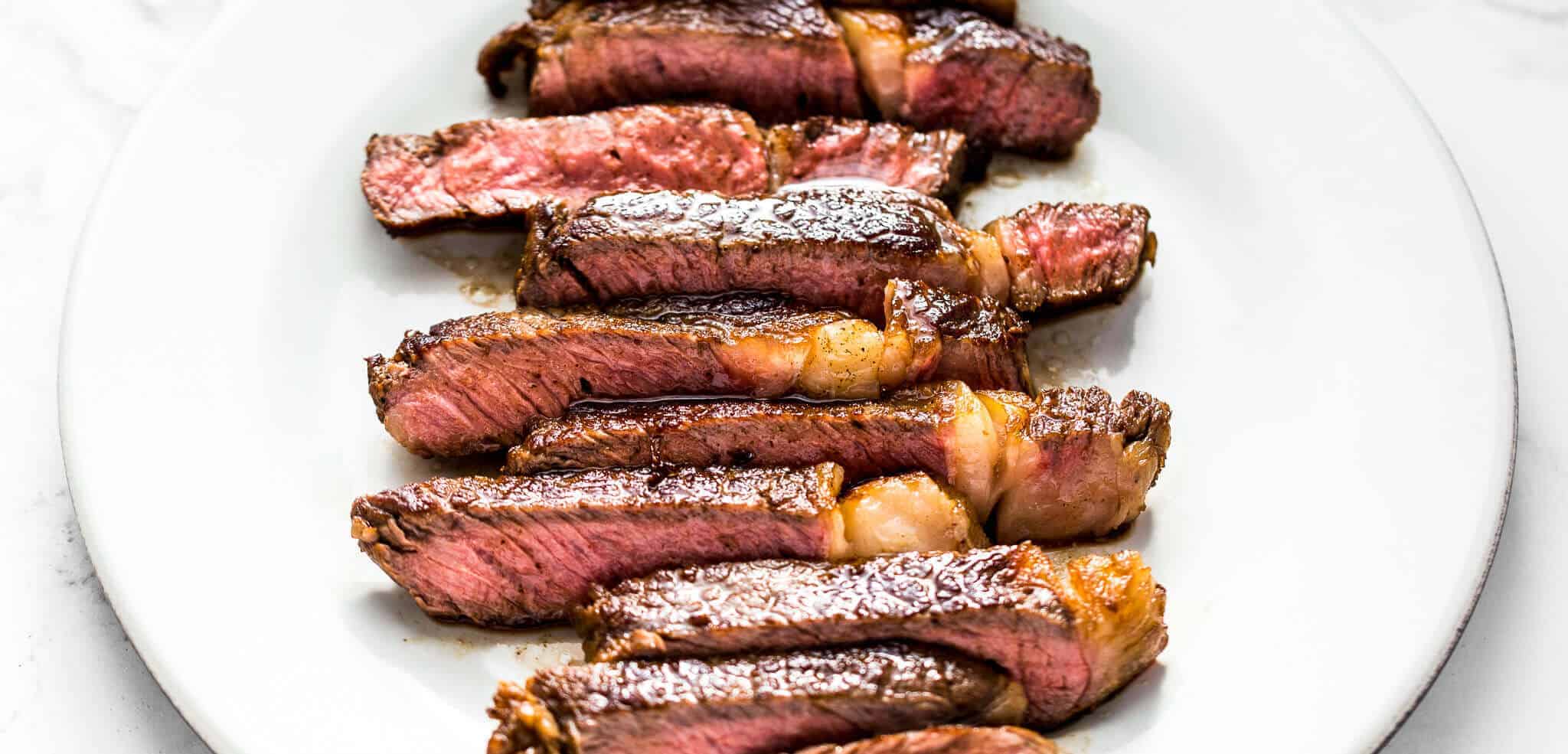 Other recipes you might like
If you like to sink your teeth into some good quality meat dishes then you will love the following:
Middle Eastern lamb chops
Useful equipment for this recipe
Cast iron skillet - Buy Now
THIS PAGE CONTAINS AFFILIATE LINKS - I MIGHT EARN A TINY % OF THE SALE THROUGH THESE LINKS AT NO EXTRA COST TO YOU. PROBABLY NOT EVEN ENOUGH TO BUY A BEER).
If you found this recipe helpful or have learned something, comment, subscribe and follow me on social platforms for more delicious recipes.