Pork belly braai is one of my favourite braai recipes in the world. Very few cuts of meat come close to the amazing texture and flavour combination a crispy pork belly offers. Layers of soft meat and rich fat covered in a blistered up crispy skin. It's what dreams are made of.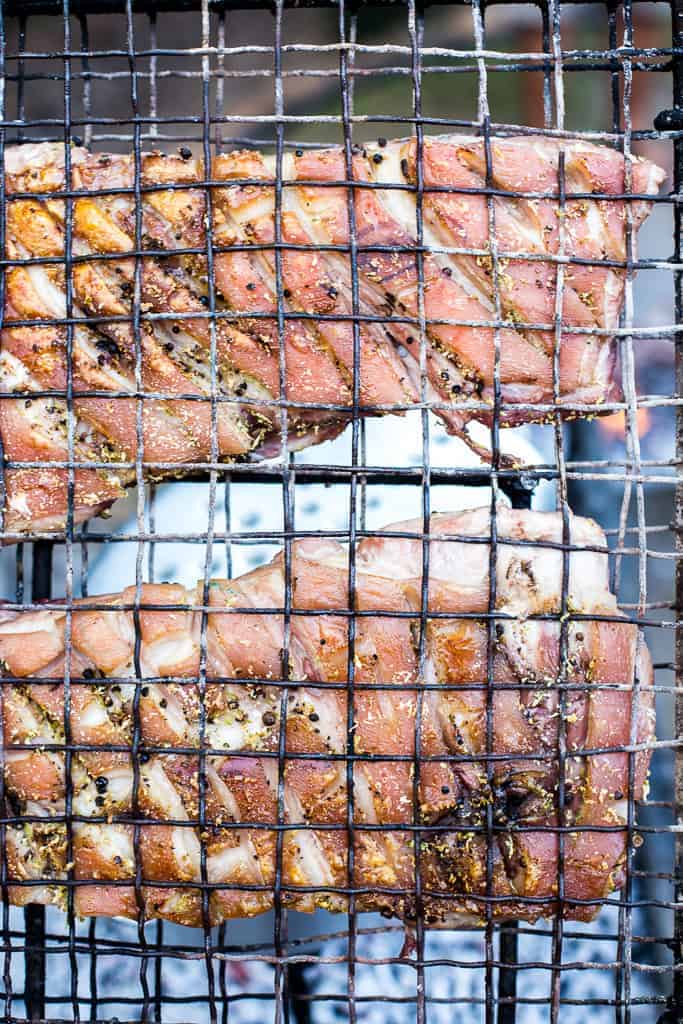 Jump to:
Ingredients needed
Pork belly - Buy the best you can afford with good fat to meat ratio and preferably not from a vacuum bag. Dry skin is key to perfect crispy crackling.
Salt - Natural course sea salt works best. Do not use fine salt because it will result in an over salted belly.
Citrus - Get whatever you can find but I love the combo of lime, lemon and orange zest.
Herbs - I used Marjoram but you could go for thyme, rosemary or sage. Even a combination will be great. Just make sure to get the freshest you can find.
Spices - Black pepper, all spice and our South African big love, coriander seeds. Again, use what is freshest and most intensely aromatic.
Salting, spicing and leaving the belly for a day or two really works wonder. You get an awesome concentrated flavour, buttery meat and crisp as you like skin. All the things we love so much about a well-cooked crispy pork belly braai.
You can use pretty much any spices, herbs and citrus. I like using lemon, lime, orange fresh marjoram and a bit of pepper and coriander. It's simple and extremely effective.
Preparing the pork belly is 50% of the success.
Again, you want to buy a nicely marbled pork belly with about equal amounts of fat and meat. Make sure it's good quality as no methods can rescue a bad raw product.
Cooking instructions
Firstly cut the skin and rub the salt, herbs and citrus peel all over the skin and meat. Cover and let it rest for 24 - 48 hours. When it's done marinating do not wash off the rub. Just lightly rub off most of the extra big bits and excess salt leaving and smaller bits of spices attached. Very important.
Make a nice fire and cook the pork belly at an angle or at a good height above the fire. Keep monitoring the situation.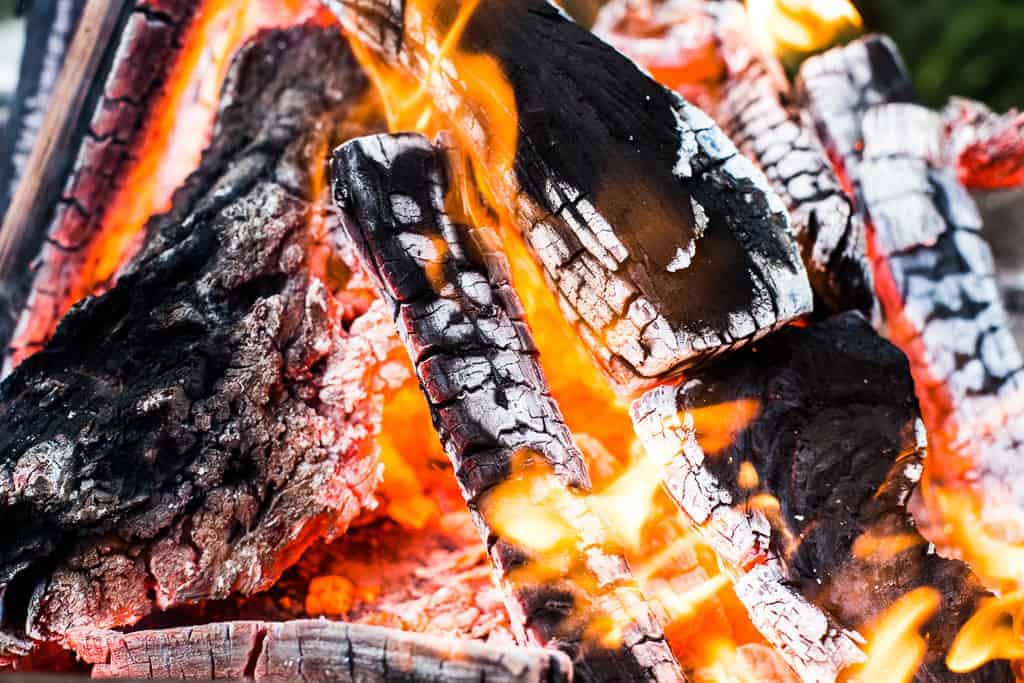 Moving some embers or burning wood around to make sure the pork belly does not cook too fast or burn.
Also, never let your fire die.
This happens when you drink too much and forget about it.
So I've heard;)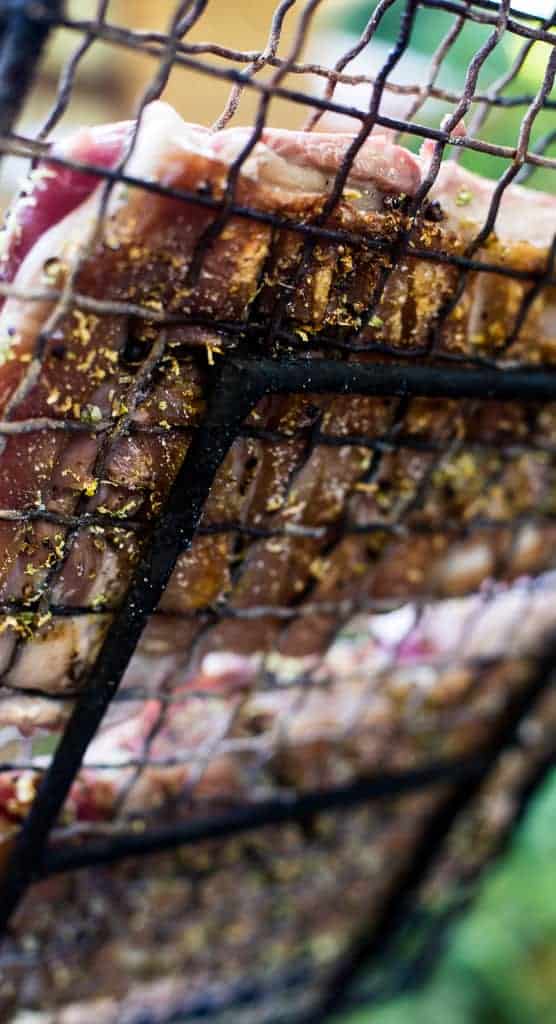 The whole process takes about 3 - 4 hours. So relax but, don't fall asleep. Turn the pork belly often and make sure it cooks evenly.
The last 3 minutes of cooking will happen close to the hot embers as we want to colour the skin and make it puff a little.
Take care NOT TO BURN the skin at this point. The crispy puffed up skin is the holy grail and you will feel bad if you ruin it on the home stretch.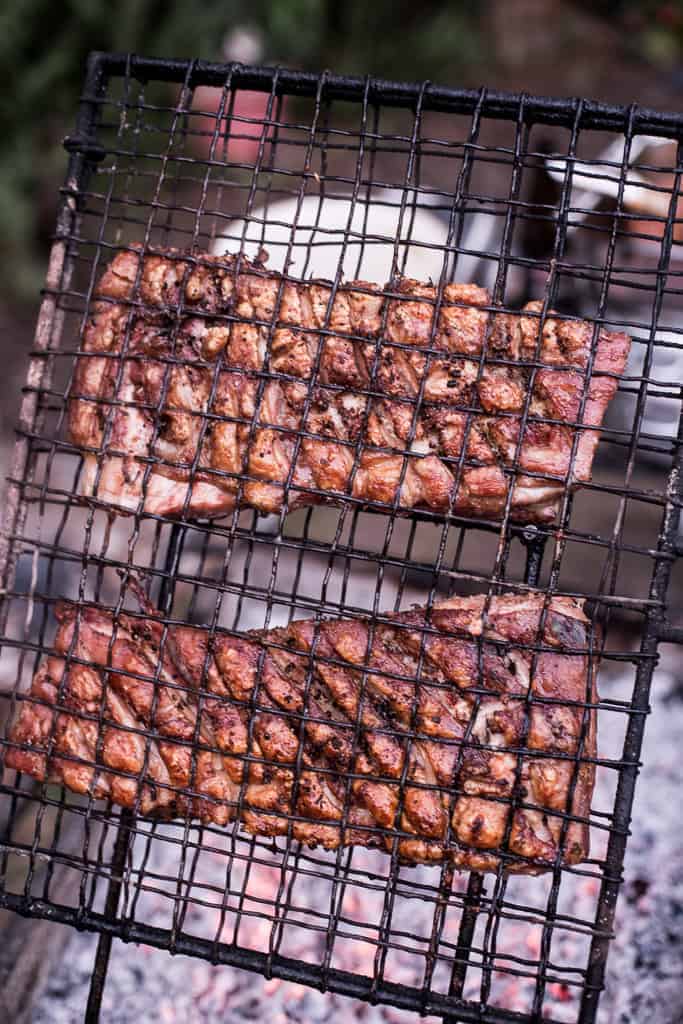 It's a perfect example of something simple and deliciously cooked using methods that date back to our origins of cooking.
Serving suggestions
I love eating this pork belly braai straight from the fire with a squeeze of lemon or chimichurri sauce.
You may, of course, do whatever you like with your hard-earned goodies but simple is best in this case.
Speaking of lemon. Make this triple-citrus lemonade as a refreshing soft drink or load it up with some gin for a zingy summer cocktail.
For a smashing few sides or salads to go with your pork belly braai - Go try out these 4 easy braai salads and side dishes. There are even a few bonus recipes hidden in the post. One chicken and one pork recipe.
Also, try these roasted Romano peppers with anchovy tapenade or this creamy coleslaw with sesame, coriander and lime. Easily make this pea and mint dip with feta cheese as a healthy a super tasty dip for chips or crackers.
If you like light sides then you will love this seabass crudo. Or, this Moroccan spiced couscous recipe.
Now you are properly stocked with great recipes and side dishes for a braai too.
You can easily cook a few of these sides while enjoying a few cold beverages and entertaining friends and family.
If you go for my braai sides. It's super easy and manageable. It's very simple and convenient having these things all cooking gently while you are having a great time.
NO panic, NO rush, NO hassle. Just great food, simply cooked.
Pro tip
For a chilli kick add this homemade sriracha as a dipping sauce. Store-bought is fine but making your own is the best of course.
Alternatively, glaze with this chocolate bbq sauce on the meat side only for the last few minutes of cooking.
If you have a bit more time on your hands make fresh sourdough bread. You wouldn't believe how good this juicy fatty crispy pork belly tastes on a piece of sourdough bread.
Alternatively, have it with something comforting and rich like this buttery silky smooth mashed potatoes or a baked baby potato salad.
Bonus, you could ask your dearest to cook that while you literally just keep an eye on the belly)
Feel like balancing the naughty with a few healthy greens? I have prepared an in-depth guide on 8 ways you could cook broccoli.
One of them is even cooked on the fire.
When I grew up the only vegetable we cooked on the braai was chicken. Now, look at us all green and fancy.
Bok Choy is another great healthy green vegetable to have with this pork belly on the braai.
It cooks extremely quick and you can find it in most supermarkets nowadays.
More side dishes to serve with it
Other useful recipes
Bacon wrapped pork tenderloin with teriyaki sauce.
Check out this Viking stew perfect for winter. It's a bit like a potjie so you will love it.
Angelfish with a Thai touch - One of my favourite recipes on here.
My ultimate childhood nostalgia - Alikreukel
Something sweet to follow
No braai is complete with a little something sweet at the end. Especially if it's a family feast type of braai on Saturday or Sunday.
Try the following:
Useful equipment for this recipe
THIS PAGE CONTAINS AFFILIATE LINKS - I MIGHT EARN A TINY % OF THE SALE THROUGH THESE LINKS AT NO EXTRA COST TO YOU. PROBABLY NOT EVEN ENOUGH TO BUY A BEER).
If you found this post helpful or have learned something, comment, subscribe, and follow me on social platforms for more tasty recipes.
Recipe
Pork Belly Braai Slow Roasted Over The Fire
Crispy pork belly cooked over the fire. Marinated simply for the best result. You can use this method for other larger meat cuts like lamb shoulder or beef ribs too.
Instructions
Cut the skin of the pork criss-cross

Rub the pork belly with all the ingredients and rest for 24 hours in the fridge(get most of the salt on the skin and leave skin side facing up)

After 24 hours remove some of the excess leaves, undissolved salt and course spices leaving most of the finer ones and citrus zest on.

Over low fire and embers, cook the belly for 3 - 4 hours standing at an angle and turning often making sure the meat cooks evenly and very slowly. Don't rush this)

When the meat is hot in the centre (you check this with a thermometer or by placing the tip of a knife into the centre of the meat and checking if it's hot by carefully testing against your bottom lip).

Go ahead and puff up the skin side by cooking very carefully for a minute or so over hot coals.

Give it a squeeze of fresh lemon juice and serve
Notes
When you crackle the skin in the last step. Watch it every second. If you leave it it will burn and you might cry crocodile tears.
Nutrition
Serving:
150
g
Calories:
1048.41
kcal
Carbohydrates:
3.13
g
Protein:
19.12
g
Fat:
106.38
g
Saturated Fat:
38.72
g
Cholesterol:
144
mg
Sodium:
483.05
mg
Fiber:
1.57
g
Sugar:
0.17
g
Vitamin A:
0.91
IU
Vitamin C:
7.08
mg
Calcium:
4.33
mg
Iron:
9.65
mg
Keywords:
barbecued pork, pork belly