Jump to recipe
This pea and mint dip for chips recipe will become your new favourite dip for chips and all other crispy bits.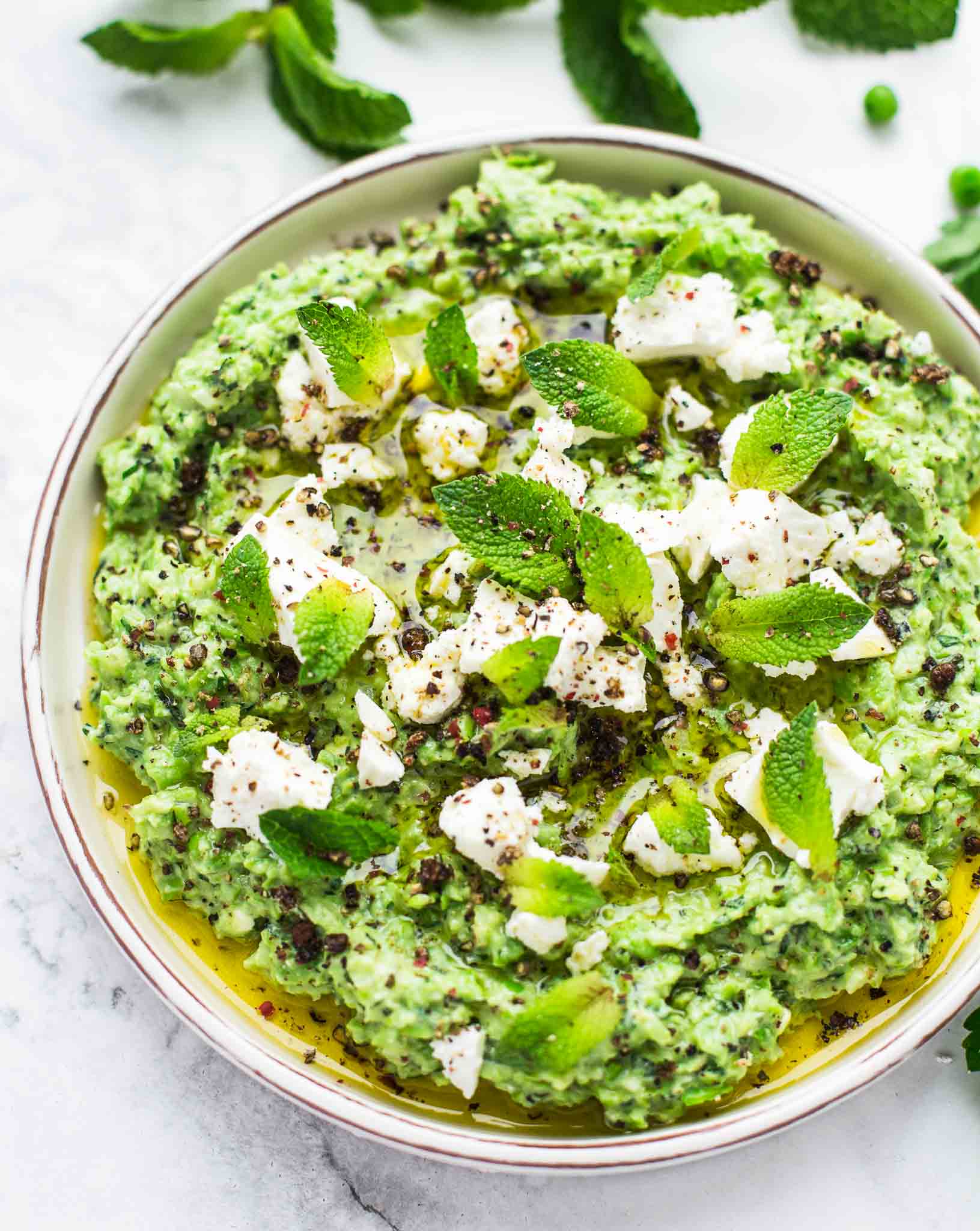 Jump to:
Ever gone to a BBQ or braai and the host had some store-bought chip dips and nasty ass oily chips?
Now you can change that and bring a homemade dip for chips to the party. Your friends and family might stalk you for this dip for chips recipe. Don't give it)) It's yours now.
Plus that takes care of the present and the food. Bonus!
They might ask you where is the cream cheese dip for tortilla chips. Then you present this beauty and sell it as green pea and feta guacamole. Which it kinda is, minus the avocado of course.
Feel free to add the avocado by the way. It will be your own spin on this dip for chips recipe and add a lovely bit of creaminess.
Whichever you choose, this is the best dip for chips in my book and so easy even a 10-year-old can make it.
Ingredients
Peas - Good quality frozen peas. No chef in his right mind would use fresh peas unless it's from his/her own garden freshly picked. Trust me on this. Just use good quality frozen. And not tinned either.
Shallot - You could also use onion. Just make sure it's good quality, young and sweet.
Garlic - Young fresh garlic is the best. Stay away from old acrid or Chinese easy-peel garlic.
Herbs - I use fresh thyme to sweat down with the shallots and garlic. Then add freshly chopped parsley and mint right at the end. We'll look at variations down below.
Olive oil - Try a nice fresh grassy olive oil. Something not too bitter.
Sour cream - Any natural sour cream with live cultures is good. Stay away from the fake stuff that's full of emulsified hydrogenated vegetable fats. It's nasty for you and nasty for this dip for chips recipe.
Feta - I love using creamier feta instead of too crumbly and dry. Use whatever you like but just make sure it's the best quality you could afford. It needs to be natural and have a nice bit of tartness/sourness.
Seasoning - Good old sea salt and freshly cracked black pepper. I also added a pinch of sugar to balance the tartness of the feta.
Chips/crackers - Choose a more natural and healthy version of chip or crakers. Instead of fake nasty Pringles, go for Natural baked corn tortilla chips or rye thins. They taste better, are healthier and probably cost less too. Although this is a dip for chips recipe, it's also a healthy dip for chips recipe. So try and stay with it)
How to make it
Below we will go through how to make dip for chips in a few easy steps.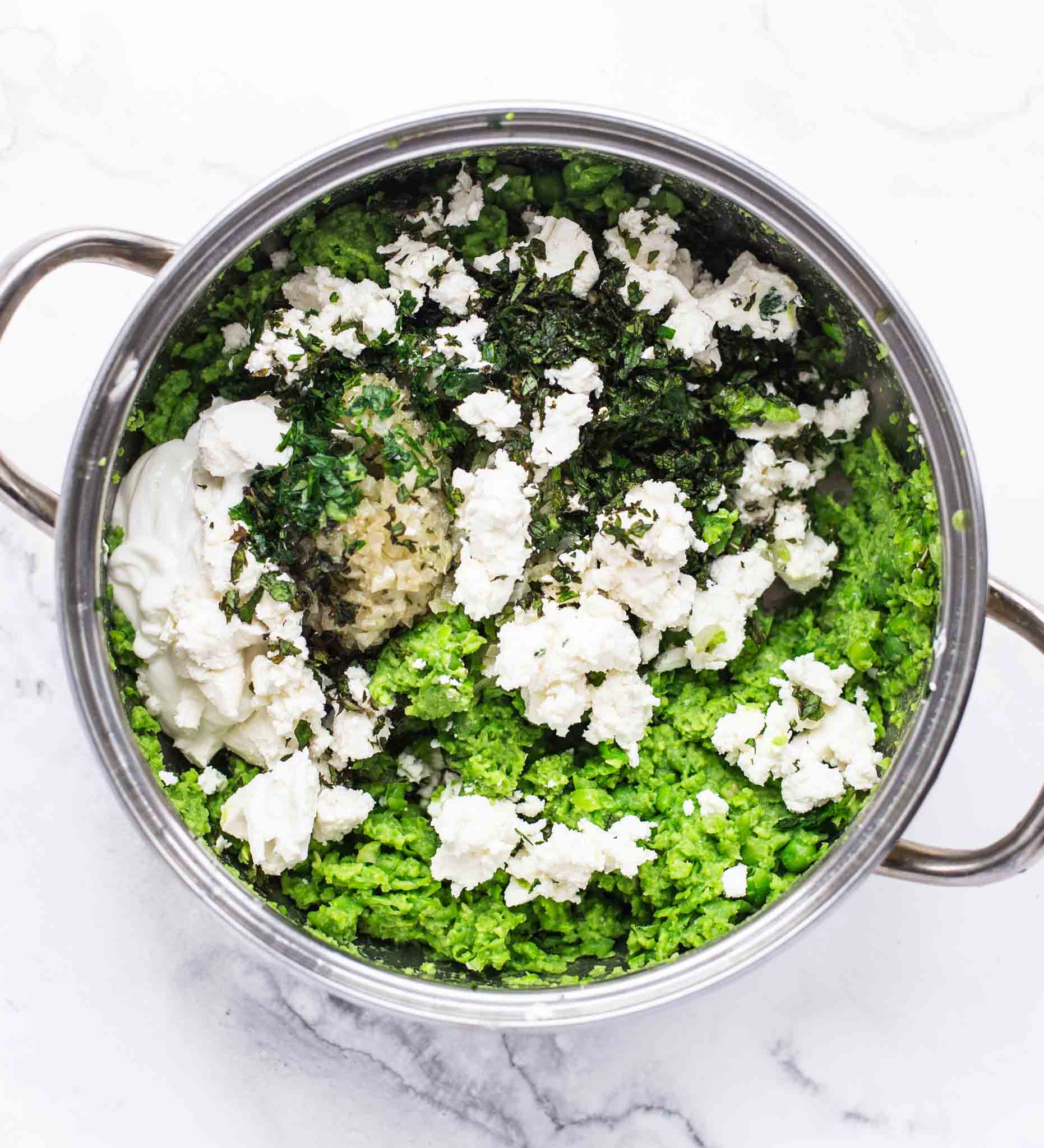 Bring a pot of lightly salted water to the boil and blanch the peas for 30 seconds. Drain and cool down by running under cold water or submerging in ice water. Squeeze out the water from the peas. This will prevent it from being too wet of course)
Sweat down the finely chopped shallots and garlic with thyme leaves in a skillet or pan with some cooking oil until soft and translucent. Do not caramelise. Add the salt at this stage to help it cook without going brown. Once cooked set aside to cool.
Chop up the peas roughly and Squeeze out the water from them. This will prevent it from being too wet of course). We can fix too dry but too wet is a problem. The easiest way to do this is to wrap in a clean cloth and wring it out like laundry. Old school style.
Now that you have the peas cooked, chopped and the excess moisture removed. Place in a mixing bowl and add the cooled down shallots followed by the rest of the ingredients.
Mix up well with a spatula or wooden spoon and taste for seasoning.
Adjust the consistency if necessary by adding a bit of sour cream if it's too dry. If you didn't remove enough water from the peas you will need to add more peas that is very well squeezed out.
Plate up and finish with some small chunks of feta, mint, more olive oil and freshly cracked black pepper.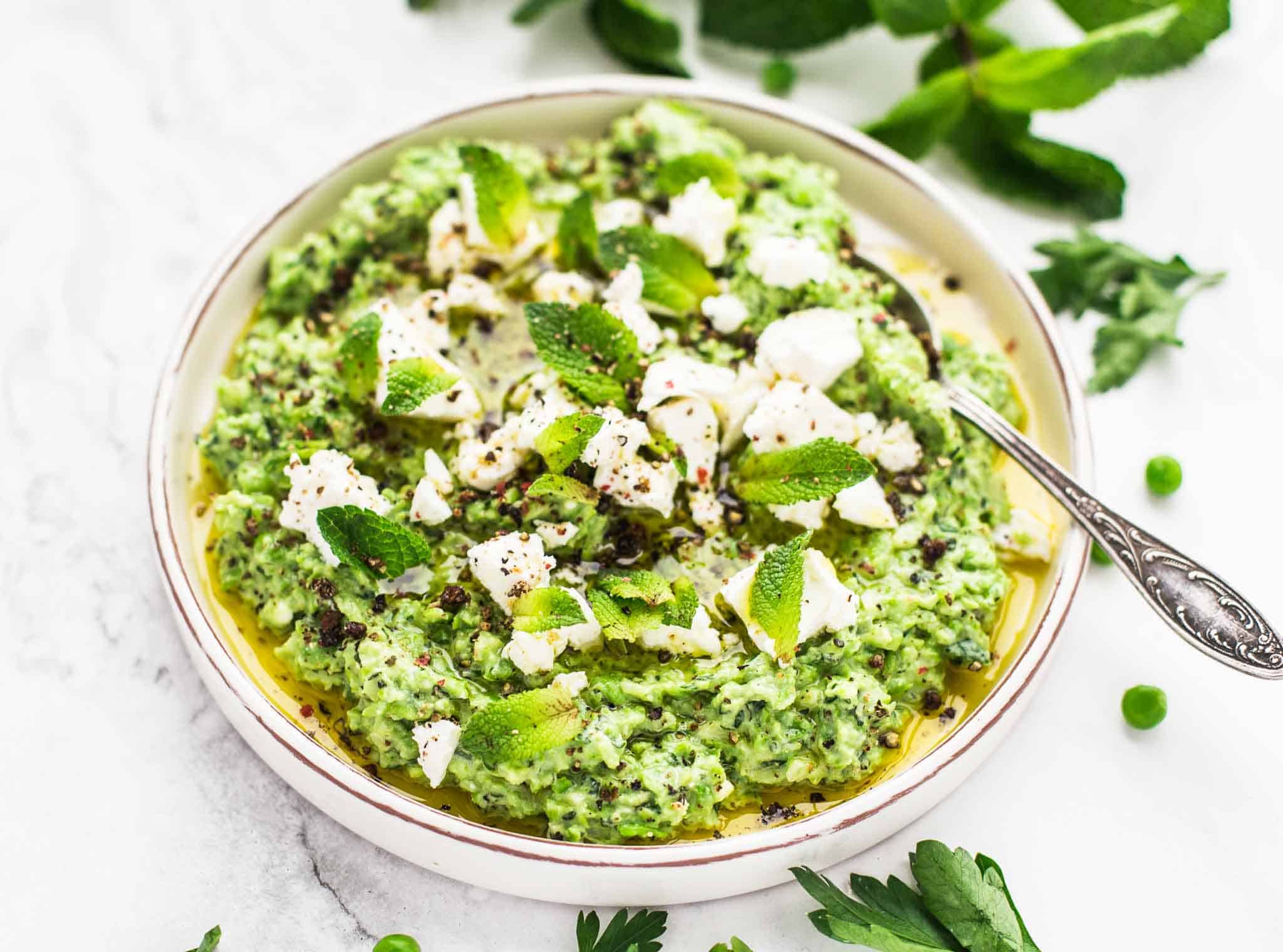 Variations
You could adjust this dip for chips recipe easily to your personal liking or create a completely different recipe altogether by tweaking the following ingredients.
Herbs - Substitute the parsley for chopped cilantro, chervil, chives, dill, basil, tarragon or a combination of these. I would keep the mint though. Pea and mint is a classic combination that forms the base of this recipe.
Oil - Most extra virgin oils can be used in place of the olive oil. Just be mindful of the intensity and flavour so that it does not overpower the delicate flavours of this recipe.
Dairy - a Great substitute for the feta is chavroux or soft goat's cheese. It also has that nice citrusy tang and creamy consistency. Stay away from mouldy types of cheese like blue cheese or brie. Finely grated Parmesan can be added alongside a soft cheese for an extra umami kick.
Heat - If you like it spicy you could turn up the heat by using chillies or ground up chilli flakes.
Avocado - We touched upon this and it works a treat. Make sure to use a nice creamy ripe avocado. Add a touch of lime or lemon juice to help the avocado keep its colour. There is an interesting trade-off here though. By adding acid to keep the avocado green the same acid will dull the green of the herbs and peas. So serve it straight away if using avocado!
Vegan version of this recipe
To make this a vegan dip for chips recipe you only need to do one thing. Remove the dairy. And replace with a vegan alternative.
The worst being the stuff labelled as vegan cream cheese. That stuff is nasty AF.
Rather blend up some soaked cashews with a bit of water and use that instead.
Alternatively use avocado but, be mindful of the colour issue I mentioned above. For most people this won't be a problem and the dip will actually keep its colour for a full day stored air-tight.
Serving suggestions
This is of course more than a dip for chips recipe. You could scoop this dip up with many other delicious foods and even have it as a side dish or part of a main meal or salad.
Useful equipment for this recipe
THIS PAGE CONTAINS AFFILIATE LINKS - I MIGHT EARN A TINY % OF THE SALE THROUGH THESE LINKS NO EXTRA COST TO YOU. PROBABLY NOT EVEN ENOUGH TO BUY A BEER).
If you found this post helpful or have learned something, comment, subscribe and follow me on social platforms for more tasty recipes.