Pumpkin and cream cheese come together to form a creamy sweet spread we use on our pumpkin bread, pumpkin cake and pretty much just about any other cracker, bagel or even crudité looking for a pumpkin dip.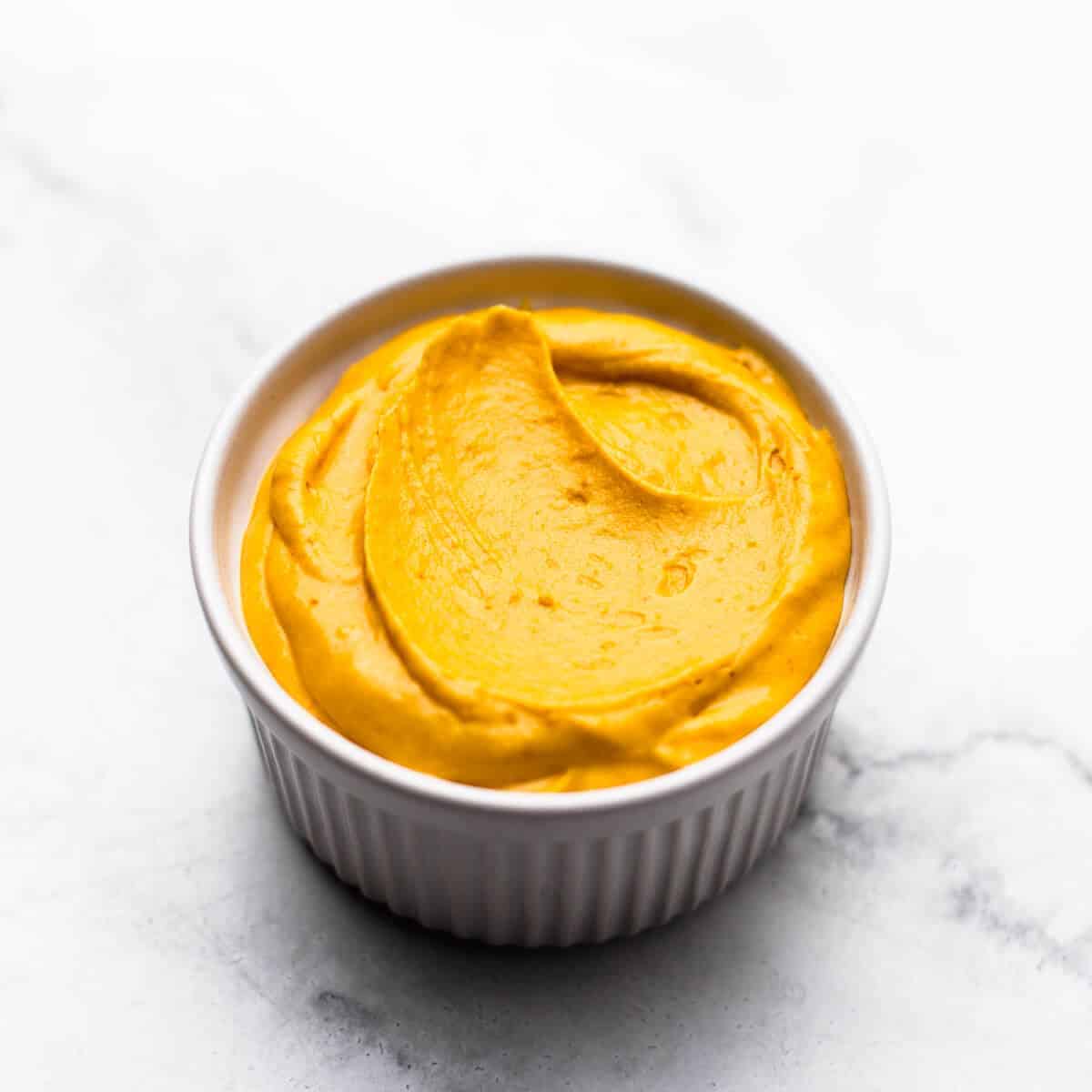 Jump to:
To make this I assume you are planning to make your own fresh pumpkin puree from scratch.
If so then you are in for a treat as no store-bought pumpkin puree will ever come close to the real deal homemade version.
Apart from the quick and easy 10 minutes you spend making the puree there is no much else to this recipe.
It's literally just mixing a few ingredients together and voila! You have yourself a pumpkin cream cheese spread.
You can use this silky smooth autumn recipe on repeat all through the season and impress your friends and family by slapping it onto everything that would otherwise need a spread or frosting.
The best part about this recipe apart from its simplicity is that you can tailor it to be savoury or sweet.
Kind of like a two for one scenario.
Ingredients needed
The base ingredients are simple and if you are pressed for time, in a rush or just don't care. Buy the puree ready-made and mix it with cream cheese.
In that case, no further reading required.
If you want to see how it's done properly then keep going.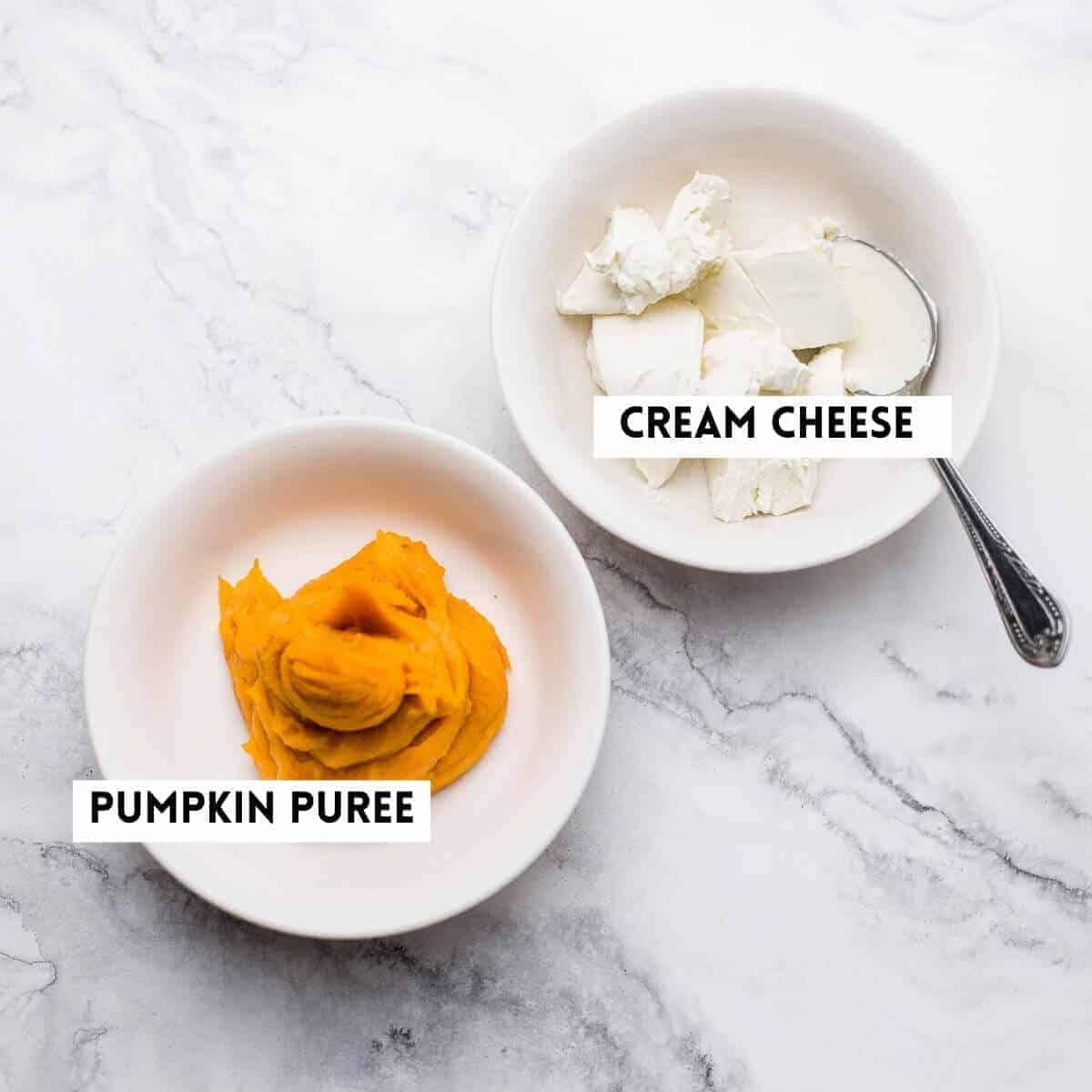 How to make it
This is how to make your own pumpkin puree in short. For detailed steps see the pumpkin puree recipe.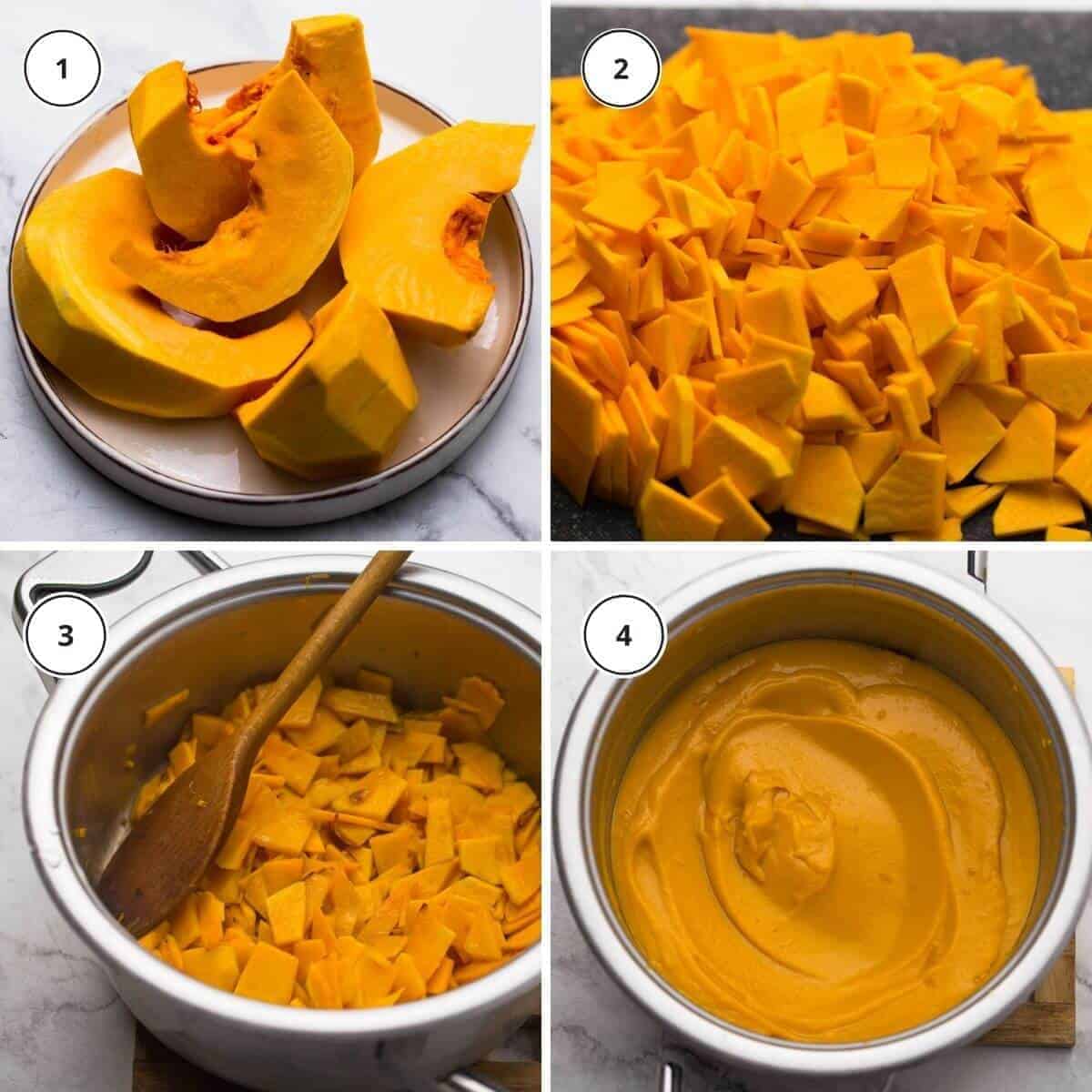 Cook the pumpkin puree and let it cool down completely.
Add in cream cheese and mix until fully homogenous.
Add sweetness or seasoning depending if you want to use it for a sweet or savoury dish.
Store airtight in the fridge for up to 4 days.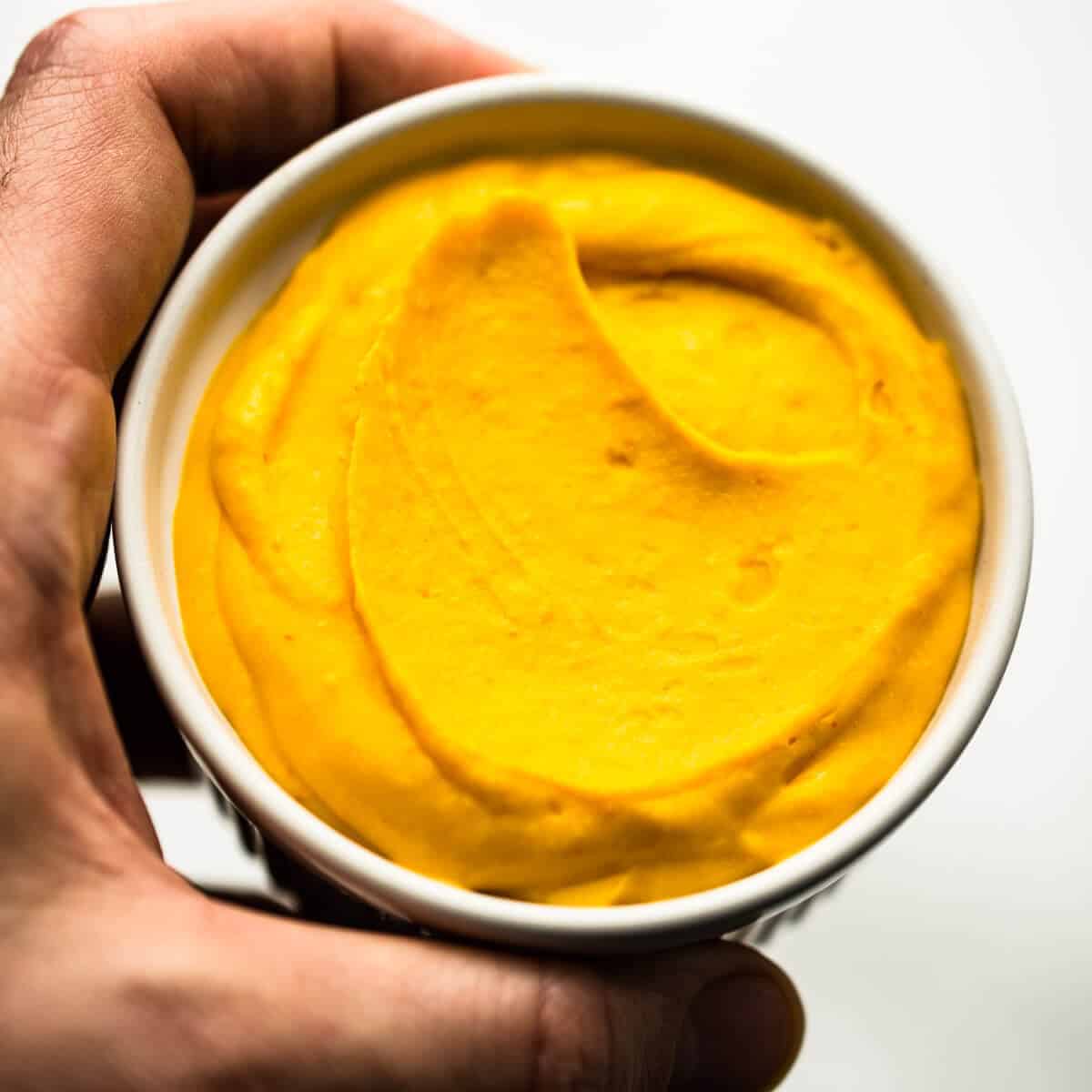 Variations
You can easily modify your pumpkin spread by doing the following:
Substitute the cream cheese - Add blue cheese to make a pumpkin cheese spread perfect for spreading on toasted bagels and sourdough bread or use mascarpone to give it richer quality. Replace the dairy with a vegan cream cheese alternative to make the recipe completely vegan and lactose-free
Add spice - Spice it up with cinnamon to make pumpkin spice cream cheese frosting to add onto your pumpkin spice cake.
Add a different sweetener - Not everyone has maple syrup at hand or want to use it. Use honey or agave syrup instead. Even regular powdered sugar will work. to make the recipe keto-friendly use a suitable sweetener like stevia instead.
How to use it
You can be pretty creative with this spread and use it in many different ways.
In savoury dishes:
Bruschetta - Spread on bruschetta made with toasted sourdough bread and topped with roasted pumpkin and balsamic glaze. Served alongside this roasted pumpkin salad is the perfect autumn lunch.
Bagels - Amazing with freshly toasted New York-style bagels topped with smokey pastrami or citrus cured salmon.
Crackers - If you just want a simple little snack for a cocktail party or reception then spread onto some savoury crackers or parmesan biscuits along with a few small bits of roasted pumpkin.
Salads - Use as a base for roasted red peppers or stir a few spoon fulls through this Morrocan eggplant salad.
Quiche - Use half cream and half pumpkin spread for the filling alongside roasted pumpkin pieces next time you bake a pumpkin quiche.
Dip - The perfect autumn dip for crispy corn tortillas or any other crispy savoury snack.
In sweet dishes:
Cakes - Use as an alternative filling for cakes like carrot cake, Russian honey cake or as a frosting for apple cake or pumpkin cake.
Enriched bread - As a spread for pumpkin bread, banana bread, sweet potato bread or any other sweetened enriched bread loaf like raisin bread or brioche.
Scones - Delicious autumn topping for scones with pumpkin jam or young walnut preserve.
Muffins - Can be sweet or savoury. Spread onto a freshly baked steaming muffin is a thing of beauty.
Crumpets - Often overlooked but, one of the simplest and most satisfying sweet autumn breakfast ideas. You can also put it on pancakes or European style sourdough crêpes.
Other recipes you might like
If you like quick simple recipes that can be used in a wide variety of dishes then you will find the following recipes useful:
Frequently asked questions
Is it gluten free
Yes. Unless you use store-bought pumpkin puree that contains gluten or if you use strange low-quality cream cheese compounds that could also contain gluten. Stick to natural pumpkin puree and good quality natural cream cheese.
How long will it last
Once cream cheese gets opened you should consume it within a few days. Check the container of cream cheese for this information and follow that as a guideline.
Can it be frozen
Yes, cream cheese is very stable and can be frozen without any ill effect for up to 6 months. Make sure to slowly defrost it in the fridge overnight and give it a good mix to make sure it's still homogenous just in case your pumpkin puree separated a bit.
Useful equipment for this recipe
This site contains affiliate links. I may earn a tiny commission on qualifying purchases at no extra cost to you. By bookmarking these links you help support the upkeep of this site.
If you found this post helpful or have learned something, comment, subscribe, and follow me on social platforms for more tasty recipes.
Recipe
Pumpkin Cream Cheese Spread
Pumpkin and cream cheese come together to form a creamy sweet spread we use on our
pumpkin bread
,
pumpkin cake
and pretty much just about any other cracker, bagel or even crudité looking for a pumpkin dip.
Instructions
Mix together pumpkin puree with cream cheese

Sweeten or season depending on what you want to use it for

Use straight away or store airtight in the fridge for up to 3 days.
Notes
This pumpkin spread can be used in sweet or savoury dishes. See post for details.
Can be frozen for up to 6 months without ill effect.
For best results make your own pumpkin puree using Crown Prince Green pumpkin or Red Kuri squash.
Nutrition
Serving:
50
g
Calories:
79.12
kcal
Carbohydrates:
4.46
g
Protein:
1.39
g
Fat:
6.49
g
Saturated Fat:
3.65
g
Cholesterol:
20.62
mg
Sodium:
69.99
mg
Fiber:
0.72
g
Sugar:
2.94
g
Vitamin A:
29.24
IU
Vitamin C:
1.17
mg
Calcium:
2.74
mg
Iron:
2.34
mg
Keywords:
autumn, dip, pumpkin and cream cheese