If you wanted to know how to make the best homemade Caesar dressing for your Caesar salad you came to the right place. This recipe is traditional but uses smart professional methods to take it to the next level.
It's punchy, creamy and packed with umami. Perfect as a go-to sauce for fresh and roasted vegetables, or baked chicken breast.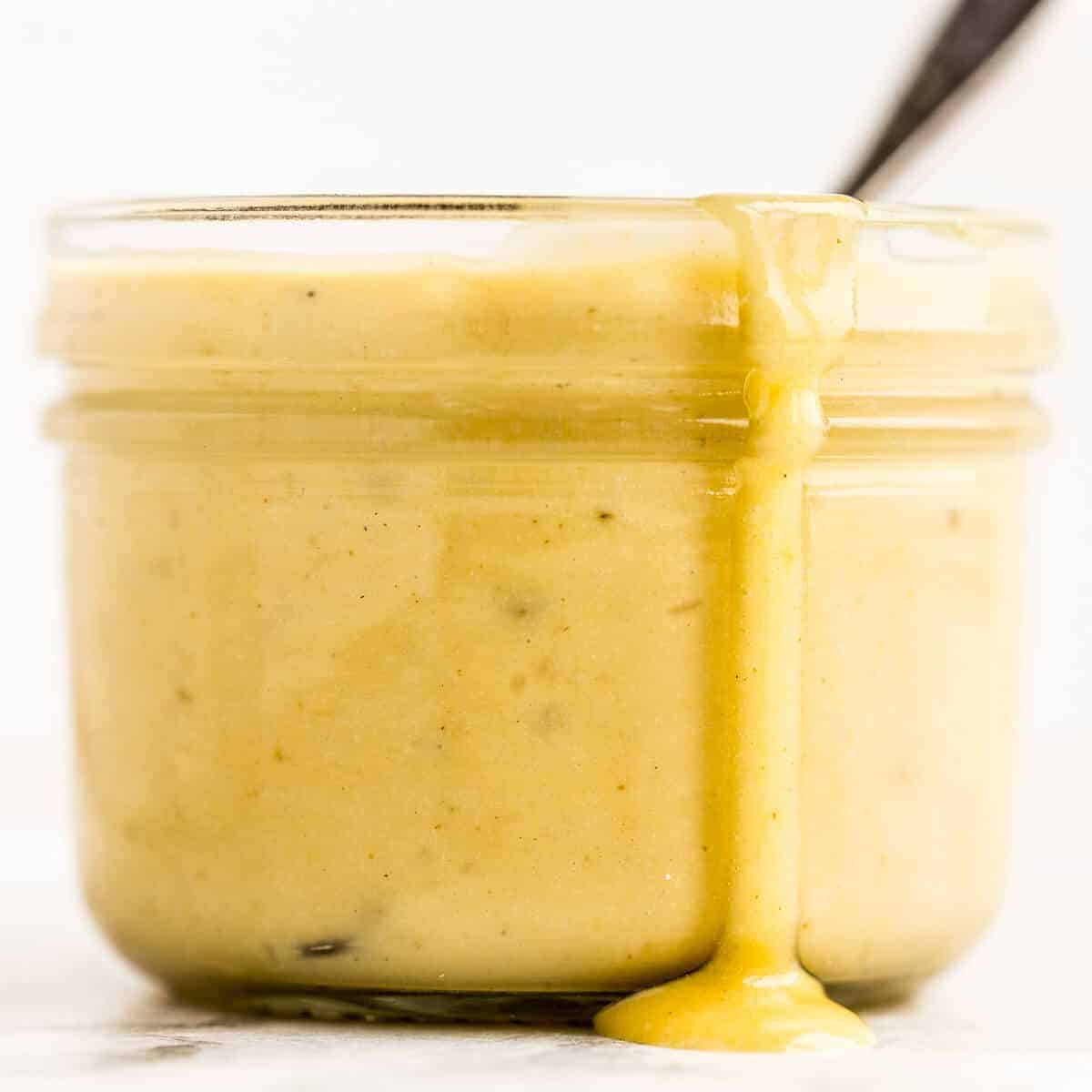 Jump to:
Although Caesar dressing is mainly used in Caesar salad, it is also a great back-pocket recipe that you can easily and quickly whisk up for a wide variety of other salads and snacks.
I have seen many different Caesar dressing recipes in my time. Some include parmesan, soy sauce, tabasco and even orange juice.
These variations might be tasty but it's not a traditional Caesar dressing that honour the original recipe.
I have personally made many imitations but, there is ultimately only one way to make it.
What is classic and how should it taste like?
A classic Caesar dressing should be creamy but not heavy and unbalanced. It should have a punchy umami taste, zingy freshness and well-rounded saltiness. No single ingredient should dominate.
The ingredients should all work together to create wonderful harmony you can drizzle all over Caesar salad or dip freshly cut crispy vegetables into.
Interesting facts
Traditionally it was whisked up tableside. It's origin dates back to the 4th July 1924.
Caesar salad was invented out of necessity by Caesar Cardini.
The Italian immigrant restauranteur had to throw together something for hungry guests on Independence day as his restaurant Caesar was overwhelmed by guests and ran out of food.
Although the original recipe did not contain anchovies it did have a rich fermented anchovy flavour it got from the Worchester sauce. One of the key ingredients in Worchester sauce is anchovies.
Earlier versions had a punchier taste and used more anchovies which contributed to the rich flavour.
Nowadays the flavour of anchovies are not so predominant so we add a bit of anchovy to make up for the loss.
This is an optional step in the recipe but I highly recommend you add it.
Why this recipe?
By tweaking a small part of the recipe we can make this dressing stand out from the crowd.
Our secret little trick is using roasted garlic instead of raw. It transforms this recipe from great to fantastic.
We also use a mix of olive oil and neutral oil to make sure the dressing is not bitter.
Useful equipment for this recipe
Ingredients needed
Ingredients for Caesar dressing are very few and easy to find. For this reason, buy the best you can afford.
Eggs - You will only need the yolks and if you are afraid of a raw egg then use pasteurised egg yolk. Easily found in many stores.
Dijon mustard - Use a smooth no grainy version.
Worchestershire sauce - Lee & Perrins is a good brand.
Lemon - Nice and fresh.
Garlic - The freshest young garlic. Although, Roasting Chinese garlic is ok.
Anchovy fillets(optional) - Sold in most stores. Alternatively, use anchovy paste.
Olive oil - Use a good extra virgin that's not too bitter.
Neutral oil - Canola, sunflower or groundnut oil. Anything with a neutral taste. Stay away from hydrogenated oils.
You might realise there is no Parmesan in the list above. That's because real Caesar dressing does not contain Parmesan cheese.
The salad however does.
How to roast garlic
Using roasted garlic is optional. However, It is the secret ingredient that sets our Caesar dressing recipe apart from any other recipe you might have come across.
It adds an amazing depth of flavour, smoothness and richness to the dressing.
We use roasted garlic instead of raw garlic because the taste compliments the rest of the flavours instead of fighting against it and we end up with a much smoother creamy Caesar dressing.
Bonus Reason. No garlic breath)

How to make the dressing
Which order you add ingredients to Caesar dressing is very important. It's an emulsion sauce. Which means that we need to whisk oil into a water base. Essentially making a mayonnaise.
This can be done either by hand, in a high-speed jug blender or with a hand-held mixer and whisk attachment.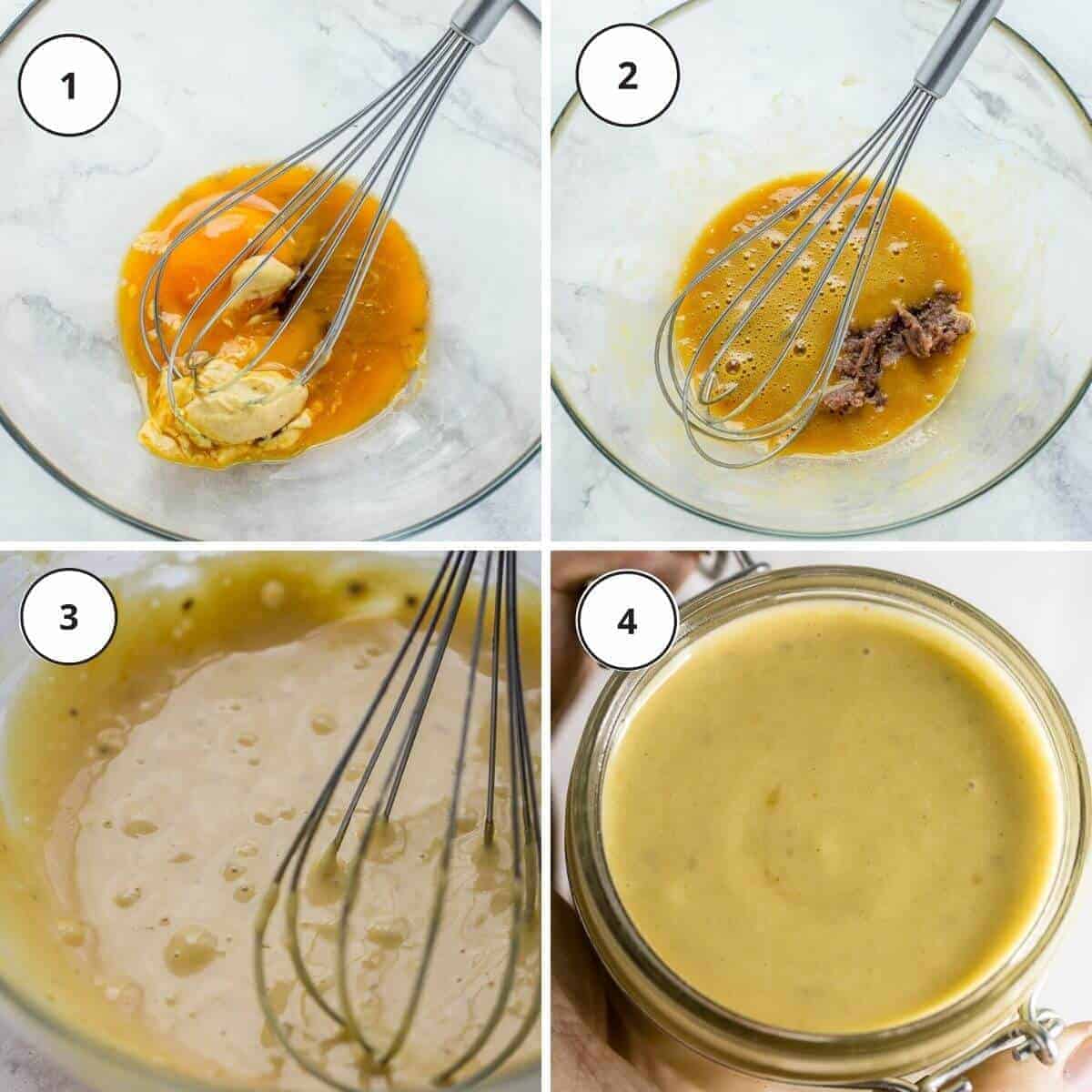 Combine all the ingredients apart from the oils in a mixing bowl or jug blender.
Blend or whisk until combined and smooth.
Slowly add the oils while quickly whisking or blending until fully emulsified.
Adjust the seasoning if you want.
Store in the fridge or use straight away.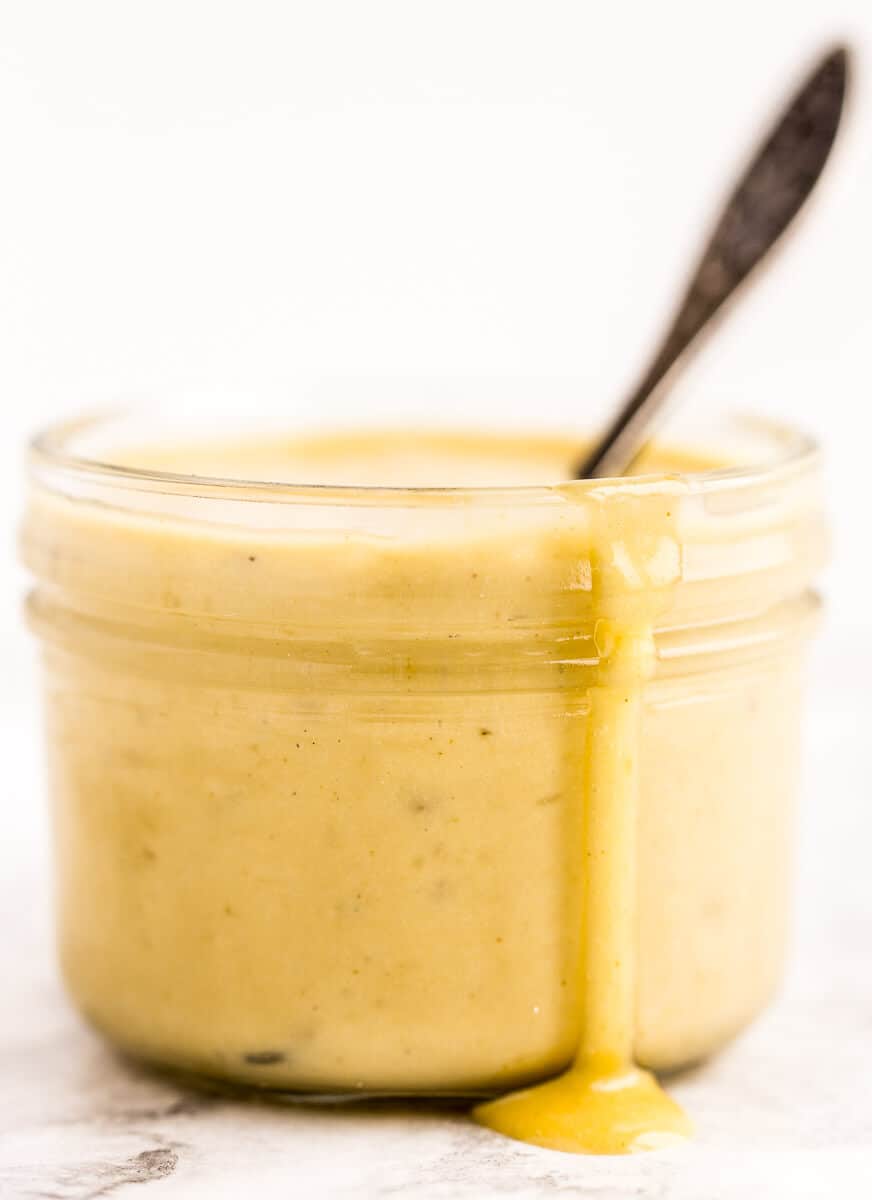 How to fix a split or broken sauce?
You might end up splitting the dressing if you add the oil too quickly.
Not to worry. We can easily fix this.
Wait for the oil to separate a bit more and pour or scoop off this oil layer placing it into a separate container. We will add it back in a minute.
Add a teaspoon of cold water to a bowl or blender.
While whisking or blending vigorously, add the base part to the water. The oil goes next
Add the oil back in, slowly but whisking vigorously.
Your emulsion should now be stable again.
Variations
If you are pressed for time you can skip the baked garlic and use fresh minced garlic. Use ¼th of the measure in the recipe as it will be too strong otherwise.
Caesar dressing without anchovies? No problem just remove it from the recipe.
You could use ready mayonnaise instead of making your own emulsion. Replace the oil part with mayonnaise and whisk in as usual.
You could make a vegan version by using vegan mayonnaise, removing the anchovies and Worchester sauce and replacing it with a vegan alternative.
Caesar dressing is already Keto, so there is no need to adjust anything unless you are vegan and Keto and your mayonnaise are loaded with carbs. In That case, proceed by making your own emulsion.
Serving suggestions
Apart from using this dressing in authentic Caesar salad You could use it as a dip for Crudités or pour over any other salad or vegetable dish.
Frequently asked questions
How long does it keep?
1 week if you store it correctly and made it with pasteurised egg or mayonnaise.
Can I freeze it?
No, emulsions split when frozen. So you would have to follow the fix mentioned above to bring it back together. Better eaten straight away.
Is caesar dressing gluten and dairy-free?
It's dairy-free but not gluten-free. There might be trace amounts of gluten in the mustard and Worchestershire sauce. You can easily buy gluten-free alternatives though.
Can I make this recipe without eggs?
You can but, it's not as good. Egg provides richness, creaminess and helps the dressing emulsify. If not using egg you would need to use a bit more mustard or aqua faba to help emulsify the oil.
If you are familiar with lecithin you could also add a teaspoon to the liquid part of this recipe before adding the oils. Lecithin is a surfactant. meaning it binds to oil and water.
It's natural and found in health-food stores.
Related sauces and dressings
THIS PAGE CONTAINS AFFILIATE LINKS - I MIGHT EARN A TINY % OF THE SALE THROUGH THESE LINKS AT NO EXTRA COST TO YOU. PROBABLY NOT EVEN ENOUGH TO BUY A BEER).
If you found this post helpful or have learned something, comment, subscribe and follow me on social platforms for more tasty recipes.
Recipe
Homemade Caesar dressing
The best homemade Caesar salad dressing anyone can easily make at home. It's creamy and silky smooth. Tangy, lemony and packs a massive umami punch.
Ingredients
80

g

(

⅓

cups

)

egg yolk

-

4 egg yolks - note 1

40

g

(

2 ⅔

tablespoon

) Dijon mustard

12

g

(

2

teaspoon

) Worcestershire sauce

12

g

(

2

teaspoon

)

lemon juice

-

freshly squeezed

40

g

(

5

tablespoon

)

baked garlic

-

optional - note 2

16

g

(

1

tablespoon

) anchovy fillets -

optional - note 3

40

g

(

2½

tablespoon

) olive oil -

extra virgin

160

g

(

¾

cups

) neutral oil -

canola, sunflower or groundnut oil
Instructions
Combine all the ingredients apart from the oils in a mixing bowl or jug blender.

Blend or whisk until combined.

Slowly whisk or blend in the oils until fully emulsified.

Adjust the seasoning if you want.

Store in the fridge or use straight away.
Notes
If you are cautious about eating raw eggs then use pasteurised egg yolk. It's sold in most stores and safe to consume raw.
The secret to making this dressing mind-blowingly delicious is to use baked garlic. It's very easy to make, so go ahead and do it.
The anchovies are optional but I recommend using them as they provide the dressing with a serious umami flavour hit and goes extremely well with Parmesan cheese.
Nutrition
Serving:
50
g
Calories:
268
kcal
Carbohydrates:
3
g
Protein:
3
g
Fat:
28
g
Saturated Fat:
3
g
Polyunsaturated Fat:
7
g
Monounsaturated Fat:
18
g
Trans Fat:
1
g
Cholesterol:
110
mg
Sodium:
79
mg
Potassium:
59
mg
Fiber:
1
g
Sugar:
1
g
Vitamin A:
150
IU
Vitamin C:
2
mg
Calcium:
30
mg
Iron:
1
mg
Keywords:
anchovy emulsion, caesar dressing, salad dressing