This easy salmon salad recipe uses only a few ingredients that are super healthy Keto and paleo-friendly.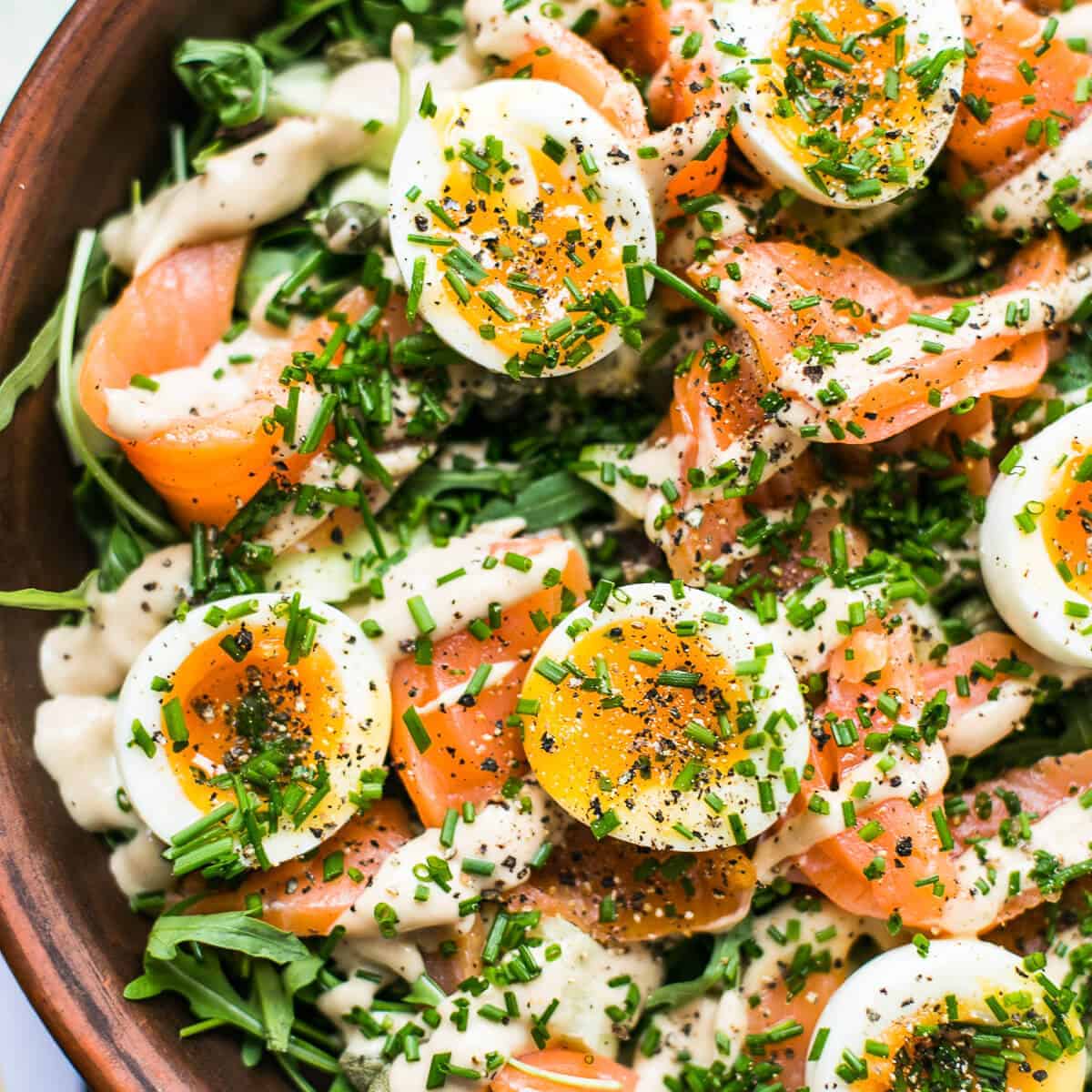 For this easy salmon salad recipe, I would actually go the extra mile and cure my own salmon.
It is extremely easy, cheaper than shop-bought and you can use it for many other things too.
Like blending it with some cream cheese and a bit of fresh cream and chopped chives to make a delicious dip for vegetable crudites.
How to cure salmon
1,5kg skin on salmon pin bones removed(ask the fishmonger to do this for you)
150g coarse sea salt
150g brown sugar
zest of 1 limes
zest of 1 lemon
zest of 1 orange
2g freshly ground black pepper
Mix together all the ingredients and cover the fish well with the mix. Cover, place in the fridge overnight and rinse the following day.
Pat dry with a tea towel and store in an airtight container for up to 7 days in the fridge and 6 months tightly wrapped in the freezer.
Slice thinly when needed.
It's also amazing on a bit of toasted sourdough bread for breakfast and lunch.
To make the salad we will also need to soft boil a few eggs and make a very simple anchovy mayonnaise.
You can use also use my method for boiling quail eggs or make a classic Caesar dressing.
How to cook the perfect soft boiled egg?
Use medium to large chicken eggs.
Start with boiling water.
When the water boils carefully lower the eggs into the water using a spoon.
If the eggs are from the fridge then set a timer to 6 minutes.
If the eggs are room temperature set a timer to 5 minutes.
When the timer goes off, remove the eggs and place under cold running water or a bowl of ice water to stop them from cooking further.
When the eggs have chilled down, peel them and set aside.
How to make quick anchovy mayonnaise?
For simplicity, we will use store-bought Heinz real mayonnaise. You can also use homemade mayo.
With a hand-held blender blend up 100 grams mayonnaise, 10 grams anchovies, and 20 grams water.
Use straight away or keep refrigerated for up to one week.
Now that we have the main components for our salad we can go ahead and just put it together with a nice hand full of peppery rocket leaves, chopped chives, and some freshly ground black pepper.
Feel free to add a fresh squeeze of lemon/lime juice for some zing or even a bit of chopped chilli for a little heat kick.
Related recipes
This site contains affiliate links. I may earn a tiny commission on qualifying purchases at no extra cost to you. By bookmarking these links you help support the upkeep of this site.
If you found this post helpful or have learned something, comment, subscribe, and follow me on social platforms for more tasty recipes.
Recipe
Easy salmon salad
The perfect lightly cured salmon salad perfect for any meal.
Ingredients
For the salmon:
1,5

kg

(

3 ⅓

lb

)

salmon skin on bones removed

150

g

(

½

cups

) coarse sea salt

150

g

(

⅔

cups

) brown sugar

zest of 1 lime

zest of 1 lemon

2

g

(

1

teaspoon

)

freshly ground black pepper
for the eggs:
4

(

4

)

large eggs

1

L

(

1

L

)

boiling water

1

g

(

⅙

teaspoon

) salt
For the anchovy dressing:
100

g

(

½

cups

)

good quality mayonnaise

10

g

(

⅔

tablespoon

)

anchovies

20

g

(

1 ⅓

tablespoon

)

water
For the salad and finishing touches:
100

g

(

2

cups

)

rocket leaves

10

g

(

3 ⅓

tablespoon

)

chives

-

chopped

1

g

(

½

teaspoon

) salt

2

g

(

½

teaspoon

)

freshly cracked black pepper

Fresh lemon or lime
Instructions
For the salmon
Cover the fish all over with the salt, sugar, pepper, and zest.

Store in fridge for 12 hours.

Wash of after 12 hours and pat dry with cloth.

Store in the fridge till needed.
For the eggs
Boil eggs for exactly 6 minutes and chill in cold water for 2 minutes before peeling and cutting in half.
For the anchovy dressing:
With a hand-held blender blend all till smooth. Reserve in the fridge till needed.
To assemble:
Cut the cured salmon thinly(without the skin).

Place rocket leaves in a large salad bowl.

Place salmon and halved eggs randomly on top of the salad.

Dress with anchovy mayonnaise, chopped chives and finally freshly cracked black pepper.
Notes
See my full recipe on cured salmon.
Here is how to soft boil quail eggs if you want to substitute the regular eggs.
If you want to use cooked salmon here is how to pan-fry salmon fillet perfectly.
This salad can be made in advance without the dressing.
It will keep in the fridge for 2 days covered airtight.
Leftover cured salmon can be frozen for up to 6 months.
The sauce can be used on other salads and will keep for up to a week stored in the fridge. 
Nutrition
Serving:
300
g
Calories:
721.5
kcal
Carbohydrates:
2.76
g
Protein:
35.88
g
Fat:
62.28
g
Saturated Fat:
12.09
g
Trans Fat:
0.04
g
Cholesterol:
450.75
mg
Sodium:
686.55
mg
Fiber:
0.93
g
Sugar:
1.49
g
Vitamin A:
25.67
IU
Vitamin C:
15.89
mg
Calcium:
16.12
mg
Iron:
17.4
mg