Homemade mayonnaise beats store-bought mayonnaise any day. You'll never want Hellman's ever again once you tried this mayo recipe made with lemon, knowledge, love and pinch of black pepper. Perfect, basic and nearly impossible to mess up.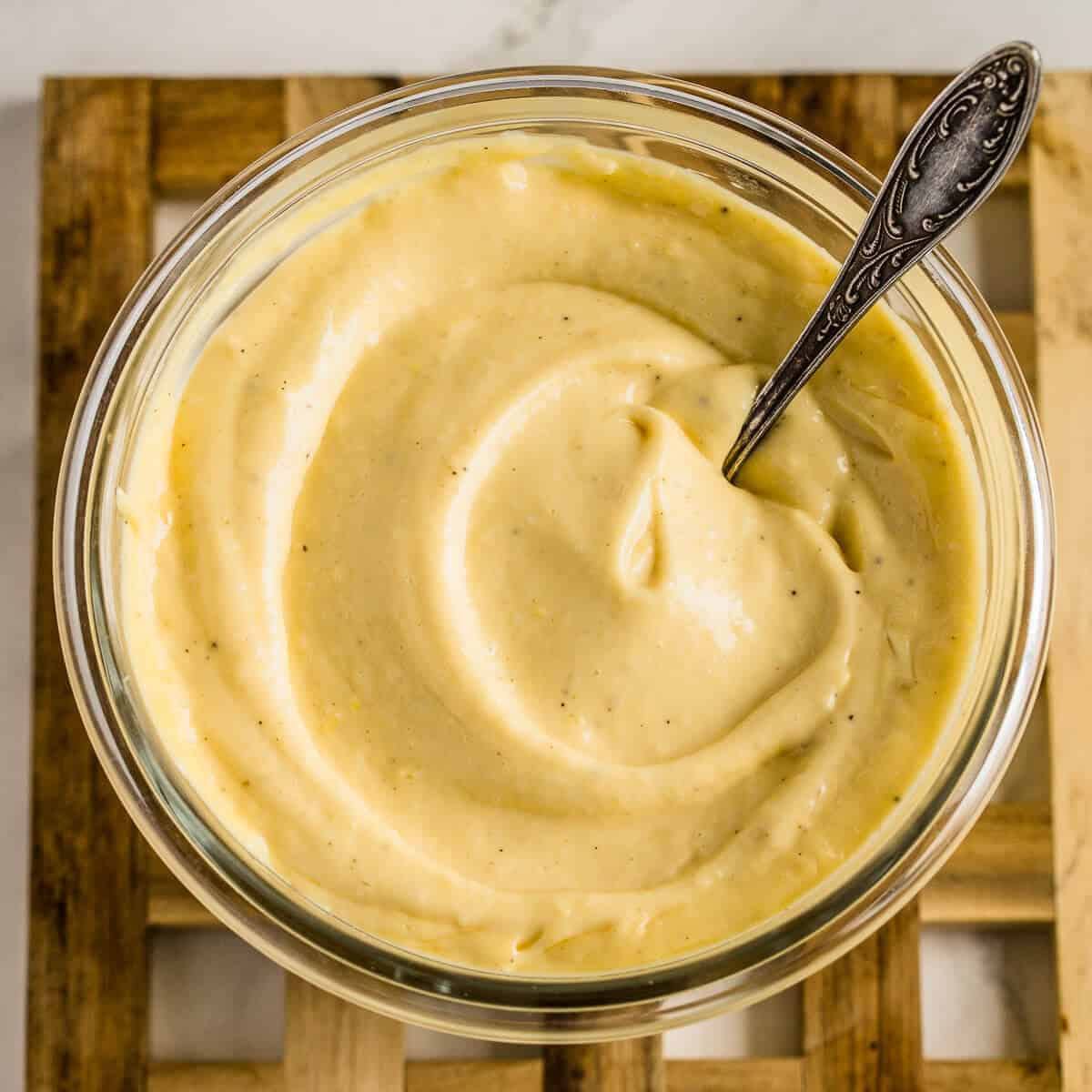 Jump to:
If you have never tried making a homemade mayonnaise before or, you tried a bad recipe that didn't work, then understandably, you might be a touch nervous.
I'm here to teach you all there is to know about making your own mayo at home. Safely, easily and confidently.
The best part of making homemade mayonnaise is that you control what goes into it. This means that you can make your mayo the way you prefer. Everything from consistency, to flavour and colour, can be easily adjusted.
There are plenty of homemade mayonnaise recipes out there to choose from but, this one has been my favourite since the day I first made it.
It's slightly different from your standard classic mayonnaise recipe, yet, it's classy, and used in top restaurants and hotels across the globe.
What should it taste like?
I like my mayo to be not too thick. It should be light, yet rich, luxurious, and with a nice citrus kick.
These attributes combined make the perfect mayonnaise. You can use it for anything from dressing a crab salad to making a chicken mayo sandwich, and the results will be amazing.
In order to make mayo perfect every time without fail, it helps to understand the basic science behind mayo and other emulsions.
This way you will have full control over any mayonnaise recipe no matter what goes into it.
So, why does water and oil emulsify into a stable mix we call mayonnaise?
What is it and how does it work?
Mayonnaise is part of a group of "sauces" called emulsions. This is when a recipe calls for two ingredients that don't like mixing together. Then through the help of a third ingredient, these all come together and form a happy "relationship" in order to give us a stable sauce.
In all emulsion recipes, this will require a water element and a fat element brought together by something called a surfactant. Surfactants are basically just molecules that can be friends with water and oil both at the same time.
A common household surfactant is the fairy liquid you use to clean dishes. In things like peanut butter, you might see something called lecithin on the ingredients list, or, in mayonnaise, you will see egg yolk.
Yolks contain lecithin and have the ability to emulsify a huge amount of water and fat.
Technically, you could make 20 litres of emulsified sauce with just a single yolk. It won't resemble mayo as it will be extremely runny but, still, you get the point.
It has the potential to do so. Which is important information when we get to talking about fixing a broken mayonnaise later in this article.
When we mix the yolk with vinegar, lemon juice or even water, the lecithin disperses in the liquid. When we then add oil(very slowly), while vigorously whisking, the lecithin starts to bind half of itself to the oil, and the other half to the water part.
If done correctly this process results in a stable emulsion we call mayonnaise.
With vegan mayo, the emulsion is kept together by lecithin found in chickpeas.
Useful equipment for this recipe
Ingredients needed
The ingredients for this mayo recipe is very straight forward, and most of these, will already be in your pantry or fridge.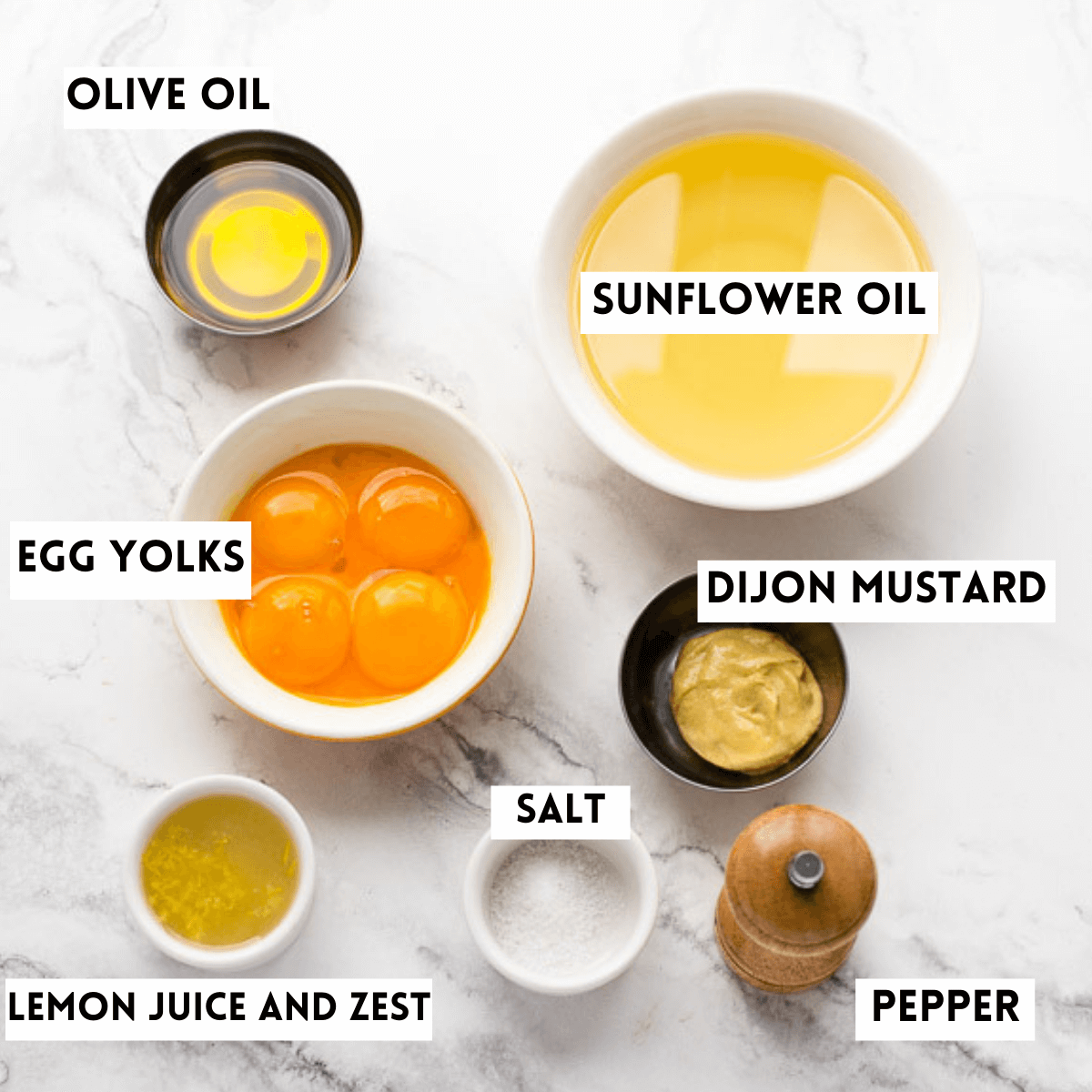 Eggs - Lots of recipes including this one uses raw yolk. If you are avoiding raw egg, you can easily buy pasteurised yolk in cartons. You can find it fridge section with other egg products. This way, you will also save the time and effort it takes to separate eggs, and won't be left with whites you need to use up for something else.
Oil - The main one has to be something without taste or smell. Or if it has, it has to be very subtle in flavour. I use either sunflower or canola but, you can also use groundnut or avocado. We only use a tiny bit of extra virgin olive oil. This brings nuance to the flavour and using a small amount prevents the mayonnaise from being bitter.
Mustard - I prefer using smooth dijon mustard but you can use a semi-grainy or any other version you like. Mustard also contains lecithin and hence, further helps the emulsification.
Acid - Lemon is a bit softer than vinegar and also gives a nice aroma and flavour that vinegar lacks in traditional mayo recipes. We use the juice and the zest for maximum freshness and flavour. Lemoniness is all in the zest.
Of course, you can make variations of homemade mayonnaise by altering the ingredients and we will get to that in a bit.
How to make it
Below are 8 pictures and detailed steps on making mayo at home. In reality, it's even more simple and comes down to only two stages. Mixing the base ingredients together and then adding fat slowly while vigorously blending or whisking.
You can make this recipe by hand. Like I did, or you can use an immersion blender, food processor or a kitchen aid mixer.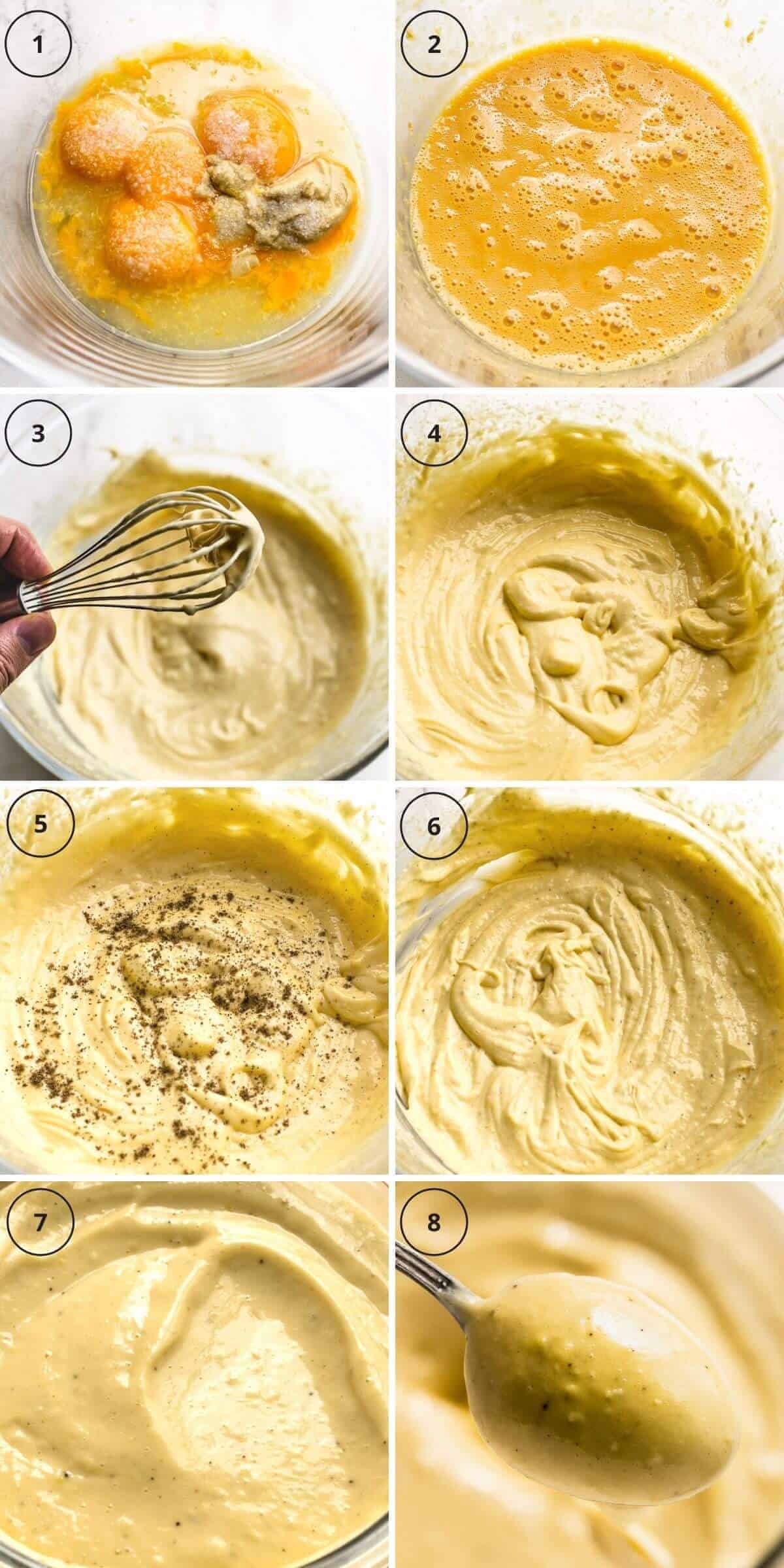 Place all the ingredients apart from the oil and pepper into a bowl, jug or blender.
Mix or blend until homogenous.
Slowly add oil while whisking or blending vigorously.
When it's all added, the mix should be velvety smooth and be able to hold its own shape.
Season with freshly cracked black pepper.
Taste for salt and balance. Adjusting if needed.
Place into a suitable container or use straight away.
Store homemade mayonnaise in the fridge for up to a week sealed airtight.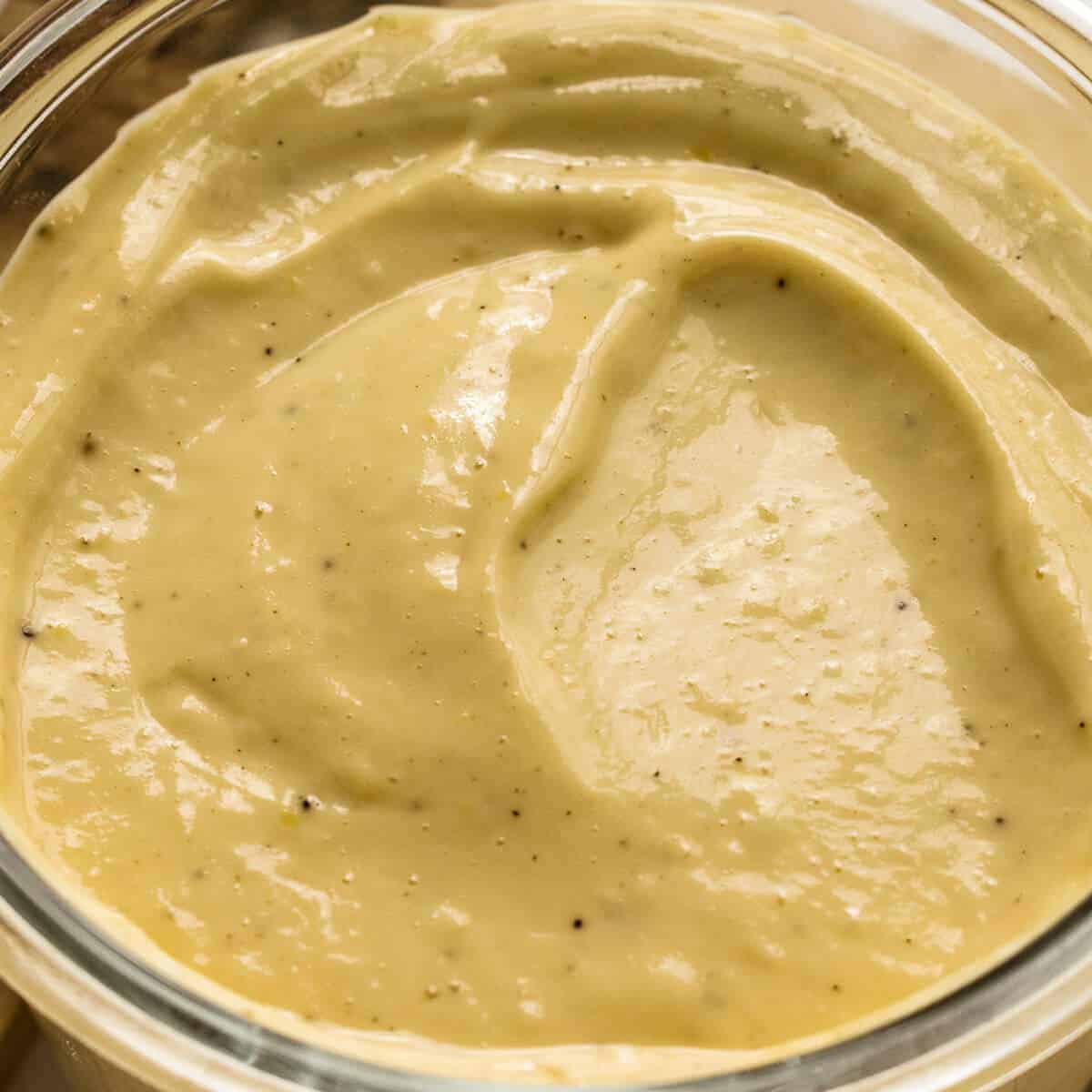 Flavoured mayonaise
Mayo can be flavoured in a wide variety of ways. Here are a few popular flavours and how to easily make them.
Yuzu - Substitute the lemon juice for yuzu juice.
Dill - Add ½ a bunch of finely chopped dill.
Chipotle - Add a teaspoon of chipotle spice or sauce to the base.
Garlic - Add a whole roasted head of garlic or 2 cloves minced or finely grated.
Honey Mustard - Add 1 tablespoon of honey to the base.
Sriracha - Add 2 tablespoons sriracha to the base + 1 tablespoon condensed milk.
Avocado - Use only avocado oil and add puree of ½ an avocado to the base.
How to make it vegan
You can easily make vegan mayo by following the following recipe:
Ingredients needed:
50g (3 ½ tbsp) aquafaba(liquid in a tin of cooked chickpeas)
15g (1 tbsp) lemon juice + ½ teaspoon lemon zest
15g (1 tbsp) smooth dijon mustard
2g (½ tsp) fine sea salt
175g (¾ cup) neutral oil
25g (2 tbsp) olive or truffle oil
Freshly ground black or white pepper to taste
Instructions:
Add all the ingredients apart from the oils and pepper into a bowl or blender.
Mix until well combined.
Slowly stream in the oils while vigorously whisking or blending.
Once it's all added and the mayo is stable, add the pepper, mix through and adjust seasoning if necessary.
Store in an airtight container in the fridge for up to 3 weeks.
How to use it
Mayonnaise is probably the most popular sauce along with ketchup. Uses go well beyond dipping sauce. Here are a few useful ideas.
Base for salad dressing - If you want to make a quick dressing for a salmon salad or a cheat Caesar dressing for a Caesar salad then having a pot of homemade mayonnaise in your fridge is a true friend in need. You can add almost any flavouring to mayo and then adjust the consistency with a bit of cream, water, juice or whatever you fancy. Think Mary rose sauce for the 70's classic prawn cocktail. It's mayonnaise with ketchup and a bit of brandy. Very retro, but delicious if you like mayonnaise-based sauces.
Straight-up dressing for salad - The most famous being potato salad. It's popular in Russia and Iran and known as salad Olivier/Olivieh. I like adding a bit of liquid smoke to mayo when making potato salad for a barbecue party.
In marinades - Add a few dollops to yoghurt based marinades for chicken, beef, pork or lamb. Marinade the meat overnight and grill the following day over hot coals or on the stove in a hot skillet.
To pan-fry with - Do yourself a favour and try toasting bread spread with mayo instead of butter. It's very delicious and it makes sense.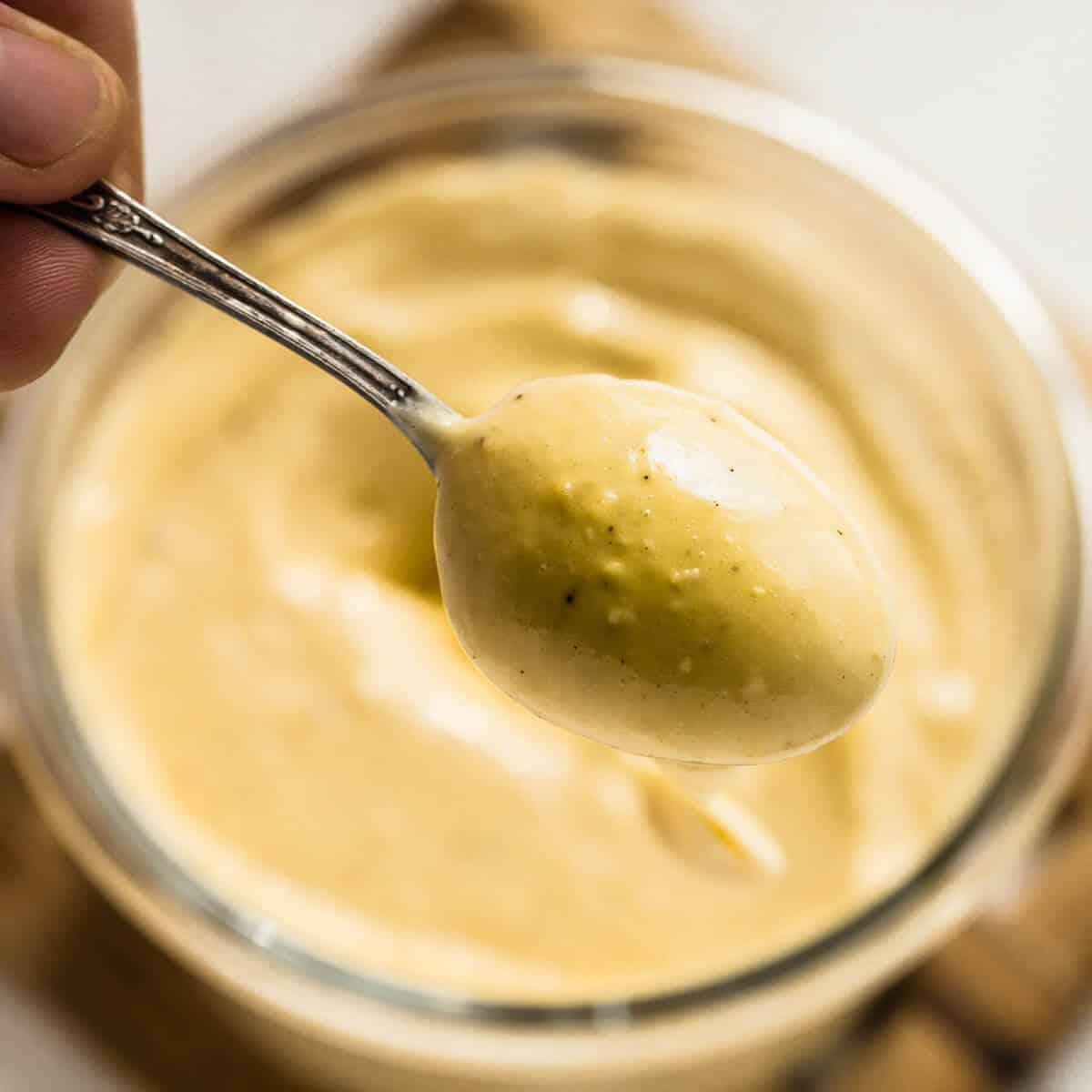 How to fix a broken mayonnaise
At one point or another everyone inevitably stands in front of a bowl of broken mayo. This means the sauce has split and the emulsion either never became an emulsion or lost its stability.
This mainly happens when the fat droplets are not evenly dispersed. Caused by adding the oil too quickly while at the same time not mixing the sauce vigorously enough.
What happens is, the oil start grouping together, as they are packed in too tightly and no water is separating the tiny droplets. The lecithin starts having a hard time keeping hold of both the water and fat. Resulting in a broken emulsion.
Not to worry. This is Easily fixable. But, two things to remember.
An emulsion is fat dispersed in water. And, not the other way around.
One egg has the ability to emulsify 20 litres of sauce.
What does this mean?
We don't need to add any more yolk as it won't help anyway. Because this recipe has enough in it to make 100 litres of emulsion. We also need to wait a little bit until the mayo has almost completely split, and most of the oil is floating on top.
All you need to fix this mess is a little bit of water and the following steps:
Use a clean bowl or blender jug and add a tablespoon of water to it.
Scoop off and reserve the oil in your broken mayo.
Extremely slowly start adding back the solid semi-emulsified bit of the broken sauce while vigorously whisking or blending.
Once that is added in, continue the vigorous whisk while adding in the rest of the oil you scooped off.
Your mayo should now be back together and in a stable relationship.
Frequently asked questions
How long does it last
If you use fresh eggs then 1 week only. If you use pasteurised egg yolk then it can last for up to 3 weeks stored airtight.

Always store mayonnaise in the fridge.
Can you freeze mayonnaise?
Homemade mayonnaise can not be frozen as the emulsion will break. Some commercial, stabilised versions can be frozen.
Are raw eggs safe to eat?
If you use pasteurised yolks then the risk to get anything nasty from them like is none. If you use fresh eggs then make sure they are of good quality and clean to minimise the risk.

Children, pregnant woman, and the elderly should automatically avoid eating mayonnaise made with unpasteurised eggs.
How to pasteurise an egg yolk?
For them to be safe to eat it has to reach an internal temperature of 140°F or 60°C and be kept there for 10 minutes. Simply connect a temperature probe to a pot of water and keep the temperature at 140°F or 60°С. Place the eggs into the pot and keep them there for 20 minutes. Remove them and cool down in cold water. Some of the white would have started to coagulate but the yolk raw and 100% safe to eat.
Other sauces you may like
If you like making your own sauces at home instead of buying store-bought versions, then you will find the following recipes helpful:
This site contains affiliate links. I may earn a tiny commission on qualifying purchases at no extra cost to you. By bookmarking these links you help support the upkeep of this site.
If you found this post helpful or have learned something, comment, subscribe, and follow me on social platforms for more tasty recipes.
Recipe
Homemade Lemon Mayonnaise
Easy homemade mayonnaise recipe that's light yet zingy, rich and velvety smooth and creamy. Perfect as a dipping sauce or base for salad dressings.
Ingredients
5

(

5

)

egg yolks

50

g

(

3 ⅓

tablespoon

)

lemon juice

zest of 1 lemon

30

g

(

2

tablespoon

) Dijon mustard

6

g

(

1

teaspoon

)

fine sea salt

300

g

(

1 ⅓

cups

) neutral oil

50

g

(

¼

cups

) olive oil

Freshly cracked pepper to taste
Instructions
Place all the ingredients apart from the oil and pepper into a bowl, jug or blender.

Slowly add oil while whisking or blending vigorously.

When all the oil is added, the mix should be velvety smooth and be able to hold its own shape.

Season with freshly cracked black pepper.

Taste for salt and balance. Adjusting if needed.

Place into a suitable container or use straight away.
Notes
Store homemade mayonnaise in the fridge for up to a week sealed airtight.
Can not be frozen.
See post for vegan mayonnaise recipe, what to use it for and fix a broken mayo among other more in-depth chapters.
Nutrition
Serving:
50
g
Calories:
336.09
kcal
Carbohydrates:
1.41
g
Protein:
1.28
g
Fat:
36.92
g
Saturated Fat:
3.56
g
Trans Fat:
0.12
g
Cholesterol:
73.06
mg
Sodium:
129.53
mg
Fiber:
0.34
g
Sugar:
0.34
g
Vitamin A:
2.88
IU
Vitamin C:
5.58
mg
Calcium:
1.32
mg
Iron:
1.76
mg
Keywords:
homemade mayonnaise, lemon mayoannaise