Jump to recipe
Pumpkin puree is one of those things you can easily buy in a supermarket but it always fails to impress. That's why you should learn to make your own pumpkin puree from scratch. It will be super concentrated, smooth, naturally healthy, gluten-free, vegan, and all the other things that make you cool. The best thing is. You only need 1 ingredient to make the best pumpkin puree of your life.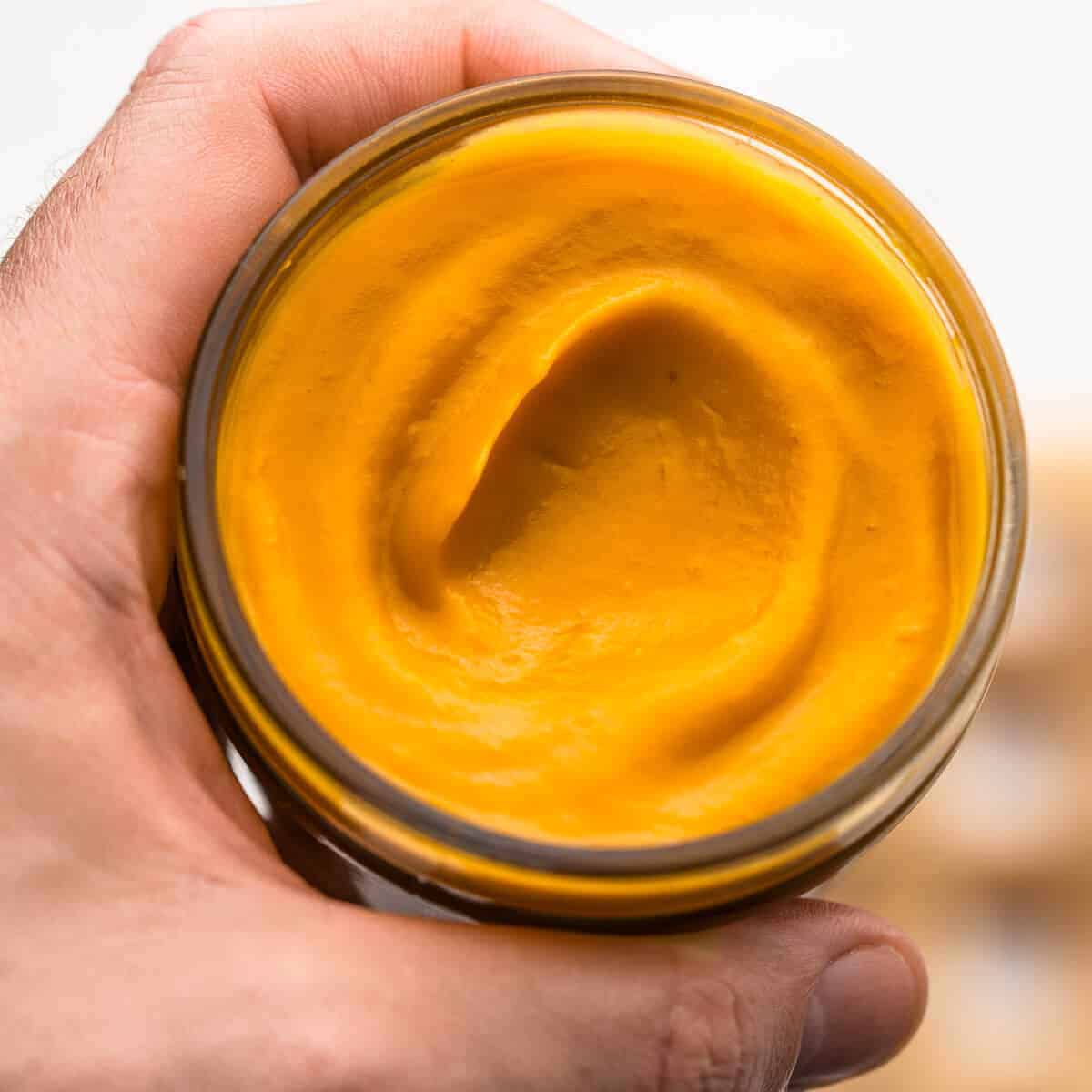 Jump to:
Maybe you are making pumpkin bread, pumpkin cake, risotto, filling for ravioli or just making some healthy dog food or baby puree.
You probably boiled the pumpkin in water up until now or at best microwaved it.
Neither one of those methods are the best way to cook it.
Pumpkins vary wildly in flavour, size, and texture. Some are extremely watery and some very fibrous or even powdery. Some are flavourful and sweet while others taste of nothing.
Half the success for this recipe lies in the cooking method and the other half in the quality of the pumpkin.
How to choose the best pumpkin
Good signs
Solid sound when tapped.
Firm and heavy relative to its size
No open flesh from severe bruises
Bad signs
Oversized giants.
Hollow sound when tapped
Lightweight to the size
Large bruising and defects caused by bad handling
The perfect pumpkin
My favourite variety of pumpkin is the Crown Prince Green.
It has a blueish-green hard skin and the flesh is a bright yellow to orange. Its texture is firm and when cooked, it has a honey chestnut flavour that makes it very distinguishable from other pumpkin varieties.
The next best would be the Red Kuri Squash(Hokkaido). It has orange skin, firm flesh, mild but distinguishable pumpkin flavour and medium sweetness.
These both belong to the family of squashes C.Maxima. The best types of pumpkins generally fall into the group.
If your greengrocer or local farmer knows his stuff then he will be able to tell you the variety of pumpkin you are buying.
Ingredients needed
You'll be happy to know that pumpkin is all you need for this recipe.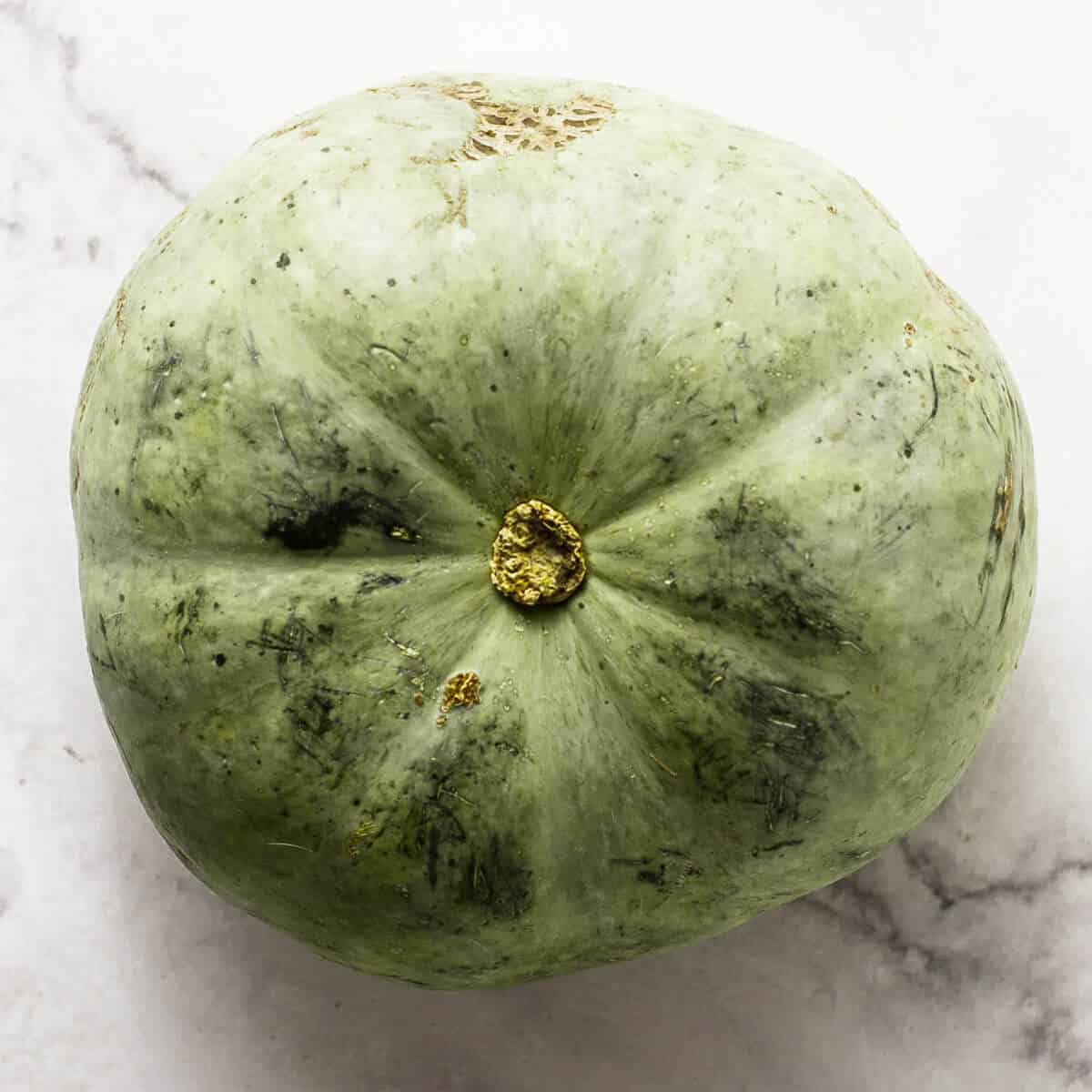 Pumpkin - Get a good quality pumpkin as we discussed above.
Neutral oil (optional) - I like slightly caramelising the pumpkin for some recipes as it brings out the sweetness and flavour of the pumpkin even more.
Seasoning (optional) -Salt if you are making a savoury puree or sugar if sweet but I usually leave this out and use the puree as an ingredient in other dishes like pumpkin cake, pumpkin bread, pumpkin spread, risotto, pasta fillings, cheesecake etc.
How to make it
The magic of properly cooked pumpkin puree lies in the simplicity of the method.
Cook it fast and don't let it burn.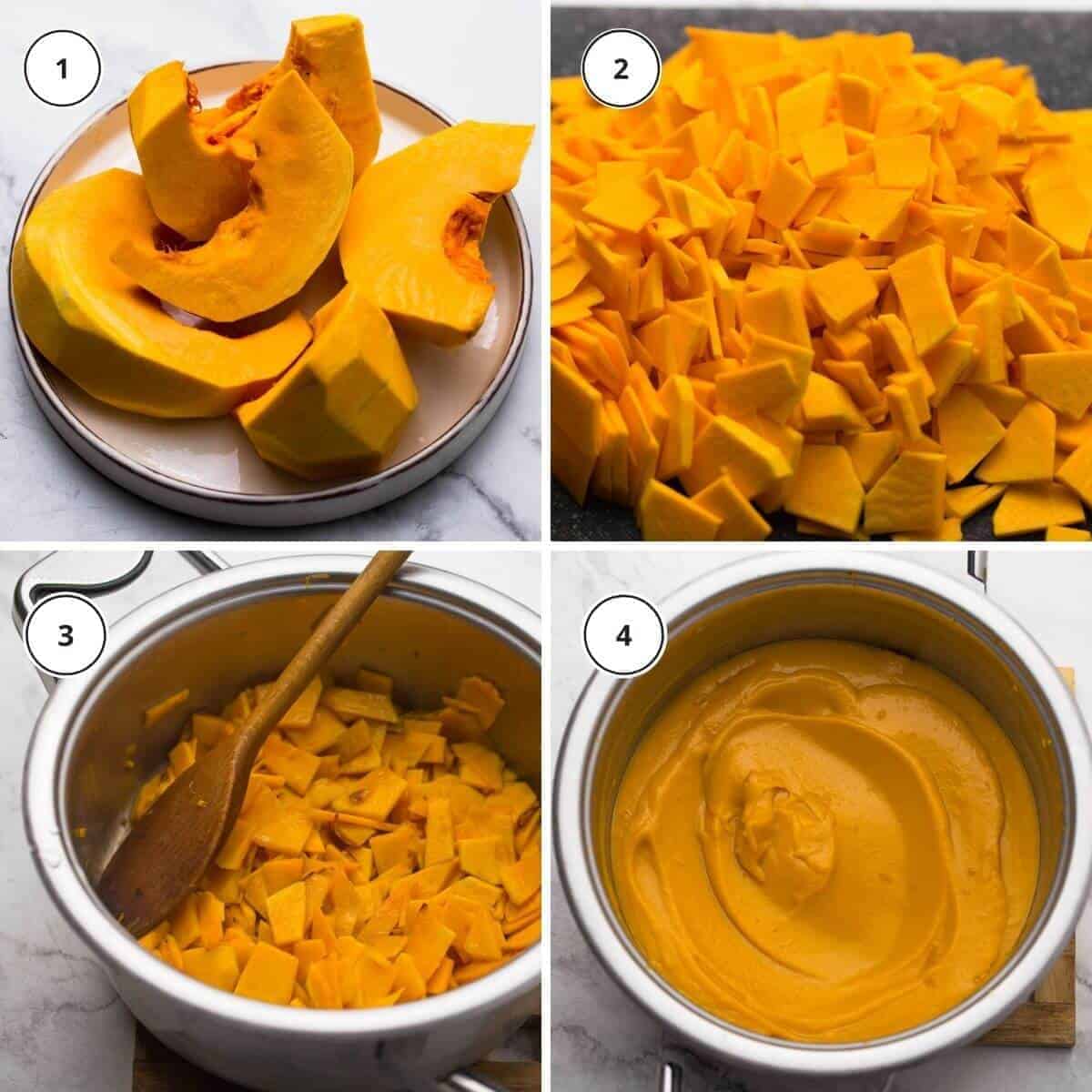 Peel the pumpkin if you want. You can easily leave the skin on. I do this often. Especially when using red-skinned pumpkin like the Kuri squash. Remove the pumpkin guts and reserve the trim and guts to make pumpkin stock used in other preparations.
The key is to chop up the pumpkin as small as you can for it to cook as quickly as possible. This is a secret little Michelin restaurant law we had when I worked in London. When you chop it up fine and cook it quick the flavour peaks and you have a vibrant coloured puree that taste as great and as pumpkiny as it possibly can. Never boil it in water or microwave it.
Boiling in water diminishes the gentle flavour. Microwaving does not get rid of the water in the pumpkin for it to concentrate the flavour while also cooking it at the correct speed(cooks too quickly and burns before it's at it's best). Baking or roasting takes too long and is more suitable for when you want to make pumpkin salad. So, the best way is to cook it in a pot or pan with the lid on. Stirring often and adding a small drop of water now and again to stop it from burning. This takes about 5 minutes given that you are using the correct sized pot or pan and also chopped the pumpkin small enough. I used a 2-litre saucepan for this recipe and 400g of chopped pumpkin.
When the pumpkin is soft(test this by tasting it), it can be blended. Blend until smooth and let it cool down before using in pumpkin cream cheese spread, pumpkin bread or pumpkin cake among others.
Storage instructions
Store airtight in the fridge for up 5 days. For longer storage, it can be frozen for up to a year stored airtight. You can also freeze it in ice cube trays and use it to make smoothies or milkshakes on the go.
How to use it
Pumpkin puree is a very versatile ingredient to have. So, make some when they're in season in Autumn, freeze it and you will have some for a long time to come.
Baking - Use it in bread baking or cakes for a moist juicy crumb. This carrot cake uses sour cream but you can use pumpkin puree instead. When making flax seed bread simply remove 20% of the water and replace with pumpkin puree. Replace half the cream cheese in a classic baked cheesecake recipe with pumpkin puree and you have a pumpkin cheesecake.
Savoury dishes - Finish a pumpkin risotto by stirring through a spoon full of this puree right before serving. Likewise, make a creamy truffly pumpkin sauce for ravioli or other types of pasta like tagliatelle.
Dog food - Many people are switching their pets on to a natural food diet. My dog loves this stuff.
Baby Food - Much better than store-bought puree for kids, no doubt. Keep it natural, healthy, and classy from early on.
Drinks - Blend into cold brew coffee, make a pumpkin shake or add to your eggnog custard for pumpkin eggnog. Sprinkle with a fresh grating of nutmeg and Christmas is sorted.
Other recipes you might like
If you like to know how to cook basic foods well or like making natural homemade versions of popular foods then you will find the following recipes helpful.
Useful equipment for this recipe
THIS PAGE CONTAINS AFFILIATE LINKS - I MIGHT EARN A TINY % OF THE SALE THROUGH THESE LINKS AT NO EXTRA COST TO YOU. PROBABLY NOT EVEN ENOUGH TO BUY A BEER).
If you found this recipe helpful or have learned something, comment, subscribe and follow me on social platforms for more delicious recipes.