This is the best carrot cake recipe you'll ever make. It's super moist, fluffy, and light. Deliciousness next level.
Made with a ton of fresh carrots, heart-healthy walnuts, and a tuned-down sweetness you only find in professional cake recipes.
The method used to make this cake is unlike any other and it's what sets it apart from the rest.
Jump to:
A brief history
Carrot cake is one of the most popular cakes in the world. It consists of the classic ingredients, we find in cake baking. Mainly flour, fat, sugar, and eggs. 
The history of carrot cake dates back to the middle ages. In Europe when sugar was a bit of a delicacy sweet vegetables like carrots were used instead. More specifically - England. 
The first version of carrot cake was by no means the best carrot cake recipe as we know it today. It was actually a savoury dish that includes meat. 
It then slowly shifted and evolved into a meatless baked pudding.
Eventually making the rounds in France as "Gâteau de Carottes"(carrot cake) in the 19th century as well as in Switzerland around the same time. Popularity died down. Until the English revived it during the Second World War.
Since then. It's become a bit of a household secret and something passed around families. Jumping over the pond into America where it enjoys silly popularity.
With a History similar to my parmesan shortbread cookies. It just shows us how interlinked our cultures and cooking habits really are.
Why this recipe is the best
If you are looking for the world's best carrot cake recipe. You found it. It's a foolproof recipe almost anyone can cook at home.
This recipe is completely cooked from scratch which already qualifies it 50% to be the best carrot cake recipe in the World.
The other 50% is made up of how easy it is to bake and along with a few pro tricks I learned over my 20-year cooking career.
As well as being my favourite kind of cake when it comes to having a naughty little slice of cake. It also lends itself extremely well to other forms of itself.
Think carrot cake cupcakes, carrot cake muffins, carrot cake bunt cake, or carrot cake bars.
It's basically...An afternoon tea lover's dream.
Wherever we served this carrot cake in the 5-Star London hotels I worked in - they were gone first. Which is why we always had tons of backup.
This recipe for carrot cake included spices which give it a luxuriously warming character. It's perfectly fluffy and beautifully moist.
To make it extra moist, we will add a touch of spiced orange liquid just after it comes out of the oven.
You could use this trick with any cake. Think lemon cake with some lemon syrup or coffee cake with a touch of coffee syrup.
It makes perfect sense to enhance your bakery with an extra flavour boost while making the texture even more heavenly.
For best results and especially in making the best carrot cake recipe you need to use the freshest carrots. Fresh carrots are what this cake is about.
Buy the best you can afford.
Every slice should be adorned with grated sweet carrot when cooked.
Even just a "good" carrot cake should have a healthy amount of carrot evenly distributed all the way through the cake.
The best carrot cake recipe however also has some spices and roasted chopped nuts.
To level off and level up this cake recipe we will add a lovely gingery, orangy syrup right when the cake leaves the oven.
Let's not forget. A Good carrot cake also needs some cream cheese frosting!
Sometimes we topped this frosting with sweet cucumber or sometimes confit carrots.
The choices are many but the most important part is that the cream cheese frosting is enough so you get a bit with every bite.
To ensure the perfect balance we will make sure this is a layer cake.
This truly is the ultimate moist carrot cake with cream cheese frosting. It's easy. It's pretty quick. Straight forward and extremely difficult to mess up.
It's also not sickly sweet which makes it the perfect sweet treat or midnight snack. Even if you only have one sweet tooth.
If you have a sweet tooth and love cakes try my amazing Russian honey cake recipe.
Ingredients
Fat - Any oil will do. Coconut oil, vegetable or canola oil, ghee, melted butter all work best as they have less aroma. However, Olive oil does make a very interesting and unique version of this cake. This recipe uses coconut oil.
Sugar - Brown sugar is my preference but, use white if you want or sugar replacement if you wish.
Eggs - Large eggs. This is so that the recipe weight is correct, and you don't end up messing it up by putting too little egg. Organic if possible, but cake is very forgiving to egg origin. If you prefer not to use or can't find large eggs, just use by the gram. Some shops even sell whole egg in cartons.
Flour - Plain all-purpose flour or nut flours work well. Try other types like wholemeal or ancient grains
Vanilla - I use fresh, but it's optional. Essence or extract is OK.
Spices - Ground ginger, ground cinnamon, nutmeg. Cardamom(optional), dried orange peel powder(optional)
Baking soda and baking powder -Most good cake recipes use both.
Salt -Always add to sweet baking a small pinch. Any salt will do. Just make sure it's real salt.
Vegetables and fruits -The nicest carrots you can afford. Carrot cake after all, no. Orange for syrup, fresh ginger for the topping.
Nuts -I used walnuts, but go for pecan or hazelnuts as the next best. Any nut will do.
Dairy -Cream cheese and butter for the frosting, although you could leave out the butter with no adverse effect.
Purée - Carrot purée is preferred. Otherwise, sour cream also works good.
Instructions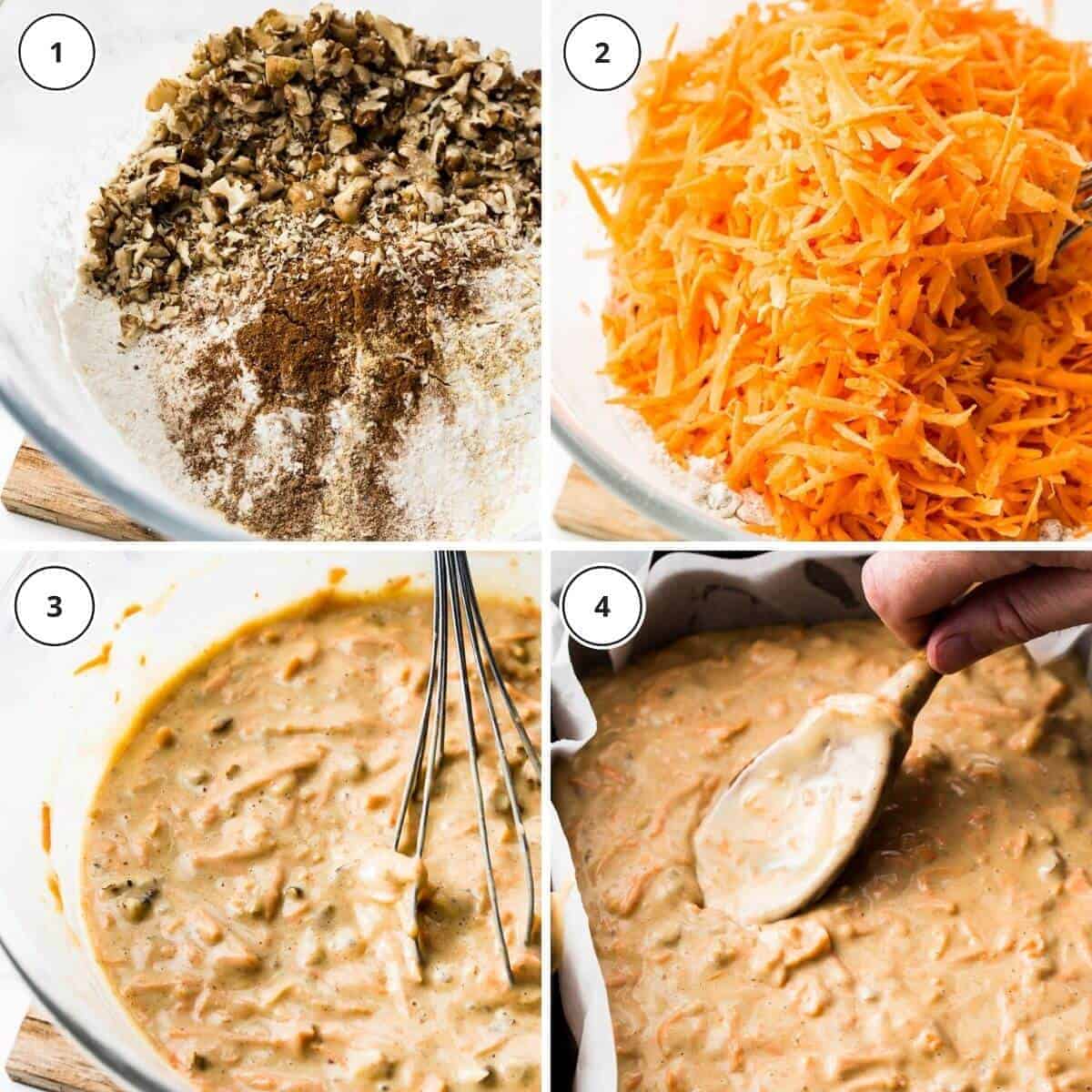 Heat the oven to 170 °C or 335 °F.
Line your baking pans with oiled greaseproof baking paper. I usually oil the pan and the paper. Try it and you will see the method in my madness.
Sieve the dry ingredients. Roast cool and roughly clean the walnuts. Chop them up roughly. Mix together the fat, sugar, eggs, vanilla, and grated carrots. Mix everything until you have a homogenous cake batter.
Pour the batter into a parchment-lined baking tin or round cake pan if you wish. Bake for 40 to 50 minutes.  
The cake is cooked when the internal temperature reads above 90 °C(194 °F) or until a wooden skewer or toothpick inserted in the middle of the cake comes out clean. This is ancient, so I urge you to buy a thermometer. They only cost about 5 dollars.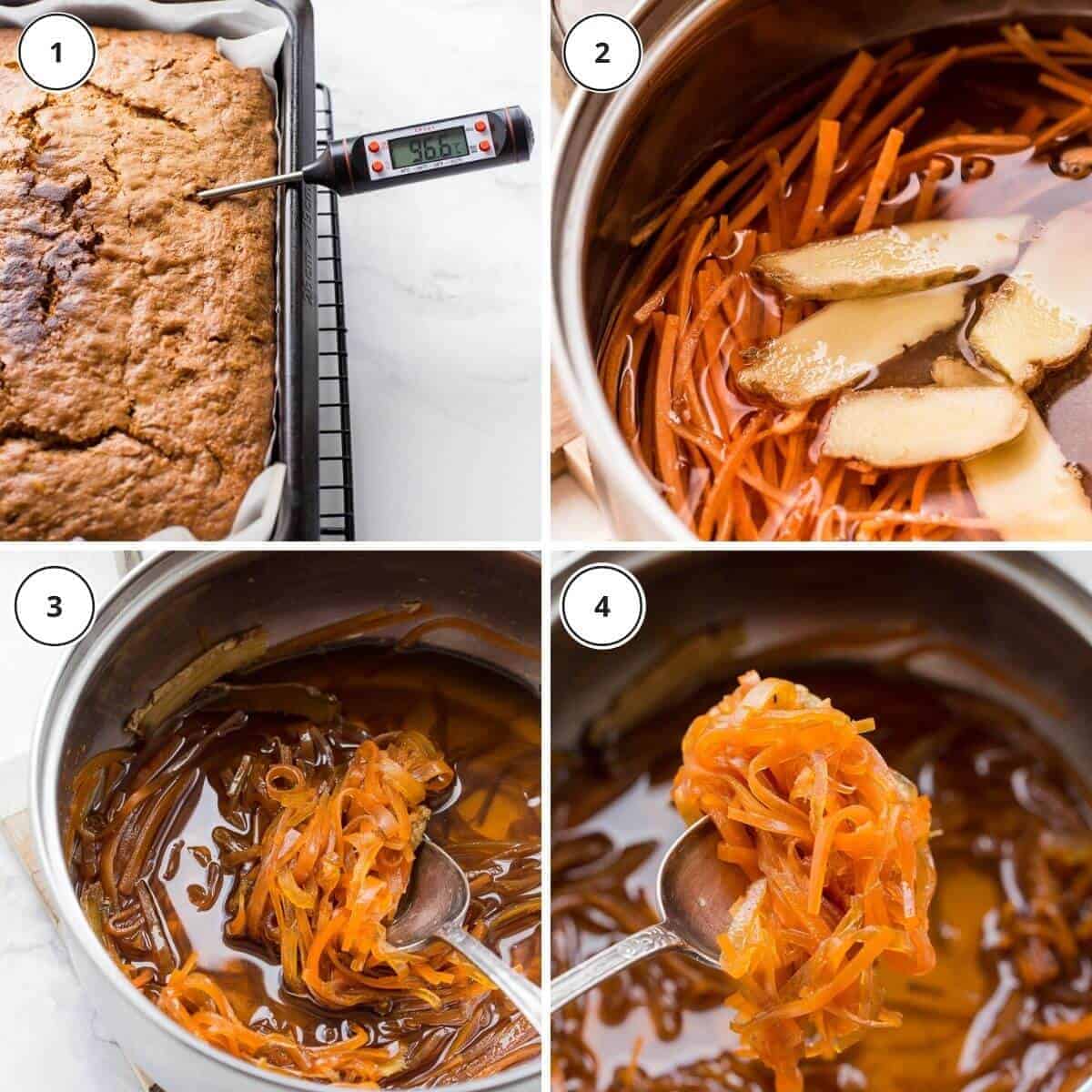 While the cake is baking, make the cake topping. Place all the ingredients for the topping into a small pan and lightly simmer until the carrot is soft, and the water has almost all evaporated. 
Place the syrup ingredients in another small pan. Warm up and keep to the side until the cake comes out of the oven. You then drizzle this syrup all over the cake while still hot.
As soon as the cake is done poke a few holes with a toothpick and drizzle the orange liquid all over it.
Remove the cake from the pan/tin and let them cool on a wire baking rack until completely cooled down.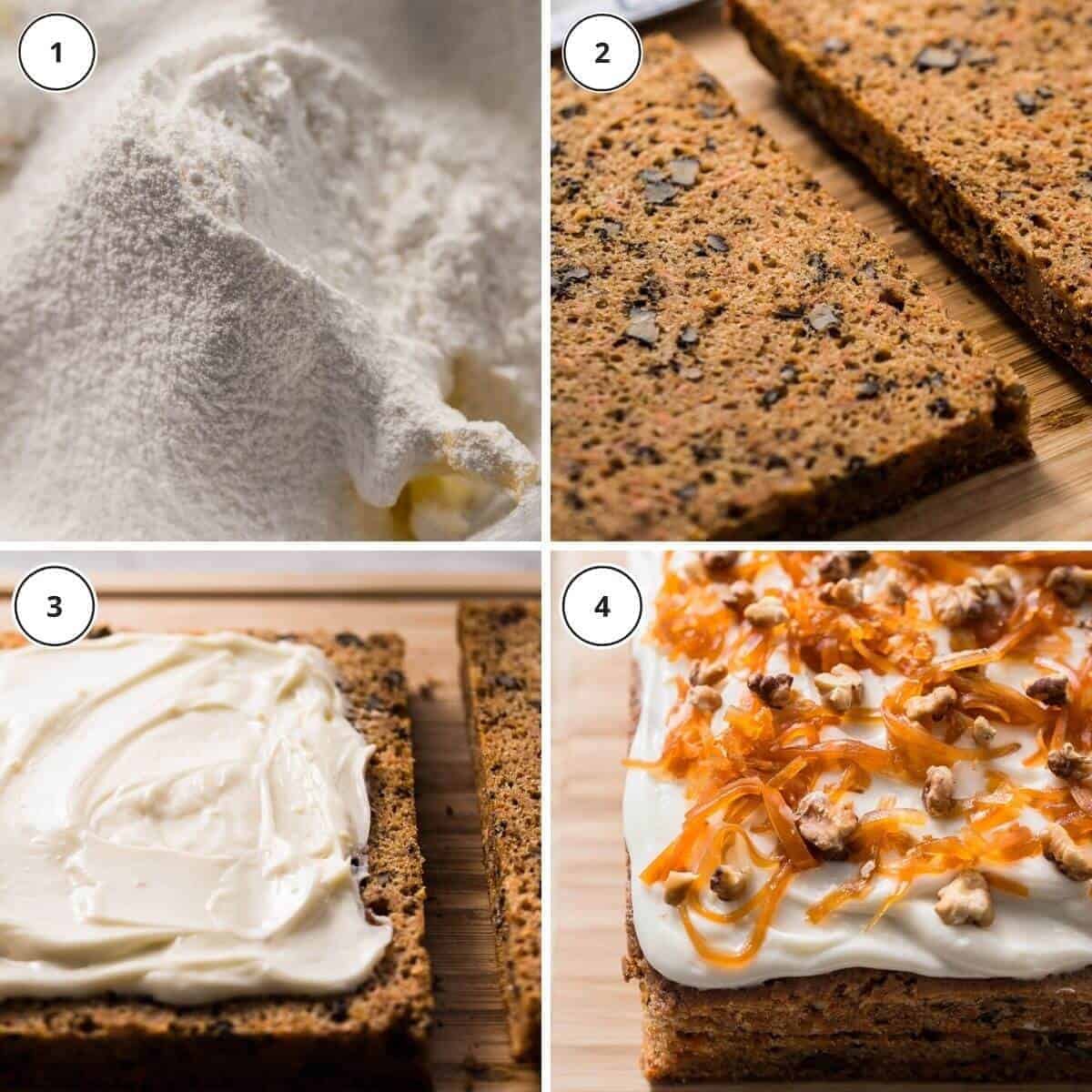 While the cake is chilling down make the frosting by sifting the icing sugar and mixing with room temperature cream cheese and butter until fluffy.
Place the cake in the freezer to chill completely.
Chill down the frosting in the fridge.
Cut the cake in half or bake two cake shown in the video.
Frost the layers generously taking care not to damage the cake.
Top with the carrot topping and roasted walnuts.
You could substitute the confit carrot with store-bought orange or carrot marmalade or the walnuts with pecans or any other nut you fancy.
Video
Vegan
Replace the egg with 30g linseeds(flaxseed flour) soaked in 60g water for 30 minutes.
Add 150g coconut milk.
Use vegan cream cheese instead of dairy cream cheese.
Use vegan butter instead of dairy butter.
Gluten-free
Regular flour for almond flour or any other nut flour.
Gluten-free baking powder for regular baking powder
Variations
Other nuts - Pecan nuts, hazelnuts, pistachios and almonds or a mix of these can be added instead of walnuts - Roast and crush some extra for the carrot cake topping.
Dried fruit - Think dried apricots, raisins, sultanas, dates, dried prunes. Chop up some and add to the carrot cake mix.
Like coconut? Add some toasted coconut powder or chopped up flakes or replace half the sour cream with coconut cream.
Carrot cake spices – Up the spices already in this recipe. Add some like star anise, cardamom or dried ground orange peel. 
Carrot cake with apple sauce – Replace the sour cream with apple sauce, carrot puree or pear puree. Any will do.
Cake made with nut flour – Replace the normal flour with almond flour or do half almond half all-purpose flour.
Carrot cake frosting – Make a dairy-free frosting by bringing to the boil 400 mililitres coconut milk, 50 grams sugar, 100 mililitres water and 6 grams agar-agar while whisking. Set in the fridge and blend to a smooth gel when cooled down. Spice up a classic cream cheese frosting by adding some ground cinnamon and ginger powder.
Fresh fruit – For a carrot cake with pineapple add some tinned pineapple pieces into the mix. Just coat in a bit of flour first.
Upside down pineapple carrot cake – Lay some pineapple pieces on the bottom of the baking tin or tray. Pour and bake the mix on top of pineapples and flip upside-down when done.
More ways to use carrot cake
Cupcakes - Use this recipe to make cupcakes. Just bake in cupcake forms.
Carrot bread  - Remove the icing/frosting and reduce the sugar to 50g. Bake as instructed and you have a carrot cake bread.
Carrot loaf – Bake this mix in a loaf pan or bread tin. The frosting is optional.
Overnight oats  - Soak oats as normal with coconut milk, water, juice or mix of these. When done crumble up some carrot cake and stir trough or sprinkle on top.
Ice cream – Make fresh vanilla or yoghurt ice cream and stir in some crumbled up carrot cake. For a cheat ice cream use store-bought vanilla ice cream and stir some broken up carrot cake through it.
Muffins – Same as for carrot cake cupcakes. Just top with some muffin streusel and bake in muffin forms.
Trifle – Replace the usual sponge cake with carrot cake. Use in alternate layers to layer your carrot cake trifle.
Smoothie - Make a smoothy by blending up with almond milk or orange juice with a pinch of cinnamon or ginger and zesting of orange rind. It's good. Try it.
With orange – This recipe includes orange rind and juice in the syrup. You could boil an orange in some sugary water until completely tender. Blend it up and use instead of the sour cream. Add orange zest to the mix and also some confit orange rind or marmalade as a topping.
Cheesecake – Use up some old carrot cake by mixing up with classic vanilla cheesecake recipe and baking at 90C for 2 hours or until just set. Soak some more carrot cake with orange or carrot syrup or even a touch of Cointreau. Use as a topping for cheesecake.
Frequently asked questions
How many calories are in carrot cake?
This recipe has 887 calories which means 1 portion is about 110 calories.
How to make carrot cake moist?
Use a good recipe like this one. Make sure your initial batter is not too dry. My pro tip is to always make a little syrup and drizzle over the cake as soon as they come out of the oven.
Why cake has fallen in the middle?
Don't open the oven door too soon. Don't use too much raising agent. You waited too long before getting it into the oven.
How to know when a cake is done baking?
Use a thermometer and check that the temperature has risen above 90°C or 194°F. Alternatively, do it like a Neanderthal by sticking a toothpick into the center until it comes out clean.
Can it be frozen?
Any cake can be frozen. Just make sure it's covered airtight and stored in the freezer for up to 3 months.
How to store it?
Cakes should be stored in the fridge covered airtight to avoid spoilage. 
How long does carrot cake last?
If left out of the fridge and decorated with cream cheese frosting, only 6 hours. For safety reasons. Best stored in the fridge covered airtight. Like this, it will last for up to 4 days. For longer storage freeze.
Related recipes
Useful equipment for this recipe
This site contains affiliate links. I may earn a tiny commission on qualifying purchases at no extra cost to you. By bookmarking these links you help support the upkeep of this site.
If you found this post helpful or have learned something, comment, subscribe, and follow me on social platforms for more tasty recipes.
Recipe
Best Carrot Cake Recipe in the World
This is the best carrot cake recipe in the world. I have tried hundreds and cooked hundreds more. For the Royal's of England to the heads of state in Russia.  
Ingredients
Instructions
Prepare your baking pans. Line your baking pans with oiled, grease proof baking paper. I usually oil the pan and the paper. Try it, and you will see the method in my madness.

Heat the oven to 170 °C or 338 °F.

Make the cake batter. Sieve the dry ingredients. Roast cool and roughly clean the walnuts. Then chop them up roughly. Mix together the fat, sugar, eggs, vanilla, and grated carrots. Mix everything up with a spoon until you have a homogenous cake mix.

Pour your cake batter into the lined baking tin or round cake pan if you wish. Bake for 40-50 minutes. Different oven and pans cook at different times.

While the cake is cooking. Make the cake topping. Place all the ingredient for the topping into a small pan and lightly simmer until the carrot is soft, and the water has almost all evaporated.

Check the temperature with a temperature probe. It should read above 90 °C or 194 °F. Or until a wooden skewer or toothpick inserted in the middle of the cakes comes out clean. This is ancient, so I urge you to buy a thermometer. They only cost about 3 dollars.

Remove the cake from the pan/tin and let them cool on a wire baking rack until completely cooled down.Warm up the orange liquid in a pan. Poke a few holes all over the warm cake with a toothpick. Pour the hot orange liquid all over the cake.

While the cake is chilling out and cooling off. Make the frosting by sifting the icing sugar and mixing with room temperature cream cheese and butter.

Assemble and frost the cake.

Once the cake reach room temperature, cut it in half horizontally. You could cut off the sides and level the top if you want. I usually just do that to have little nibble and then end up with little snacky bits. Place the first cake on serving platter or wooden board, add a large spoon full of frosting to the first layer. Place the other half on top and top up with more cream cheese frosting. Finish by sprinkling some roasted chopped nuts and add the carrot confit.
Video
Notes
If you want to make a tall cake as I made in the video, DOUBLE the cake batter. The rest stays the same as there is plenty of frosting, syrup and topping.
Use a 22 cm or 8-inch spring form cake pan if making a round cake. For a rectangle, use a 26 cm by 19 cm(10 inches by 7.5 inches) cake pan.
Top tip - For ease of icing cakes. Place them in the freezer or fridge for a few minutes. NEVER PUT ICING/FROSTING ON A WARM CAKE. IT WILL MELT.
Safety - Always store finished cakes covered in the fridge, especially if it contains frosting or decor that includes fresh dairy. (Like the cream cheese in this cream cheese frosting)
Freezing - Carrot cake freezes well and will last for up to three months if covered airtight.
Cooking times - Ovens cook different and people use different shaped trays and tins to bake in. The most foolproof way to check if a cake is done is to check the internal temperature. It should read above 90C or 194F. Alternatively, the age-old stick-a-tooth-pick or skewers method applies. If it comes out clean, it's done.
Add-ins - Change the type of nut to any type your heart desires or add in some seeds. You can also add dried fruit or citrus peel. If using dried fruit, make sure to soak it a bit, so the dried fruit does not end up removing moisture from the cake.
Add-ons - Cream cheese frosting is classic, but you can change the frosting to buttercream and add whatever you want on top. Sweet confit veggies or fruit work a treat. 
Sour cream substitute - It's an age-old trick to put some sort of purée or substance with high water content in cakes to keep them moist. You can use anything with a similar consistency to apple purée or sour cream. For carrot cake, carrot purée makes perfect sense. 
Changing the shape - You can use this batter and cook it into little cupcakes, muffins, bunt cakes, whatever shape your heart desire. Even bake many super flat layers and build it up like a layer cake with frosting between each layer. The most important thing to remember is that the cooking time will vary for each. Thinly spread layers will cook in a few minutes, while cupcakes and muffins will take up to 15 minutes depending on their size. The best and most foolproof way is to always check the internal temperature with a temperature probe. Above 90C or 194F, and you're good to go.
Nutrition
Serving:
1
g
Calories:
945.21
kcal
Carbohydrates:
114.55
g
Protein:
12.75
g
Fat:
50.95
g
Saturated Fat:
13.13
g
Trans Fat:
0.3
g
Cholesterol:
140.81
mg
Sodium:
622.53
mg
Fiber:
5.29
g
Sugar:
77.32
g
Vitamin A:
112.22
IU
Vitamin C:
21.17
mg
Calcium:
23.11
mg
Iron:
19.57
mg
Keywords:
carrot cake, cream cheese frosting, walnut and carrot cake
Interested in baking? Find your dream job with Jooble!