Among all the dressings I rely on to elevate simple salads and many other dishes, this Rosemary Vinaigrette holds a special place.
With a well-balanced blend of zingy lemon, aromatic rosemary, and umami-packed roasted garlic, it's the go-to condiment that brings life to many everyday dishes.
Rosemary dressing is naturally vegan and will keep well for weeks in the fridge. It's super easy to make in a blender or even by hand if you don't have one.
I often serve it with simple vegetables like boiled beets, roasted pumpkin, or baby potatoes.
However, it's also delicious on meat and fish like fire-roasted pork belly, juicy chicken breast, salmon fillet, or bacon-wrapped pork tenderloin.
If you're looking to enhance a simple green salad, then this is the go-to homemade dressing you'll want to try.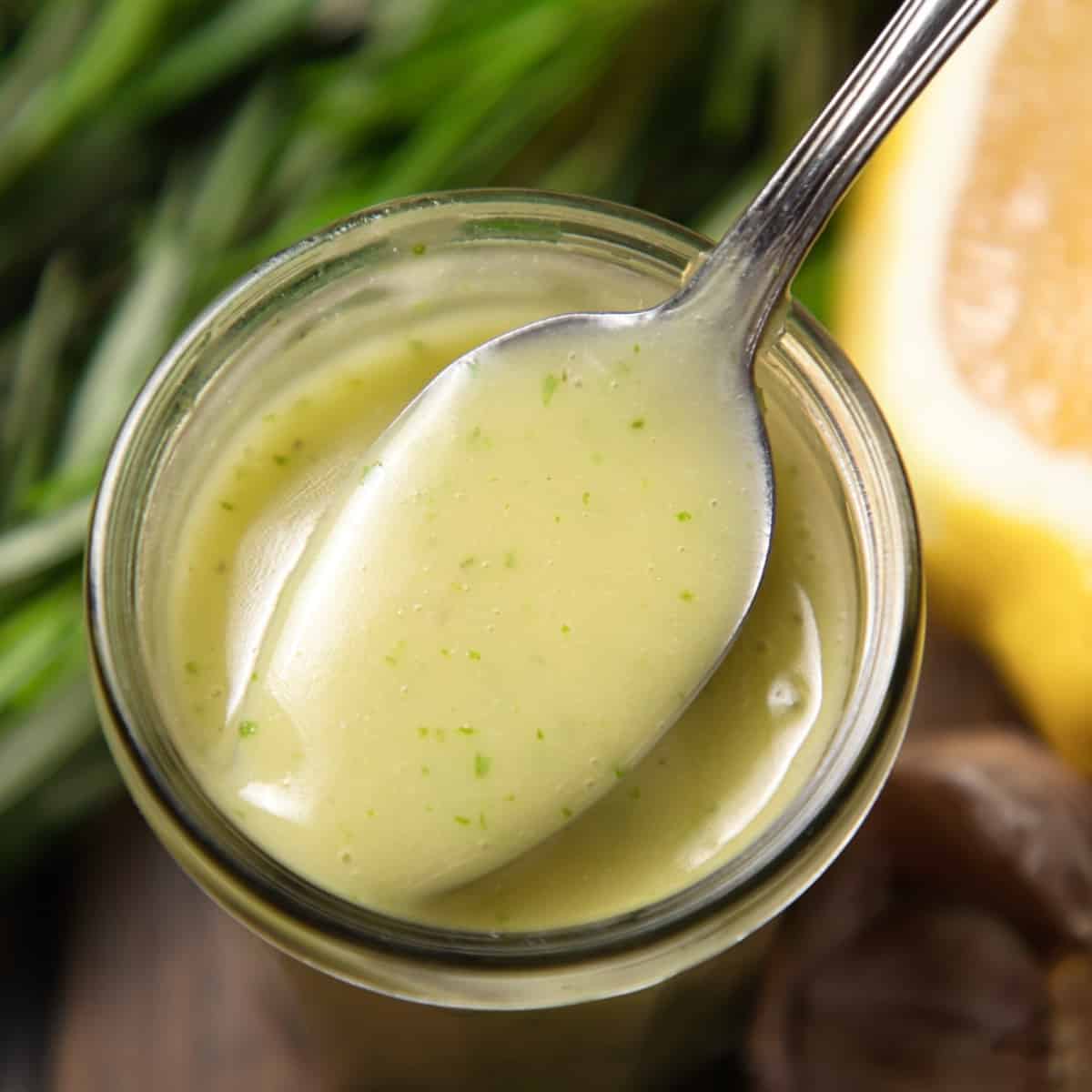 Jump to:
Ingredients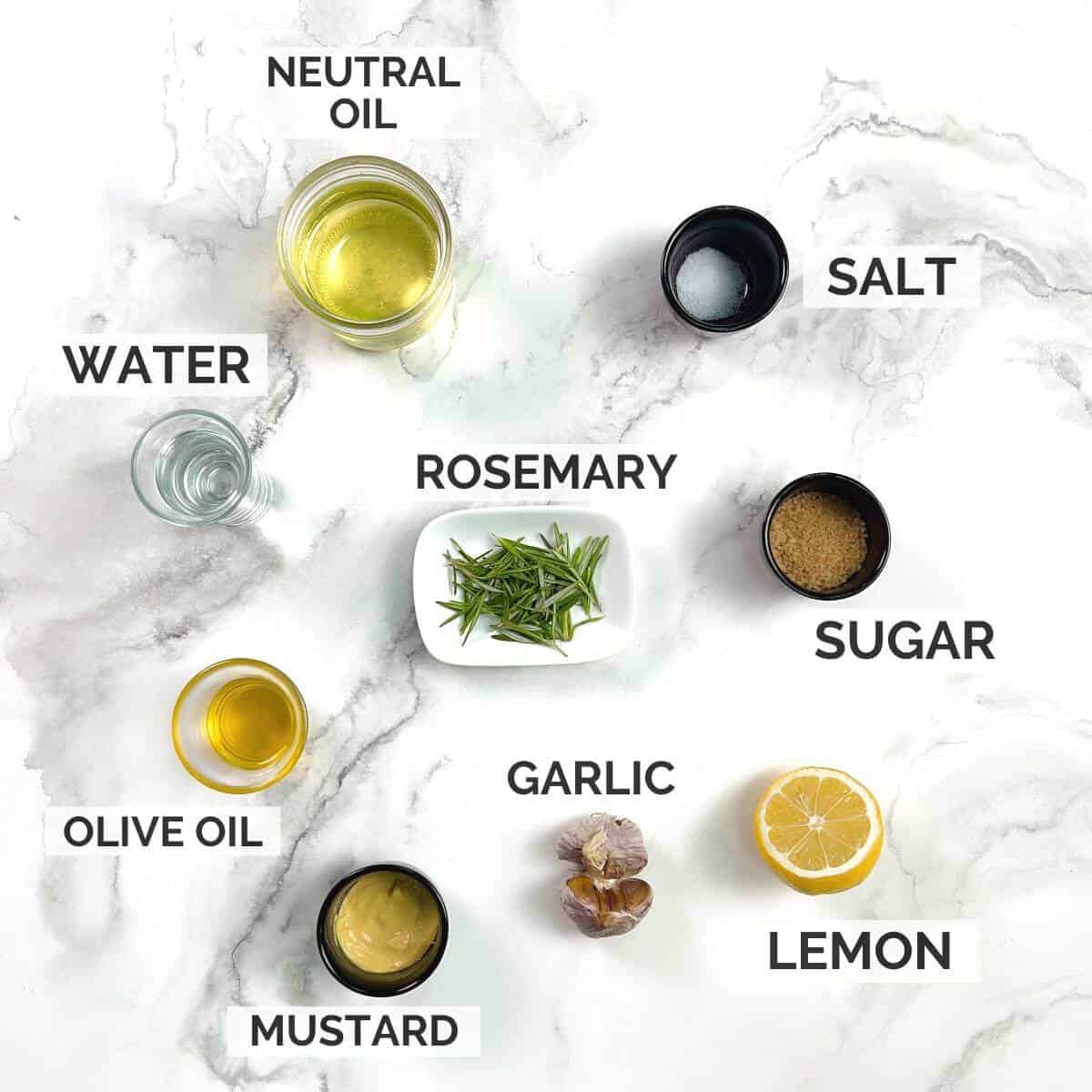 Rosemary - Use fresh rosemary for the vinaigrette. Dried rosemary will not work.
Oils - I use a blend of neutral oil and extra virgin olive oil. It means the dressing won't be too bitter yet still healthy and creamy.
Garlic - I use roasted garlic because it does not have that raw garlic taste, and also because it adds richness and umami raw garlic lacks.
Lemon - You could use white wine vinegar or apple cider vinegar, but I find lemon to work best and adds a beautiful fragrance that compliments the rosemary and garlic.
Sugar - I use brown sugar to balance the flavour, but you can use honey, maple, or agave instead.
Mustard - Smooth Dijon mustard works best, but you can also use the semi-grainy type of Dijon instead. English mustard or American won't work.
Instructions
Let's have a look at how to make rosemary vinaigrette. It could not be simpler than blending together a few ingredients.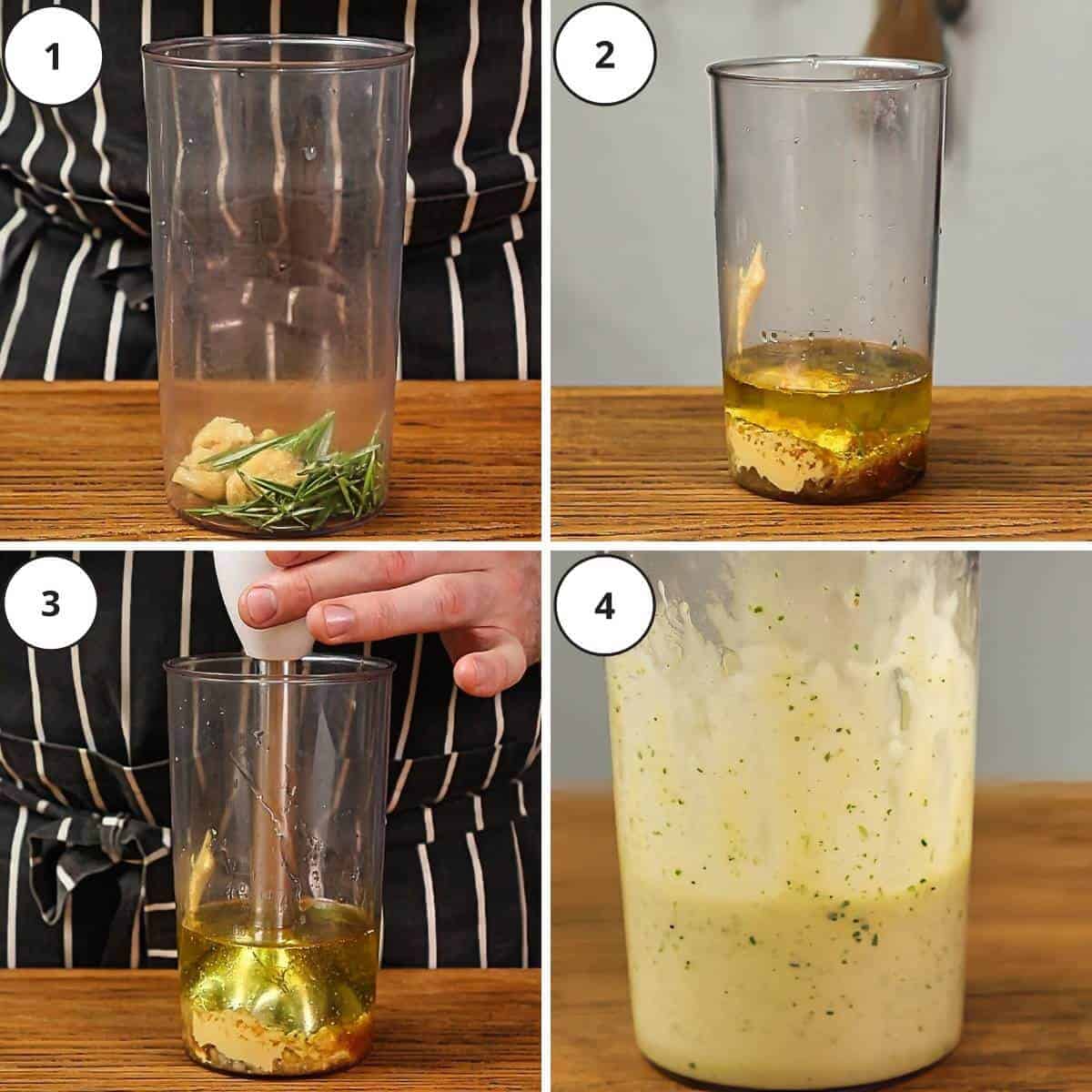 Prepare the Garlic: Start by making the roasted garlic. To do this, wrap an entire head of garlic in foil and place it in the oven. Roast at 180 °C or 356 °F for 15 minutes. Once it's nicely roasted, allow it to cool down. Then, squeeze out the soft, roasted garlic into a blender jug.
Add the Rosemary and Other Ingredients: Once you have the garlic in the blender, it's time to add the rosemary. Carefully strip the rosemary leaves off their stalks and add them to the blender jug. Now, add the mustard, sugar, salt, lemon juice, and oils to the mix.
Start Blending: With all your ingredients in the blender, it's time to create your vinaigrette. Start blending the mixture and slowly add in the water as you blend. Be sure to pour slowly to ensure everything mixes well.
Blend Until Smooth: Keep blending until your dressing is smooth. You'll know it's ready when you can see little bits of green rosemary leaves running through the dressing. The consistency should be smooth, and the aroma will be irresistible.
Use it on your favourite salad, or store it in the fridge for later use.
Video
Tips for success
Always use fresh rosemary and wash the leaves in cold running water before using
Use a mild olive oil with a low level of bitterness.
Stick to using Dijon mustard instead of English or American.
Alternatives
Vinegar - We've talked about substituting lemon juice for vinegar. You can also use white balsamic or aged balsamic instead. If using dark balsamic, the dressing will obviously be dark instead of creamy.
Citrus - You can use lime instead of lemon, or orange to make a rosemary orange dressing.
Sweetener - Maple syrup, agave, or honey can be substituted for sugar. If you want a keto rosemary dressing, use a touch of stevia instead.
Herbs - Keep it simple when adding herbs to this, as the vinaigrette is well-balanced as is. Complimentary herbs like thyme or tarragon will work great, though.
Storage instructions
Always store homemade dressing or vinaigrette in the fridge in an airtight container in order to stay freshest for longer.
Rosemary dressing will last for many weeks in the fridge.
It can also be stored in the freezer.
Once defrosted, it will need to be blended again to bring the emulsion back together.
Useful equipment
Related recipes
This site contains affiliate links. I may earn a tiny commission on qualifying purchases at no extra cost to you. By bookmarking these links you help support the upkeep of this site.
If you found this post helpful or have learned something, comment, subscribe, and follow me on social platforms for more tasty recipes.
Recipe
Rosemary Vinaigrette With Lemon And Dijon (Video)
Rosemary vinaigrette with lemon and Dijon mustard is an easy to make everyday salad dressing you can use on salads, fresh or roasted vegetables, as well as meats and fish.
Ingredients
4

g

(

2

teaspoons

)

rosemary

-

leaves only

120

g

(

½

cup

)

sunflower oil

-

or another neutral oil

20

g

(

1 ½

tablespoons

) olive oil -

note 1

30

g

(

2

tablespoons

)

lemon juice

-

note 2

20

g

(

1 ½

tablespoons

) brown sugar -

note 3

20

g

(

1 ⅓

tablespoons

) dijon mustard -

note 4

3

g

(

⅛

teaspoons

) salt

40

g

(

2 ⅔

tablespoons

)

water

20

g

(

2 ½

tablespoons

)

garlic

-

baked - note 5
Instructions
Start by making the roasted garlic.

Wrap a whole head of garlic in foil and roast it in the oven at 180 °C or 356 °F for 15 minutes. Once cooked, let it cool down and squeeze it into a blender jug.

Strip the rosemary leaves off the stalk and add that to the garlic.

Next, add the mustard, sugar, salt, lemon juice, and oils.

Start blending and slowly pour in the water.

Once blended, it will be smooth and the rosemary should be little bits of green running through the dressing.
Video
Notes
Use a grassy green flavoured olive oil instead of a bitter oil for best results.
Lemon juice is preferred over vinegar. However, you can substitute the lemon juice for white wine vinegar or apple cider vinegar.
You can substitute the sugar for maple syrup, honey, or agave syrup. 
Use a smooth Dijon mustard for best results. Avoid using American or English mustard.
You can use raw garlic, but it won't be as good as baked garlic. If using raw garlic, only use one medium clove or 4 grams.
Storage instructions
Keep sealed airtight in the fridge. It will keep for weeks, or you can freeze it for longer storage. Once thawed, you have to blend it again to re-emulsify before using.
Nutrition
Serving:
20
grams
Calories:
92
kcal
Carbohydrates:
2
g
Protein:
0.2
g
Fat:
9
g
Saturated Fat:
1
g
Polyunsaturated Fat:
0.5
g
Monounsaturated Fat:
8
g
Sodium:
93
mg
Potassium:
14
mg
Fiber:
0.2
g
Sugar:
1
g
Vitamin A:
10
IU
Vitamin C:
1
mg
Calcium:
8
mg
Iron:
0.1
mg
Keywords:
rosemary dressing, rosemary vinaigrette, salad dressing