These Sourdough crêpes are made using sourdough discard from a sourdough rye starter. The perfect French-style pancakes to use with sweet or savoury crepe fillings like pumpkin cream cheese, strawberry jam or roasted eggplant dip.
They are delightfully light and soft with a slight tang. Perfect for breakfast with a hand full of berries, fresh cream and maple syrup.
You can make these homemade crepes straight away or let the batter rest in the fridge to make overnight crepes.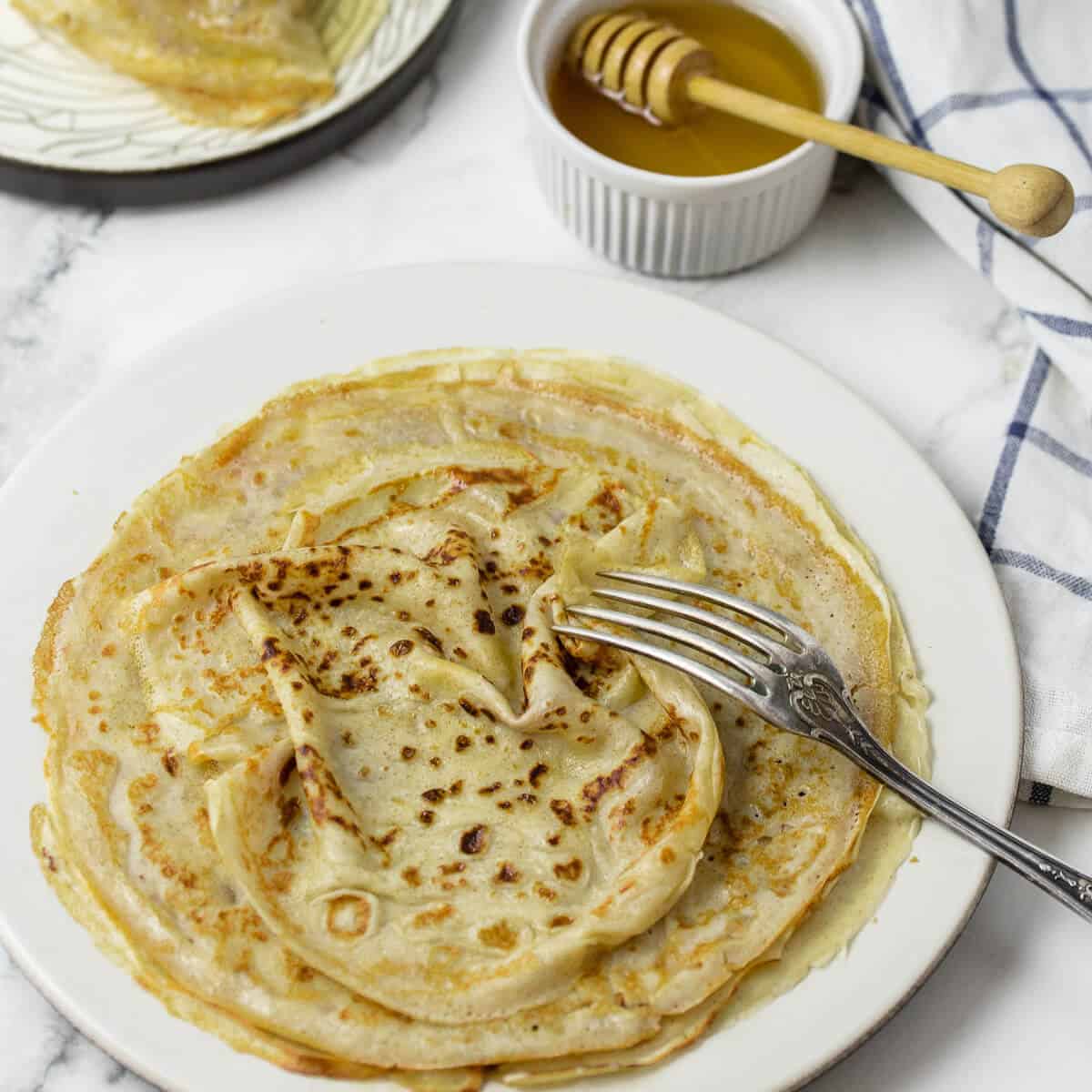 Jump to:
Why these are better than normal crêpes
Sourdough discard crêpes are naturally healthier than the usual ones as they are made with a natural sourdough starter which is packed with good bacteria that's beneficial for your overall health and vital for your immune system.
Making your own sourdough starter is a very simple process and you will always have a bit of sourdough discard that needs to be used.
This is one of the best ways to use sourdough discard and the resulting crépes are super delicious.
Same day version
Mix everything with a handheld blender or whisk until well combined.
Cover the mix and let it sit in a warm place for two hours until fluffy.
Gently give the batter a stir making sure not to knockout all the air.
Overnight version
Mix everything with a handheld blender or whisk until well combined.
Let it rest covered in your fridge overnight.
The next day let the batter sit at room temperature for 30 minutes before you cook it.
Gently give it a stir with a spatula without removing too much air.
Perfect batter concistency
Crêpe batter should be pretty runny and not nearly as thick as traditional American style pancake batter. It should be able to easily coat the bottom of your pan in an even thin layer.
If the batter is a bit stiff or thick simply add a touch more liquid. Whichever you're using. Buttermilk, milk, vegan milk, you get the point.
If your batter is too runny and the crêpes break simply add a touch more all purpose flour.
Your first crêpe is always a tester so adjust if need be after your first try.
How to pour the batter and cook it
Heat a non-stick crêpe pan on medium heat and brush with neutral oil. You don't want the oil to pool. A few drops is all we need.
Wait for the pan to heat up then pour a ladle of batter into the pan while shaking back and forth making sure the batter covers the bottom evenly.
Cook for 30 seconds on one side then carefully flip and cook another 30 seconds on the other side until evenly browned on both sides.
Fry the crêpes in baches. Stack them on top of one another on a plate brushing the top with butter after every crêpe is done cooking.
They keep well at room temperature for a few hours, just make sure to cover them airtight.
Serving suggestions
You could make sweet or savoury crêpes from this recipe.
A classic would be cream cheese, scallion and home-cured salmon gravlax.
For a sweet crêpe have it with fresh cream and homemade strawberry jam.
Variations
Vegan - Make it vegan by using a nut or grain milk as well as an egg substitute.
Flour - Substitute 10% of the regular flour for other flours like buckwheat flour, spelt flour or wholewheat flour.
Milk - Substitute the regular milk for buttermilk. This makes for a lovely creamy rich crêpe. Imagine the wonderful smell of freshly baked sourdough pancakes made with buttermilk and brushed with fresh butter and wonderfully sweet natural honey.
Frequently asked questions
Can I make the batter the night before?
Yes. Making the batter the night before will produce fluffier crêpes and they will be even more delicious.
Do you need to add baking soda?
If you want to make the batter straight away and cook it then you can add a touch of baking powder to make it a bit lighter.

Otherwise, your sourdough starter will be just fine especially if it's active or you're making the overnight crepes.
How long does it keep?
Once cooked you can keep them in the fridge sealed airtight for up to 5 days or store in the freezer for up to 3 months.
What to do if they break while cooking?
Add a touch more flour to strengthen the batter. Because it's sourdough there are live enzymes present that could affect the texture.
Useful equipment
Related sourdough recipes
If you found this post helpful or have learned something, comment, subscribe, and follow me on social platforms for more tasty recipes.
This site contains affiliate links. I may earn a tiny commission on qualifying purchases at no extra cost to you. By bookmarking these links you help support the upkeep of this site.
Recipe
Sourdough Discard Crêpes
Super easy and beginner-friendly sourdough pancake recipe. Packed with flavour and goodness from our home fermented sourdough starter. Loaded with probiotics and fibre for a healthy immune system.
Ingredients
100

g

(

⅔

cups

) all-purpose flour

70

g

(

¼

cups

)

sourdough starter

20

g

(

1 ½

tablespoon

) canola oil

2

g

(

½

teaspoon

) salt

2

g

(

½

teaspoon

) sugar

2

(

2

)

large eggs

325

g

(

1 ⅓

cups

) milk

Oil for frying and butter for brushing each pancake when done
Instructions
Mix together everything with a handheld blender or whisk until homogenous.

Heat a non-stick frying pan and brush with oil.

Fry the crepes in batches. Stack them on top of one another on a plate brushing the top with butter after every crepe is done cooking. Keep them covered with a piece of foil or plate turned upside down.
Notes
Store airtight in the fridge for 4 days or up to 3 months in the freezer.
Make sure to use a non-stick pan in good condition.
Nutrition
Serving:
45
g
Calories:
112
kcal
Carbohydrates:
12
g
Protein:
4
g
Fat:
5
g
Saturated Fat:
1
g
Polyunsaturated Fat:
1
g
Monounsaturated Fat:
2
g
Trans Fat:
1
g
Cholesterol:
45
mg
Sodium:
130
mg
Potassium:
87
mg
Fiber:
1
g
Sugar:
2
g
Vitamin A:
125
IU
Calcium:
54
mg
Iron:
1
mg
Keywords:
sourdoough discard crepes, sourdough crepes