No summer is complete without preparing a delicious batch of homemade strawberry jam. It will keep you company throughout the winter, whether you enjoy it on freshly baked scones with homemade clotted cream, or simply spread on a warm piece of toasted sourdough bread with butter.
Authentic homemade strawberry jam doesn't require the addition of pectin. In just a few easy steps, you can quickly whip up a delightful batch without any hassle. If you're interested in making it with pectin, you can find the detailed information in the recipe below.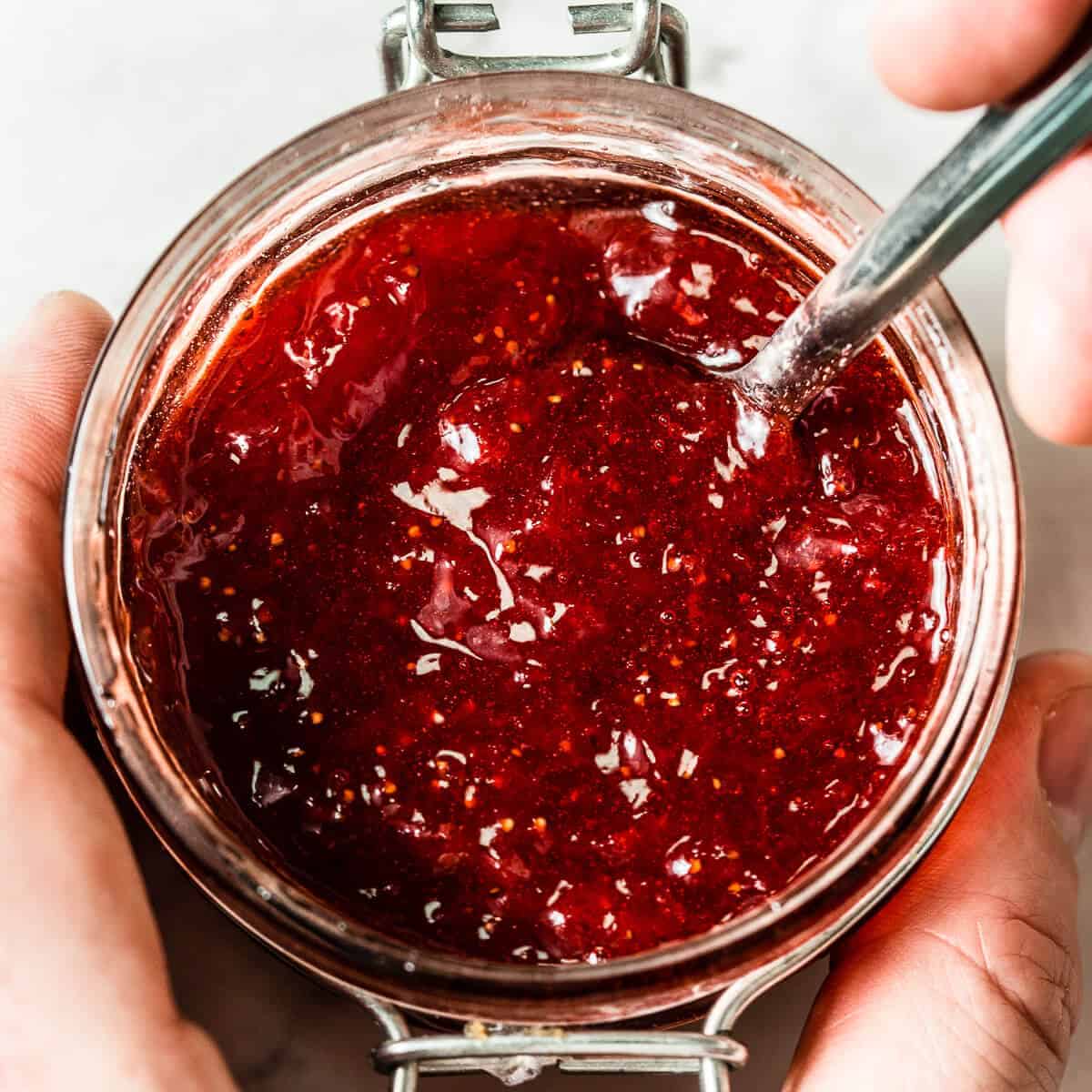 Jump to:
Is pectin necessary for making jam?
Pectin is responsible for giving jam its desired texture. It occurs naturally in fruit, with some fruits, like apples, containing higher levels of pectin compared to others, such as strawberries.
There's no need to add extra pectin since our goal is to activate the natural pectin already present in the fruit.
Say hello to acid! In this case, we use lemon juice, although you can also experiment with other acidic options like berry or hibiscus vinegar for a more sophisticated strawberry jam.
Jam vs jelly
Jam is made using whole fruit, while jelly is typically prepared with fruit juice or flavored sweet syrup.
Jelly is characterized by its smooth texture and translucent appearance, whereas jam contains small fruit chunks, giving it a slightly thicker consistency.
Both can be set using either naturally occurring pectin or added apple pectin.
Equipment needed
Ingredients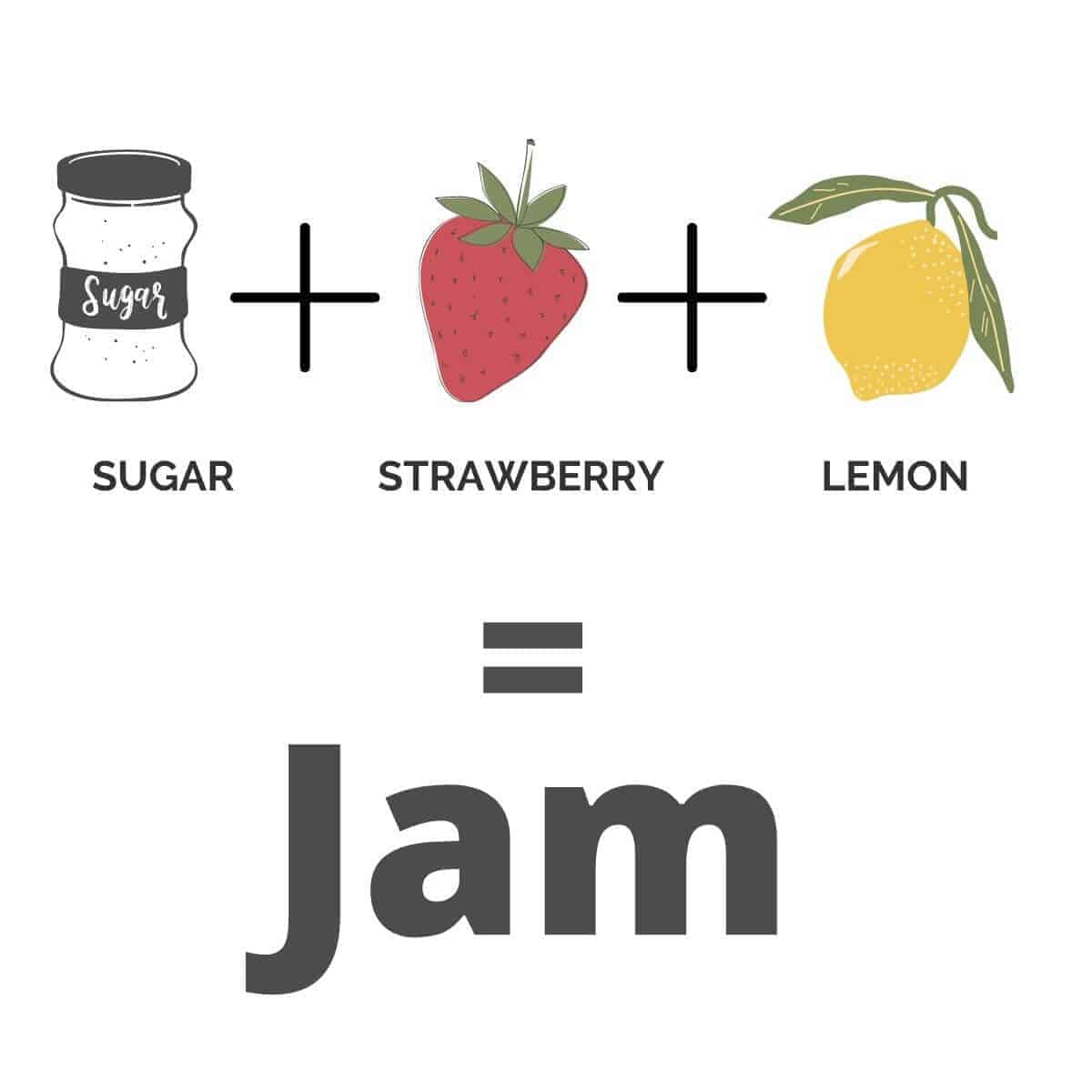 Strawberries - Fresh or frozen. If using frozen strawberries, ensure they are fully thawed.
Lemon - Unwaxed.
Sugar - Regular white caster sugar.
Refer to the recipe for specific quantities and substitute options.
Instructions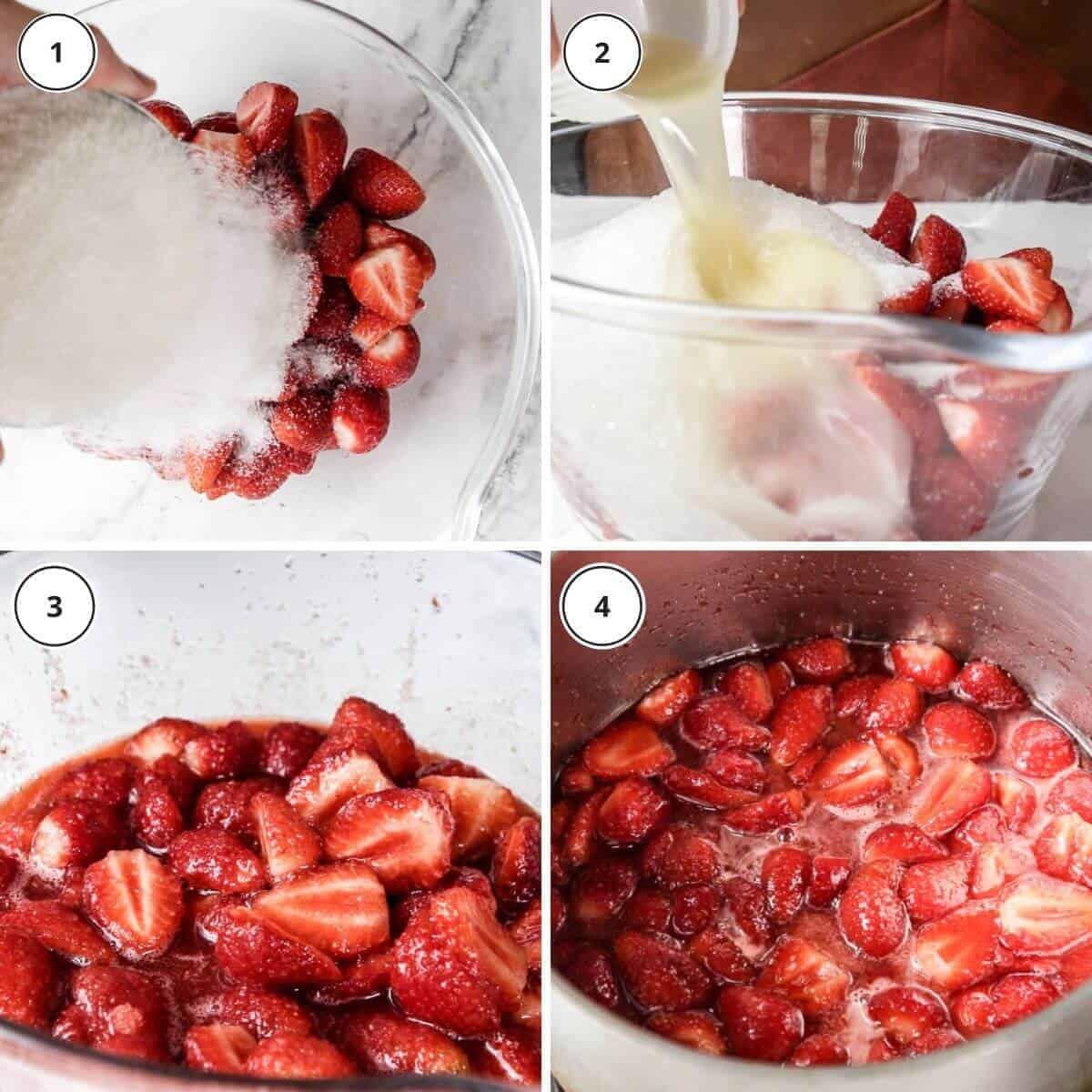 Remove the green stalks and leaves, and halve the strawberries lengthwise.
Zest one lemon and set it aside. After zesting, juice the lemon.
Place the strawberries in a bowl and add the sugar and lemon juice. Mix everything thoroughly.
Cover the bowl and let it sit at room temperature for 1 hour.
Transfer the strawberries to a large pot or pan and bring them to a steady rolling boil.
Some foam may form on the surface, which you can choose to skim off. If you plan on canning the jam, removing the foam ensures accurate headspace.
Stir the mixture frequently, ensuring it doesn't stick or burn.
Use a temperature probe to measure the temperature. It should reach 104 °C (220 °F). Alternatively, you can perform a plate test: place a small amount of jam on a plate, freeze it for 10 minutes, and check if it sets.
Once cooked, you can either can the jam or store it in the refrigerator.
Allow the jam to cool down and set completely for around 12 hours before serving.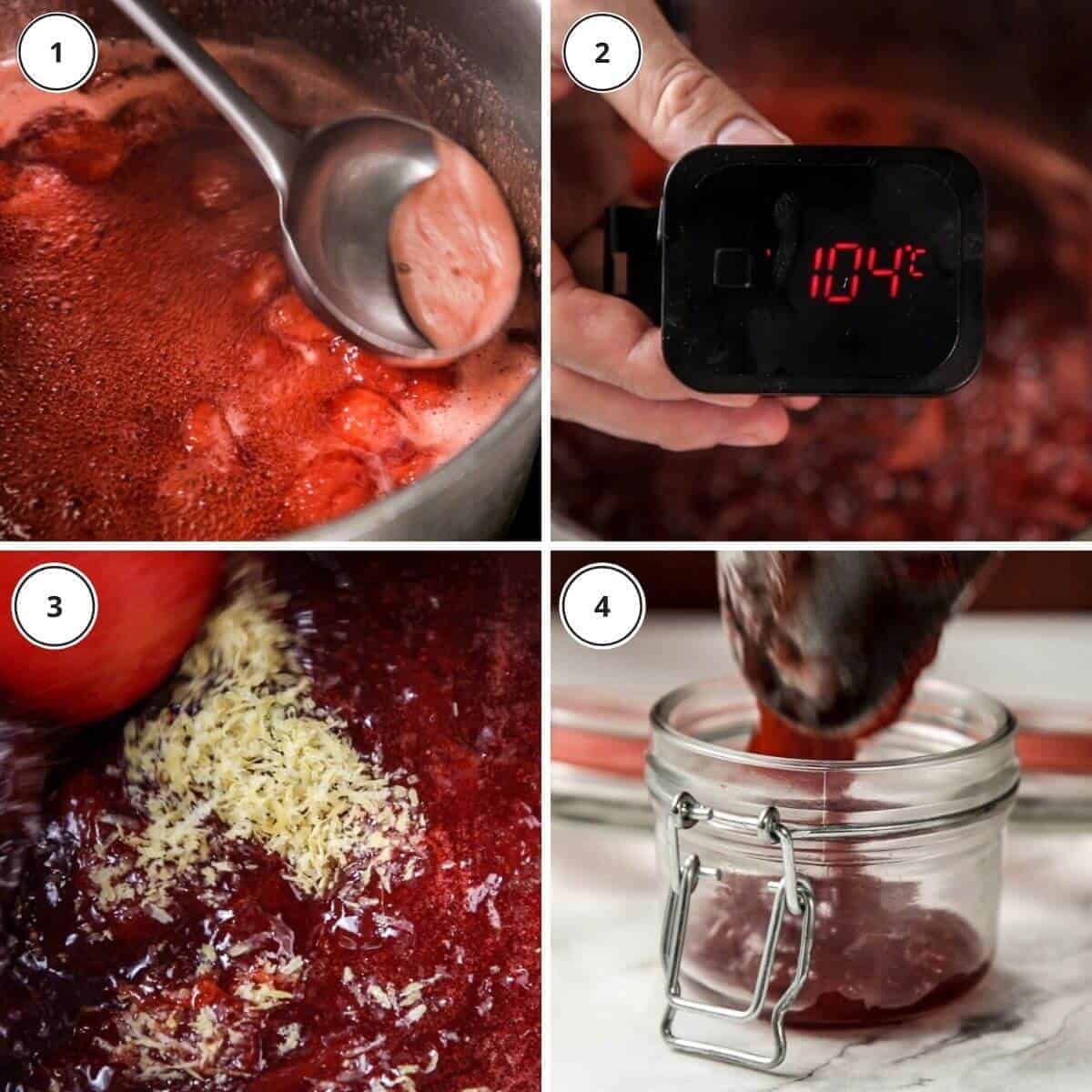 Storage options
Canning - Detailed instructions provided below.
Vacuum packing - Opt for small batches and store them in the refrigerator.
Freezing - Although not ideal, it is an option if no other storage method is available.
Regular container in the fridge - The jam will last for up to 2 weeks.
Canning safety
Sterilize all equipment.
Ensure the canning jars and the jam are hot when filling the jars.
Leave adequate headspace at the top of each jar to allow for proper sealing. Check that the rubber seals fit correctly and are undamaged.
Seal the jars immediately and allow them to cool down, creating a strong vacuum.
While refrigeration is preferable, the jam can also be stored at room temperature.
Once opened, canned preserves must be stored in the refrigerator and consumed within 4 days.
Tips for success
Use seasonal, ripe strawberries for the best flavour and natural pectin content.
Don't skip the maceration step as it helps release the natural juices from the strawberries and aids in proper cooking.
Always add the lemon juice at the beginning to prevent diluting the jam if added at the end.
Keep a close eye on the jam while cooking and stir it frequently to prevent over-boiling or burning.
The most accurate way to determine readiness is by using a temperature probe.
Variations
Vanilla - Enhance your strawberry jam by adding fresh vanilla seeds for an extra touch of luxury.
Acid - Experiment with different acids like raspberry vinegar or lime instead of lemon juice.
Flavourings - Explore unique flavours by adding a drop of rose water or fresh rose leaves. Serving suggestions
Serving suggestions
With traditional British scones and homemade clotted cream or warm buttered and toasted English muffins or sourdough flax seeds bread.
Frequently asked questions
Can you use frozen strawberries to make jam?
Yes, just ensure that the strawberries are fully thawed before using them.
What to do if the jam won't set?
Not all jams will have a firm consistency. This is due to variations in natural pectin levels among different strawberry varieties and fruits in general. If you prefer a firmer jam, you can try boiling it for a little longer. Alternatively, you can refer to the pectin-based instructions in the recipe.
Can I use this recipe for other fruits?
Absolutely! This recipe works well with any fruit, but keep in mind that the texture may vary depending on the fruit you choose.
Related recipes
This site contains affiliate links. I may earn a tiny commission on qualifying purchases at no extra cost to you. By bookmarking these links you help support the upkeep of this site.
If you found this post helpful or have learned something, comment, subscribe, and follow me on social platforms for more tasty recipes.
Recipe
Easy Homemade Strawberry Jam Without Pectin
Delicious not overly sweet natural strawberry jam made with seasonal strawberries and no added pectin.
Ingredients
Instructions
Rinse the strawberries under cold running water.

Remove the green stalks and leaves and halve them lengthways

Zest one lemon and set aside. Juice it after you've zested it.

Place the strawberries in a bowl and add the sugar and lemon juice.Thoroughly mix the fruit, sugar and lemon juice.

Cover and let it sit for 1 hour at room temperature.

Place the strawberries into a large pot or pan and bring them to a rolling steady boil.Some foam will rise to the top. You can skim this off if you want but it's optional. If you plan on canning it, it helps to remove the foam so the free headspace needed is accurate.

Stir the mix often and keep watching it so that it doesn't catch or burn.

Measure the doneness by preferably using a temperature probe. It should reach a temperature of 104°C or 220°F. Alternatively, place a bit of jam on a plate, place it in the freezer for 10 minutes and if you draw a line through it, it should stay put. When it's done you should can it or move it to the fridge.

You should give the jam a good 12 hours to completely cool down and set before serving.
Video
Notes
To make this recipe with pectin add 12 grams or 1

 tablespoon

of pectin with the sugar and mix it well. Follow the rest of the steps as stated. This will give you a completely set strawberry jam.
See post for variations and alternative flavours.
See post for canning instructions.
Best stored in the fridge. 
If not canned or vacuum-sealed it will last for up to 2 weeks.
Nutrition
Serving:
30
g
Calories:
133
kcal
Carbohydrates:
34
g
Protein:
1
g
Fat:
1
g
Saturated Fat:
1
g
Polyunsaturated Fat:
1
g
Monounsaturated Fat:
1
g
Sodium:
1
mg
Potassium:
81
mg
Fiber:
1
g
Sugar:
32
g
Vitamin A:
6
IU
Vitamin C:
31
mg
Calcium:
9
mg
Iron:
1
mg
Keywords:
how to make jam, strawberry jam without pectin