Jump to recipe
This fresh fruit salad recipe is the only one you need. What could be better than an ice-cold melon bowl filled with super sweet berries and cherries? To jazz it up a bit for those of you who find recipes for fresh fruit salad boring I've added a little something special...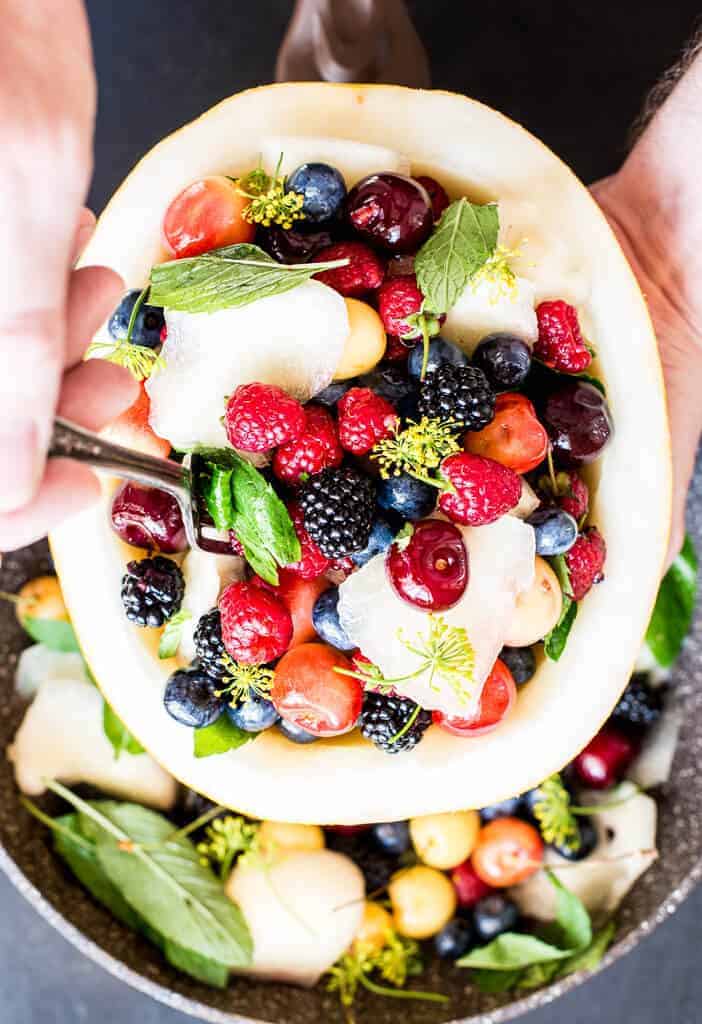 I have to let you in on a small secret. I never intended on putting a fresh fruit salad on this blog.
Reason being...
There are millions of fruit salad recipes out there.
What changed my mind?
Nostalgia. Let me explain.
I walked around the market buying oh-so-sweet berries and cherries and stumbled upon a special ingredient.
Dill blossom!!!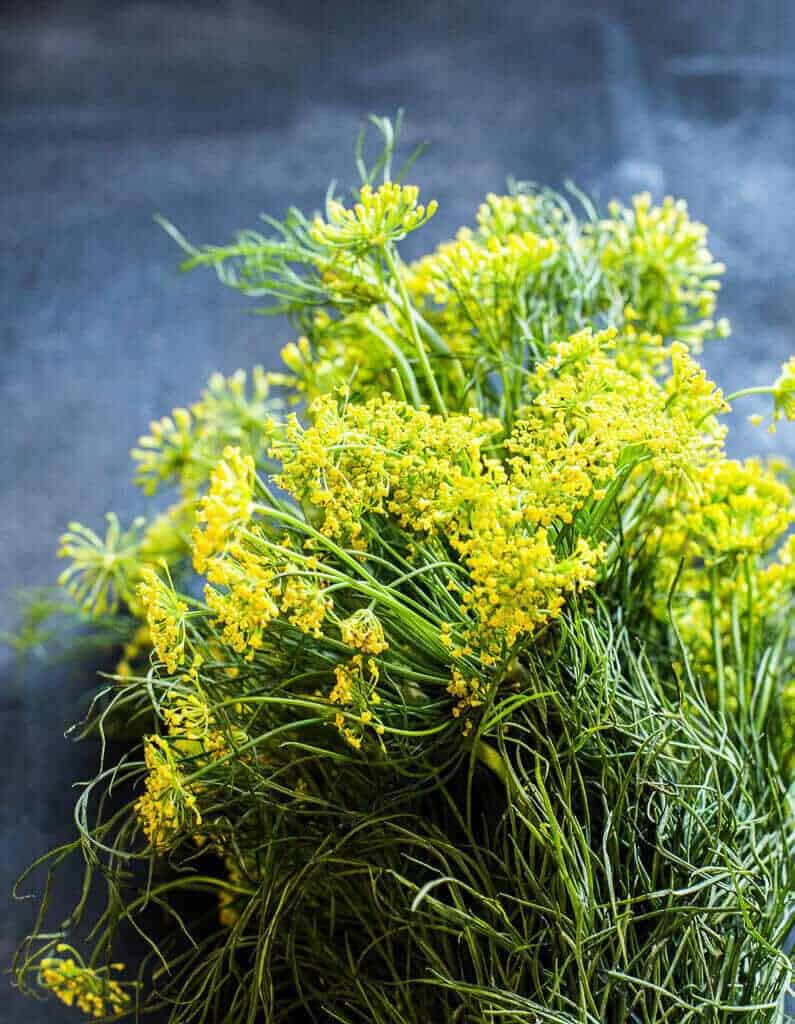 We normally use the blossom in pickles and preserves like cucumbers or green tomatoes. Or dry it out and use it as a savoury salad spice mix.
This time, however, it was clear as day that these sweet aniseedy dill blossoms would work a treat with a fresh fruit salad.
They lift up the flavour of the fruit and with a touch of mint, this fruit salad recipe would be my perfect snack on a hot summers day.
That was not the end of it though.
On my way to the checkout, I spotted a little old lady selling all sorts of melons. You name it - it was there.
Ingredients needed
Berries - I used three types of berries. Blackberries, blueberries and raspberries.
Cherries - Two types. Sweet Black cherries and it's yellow blushy cousin.
Melon - I used a sweet variety called a kolkhoznitsa. Use any sweet variety you can find.
Mint - Make sure the leaves are nice and tender.
Dill blossom(optional) - If you can find it. Wild fennel blossom is also great but this does not grow everywhere so skip if unavailable. This fruit salad recipe will still turn out great.
I instantly got transported back to my childhood.
Sundays used to be a family day.
A family day meant lots of food followed by a catnap and a backyard game of cricket or touch rugby.
Wherever you live in the world, I'm sure you can relate to this.
You might have played catch or croquet in your childhood but you get the point.
The end of the game was usually marked by the arrival of amazingly sweet watermelon slices.
Mom used to chill that thing for hours in an ice bath. Genius!!
Nostalgia is a wonderful thing.
I picked a small round melon called a kolkhoznitsa melon(I currently live in Russia).
They are the sweetest fleshiest and juiciest melons you can sink your teeth into.
No recipe for fruit salad should be without as good fleshy sweet melon of some kind
Alternatively, get any sweet melon sold in your area. Just make sure it's nice and ripe. Ask your green grocer to let you taste a bit. Usually, they don't mind. Especially when the melons are sweet)
This fruit salad recipe will essentially be a berry and cherry cocktail without it so make sure you get it.
Off I went with a basket of the most amazing produce and a burning need for something completely refreshing.
How to make it
I decided to make a little dressing for my fresh fruit salad by scooping out the seeds from the melon, mixing it with a touch of sugar(to draw out the juices) and passing it through a colander.
This step is optional but, I totally recommend you to do it. It would be a sin not to.
The drink of angels. Don't drink it though. We need it. However tempting.
It's ok, a little taste is fine.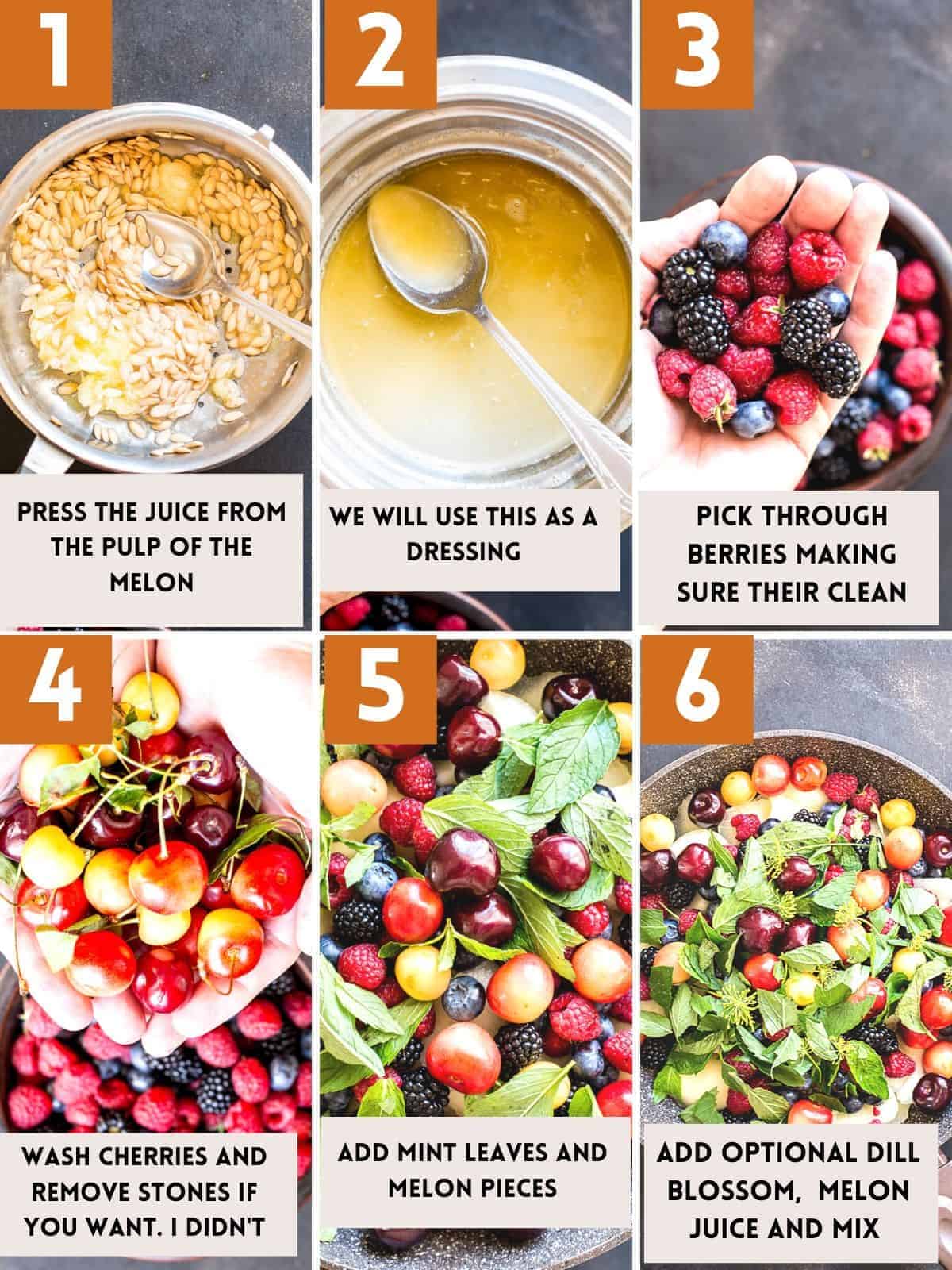 Next, we want to scoop out the flesh of the melon with a spoon into nice natural-looking chunks.
Wash the cherries gently and add into a bowl or in my case my frying pan(space was an issue).
Snip up some mint leaves and add a few dill blossoms. Our magic optional ingredient.
Add the juice and give the salad a gentle mix.
If you wish you could also add a little squeeze of lime juice at this point for a lovely little zing.
Great having a pro teach you all these little tricks isn't it.
Yeah, I know.
For you, for free!
Now that's our fruit salad looks sexy and tastes awesome we will scoop it back into the melon.
Why? Because, why not!
That's why!
Plus it looks so much sexier in a melon bowl than a ceramic bowl.
See for yourself.
Enjoy!
Variations
Berries - Use what's good and in season. Remember you're making a fruit salad recipe and not sending a rocket to space. Go for black currants, strawberries, wild strawberries, red currants or big mix.
Other fruit - If you don't want to use cherries you could use apricots, peaches, pineapple, nectarines or plums for this fruit salad recipe. It will still turn out great. the most important hing is to make sure the fruit is sweet and fresh.
Melon - you could use watermelon too, just be mindful that it is a lot more watery and your fruit might start swimming)
Herbs - Try herbs like tarragon, thai basil, or lemon verbena.
Extras - You could add a touch of the exotic to this fruit salad by using mango, dragonfruit(pretty but tasteless), passionfruit, liches, papaya and kiwi.
Recipes you might like
Beetroot and apple juice - a healthy start to the day.
Citrus lemonade - My pro recipe now yours.
Cherry and almond tart - Using cherries at the hight of season for everything delicious. This one slightly naughty.
Strawberry lemonade - a Pink version of my famous citrus lemonade with added fresh strawberries and basil.
Fermented strawberry soda - For those of us that are aware of living as green as possible. You can ferment most drinks like strawberry lemonade to make a delicious naturally sparkling soda that will last for weeks.
Fruit Salad Recipe
The perfect fresh fruit salad recipe for a lazy summer afternoon. Goes great with a
citrus lemonade
or Peach Bellini.
Ingredients
125g blueberries
125g blackberries
125g raspberries
400g cherries(variety if possible)
500g melon chunks
8g fresh mint leaves
2 g fresh dill blossom(optional)
4g sugar
8g fresh lime juice(optional)
Instructions
Wash the cherries, herbs and blossom gently
Cut the melon in half, remove the seeds and pulp from the centre reserving to extract the juice
Add the sugar to the reserved pulp and strain through a colander to extract the juice
Scoop out the flesh from the melon and mix gently with the cherries, berries, mint, blossom and juice
Add lime juice
Scoop back into the melon and serve.
Nutrition Facts
Fruit Salad Recipe
Serves: 6 portions
Amount Per Serving:

150g

Calories

105.64 kcal

% Daily Value*
Total Fat

0.61 g

0.9%
Saturated Fat

0.08 g

0.4%
Trans Fat
Cholesterol

0.0 mg

0
Sodium

14.6 mg

0.6%
Total Carbohydrate

25.9 g

8.6%
Dietary Fiber

5.21 g

20.8%
Sugars

19.8 g

Protein

2.16 g
Vitamin A

16.69 %

Vitamin C

53.29 %

Calcium

3.22 %

Iron

5.16 %
* Percent Daily Values are based on a 2,000 calorie diet. Your daily values may be higher or lower depending on your calorie needs.
DID YOU MAKE THIS RECIPE?
Tag @PANTSDWONAPRONSON on Instagram and hashtag it #PANTSDOWNAPRONSON