This fresh fruit salad recipe is the only one you need. What could be better than an ice-cold melon bowl filled with super sweet berries and cherries? To jazz it up a bit for those of you who find recipes for fresh fruit salad boring I've added a little something special.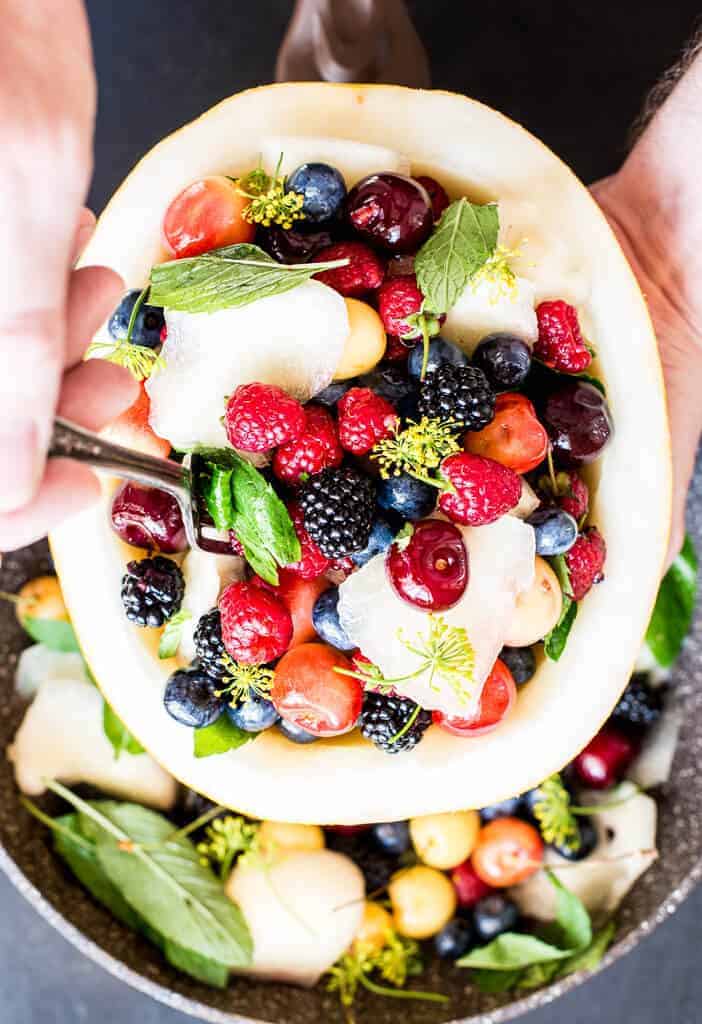 Jump to:
Ingredients needed
Berries - I used three types of berries. Blackberries, blueberries and raspberries.
Cherries - Two types. Sweet Black cherries and it's yellow blushy cousin.
Melon - I used a sweet variety called a kolkhoznitsa. Use any sweet variety you can find.
Mint - Make sure the leaves are nice and tender.
Dill blossom(optional) - If you can find it. Wild fennel blossom is also great but this does not grow everywhere so skip if unavailable. This fruit salad recipe will still turn out great.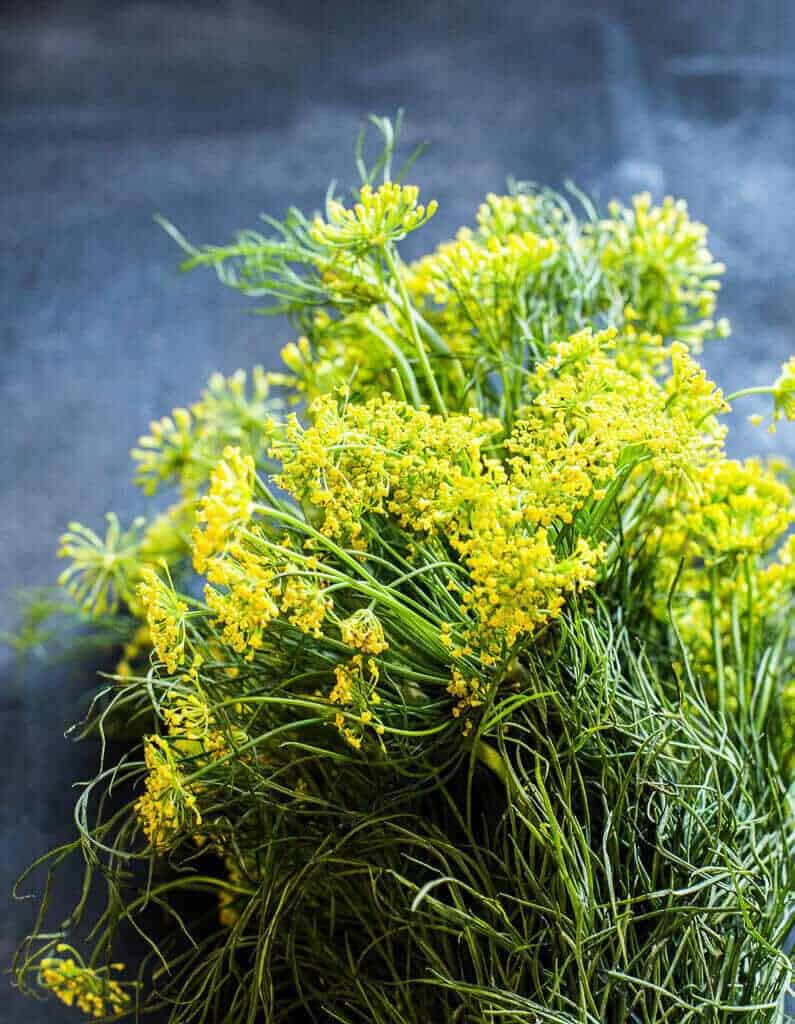 Instructions
I decided to make a little dressing for my fresh fruit salad by scooping out the seeds from the melon, mixing it with a touch of sugar(to draw out the juices) and passing it through a colander.
Next, we want to scoop out the flesh of the melon with a spoon into nice natural-looking chunks.
Wash the cherries gently and add into a bowl or in my case my frying pan(space was an issue).
Snip up some mint leaves and add a few dill blossoms. Our magic optional ingredient.
Add the juice and give the salad a gentle mix. If you wish you could also add a little squeeze of lime juice at this point for a lovely little zing.
Now that's our fruit salad looks sexy and tastes awesome we will scoop it back into the melon and finish with some more freshly torn mint and dill blossom.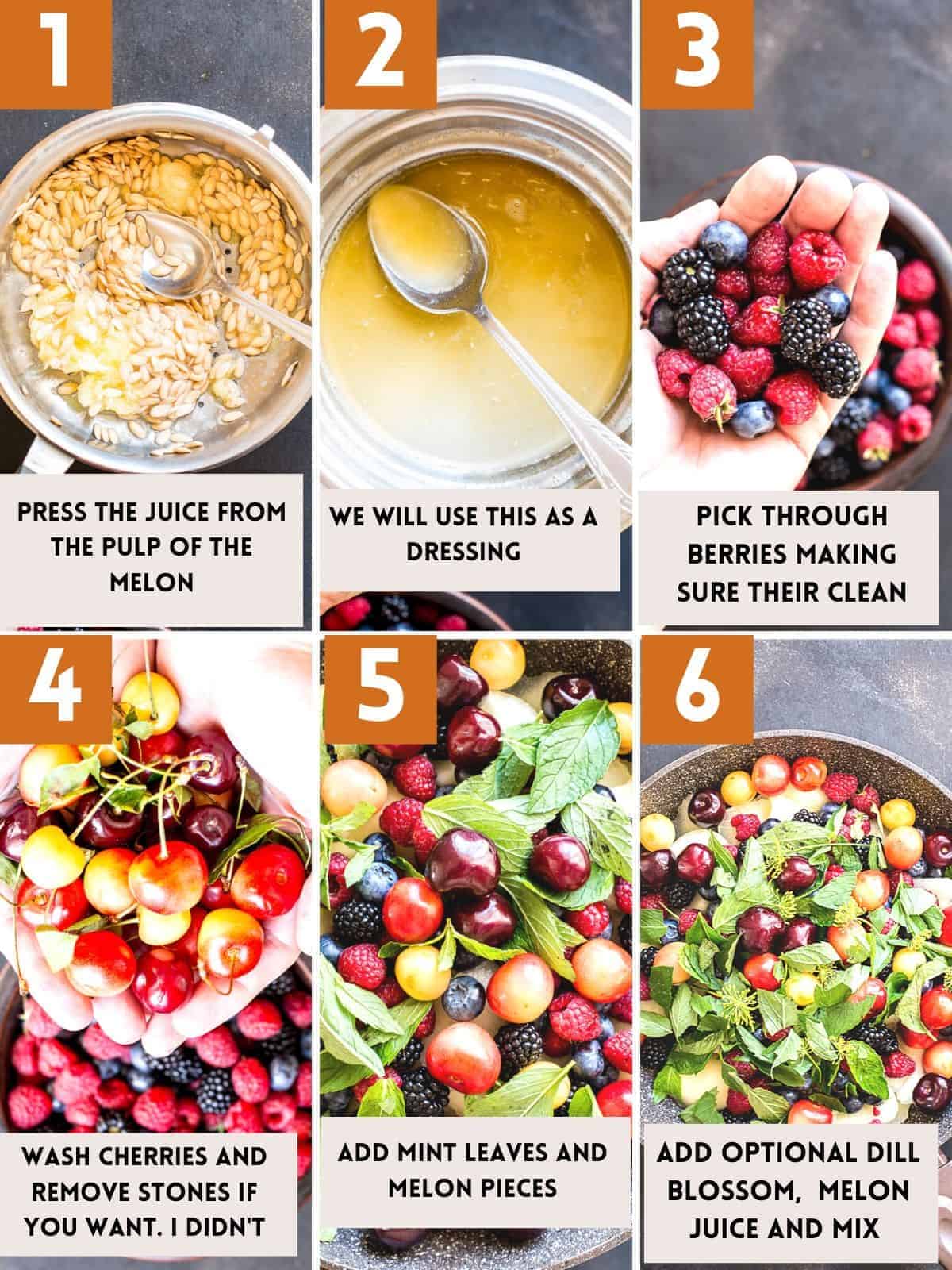 Variations
Berries - Use what's good and in season. Remember you're making a fruit salad recipe and not sending a rocket to space. Go for black currants, strawberries, wild strawberries, red currants or big mix.
Other fruit - If you don't want to use cherries you could use apricots, peaches, pineapple, nectarines or plums for this fruit salad recipe. It will still turn out great. the most important hing is to make sure the fruit is sweet and fresh.
Melon - you could use watermelon too, just be mindful that it is a lot more watery and your fruit might start swimming)
Herbs - Try herbs like tarragon, thai basil, or lemon verbena.
Extras - You could add a touch of the exotic to this fruit salad by using mango, dragonfruit(pretty but tasteless), passionfruit, liches, papaya and kiwi.
Related recipes
This site contains affiliate links. I may earn a tiny commission on qualifying purchases at no extra cost to you. By bookmarking these links you help support the upkeep of this site.
If you found this post helpful or have learned something, comment, subscribe, and follow me on social platforms for more tasty recipes.
Recipe
Melon fruit salad With Berries And Dill Blossom
The perfect fresh summer fruit salad.
Ingredients
125

g

(

1

cups

)

blueberries

125

g

(

1

cups

)

blackberries

125

g

(

1

cups

)

raspberries

400

g

(

3

cups

)

cherries

-

variety if possible

500

g

(

2

cups

)

melon chunks

8

g

(

1 ⅗

tablespoon

)

fresh mint leaves

2

g

(

5

tablespoon

)

fresh dill blossom

-

optional

4

g

(

1

teaspoon

) sugar

8

g

(

½

tablespoon

)

fresh lime juice

-

optional
Instructions
Wash the cherries, herbs and blossom gently.

Cut the melon in half, remove the seeds and pulp from the centre reserving to extract the juice.

Add the sugar to the reserved pulp and strain through a colander to extract the juice.

Scoop out the flesh from the melon and mix gently with the cherries, berries, mint, blossom and juice.

Scoop back into the melon and serve.
Nutrition
Serving:
150
g
Calories:
102
kcal
Carbohydrates:
25
g
Protein:
2
g
Fat:
1
g
Saturated Fat:
1
g
Polyunsaturated Fat:
1
g
Monounsaturated Fat:
1
g
Sodium:
2
mg
Potassium:
330
mg
Fiber:
5
g
Sugar:
18
g
Vitamin A:
636
IU
Vitamin C:
24
mg
Calcium:
30
mg
Iron:
1
mg
Keywords:
berry fruit salad, dill blossom, fruit salad, melon salad