Jump to recipe
If you like a little bit of berry fizz in your life, you will love this fermented strawberry soda. Sexy it up with cherries and tarragon, and we have ourselves a perfect summer drink or cocktail base.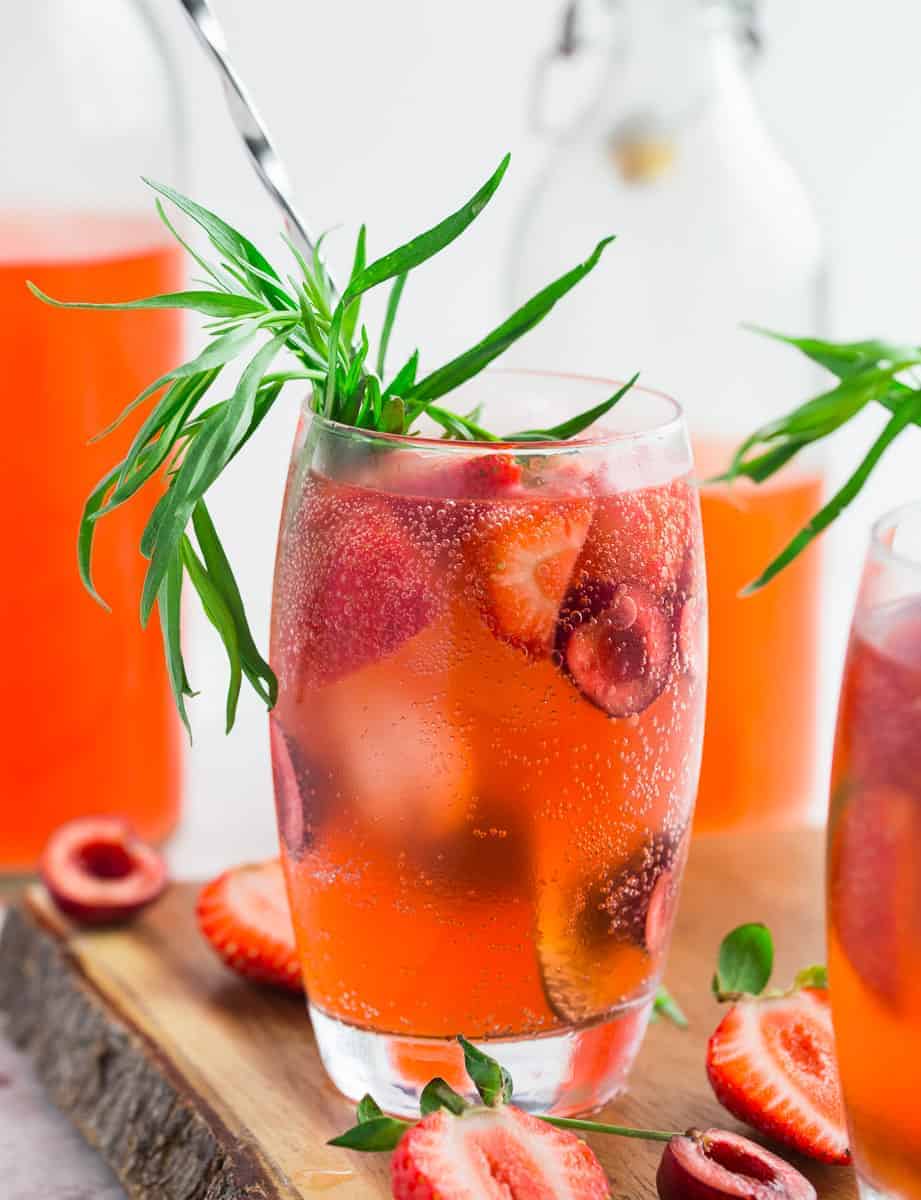 Jump to:
If you made my recipe for citrus lemonade or strawberry lemonade, you know how good it is and will probably find it hard to believe it can get better.
Well, yes it can. And, the best part is it won't require much effort from you.
Instead, the natural yeast present on the strawberries will do all the hard work for you and turn this into a delicious fermented drink.
What is fermentation
Let's keep it short. It's another whole "cooking" method. So, we will cover the basics quickly and then move along to making this sexy little number.
Fermentation for the cooking purpose is the process where microbes turn foods or drinks into something else even more desirable.
When the correct microbes "consume" and "digest" sugars they produce beneficial by-products that help transform foods into something healthy, delicious and useful to us.
Think:
Sriracha made from fermenting chillies.
Wine from fermented grapes.
Beer from fermented malted grains.
Sauerkraut from fermented cabbage.
Soy sauce from fermented soybeans and wheat.
The list is endless and I can talk about it forever but you get the point.
Preparing your equipment
There is one golden rule when it comes to fermenting anything.
Cleanliness.
You mess that up and any ferment will turn bad. The dark side is much stronger when it comes to microbes when you give them the opportunity.
For fermented strawberry soda, it's fine to just make sure everything is washed with soap and water including your hands.
You will need:
A 3-litre glass jar
4 x 500ml swing top bottles
That's it) You thought this was going to get difficult? No way.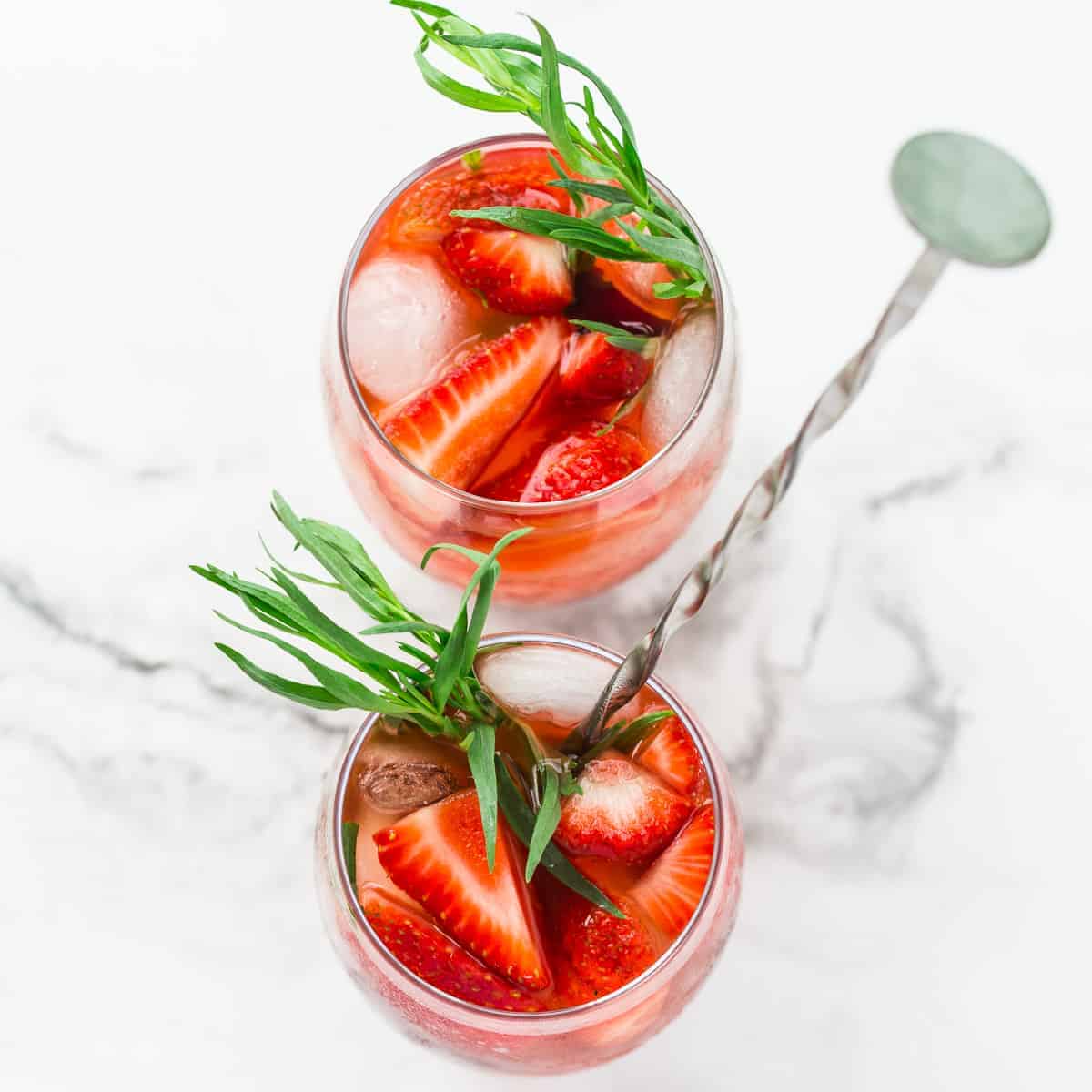 Ingredients needed
For the fermented strawberry soda recipe, we will start by using the strawberry lemonade ingredients as a base and just let it ferment.
When that's done we will do a secondary in-bottle ferment where the soda gets naturally carbonated and also take on the flavour of the tarragon.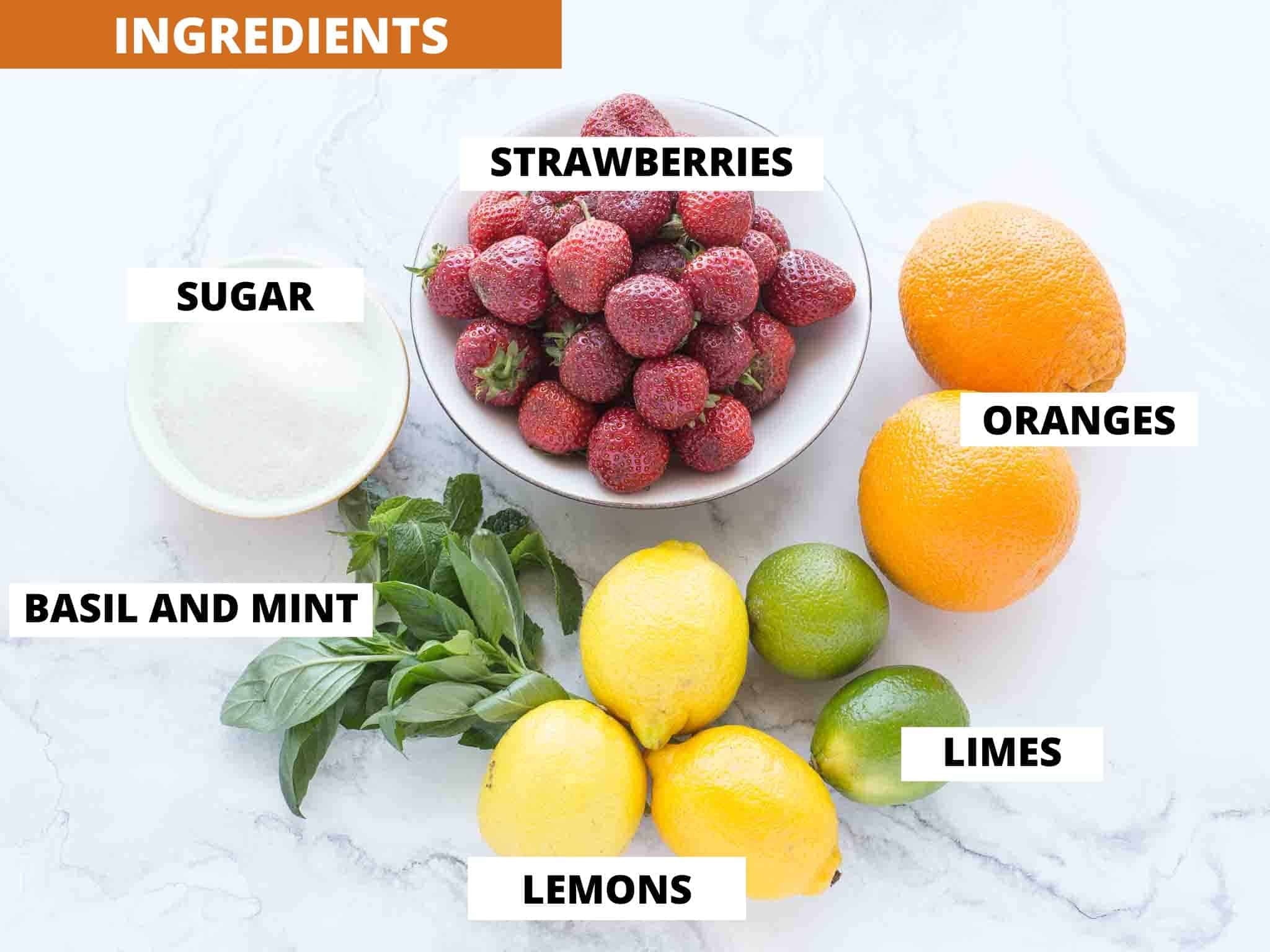 Strawberries - Use unblemished fresh ones. Fermentation can not bring dead strawberries back to life.
Citrus - Oranges, limes and lemons.
Sugar - Regular white granulated sugar
Herbs - Mint and basil for the first ferment then tarragon for secondary fermentation and garnish.
Cherries - Optional but good.
Water - Clean drinkable tap water is fine.
How to make it
Making fermented strawberry soda happens in a few stages. None of which are hard to do or require any specific skill.
Step 1: Make the base
Wash the citrus and strawberries thoroughly under cold running water.
Bring to the boil 250g water and 250g sugar until dissolved. Zest as much citrus as the recipe calls for and add it into the hot sugary water along with a few sprigs of fresh mint and basil. Add 1750g of cold water to cool the liquid down along with the citrus juice.
When infused strain through a sieve into a suitable 3-Litre container.
Cut 500g strawberries in half and add to the "lemonade". Cover the container with a loosely fitting lid, plastic glove or lid with an airlock.
Step 2: Ferment it
Let the mix ferment at a temperature between 21C and 30C. The time it takes will depend on the temperature. Colder slower and hotter quicker. Mine fermented in 4 days with a day temperature of 27C and night temperature of 18C. You might see some calm yeast form on the top of the surface. It's a white layer that looks almost like mould but it's harmless. If you're not sure then send me a pic on Instagram and I will tell you if it's ok or not.
Once fermented it should taste less sweet as the yeast consumed most of the sugars. It should have a slight fizz and fragrant ripe almost wine-like strawberry aroma.
Step 3: Bottle it
Strain the fermented strawberry liquid through a sieve and pour into 500ml swing-top bottles along with a teaspoon or 4 grams of sugar. This is so that the yeast has enough sugar to ferment in order to produce carbon dioxide as a by-product which in turn carbonates the soda. Add in a few sprigs of tarragon too.
Close the bottles and leave at room temperature for another 3-4 days.
Test one bottle by opening it to see if it's nice and fizzy. If not close and let it go for longer. If it's nice and bubbly then chill it well for a few hours in the fridge before drinking.
Fact
Gass leaves chilled liquids way slower than warm liquids. Which is why you should always keep sparkling wine very well chilled to avoid it going flat too quickly.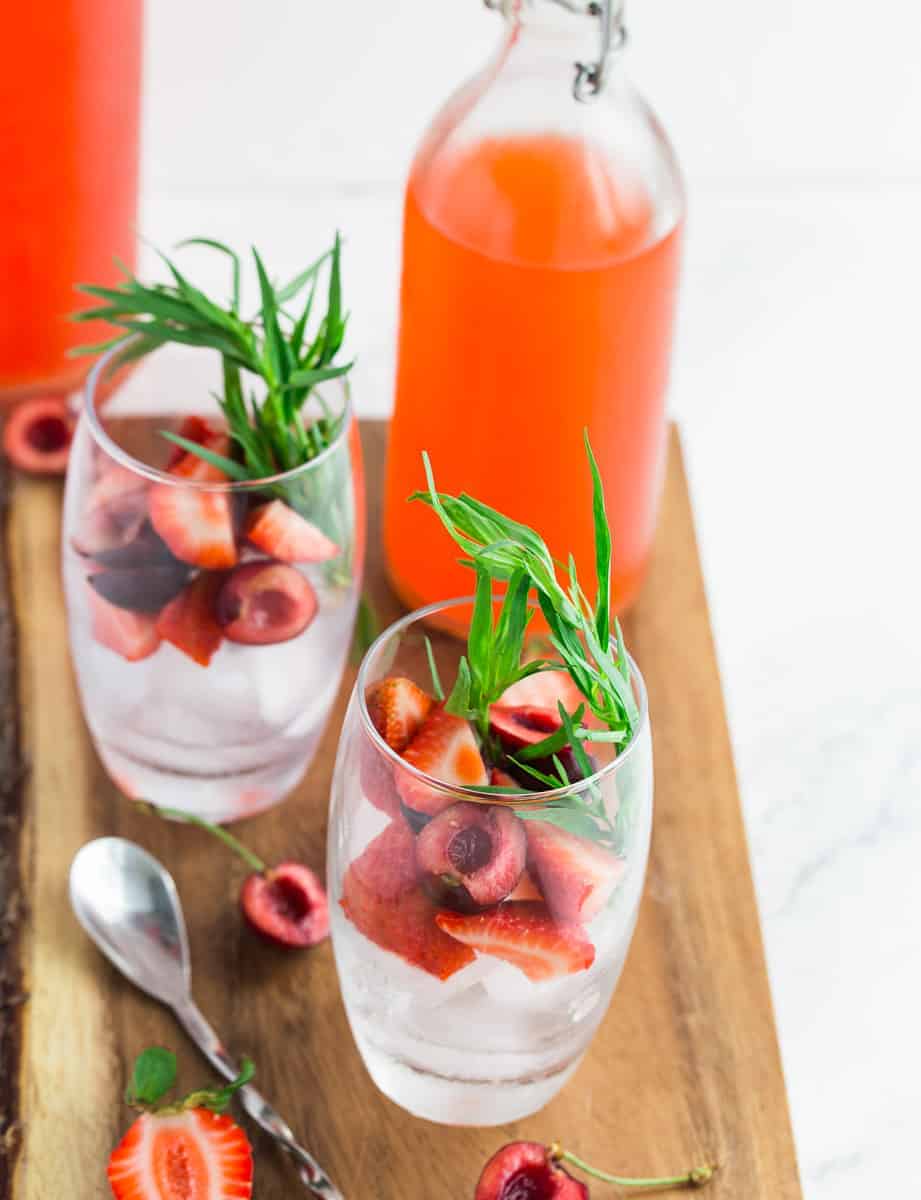 Variations
You could make a few simple adjustments to this fermented strawberry soda recipe in order to get completely different results.
Berries and fruit- You can use any berry, cherry or fruit your heart desire. Berries with smooth skins like blueberries, currants and cherries generally have more natural yeast than porous ones like blackberries, strawberries and raspberries. Other fruits like apricot, peach and plums are all great contenders.
Citrus - We need the citrus to lower the Ph level in order for the soda to safely ferment. So pick at least one or use sour berry juice like sea buckthorn or red currants. Citrus is much easier to come by and also less expensive.
Herbs - You can totally leave out the herbs if you like or play around with things like elderflower, lavender, rosemary, or lemon verbena.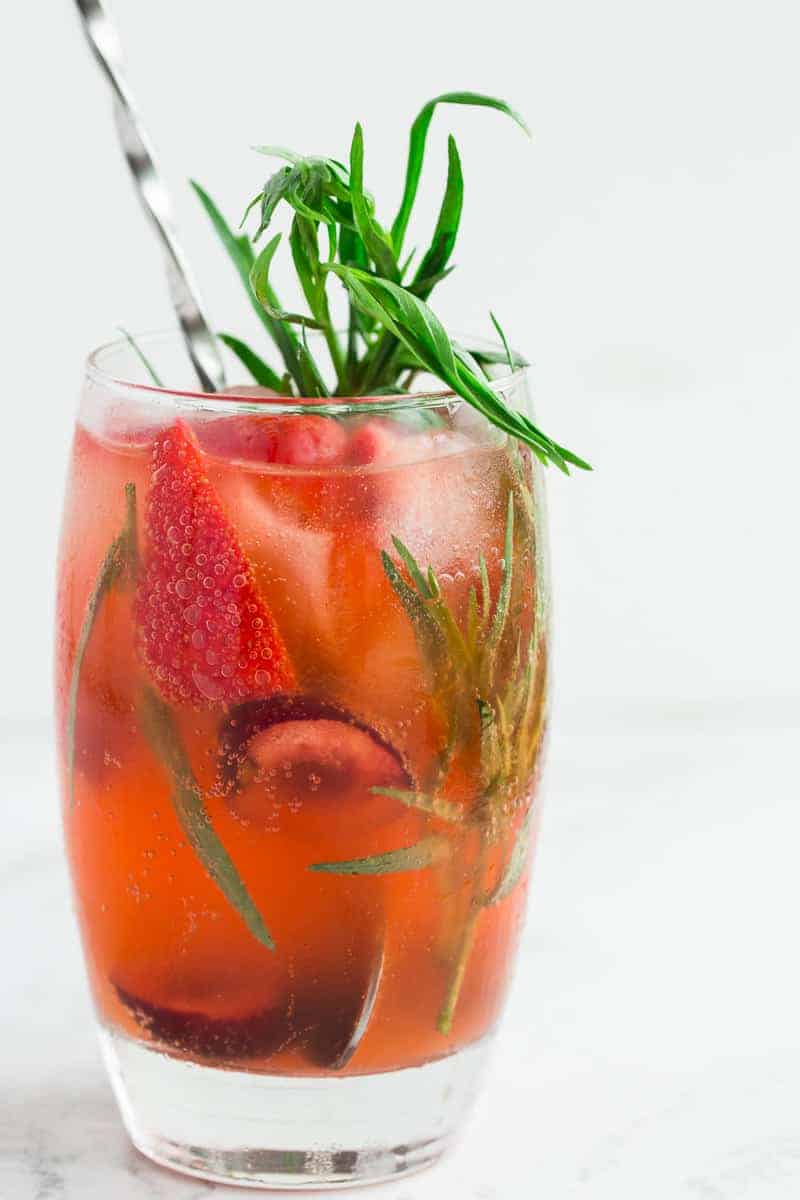 Serving suggestions
I served this fermented strawberry soda with some more fresh strawberries, cherries and tarragon. You could also go for mint, basil or other berries as a garnish.
You could also use it as a cocktail base with gin and vodka.
It's a good non-alcoholic soft drink when having the following:
Other recipes you might like
If you like to ferment foods or are just getting your toes wet then look no further.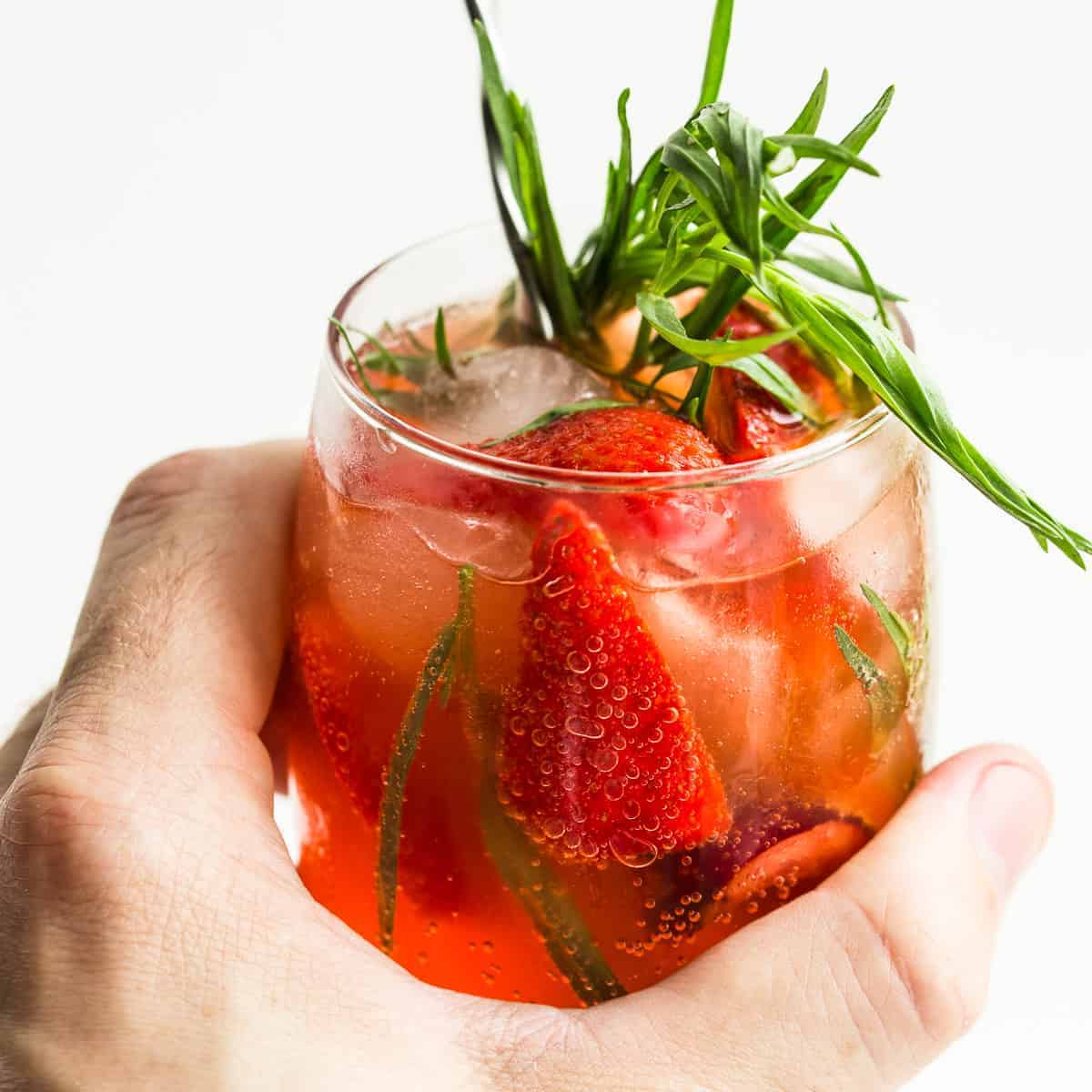 Useful equipment for this recipe
THIS PAGE CONTAINS AFFILIATE LINKS - I MIGHT EARN A TINY % OF THE SALE THROUGH THESE LINKS AT NO EXTRA COST TO YOU. PROBABLY NOT EVEN ENOUGH TO BUY A BEER).
If you found this recipe helpful or have learned something, comment, subscribe and follow me on social platforms for more delicious recipes.