Jump to recipe
Making your own sourdough starter is as simple as mixing together water and flour. Although easy to start, the process requires some attention but nothing you can't quickly master.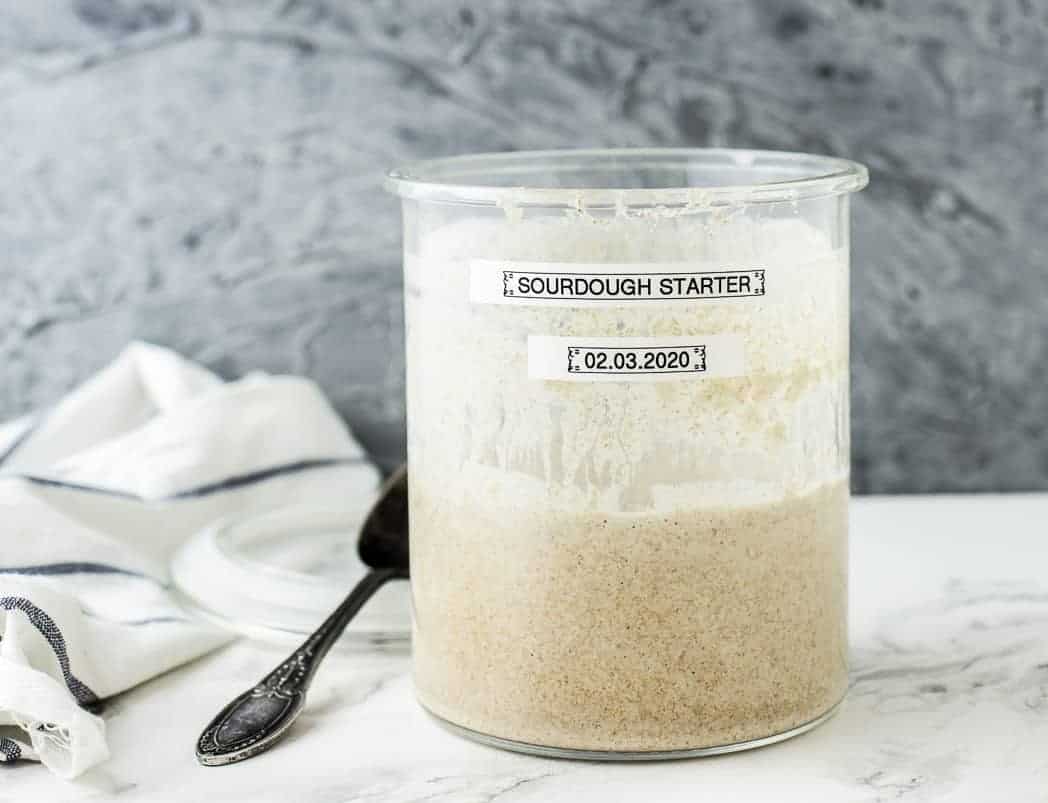 What is a sourdough starter?
a Sourdough starter is a symbiotic culture of bacteria and yeast. In short, a SCOBY. Yes, just like in kombucha brewing. Something we will make another day, a bit closer to summer.
The main difference between the two SCOBYs is the type of bacteria that dominates.
In this sourdough starter, the dominant microbe is lactobacillus. Lactic acid-producing bacteria.
The lactic acid produced here is what gives this sourdough a distinctive sour taste as well as some acetic acid produced by Acetobacter also naturally present in the environment.
This one is dominant in your kombucha SCOBY btw.
"Sourdough starter is a symbiotic culture of bacteria and yeast"
When flour gets mixed up with water naturally-occurring amylase in the flour breaks down starches into sugars that the yeast can consume. The bacteria being opportunistic then also starts consuming some of the starches the yeast cannot metabolise/ferment.
One of the byproducts of this process, maltose, then gets metabolised by the yeast and the yeast then gives us wonderful carbon dioxide gas which leavens our bread naturally. a Perfect example of neighbours helping each other to be happy and co-existing in harmony.
There are in the region of 200 different types of lactobacillus. Lots have their sub strains and perform their unique function. Lactobacillus is the main pro-biotic in our body.
These friendly super useful microbes are responsible for many amazing things including, helping to protect us from dangerous pathogens and keeping our gut health in check. Happy gut = happy immune system = happy you.
How to make your own sourdough starter from scratch?
Sourdough starter is one of the most basic things you can think of. a Great beginner sourdough starter recipe would consist of equal parts water to equal part unbleached white wheat flour.
The easiest way to make this sourdough would be to weigh out 50g flour and 50g water. Mix well and let it sit covered in a jar at room temperature for 24 hours. After 24 hours it is time to feed the starter with 25g water and 25g flour. You repeat this process for 4 days.
On day 5 you remove 100g of the starter and keep it separate in the freezer or make some sourdough pancakes amongst other things with it.
Feed the remaining starter with 50g flour and 50g water. The next day your starter will be ready to bake with.
How to feed and take care of your starter?
The most important thing to understand about sourdough is that it is a living culture of bacteria and yeast. This means that it depends on food to survive.
You need to feed it, look after it and know what it likes and don't like. If kept at low temperatures (around 5C) the fermentation slows down and at higher temperatures speeds up.
If you are not ready to bake with it, you can store your sourdough starter in the fridge feeding once a week with 25g flour and 25g water, or you could freeze it to completely halt fermentation until you are ready to use it.
It's also important to understand when your sourdough starter is too sour or the microbes are overpopulated. Yes even in sourdough starters there are overpopulation issues.
Bread baked with over sour starters will have have an unpleasant sour/bitter note to it and worst case won't even rise properly as the yeast does not get enough maltose from the lactobacillus and won't produce much carbon dioxide(CO2).
The structure also becomes too sticky and basically, the whole thing just sucks at that point.
"It's also important to understand when your starter is too sour or the microbes are overpopulated"
To prevent this, we remove up to 50% of our starter for other uses or to make another starter, or to give some starter to a friend or whatever you like really. This brings us to the most important rule about a sourdough starter.
What you take out you gotta put back in. In most cases, this will be a simple 50-50 split of flour and water. For instance, if you had a 200g starter that was too sour, you would remove 100g starter and you add back 50g water and 50g flour.
As mentioned before, it is not advised or necessary to throw away the "too sour" starter as you can still cook with it, freeze it or make another starter with it.
It is a very nice strong and hungry to perform a culture of bacteria and yeast. Take advantage of that.
Why this sourdough starter recipe?
In my opinion, this sourdough starter recipe is the best because it uses different types of flour that each bring their unique bit of character and stability to the culture.
If you dig deep into sourdough science you would realise that it is all about balance.
Balancing how the yeast and microbes react with one another depends on water, flour, and temperature. We then get into ph levels, minerals, enzymes, tolerance, etc.
You suddenly forget that you were just searching for how to make a sourdough starter. Which is why we skip all that and get more to the point.
You essentially build a happy home for a vibrant and diverse community of yeast and bacteria.
They all need to be happy in there and tolerate one another. Otherwise, they will revolt and not do what you want them to do.
So, with all that said, let's make this.
How to make the best sourdough starter?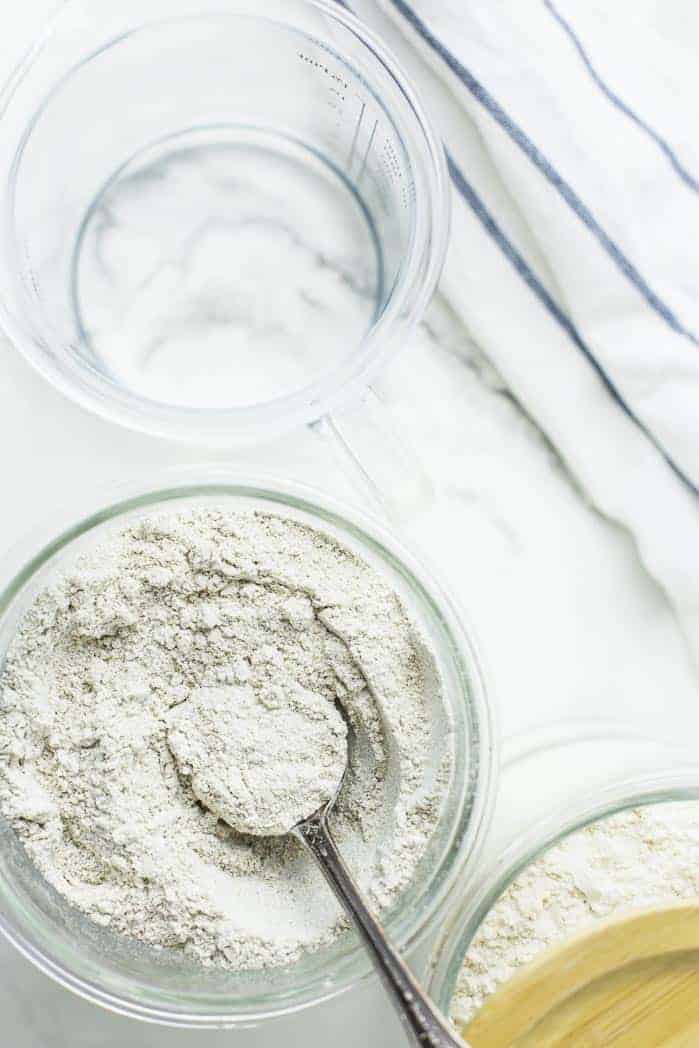 1st Step: Get some flour, water, and a container to keep your starter in.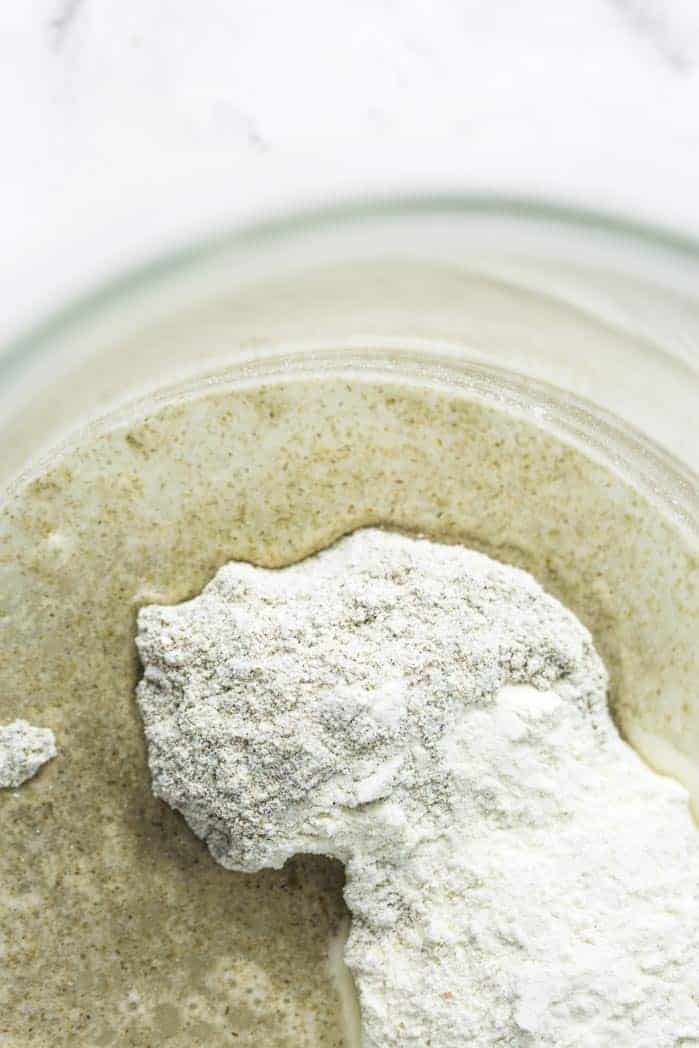 2nd Step: Mix together 15g unbleached white flour, 20g wholemeal flour and 15g rye flour with 50g filtered water.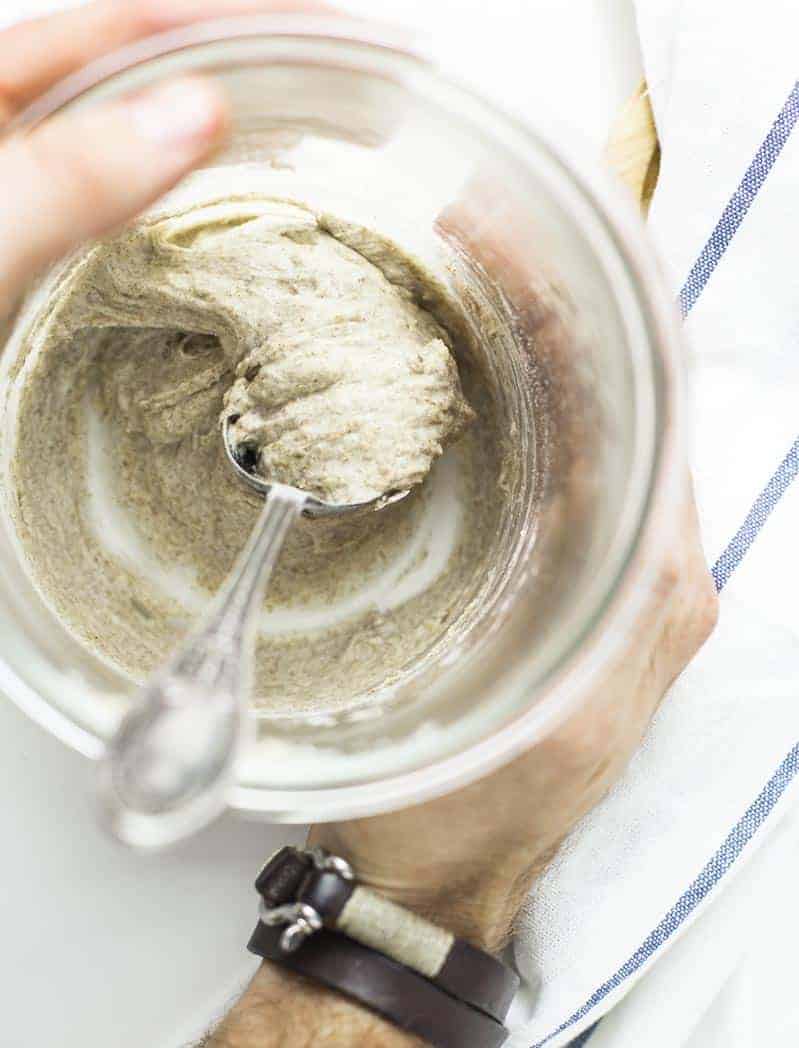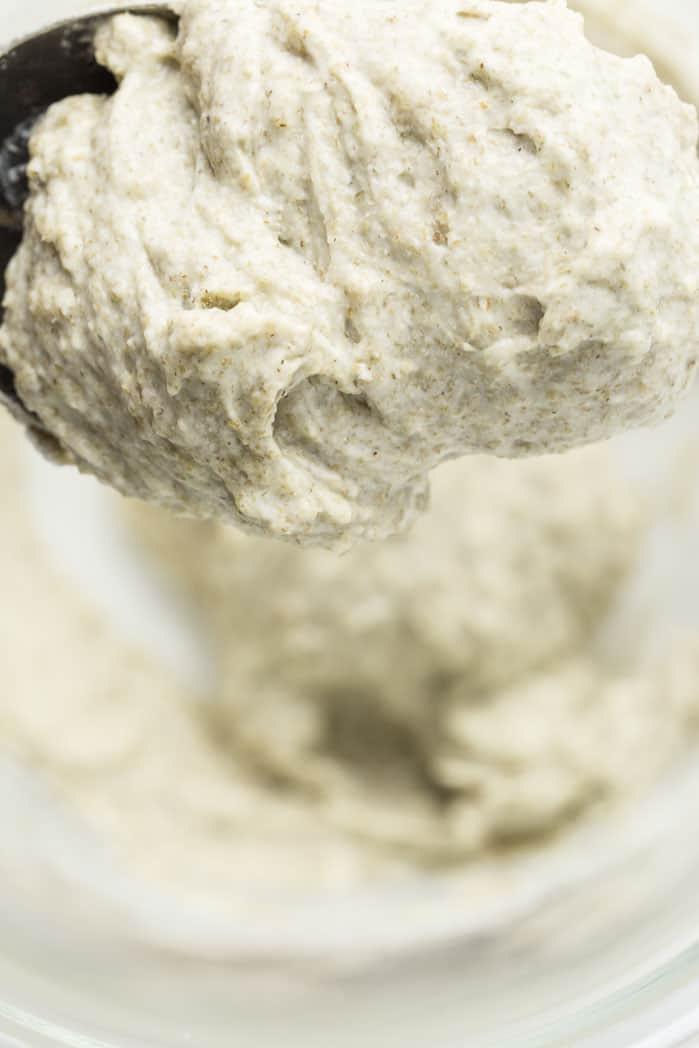 3rd Step: Place your starter at room temperature for 24 hours.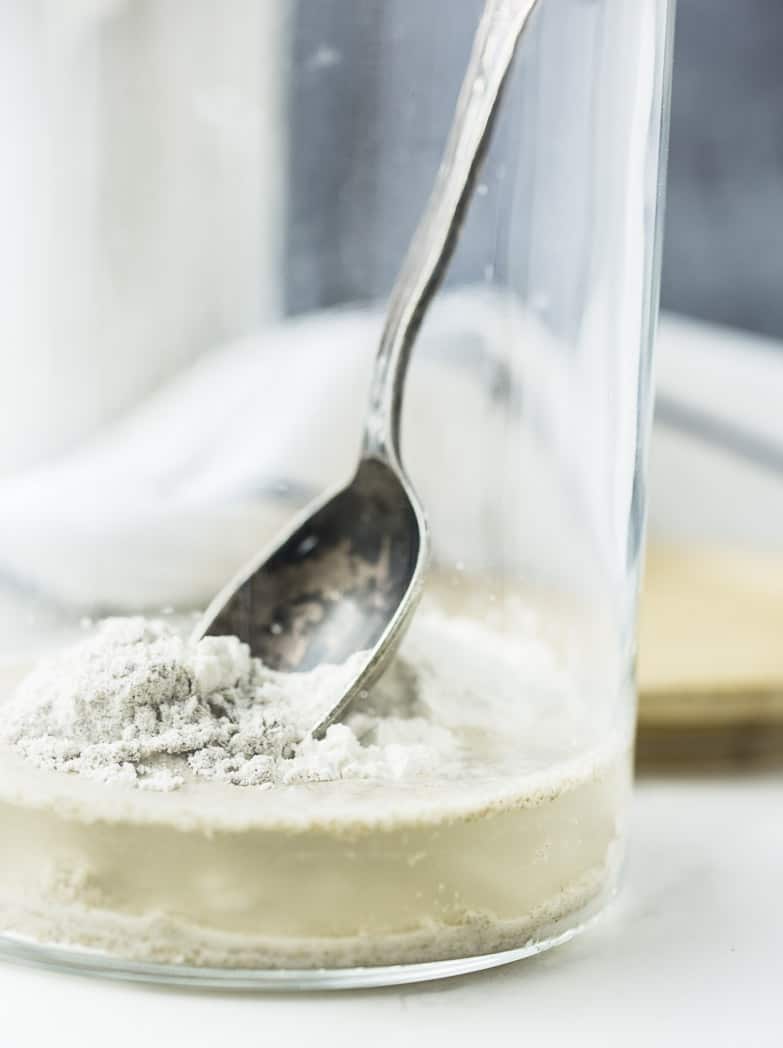 4th Step: After 24 hours feed your starter with 25g rye flour, 25g unbleached white flour, and 50g water. repeat this for 3 more days.
5th step: On the 6th day your starter would have risen and fallen as you can see above. You should now have 500g of sourdough starter. You remove 200g of this and make these sourdough pancakes or freeze it, leaving you with 300g of starter.
6th Step: Add 50g rye flour, 50g white flour, and 100g water.
After 24 hours your starter is ready to bake with or moved to the fridge as mentioned earlier.
Here is my easy no-knead sourdough bread recipe.
Remember!
You can follow me on Instagram @PANTSDWONAPRONSON and ask me any question by directly messaging me.
I am helping many people with a wide variety of question about food and other cooking-related questions.
This way I have helped many people become better and more confident cooks.
Frequently asked questions:
How to use a sourdough starter?
Sourdough starter is added to bread by a baker ratio of between 10% and 25%. Although sourdough bread is the most common thing to cook with sourdough you could also use it for other applications as mentioned below or make this fantastic sourdough crepe recipe.
Can you buy a sourdough starter?
Yes, you can but, it is so easy making your own or asking a real baker to give you some that I do not see the point in buying it.
Best flour for sourdough starter?
Always use unbleached flour. The more natural the flour the better for your sourdough starter.
Natural yeasts and bacteria will be plentiful and so will minerals that help keep them healthy. Bleached flours had the life bleached out of them and are as good as a bag of nothing for your sourdough starter.
What to do with the discarded sourdough starter?
Many things. My favourite is to make sourdough pancakes. You could also use it to thicken soups. One famous Polish soup called Zurek is one of the best I ever tried and perfect for a cold winter night.
Pie crusts, Puff pastry, cookies, Savoury scones, etc all come to mind but the simplest thing to do with the discarded sourdough is just to keep it in the freezer for future use.
It's a perfectly healthy colony and will keep nearly forever in the freezer.
Can I use rye flour for sourdough starter?
Absolutely. I use Rye flour in my sourdough starter to give balance to the culture and to provide the sourdough starter with the nutrient necessary to be awesome.
I also use wholemeal flour as it provides the most nutrients and harbours the most amount of beneficial bacteria and yeast. Want something really special? Try my Russian Rye sourdough bread recipe.
Can I use spelt flour for sourdough starter?
In combination with unbleached white flour yes. Remember that wheat flour contains amylase. An enzyme(cannibal protein), that breaks down starches into sugars that feed our yeast and bacteria.
You could also use other grains in combination. Each giving their unique character to your sourdough starter and eventually whatever you cook with it.
Which breads use sourdough starter?
Any bread you can think of would benefit and could be cooked with a sourdough starter. Before commercial yeast was available we only used naturally leavened bread made with sourdough.
The process is long but the results worth it as the resulting bread are healthier, tastier and have a better shelf life than bread made with instant yeast.
As mentioned above, my Russian borodinsky sourdough is simple to make and very popular amongst readers and clients.
IF YOU FOUND THIS ARTICLE HELPFUL OR HAVE LEARNED SOMETHING, COMMENT, SUBSCRIBE AND FOLLOW ME ON SOCIAL PLATFORMS FOR MORE TASTY RECIPES.
Sourdough Starter - The Ultimate Guide
Stable and healthy rye sourdough starter I use for all my sourdough baking.

Ingredients
165g unbleached white flour
165g rye flour
20g wholemeal flour
350g water
Instructions
Day 1: Mix 15g white flour, 15g rye flour, 20g wholemeal flour, and 50g water together. Let sit in a closed container for 24 hours.
Day 2,3,4,5: Feed with 25g white flour, 25g rye flour, and 50g water
Day 6: Remove 200g starter. Add 50g white flour, 50g rye flour, and 100g water.
Day 7: Starter ready to use. If you do not intend on baking straight away then move your starter to the fridge and feed once a week just like you did on day 2.
Notes
** Flours temperature and water all play a part in fermentation. Your starter might take longer or less time than stated in the recipe. You could always follow me on Instagram and contact there for help. I always answer and help.

Nutrition Facts
Sourdough Starter - The Ultimate Guide
Serves: 4 portions
Amount Per Serving:

1 portion

Calories

311.11 kcal

% Daily Value*
Total Fat

1.16 g

1.8%
Saturated Fat

0.16 g

0.8%
Trans Fat

0.0 g

Cholesterol

0.0 mg

0
Sodium

5.25 mg

0.2%
Total Carbohydrate

66.19 g

22.1%
Dietary Fiber

6.52 g

26.1%
Sugars

0.59 g

Protein

9.41 g
Vitamin A

0.0 %

Vitamin C

0.0 %

Calcium

2.04 %

Iron

9.5 %
* Percent Daily Values are based on a 2,000 calorie diet. Your daily values may be higher or lower depending on your calorie needs.
DID YOU MAKE THIS RECIPE?
Tag @PANTSDWONAPRONSON on Instagram and hashtag it #PANTSDOWNAPRONSON