Making your own sourdough rye starter is as simple as mixing together water and flour. Using rye flour in your sourdough guarantees a happy, stable starter.
The resulting starter is better than a regular sourdough starter, and you'll be able to bake amazing homemade bread like this flaxseed meal sourdough loaf or these amazing crunchy sourdough baguettes.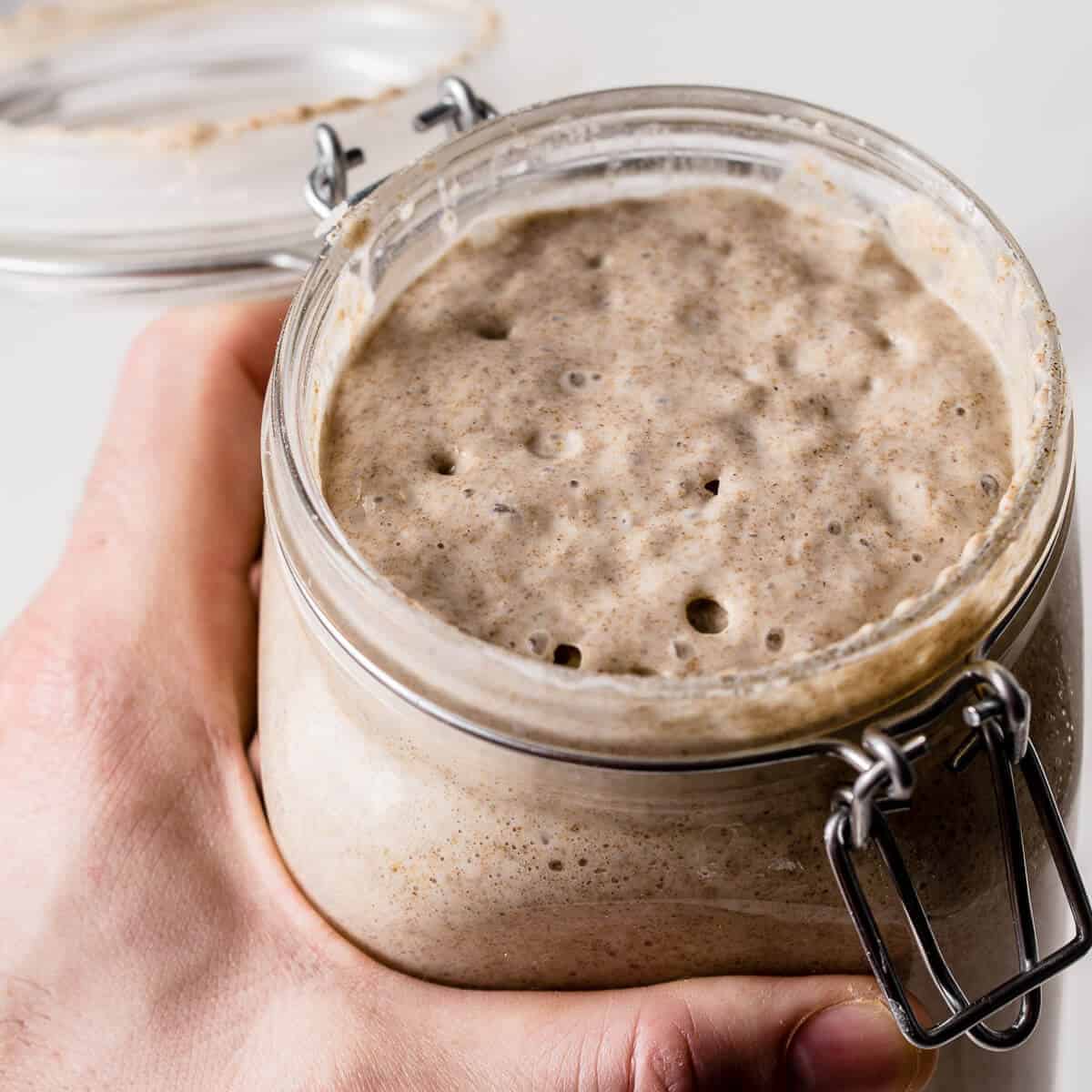 Jump to:
What is a sourdough starter?
A Sourdough starter is a symbiotic culture of bacteria and yeast. In short, a SCOBY. Yes, just like in kombucha brewing.
The main difference between the two SCOBYs is the type of bacteria that dominates.
In a sourdough starter, the dominant microbe is lactobacillus. Lactic acid-producing bacteria.
The lactic acid produced here is what gives this sourdough a distinctive sour taste, as well as some acetic acid produced by Acetobacter, is also naturally present in the environment.
When flour gets mixed up with water, naturally-occurring amylase in the flour breaks down starches into sugars that the yeast can consume. The bacteria, being opportunistic, then also starts consuming some of the starches the yeast cannot metabolise or ferment.
One of the by-products of this process, maltose, then gets metabolised by the yeast and the yeast then gives us wonderful carbon dioxide gas which leavens our bread naturally.
A perfect example of neighbours helping each other to be happy and co-exist in harmony.
Useful equipment
Why rye?
Sourdough rye starter generally is healthier and easier to work with than a regular white flour starter.
Rye flour has less gluten, which makes the starter more fluid and less stretchy for starters.
Secondly, it has more nutrients that the yeast wants and needs to feed on.
If you dive into sourdough science, you would realise that it is all about balance.
Balancing how the yeast and microbes react with one another depends on water, flour, temperature, pH level, minerals, enzymes, tolerance, and so forth.
You need to provide a happy home for a healthy culture of yeast and bacteria.
They all need to be happy in there and tolerate one another. Otherwise, they will revolt and not do what you want them to do.
Rye makes this process simple, stable and in most cases quicker.
Ingredients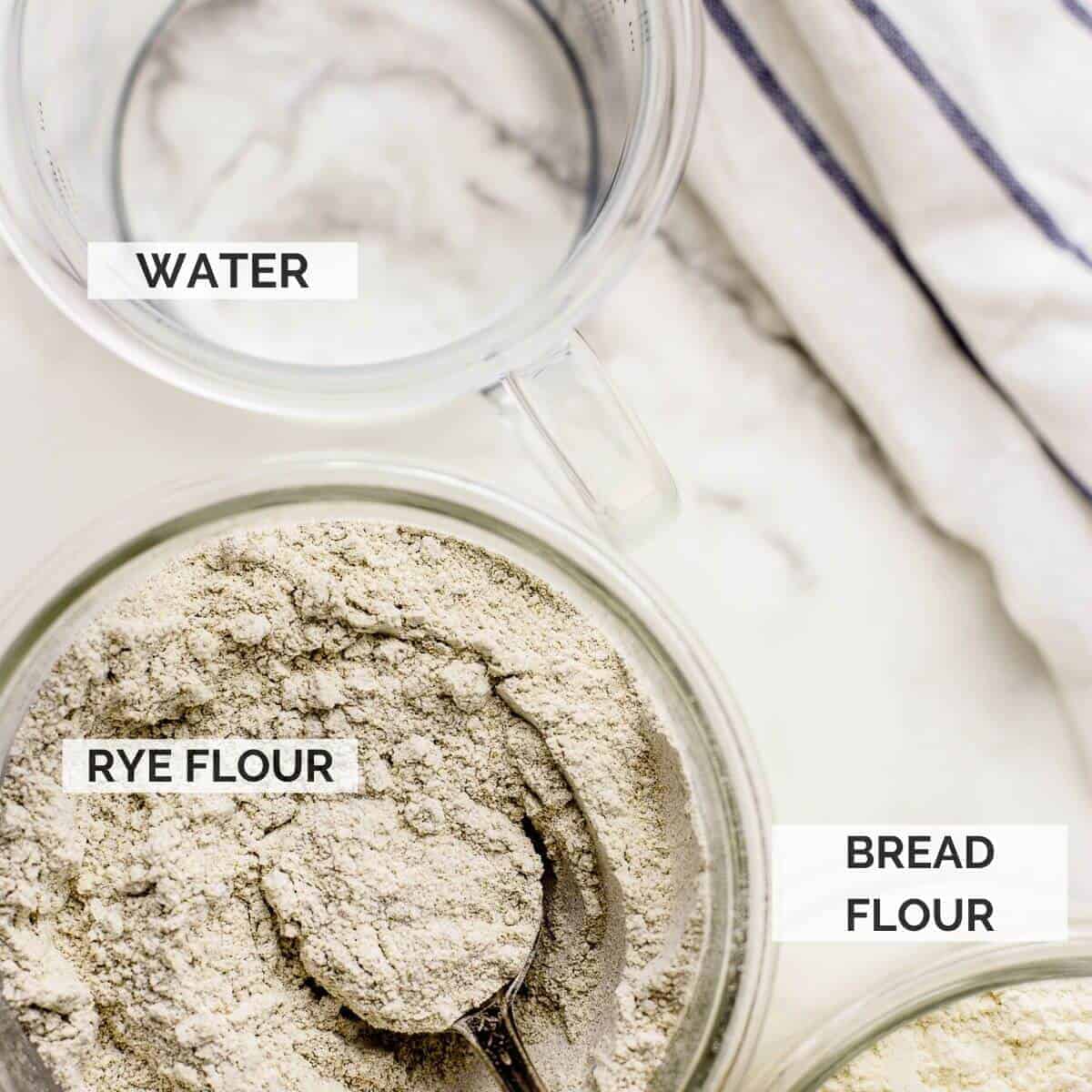 Water - Filtered water works best. Some tap water contains chemicals that might hinder fermentation.
Rye Flour - Regular rye flour. Do not use malted rye flour. Although it will still work, it requires a different recipe.
White Flour - Unbleached is best. I have had readers make it with all kinds of flour, including gluten-free. For this recipe, all-purpose and bread flour both work.
Wholemeal flour (optional) - I add this, but you can just use white flour.
Instructions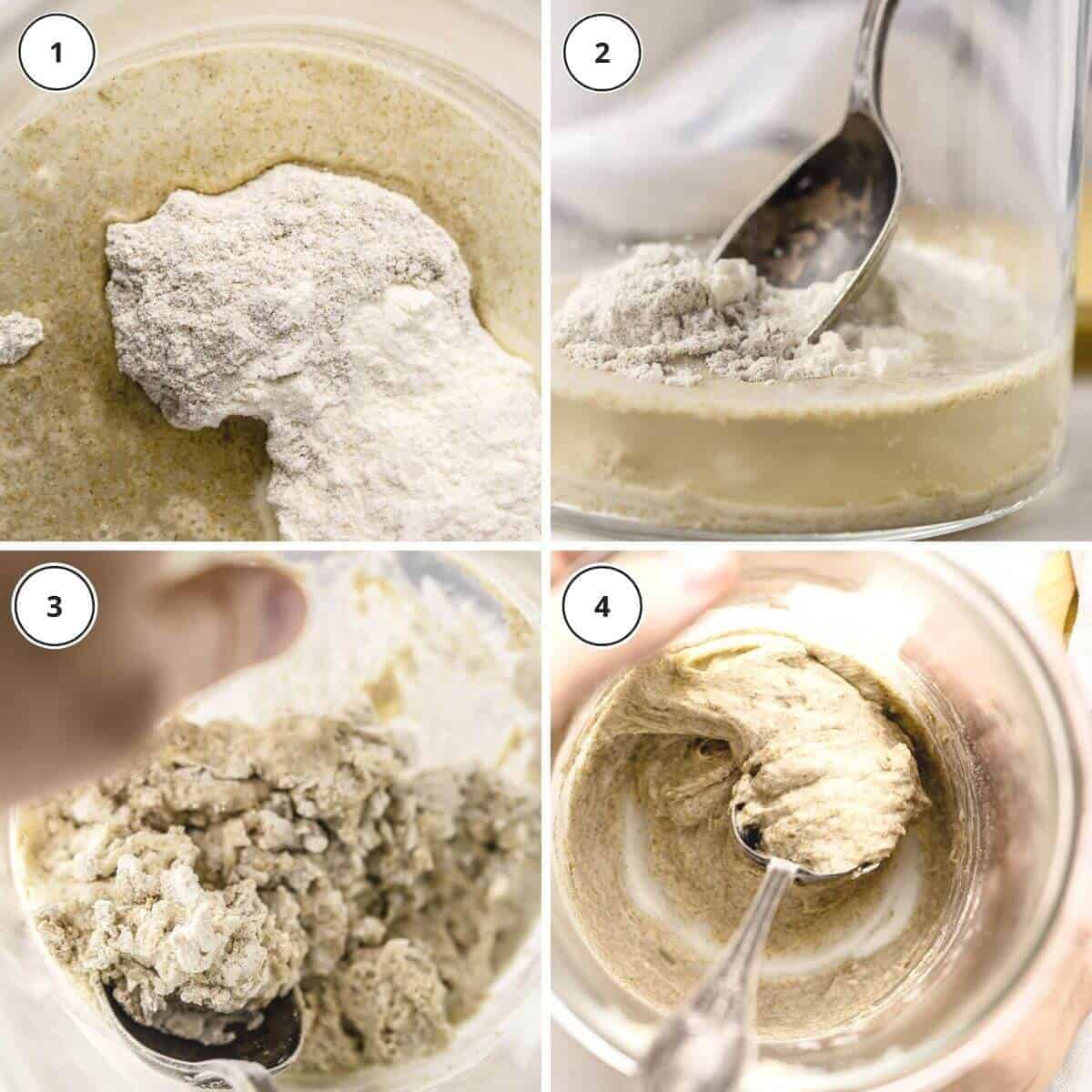 Important: Sterilise a 500 millilitre mason jar or any other adequately sized non-reactive container before you start. Make sure it has a tight-fitting lid. Also sterilise any spoons or equipment you may use. This is to make sure no unwanted bacteria gets into the starter.
Day 1: Mix together 15 grams unbleached white flour and 35 grams rye flour with 50 grams filtered water. Close the container with a tight-fitting lid and place your starter at room temperature for 24 hours.
Day 2,3,4,5: feed your starter with 25 grams rye flour, 25 grams unbleached white flour, and 50 grams of water. Close the container. Leave at room temperature and repeat this for 3 more days.
Day 6: Your starter would have risen and fallen. You should now have 500 grams of rye sourdough starter. You remove 200 grams of this and make these sourdough crêpes or freeze it, leaving you with 300 grams of starter. Add back 50 grams rye flour, 50 grams white flour, and 100 grams water. Leave closed at room temperature.
Day 7: your starter is ready to bake with. Alternatively, store it in the fridge for later use and feed it once a week.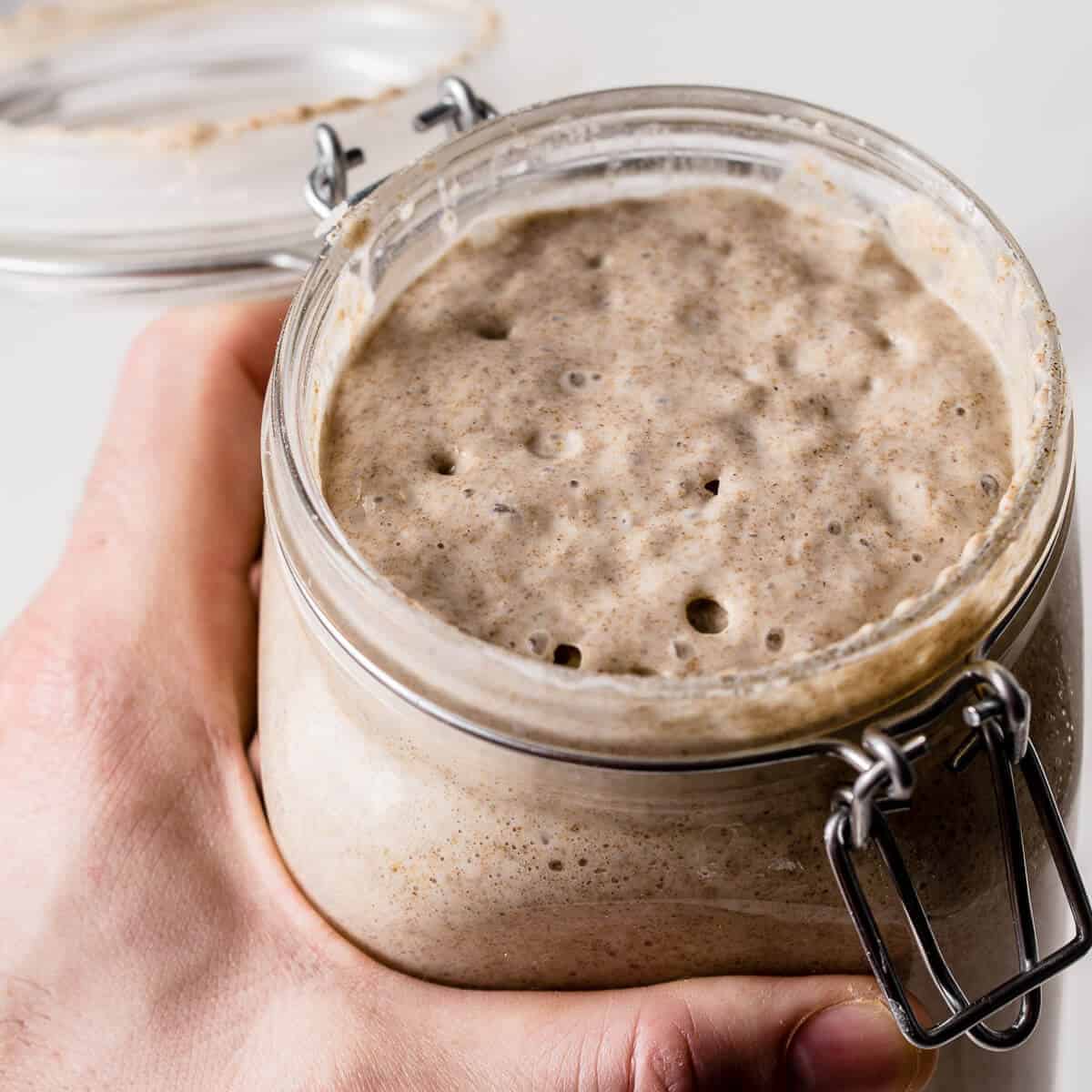 Video
Tips for success
Make sure your equipment and hands are 100% clean to avoid any bad bacteria.
Use unbleached flour and filtered water for best results.
Cold temperatures will slow down the process, while warm temperatures will speed it up. Aim for room temperature around 22 °C or 71 °F.
Storage instructions
If you are actively baking with your starter then keep it at room temperature and feed it every time you remove some starter to bake with.
Baking once or twice a week? Store it in the fridge and follow my sourdough care instructions below.
If you hardly ever bake, then store it in the freezer in small amounts, so you can pull it out and feed it when you do eventually bake.
Taking care of your starter
The most important thing to understand about sourdough is that it is a living culture of bacteria and yeast. This means that it depends on food to survive.
You need to feed it, look after it and know what it likes and don't like. If kept at low temperatures (around 5 °C or 41 °F) the fermentation slows down and at higher temperatures speeds up. 
If you are not ready to bake with it, you can store your sourdough starter in the fridge feeding once a week with 25 grams flour and 25 grams water, or you could freeze it to completely halt fermentation until you are ready to use it.
It's also important to understand when your sourdough starter is too sour or the microbes are overpopulated. Yes, even in sourdough starters there are overpopulation issues.
Bread baked with over sour starters will have an unpleasant sour/bitter note to it and worst case won't even rise properly as the yeast does not get enough maltose from the lactobacillus and won't produce much carbon dioxide(CO2).
The structure also becomes too sticky and basically, the whole thing just sucks at that point.
To prevent this, we remove up to 50% of our starter for other uses.
Like make another starter, or to give some starter to a friend or whatever you like really. This brings us to the most important rule about a sourdough starter.
What you take out, you have got to put back in.
In most cases, this will be a simple 50-50 split of flour and water.
For instance, if you had a 200 grams starter that was too sour, you would remove 100 grams of starter and add back 50 grams of water and 50 grams of flour.
As mentioned before, it is not advised or necessary to throw away the "too sour" starter as you can still cook with it, freeze it or make another starter with it.
Frequently asked questions
How much sourdough starter to use in my bread?
Sourdough starter is added to bread by a baker ratio of between 10% and 25%. Although sourdough bread is the most common thing to cook with it, you could also use it to make sourdough buns, croissants, pancakes and sourdough crêpes.
What flour can I feed my starter with?
If you made a rye starter, you can continue feeding it with a mix of regular unbleached white flour and rye flour. Otherwise, simply feed with regular flour.
What is the liquid sitting on top of my starter?
This is called the hooch. It's a sign that you haven't fed your starter lately, and he is hungry. Some people throw out this liquid, while others including myself prefer to stir it back in before discarding 30-50 per cent of the starter and refreshing with new flour and water.
My starter smells cheesy
Something has gone wrong. Throw it out and start over. Always use clean utensils and equipment at all times.
My starter is mouldy can I still use it?
Mould is a bad sign and better to throw it out even if it smells fine. Make sure you use clean equipment when feeding your starter, and never dig around in there with unwashed hands.
Related recipes
This site contains affiliate links. I may earn a tiny commission on qualifying purchases at no extra cost to you. By bookmarking these links you help support the upkeep of this site.
If you found this post helpful or have learned something, comment, subscribe, and follow me on social platforms for more tasty recipes.
Recipe
Sourdough Rye Starter
Rye sourdough starter I use for all my sourdough baking.
Instructions
Day 1: Mix 15 grams white flour, 35 grams rye flour, and 50 grams water together. Let it sit in a closed container for 24 hours at room temperature.

Day 2,3,4,5: Feed with 25 grams white flour, 25 grams rye flour, and 50 grams water each day and keep it at room temperature.

Day 6: Remove 200 grams starter. Add 50 grams white flour, 50 grams rye flour, and 100 grams water. Leave at room temperature.

Day 7: The Starter should be nice and bubbly and ready to use. If you do not intend on baking straight away then move your starter to the fridge and feed once a week just like you did on day 2.
Video
Notes
Many elements play a part in fermentation. Your starter might take longer or less time than stated in the recipe. 
You can use the sourdough discard for sourdough crêpes or simply freeze it for future use.
Discard some starter when it gets too sour and feed with 50/50 flour and water. 
Nutrition
Serving:
1
g
Calories:
311.11
kcal
Carbohydrates:
66.19
g
Protein:
9.41
g
Fat:
1.16
g
Saturated Fat:
0.16
g
Sodium:
5.25
mg
Fiber:
6.52
g
Sugar:
0.59
g
Calcium:
2.04
mg
Iron:
9.5
mg
Keywords:
how to make sourdough starter, rye sourdough starter