Jump to recipe
This recipe for lemonade will blow your mind and you'll never go back to making homemade lemonade the way you used to. It's got an explosion of citrus flavour. Just like the best lemonade recipe should.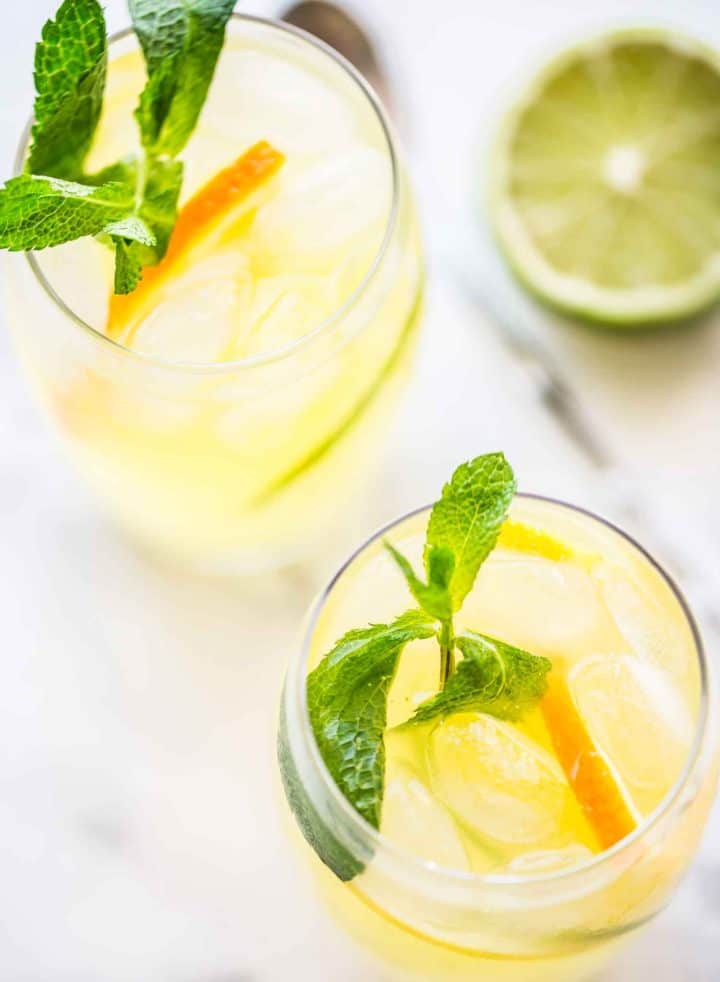 Jump to:
What makes a great lemonade
Do you know what I don't get about the average homemade lemonade? Why it's so average...
Homemade lemonade should be full of zesty citrus zing and be perfectly balanced between sweet and sour. The most important part to a great recipe for homemade lemonade is the actual citrus flavour.
This important flavour always lacks in lemonade recipes. Today we will look at how to fix that and teach you how to make the best homemade lemonade ever.
As much as this homemade lemonade will blow your mind, it blows my mind how no recipe for lemonade uses this little trick I will show you.
Ingredients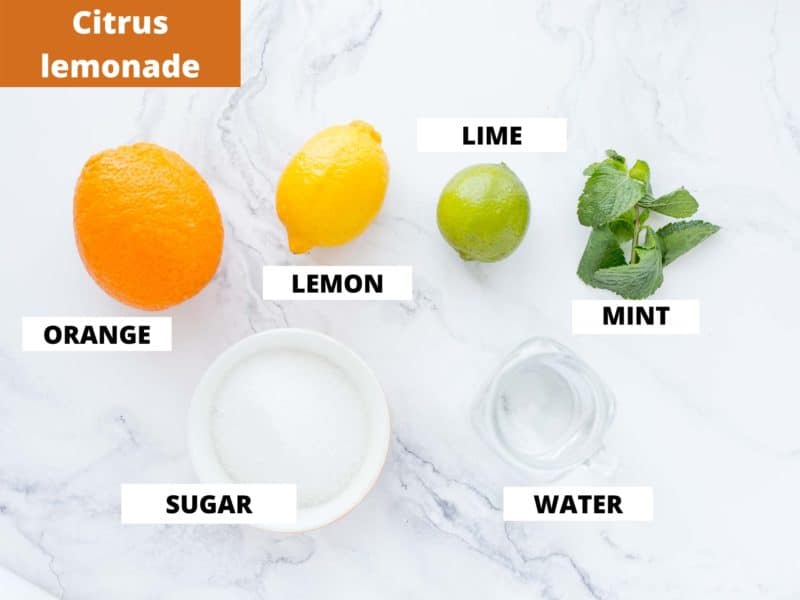 Ingredients for homemade lemonade are simple, but make sure you get the best you can afford.
Lemons - Good quality unwaxed lemons.
Limes - Same as for lemons. Make sure they are bright and green with no yellow spots.
Oranges - Use a nice sweet juicy variety and also make sure it's not waxed.
Mint - Fresh as a daisy and make sure it's not spearmint.
Sugar - Normal granulated sugar although, honey, agave syrup, maple syrup and other sweetners can also be used.
Water - Clean drinkable tap water.
How to make it
Below we will go through how to make homemade lemonade in a few easy steps.
Our secret to making the best lemonade and packing it full of citrus flavour is to use the zest(skin) of the citrus too.
The zest is loaded with flavour oils that carry the aroma and actual flavour of them. Usually, people throw this away. Big mistake.
You are throwing away the flavour and keeping only the acid. That's not correct and not how you make a great homemade lemonade.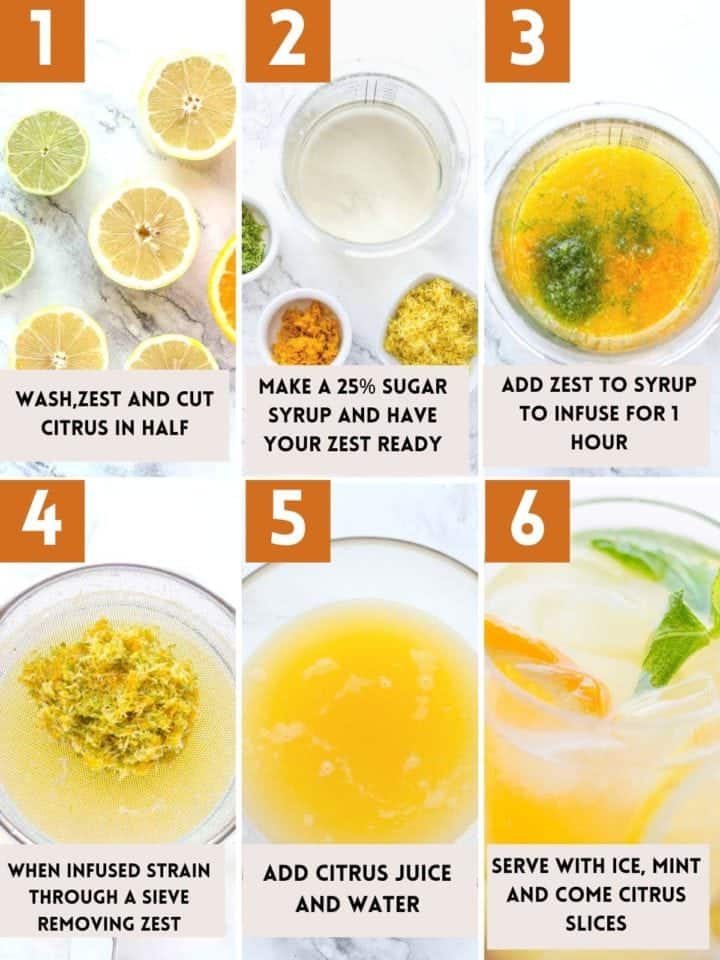 Wash the citrus thoroughly with cold running water.
Zest as much as the recipe calls for and cut the rest of the citrus in half ready to juice and use as garnish. Make sure the zest is fine and you are not using any of the white pith underneath the zest. That stuff is bitter and will spoil your lemonade.
Bring to the boil 250g water and 250g sugar until dissolved. Add 750g of cold water to cool the liquid down slightly. You could also add 750g of ice instead if you have it.
Add the citrus zest to this 20% sugar syrup and let it infuse for about an hour. This step is vital as we are extracting the flavour oils from the citrus zest.
When infused strain through a sieve into a suitable container discarding the spent zest and keeping the syrup.
Juice the citrus and add the juice to the above syrup.
Add 1L of water.
Taste for balance and adjust if needed to your own personal taste. Remember that you will add ice to the lemonade and that will dilute it too. So keep it nice and brightly flavoured and well balanced.
Place in the fridge to chill well.
Slice some citrus and pick a few sprigs of fresh mint.
Add into a jug with ice and give a stir.
Serve with chilled glasses filled with more citrus slices, mint and ice.
Variations
This homemade lemonade recipe serves as a base for other lemonade like this strawberry and basil lemonade. We sell litres and litres of this lemonade at events and it's a very popular non-alcoholic cocktail.
Small parts can be adjusted and things added to make a completely unique drink.
Citrus - I love using the trio of citrus but, you could use only lemons, limes or oranges or mix them as you wish. It would make sense to use more orange over holidays like Christmas. You could also add some more exotic citrus like Japanese yuzu or French Bergamot. Just keep in mind that some citrus zest are very bitter. Which is a good thing if you are having it with gin.
Sugar - Sugar is basically just to balance the lemonade but you could use maple syrup, agave syrup, or other sweeteners like stevia. Just be mindful that they all differ in sweetness and something like stevia is super strong so you might only need a few spoon fulls instead of 250g)
Mint - You could also use lavender or basil for a slight variation. Fancy it up by adding a touch of sage, thyme or rosemary. Especially good when used as a cocktail.
Water - I sometimes substitute the plain water for sparkling water or use tea instead. Green tea makes for an extremely delicious lemonade/iced tea.
Added fruit and aromatics - With this it's good to follow the seasons. You can add any fruit thats in season. Like strawberries, cherries, apricots, blackberries, peaches etc. You could also spice it up a bit with fresh ginger root, lemongrass, galangal, lime leaf or spices like cinnamon, clove and cardamom.
Important when modifying this lemonade recipe
Keep the flavours simple and minimal and don't overload the lemonade.
If you add too many spices, herbs or aromatics then the flavours battle each other and you end up with something forgettable and nasty.
The flavours should complement each other.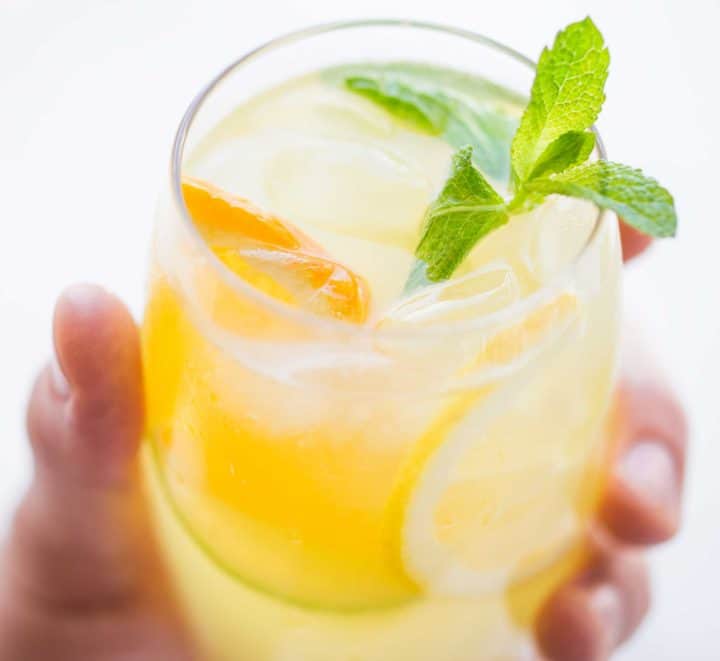 Serving suggestions
Alcoholic - You could add a wide range of alcohol to this lemonade to make delicious cocktails. Gin and vodka are the natural choices but you could also use whisky or bourbon to make a great sour by shaking with a touch of pasteurised egg white and serving over crushed ice.
Non-alcoholic cocktails - It's a great summer spritz or a mocktail at parties as is. Add a few long ribbons of cucumber or serve in a martini glass with green olives.
Soft drink - The original intension and still the most widely used purpose for homemade lemonade. Make sure it's well chilled.
In baking - You can use to drizzle over freshly baked cakes like lemon cake or into a cupcake. It makes the crumb moist and soft while adding extra flavour.
Frozen - Freeze in popsicle forms or ice cube trays to gently flavour water.
Naturally fermented soda - You could leave this lemonade to ferment into a naturally carbonated soda. Ferment like you would a kombucha and then bottle it after about 4 days at room temperature. Let it carbonate for another 4 days at room temperature and then store in the fridge making sure it's well chilled before drinking.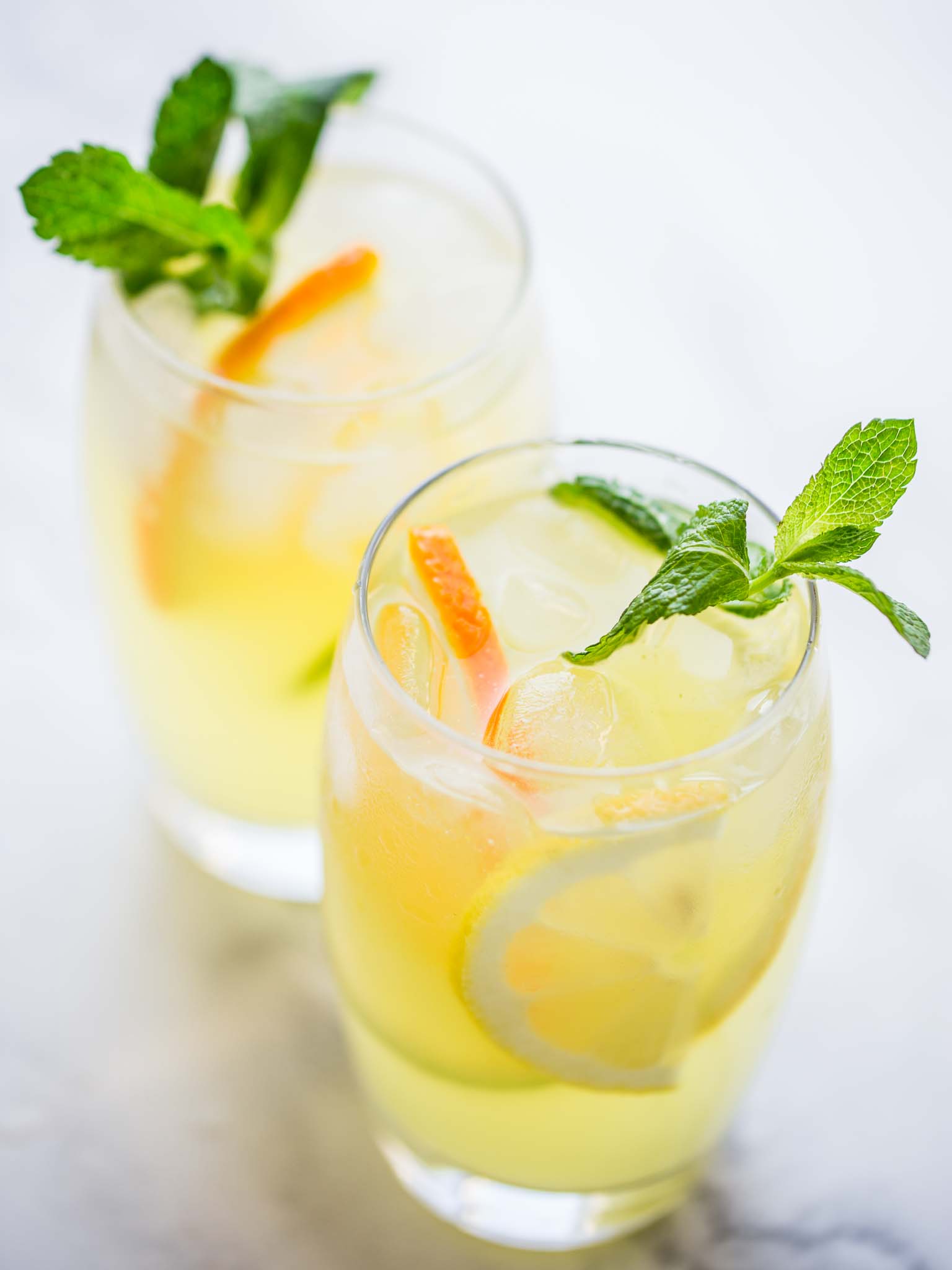 Other recipes you might like
Useful equipment for this recipe
THIS PAGE CONTAINS AFFILIATE LINKS - I MIGHT EARN A TINY % OF THE SALE THROUGH THESE LINKS NO EXTRA COST TO YOU. PROBABLY NOT EVEN ENOUGH TO BUY A BEER).
If you found this post helpful or have learned something, comment, subscribe and follow me on social platforms for more tasty recipes.