Braai salads and side dishes often get neglected. I fully understand that the braai master is traditionally not a fond salad or vegetable eater and he/she wants to spend most of the time tending to their chops, wors(sausage) or steaks.
Growing up in South Africa I remember our braai having about 95% meat and maybe a little blob of potato mayo salad on the side. If for some reason you stumbled upon this and don't know what a braai is - read here.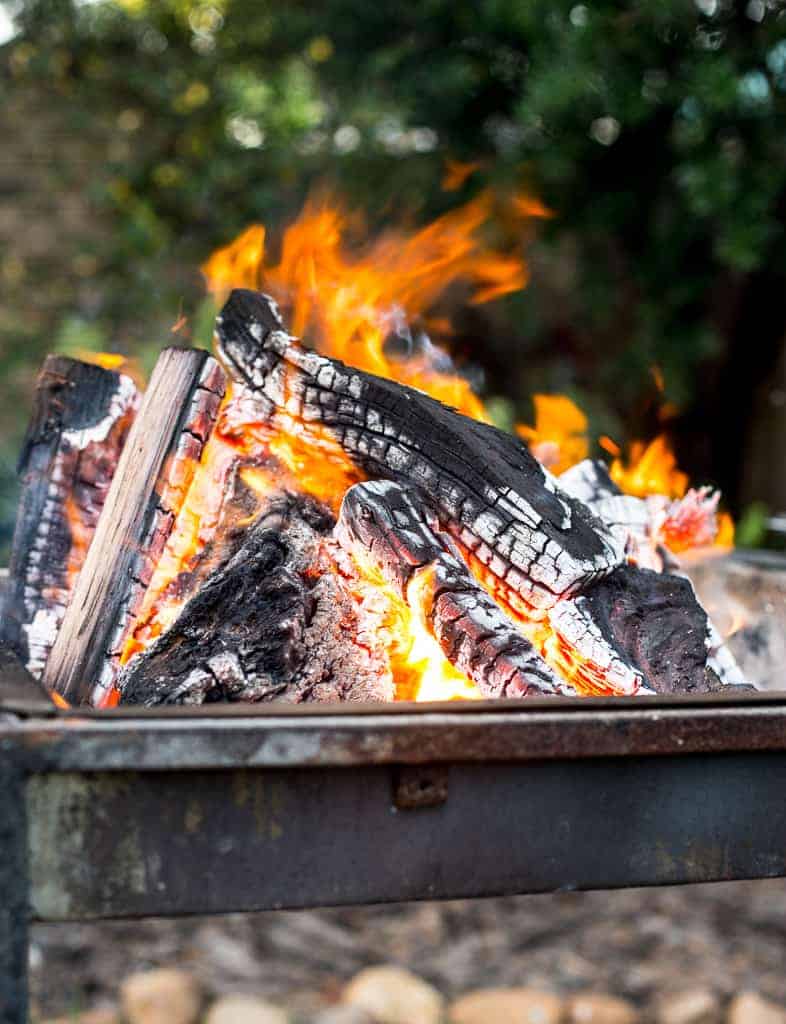 Jump to:
Don't get me wrong. Potato mayo salad is awesome. Maybe we will even do a nice potato mayo salad recipe here so you could share it with your sister in law, brother in law or aunt and pass it off as your own.
For now, I want to introduce a few beautifully healthy and vibrant braai salads and side dishes for your braai that will make the whole neighbourhood including your stubborn carnivorous Oom Jan happy.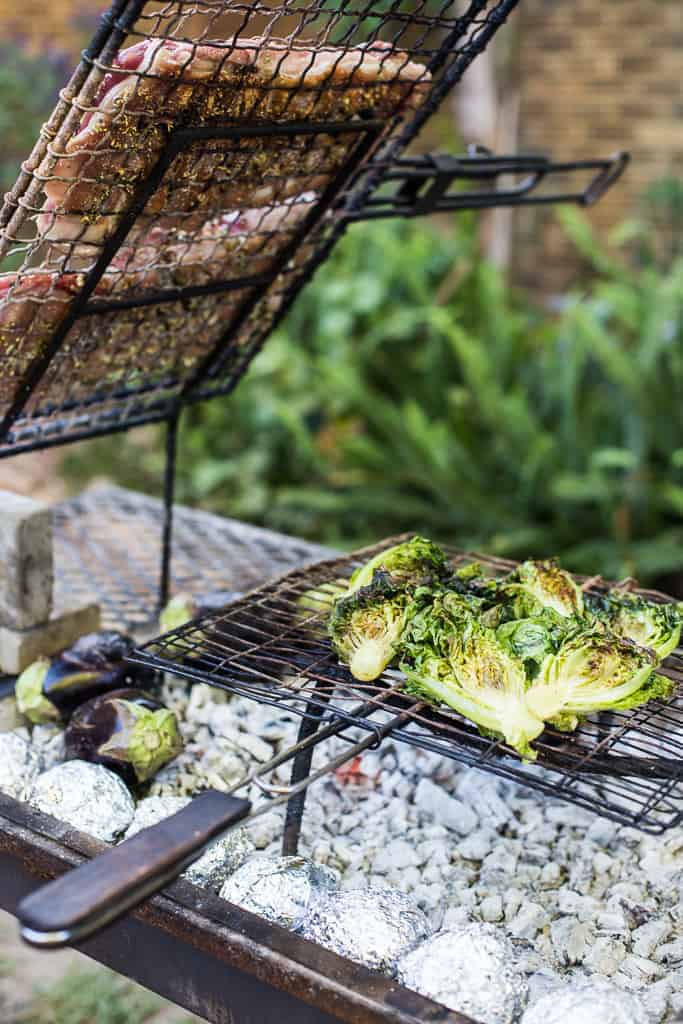 We will start with two very simple to do salads one of which you could ask "the salad team" to help with. The first salad is red quinoa, smoked paprika, red onion and date number that goes perfect with chicken or pork on the braai.
Try it out with this pork belly. I tried a similar version at Kiki's tavern in Mykonos. Below is the quinoa salad and recipe at the bottom of the page.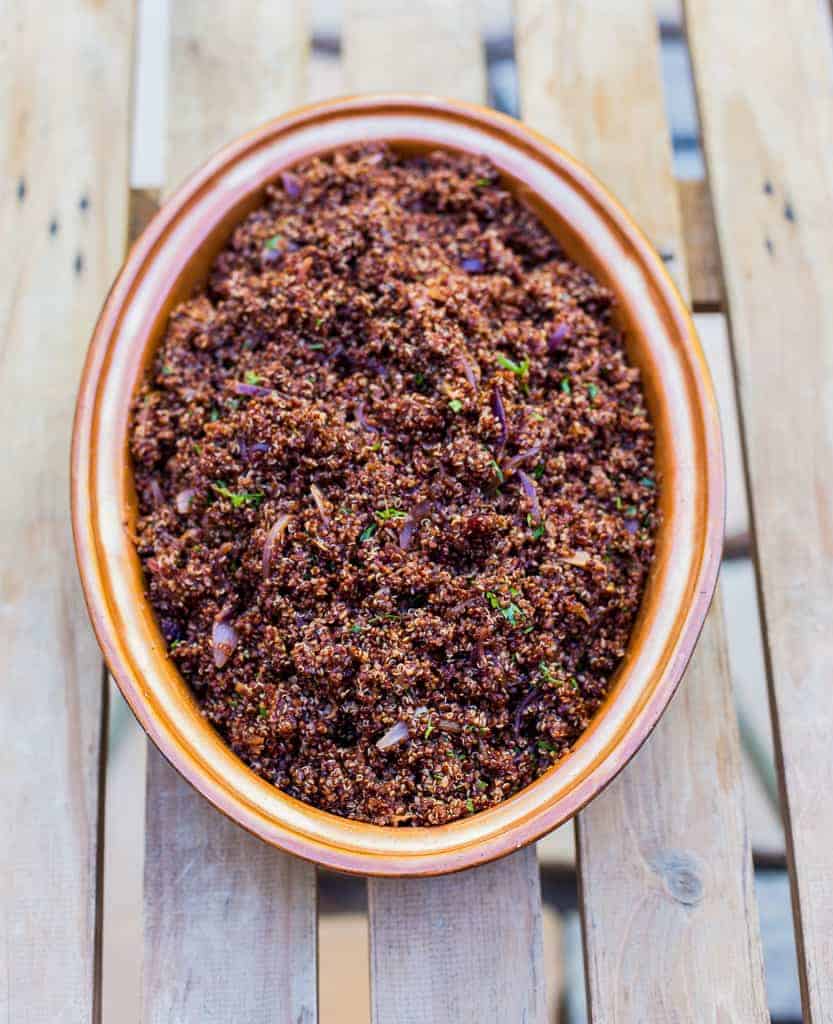 Imagine having lovely organic chicken thighs marinated with fresh oregano and finished with a generous squeeze of lemon juice and freshly grated zest a pinch of flaky sea salt and cracked black pepper next to this salad.
Winner winner chicken dinner.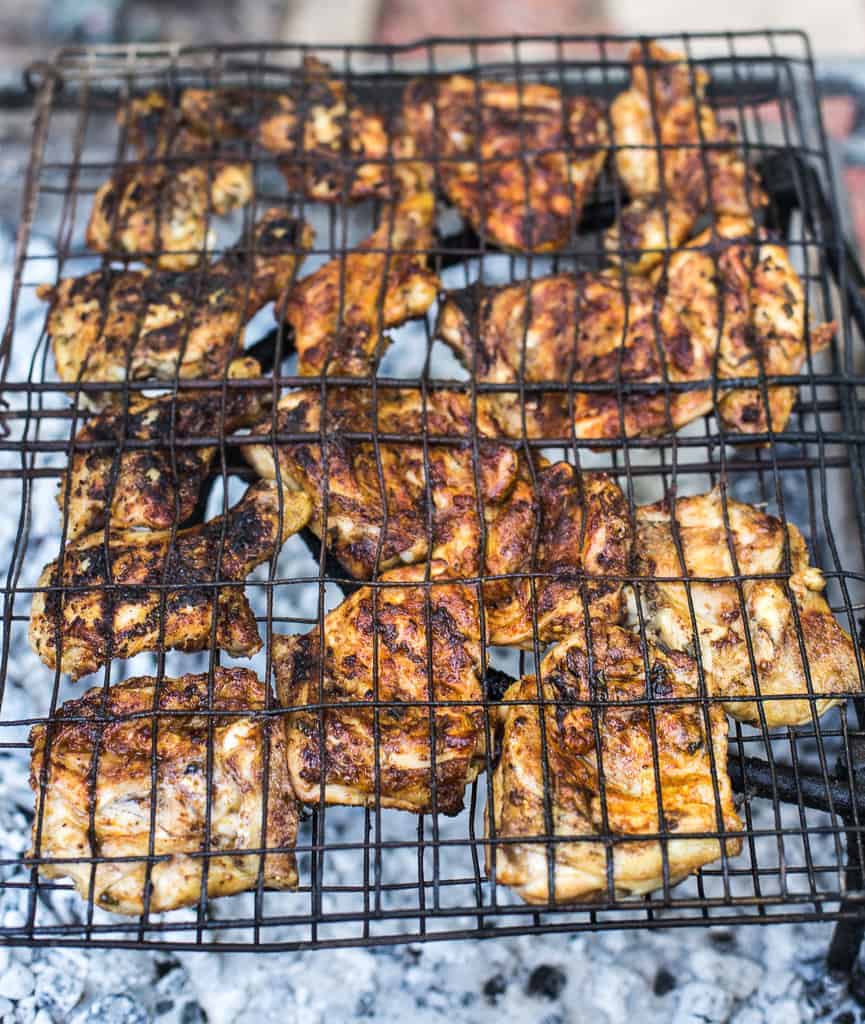 While the "salad team"(usually your wife, sister in law and her best friend) is preparing our little quinoa number you and the meat team(usually, yourself, your brother/brother in law and a bachelor friend) can similarly get on with cooking the rest of the ingredients for the salads and vegetables.
Take a few aubergines or eggplant also known as "bringels" or "blou balle", a few red and yellow peppers, large portobello mushrooms and a few heads of baby gem lettuce.
Don't worry if you don't have one or two of those. This is a simple salad and vegetable feast and does not mean all of it has to be cooked. Pick one or two and start with that.
Make sure all the vegetables are rinsed clean and free of dirt. From here on it's a very straight forward and simple process.
How to roast eggplant on the fire and serve it best
Assuming you have lit your braai/bbq and the coals are nice and hot. Start with roasting the aubergines until they are fully cooked through, in other words very soft and have a lovely smoky aroma. Set aside and cover with tin foil or just keep it in your grandmas faithful old braaipan close to the fire to keep warm.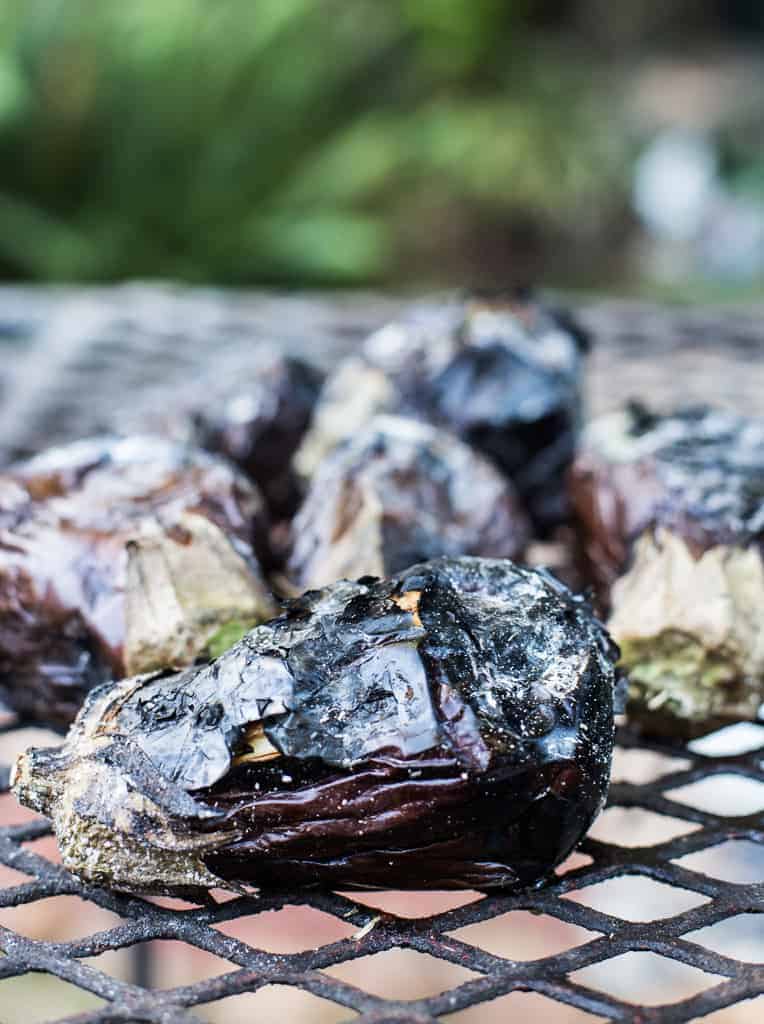 When ready to serve, cut the cooked eggplants in half lengthways and simply season with extra virgin olive oil, salt, and freshly cracked black pepper.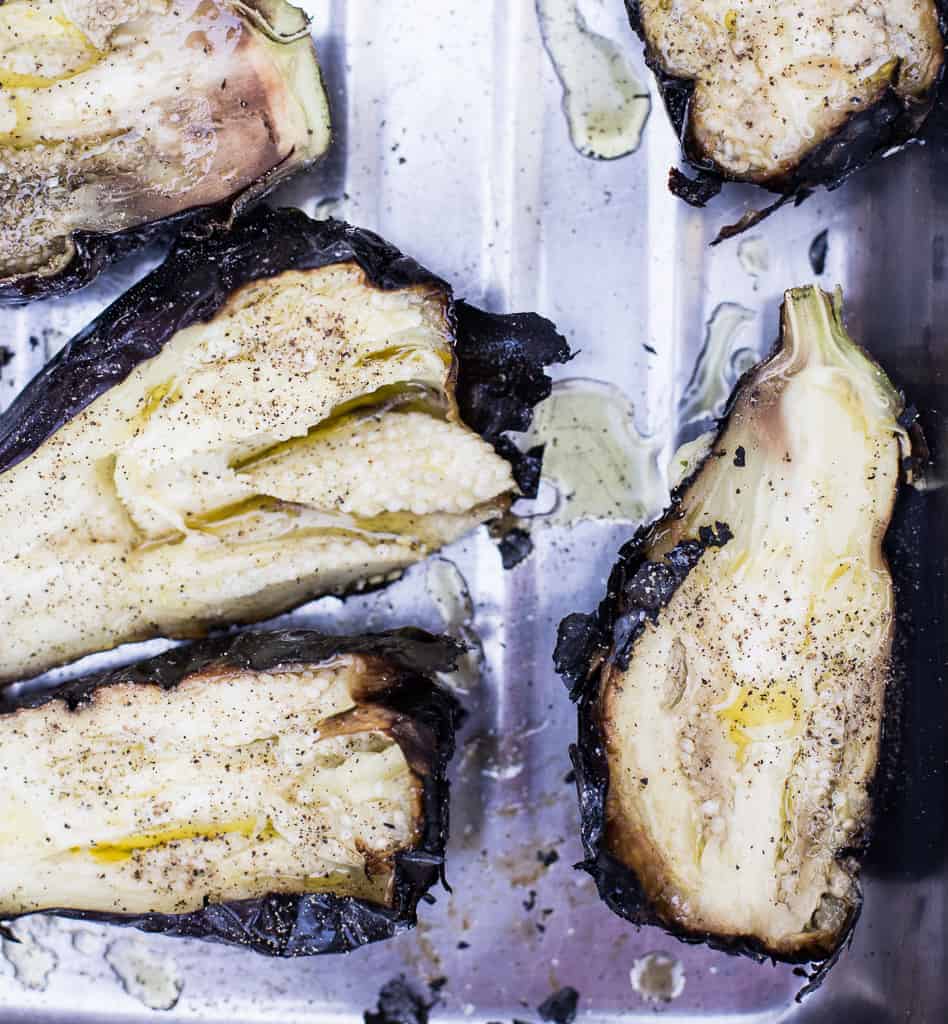 How to roast peppers on the fire
Next, we will be doing the same with our peppers. The Only difference is that we will let them cool, peel their dark blistered skins and remove their seeds.
It's important to get a good dark singe on them for them to have a deep roasted flavour and are cooked through till soft.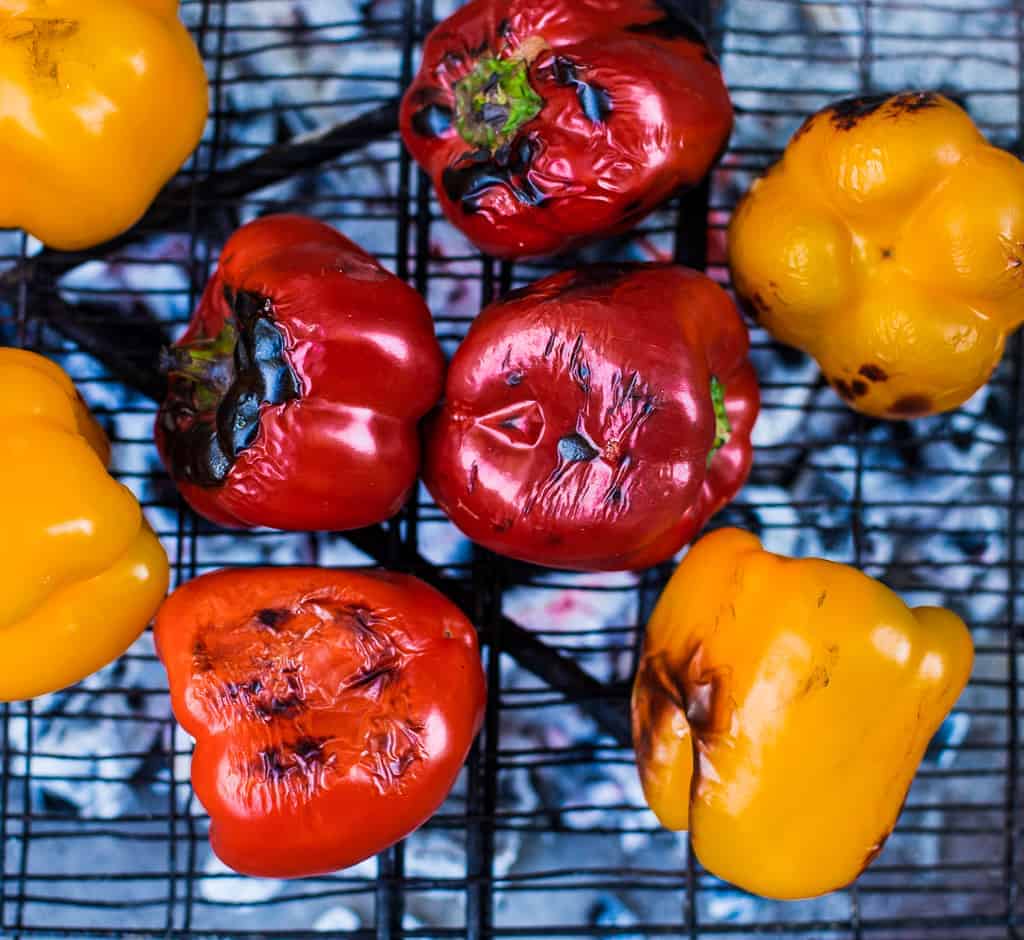 How to make a simple roasted pepper salad
To make our roasted pepper salad we will clean up the roasted peppers until only the flesh is left. Next, we will lay them on a plate and add a few dollops of mascarpone followed by some caper berries, anchovies or both.
Drizzle with some good olive oil and season as usual with some flaky sea salt and freshly cracked black pepper.
Try this version of roasted peppers with an umami rich anchovy and black olive tapenade.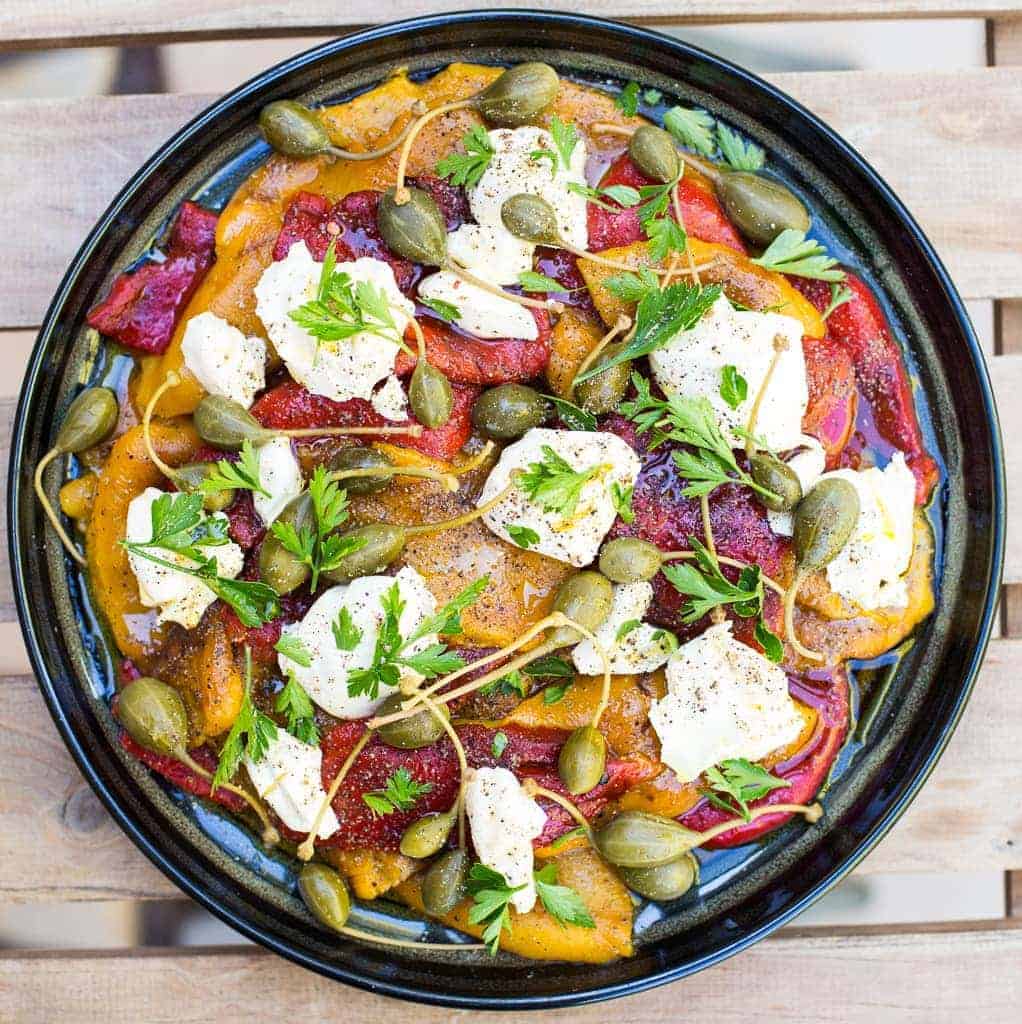 How to cook mushrooms on the fire
Mushrooms are another favourite that comes to making the perfcet side dish for a braai. They are meaty, nutty and rich in umami flavour when properly cooked. Perfect side dish for a fat steak. They are also pretty straight forward to prepare.
If you want you can peel off the outer layer on the cap but I prefer leaving it on because it helps with keeping them juicy and meaty. You want to cook these over medium-high heat sprinkled with salt, pepper and olive oil or butter if you prefer.
Mushrooms soak up oil like sponges so don't be afraid to add some more oil. Turn often and let them brown and cook through.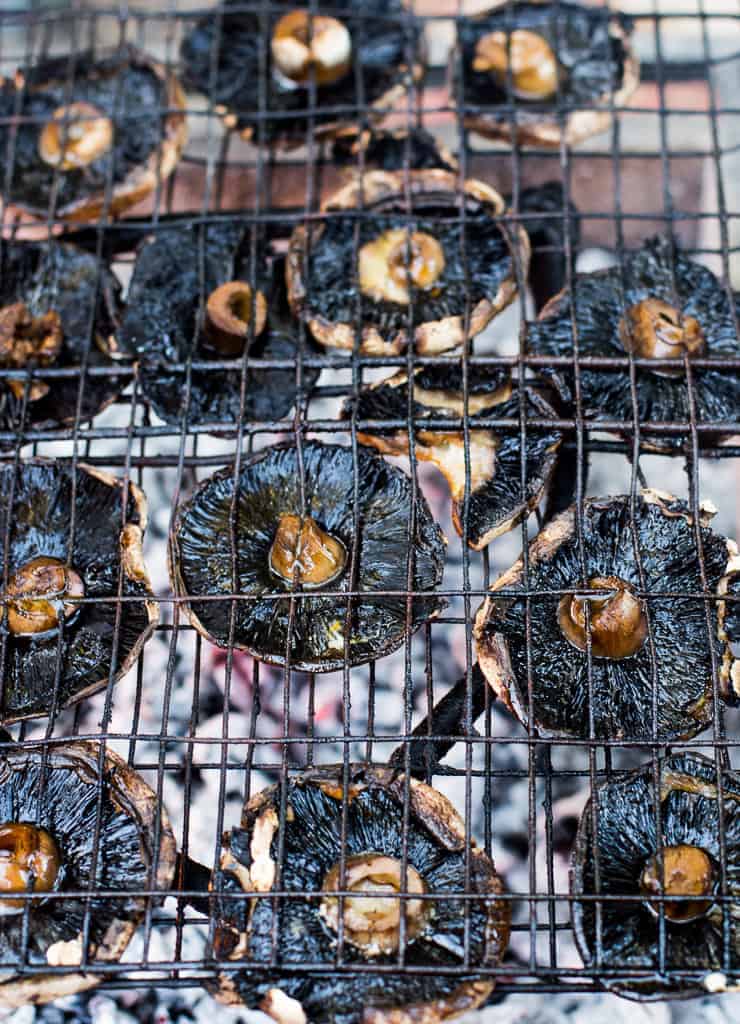 How to cook whole salad on the fire and serve it best
Finally, the easiest and something that brings a lot of vibrancy, crunch and freshness to your braai. Braaied salad. I Never thought it would be a thing but there you have it. You can use any hardish salad like cos, romaine or baby gem for this part. Cut the baby gem or whatever you are using, in half and season well with some salt, pepper, and olive oil.
Grill for a few minutes each side just to give them a bit of colour and remove. They should be raw and crunchy and not cooked through. a Squeeze of fresh lemon juice and olive oil or a lovely freshly made honey mustard dressing works a real treat here.
To make a honey mustard dressing just mix 1 teaspoon dijon mustard with 2 teaspoons runny honey and 3 tablespoons canola oil.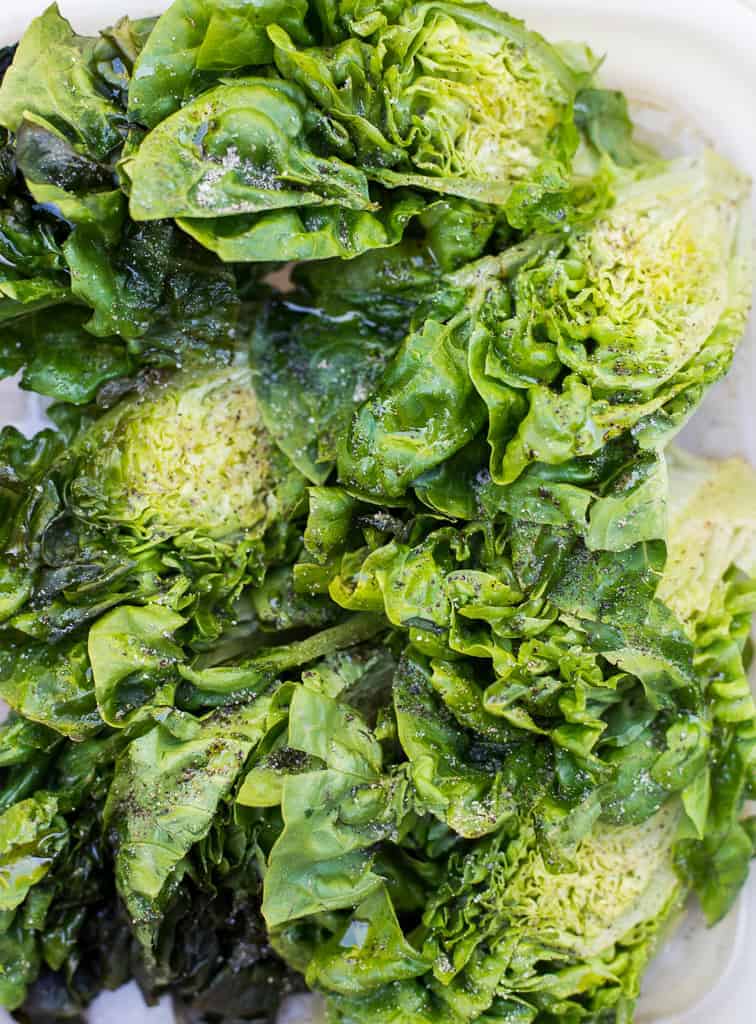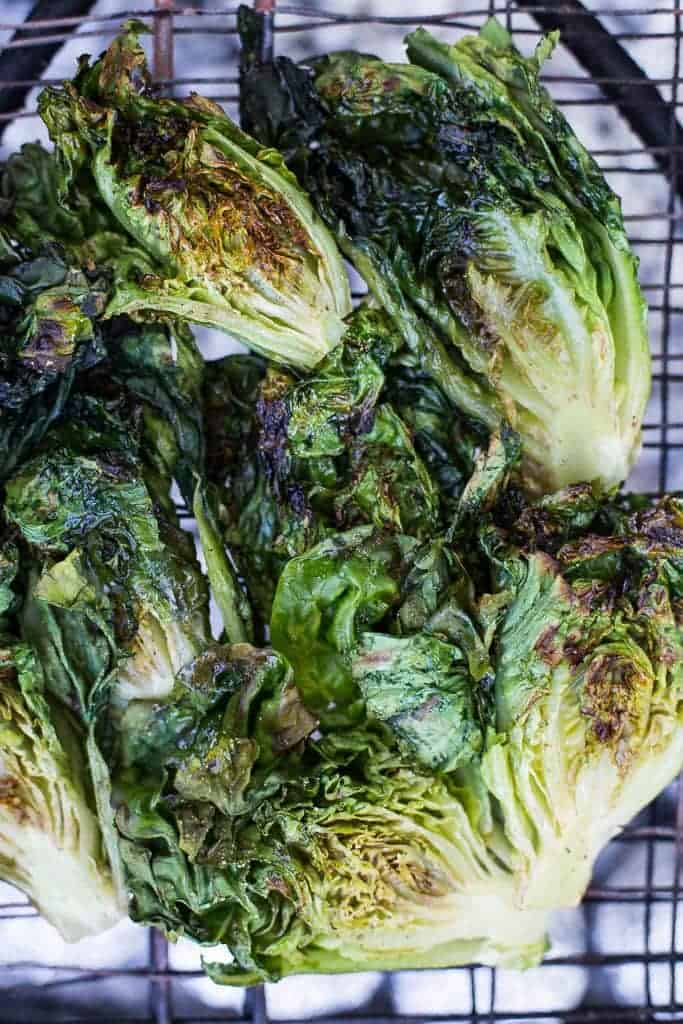 Imagine having this crunchy fresh and vibrant little salad with some marinated pork ribeye. Hassle-free, healthy and super tasty. The perfect meal for two or a quick bachelors dinner. Below is the pork rib eye.
How to cook pork chops on the fire
To Marinade 1kg of meat just rub the meat with the following and let it sit for a few minutes or for best results you could let it sit overnight.
1 tablespoon smoked paprika, 1 teaspoon ground cumin, 1 tablespoon dijon mustard, 1 tablespoon honey, 2 gloves crushed garlic. Braai it over medium heat taking care not to burn it because of the honey content.
Alternatively, rub this adjika paste all over the pork ribeye for a Middle Eastern touch.
These are also great with this silky smooth buttery mashed potatoes or this steakhouse style creamed spinach recipe.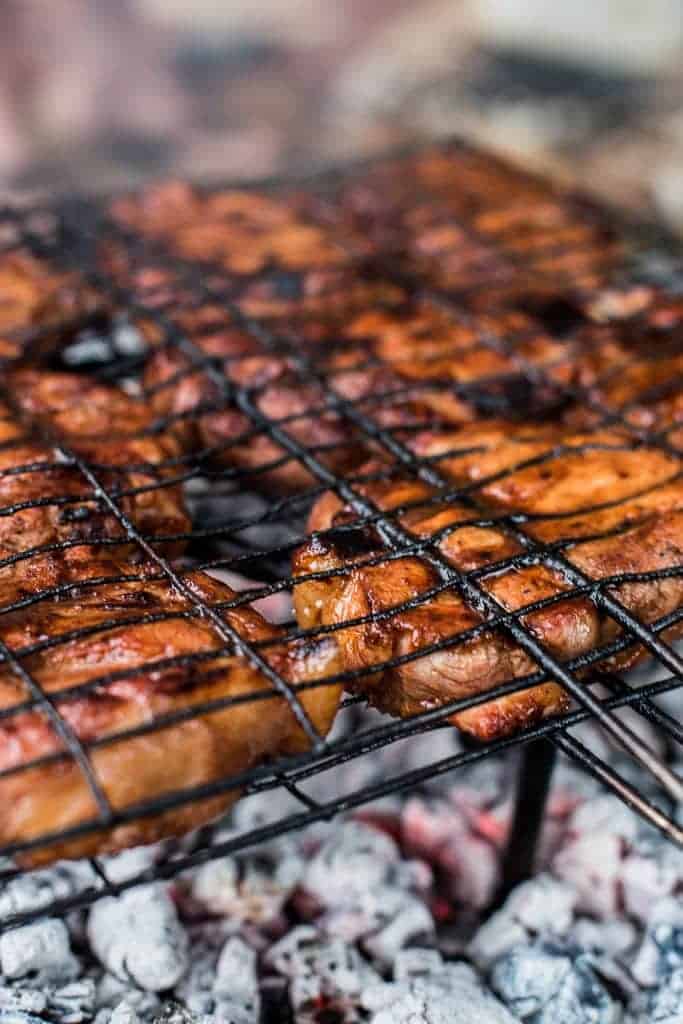 This might all seem like a whole load of food and yes it is. It is not super labour intensive and you can make this a part of the process of socialising around the braai. Just so you know.
I cooked all of these at one braai and all while entertaining friends and family, taking pictures and serving up. I would suggest you pick one salad and one vegetable/side dish and take it from there.
Other mains to have with these sides
Frequently asked questions
How to store
Once cooked, all these sides will keep well in the fridge stored airtight for up to 3 days.
Can these be made on the stove or in the oven
You can cook these dishes exactly the same way by simply changing the heating source. Peppers, salad and mushrooms can be cooked on the stove top and eggplant can be baked whole in the oven.
Useful equipment
This site contains affiliate links. I may earn a tiny commission on qualifying purchases at no extra cost to you. By bookmarking these links you help support the upkeep of this site.
If you found this post helpful or have learned something, comment, subscribe, and follow me on social platforms for more tasty recipes.
Recipe
4 Easy Braai Salads And Side Dishes
Perfect quinoa salad to accompany any grilled meats or even just as a nice lunch dish or late evening snack
Ingredients
For the Quinoa
250

g

(

1.5

cups

)

quinoa

500

g

(

2.5

cups

)

water or vegetable stock

3

g

(

0.5

teaspoon

)

salt for the water or stock

200

g

(

1.25

cups

)

red onion

-

sliced or chopped

20

g

(

4

teaspoon

)

garlic

-

crushed

24

g

(

1.5

tablespoon

)

parsley

-

chopped

60

g

(

4.0

tablespoon

) olive oil -

extra virgin
For the date dressing
150

g

(

1.0

cups

)

pitted dates

100

g

(

0.5

cups

)

boiling water

-

to soak the dates

50

g

(

3

tablespoon

)

vinegar

-

red wine or apple cider

16

g

(

1

tablespoon

)

smoked paprika powder

200

g

(

1

cups

) olive oil

10

g

(

2.0

teaspoon

)

lemon juice

-

freshly squeezed

2

g

(

0.5

teaspoon

)

black pepper

4

g

(

0.8

teaspoon

)

sea salt
Instructions
For the Quinoa
Rinse the quinoa under tap water

Boil in water or stock until all the liquid has been absorbed

Cover for 5 minutes with a lid in order to steam and get super fluffy

Meanwhile fry the onion and garlic in the oil until slightly brown, sweet and fragrant

Chop parsley and set aside

When the Quinoa is done fluff it with a fork and let it cool to room temperature.
For the sauce/dressing
Soak the dates in the boiling water for 15minutes till softened.

Add all the ingredients for the sauce into a jug or blender and blend until smooth. Taste for salt pepper and acidity and adjust to your taste.

If you like to have things spicy a bit of fresh chilli always works a treat.

This dressing needs to be sweet and slightly sour but most importantly balanced
To assemble
Place everything together in a bowl and toss it up

Taste and season one more time if necessary

Serve and enjoy
Notes
See the post for other veggies and delicious sides you can make straight on the braai.
You could easily turn this salad into a meal by adding some baked pumpkin or some slices of steak or even a baked chicken breast. It's very versatile and serves as a lovely base for other salads and main meals.
Nutrition
Serving:
200
g
Calories:
642
kcal
Carbohydrates:
52.06
g
Protein:
7.48
g
Fat:
46.37
g
Saturated Fat:
6.37
g
Sodium:
281.84
mg
Fiber:
6.42
g
Sugar:
18.51
g
Vitamin A:
9.74
IU
Vitamin C:
10.81
mg
Calcium:
6.75
mg
Iron:
18.91
mg
Keywords:
salad for barbecue, sides for barbecue