Jump to recipe
Lamb koftas are one of the many Middle Eastern recipes that will spice up any lazy Sunday lunch or easy weeknight dinner. Once you have made this recipe for lamb koftas. You will probably never want another kofta again.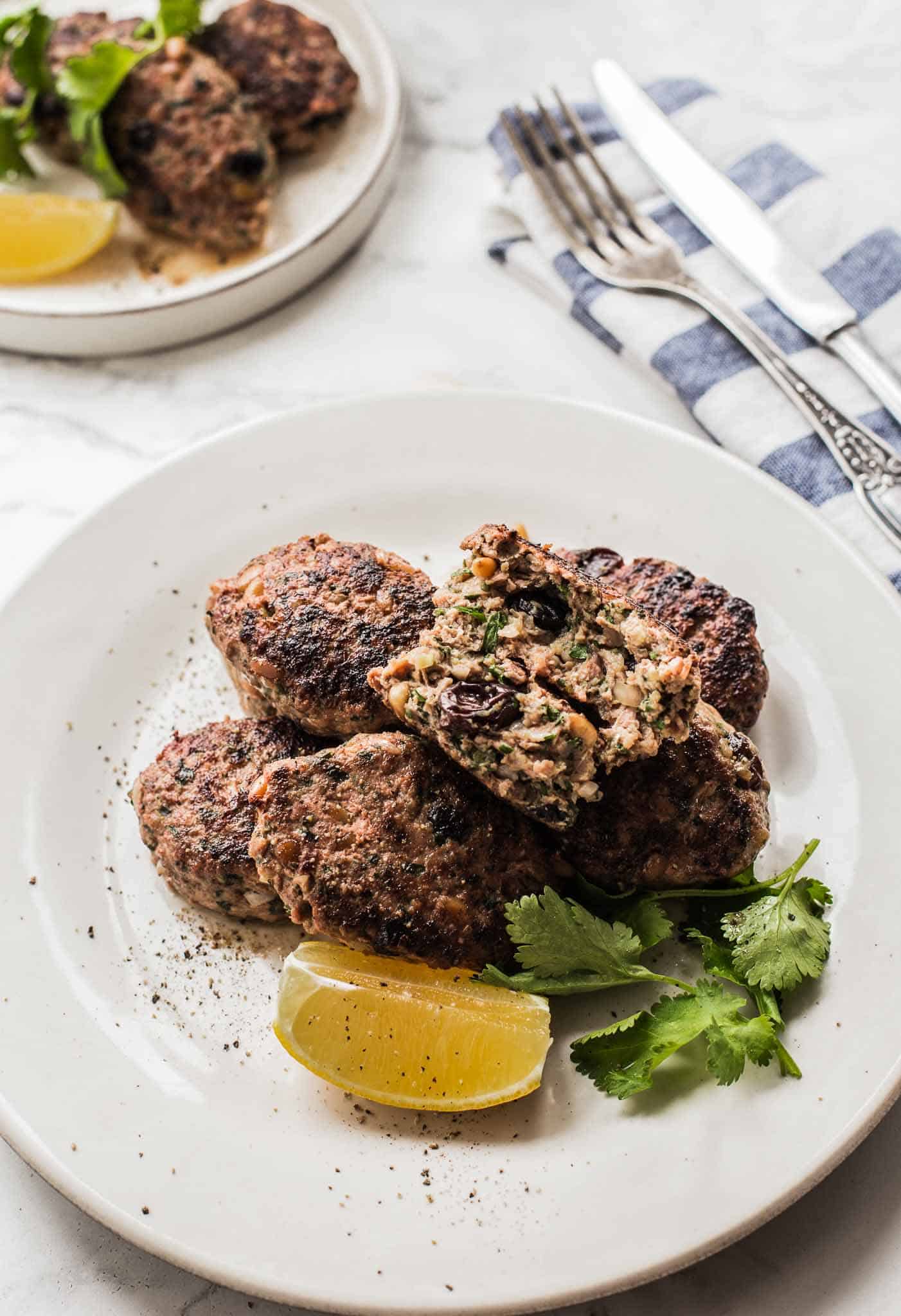 These are packed full of healthy aromatic spices, roasted pine nuts, and vibrant green herbs. What makes them unique is the soaked raisins that give these koftas and beautiful sweetness and harmonious balance with the Middle Eastern spices.
Finished with some fresh lemon and a tangy yoghurt sauce. This kofta recipe guarantees to satisfy your food cravings. Super simple and quick to prepare, perfect for a light snack, family feast or meal for two.
What is it
Kofta, Kōfta, Köfte, kufteh, koofteh or kefta is a dish that consists of ground or minced meat. There are many regional variations and lots of countries have their own unique take on them.
Grilled on skewers. Or made into an oval shape, flat like a patty or round like a meatball and fried.
The word kofta comes from the old Persian word Kōftan. Meaning "to pound or to grind".
Kofta recipes vary in protein too. Most often made with Lamb like in this kofta recipe. Other varieties include pork, beef, chicken, veal or a combination of some of these meats.
Fish koftas are also popular in some regions. The rule goes. If you can mince it you can make a kofta from it. Vegan and vegetarian versions have also popped up in places like Greece and Russia when observing the annual orthodox lent.
Aromatics like onions, spices, herbs and dried fruits are also added to minced meat or fish. The most basic version. Pure seasoned meat grilled over hot coals.
Some recipes add breadcrumbs or bread soaked in water or milk. This is often done to ensure the koftas stays soft when low fat or dry cuts of meat is used.
Note -This is NOT a traditional step. It won't deliver an authentic kofta but rather something similar to a meatball or frikkadel.
Lamb koftas(or any other kind) can be served with a variety of dishes.
Typically includes flatbreads, raw shredded vegetables, vegetable pickles, yoghurt or sour cream sauces.
It's more often than not served with rice, couscous, hummus or a combination of these.
Origin
The origin of lamb koftas(or any other kind) is not traceable to a single region or country. Lamb koftas are most often found in Middle Eastern and Central Asian cuisines. That is the most popular protein source eaten in those regions.
Countries like Turkey, Albania, Bulgaria, Greece, India, Israel, Lebanon and Morocco, among others, all have their own unique takes and methods of cooking koftas.
Some stew it like meatballs in rich gravies while others pan fry or grill over hot coals and serve it simply. 
The fact remains. No matter how you cook kofta. Where it originated. When done well. It's guaranteed to be mind-blowingly tasty!
Ways to cook it
Tandoor –  Few people are lucky enough to have a tandoor at home. If you are one of the few lucky ones, then this is by far the tastiest in my opinion.
Braai(BBQ) – The next best if not on par with tandoor cooking. The hot coals beautifully caramelise the koftas while the smoke kisses it and gives it an authentic kofta aroma. 
Stovetop – The way most of us will probably do it. Best fried in a heavy-bottomed cast-iron skillet. In this lamb koftas recipe, we will use this method to cook them.
Grill – If your grill is hot enough then this could probably mimic a tandoor a bit. In my opinion, not the best way and a sure way to get your oven full of oil splashes. No fun to clean. 
Air fryer – The good old or should I say new Air fryer. They work by blowing extremely hot air around a small chamber. The perfect way to cook these koftas especially if you live in a small flat somewhere in a city.
Deep-fried – I prefer not to as there are better ways, but done correctly and served in a wrap or fluffy pita with coleslaw and tzatziki, this kofta beats a midnight kebab any day.  
Useful equipment for this recipe
Cooking instructions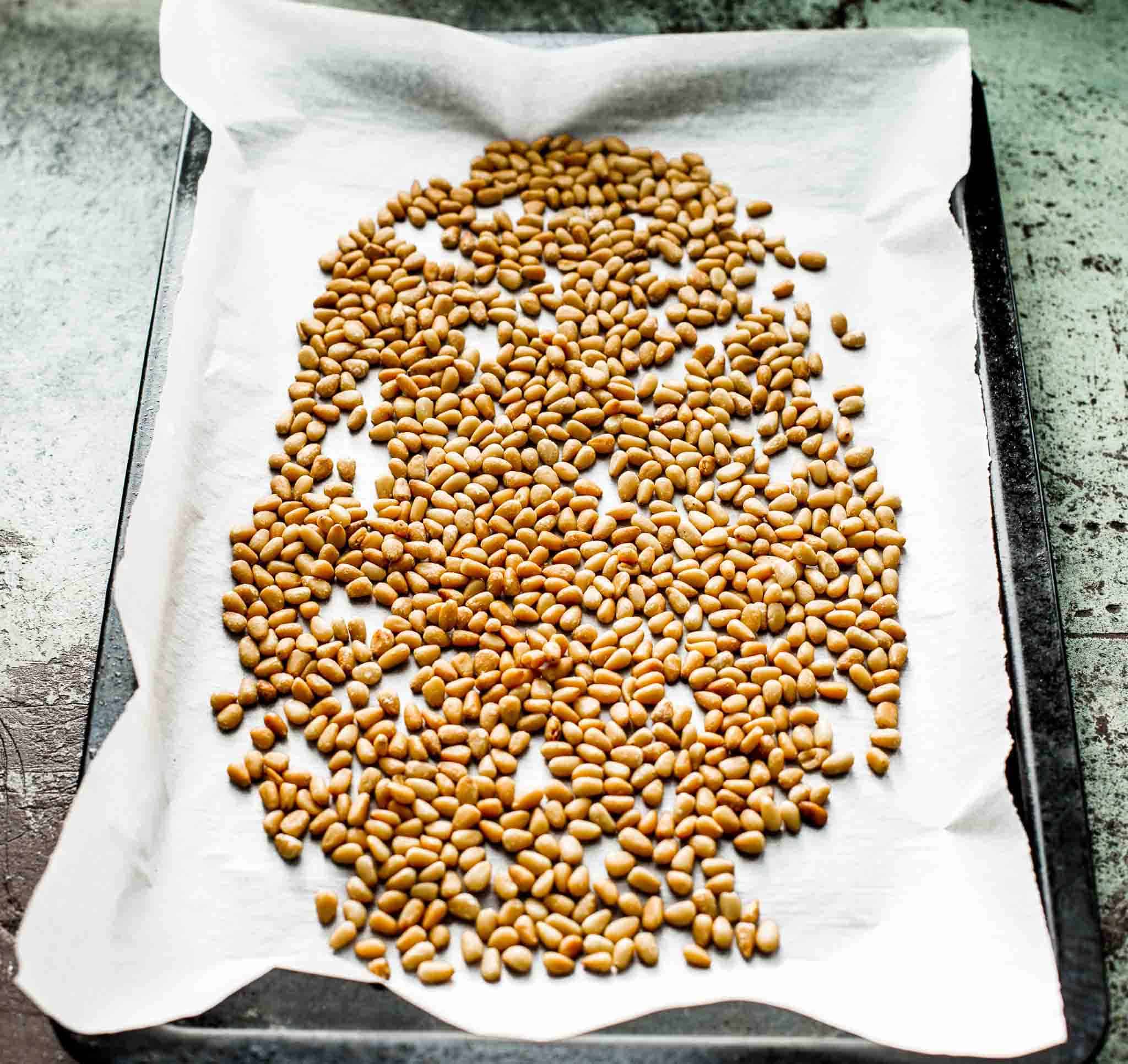 1st Step - Toast the nuts and let it cool down completely. Chop the onions and herbs and put all the ingredients in a bowl.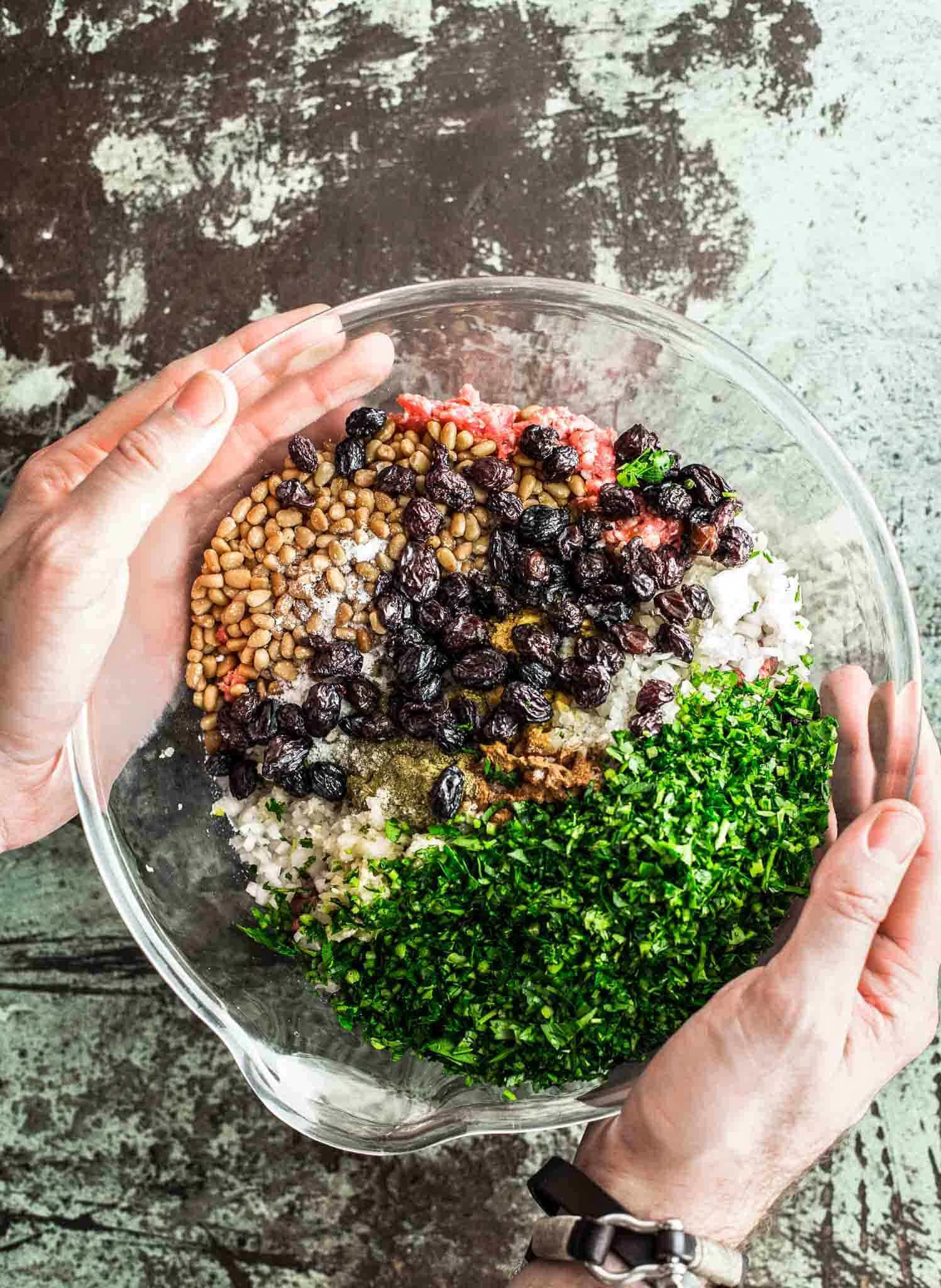 2nd Step - Mix together well until it's homogenous.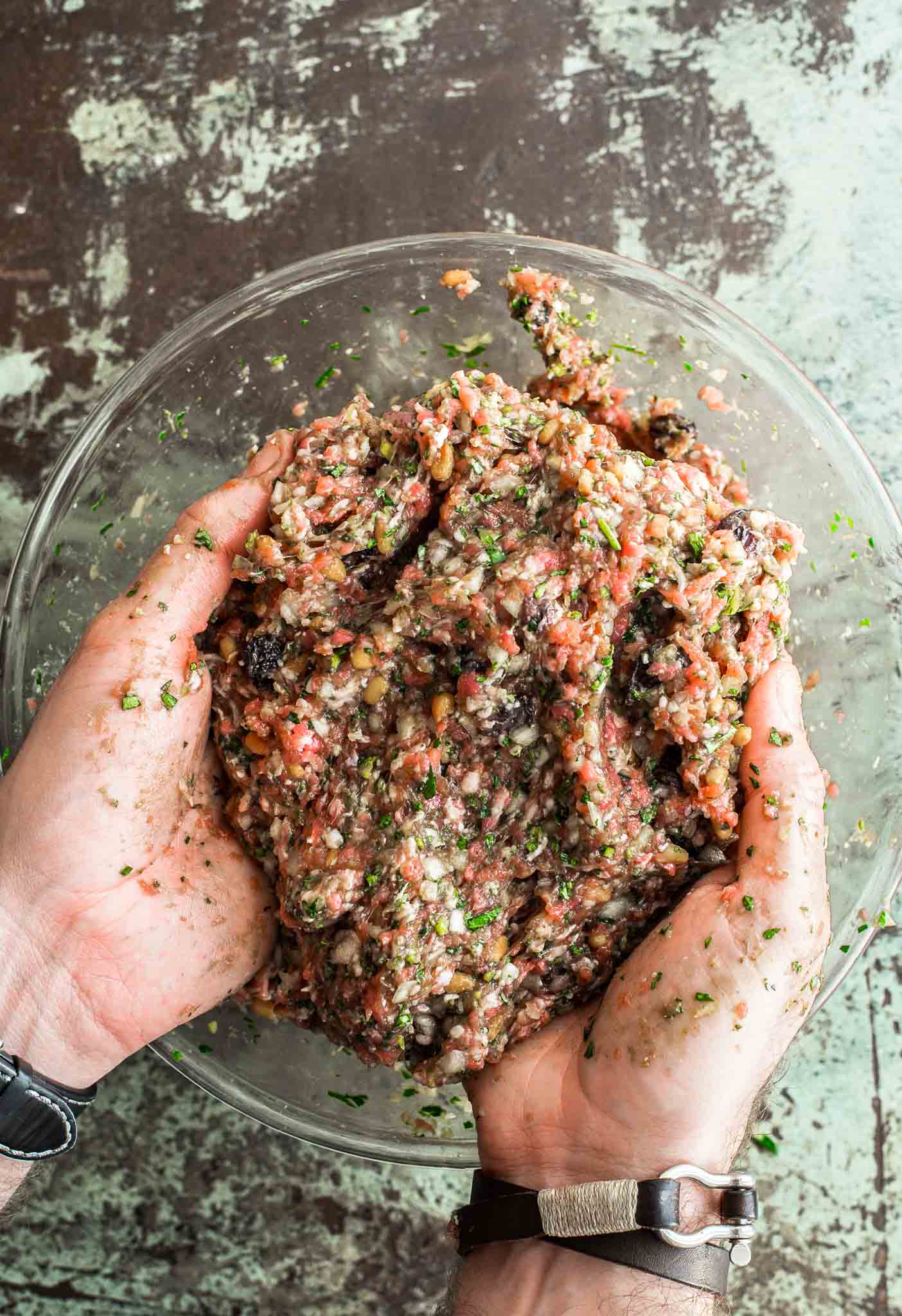 3rd Step - Form 80g oval patties or any other shape you fancy. Heat a heavy-bottomed skillet with some oil.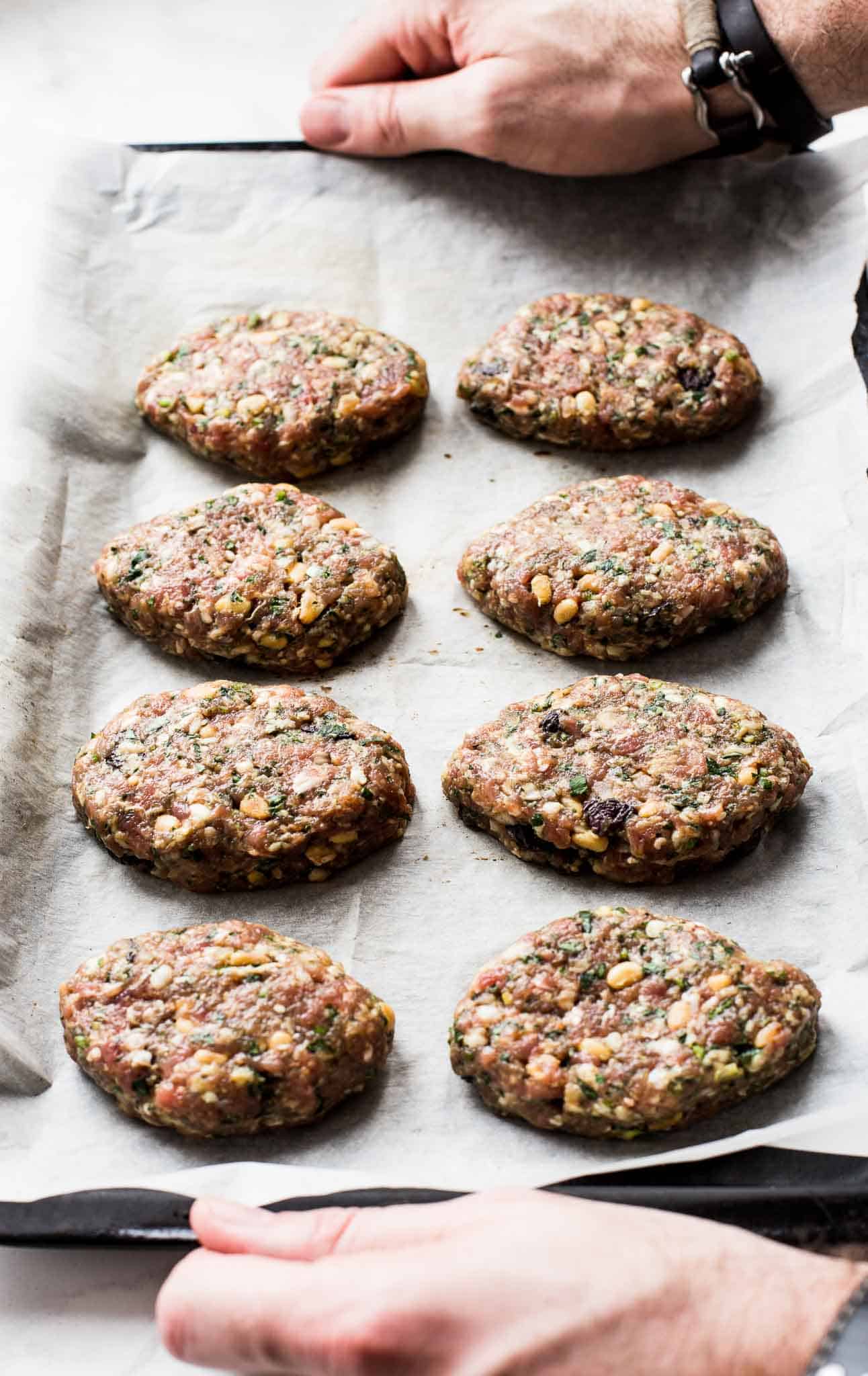 4th Step - Fry on medium-high. Both sides should be nicely caramelised. And the internal temperature reads at least 55C.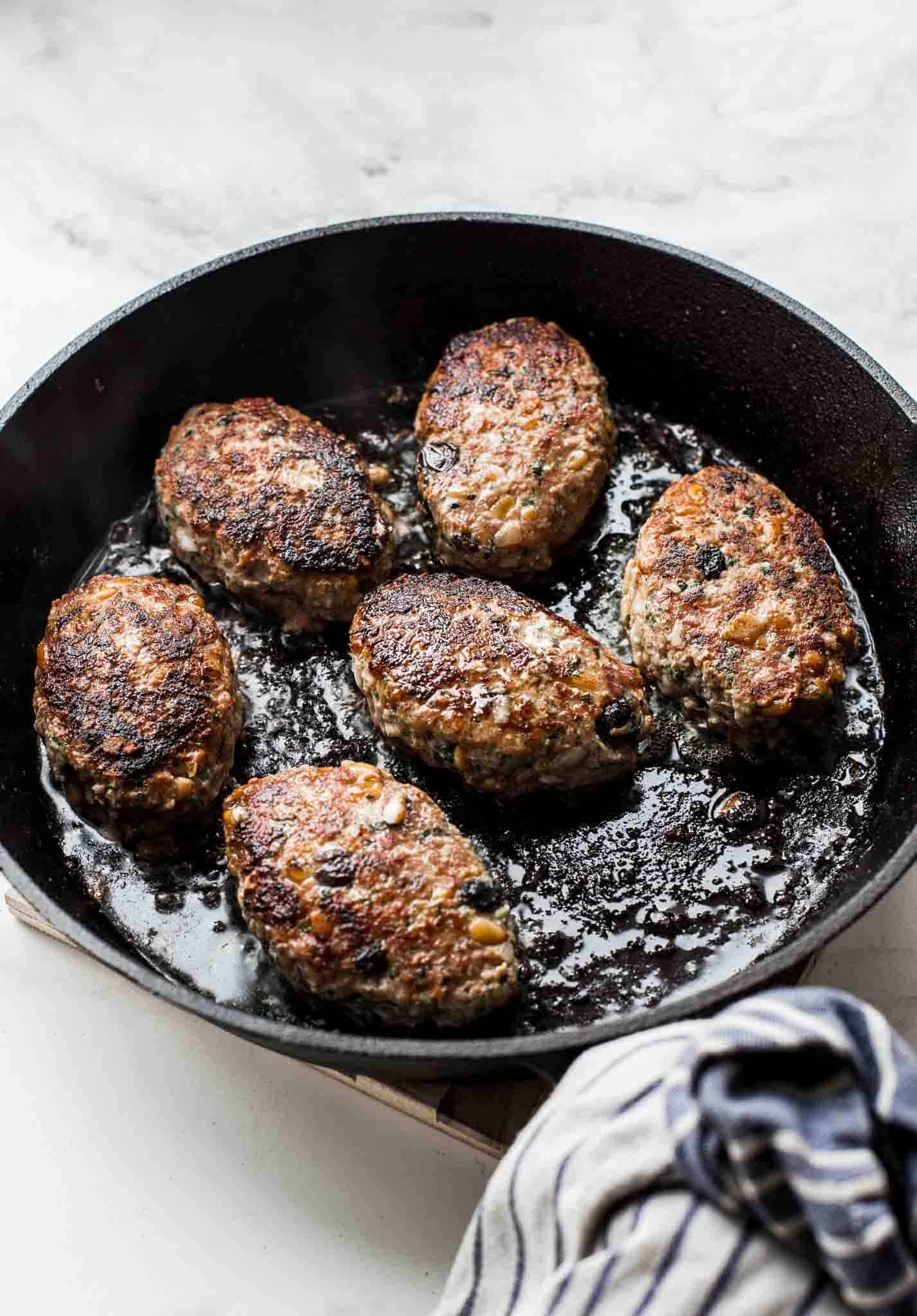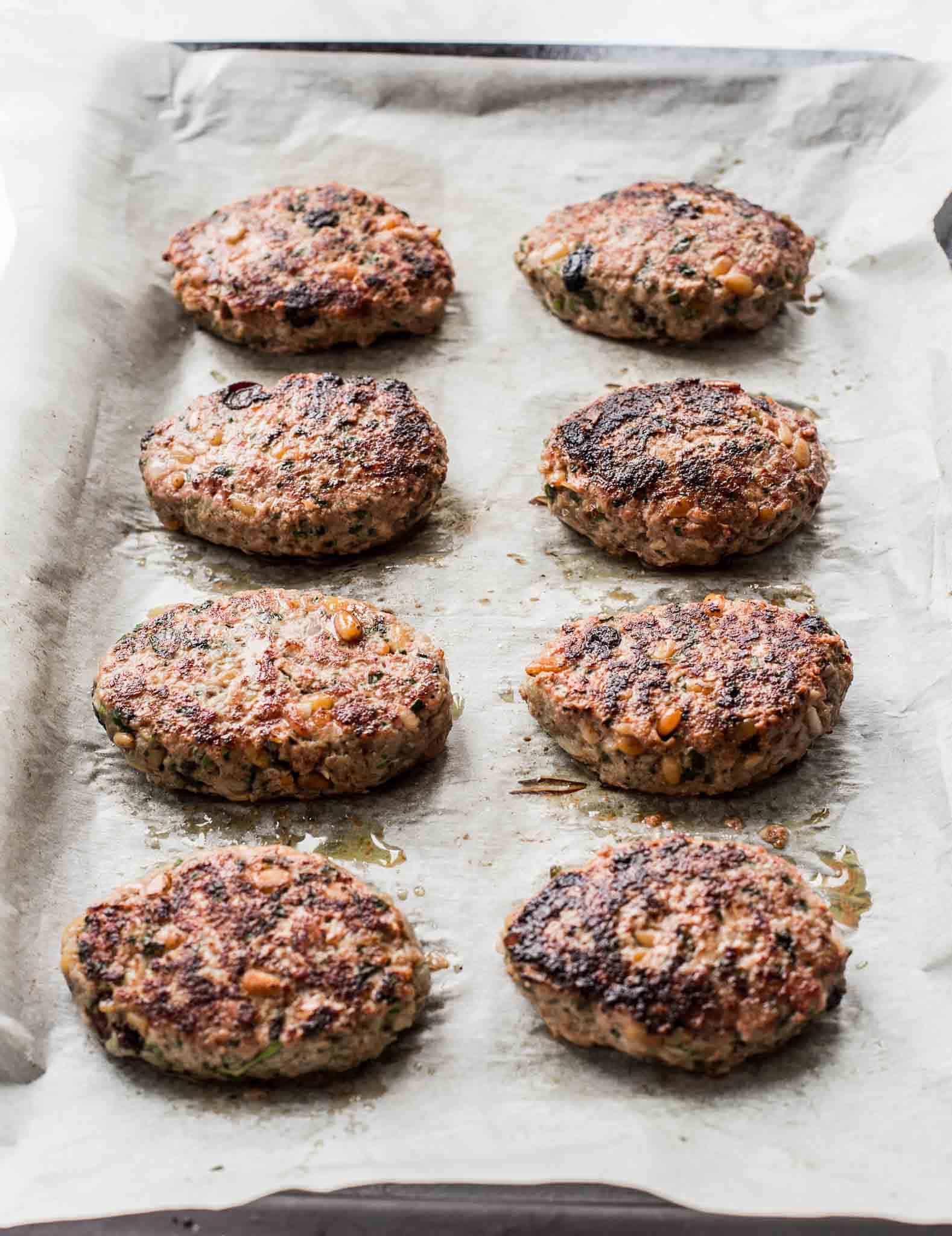 Quick yoghurt sauce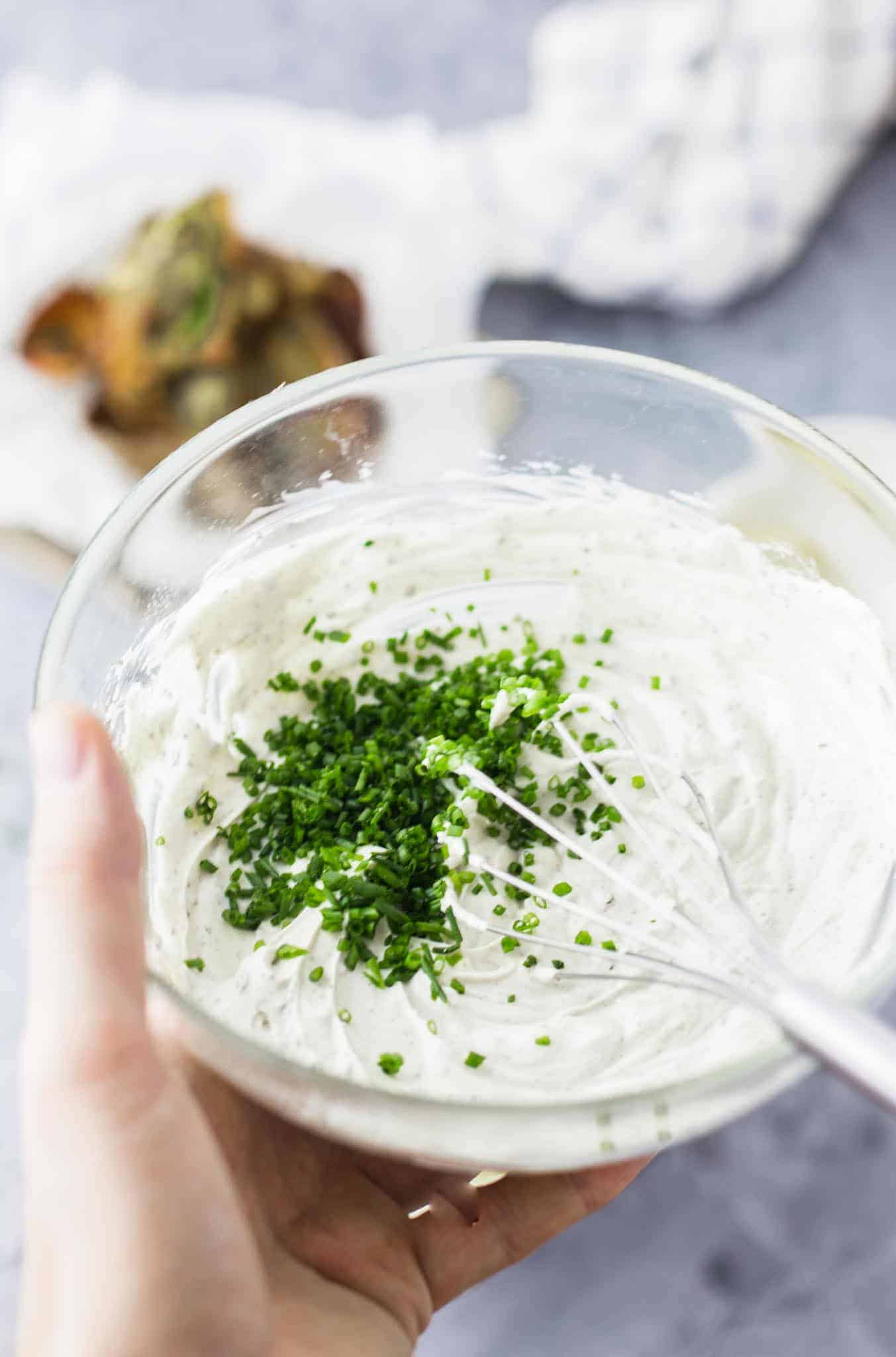 Mix together the following ingredients and you have yourself a very versatile yogurt sauce perfect for many meals.
200g plain yoghurt
40g olive oil
1g pepper
2g dried oregano
4g chopped chives or parsley
2g cumin powder
20g water
2g salt
Serving suggestions
The most traditional way of serving koftas are with Middle Eastern staples like rice, flatbreads, yoghurt dips and fresh crunchy vegetables.
You could also make lamb kofta wraps with any type of flatbread or pita. Simply choose a sauce like a yoghurt sauce included in this recipe or some hummus.
Shred some crispy salad or make a simple coleslaw. Add some small diced tomatoes or cucumbers along with the kofta. 
For a more substantial family feast or family dinner, koftas are best served with a grain dish. Like rice pilaf, couscous, simple stovetop steamed rice or some spiced lentils or tabbouleh. Or try out these silky smooth mashed potatoes or healthy broccoli.
For some added freshness serve alongside fattoush salad or some pickled vegetables and hot peppers. Don't forget a fresh squeeze of lime or lemon juice takes almost any dish including koftas to the next level.
If you found this recipe helpful or have learned something, comment, subscribe and follow me on social platforms for more delicious recipes.
THIS PAGE CONTAINS AFFILIATE LINKS - I MIGHT EARN A TINY % OF THE SALE THROUGH THESE LINKS AT NO EXTRA COST TO YOU. PROBABLY NOT EVEN ENOUGH TO BUY A BEER).
Lamb Koftas and Yoghurt Sauce
These lamb koftas are super easy to make and takes only 20 minutes from start to finish. Perfect for a lazy sunday lunch or a quick weeknight dinner.

Ingredients
For the Koftas:
1kg lamb mince with 30% content
200g finely chopped onion
4g turmeric powder
2g ground cinnamon
8g ground cumin
15g salt
20g chopped garlic
100g toasted pine nuts or walnuts
100g soft jumbo raisins (optional)
3 large eggs
80g chopped parsley
40g chopped coriander
30g chopped mint leaves
2g dried oregano
2g freshly ground black pepper
For the Yogurt Sauce:
200g plain yogurt
40g olive oil
2g cumin powder
2g dried oregano
2g salt
1g pepper
20g water
4g chopped chives or parsley
To Finish
1 large lemon
¼ bunch fresh coriander leaves
Instructions
Mix together all the ingredients for the kofta.
Shape small ovals and press them flat about 2 cm thick and weighing 80g each.
Heat a non stick frying pan or heavy bottomed skillet with some oil. Fry on medium high until well coloured and cooked on both sides or until the internal temperature reads 55C. The Kotlets will continue to cook because of the residual heat, so do not overcook them.
Mix together the sauce ingredients
Serve with fresh lemon and coriander
Notes
**This recipe can be made with any other meat providing it has a good fat content of about 30%.
** You can replace the raisins with currants, dried apricots or omit altogether if you do not like meat with sweetness.

Nutrition Facts
Lamb Koftas and Yoghurt Sauce
Serves: 6 portions
Amount Per Serving:

2 pieces

Calories

808.45 kcal

% Daily Value*
Total Fat

62.48 g

96.1%
Saturated Fat

20.38 g

101.9%
Trans Fat

0.01 g

Cholesterol

219.0 mg

73%
Sodium

809.85 mg

33.7%
Total Carbohydrate

29.7 g

9.9%
Dietary Fiber

6.76 g

27%
Sugars

14.09 g

Protein

37.33 g
Vitamin A

13.83 %

Vitamin C

34.88 %

Calcium

21.96 %

Iron

49.21 %
* Percent Daily Values are based on a 2,000 calorie diet. Your daily values may be higher or lower depending on your calorie needs.