Traditional South African droëwors is one of the most popular snacks and along with biltong they are some of the most delicious cured meats you'll find.
It can be made with a variety of meats, including pork, if you know how to. Which is exactly what I'll show you. How to make any droëwors, ranging from classic beef droëwors to venison and pork.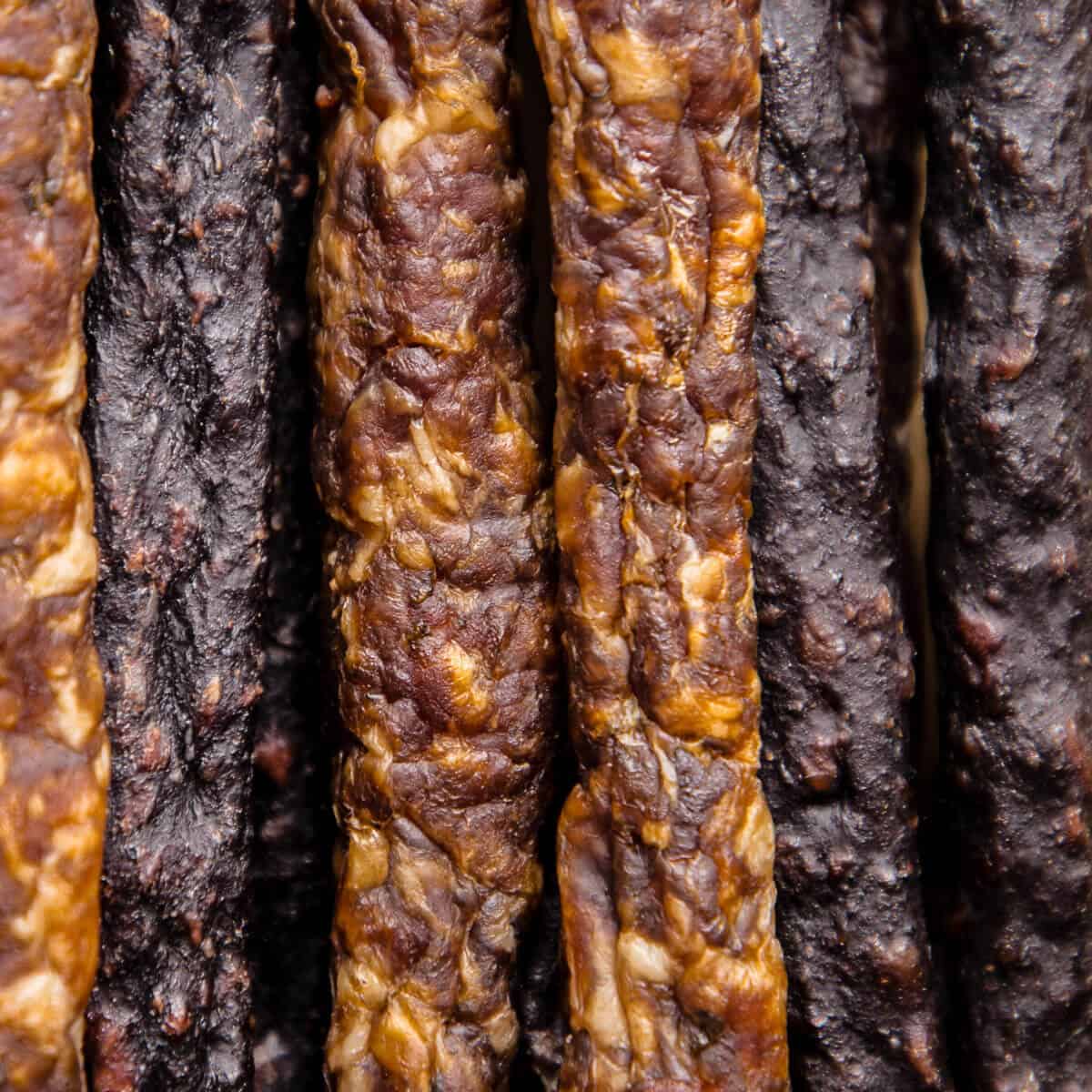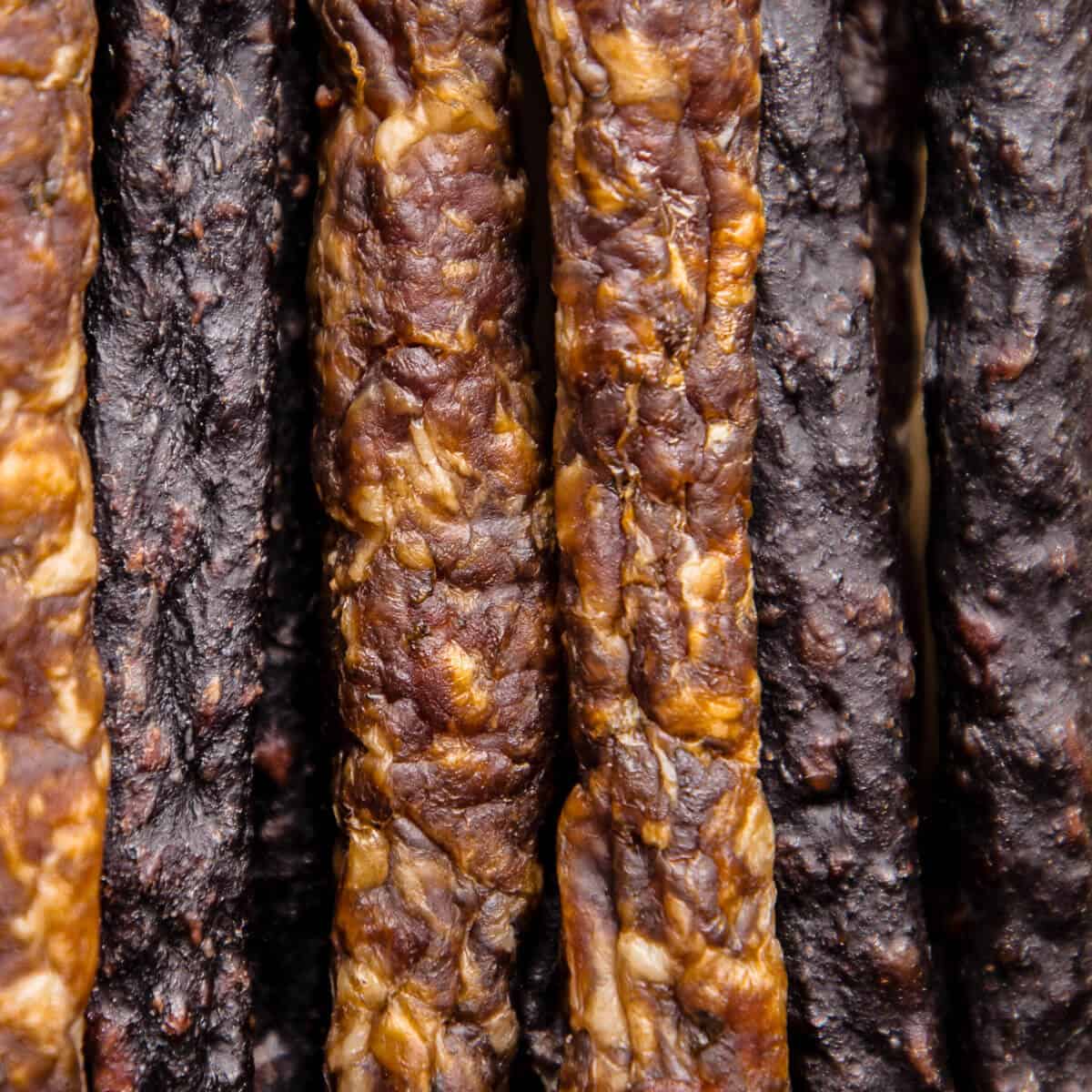 Jump to:
What is it
Droëwors means dried sausage in Afrikaans.
It originated much the same way as biltong did. Out of a necessity to preserve meat when the Voortrekkers went on their long expeditions.
In its initial form, droëwors is boerewors. A traditional South African sausage grilled on the braai or barbecue.
Because it's seasoned with vinegar and salt, it makes curing and preserving easy, especially when hung out to dry in the open dry air.
The result is a delicious dried-meat snack that can easily be eaten without slicing and comfortably keeps for a long time at room temperature.
Curing explained
Curing meat accomplishes two things.
It makes it safe to consume without applying any heat and also makes it taste good.
Different types of charcuterie require different curing methods and conditions for drying.
With whole pieces of meat like biltong or bresaola, the process can be slightly more forgiving and there is a lower chance of spoiling it because the meat stays whole.
With minced meat charcuterie, we run the risk of introducing all sorts of bacteria to the meat.
To mitigate the risk of food poisoning, different methods are used.
By salting and lowering the pH of the meat, we displace water, making it harder for bacteria to multiply and providing an acidic environment makes it tough for most bad bacteria to survive.
There is however one very stubborn and dangerous bacteria that can cause problems when not prevented to multiply.
Clostridium botulinum. The toxins it produces causes botulism poisoning or sausage poisoning as it was once known.
It can survive slightly acidic and salty environments and thrives without oxygen. Pretty much the inside of a sausage.
It is extremely rare but still. When it hits, it hits hard.
The simple way to prevent this is to use curing salts.
Curing salt
Two types of curing salts exist in the world. Sodium nitrite and sodium nitrate.
These are always mixed with regular salt and usually dyed pink so that it does not get confused with regular salt, as they are pretty poisonous in pure form. Unless you live in Russia like me, and it's not dyed any colour.
Across the globe, they are known as cure #1 and cure #2. With different brand names, but the numbers are the same.
Cure #1 is sodium nitrite mixed with salt. 6.25% sodium nitrite and the rest regular salt. This is used for short term curing. Up to 6 weeks.
Cure#2 is 4% sodium nitrate and 6% sodium nitrite mixed with regular salt. This is used in long cures like thick salamis. The nitrate turns into nitrite over a long time, prolonging the anti botulism effect until the meat is ready.
Curing salt is used in a tiny amount, so no need to fear it.
0.25% curing salt to the weight of the meat is all that's required.
Do you need curing salt to make droëwors?
Technically yes. I never use it, most people that produce or make it at home never use it, but it's my duty to advise you to do so.
Many factors come into play when making safe-to-eat dried sausages.
Without getting into water activity and pH level, it is still safer to use curing salt.
The one thing that makes curing droëwors without curing salt possible is the fact that it's a relatively thin sausage and the meat dries quickly.
However, the pH in droëwors is not low enough to prevent botulism from multiplying and if it does not dry quick enough you could risk becoming pretty ill.
So my advice. Rather safe than sorry.
At least Until you are experienced and have a good understanding of the whole process. Especially the handling of the raw meat and the drying process.
Useful equipment
Ingredients
The most important thing to remember when making charcuterie is your raw products has to be of great quality, clean and fresh.
Pick the best you can afford and buy it from trusted sources.
Meat should be firm, bright, almost odourless and unblemished. Spices should be sealed and whole. Casings should not smell foul and come packed in salt if using natural ones.
Below are the ingredients for all three types of droëwors we're making.
Beef Droëwors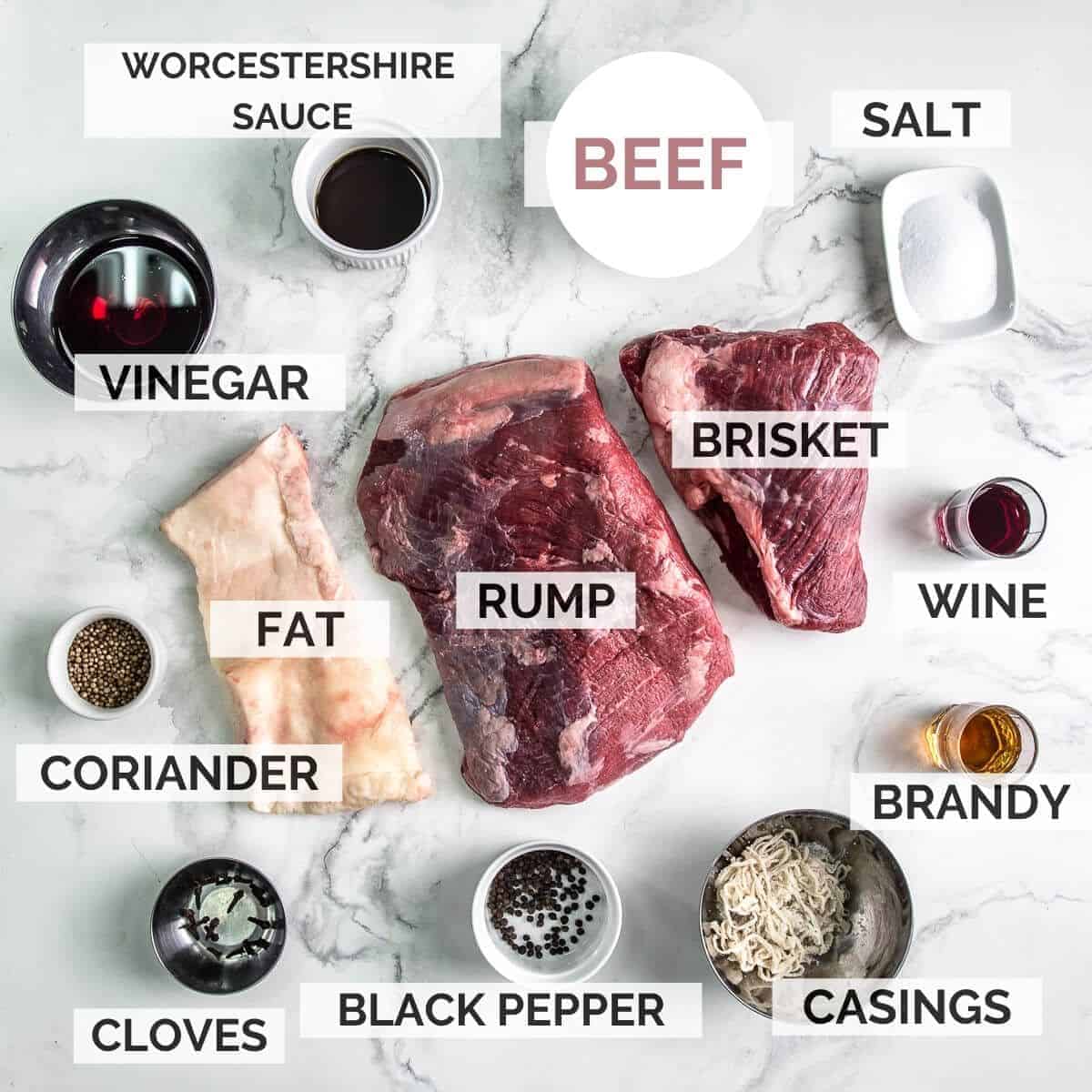 Meat - Rump, topside, flank, brisket are just a few cuts that can be used. If you can mince it, it can be used. We aim for 20% fat. My rump and brisket were a bit lean, so I add extra beef fat. The less fat, the drier your droëwors will be. Too much fat and it will be... too fatty.
Spices and salt - Coriander, cloves and black pepper. Some people use nutmeg too. Salt is essential, and it should be natural fine sea salt. Do not use iodized salt.
Wet mix - Classically only malt vinegar is used. I improve it a bit. I use red wine, brandy(South Africa's 3rd favourite snack), Worcestershire sauce and red wine vinegar.
Casings - The smallest you want to go is 24-24 calibre sheep's casings or collagen casings. The largest is 30-32 calibre hog or collagen casings. Natural casings come packed in salt and should be soaked and rinsed with water before use.
Venison Droëwors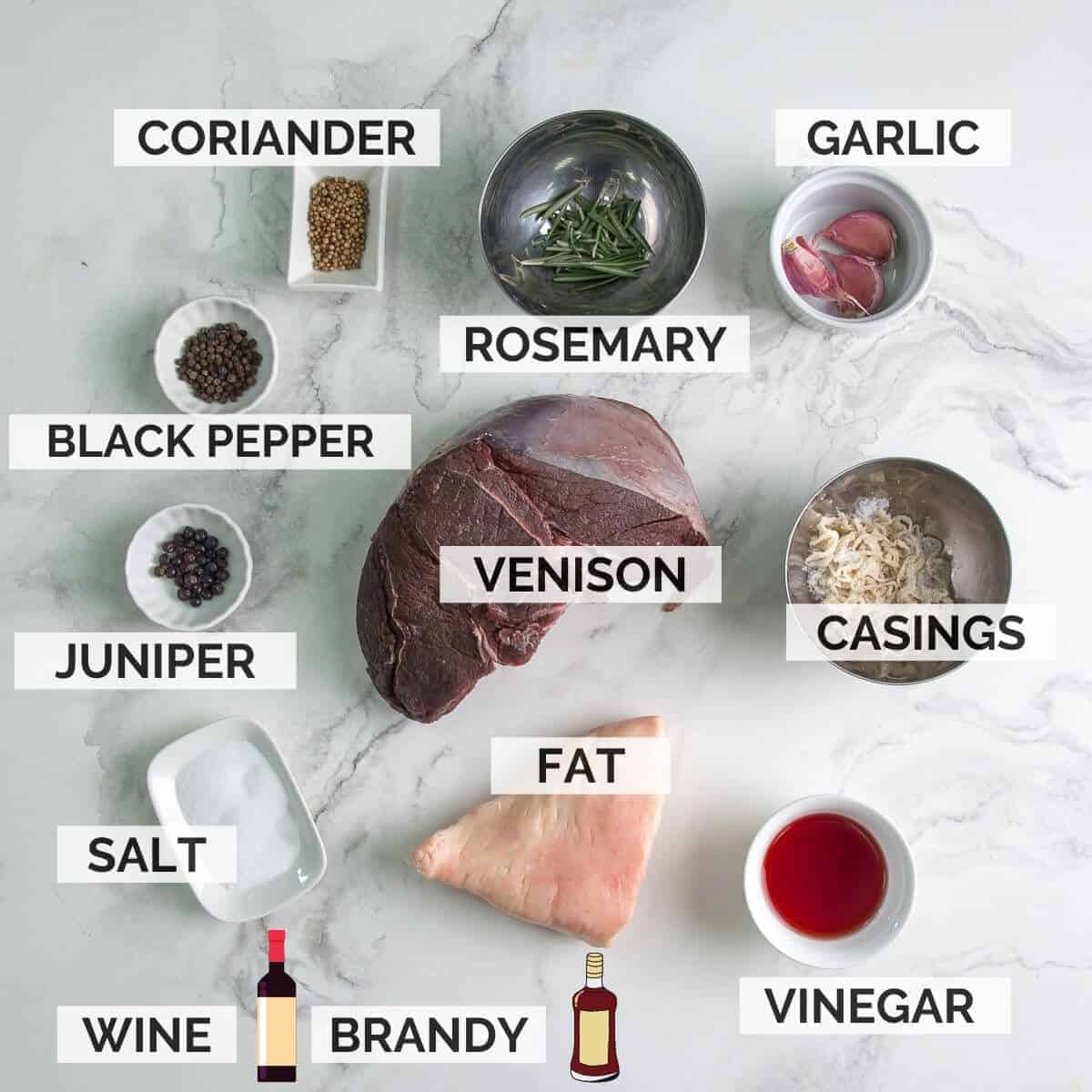 Meat - Venison, deer or other game can all be used. It will be leaner and you definitely want to add some beef fat.
Spices and salt - Juniper and game goes well, so we sub the cloves for juniper berries. Natural fine sea salt.
Herbs and aromatics - Rosemary and garlic. You can use the classic recipe and just replace the meat, but these really tastes great with game.
Wet mix - Brandy, vinegar and wine.
Casings - Sheep's casings, hog casings or collagen casings.
Pork Droëwors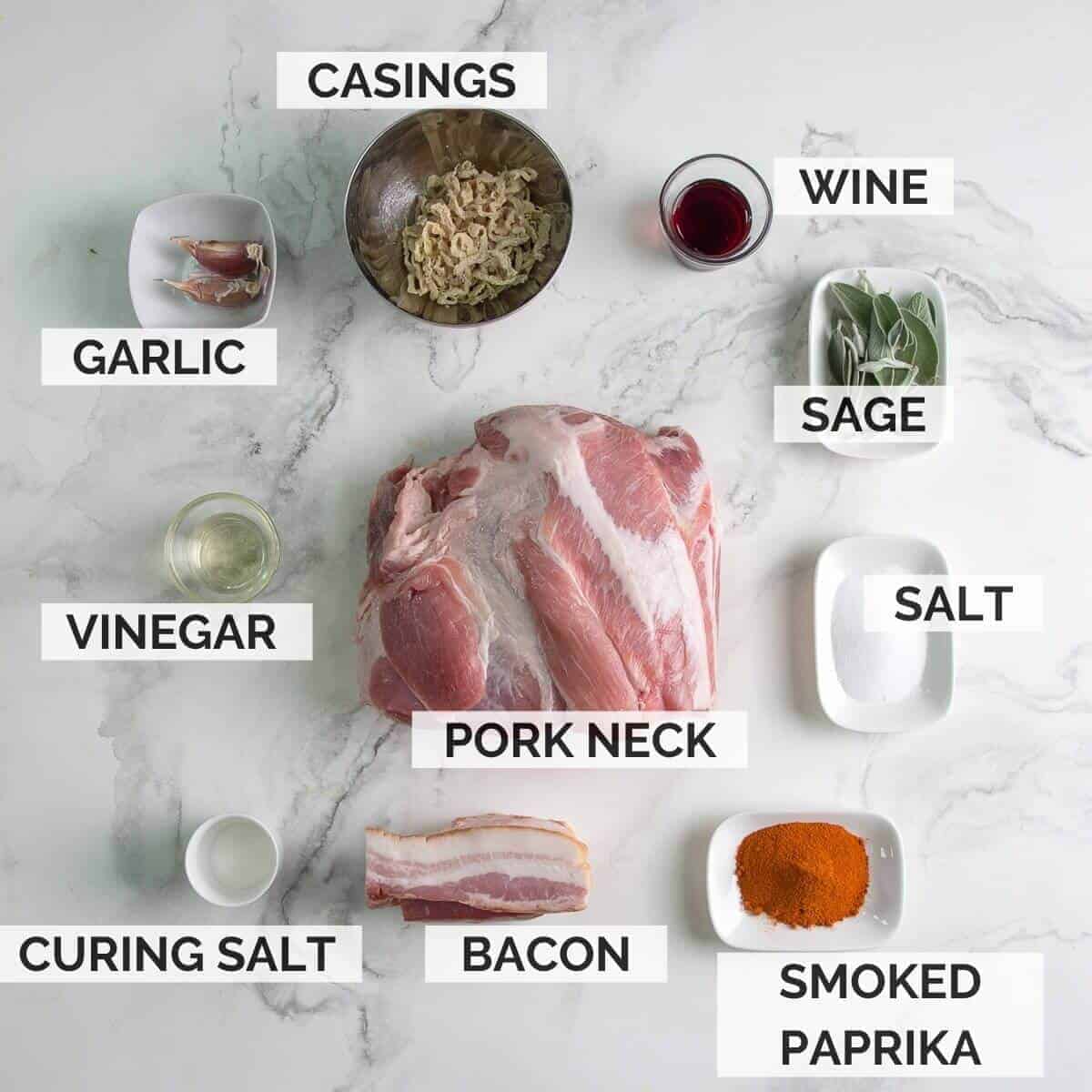 Meat - Pork neck works best as it has the perfect amount of fat. I add smoked bacon too for that extra bit of flavour.
Spices and salt - For this one, I use smoked paprika and as always fine sea salt. You can stick to the original spices, but pork and smoked paprika is such a good match that you really don't need to think about it much. If you look at the picture in the video, you will see there are 4 kinds of sausages. The first one on the left is pork droëwors made with traditional droëwors ingredients only.
Herbs and aromatics - Garlic and sage. Sage and garlic both actually have mild anti oxidation properties. A common problem with pork charcuterie is the rapid oxidation of pork fat, which turns it rancid. We prevent this by using natural anti-oxidants and also curing salt.
Wet mix - Vinegar and wine.
Casings - Best to use hog casings, but if you want thinner wors, then go with sheep's casings.
Instructions
The method for making droëwors is very simple. In its basic form, it's mincing and spicing the meat, stuffing into casings and hanging to dry.
There are a few key points to remember though before starting.
Make sure your hands, equipment and work surfaces are disinfected.
Weigh out everything before you start.
Prepare your drying area and make sure it's also disinfected.
Beef instruction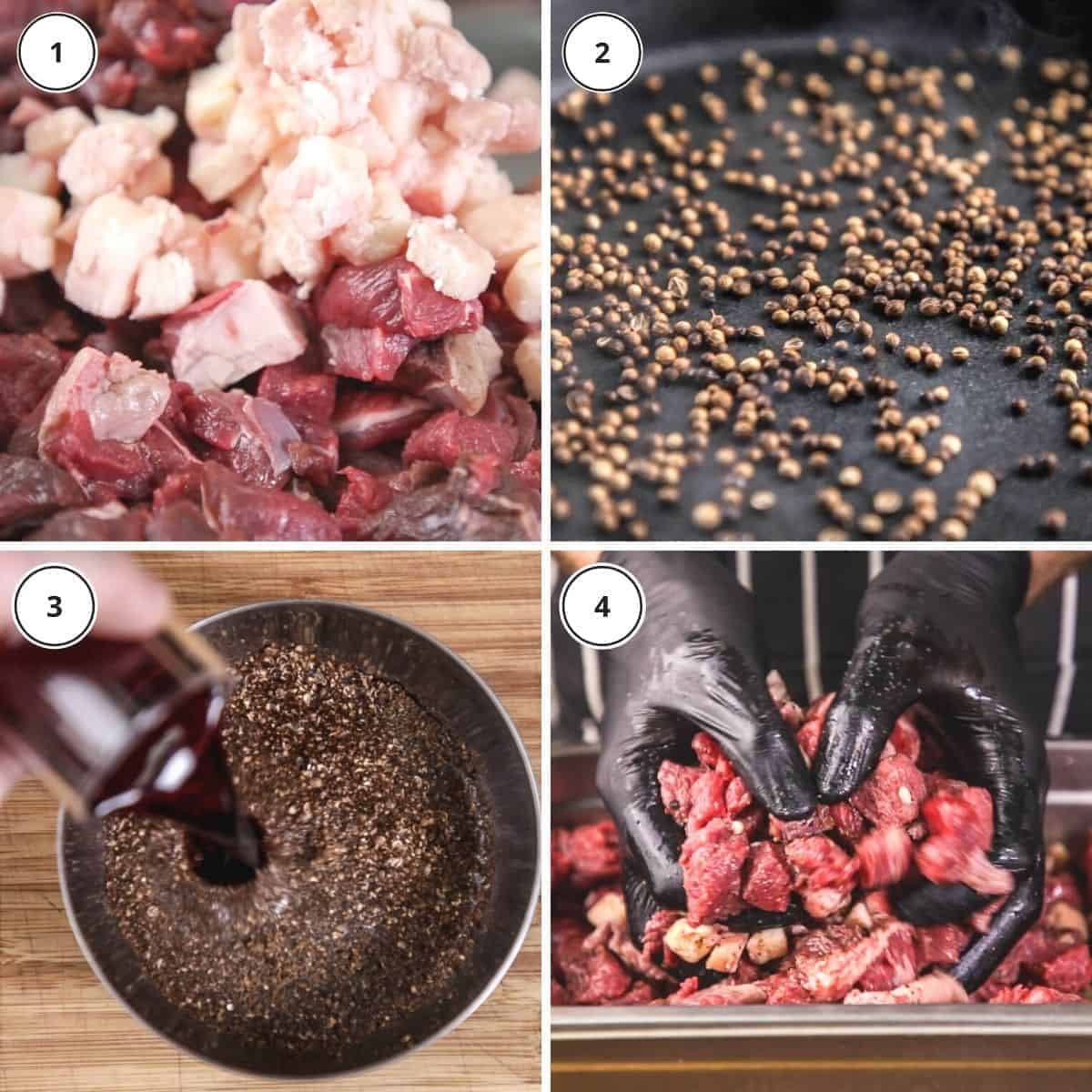 Start by cutting the meat into small cubes. Once cut, place it into the freezer so that it's extremely cold and semi-frozen.
If you're using natural casings, soak them in fresh water and rinse plenty of times.
While the meat chills and your casings are soaking, you toast the spices in a dry pan. Toast them separately because they roast at different speeds. When it's fragrant and nicely roasted, you let it cool down before blitzing into a powder. I usually blitz the coriander separately so that it's not completely fine, but this is not a set rule. It's more for those who grew up in South Africa and used to the coarse ground coriander.
Mix your spices, salt and wet ingredients together. I typically add the salt separately to make sure I add it. You can leave out a spice or brandy, but if you leave out the salt, the sausage will be ruined.
Add this cure mix to your meat and fat cubes and mix well. Cover and place into the freezer for an hour minimum but no longer than 3 hours.
You could also mince the meat first and then add the cure and salt later. Both methods are correct.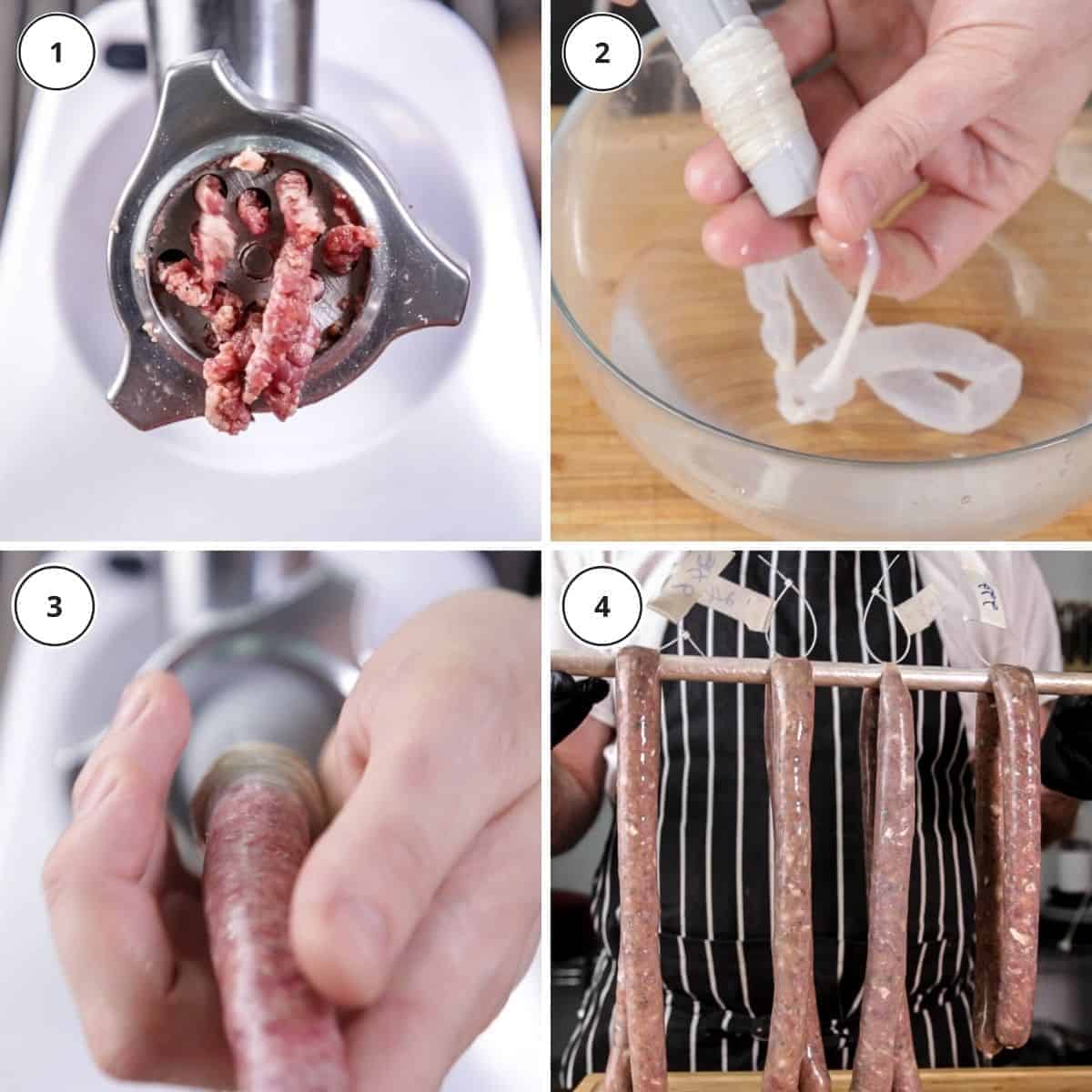 Mince the meat on the course grinding plate. You only mince it one time.
Once the meat is minced and seasoned, you want to place it back into the fridge to keep cold. It's very important to keep the meat as cold as possible throughout the process. To avoid spoilage and also so that the fat does not smear into the meat.
Load your casings onto the nozzle attachment of your stuffer or mincer.
Stuff your casings but don't over or under stuff it. The length can be anything you want it to be. Make sure it's not too long for your dryer when halved.
Once they are stuffed, tie the ends and bend them in the middle.
Pierce any large air bubbles with a needle or tooth pick.
Before you hang them, you could weigh them and add a label to them. This is more for those that make them the first time. We aim for 40% weight loss. That's how you know it's ready.
Hang them in your drying cabinet or in a closed area with good ventilation at room temperature for the most authentic result. Traditionally, these are dried on wooden dowels, like in picture 4. You could also use meat hooks. It takes about a week to be ready.
Alternatively, you can dry it in a dehydrator set to its lowest setting. You'll have droëwors in about two to three days.
Store it sealed airtight in a cool dry place or freeze in vacuum bags. Most importantly, enjoy it!
Venison instruction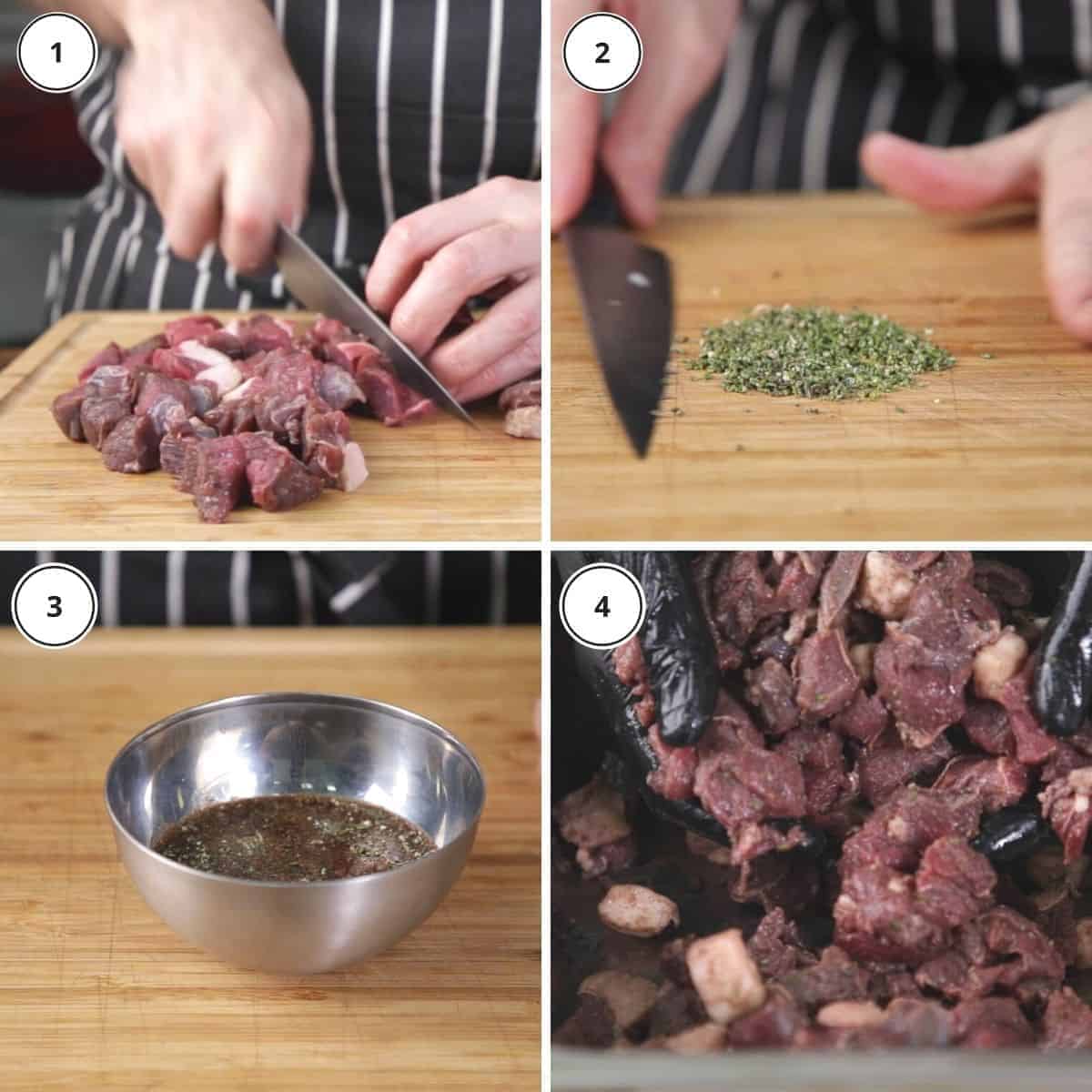 Cube the meat and place into the freezer.
Chop the garlic and rosemary very finely.
Roasted the coriander and pepper, but not the juniper berries.
Grind the toasted spices and raw juniper to a fine powder.
Mix the dry and wet ingredients together and add it to the meat. Place the meat back into the fridge or freezer for an hour or two to marinate.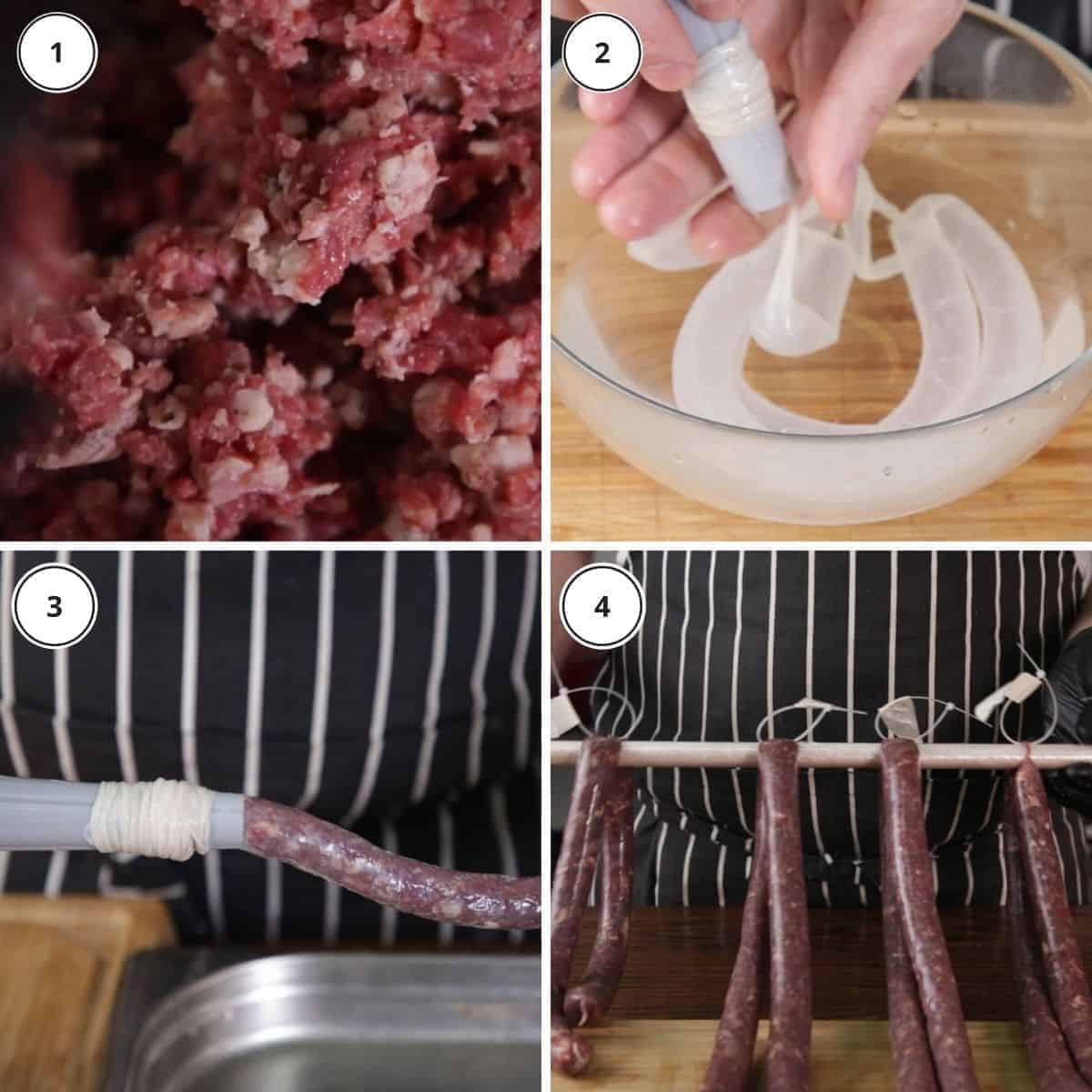 Mince the meat on the course grinding attachment. Grind it only once.
Load the casings onto a nozzle attachment and stuff your sausages.
When stuffing them, make sure to not over or under stuff them. If the casings break, just tie it off and continue making a new sausage.
Once they are all stuffed, remove any air by pricking it with a needle. Optionally weigh it to monitor the weight loss and label each sausage. Aim for 40% weight loss.
Hang in your dryer or dry in a dehydrator on its lowest setting. Drying time is the same as for beef droëwors.
Pork instruction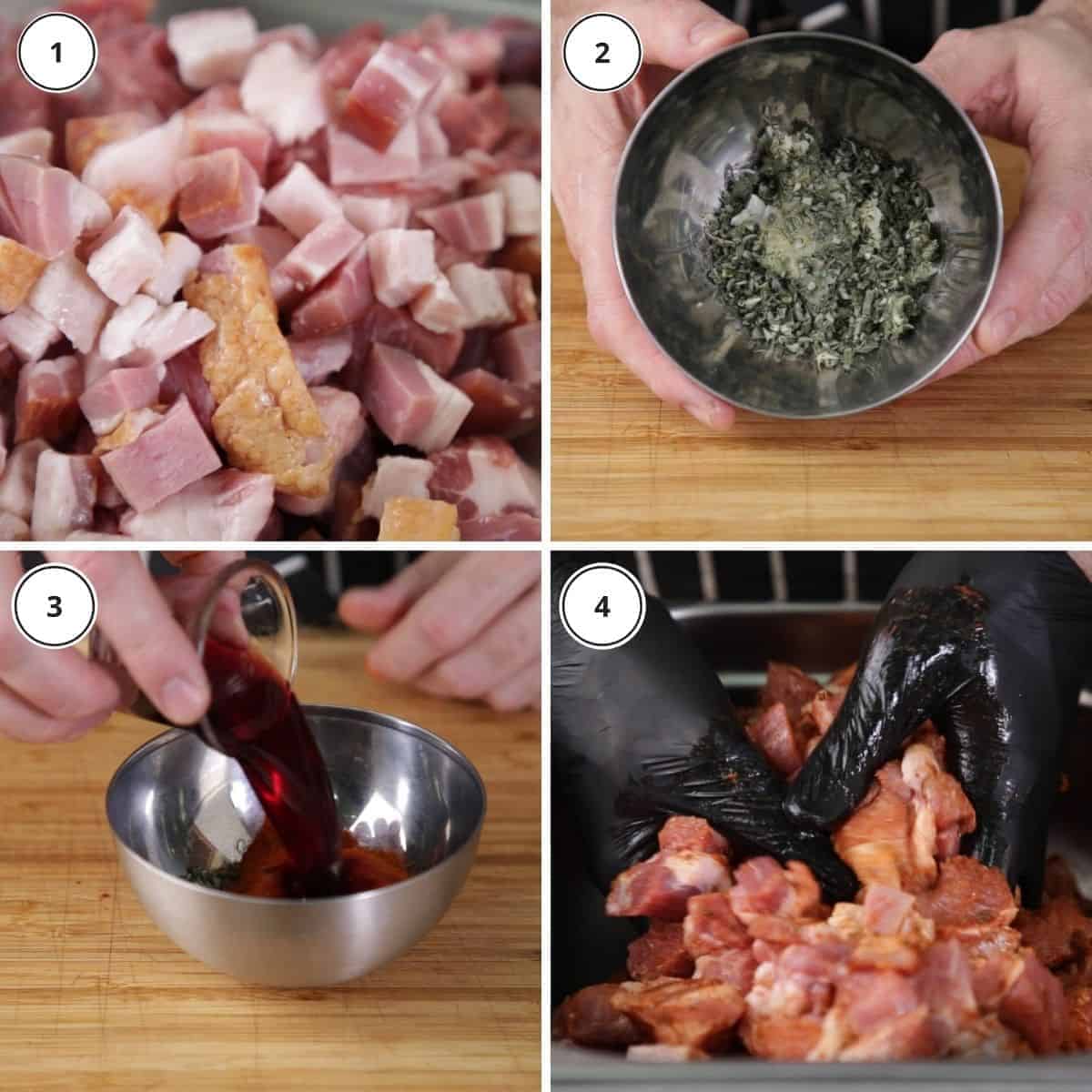 Chop the bacon and pork neck into 1.5 centimetre or ½ inch cubes. Place into the freezer until it is almost frozen but still slightly soft.
Chop garlic and sage very finely and add together with the smoked paprika, salt, curing salt and wet ingredients.
Add the cure to the meat, mix it well, and let it sit in the fridge or freezer for 1 to 2 hours.
Soak and clean your casings, making sure they are spotless.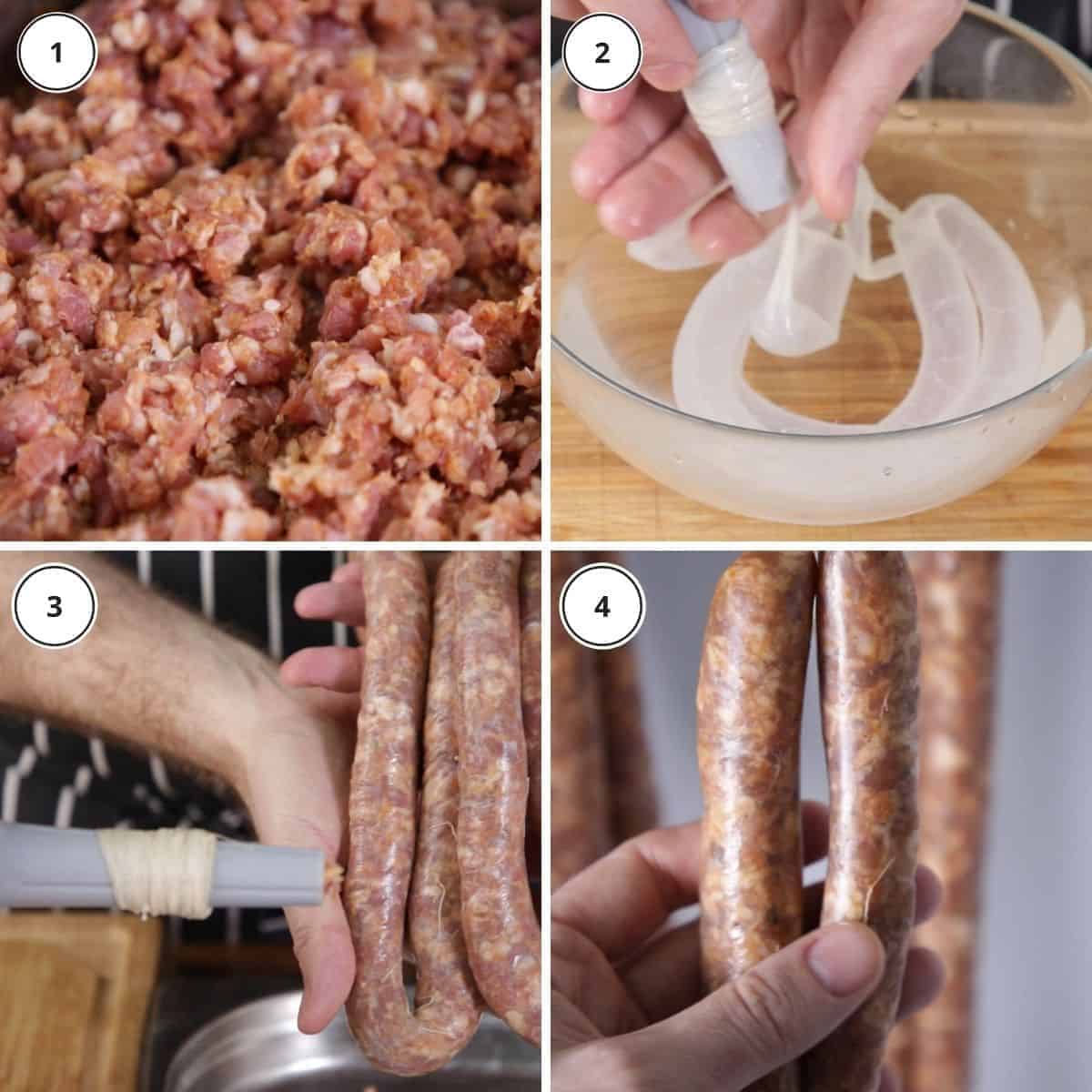 Mince the meat on a course grinding plate, passing it through only once.
Load the casings onto the nozzle attachment and stuff the sausages.
Tie them off at the ends and pierce air bubbles with a needle.
Weigh them each individually in order to track the moisture loss.
Hang to dry in your dryer at 18 - 20 °C or 65 - 68 °F for about two weeks. You can also hang it in a fridge if you do not have a dryer but do not use a dehydrator as the temperature is too high and pork fat will start to melt.
Once ready, you can store it airtight in a cool dry place or freeze it.
If you want to add an extra layer of flavour to pork droëwors you can ferment the sausage for 24 hours by hanging it at 24 °C or 76 °F before moving it to your temperature-controlled dryer or fridge.
The fermentation process creates a depth of flavour and also introduces lactic acid bacteria to the sausage. Helping to lower the pH and the lactic acid produced balances the richness of the pork.
Video
Tips for success
Use the freshest raw products.
Keep the meat as cold as possible throughout the process. Almost frozen.
Make sure you add salt by adding it separately. This is the most important ingredient you do not want to forget about.
Do not over or under stuff your sausages.
Leave enough room for tying off the ends and bending the sausage links in half.
Do not dry it at too high a temperature. Otherwise, you'll start cooking the sausage and the fat will start to melt and leak out.
Turn and check the sausages daily to make sure the meat is not touching, causing wet spots where it's not drying. If they touch, simply place a piece of breathable paper towel at the point where they touch. The meat will shrink, and the issue will be gone.
Make sure the humidity does not go above 60%.
Drying options
A fridge - Make sure it's spotless and not overcrowded with other foods. Fridges are pretty efficient at drying out food that's left uncovered, and likewise with curing meat. Don't let the meat touch any other meat or the sides of the fridge. Every part of the meat should be able to breathe and dry.
Fan - Hang your droëwors on a clothing rail and place a fan close by so that it creates good airflow. Place a heater close by if you live in a very cold climate. We want to dry this as close to 18 - 20 °C or 65 - 68 °F as possible.
Custom-built curing chamber - Basically a fridge with a fan, heating source, humidifier and dehumidifier plugged into a thermostat and humidistat. This is what I use. This way you get to control the environment it cures at fully.
Closed balcony - Droëwors smells(not bad) when it dries. So you might want to do this on a balcony, not in your living room or kitchen. Make sure the balcony is sealed off so no animals or flies get to it. Place a fan close by to create some air flow.
Dehydrator - You can use a regular dehydrator for beef and game but not for the pork because the temperature is too high. Set your dehydrator to 30 degrees Celsius or 86 degrees Fahrenheit, usually the lowest setting. Monitor every day to check on the progress.
Food safety
It's extremely important that you follow best practices when cooking and even more so when making charcuterie.
This is to avoid cross-contamination, harmful pathogens and make your food safe to eat.
Thankfully, it's simple to do.
Sanitize hands, work surfaces and equipment.
Keep food chilled below 4 °C or 39 °F.
Use 2% salt to the weight of the meat.
Dry in a secure where no pests, pets or insects can get to it.
When checking on the droëwors make sure your hands are sanitized.
If it starts to smell bad or in any way does not look right throw it out. Somewhere along the line, bad bacteria took a hold and your batch got spoiled.
Store airtight. Vacuum packed is the safest.
Variations
Spices - Keep the combinations simple. You can add chilli flakes, cumin, fennel seeds and nutmeg.
Herbs - Herbs can be overpowering, so use them sparingly. Thyme and oregano tastes real good.
Meat - You can mix or change the meat. Lamb and other types of game like Springbok and Kudu are popular choices.
Vinegar and alcohol - Use any type of vinegar with an acid value less than 9%. Apple cider, malt, or any wine vinegar will do. Use wine, brandy, whisky, gin or grappa, but they are not essential.
Frequently asked questions
Can I make droëwors using boerewors?
Although traditionally it was made by drying the fresh sausage, it's best to make it separately, following the correct proportions of salt and vinegar to lower the risk of food poisoning. Some boerewors does not contain the correct amount of salt and is loaded with other flavourings that won't hinder the growth of bad bacteria.
What is the difference between droëwors and biltong?
Both are traditional South African dried meat snacks. Biltong is made from whole cuts of meat and droëwors(dry wors) from minced meat stuffed into casings.
Best way to store it, and how long will it last?
For indefinite storage, store in vacuum bags in the freezer.

Store airtight in a cool, dry place or in the fridge for up to a year. The longer you store it, the dryer it will become as moisture still slowly leaves the meat.

Recommended charcuterie books
Related recipes
This site contains affiliate links. I may earn a tiny commission on qualifying purchases at no extra cost to you. By bookmarking these links you help support the upkeep of this site.
If you found this post helpful or have learned something, comment, subscribe, and follow me on social platforms for more tasty recipes.
Recipe
Homemade South African Droëwors - Beef, Venison And Pork (Video)
How to make Traditional South african droëwors(dry wors) with different types of meat.
Ingredients
Pork droëwors
1800

grams

(

4

lb

)

Pork neck

300

grams

(

1 ¼

cups

)

Cured smoked bacon

30

grams

(

4 2/7

tablespoon

) Smoked paprika

60

grams

(

3 ¾

tablespoon

) Vinegar

10

grams

(

1 ¼

tablespoon

)

Garlic

6

grams

(

⅖

tablespoon

)

Sage

3

grams

(

⅔

teaspoon

) Black peppercorns

36

grams

(

2

tablespoon

)

Fine sea salt

5

grams

(

⅚

teaspoon

) Curing salt -

Not optional when making the pork version

60

grams

(

2 ⅛

oz

) Hog casings
Instructions
Beef
Cut the meat into cubes and chill in the freezer until almost frozen.

Rinse the casings until clean.

Toast the spices and grind fine when cool.

Add the dry ingrediemts to the wet ingredeitns and mix through the meat. Place the meat into the fridge for 2 hours to marinate.

Mince the meat on a coarse grinding attachment. Only once. Place into the fridge to chill down again.

Load the casings onto the nozzle attachment and fill the sausages. Tie off the ends and pinch the sausages at the halfway point, resulting in two links. Prick any airbubbles with a needle.

Weigh each sausage to monitor the moisture loss. We aim for 40% at least.

Hang them to dry in your drying chamber or fridge and monitor the progress daily.
Venison
Follow the same steps as for beef but add chopped rosemary and garlic as well as not toasting the juniper berries. See post for detailed instructions.
Pork
Same process as for venison and beef, but you don't toast the smoked paprika and finely chop the garlic and sage.

Remember to add the curing salt. It's esential when making pork droëwors.

Don't dry this in a dehydrator as the fat will leak. Low and slow in a curing chamber or fridge is best. Make sure to weigh it before hanging to monitor the moisture loss. See post for detailed instructions.
Video
Notes
Ingredient notes
Any cut of beef can be used, just remember to remove connective tissue first in order to avoid chewy bits.
You can use any type of vinegar with an acid value of less than 10%.
Curing salt is not traditionally used when making droëwors. It is advised, especially if you make this for the first time. It's a must when making the pork version. 
Storage
Seal airtight and store in a cool dry place, fridge or freezer. 
See the full post for a ton of useful information, and watch the video to see how it's done.
Nutrition
Serving:
100
grams
Calories:
314
kcal
Carbohydrates:
2
g
Protein:
34
g
Fat:
18
g
Saturated Fat:
7
g
Polyunsaturated Fat:
2
g
Monounsaturated Fat:
8
g
Trans Fat:
1
g
Cholesterol:
110
mg
Sodium:
1756
mg
Potassium:
576
mg
Fiber:
1
g
Sugar:
1
g
Vitamin A:
514
IU
Vitamin C:
1
mg
Calcium:
23
mg
Iron:
3
mg
Keywords:
cured sausage, droëwors, dry wors