Jump to recipe
Perfectly cooked couscous can be a light snack by itself or a side dish for many other dishes like stews and curries. This incredibly easy couscous recipe takes less than 10 minutes to cook and one sure to bookmark as a favourite.
Jump to:
Couscous is tiny little balls of semolina very popular in North African and Middle Eastern cuisines. Many people mistakenly think of couscous as a grain but that is not the case. It's actually just micro pasta beads.
In this recipe, you will learn how to cook couscous properly, what to serve with it and also ideas and other variations on this recipe.
Ingredients
With this couscous recipe, I have gone a slight Moroccan route and added plenty of cumin and lemon. a Flavour combination found all over Morrocco as well as in Middle Eastern cuisines.
Couscous - Use a trusted brand or product that is well sealed. Make sure to inspect before cooking for any impurities or foreign objects. Like with all grainy type products it's not uncommon to find dirt, glass, stones, plastic and other bits of stuff that might have ended up there in the production chain.
Liquid - Stock is better than water as it adds more flavour but, water is fine if you don't have a vegetable or chicken stock.
Herbs - Use soft fragrant herbs like parsley, basil, cilantro, chervil and dill to add when the couscous has cooled down a bit. You could also add hard herbs on the stalk when cooking and then remove when done.
Spices - Many many possibilities. Use the freshest you can afford. Think cumin, cinnamon, garam masala, cardamom, fenugreek, turmeric, dried orange peel powder, dried rose.
Seasoning - Usually, just salt and freshly cracked black pepper. Other seasonings can include ground-up dried citrus rind or sumac for acidity.
Optional extras - Fresh or preserved lemon are amazing with spiced couscous. Add some dried chopped up apricot, avocado, roasted pistachio nuts and you have lovely BBQ salad.
How to cook it
Perfect Couscous cooking relies solely on a simple liquid to couscous ratio and an easy-to-follow cooking technique.
The texture of good couscous should be light and fluffy. The same goes for other similar foods like rice or buckwheat. Here is a recipe if you are interested in how to cook perfect rice.
The flavour depends solely on you and what you decide to add. Below I demonstrate how to cook a simple caramelised onion, cumin and cilantro couscous.
It's the exact same recipe featured in my famous Filipino beef Adobo recipe.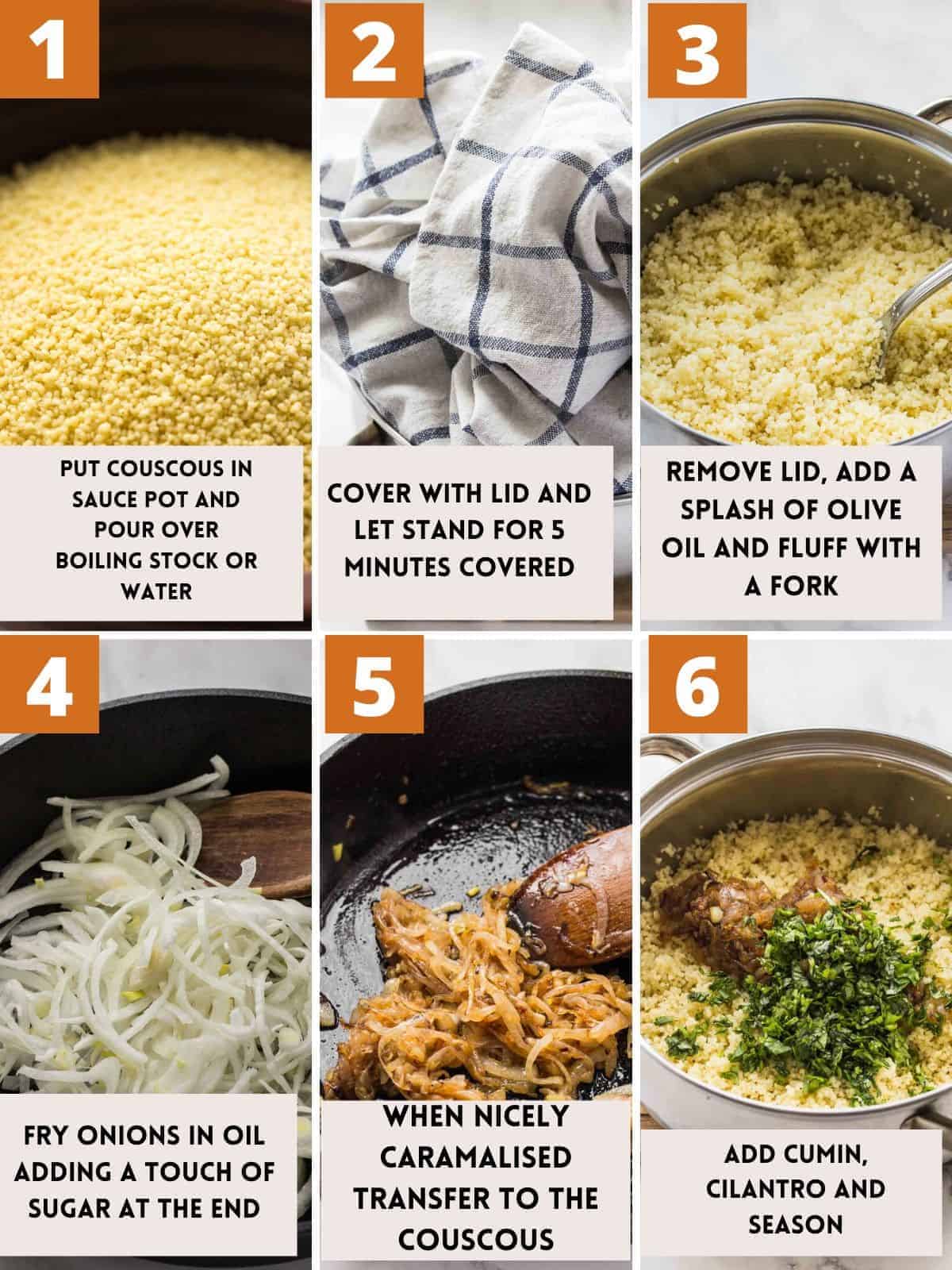 Slice the onion thinly and fry in a heavy-bottomed pan or skillet with some cooking oil on medium heat until nicely caramelised. Add a pinch of sugar right at the end to give it an extra touch of sweetness. Put aside and let cool.
Meanwhile, inspect the couscous for impurities.
Bring a pot of stock or water to the boil at a ratio of 1 to 1,5. That's 1 part couscous and 1,5 parts liquid. The golden ratio. So if you want to cook 200g of couscous(serves two people), then bring 300g of liquid to the boil.
As soon as the liquid boils dump in the couscous and give it a little stir making sure they are not forming lumps. Place a lid onto the pot that fits tight. Move the pot to the side away from the stove and let it steam for exactly 5 minutes. Set a timer on your phone.
When the time is up, open up and behold the glory. Add the cumin powder and drizzle a bit of olive oil while fluffing it up with a fork.
Chop the onions roughly so that it's not too stringy and blends in nicely.
If you plan on having it straight away then add the herbs and seasonings too. Otherwise, let it cool down a bit before adding the herbs.
Cooking couscous is as easy as that. No secrets. Just the correct ratio and cooking method.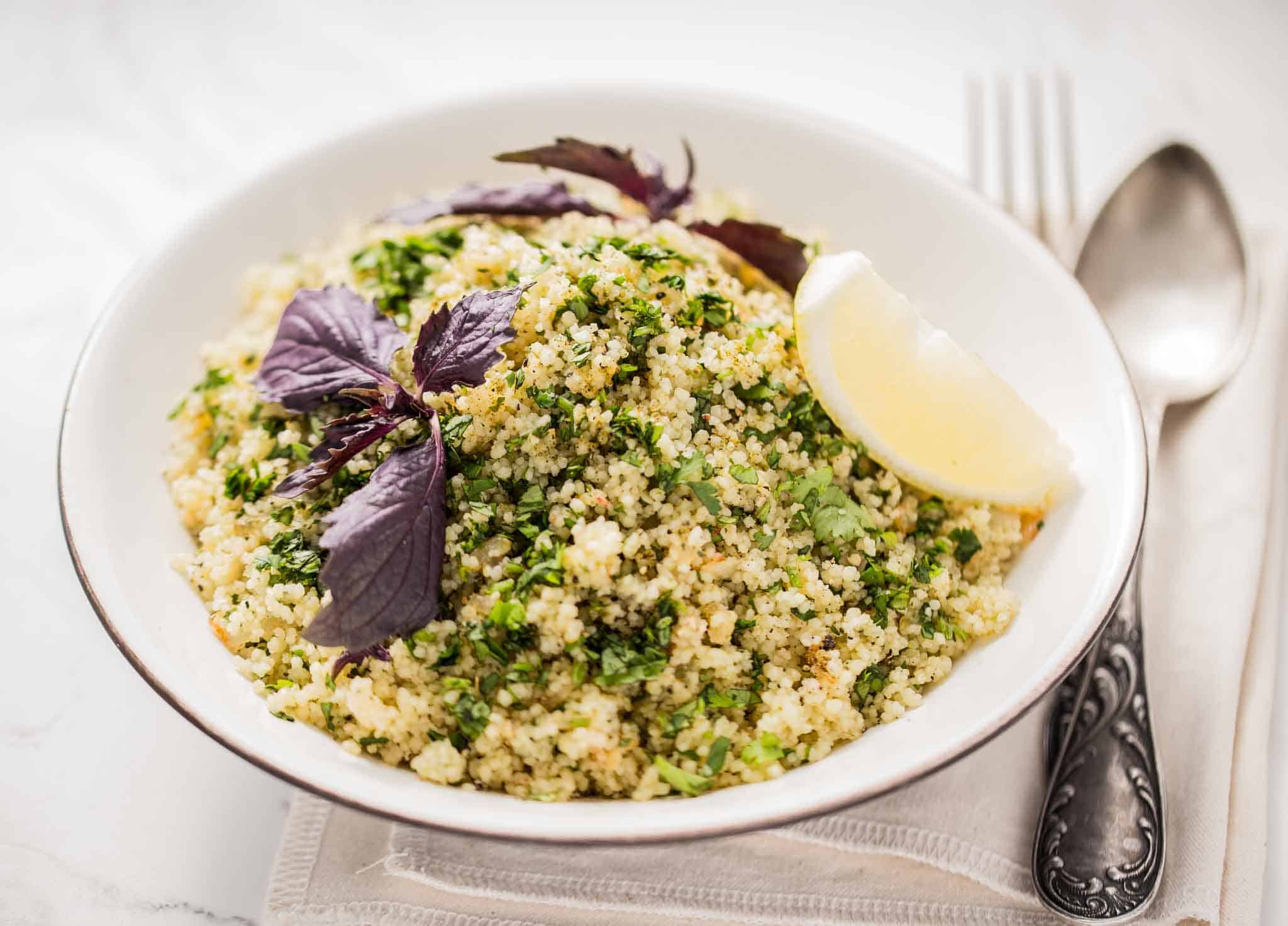 Variations
Herbs - You can basically use any herb you like or a combination thereof. I like using chopped parsley or cilantro as they have a very wide range of flavours they pair well with. Alternatively, go for dill, chervil, basil or even young sorrel for that extra lemony kick.
Spices - To make this fully Morrocon add a touch of cinnamon and ground-up dried orange rind. Or else, Go the Indian route and add garam masala or curry powder with a bit of cardamom. It would be perfect with this coconut chicken curry.
Aromatics - Think garlic, galangal, ginger and horseradish. Just use them sparingly as they can be very overpowering or strong.
Vegetables - Add some roasted or grilled vegetables as well as this chimichurri sauce for an amazing vegan salad or a full-on meal.
Dried fruit - Dates and dried apricots add a lovely sweetness to couscous. Especially when it's heavily spiced. Make sure to balance the sweetness with acidity. Lemon or lime juice or chopped preserved lemons works great.
Nuts - Pistachios, almonds, pine nuts or hazelnuts all add a lovely crunch. Roast them till golden brown in the oven and give a rough chop before adding.
It's a very adjustable and versatile dish to cook, as you can see. Customisable with the possibility of many ingredients and easily turned from bland to extremely delicious using basic ingredients.
Perfect as a staple go-to dish that can be served by itself or with other dishes as a side dish or salad.
Serving suggestions
Couscous is traditionally served with tagines and stews in Morrocco although other regions serve it as a salad or sometimes as part of a dish.
Frequently asked questions
What is couscous?
Couscous is small steamed beads of durum wheat semolina that originated in the Maghreb region.
Can couscous be frozen?
Once cooked, freeze in airtight containers until needed. It will keep in the freezer for up to 6 months when stored correctly.
How long does couscous keep?
Cooked it will last in the fridge for up to 4 days providing it is sealed airtight and no harmful bacteria has joined the party.
What is the couscous to water ratio?
The golden ratio for cooking couscous is 1 part couscous to 1,5 parts liquid. Sometimes it can be a touch courser which would require the cooking time to be extended.
Is couscous healthy?
It's a carb-heavy food that should be avoided on low carb diets. It's also not gluten-free so avoid if intolerant. Like all carb-heavy foods should be enjoyed in healthy moderation.
Useful equipment
Cast iron skillet - Buy Now
THIS PAGE CONTAINS AFFILIATE LINKS - I MIGHT EARN A TINY % OF THE SALE THROUGH THESE LINKS NO EXTRA COST TO YOU. PROBABLY NOT EVEN ENOUGH TO BUY A BEER).
IF YOU FOUND THIS ARTICLE HELPFUL OR HAVE LEARNED SOMETHING, COMMENT, SUBSCRIBE AND FOLLOW ME ON SOCIAL PLATFORMS FOR MORE TASTY RECIPES