Jump to recipe
The best way to serve a steak apart from simply grilled with a touch of lemon juice, salt and pepper, is to have steak with chimichurri sauce.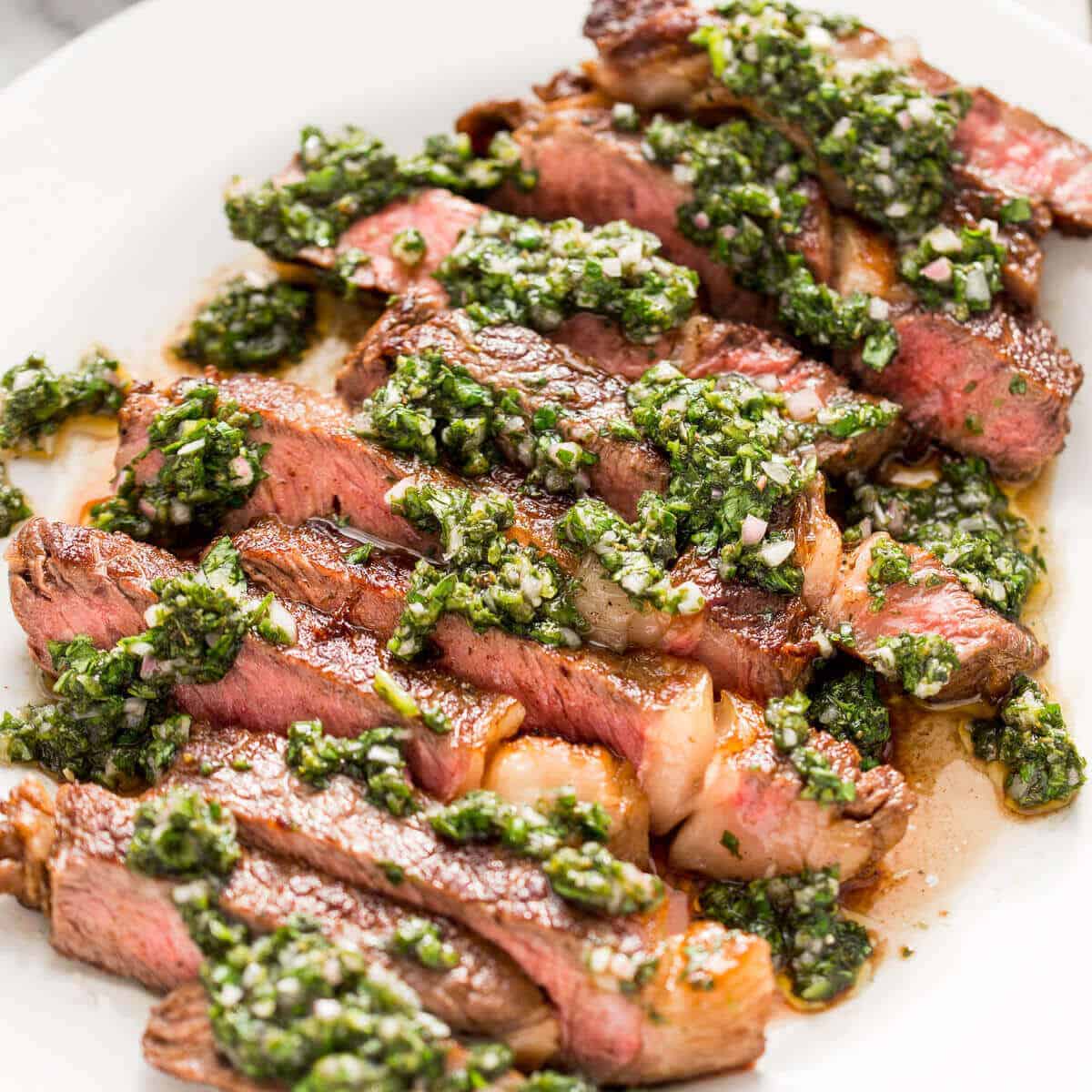 Jump to:
44 million Argentines can't be wrong. That's where chimichurri comes from.
It's the perfect little salsa for the perfect food.
Steak.
It's the perfect truce between vegans and carnivores.
Perfectly cooked top-quality steak needs little else apart from salt, pepper and a few drops of lemon juice, but chimichurri sauce takes it to the next level.
It's got the perfect balance of sweet, earthy, spicy, salty and sour that works wonders with the rich flavour and texture of good steak.
The best steak should be succulently soft, but with texture, you can sink your teeth into. Perfectly browned all over with a rich, deep brown crust that makes you salivate even before you stuff your face.
Add some zingy, tastebud-teasing chimichurri to your steak and you are truly smashing the notion of food orgasm.
Anyway, let's make this;)
How to make chimichurri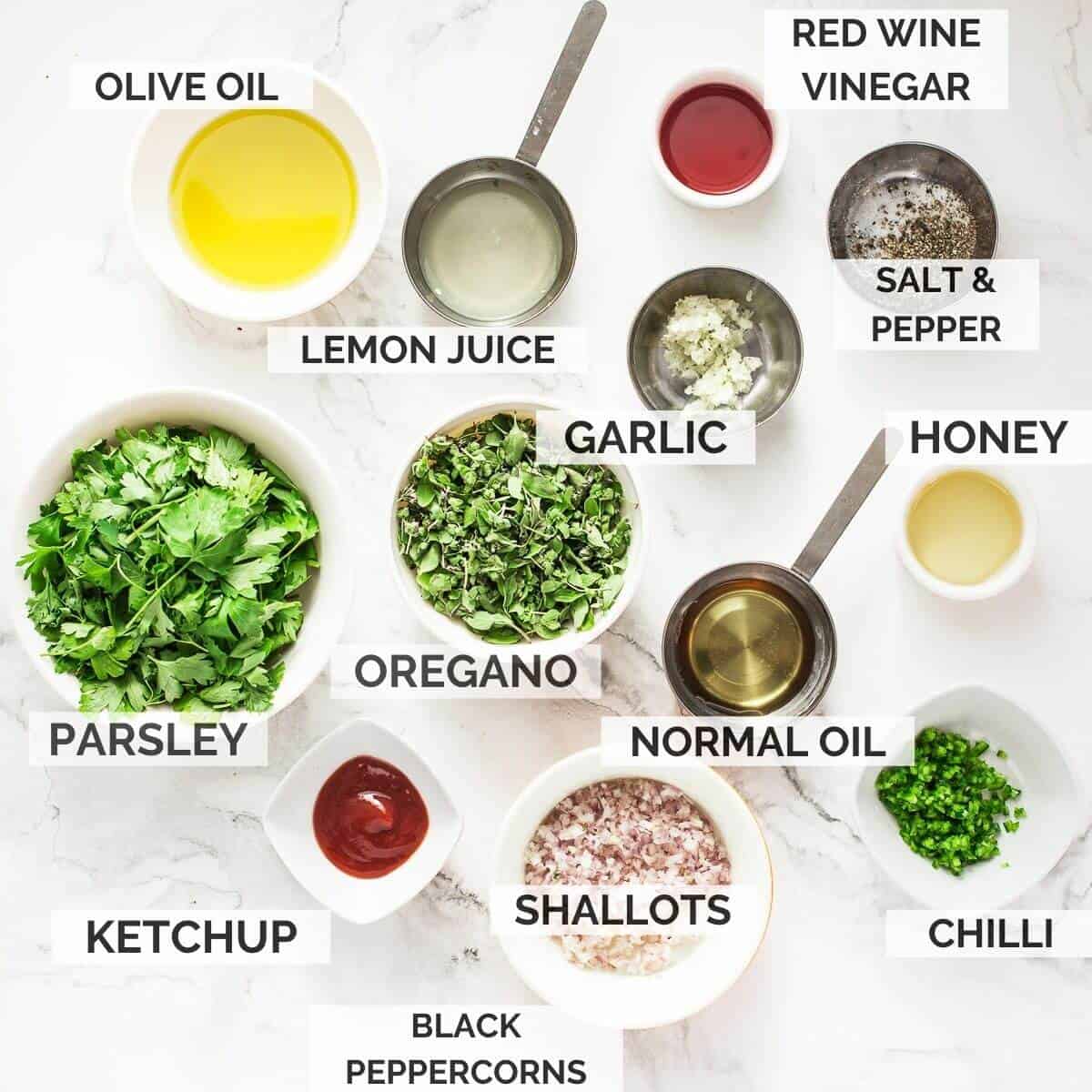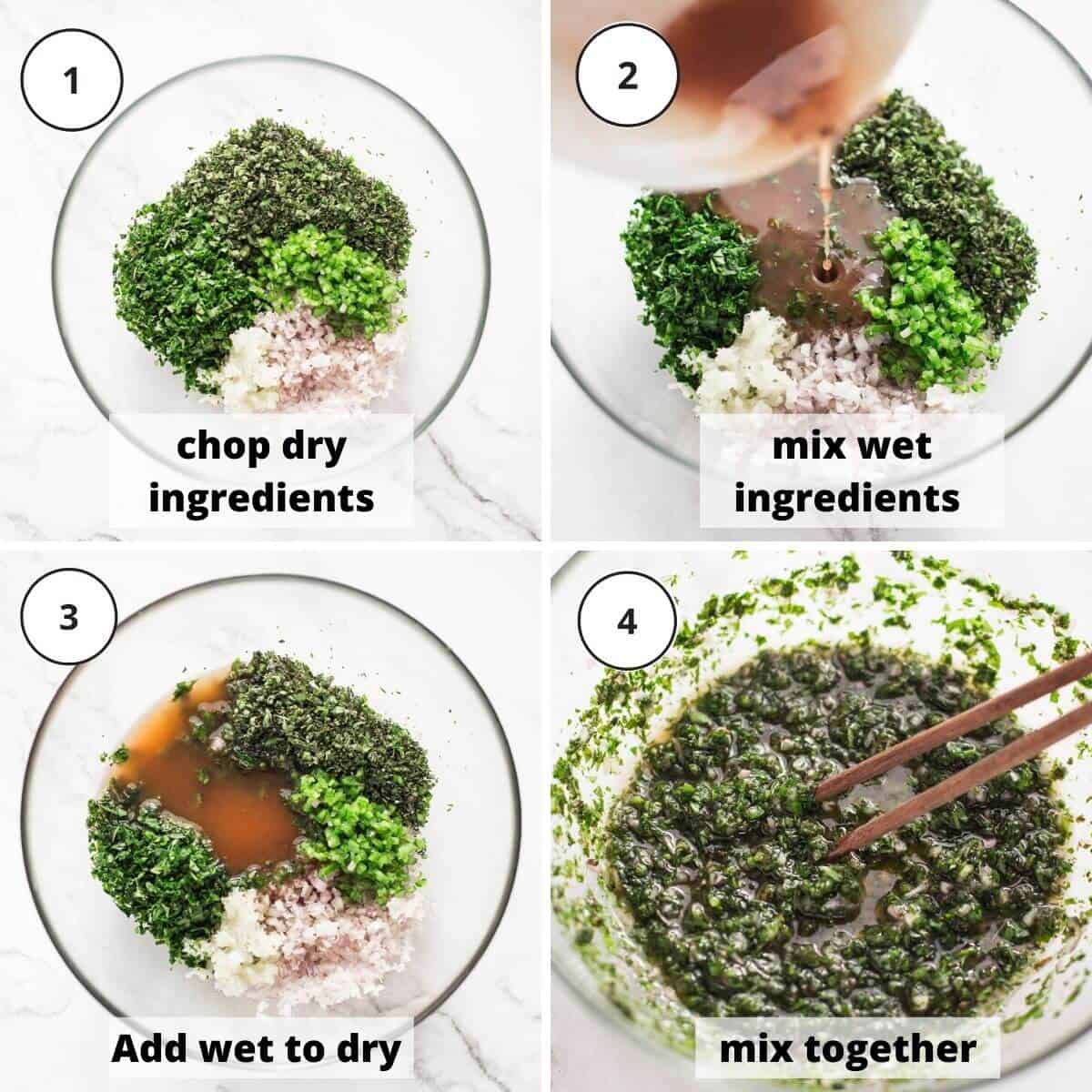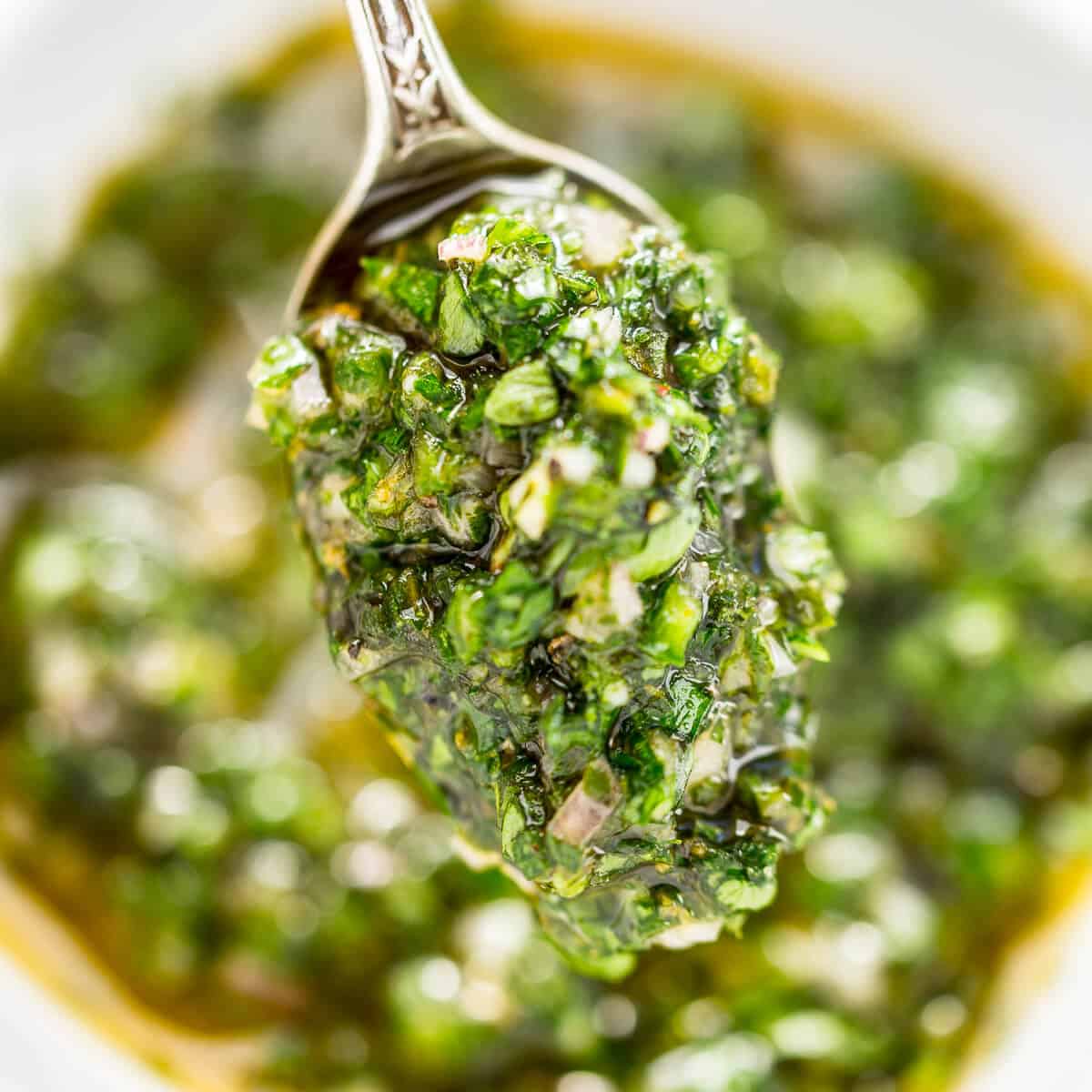 How to cook steak
Cook the perfect steak by following the simple instructions below. If you want a live run-through then hook up on Instagram and I'll explain it to you personally.
Here I'm cooking ribeye steak with chimichurri.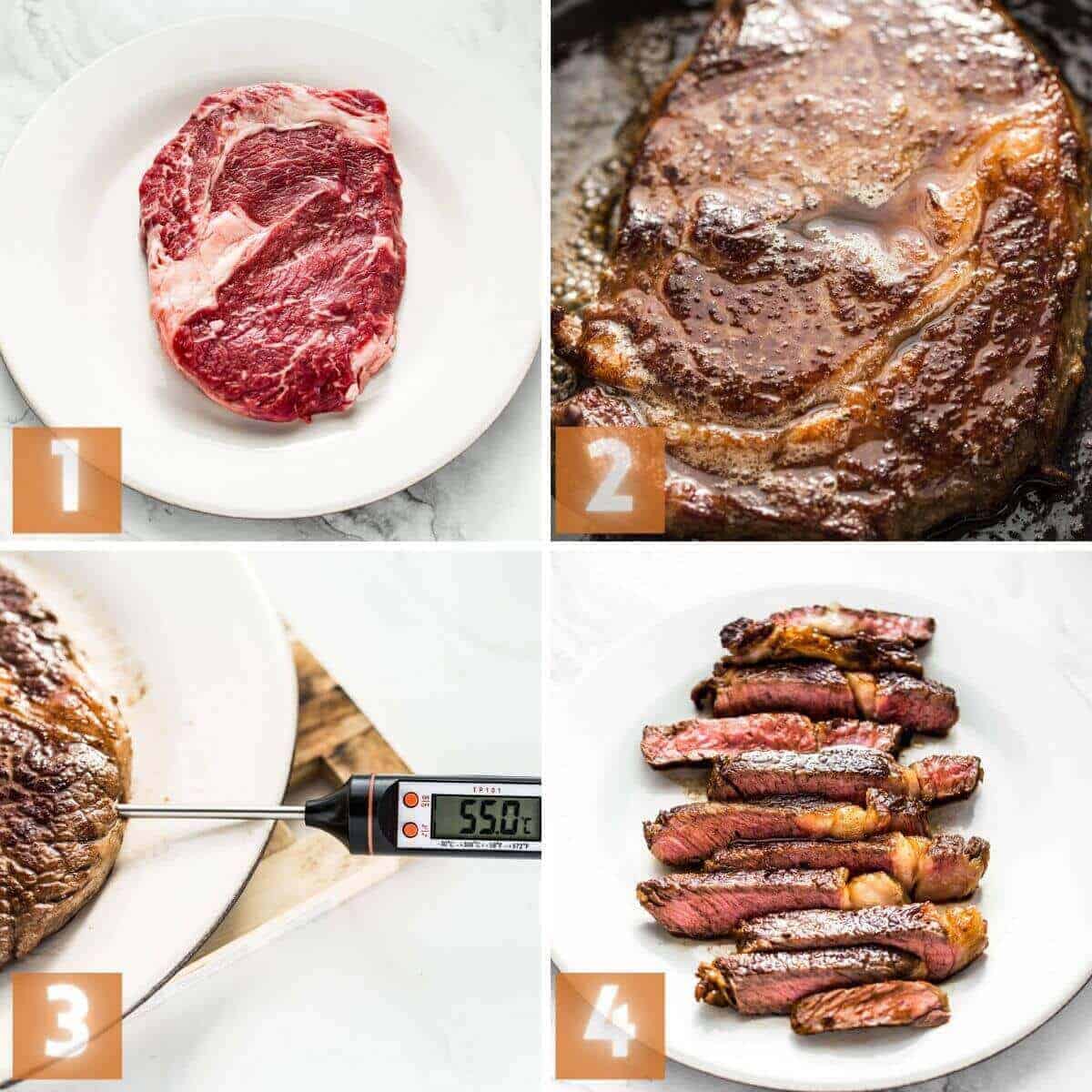 Heat a large skillet with canola oil.
Sear steak turning often until the internal temperature reaches 48C measured with a temperature probe.
Add a knob of butter to the pan and let it brown. When done, remove and reserve along with the steak.
Let the steak rest for 10 minutes. The temperature will rise and settle at around 55C. The perfect doneness for any steak.
Cut the steak across the grain. Pour the brown butter over it followed by chimichurri sauce and season well with salt and freshly ground black pepper.
If you have a BBQ or grill you could use that to cook the steak on instead.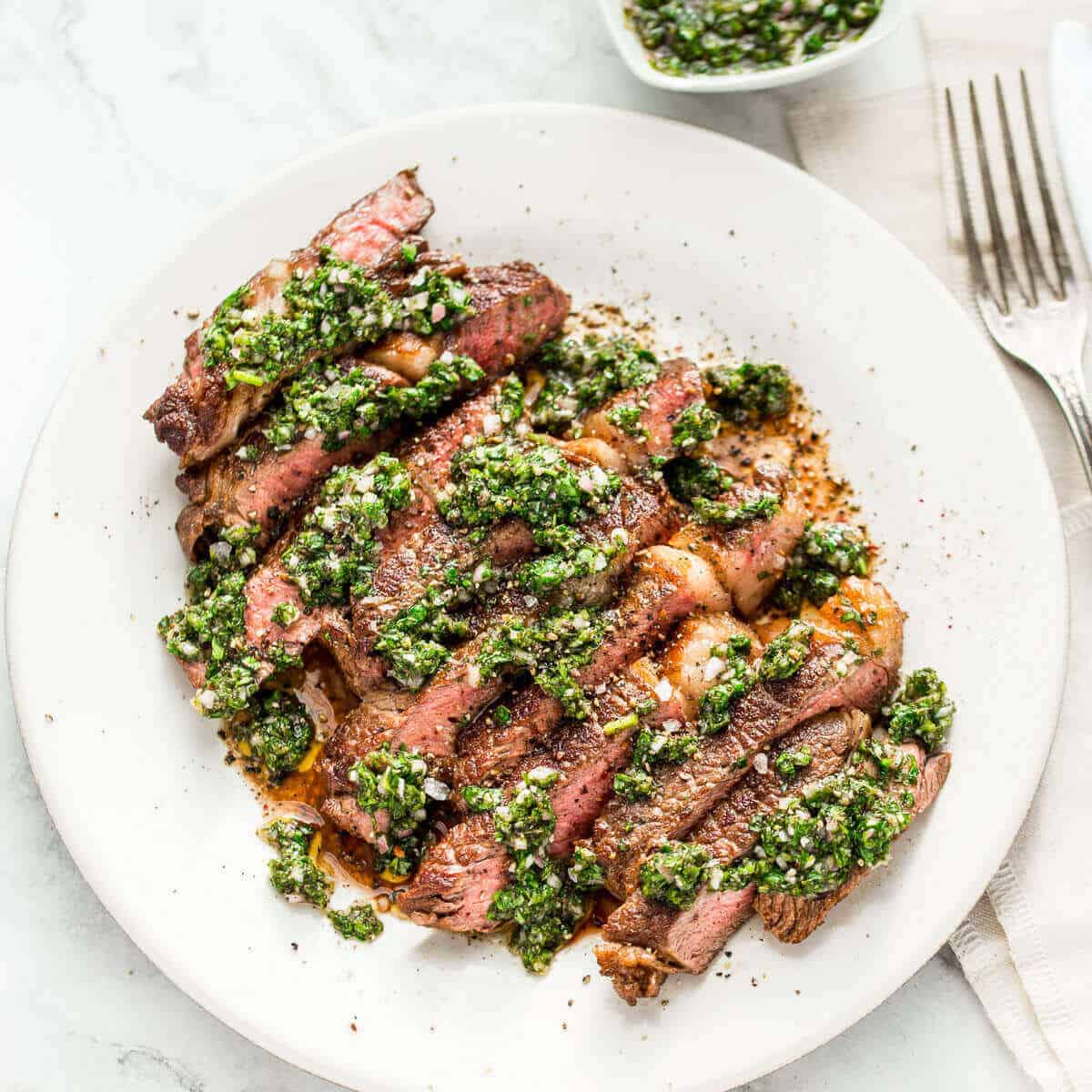 Alternative steaks with chimichurri
I used ribeye steak for this recipe but you could also use the following cuts when making steak with chimichurri.
Serving suggestions
A nice full-on Malbec is what you want to drink with this chimichurri steak. Get messy and get involved. You only live once. So, treat yourself. You deserve it. Also, the following goes well with chimichurri steak.
Other recipes you might like
Middle Eastern lamb chops
Useful equipment for this recipe
Cast iron skillet - Buy Now
THIS PAGE CONTAINS AFFILIATE LINKS - I MIGHT EARN A TINY % OF THE SALE THROUGH THESE LINKS AT NO EXTRA COST TO YOU. PROBABLY NOT EVEN ENOUGH TO BUY A BEER).
If you found this recipe helpful or have learned something, comment, subscribe and follow me on social platforms for more delicious recipes.