Knowing how to chop shallots or any other vegetable for that matter, is one of a very important set of basic skills you need to learn in order to cook well. As simple as it might sound to some of you. How to chop a shallot has many people wondering. There's always a first time so let's get this simple tutorial done.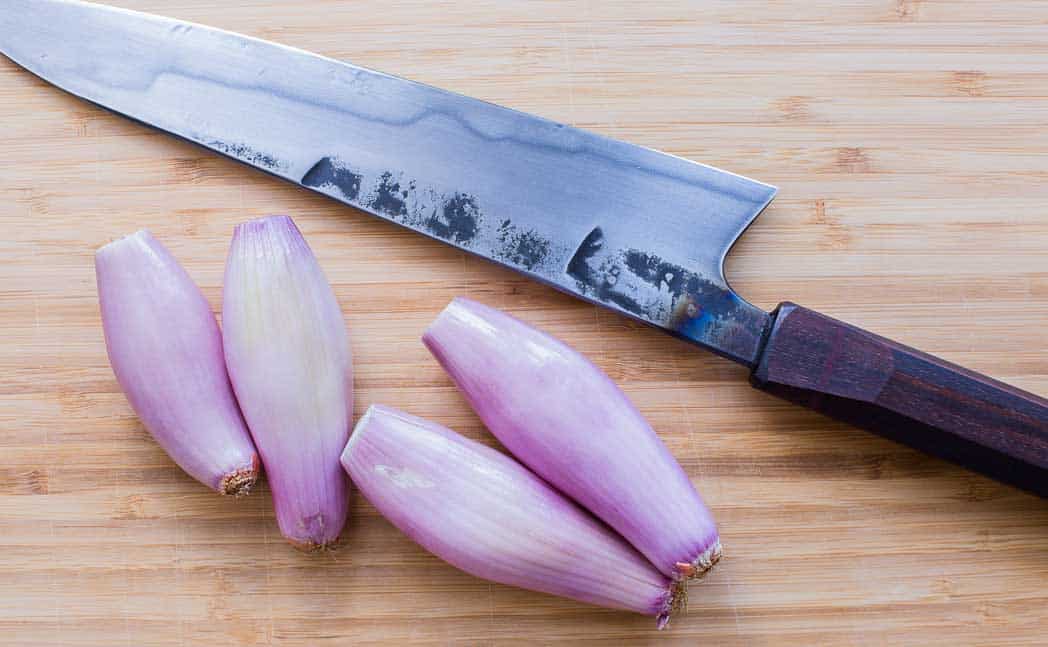 Before you start chopping, cutting, slicing or dicing anything, you really want to use a sharp knife. Blunt knives are actually more dangerous than sharp ones as they slip when you try to cut with them and will cut you anyway.
So, Sharpen up.
If you are anything like me, prone to crying, a sharp knife helps reduce the amount of onion juice leaking out of the cut surface. That means no more tears.
1st step - Peel the shallot like you would an onion by just removing the outer layer of skin and maybe one layer of flesh if it's a bit dry or damaged.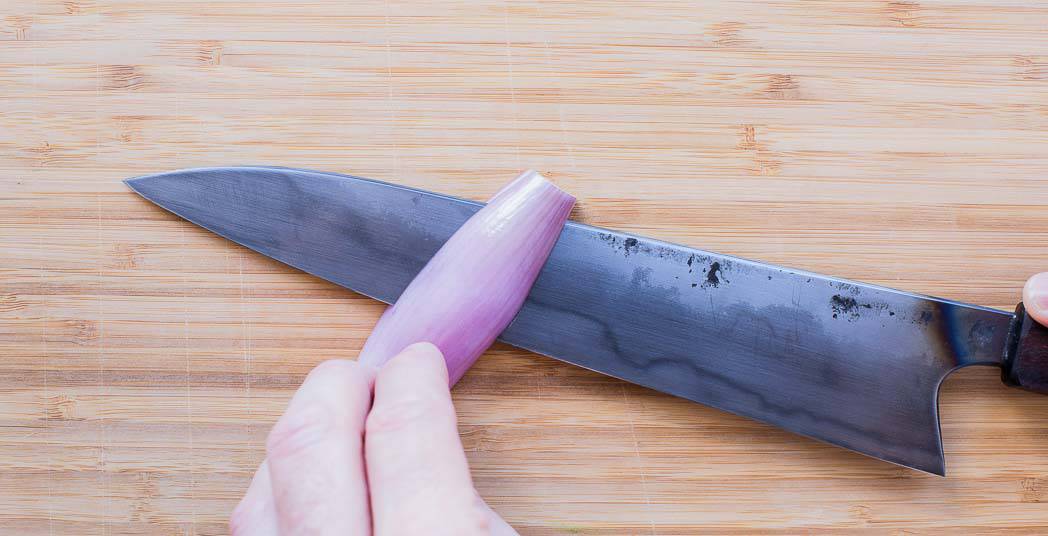 2nd step - Half the shallot lengthways. Making sure your fingers are out of the way.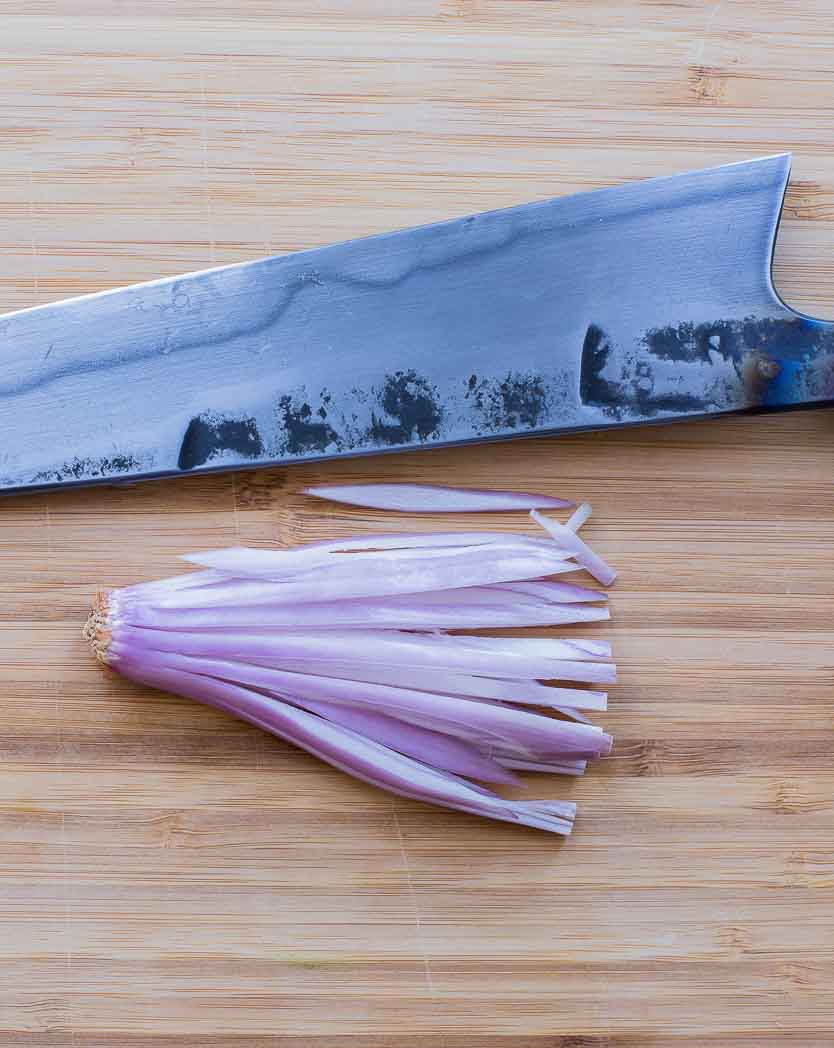 3rd step - Slice lengthways into strips keeping the root part intact.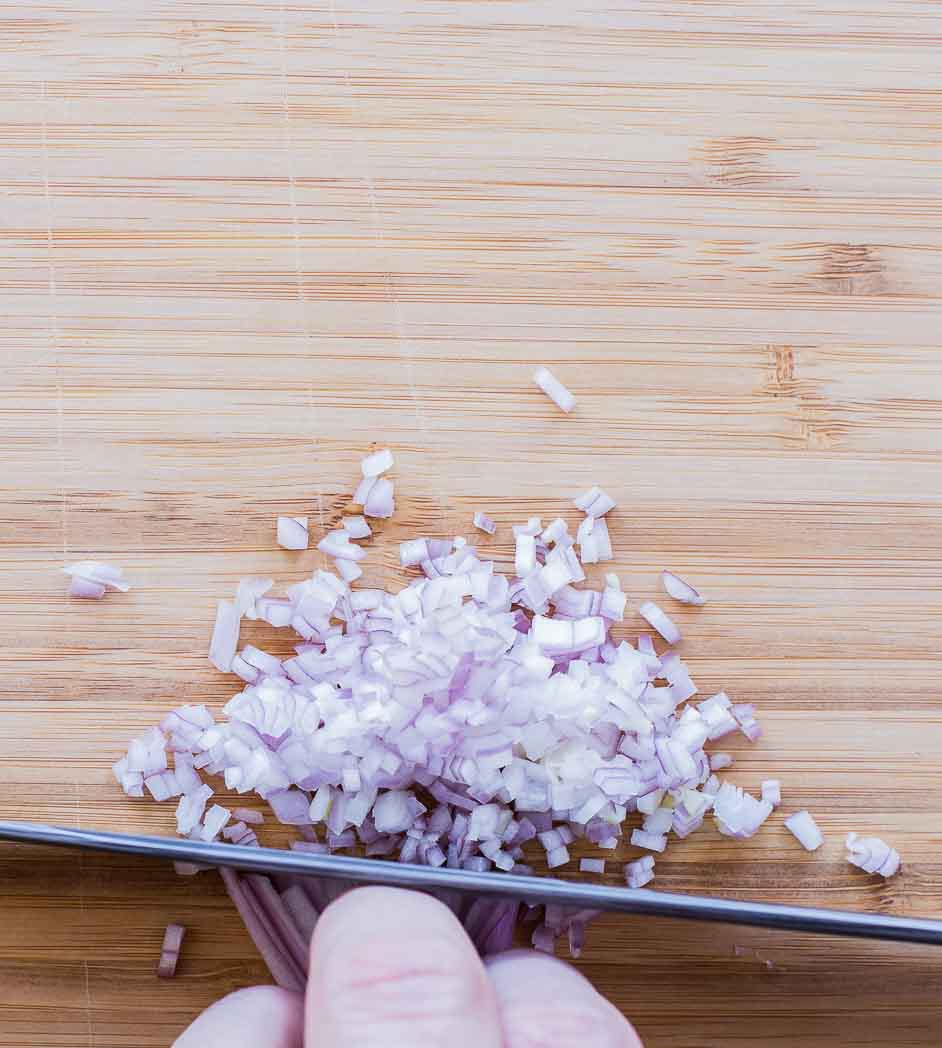 4th step - Tucking your fingers in like a little claw in order not to cut the tips of:) Dice away. Carefully at first. When you become a shallot chopping Jedi do it however you want.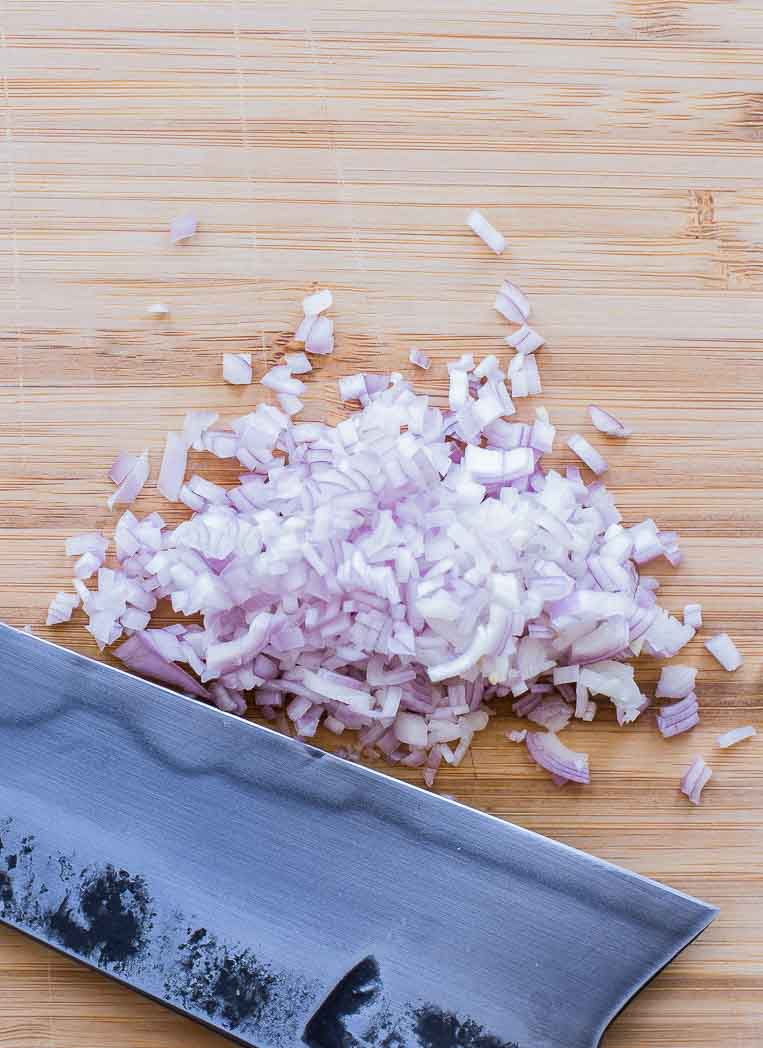 That was simple, wasn't it? So next time you wonder how to chop shallots, remember, sharp knife and the above listed 4 easy to follow steps. The same goes for onions too.
HOW TO USE CHOPPED SHALLOTS
Chopped shallots or onions serve as the base for many dishes and preparations.
Chopped shallots are used in this Massaman curry paste. Simple dishes like this creamed spinach use them as a base cooked with chopped garlic.
They go great in stews and soups like this Viking stew or this chanterelle mushroom soup.
Easily add to salads like this warm bacon salad or this home-cured salmon salad.
FREQUENTLY ASKED QUESTIONS
Can you chop shallots ahead of time?
Yes, but make sure they are covered to avoid drying out.
Can you freeze chopped shallots?
Yes, making sure they are airtight they can keep in the freezer for future use. Take note though that they will lose their crunchy texture so are only good stored in the freezer if you intend to cook them afterwards.
How do you cut shallots into a ring?
Peel the shallot and then just finely slice into rings.
What part of shallots do you use?
The Layers of flesh in a shallot are what is mostly used for eating. The layers of dry skin and the root could be thrown into stocks or soups to give them flavour before being discarded once they have done their job.
IF YOU FOUND THIS ARTICLE HELPFUL OR HAVE LEARNED SOMETHING, COMMENT, SUBSCRIBE AND FOLLOW ME ON SOCIAL PLATFORMS FOR MORE TUTORIALS AND TASTY RECIPES
Remember!
You can follow me on Instagram @PANTSDWONAPRONSON and ask me any question by directly messaging me.
I am helping many people with a wide variety of question about food and other cooking-related questions.
This way I have helped many people become better and more confident cooks.