Jump to recipe
Mr. creamy coconut chicken curry. Make it vegan if you want but this curry is a keeper. Takes less than 30 minutes if you're slow and only uses a handful of everyday ingredients.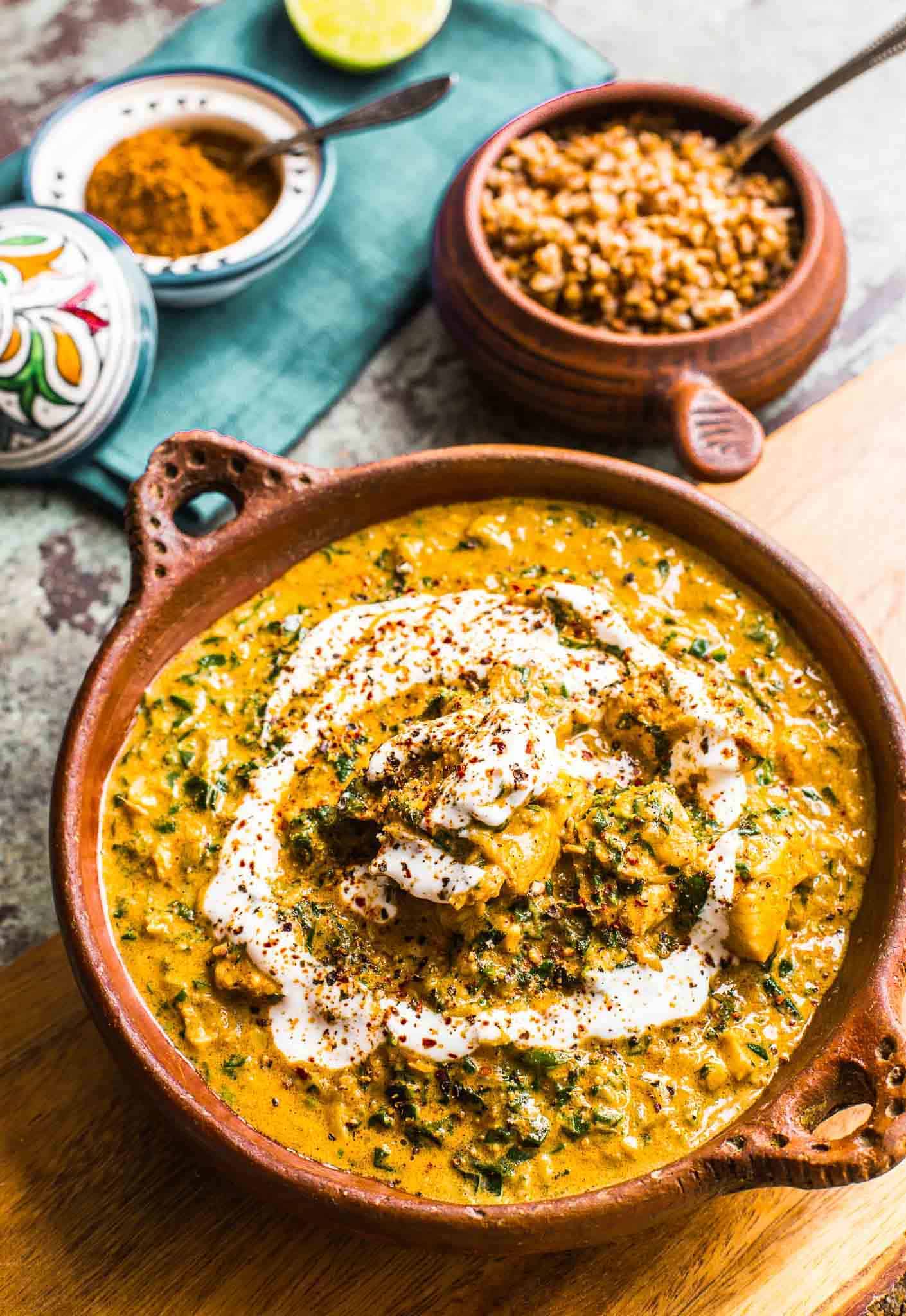 Jump to:
I am fortunate enough to have worked with chefs from top Indian restaurants and lucky enough to have gained their knowledge and secrets about making great Indian food.
So you're in good hands here
You will never need to google Indian curry near me again to eat one of your favourite Indian restaurant dishes.
In this recipe for coconut chicken curry, we will use chicken of course but you could easily make it vegan by replacing the chicken with any vegetables of your choice.
This coconut chicken curry is QUICK, TASTY, EASY, and low risk to cook.
The great news is you don't have to make or buy a curry paste.
We only need garam masala, cumin, ground turmeric and a bit of cardamom for this curry recipe.
Easily found in your pantry or most stores.
Cashew nuts and coconut milk makes this coconut chicken curry extremely creamy and luxuriously smooth with plenty of richness and loads of flavour.
For a final little touch, we add some spinach(optional) but, you got to eat your greens friends! Otherwise no honey cake or carrot cake.
Ingredients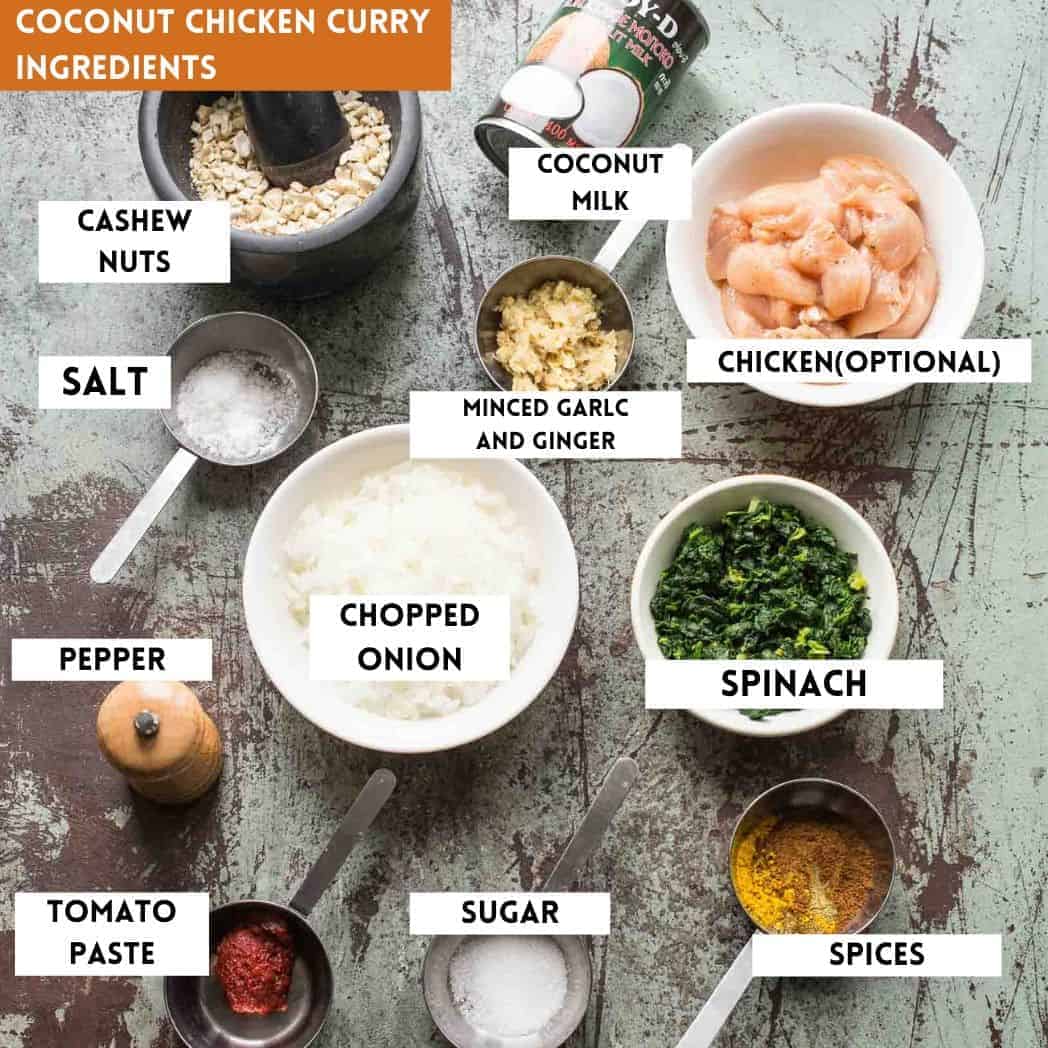 Protein – In this recipe we use Chicken. It cooks quickly, is easily available and light and healthy especially if you have this in the evening.
If you prefer vegan or vegetarian I have included the steps for that down in the article. Make it even lighter by using prawns.
Vegetables – All curries start with chopped onion or shallot. We also use freshly steamed spinach in this curry recipe but you could use frozen. Just make sure to squeeze out most of the water before adding.
If you are going for a vegan version then I suggest using some tinned chickpeas. You could even add it to the chicken curry version.
This curry recipe also has tomato paste added. A very common Indian curry recipe ingredient.
Coconut milk – Use the best quality you can afford. Something creamy with good fat content.
I used Arroy-D for this recipe which is a medium level brand but it is stable and does the job nicely while not breaking the bank.
Sugar – Just a naughty little pinch of white sugar. I won't tell if you don't tell;)
If you are following a low sugar diet then use your usual sugar substitute. Just note that you will have to do this by taste and not according to the recipe.
Spices – Get these from the store but, you probably have these in your pantry already. Garam masala, turmeric, cumin and green cardamom. All Fresh as a daisy and sealed airtight.
If you buy spices that have been standing open you might find yourself adding spoon fulls without any good effect.
Also, technically a spice. Good old black pepper.
Nuts – Cashews are the go-to here but you could also use peanuts. Exclude if you have a nut allergy. Please.
Acid – Fresh lime although if you really can't get hold of limes. Go for lemon. I add this right at the end before serving.
Many chefs in the Michelin restaurant sphere will tell you. A touch of lemon right at the end lifts up the flavour of many dishes big time.
Aromatics – The usual suspects. Ginger and garlic paste is the base of all curries no matter the origin.
Top tip
A good curry is all about balancing the spices and getting the savouriness and sweetness right.
When you understand how to balance these your cooking skills will dramatically increase. Even with everyday dishes like Tomato pasta or a simple duck stir fry.
Most importantly you will be able to easily cook dishes like massaman curry, lamb koftas, whole roasted adjika cauliflower and simple turmeric chicken noodles that also use spices to flavour them.
Instructions
Cooking this curry mainly relies on your ability to taste and make sure everything is cooked well and nicely balanced. A very simple task indeed.
Simply follow the following 6 steps to make this coconut chicken curry: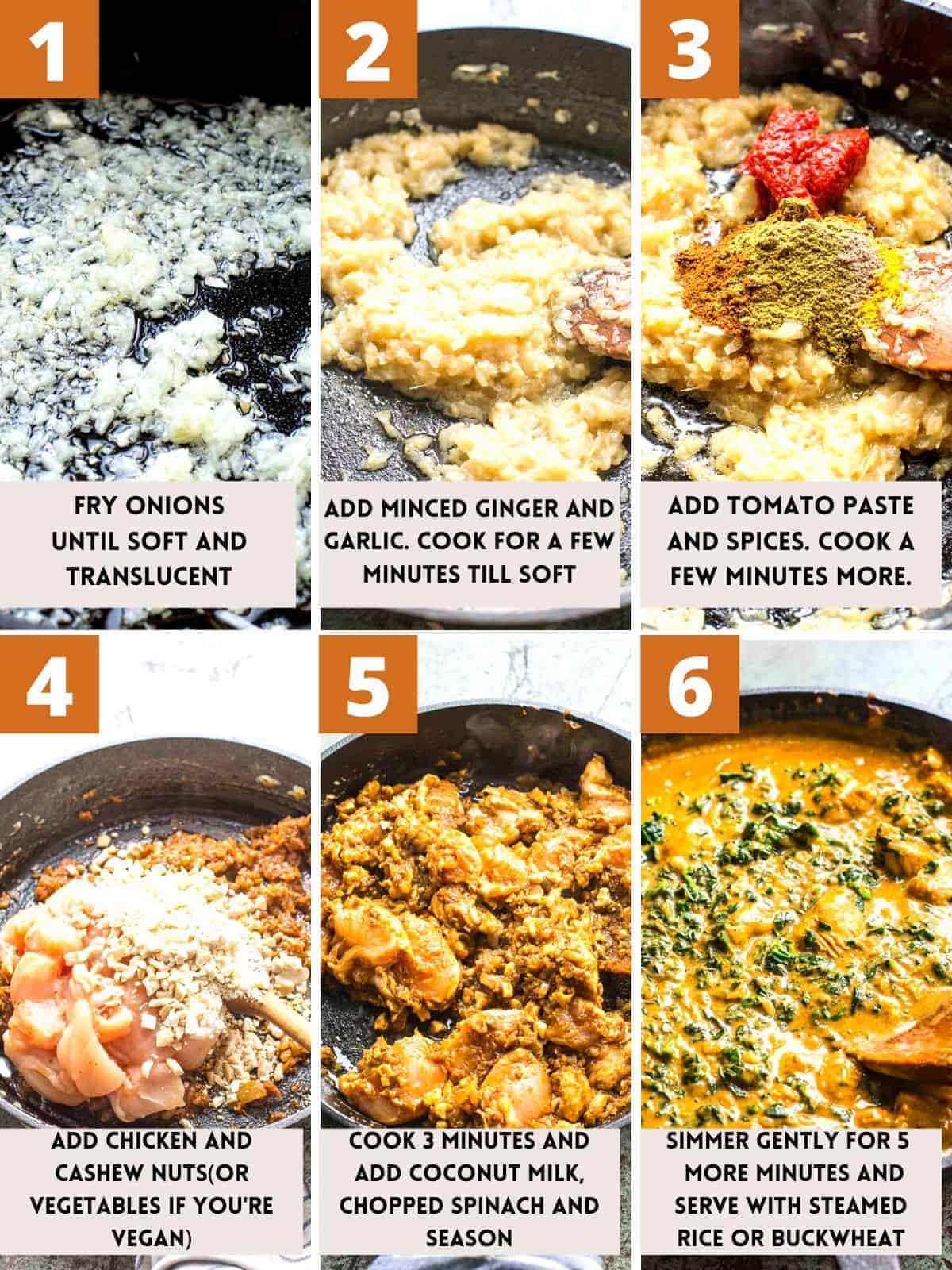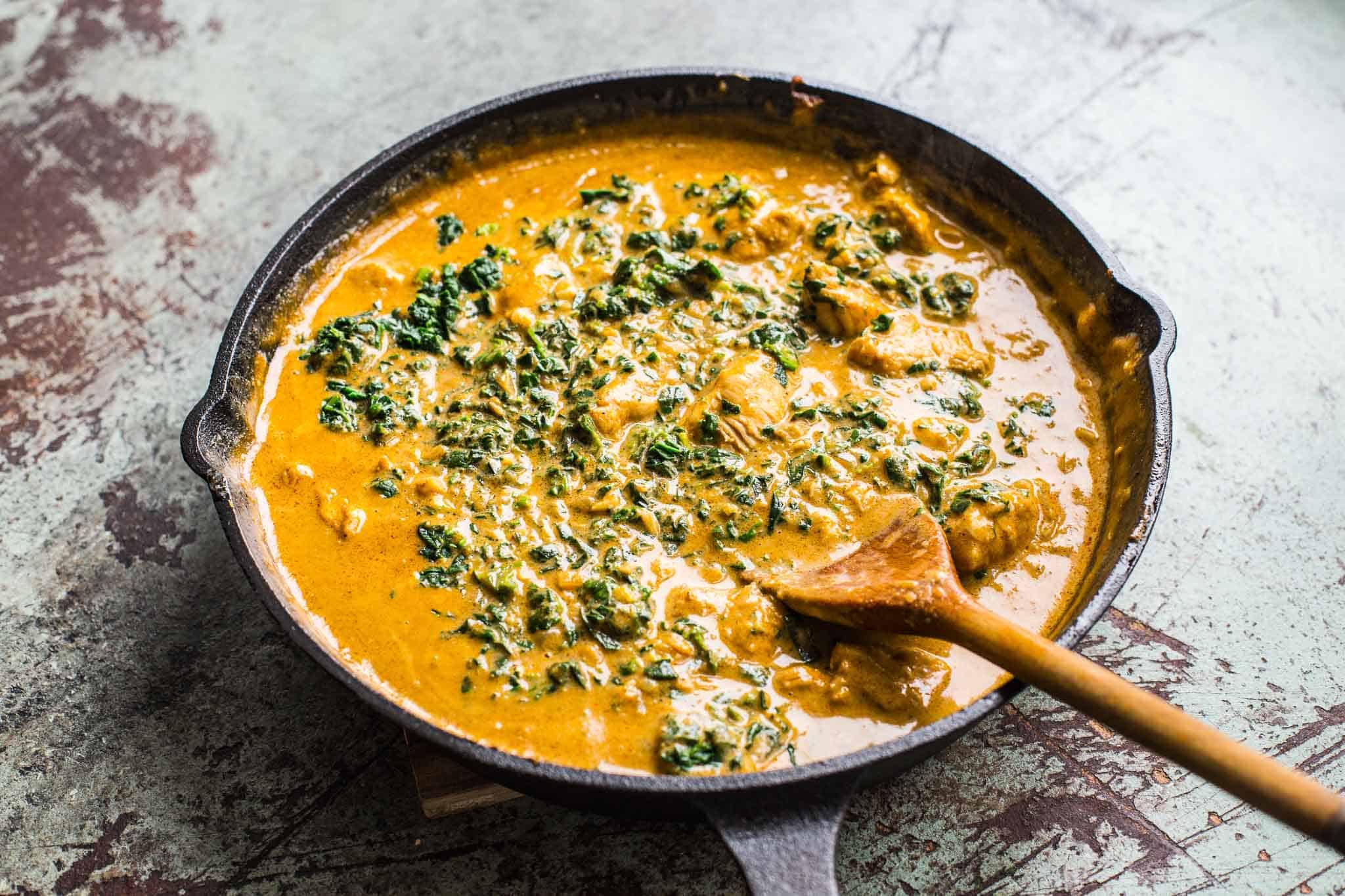 Side dishes
Curry is mostly served with steamed rice, couscous or quinoa.
To go with this curry I have opted for a slightly healthier version than rice.
Buckwheat.
Widely available and embarrassingly underused.
You could also serve it with some extra greens like broccoli, bok choy or spinach.
Vegan version
The process of making this coconut chicken curry vegan is very straight forward and most people would probably manage without my help. If you are wondering how to do it then follow these easy steps.
The rest stay exactly the same. It's that easy!
You can follow me on Instagram @PANTSDWONAPRONSON and ask me any question by directly messaging me.
I am helping people with a wide variety of question about food and other cooking-related questions.
This way I have helped many people become better and more confident cooks.
Variations
Coconut curry is extremely versatile and you can substitute any part of the protein/carbs and replace it with some other food items you love. For example:
Prawn Coconut Curry - Replace the chicken with prawns but, make sure to add the prawns at the end to avoid overcooking them.
Lamb Coconut Curry – Use tender lamb fillets and cook exatly the same.
Vegetable Coconut Curry – We touched upon it before but, you could add any vegetable here. Think aubergine, carrot, cauliflower, cabbage, and peppers.
For an even quicker version add a good quality pre-cooked frozen mix. There is nothing wrong with that when you are in a hurry or just got home after 18 hours slaving.
Tofu Coconut Curry – Prepare your tofu by frying in a pan or roasting in the oven. Add last-minute when your sauce is ready.
Conclusion
This Coconut chicken curry recipe is an easy tasty curry even a novice can cook. Perfect for any dinner or warmable packed lunch. With that said, let's not play it down.
You could impress anyone with this dish and even get your kids to eat a bit more balanced.
It's something I have at least a few times a month and that says a lot seeing that I'm constantly cooking new recipes and a wide variety of cuisines daily.
Other related dishes
NOTE
If you have a fetish for spicy food and like making your own hot sauce. Then look no further than our very own Sriracha! Made from scratch and tasting a million times better than the store-bought version.
Frequently asked questions
How many calories in coconut chicken curry
This will vary depending on the protein or vegetables you use. This recipe has 207 calories per portion.
Can I freeze this curry?
Portion and store airtight in the freezer for up to 6 months. hopefully, you will eat it before then)
How many days does coconut chicken curry last for?
This curry will last for up to four days in the fridge.
Equipment
MORTAR AND PESTLE - Buy Now
Cast iron skillet - Buy Now
Spice grinder - Buy Now
THIS PAGE CONTAINS AFFILIATE LINKS - I MIGHT EARN A TINY % OF THE SALE THROUGH THESE LINKS AT NO EXTRA COST TO YOU. PROBABLY NOT EVEN ENOUGH TO BUY A BEER).
If you found this post helpful or have learned something, comment, subscribe and follow me on social platforms for more tasty recipes.
Coconut Chicken Curry
Mr. creamy coconut chicken curry. Make it vegan if you want but this curry is a keeper. Takes less than 30 minutes if you're slow and only uses a handful of everyday

ingredients.
Ingredients
For the Sauce
350g boneless chicken(thighs or breasts but thighs are juicier)
200g finely chopped onion
10g finely minced garlic
20g finely minced ginger
2g garam masala
1g ground cumin
1g ground turmeric
5 cardamom pods only the ground seeds
20g tomato paste
400g coconut milk
180g fresh baby spinach(cooks down to about 90g) You could also use squeezed out frozen spinach
50g crushed cashew nuts
10g salt
6g sugar
1g freshly ground black pepper
For the buckwheat
200g buckwheat
300g water
2g salt
25g butter or oil if Vegan
Extras
10g freshly squeezed lime juice
50g natural yoghurt(optional)
pinch of dried chilli flakes(optional)
Instructions
For the buckwheat:
Start the buckwheat first as it can wait in the pot and keep warm.
Weigh out 200g of buckwheat and rinse it a few times with tap water.
Place a small pot with 200g rinsed buckwheat, 300g water, 2g salt and 25g butter(oil if vegan) on the stove.
Bring to the boil.
Cover with a lid and turn the stove down to a minimum.
Cook on minimum for 15 minutes.
When the 15 minutes is up. Do not remove the lid.
Turn off the stove and let the buckwheat continue to steam for another 3 minutes with the lid on. Exactly the same as cooking rice.
For the sauce:
Fry onions until soft and translucent
Add minced ginger and garlic. Cook for a few minutes till soft
Add tomato paste and spices. Cook a few minutes more.
Add chicken and cashew nuts(or vegetables if you're vegan)
Cook 3 minutes and add coconut milk, chopped spinach, sugar, salt and pepper.
Simmer gently for 5 more minutes.
Add the lime juice just before serving
To serve:
Dish up in a nice big bowl. Serve the buckwheat or rice on the side.
Add the yoghurt and dried chilli flakes. You could also add a bit of fresh coriander (totally optional)
Notes
** Make this recipe vegan by substituting the chicken for vegetables or chickpeas.
** If you like it spicy then add chopped chillies to the ginger and garlic frying stage.

Nutrition Facts
Coconut Chicken Curry
Serves: 4 portions
Amount Per Serving:

300g

Calories

207.62 kcal

% Daily Value*
Total Fat

6.1 g

9.4%
Saturated Fat

0.8 g

4%
Trans Fat

0.0 g

Cholesterol

0.0 mg

0
Sodium

19.75 mg

0.8%
Total Carbohydrate

38.81 g

12.9%
Dietary Fiber

22.45 g

89.8%
Sugars

1.03 g

Protein

8.67 g
Vitamin A

0.04 %

Vitamin C

0.29 %

Calcium

20.14 %

Iron

42.85 %
* Percent Daily Values are based on a 2,000 calorie diet. Your daily values may be higher or lower depending on your calorie needs.
DID YOU MAKE THIS RECIPE?
Tag @PANTSDWONAPRONSON on Instagram and hashtag it #PANTSDOWNAPRONSON