Smashed Chinese cucumber salad is by far the tastiest dish one could prepare - or in our case beat out of a cucumber. Not only will you never beat a cucumber any other way again but it will become a lunch or dinner favourite for many reasons. Apart from the obvious it only takes about 10 minutes to prepare a smashed Chinese cucumber salad and that's if you are slow.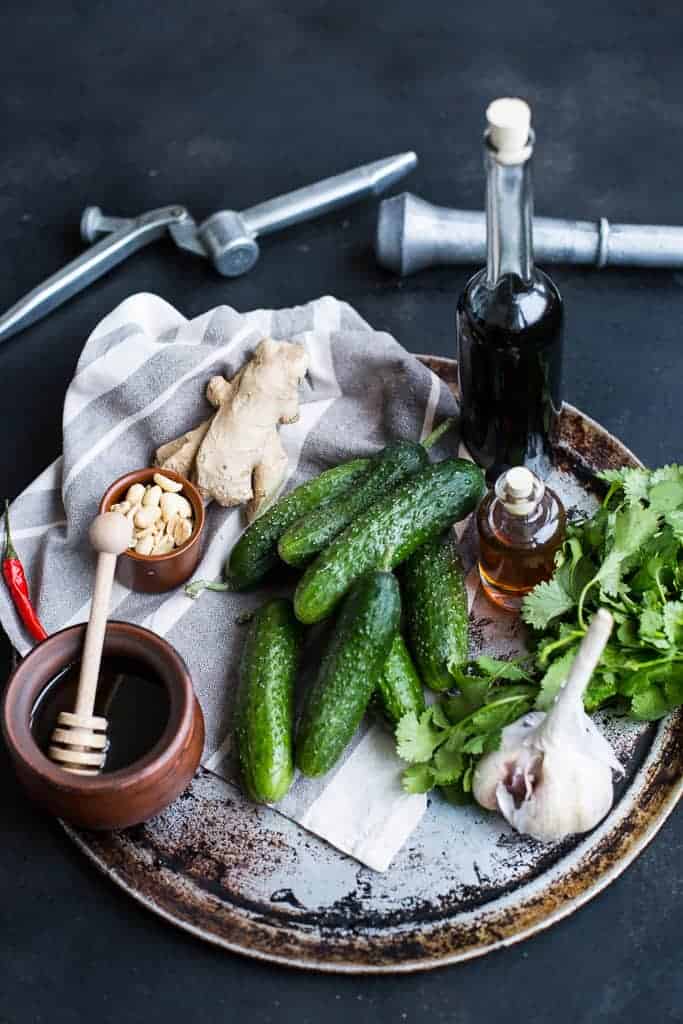 Our recipe here is very much only influenced by the classic Chinese style beaten cucumbers. I have to be honest in saying that the average Chinese takeaway more often than not leaves me unsatisfied and thirsty. This bad boy does neither. It absolutely delivers and I love the freshness of the ginger, coriander and spicy kick the chilli gives. Brings it all to life.
I would have a hard time guessing how many times smashed Chinese cucumber salad featured as my dinner or a side to some hearty stew, fried rice, steak or grilled fish to mention just a few. It's not only me who loves a smashed Chinese cucumber salad but everyone that ever tried a good one wants more and they never leave without the recipe.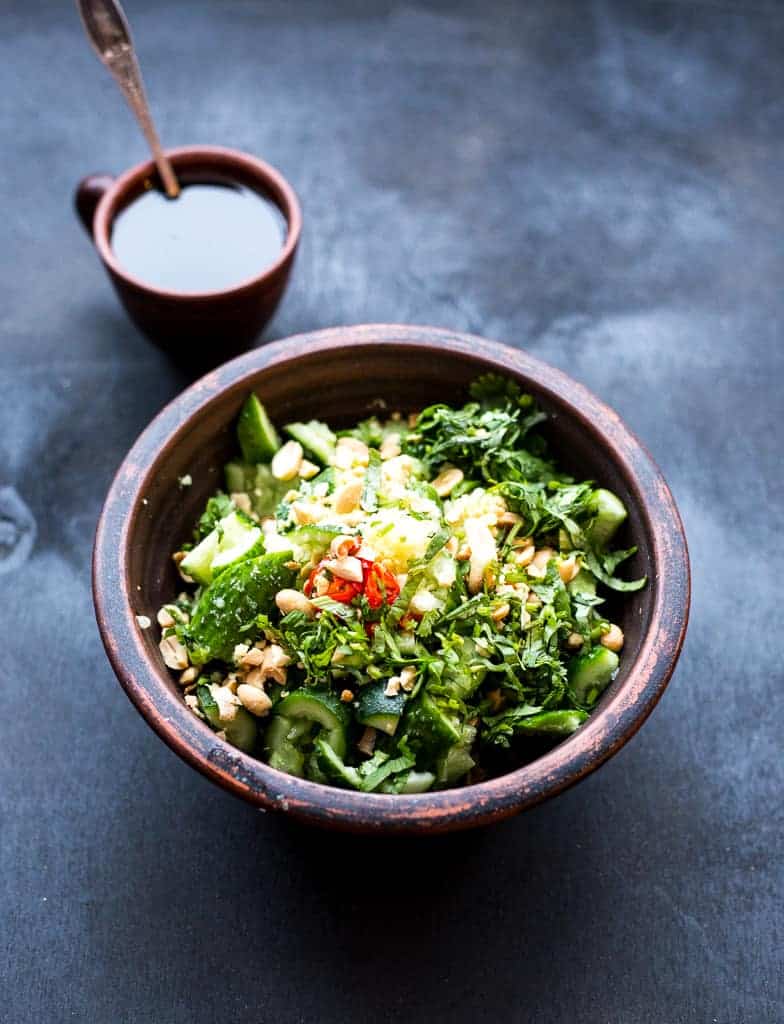 The question in your mind by now is probably very simple. How do I prepare this? Remember that wooden rolling-pin your granny used. Hopefully not to beat you but, to make some tasty cookies and pies)). That's the one you want. I used a heavy steel pestle from my mortar and pestle. The wooden one did not fit into the picture if you wondered where my rolling pin was. Many chefs and self-proclaimed experts will tell you to remove the seeds of the cucumber. With the Chinese cucumber salad, no such extra faf is needed. Removing them for some dishes is important but here we want to keep as much juice as possible and the reason being it's so damn tasty when mixed with all the rest of the ingredients. Perfect for your next salad dressing or over some leftover rice or noodles.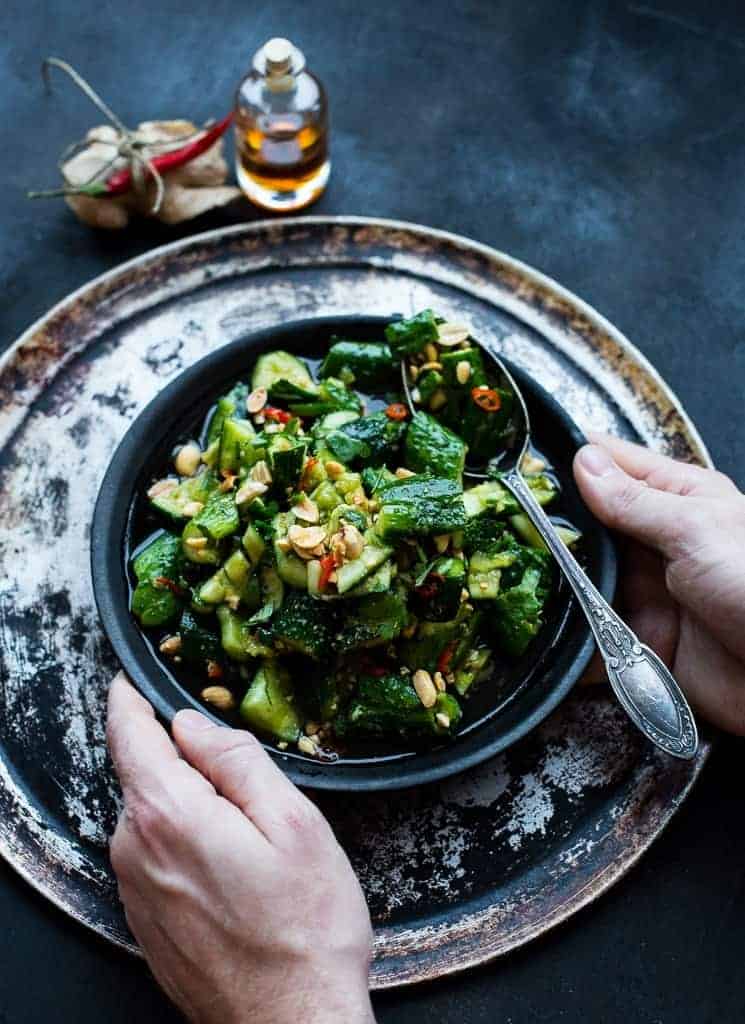 .
Smashed Chinese Cucumber Salad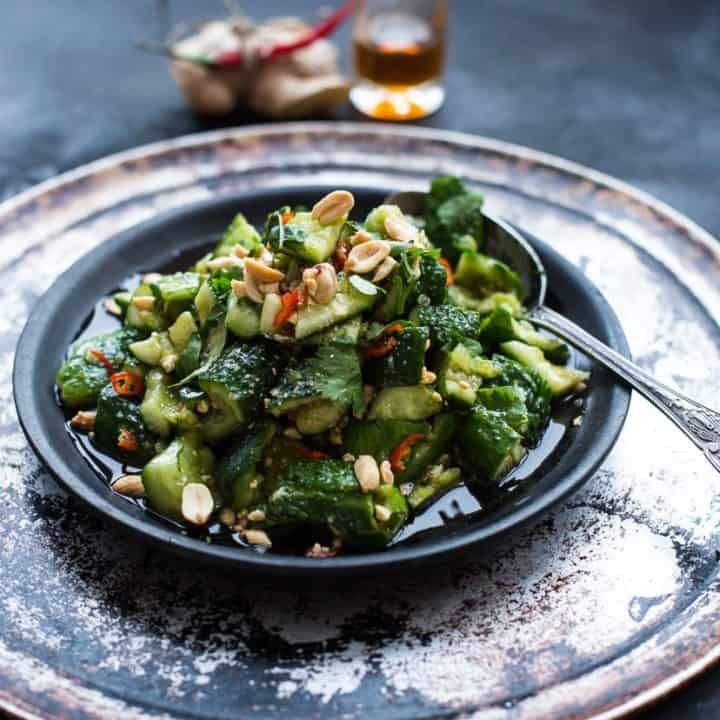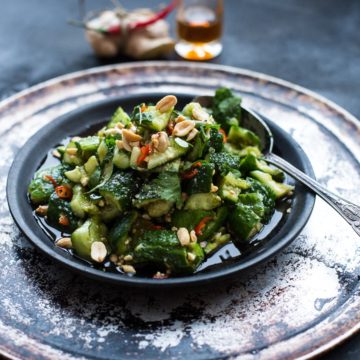 Not only will you never beat a cucumber any another way again but it will become a lunch or dinner favourite for many reasons. Simply the quickest and tastiest cucumber salad ever.
Ingredients
For the sauce:
30

g

soy sauce

40

g

honey

40

g

sesame oil

10

g

rice wine vinegar
For mixing in
1

tbsp

toasted peanuts

1

tsp

crushed ginger

1

tsp

crushed garlic

2

tbsp

chopped fresh coriander

1

small red chilli
Instructions
Wash and cut the cucumbers lengthways in half

Beat them and bruise them until they are slightly tender and broken(sorry cucumbers)

Make the sauce by combining all the ingredients for the sauce and tasting it for sweetness, saltiness and sourness.

You can balance this the way you like by adding more of one or the other.

Mix the rest of the ingredients with the sauce and cucumbers.

Let it stand for a few minutes so that the flavours can mingle a bit and become good friends.

Serve by itself or as a side for grilled meats, fish, fried rice, curries or even hearty stews.
Notes
If you are allergic to peanuts or don't like hot chillies then just leave them out. Another great idea is to add avocado and spring onion.
Nutrition
Serving:
150
g
Calories:
241.52
kcal
Carbohydrates:
26.34
g
Protein:
4.25
g
Fat:
15.34
g
Saturated Fat:
2.23
g
Sodium:
559.13
mg
Fiber:
2.37
g
Sugar:
17.7
g
Vitamin A:
2.83
IU
Vitamin C:
29.67
mg
Calcium:
6.79
mg
Iron:
8.25
mg